If you need gift ideas for bodybuilders and other types of weightlifters, this post is for you.
I'm confident my list of fitness gifts for bodybuilders will help you find the perfect holiday gift for that special meathead in your life.
RELATED: Top 22 Gifts for Powerlifters
No matter if you're shopping for Christmas — or other occasions that require a gift (e.g. birthday, anniversary, graduation, Valentine's Day, Father's Day, Mother's Day, or just to treat yourself) — you'll be able to use this list of gifts for bodybuilders as inspiration to find the perfect present.
Without further ado, let's get onto the bodybuilder gifts list.
1. Shaker Bottle
Just about every weightlifter and bodybuilder drinks protein shakes.
The easiest way to make a protein shake is with a shaker bottle.
Even if the bodybuilder you're shopping for already has a shaker bottle, he can always use another. Moreover, he almost certainly doesn't have a shaker bottle like the one I'm going to tell you about…
…It's the Ice Shaker shaker bottle and it solves all the common issues of regular shaker bottles…and more!
The Ice Shaker, as featured on ABC's Shark Tank and developed by NFL player Chris Gronkowski, is a game changer. I'm a huge fan, and as you can see below, I have two of them in red and black to match King of the Gym's brand colors:
Here's what makes an Ice Shaker shaker bottle better than the typical shaker bottle:
It uses insulating technology to keep your drink ice cold for over 30 hours, as verified by 3rd party lab tests.
The top is vacuum-sealed to prevent leaks and maintain the temperature of the drink inside.
It's made from stainless steel so it won't absorb odors (in case you leave an old protein shake sitting in it for days).
It has a secure and easy-to-open pop-top lid.
It has a snap-down handle that makes it so easy and convenient to carry around.
It has a twist-off "agitator" that does a few things:

First and foremost, it helps to break up and blend protein powder. And it does so silently compared to "blender balls."
It strains out any smaller pieces of ice, preventing them from coming through the lid opening when you're drinking.
You can put fruits inside of it to infuse with your water.

It's sweat-free, so there won't be any moisture beading up on the outside surface.
It's shaped and sized to fit in cupholders.
It comes in many different colors.
There are custom options available (colors, engraved text, graphics) if you really want to personalize this gift.
There are a few different Ice Shaker models. I recommend buying the 26 oz. Shaker Bottles if you're getting this as a gift for a bodybuilder. It's the ideal size for most lifters.
Check Current Price – Ice Shaker Shaker Bottles »
If you want to go with a simpler shaker bottle, you can get a BlenderBottle shaker bottle. However, the Ice Shaker really does make a much nicer gift.
2. Weight Stack Adapter Pin
One of the most common problems bodybuilders and weightlifters run into in the gym is being too strong for a cable machine. A good problem to have, sure. Nonetheless, training is less effective when you can't add more weight after maxing out the stack.
Luckily, there's a solution: a weight stack adapter pin like the Gym Pin or the BSE Stacked Weight Pin.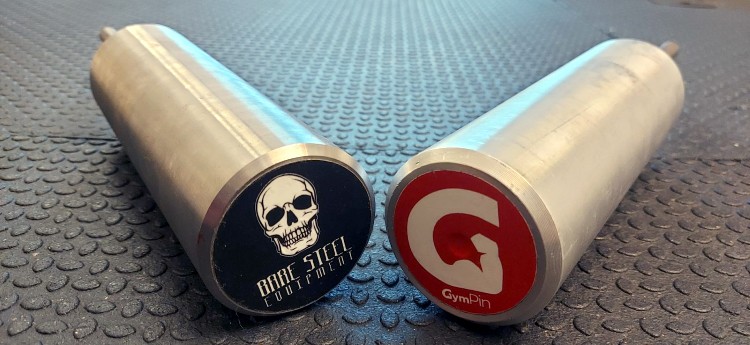 These ingenious gym accessories let you add Olympic plates to a selectorized weight stack. Thus, you can increase the weight stack beyond its max capacity to continue progressing.
This is one of the best gifts for bodybuilders because it solves this common problem in an elegant way. It's as easy as 1, 2, 3:
Select the entire stack by inserting the selector pin in the lowest weight stack plate.
Insert the weight stack adapter pin in the middle of the weight stack.
Load Olympic plates onto the sleeve. It's possible to add 100+ lbs!
I recommend the Gym Pin for most people for a couple reasons:
It's super light at just under 2 lbs. This makes it perfect for bringing to a commercial gym in a gym bag.
It costs about $20 less than the BSE Stacked Weight Pin even after you factor in the shipping cost from the UK where it's made.
You can read my Gym Pin review for more information on this product, including a sizing guide. If you're buying this as a gift and are unsure about the size, I recommend getting the 8mm version instead of the 10mm version because it's the more universal size. It will fit in both 8mm and 10mm weight stacks, even if it's a bit loose in the 10mm weight stacks.
If you buy it, be sure to use code KING10 for 10% off: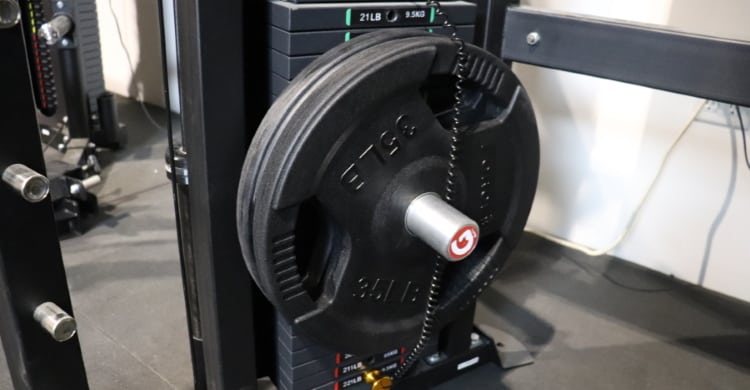 Check Current Price – The Original Gym Pin – Use Code KING10 for 10% Off »
I recommend the Bare Steel Equipment (BSE) Stacked Weight Pin for people who want a step up in terms of extra features and design options. Here's why:
It has built-in magnets at the base of the sleeve. This gives it a more secure fit since it magnetically connects to the weight stack.
You have the option to upgrade to a cerakote finish in any of 20+ colors (including custom) and design patterns. The cerakote provides rust protection and gives it more of a "wow" factor. If you're buying this as a gift and really want to make an impression, this is the way to go.
The BSE Stacked Weight Pin weighs more than the Gym Pin. It's about 5 lbs (vs 2 lbs). This makes it less convenient for putting in your gym bag. However, it makes the perfect "add-on weight" for incremental progress between weight stack settings, which usually go up in 10 lb increments. By putting it in the stack without any plates on, you can achieve smaller increments of 5 lbs.
For more details, read my BSE Stacked Weight Pin review including how to pick the right size. If you're buying this as a gift and are still unsure about sizing, you should go with the most universal option, which is the 8mm rod diameter with the 3.65" (closed plate hole) rod size.
If you get the Stacked Weight Pin, be sure to use code KING10 for 10% off: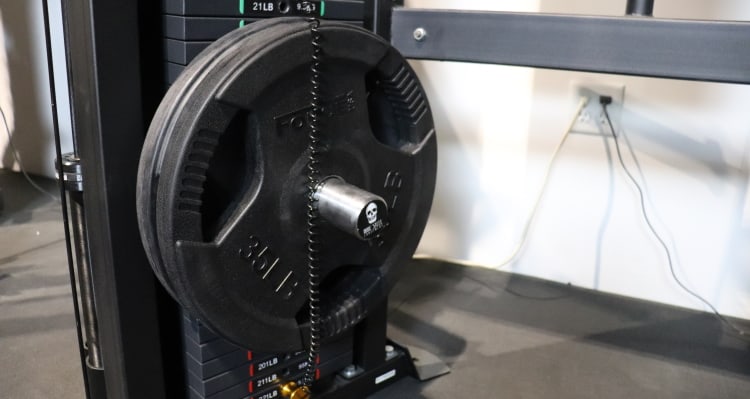 Check Current Price – BSE Stacked Weight Pin – Use Code KING10 for 10% Off »
Whichever brand you go with, this is an excellent bodybuilder gift idea that's sure to leave a smile!
3. Arm Curl Blaster
Every bodybuilder loves to train biceps!
That's why one of the gifts for bodybuilders is an arm curl blaster. It helps them train their biceps even more intensely and with better form:
An arm curl blaster is a simple but effective biceps curl training aid. It prevents the elbows from drifting behind the torso, swinging in front of the body or flaring out to the side. All of these things are considered cheating because they take the focus off the biceps.
Instead, an arm curl blaster keeps the elbows at the optimal position for biceps activation — close to the sides, right in front of the hips.
This is a perfect gift for a home gym lifter as well as lifters who go to a commercial gym, since it can easily fit in their gym bag.
There are many arm curl blaster products out there. I recommend the DMoose Arm Curl Blaster because it's made from thicker metal, uses quality hardware, has overall solid construction and comes with a lifetime warranty. It's also very affordable:
Check Current Price – DMoose Arm Curl Blaster »
4. VITRUVE Velocity Based Training Device
Do you want to really impress the bodybuilder in your life with an awesome gift?
Then get them the VITRUVE velocity based training (VBT) device. It's an excellent gift idea for bodybuilders and weightlifters who are serious about getting strong on the BIG 3 lifts (i.e. bench press, squat and deadlift).
The VITRUVE VBT device is a piece of technology. It's a linear position transducer (LPT) that uses an optical linear encoder to capture linear movements and convert them to an angular movement. From that, it extracts all sorts of useful exercise data, including velocity and more!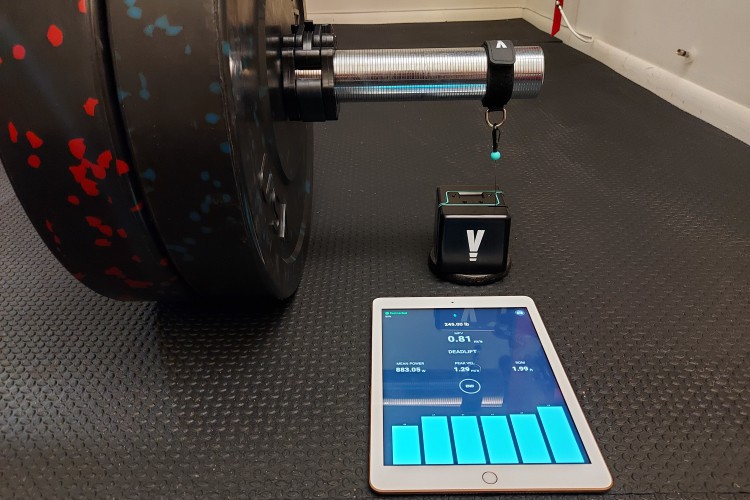 Use Code KING for 5% OFF – VITRUVE VBT Device »
A device like this is required to do velocity based training (VBT), which research suggests is the most effective form of strength training. VBT is a type of autoregulation that uses bar speed to determine (in real time) how much you should lift for each set. When done correctly, it is more accurate than percentage-based training and RPE-based training.
Until recently, VBT devices like VITRUVE were inaccessible to the average lifter. They were bulky and most importantly very expensive ($1500-2000+). They only made sense for coaches in athletic facilities. Now, the price is affordable and the size is compact. You can just toss it in your gym bag and go.
I've personally put the VITRUVE VBT device to the test. My experience with this device has been very positive. Overall, it beat my expectations and has some very desirable benefits and use cases.
Here's the process for using it during a workout:
Pair the device to your smartphone or tablet via the app.
Magnetically attach the encoder to a weight plate under the bar, on the floor, so it doesn't fly off during the lift.
Pull the nylon string out and attach it to the bar.
Select the exercise and weight in the app, press start and begin the lift.
The device automatically tracks the following metrics for every single rep. Everything is saved in the app for your records:
Number of reps
Peak velocity and mean concentric velocity
Mean Power
Range of motion
Estimated 1RM
Fatigue/velocity loss and velocity zones
Peak Force, peak power and peak and mean acceleration (these metrics are only accessible through the VITRUVE Teams app, which is a separate subscription-based app for coaches)
I'll summarize the main features and benefits of this innovative (and actually useful) piece of fitness tech:
Make Better Gains Over Time by Using the Optimal Weight for Each Set. The VITRUVE VBT device tracks your bar/body velocity, power and range of motion. Depending on which training mode you're using, the VITRUVE app will tell you whether you should use more weight, less weight or the same weight. This is a major improvement for lifters doing workouts based on pre-programmed weights based on percentages of their 1 rep max, since these weights are often too heavy or too light depending on the day. Similarly, if a lifter is used to doing autoregulation, the VITRURVE device will allow them to use less guesswork when deciding which weight to use for their work sets–they'll be able to choose a heavier or lighter weight based on data instead of ego or motivation levels. Ultimately, this means faster progress and fewer injuries.
Track Your Progress and Get Training Long-Term Insights. The VITRUVE app shows your progress over time for a given exercise and for all workouts over time.
Check out my Vitruve Encoder review to learn more about this VBT device.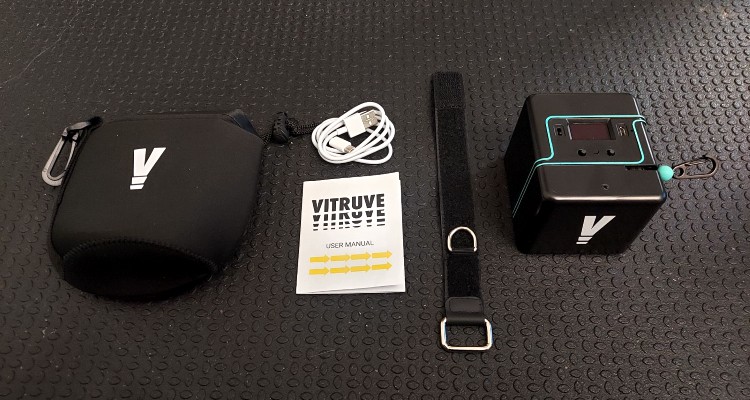 Use Code KING for 5% OFF – VITRUVE VBT Device »
5. TRX Suspension Trainer
Bodybuilders and weightlifters of course lift weights. It's the most efficient way to build muscle. But it's not the only way to build muscle.
In fact, sometimes it's preferable to do bodyweight resistance exercises, even if when you have a room full of free weights and machines. And what if you don't have access to weights? Maybe you're traveling or the gym is closed or you're too busy or you want to get in some light training on an off day or whatever…
…Any and all of these scenarios make the TRX Suspension Trainer a perfect gift for any bodybuilder or any weightlifter in general. This is an incredibly versatile training tool that allows you to do 80+ resistance exercises.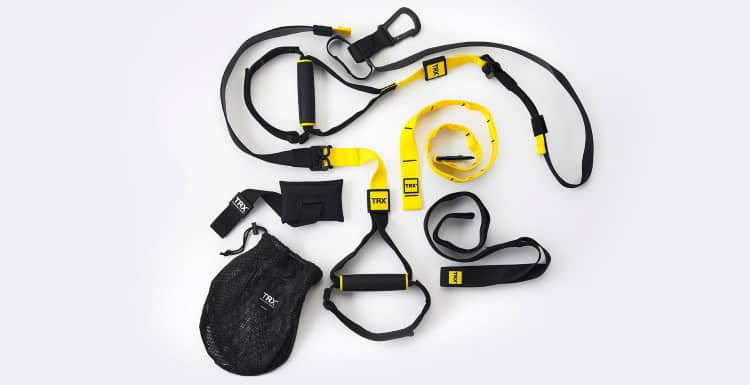 Check Current Price – TRX Suspension Trainer »
The design is ingeniously simple: it's essentially two handles/stirrups at the end of two adjustable straps, which connect at the top.
It's ridiculously simple to set up anywhere. You just clip on, wrap, hook or hang the top part from any secure elevated attachment point, such as a door, a pull up bar, a tree branch, an exposed ceiling joist/beam, monkey bars in a park, a lamp post, or an installed wall/ceiling mount.
It's super lightweight and compact. This portability makes the TRX one of the best gifts for bodybuilders who travel a lot for work.
Of course, this does not replace weights. But it's an excellent complement to any weight training regimen. And it's a "good enough" stand-in for weight training when getting to the gym is not possible.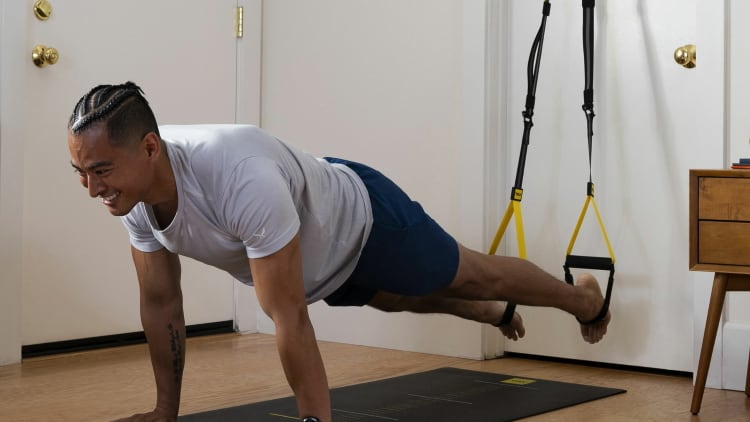 Check Current Price – TRX Suspension Trainer »
6. Angles90 Grip Handles
The Angles90 grippers are one of the best gifts for bodybuilders for a couple of reasons:
They're extremely versatile handles that can be used on tons of different exercises.
They can be used by both home gym lifters and commercial gym lifters.
You can use the built-in nylon straps on these orange, crescent-shaped grippers to attach them to all types of gym equipment, including chin up bars, cable handle bars/attachments, machines, barbells and kettlebells, among others!

Use Code KING10 for 10% OFF – Angles 90 Grip Handles »
The flexible nylon strap allows you to freely hold the grippers in whichever position you desire during an exercise: supinated, pronated, neutral or rotating. Not only does this allow you to activate the target muscles more effectively, but it also reduces the strain on your shoulders, elbows and wrists compared to having a fixed grip.
The grippers themselves have a very ergonomic design. They feel extremely comfortable in the hand and are shaped such that you get a solid grip regardless of which way you hold them. On top of that, their texture is smooth yet tacky, which further enhances grip quality.
The strap can be threaded through to either side of the gripper to, which lets you use them right side up or upside down. When you flip them up, this puts you in the "power position" (ideal for heavy, low rep lifts). When you flip them down, this puts you in the "ergo position" (ideal for light, high rep work).
To further amplify the versatility, the grippers have side slits on each end that you can hook the strap into, to shorten the length.
I've worked with Angles90 to acquire an exclusive discount code for my readers. Use code KING10 for 10% off this awesome and popular lifting accessory.
Use Code KING10 for 10% OFF – Angles 90 Grip Handles »
7. Adjustable Dumbbell Set
If you're buying a gift for a bodybuilder who lifts weights at home, then a high-quality adjustable dumbbell system is one of the best pieces of equipment you could buy for him.
Dumbbells are an essential tool for bodybuilders since they allow more freedom than a barbell in terms of the range of motion and wrist/shoulder positioning. Basically, they are more accurate in targeting specific muscles or emphasizing different heads within a muscle.
A regular, non-adjustable dumbbell set takes up a bunch of floor space, not to mention it can cost thousands of dollars.
This is why adjustable dumbbells are a desirable gift for bodybuilders who train at home – they save so much room without costing too much money.
I recommend buying either the Powerblock dumbbells or Ironmaster Quick-Lock dumbbells.
The PowerBlock dumbbells are also awesome adjustable dumbbells. I bought the PowerBlock Pro EXP Stage 3 set in early 2019 — I love them and use them every single workout session. You can read my PowerBlock Pro EXP review here for details. However, they have since been replaced by the PowerBlock Pro 100 EXP set that goes all the way up to 100 lbs.
Their main advantage over the Ironmasters is that you can adjust them much more rapidly.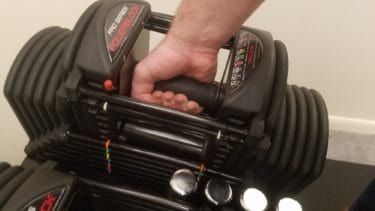 Check Current Price – PowerBlock Dumbbells »
I also own the Ironmaster dumbbells, though I keep them at my parents' home for when I visit. They have a more traditional dumbbell look, as you can see in the photo below: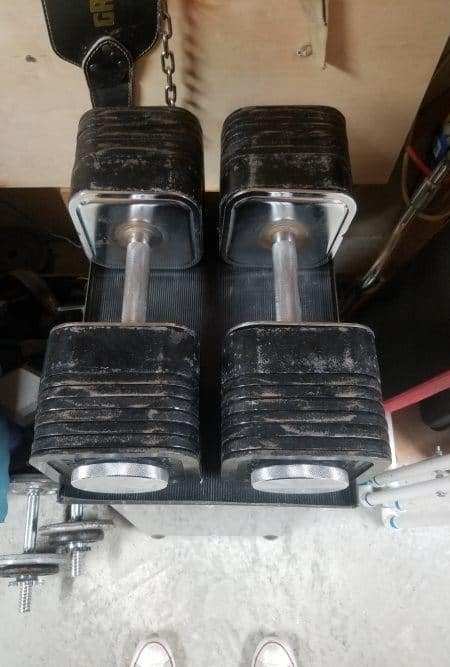 Check Current Price – Ironmaster Dumbbells »
If you want to see an in-depth review of each of these adjustable dumbbell brands, check out my article on the pros and cons of Powerblock dumbbells and my PowerBlock dumbbells comparison guide, as well as my Ironmaster dumbbell system review.
8. NutriBullet Blender System
As a bodybuilder, meal preparation can be a tedious and time-consuming process with lots of cleanup.
A tool like the NutriBullet will help make that process easier and also eliminate some of the cleanup.
The NutriBullet makes everything a typical bodybuilder already does, easier. For example:
Making a quick protein shake, homemade weight gainer (e.g. oats + PB + ice cream + whey), or fruit smoothie – and drinking it straight from the container
Preparing omelets or scrambled eggs with veggies or meats easily added in
It also encourages getting more creative and making (potentially) healthier dishes in the kitchen, such as:
Vegetable and fruit juices
Vegetable soups
Nutritionally dense muffins or pancakes
Nut butters
If you want to go above and beyond with your gift, I'd recommend buying a NutriBullet recipe book as well. It's cheap, but can really motivate the gift recipient to get the most out of the blender.
Check Current Price – NutriBullet »
9. Ab Pad
An ab pad like the DMoose Ab Mat is an excellent gift idea for bodybuilders and weightlifters that's also very affordable. This simple fitness product takes your abdominal training to the next level.
You place the ergonomically curved pad under your lower back. It forms to the shape of your lower spine, and forces you to fully extend the ab muscles at the bottom of the range of motion. At the top of the range of motion, the pad supports your pelvis.
The end result is better technique and more intense abdominal contraction throughout the movement. You can't get this type of intensity on a flat surface.
Check Current Price – DMoose Ab Mat »
10. Wireless Headphones
Just about everyone listens to music on their phone while they train.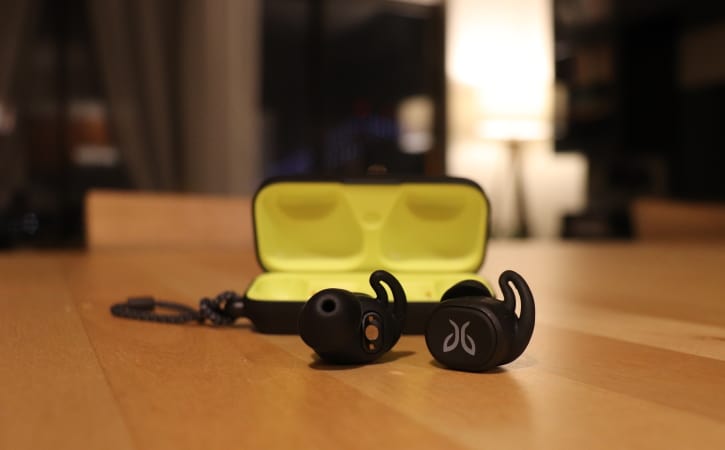 But not all headphones are made for lifters. They need to stay in/on and have decent sweat resistance. That's why fitness-focused wireless headphones make a great gift idea for a bodybuilder.
Here are my top picks:
11. Barbell Clamp Collars
Nothing is worse than having crappy barbell collars that won't stay in place and stop the plates from moving around the bar. It defeats their whole purpose.
Unfortunately, the most common barbell collars you'll run into at most gyms are ones that totally suck. They're usually the cheap, low-quality spring clip collars made of wire, which have long since been bent out of shape.
The best type of collar is the clamp style, which is made of a durable, hard plastic material that has a lever locking mechanism and quick-release feature. They're much easier to use, lock the plates completely in place, and last much longer than spring clip collars.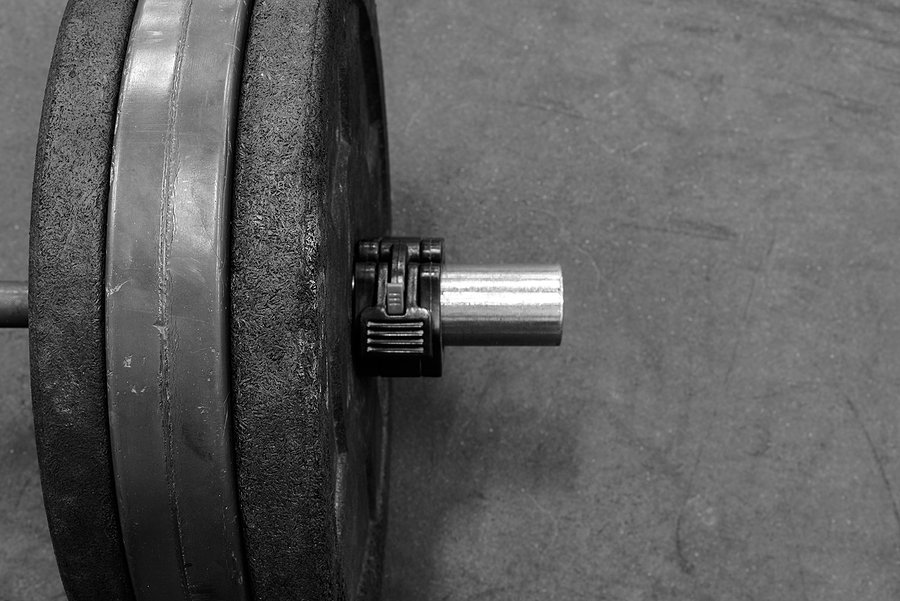 It's always a smart idea for lifters who go to commercial gyms to carry a pair of these in their gym bag to use them on any lift where the plates tend to wiggle out of place, including and especially on deadlifts.
Similarly, any home gym lifter should have at least one quality pair of these for their barbell(s).
I own and strongly recommend the Lock-Jaw OLY 2 Collars. It's well made, goes on and off super fast, is very durable and you can't beat the price!
Check Current Price – Lock-Jaw OLY 2 Collars »
12. Inversion Table
An inversion table is an ideal gift for weightlifters and bodybuilders who complain about back aches and pains — something many of them suffer from occasionally or even chronically.
I have a friend who owns one of these and I use it every single time I visit! It feels so good on my lower back. The idea is that you get on the table, lock your feet in, and then slowly tilt it back to an inverted angle, such that your feet are higher than your head.
This produces spinal traction, causing the spine to decompress. The theory is that it increases circulation, adds more fluid around the discs and reduces inflammation, leading to reduced pain over time. While the research is still out for long-term efficacy, I know that I feel excellent after using it. And many others agree.
Check Current Price – Innova Inversion Table »
13. Food Scale
Successful bodybuilders stay on specific bulking or cutting diet plans depending on their current goal.
The most efficient way for bodybuilders to reach their physique goals is to stick to a diet plan.
A food scale is a nice bodybuilder gift idea because it lets them weigh food so they can accurately calculate calories and macronutrients. This will help them reach their body composition goals faster.
I've got the American Weigh Scale LB-3000. It's great and comes with a bowl.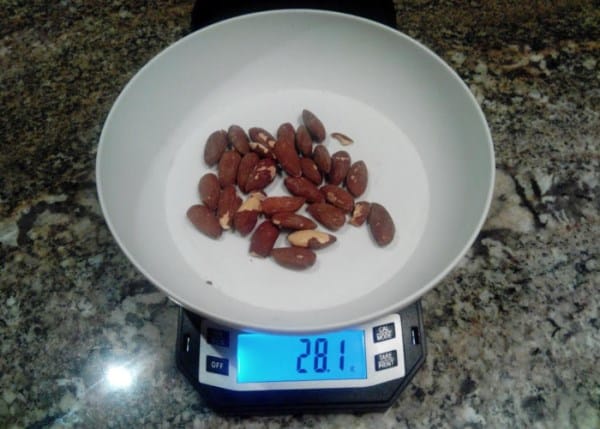 However, if I were buying again now, I'd probably get the Weighmax 2810-2KG, which is supposed to be a little better in terms of features and value:
Check Current Price – Weighmax Food Scale »
14. A7 Bar Grip™ Shirts
If you know someone who benches or squats, then I can guarantee you they will absolutely love an A7 Bar Grip shirt.
Hell, even if they already have one, you can bet they'll be happy to get a different color or design. Take it from me: I have at least 6 of them now and I still want more!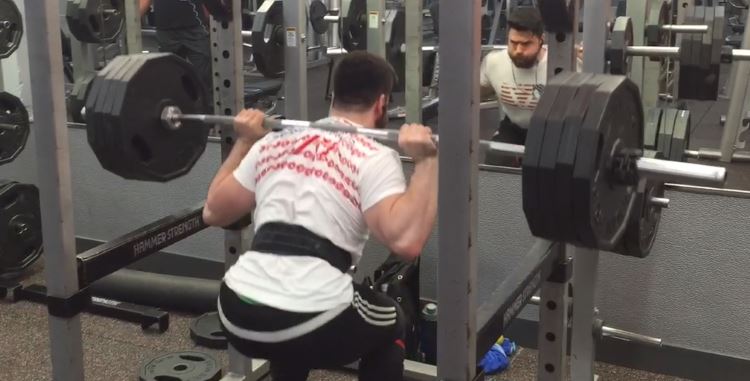 So, what exactly is a Bar Grip shirt?
It's a nice-fitting piece of gymwear, yes. But it's way more than just that. It's also an incredibly useful training accessory, which…
Prevents your back from sliding during bench press due to sweat or slick bench upholstery.
Stops the bar from sliding down your traps during squats due to sweat or insufficient center knurling on the barbell.
It accomplishes this with an ingeniously simple design: a layer of highly "grippy" silicone material that's built into the upper back region of the shirt.
And it works seamlessly. It's more effective, more convenient and of course way cleaner than using chalk — or any other alternatives for that matter.
If you're not a lifter yourself, you might not get just how helpful this is–but trust me, it is. Ask any seasoned lifter, and I can guarantee you they've run into the annoyance of slippage during squats or bench–to varying extents (those of us who sweat a lot have experienced it the most).
I've done full reviews on two different shirts from the previous generation known as the Bar Grip 3.0. If you're interested, you can read those here:
As I go over in my reviews, the previous generation of shirts was awesome. BUT, A7 outdid themselves with their new and improved version…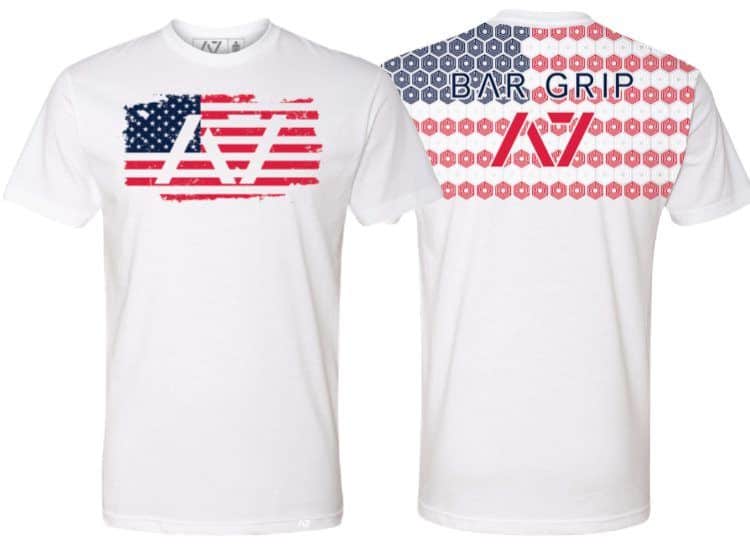 The newer Bar Grip t-shirts feature full coverage of the upper back and traps, as shown above
This newer version of the shirt was originally called the Bar Grip "Full" when it first launched because it's major upgrade was full coverage of the back, shoulders and traps with grips. However, now the name is just back to Bar Grip (no "Full") but all the new designs have the full coverage.
These new Bar Grip shirts are indeed superior to the old 3.0 generation. Here are the main differences:
The grip material covers the entire upper back. This includes, most importantly, ALL the way up to the neck/collar on the back of the shirt. This means there's no chance of setting the bar so high on your traps (for high bar squats) that you miss the grip. This was one minor flaw of the 3.0 shirts–the grip material stopped 1-2 inches short of the collar. This was a slight inconvenience for super high bar squatters, like myself, since the potential was there to set the bar on the regular shirt fabric if you weren't deliberate about placement.
The grip material is even grippier than before. They used the same stuff that's used on wide receiver gloves for catching footballs. I can vouch that the grip on the newer Bar Grip shirts is noticeably stronger than on the 3.0.
The grip material is deeper into the fabric. This means it'll be more durable and able to handle more abuse.
The new 95% cotton / 5% lycra fabric blend allows for better moisture wicking and comfort while still maintaining the athletic tapered cut.
The neck hole is slightly larger to accommodate the generally larger necks of lifters.
There is greater flexibility in the armpit region to prevent pinching from pressing into the lats.
Oh, and if you're not sure about sizing, take a look at the sizing chart for men and women: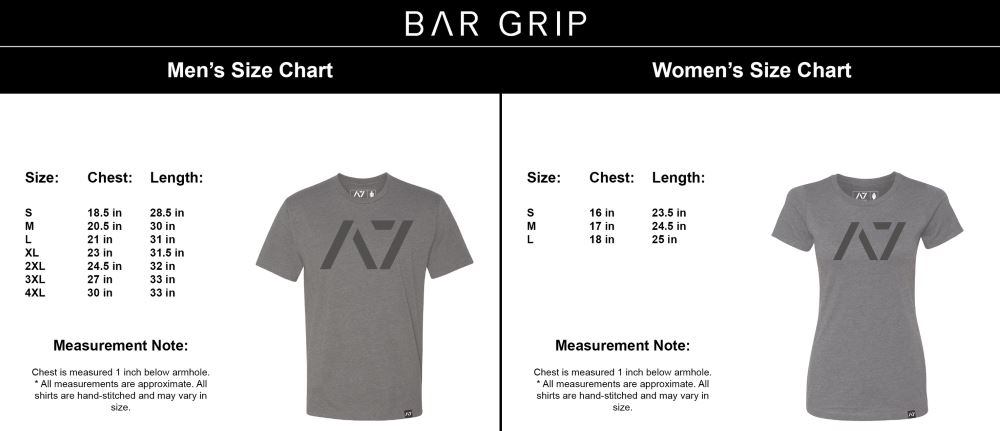 Think a Bar Grip shirt is the right gift? Then click below to shop A7's complete product line:
Check Current Price – A7 Bar Grip Shirts (All Designs) »
15. Power Rack
Do you live with or know a lifter who wants to build a home gym? Or maybe they have a home gym, but they need to upgrade it.
If so, then the Titan T-3 power rack is the way to go. It's arguably the best bang for your buck rack out there.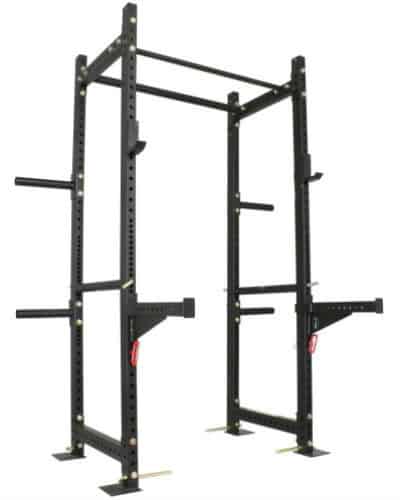 Your bodybuilding friend/loved one will get a very high-quality power rack. And you won't have to drain your wallet in the process.
That's not to say this is a cheap gift. You'll still be spending in the low-mid hundreds. After all, a power rack is the centerpiece of any serious lifter's gym.
Competing racks like the Rogue R-3 cost nearly 2x as much.
The higher price of competing racks may deliver slightly better quality. However, the vast majority of lifters wouldn't notice or care about the minor (often cosmetic) differences.
There are actually several T-3 rack variations, including deep and short versions, as well as squat racks, squat stands and wall-mounted racks. However, these are by far the 2 most popular T-3 power racks:
You can read my full review of the T-3 power rack if you want more information before deciding if this is the right gift idea for the bodybuilder in your life. If you want to learn more about power racks in general, read my power rack buying guide for home gym owners.
Check Current Price – Titan T-3 Power Racks »
16. Gymwear
Every bodybuilder needs good gym clothes to train in. The most important factor should be comfort and a fit that allows for full range of motion during exercise.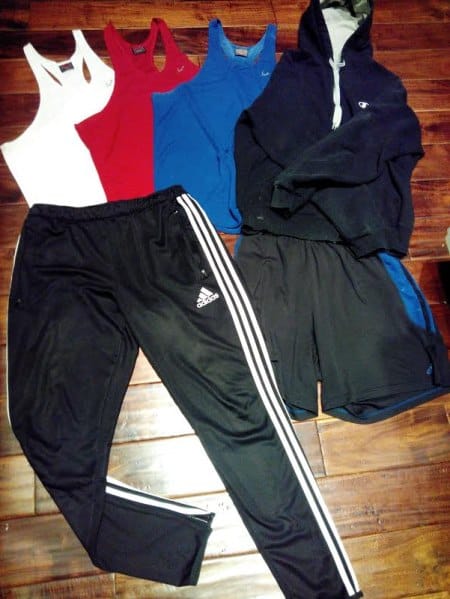 If the clothing also happens to show off their hard-earned physique, that's a bonus – not only does this allow the bodybuilder to motivate himself by indulging in some healthy narcissism, but it lets him see his exercise technique and watch his muscles working during sets.
I recommend the following pieces of clothing for a full gym wardrobe:
17. George Foreman Grill
All weightlifters, and especially bodybuilders, need to eat lots of protein while keeping fats to a more moderate level in order to limit calories — especially while cutting.
Unfortunately, lots of meats are packed full of fats…
…If only there was some device that bodybuilders could use to drain this excess fat from the meat while cooking it.
Oh wait, there is!
The George Foreman Grill does just that. Plus it can be used to grill veggies, bread and other foods, too.
I had one of these bad boys back in college when living off-campus and it made the cooking process much more efficient, especially when I was cooking several meals at once.
Plus, I was able to save money when going grocery shopping because I could buy the less expensive, but fattier ground beef and chicken breasts.
I recommend the 9-Serving George Foreman Grill shown in the photo above because it has a larger surface area that bodybuilders will need when cooking up a big meal, or doing meal prep for the upcoming week. Plus, this one has removable plate grills to make cleanup much easier.
Check Current Price – George Foreman Grill »
18. Supplement Gift Card
Just about every weightlifter takes supplements, whether that be whey protein, pre-workouts, multivitamins, fish oils or any number of other health and performance supplements.
Especially if you don't know which specific supplements to buy, then you can't go wrong with a gift card.
I personally do a lot of my supplement shopping on Amazon, so I'd recommend an Amazon Gift Card.
19. Tanning Salon Membership
Tanning helps to make the muscles look bigger and more defined.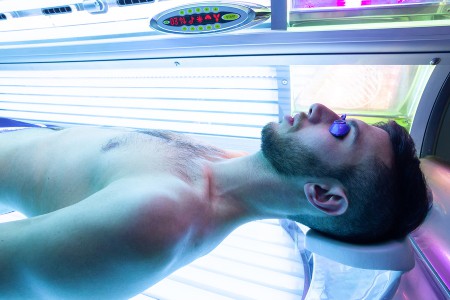 This is important to bodybuilders, specifically those who compete.
So if you know a bodybuilder who has a competition coming up in the next year, buying a membership or gift card from a local tanning salon would be an excellent gift choice.
20. Pull Up/Dip Belt
A pull up/dip belt allows a bodybuilder to safely and easily add weight to dips, pull ups and chin ups, which are traditionally bodyweight-only exercises…
…The ability to add weight to these movements means that a lifter can continually progress in strength, virtually forever (or until he reaches his body's maximum strength potential).
When buying a pull up/dip belt as a gift, be sure to get one that can hold up to several years of heavy use.
I bought a cheap leather dip belt not too long after I started lifting. It only took a couple of years for the metal divots to pop out on one side.
I strongly suggest going with a belt made from heavy-duty nylon with sturdy stitching, like the Spud Inc. dip belt.
It's lightweight, super strong and can withstand years of heavy use.
Check Current Price – Spud Inc Dip/Pull Up Belt »
21. Foam Roller
Of all the different kinds of people who lift weights, bodybuilders are probably the most likely to develop muscle imbalances and mobility restrictions.
This is because they have a tendency to focus more on "show" muscles, like the chest, biceps and quads; and less on the back, triceps and hamstrings.
The most obvious solution is to have a more balanced approach to training. However, it's important to actively work on mobility, too.
One of the most effective tools you could buy as a gift for a bodybuilder or weightlifter who needs to improve his mobility and soft tissue quality is a foam roller. It is used to release myofascial tissue by rolling different parts of the body (i.e. mid-back, lats, thighs, arms, calves, etc.) over it.
I own and recommend The Grid foam roller, which is just 13 inches long. This is long enough to perform all the common foam roller exercises but short enough to fit in a gym bag.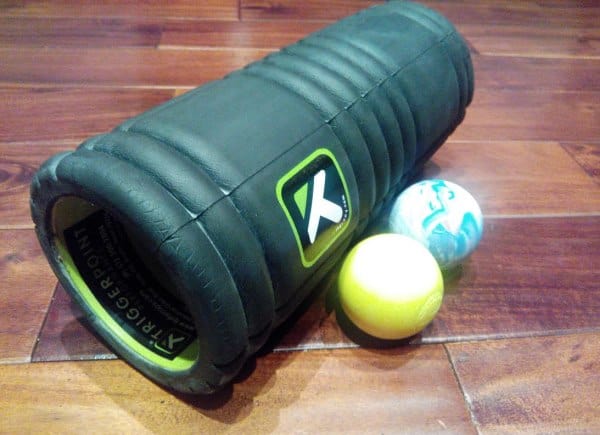 Check Current Price – The Grid Foam Roller »
You can really make this gift complete by getting a couple of lacrosse balls to go along with it. Lacrosse balls are to perform self myofascial release on smaller muscles that the foam roller can't target.
22. Fitness Tracker Wristband
Wearable fitness/activity trackers are becoming more and more popular. They record and track several different types of biometric data, including:
estimated calories burned
steps taken
time sleep
and more…
They also have apps that you can wirelessly sync the data to, and use to set and manage goals.
This is great for bodybuilders who are trying to cut down and need to burn more calories by increasing cardio or overall activity. The ability to see their activity data in real-time, and compiled over time, is a fun and engaging way to get motivated and encourage progression.
And especially if the bodybuilder you're buying this for is also into technology, you can be sure that a good quality fitness tracker will be well-received.
There are many brands out there, but FitBit has proven themselves to be an industry leader over the past few years, in terms of features, hardware quality, design and app functionality.
That being the case, I recommend the FitBit Charge 6.
Check Current Price – FitBit Charge 6 »
23. Food Storage/Meal Management Products
The old bodybuilding myth of having to eat every 2-3 hours has been busted.
However, it can still be useful for some people to prepare multiple meals ahead of time and bring them with them on the go.
Specifically, this is most practical for:
Bodybuilders who drive around all day for a living (e.g. truck drivers, repairmen)
Bodybuilders who work very long shifts at their job
Bodybuilders who simply prefer to eat every 2-3 hours
If you know anyone like this, then they'll be smiling ear-to-ear when they unwrap their present to find an IsoBag Meal Prep Lunch Box:
Check Current Price – IsoBag Meal Prep Lunch Box »
This bag has separate compartments that will insulate 3 large meals plus drinks, snacks, and supplements, keeping them fresh throughout the day.
An additional small gift you could buy to complement the meal management bag would a pill organizer.
It's inexpensive but can provide a lot of value to the bodybuilder on the go.
24. Lifting Straps
Lifting straps make it much easier to hold onto heavier weights for longer periods of time.
This is important for bodybuilders when it comes to pull exercises like heavy rows, deadlifts or weighted pull ups.
Without straps, grip/forearm strength is more likely to be the weakest link. When this occurs, the target muscles will not be trained sufficiently. Over time, this can lead to underdeveloped back muscles.
Buy a quality pair of lifting straps that are durable, comfortable and easy to wrap around the bar. The Schiek Deluxe lifting straps meet all of these qualifications.
They have neoprene padding and can convert into wrist wraps, which provide wrist support during pressing movements.
Check Current Price – Schiek Lifting Straps »
25. Gym Bag
If you're buying a gift for a weightlifter who does not train at home, then you should consider buying him a gym bag.
It should be a pretty large bag that can hold plenty of training accessories (i.e. belt, chalk, mini foam roller, bands, etc.), a water bottle and a change of clothes.
Ideally, it should have a few different pockets and compartments for separating different types of items.
Lastly, don't skimp out on quality. You don't want to buy a cheap quality bag that will rip and tear easily.
Get a sturdy bag made with quality materials and stitching. Canvas is always a good bet. I recommend the Texsport Canvas Tactical Bag:
It's made from quality canvas, is super durable and is priced surprisingly well considering the quality. It has plenty of pockets and compartments, and is the right size for most gym-goers at 34″ x 15″ x 12″. Not too big and not too small.
Plus, you can carry it like a duffel bag OR wear it like a backpack!
Check Current Price – Texsport Canvas Tactical Bag »
26. Bathroom Scale
Whether a bodybuilder is bulking up or cutting down, he needs to track his progress over time.
And one of the most basic pieces of tracking data is body weight.
No need to get a fancy-schmancy scale – Some scales have body-fat testing, but that's always inaccurate and inconsistent; others offer user recognition and wireless data transmission, but that's just useless in my opinion.
All that's needed to track weight is a simple bathroom scale. I recommend the Etekcity bathroom scale, which is a high-quality, low-cost body scale.
It measures your weight accurately and consistently. That's all you need in a scale.
Check Current Price – Etekcity Bathroom Scale »
27. Body Measuring Tape + Body Fat Calipers
While body weight is one important piece of information that a bodybuilder needs for tracking body progress, it's not the only one.
For best results, body weight should be tracked in addition to body part size and body fat measurements.
Luckily, doing this only requires a couple of simple, easy-to-use and inexpensive tools – body tape measure and body fat calipers.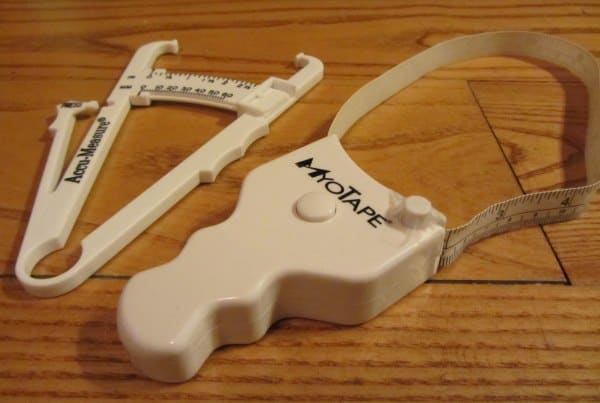 The measuring tape allows quick and easy measurements of the waist, arm, thighs, calves, chest, shoulders, forearms, neck, hips and anywhere in between. The body fat caliper provides an estimate of body fat percentage by measuring the thickness of skin folds in a few key spots.
The body fat measurement the calipers give is likely slightly off by a couple of points from the true body fat percentage. However, it gives a consistent reading, which is all that's needed to show progress over time.
Check Current Price – MyoTape Tape Measure »
Check Current Price – MyoTape Tape Caliper »
28. Pay for Gym Membership
Are you looking for a creative gift idea for a bodybuilder or weightlifter who trains at a commercial gym?
If so, then call or go to his gym and ask if you can extend his membership by one year. This is much more thoughtful than just giving him money to do it.
29. Giant Water Bottle
Staying hydrated should be a top priority for every bodybuilder.
Without proper hydration, the body can't burn fat or build muscle as efficiently. And even mild dehydration can cause a significant decrease in performance.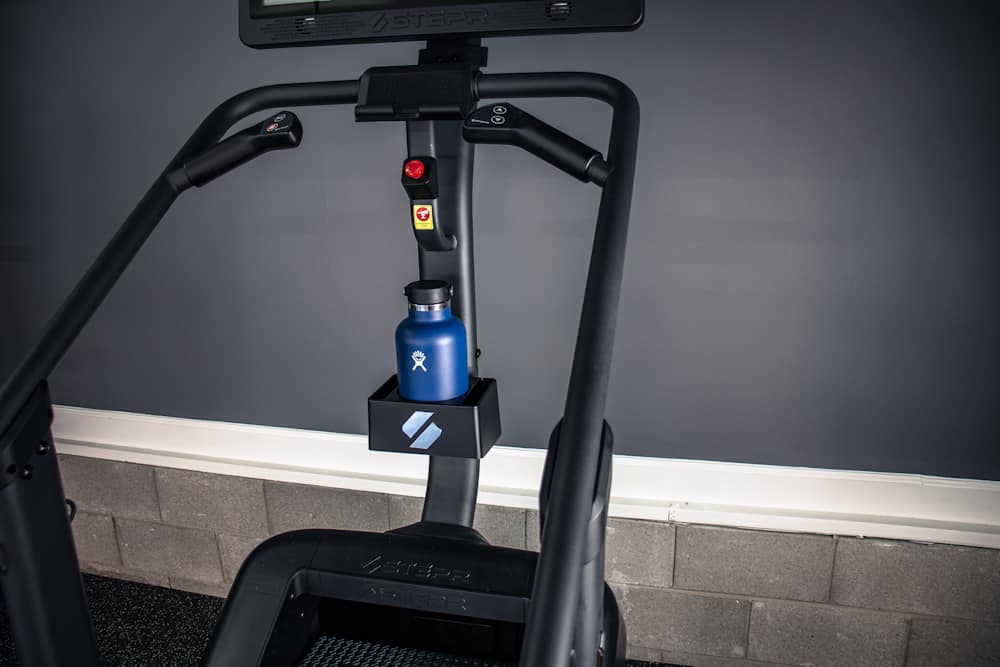 Generally, most bodybuilders should be drinking 0.75-1.0 gallons (96-128 oz or 2.8-3.8 L) of water each day, give or take.
This doesn't seem that difficult, but if you're busy (or lazy) during the day, it can be challenging to continuously drink and refill a small glass or water bottle.
The solution? A really big water bottle that only needs to be filled twice a day…
…Specifically, I recommend buying the 64 oz. Hydro Flask Insulated Bottle. This is very large, but still portable. Plus, it has great insulation, so it will keep cold drinks cold, and hot drinks hot, throughout the day.
Check Current Price – 64 oz. Hydro Flask Water Bottle »
30. Full-Length Mirror
I'm not even joking. A large, full-length mirror is an excellent gift idea for a bodybuilder.
Every bodybuilder loves looking in the mirror. Is it vain? Sort of.
But it's also a necessary part of the sport, or art, of bodybuilding – seeing progress and critiquing the physique to find where improvements can be made.
Plus, competitive bodybuilders need to practice their posing routine. And the best way for them to get immediate feedback is by flexing in the mirror.
If you're on a budget, a normal-width full-length floor mirror will do the trick:
Check Current Price – Normal Full Length Mirror »
…However, if you've got a little extra money to spend on this gift, you should really get an extra wide full-length floor mirror:
The extra width allows the entire physique to be seen in wider poses like the front double biceps.
Check Current Price – Extra Wide Full Length Mirror »
31. Bodybuilding Documentaries
Bodybuilding documentaries make great gifts for bodybuilders, especially if you're getting them for someone who's relatively new to lifting.
It'll give them motivation while also entertaining them.
Plus, it will provide them with a background on the history of bodybuilding as a sport and a lifestyle, as well as insight into different topics or controversies in bodybuilding culture.
The big three documentaries to get are:
All three of these can be had for a small price, so I recommend buying them all.
You may want to also consider getting The Comeback. I had never seen or even heard of this documentary until researching this topic. But it looks good, so I thought I'd give it a mention.
32. Neck Harness
No bodybuilder wants a pencil neck!
Shrugs, deadlifts and compound movements in general, will train the neck indirectly. For some guys, this may be enough. But in order to get a really strong and well-muscled neck, it's necessary to train the neck directly. And the most efficient way to train the neck is with a neck harness.
This is an especially good gift for bodybuilders who also partake in contact sports, such as martial arts, football or rugby. But even if they don't, I think every bodybuilder should train neck purely for the aesthetics.
I bought a neck harness back in the day from Harbinger. It wasn't great because it would always slide over my eyes. The other problem with cheaper quality ones like the one I had and most others you'll find for cheap prices, is that they're weak. They'll break down pretty fast for any lifter who takes neck training seriously and starts doing flexions/extensions with heavy weight.
And the last thing you want to happen when training a sensitive region like the neck is for your equipment to break while you're in the middle of a set. That could be very dangerous!
With that in mind, I only recommend buying a high-quality neck training harness like the IronMind 'A Headstrap Fit for Hercules' Neck Harness, which I own, use and can personally vouch for:
Everything about this strap is awesome, from quality to fit to comfort to strength: it's the best neck harness out there. Period.
Check Current Price – IronMind Neck Harness »
If you're looking for a decent neck harness in a somewhat lower price range, I would point you toward the Spud Inc. neck harness. I haven't used it personally, but Spud Inc. has a good reputation for high-quality, durable training accessories made from heavy duty nylon (e.g. dip belts, deadlift belts).
33. Online Coaching for Diet and/or Training
Hiring an online coach is an excellent gift for bodybuilders who fall into at least one of the following categories:
Will be dieting down to prepare for a bodybuilding or physique contest
Has very specific and challenging physique goals (e.g. wants to reach very low bodyfat levels with minimal muscle loss)
Desires guidance and increased motivation
Here's a list of several coaches who are generally well respected for their methods, quality of service, attentiveness to client needs, and most importantly, results.
Note: Although I spent some time researching these coaches/coaching teams, you should do your own due diligence before purchasing any services. I recommend trying to find reviews on different bodybuilding forums from people who have been coached by whomever you're considering.
I hope this list of gifts for bodybuilders has helped you find the perfect present for the special lifter in your life. If you have any other suggestions I didn't think of, please leave them in the comments below.