The GymPin is an ingenious gym accessory. It lets you add Olympic weight plates to a selectorized weight stack to increase the max capacity.
In this GymPin review, I'll tell you everything you need to know about this weight stack plate holder pin, including:
What it is
How it works
Who should buy it
How to pick the right size & model
Alternatives
And more!
What Is the GymPin?
The GymPin is a weight stack adapter pin designed and manufactured in the United Kingdom. You use it to add more weight to a weight stack machine when even the heaviest setting is too light for you.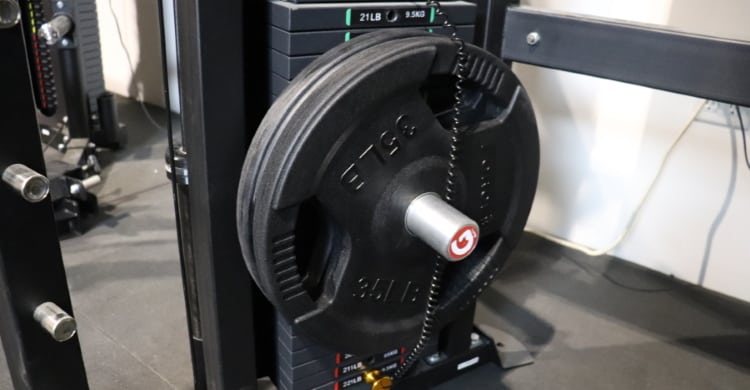 There are few different models of the GymPin. All of them consist of these two basic components:
An 8mm or 10mm skinny steel rod (i.e. the pin) that goes the entire length of the GymPin. The length of the exposed portion of the rod/pin is 102mm, or 4 inches long on all models.
A 1 or 2 inch diameter steel sleeve that is molded over the upper portion of the pin/rod. The sleeve length depends on which model you get.
Hidden Use: Incremental Adder Weight
The GymPin isn't just for adding plates to a weight stack. It also has a hidden side benefit. That is, when you don't load any plates onto it, it becomes an "adder weight" if you want to add just a small increment of weight to the stack. The amount of incremental weight added depends on which GymPin model you have. I'll discuss all specs, including unit weight, in the next section.
GymPin Models & Specs
There are 4 different GymPin models:
I'll lay out the specs for each below. It's important to know dimensions before buying so you can ensure the model you get fits the machine(s) you'll be using it on.
The Original GymPin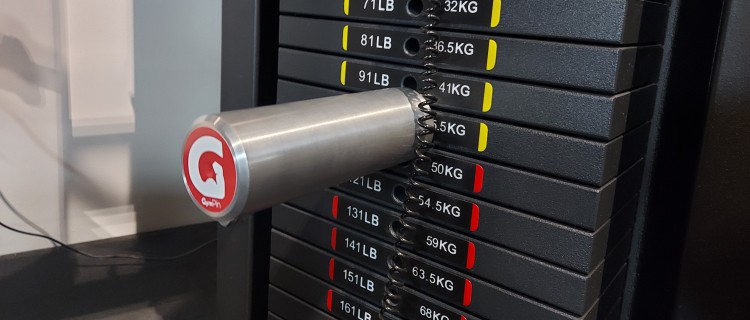 The key specs and dimensions for the Original GymPin are as follows:
Sleeve diameter: 49.5mm (1.95 in)
Rod/pin diameter: 8mm (5/16 in) or 10mm (25/64 in)
Sleeve length: 155mm (6.1 in)
Rod/pin length: 102mm (4 in)
Total length: 257mm (10.1 in)
Weight: 864g (1.90 lbs) for the 8mm version; 897g (1.98 lbs) for the 10mm version.
Manufactured: United Kingdom
The MiniPin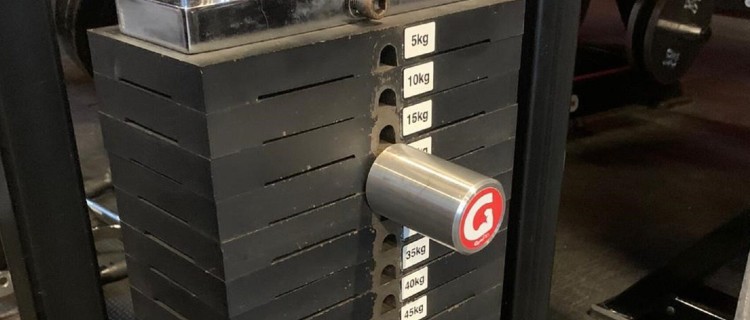 The key specs and dimensions for the MiniPin are as follows:
Sleeve diameter: 49.5mm (1.95 in)
Rod/pin diameter: 8mm (5/16 in) or 10mm (25/64 in)
Sleeve length: 80mm (3.15 in)
Rod/pin length: 102mm (4 in)
Total length: 182mm (7.17 in)
Weight: 494g (1.09 lbs) for the 8mm version; 527g (1.16 lbs) for the 10mm version.
Manufactured: United Kingdom
The KingPin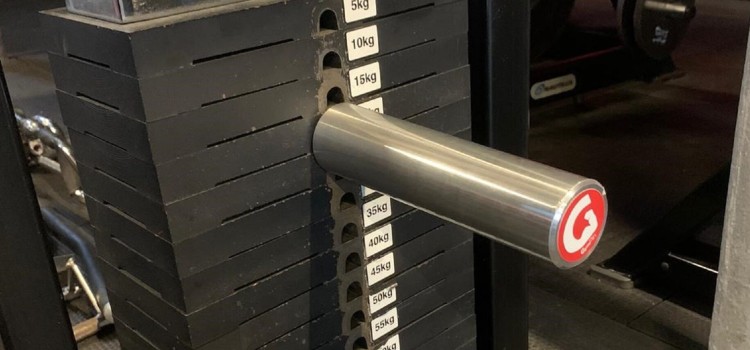 The key specs and dimensions for the KingPin are as follows:
Sleeve diameter: 49.5mm (1.95 in)
Rod/pin diameter: 10mm (25/64 in) only
Sleeve length: 200mm (7.87 in)
Rod/pin length: 102mm (4 in)
Total length: 302mm (11.89 in)
Weight: 1125g (2.48 lbs)
Manufactured: United Kingdom
Price: £58.95 (approx. $81 at time of publishing)
The 1″ GymPin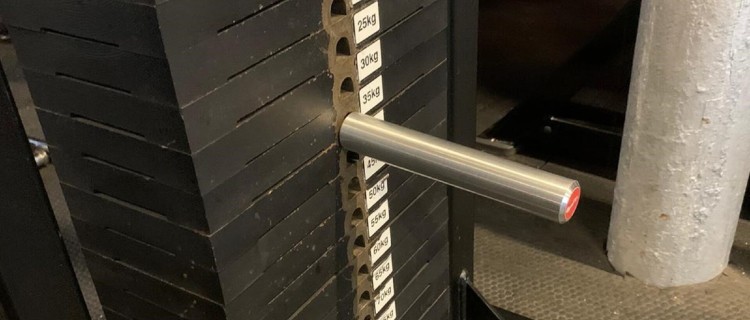 The key specs and dimensions for the 1″ GymPin are as follows:
Sleeve diameter: 25.4mm (1 in) – Designed for use with "standard" weight plates (1″ hole diameter)
Rod/pin diameter: 8mm (5/16 in) or 10mm (25/64 in)
Sleeve length: 155mm (6.1 in)
Rod/pin length: 102mm (4 in)
Total length: 257mm (10.1 in)
Weight: 264g (0.58 lbs) for the 8mm version; 299g (0.66 lbs) for the 10mm version.
Manufactured: United Kingdom
How Does the GymPin Work?
Now that we know the parts of the GymPin and the different models, here's how it works:
You insert the pin into the hole in one of the weight stack plates.
You slide Olympic weight plates onto the sleeve portion. You can optionally add a barbell collar to ensure the plates stay in place.
Perform the exercise as you normally would.
It's as easy as that.
Here's me doing rows with the Original GymPin:
You may notice that I'm using 35 lb plates as the largest plates instead of 45 lb plates. There's an important reason why I did this, and I'll discuss it later in the section on compatibility.
How Much Weight Can You Add to the GymPin?
The GymPin company provides general weight ratings for the various GymPin models. Depending on the model, people have loaded more than these weights without issue:
Original GymPin: 60kg (132 lbs)
MiniPin: 60kg (132 lbs)

Note: You won't be able to fit this much on the short sleeve unless you're using thin calibrated steel powerlifting plates.

KingPin: 85kg (187 lbs)
1″ GymPin: 60kg (132 lbs)
Note that the 10mm versions of the Original GymPin, MiniPin and 1″ GymPin could technically handle the 85kg capacity of the KingPin (which only comes in 10mm). However, it's no doubt impossible to fit that much weight on the short MiniPin sleeve. It's unlikely you could fit that much on the medium length sleeves of the Original GymPin and 1″ GymPin.
The actual amount of weight you can load onto the pin depends on the number and size of plates you can physically fit onto the sleeve.
For example, if you have super thick crumb rubber bumper plates, you may only be able to fit one or two 45 lb plates on, depending on the GymPin model. If you have regular cast iron plates, you can fit more plates on. If you have calibrated steel plates, which are the thinnest type on the market, you can fit even more plates on.
You may also need to account for the use of a barbell collar, which takes up space and may be needed in some cases to keep the plates on. Alternatively, some guys will max out the length of the sleeve and have a gym partner keep the plates from sliding off with their hands.
Lastly, it's important to note that the amount of weight you add to the GymPin is not necessarily the amount of resistance you will add to the cable. You have to take into account the pulley ratio. If your machine uses a 1:1 ratio, then weight added does equal resistance added. But if it's a 2:1 ratio, for example, then the resistance added is half the amount of weight you added.
Safety Considerations
One of the most common questions you get with a product like the GymPin is, "Is it safe?" People are concerned about the extra weight causing the cable to break.
Luckily, though, the GymPin is generally safe to use on selectorized weight stacks. This is because the standard weight rating for cables on selectorized machines is 2000 lbs.
Of course, it is possible for cables to snap even on weight stacks that you aren't adding weight to. It's very rare, but it can happen. However, that happens from long term wear of the cable and is usually the wear is visible.
It's a smart idea to inspect your cables regularly for any damage to the sheath or any other part of the cable. Also check the actual pulleys for any damage.
Ultimately, you use any piece of gym equipment at your own risk.
Who Should Buy a GymPin?
Not everyone needs a GymPin.
It's not for newbies to the gym. And it's not for lifters that don't use selectorized weight stack machines.
It is for you if you're strong enough that you find yourself maxing out any selectorized machine you regularly use during training.
It's also a good investment if you're interested in buying a selectorized weight stack machine for your home gym, but are worried about the stack being too light for some exercises.
An example of this is the Force USA G6, which I tested the GymPin on. It has 220 lb weight stacks, but with a 2:1 ratio. This means the max resistance is 110 lbs per stack. That's too light for me for lifts like rows and pulldowns. In this example, I could upgrade to the Force USA G12 to get 200 lbs of resistance per stack for an extra $1000. Or I could use the GymPin as an effective workaround.
Now we know who the GymPin would make sense for. But before you go and buy one, you need to make sure it's compatible with the machine(s) you'll be using it on.
GymPin Compatibility with Different Machines
Before you buy the GymPin, you need to figure out if it will actually work on the machine(s) you plan to use it on.
Unfortunately, there are some machines that you won't be able to use it on. There can be a number of reasons for this.
One reason can be if there is a guard, or casing, around the weight stack that prevents you from using the full range of motion without the GymPin hitting into the top of the casing's opening.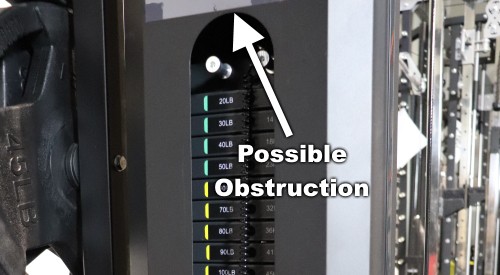 Another scenario where you may run into compatibility issues is if there is some other part of the machine that the GymPin would hit into when the stack moves up and down. A possible workaround for this situation is getting the shorter MiniPin, which will hopefully provide enough clearance. The video below shows one such use case for the MiniPin:
Another source of compatibility issues relates to the weight plates. You need to make sure that once the plates are loaded on the pin that they won't hit into other parts of the machine when the stack moves up and down.
This was an issue when I was testing the GymPin out on the Force USA G6. I could fit 45 lb plates on the GymPin, but they were just big enough that they would hit the rear frame crossmember when attempting to pull the stack up.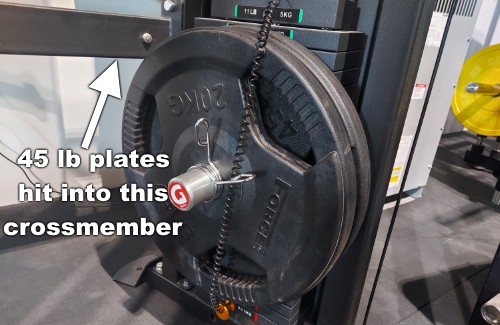 Luckily, the 35 lb and smaller plates worked just fine because they had smaller diameters. That said, I would've been out of luck in this situation if I only had bumper plates, since they all have the same large diameter regardless of weight.
There are some minor compatibility issues to be aware of, as well. These issues won't prevent you from using the GymPin effectively, but you may lose some efficiency:
If the holes in the weight stack plates don't go all the way through, or if they're not at least 4″ deep, then the GymPin won't be able to sit flush against the weight stack. This may make the pin and/or the plates more susceptible to sliding, especially as you load more weight on.
If the machine has a weight stack guard casing around it, you'll have less loadable sleeve length. This is because you won't be able to put the Olympic plates flush against the weight stack. The video below shows one machine where the guard causes you to lose about an inch of loadable sleeve length:
I included the measurements of all the GymPin models in an earlier section. Use those measurements to figure out if you'll have any compatibility problems on the machine(s) you'll be using the GymPin with.
If you can rule out all major compatibility issues, then you'll be able to use a GymPin successfully. However, there's one step left: You need to buy the right GymPin model/size to fit your machine(s). I'll talk about that next.
How to Pick the Right GymPin Size/Model?
Most selectorized weight stacks use one of two sizes for their selector pins: 8mm or 10mm diameter. That's why the GymPin is available with either an 8mm or 10mm pin.
You should figure out which size pin your weight stack machine uses. You can do this by measuring the diameter of the selector pin that comes with the weight stack.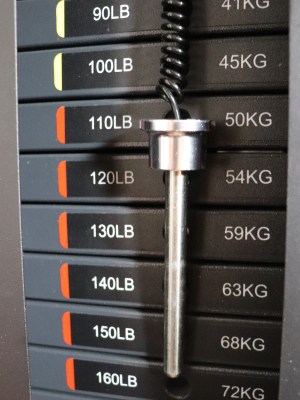 It's most accurate to measure it with a caliper. But if you don't have one, you should be able to tell with a ruler if the diameter is 8mm or 10mm.
If for some reason you can't get this measurement, go with an 8mm GymPin. That's the universal size. It'll obviously work in 8mm stacks. And while it won't be a perfect fit, it will work in 10mm stacks, too.
Similarly, if you'll be using some machines with 10mm weight stacks and others with 8mm weight stacks, then go with the 8mm GymPin.
Now that we've covered pin size, there's just one step left: Sleeve size.
I recommend the Original GymPin for most people. It has a sleeve length of 155mm (6.1 in). This will allow most people to add as much weight as they need.
There's also the MiniPin. This has a shorter 80mm (3.15 in) sleeve. Obviously, this can't hold as many plates, though it will be sufficient for some lifters. The main reason for getting the MiniPin is if you'd have a clearance issue with the Original GymPin (e.g. the pin knocking into a crossmember when the stack is lifted).
Then there's the KingPin. This one is extra long with a 200mm (7.87 in) inch sleeve. This is built for super strong bodybuilders and powerlifters who need to go way above the max of the stack. It can hold 85+ kg (185+ lbs) of added weight. Note that it's only available in a 10mm pin size.
The KingPin is also great if you plan to use it on a weight stack with a protective casing that blocks you from loading plates on the first couple inches of the sleeve. The extra length in the KingPin makes up for some of the lost loadable length.
Lastly, there's the 1″ GymPin. This one has the same 155mm (6.1 in) sleeve length that the Original GymPin has. Its key difference is that it has a 1 inch (25.4mm) sleeve diameter instead of the approx. 2 inch (49.5mm) sleeve diameter on all other models.
It's designed for use with "standard" weight plates that have a 1 inch hole diameter. Standard plates aren't that common these days. But there's still some home gym owners out there that have a lot of these plates. The 1″ GymPin is perfect for these lifters.
Other Insights
Overall, the GymPin works like a dream. It makes adding more weight to a stack an incredibly simple process. I am very happy with my GymPin.
That said, there's a few things I wanted to mention after my testing that are worth noting.
If you add enough weight, there's the possibility of the weights sliding. I should note that this may have been more to do with the weight stack I was using. That is, the added plates may have pulled on the entire stack causing it to tilt every so slightly. In any case, if it can happen to the unit I was using, it can happen to yours.
Luckily, there's an easy fix: Use a barbell collar to secure the weights.
The shot below demonstrates the plate sliding phenomenon that occurs only after loading two 45 lb plates. (Note: as I mentioned earlier in this GymPin review, I couldn't actually do exercises with 45s due to their larger diameter causing them to hit into the machine's rear crossmember; the photos below are simply to demonstrate the weight sliding phenomenon at heavier loads.)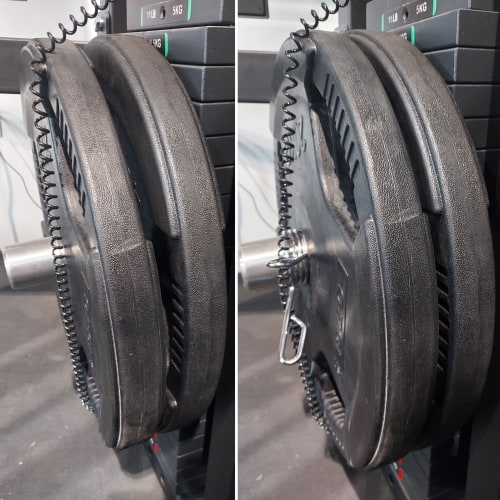 The video below also shows me using a similar weight: 95 lbs, using two 35 lb plates and one 25 lb plate. As you'll see, I was able to get away without a clip in this instance until the end where you see the plates start to slide:
GymPin Alternatives
The GymPin was the first product to fine-tune the process of adding extra weight to selectorized weight stacks.
However, the process itself as been around for decades. Before this, lifters would often simply use a second selector pin and use that to load on plates. It's a crude solution, but it works:
Even more crude than that, some people will simply stick a screwdriver in the weight stack to hang plates on.
GymPin vs Bare Steel Equipment Stacked Weight Pin
In terms of non-crude alternatives to the GymPin, there is the Stacked Weight Pin from Bare Steel Equipment. You can read my in-depth Stacked Weight Pin review here.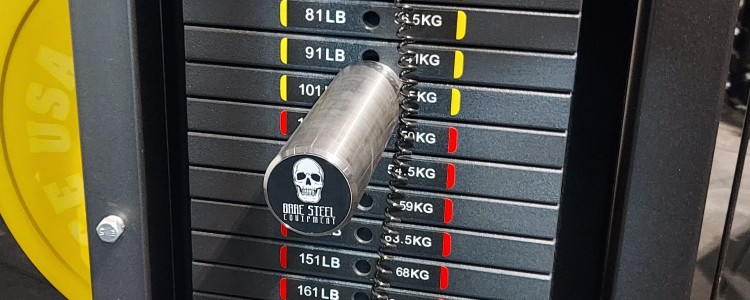 Bare Steel Equipment took the concept originally developed in the GymPin and innovated further by adding magnets to it for a more secure fit to the weight stack.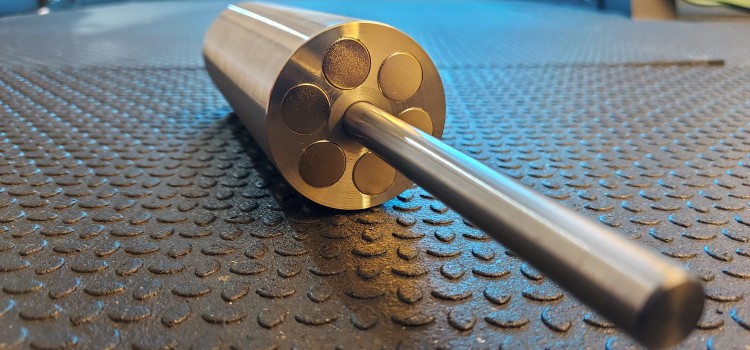 It weighs more, too, which can be a pro if you want to use it as a heavier adder weight. It can also be a con if you plan to bring it with you in your gym bag, since it'll weigh you down a bit.
It's also a more expensive product, because of the magnets and the extra weight.
If you have a flare for aesthetics, they also offer many cerakote color options if you're willing to pay an additional premium.
I tested both the GymPin and the Stacked Weight Pin at the same time. It seemed like you could use a bit more weight on Stacked Weight Pin before the weights would start to slide. Regardless of the pin, I eventually needed to add a barbell collar to secure the plates if I put on enough weight.
At the end of the day, both the GymPin and the Stacked Weight Pin are excellent options that accomplish the same task efficiently. But if you're still unsure which to buy, here's my final thoughts:
The GymPin is the best value (bang for your buck) for most lifters, regardless of if you train in a home gym or a commercial gym. It's definitely better if you're a commercial gym-goer since it's lighter and thus more portable.
The Stacked Weight Pin has some nice-to-have features (magnets) and optional upgrades (cerakote colors) that make it the best choice for lifters who want a premium unit. You just have to be okay with paying extra.
Use GymPin Discount Code KING10 for 10% Off
I hope you've found my GymPin review helpful. If you've decided the GymPin is a smart gym accessory for you, then be sure to use discount code KING10 to save 10% off at checkout.
Enjoy going beyond the max on your weight stack!