This is my review of the A7 Fitness Bar Grip Shirt, specifically the Bar Grip 3.0. As I'll discuss, this isn't just a shirt, it's a highly useful gym accessory.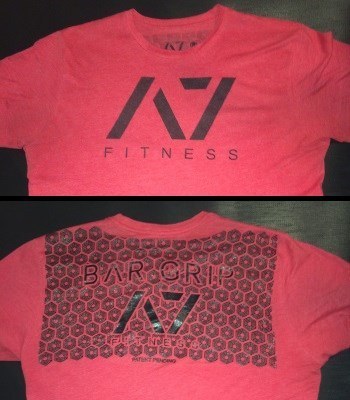 UPDATE: New Version of the A7 Bar Grip Shirt Released
A7 has come out with a new version of this shirt: It was launched as the Bar Grip Full because it has full coverage of grips on the back/shoulders/traps. However, since all their shirts now have this full coverage, they dropped the "Full" from the name.
This page that you're on now is a review I wrote for the now-outdated Bar Grip 3.0. And while most of this review is still relevant to the newest Bar Grip shirts with full coverage, I highly recommend reading my A7 Bar Grip Full review to learn about the key improvements in the new version.
If you're just looking to just buy a Bar Grip shirt, click below to browse A7's store:
>> See ALL A7 Bar Grip shirt designs <<
For me, the Bar Grip Shirt is invaluable. But is it a must-have item for you? Maybe. Or maybe not…
…You'll have to read on to find out if it is a worthwhile addition to your arsenal of gym accessories and apparel.
Why I Use The A7 Bar Grip 3.0 Shirt​
First Off, Let's Review Some Important Background Info…
A while ago, I wrote an article about how to prevent your back from sliding when benching.
To recap that post, I described how a shelf liner – a rubber-ish cloth usually used in shelves or drawers, which has lots of traction – and (optionally) a resistance band to secure the liner to the weight bench, can be used to create a sweat-resistant no-slip surface to bench on.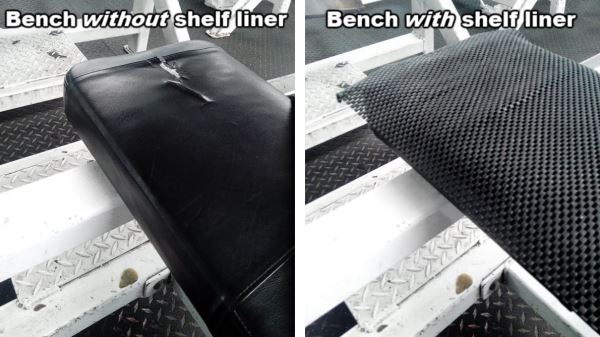 And while that solution is super cheap and is actually pretty effective, it's not exactly an elegant solution.
It's not convenient in terms of a smooth setup, and often needs adjustment between sets or while you're trying to get into position at the start of a set. Not to mention, it's an extra item or two to carry around in your gym bag…
…This is where the A7 Bar Grip Shirt comes to save the day.
The A7 Shirt Is The Best Tool To Stop Slipping On Bench Press​
This shirt is a big upgrade from the shelf liner solution described above. It's basically a shelf liner built into the back of a shirt — but way better.
The tactile material on the back of the shirt actually has noticeably more traction than a shelf liner, and it's thinner too.
Here's a short video clip of me benching with the shirt on:​
It also prevents the bar from slipping during squats
The main reason I got this shirt was to solve my issue with slipping during the bench press. However, I discovered its primary use shortly after receiving the shirt: Preventing the barbell from slipping on your back during squats.
Ideally, you shouldn't need a tool like the A7 Bar Grip Shirt to provide extra grip to keep the bar on your back. Under ideal circumstances, you would always have access to barbells with a deep and coarse center knurl that would ensure the bar doesn't budge on your traps.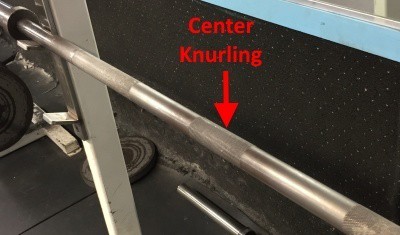 Unfortunately, we don't live in such a utopia. A travesty, I know…
…In some gyms, you may only have access to barbells with shallow, worn-down center bar knurling. Even worse, you may only have access to bars with no center knurling at all! *gasps*
In these scenarios, the A7 Bar Grip Shirt comes most in handy for squatting: When you're unable to use a bar with an insufficiently grippy center knurl.
It Runs True To Size (But Remember, It's An Athletic/Performance Fit)
​I would consider this shirt to fit true to size for the type of shirt that is…
…I originally wanted to say it that it ran slightly small (like half a size at most). However, after considering the fact that this is an athletic fit performance shirt, which is designed to fit more snugly than regular shirts, then this shirt fits just as I expect it would.
For your reference, I have a size Large Bar Grip Shirt.​ My shirts for daily use are either large or extra large (if only someone made a "Large and a half" size!). At the time of writing this and in the video and pictures on this page, my chest measures almost 45″ at the nips and my waist is about 33.5″ at 5'11" 208 lbs. My guess is that I could also fit into an XL without excessive looseness, but I'm very much happy with the L that I have now.
If you really want to make sure you buy the right size, here are the official sizing guides: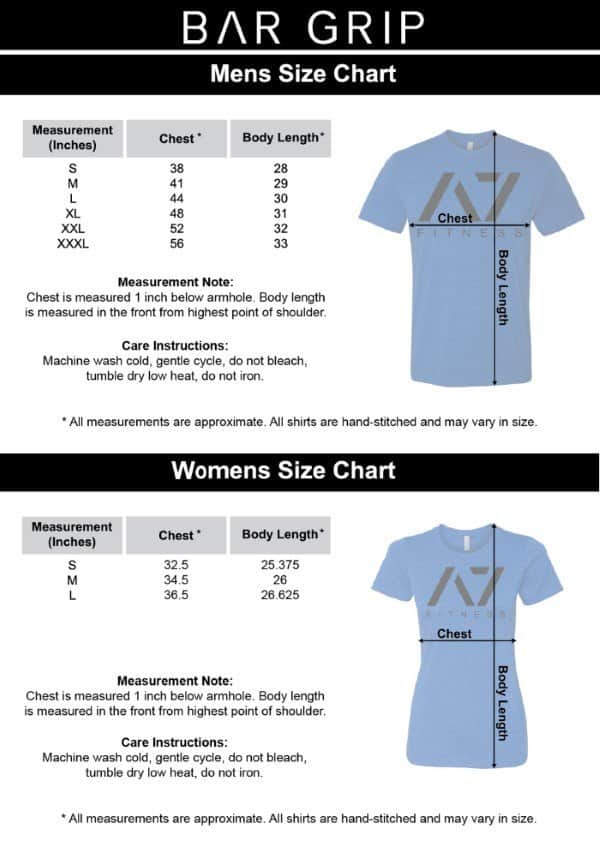 ​It Fits Like A Glove!
The shirt fits amazingly! I wish most of my shirts fit this well.
If you've got a bit of muscle, this shirt is definitely flattering to the physique.
It is more form-fitting where you want it to be in the arms, shoulders and chest. But at the same time, it has an athletic taper, which — assuming you've built up a bit of muscle — will accentuate your v-taper (i.e. wider back/shoulders, narrower waist).
Overall, it looks great and feels good, and it does not feel restrictive even in the areas that fit closer to the body.
I wish I knew where to get the same t-shirt in terms of fit and fabric in plain, solid colors without the grip materials. I'd buy some for casual nights out and daily wear in public. I've even worn my current A7 shirt out a couple of times non-gym use, though just to run some errands.
…But that's enough about the style aspect of the shirt. The shirt's "look" is certainly an important point to consider, and I'm very glad it does have an aesthetically pleasing fit, but we're not trying to be fashionistas. We're trying to lift some heavy-ass weight!
​It's "Grippy," Durable AND Comfortable
The "grippy" (not sure if that's a real word) texture of the shirt comes from some type of tacky material that is adhered to the fabric of the shirt.
This grippy material is mostly found on the back of the shirt, where it's been laid down in a cool-looking pattern. This grippy area forms a large rectangle that covers the upper back, from just below shirt collar to below the bottom of the shoulder blade.
The way in which the manufacturer attached this material seems to be the right way. Here's what I mean:
When you put the shirt on, you don't notice a different texture rubbing against your back from the inside of your shirt. (If you've ever worn a cheap shirt with a graphic that's basically stickered-on or melted into the fabric, you know I'm talking about.)
The material has thus far stayed on the shirt. I have not noticed a single sign of wear/disintegration, even after about a dozen washes.
PRO TIP: To maximize the life of the shirt and prevent wear of the grip material, be sure to wash on delicate with the shirt inside out, and tumble dry on low heat. This goes for any shirt you want to preserve.
I'm not an expert in sewing or anything, but from what I can tell, the shirt seems pretty well-constructed with regard to stitching and fabric.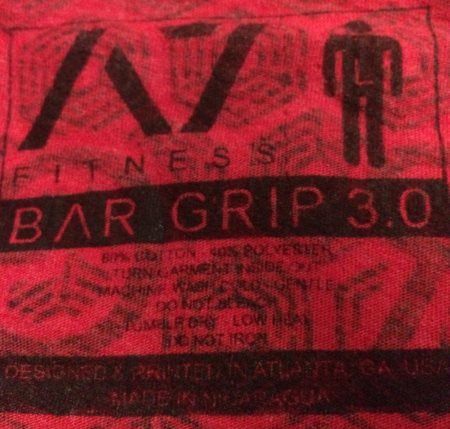 There's been no detaching of fabric at the seams or unraveling of the hems. I haven't seen any loose threads whatsoever.
It's a cotton polyester blend (60/40), which is par for the course when it comes to most performance apparel since the fiber allows for greater moisture-wicking (i.e. drawing sweat away from your body and encouraging faster evaporation from the material).
Compare this to pure cotton (as an aside, 100% is generally more desirable for normal/everyday clothes), which tends to absorb and hold onto moisture, potentially leaving you drenched after a hard workout. To be fair, all-cotton items have been shown to collect less odor than synthetic blends, but that's not as important as moisture-wicking in a workout setting, in my opinion.
The cotton-polyester blend facilitates a greater range of motion because the fabric can easily stretch with minimal resistance, which of course you want when moving your body through the various lifts. Also, the ability of this type of blended material to stretch without deforming is a must-have to avoid damaging the fabric from all the pulling and pinching that occurs when wearing and adjusting your weight lifting belt.
Are There Any Negatives​?
The short answer: nope! It's a great shirt. That's pretty much all there is to it.​
The only thing to mention would be that if you are using this for squatting, you need to get in the habit of setting the bar on the correct part of your traps​ as soon as you get under the bar. If you're like me and you normally get under the bar, slide past where the bar will go, and drag your traps back against the bar until you find the right bar position, then you'll find that this causes the shirt to bunch up. Obviously, because you're dragging a highly grippy material against a surface.
This isn't really the fault of the shirt. It's the fault of friction. Blame physics!
This is a very minor problem. And it's fixable. You just have to adjust your setup technique so that you place the bar in the correct spot from the get-go; no dragging and adjusting/re-adjusting.
I should also note that I've read criticisms from others about the grip material on the back not going​ high enough. However, it's important to note that this was an issue for the Bar Grip 1.0 and 2.0 versions only. It has since been fixed, and the Bar Grip 3.0, which I'm reviewing on this page has grips that go all the way up to just below the shirt collar.
I Highly Recommend The A7 Fitness Bar Grip Shirt
If you haven't already gathered from my post so far, I overwhelmingly recommend the A7 Fitness Bar Grip Shirt.
If you could use extra traction on your back for benching or squatting, then this will be a very worthwhile investment for you.
The shirts generally run around $30-35. I consider this a very fair price for the utility you get out of the shirt.
Browse the ​A7 website, to find the right Bar Grip shirt design for you:
>> See the entire A7 Bar Grip Collection for Men <<
>> See the entire A7 Bar Grip Collection for Women<<
They also have tank tops and hoodies with the same grip material that you can take a look at. They also have squat shorts, compression shorts, sweatpants, wrist wraps, knee sleeves and more! Check it all out here:
>> See All A7 Bar Grip Shirt Designs + Other A7 Gear <<
If you want to get a few items you're in luck–You get FREE US shipping on orders over $100.
If you end up buying the Bar Grip Shirt, let me know how you like it in the comment section below. Or if you're still considering the purchase, be sure to ask any questions you may have in the comment section and I'll give you an answer ASAP.