This PowerBlock dumbbells review will help you decide if the PowerBlock dumbbells are the right adjustable dumbbells for you.
I'll explain the pros and cons of this adjustable dumbbell system so that you can judge how well they meet your needs.
Although the PowerBlocks come in many different models, they all share core commonalities as an adjustable dumbbell system. And so I will generally lump them together and talk about them as a whole. Though, when applicable, I will point out important differences between specific models.
If you're in a hurry and just want to know what's the best PowerBlock dumbbell for you, then check out my top 3 recommendations below:
Model
Key Features
Rating

Goes up to 90 lbs
Flex bracket design for significantly greater durability
Urethane coating to protect the dumbbells from wear and tear over time
Auto lock adjustment
Open handle design with "wedge" handle shape gives the most hand space of any model
Replaced the "Urethane Series" in 2018

Rated 5 out of 5 in Adjustable Dumbbells


Goes up to 90 lbs
Only model made in the USA
Not the lowest-priced model, but a reat bang for your buck
Straight handle (as opposed to contoured)
Padded wrist support bars

Rated 4.5 out of 5 in Adjustable Dumbbells


Goes up to 90 lbs
Lowest priced model that expands to 90 lbs
Auto lock adjustment
Open handle design
Sleek design

Rated 4.5 out of 5 in Adjustable Dumbbells

If you would like to learn in-depth about the differences between the various PowerBlock series and models, I urge you to read my full guide on PowerBlock Dumbbells.
Without further ado, let's get into the pros and cons…
PowerBlock Dumbbells Pros & Cons
Before I begin, I'll post a short video clip that shows the very basics of the PowerBlock system, for those not yet acquainted with the concept:
At several points within the list of pros and cons below, I'll compare the PowerBlock dumbbells to the Ironmaster Quick-Lock dumbbells…
…The Ironmaster dumbbells, which I also own, are the most formidable competitor of the PowerBlocks. As such, it's necessary to point out some major differences between the two systems.
When I originally wrote this PowerBlock review article years ago, I hadn't bought any PowerBlock dumbbells. However, I have since bought my first pair of PowerBlock dumbbells: the Pro EXP Stage 3 Set. I've also used other models that my friends own.
So, I now have first hand experience with both of these leading adjustable dumbbell systems. I've updated certain parts of this page to include new insights where relevant regarding their comparison.
Without further ado, I'll get to the good part of my PowerBlock dumbbells review! The pros and cons are as follows:
Pros
I'll start this review by getting into the good stuff. The following sections will cover all the good things about the PowerBlock dumbbells.
Rapid Adjustment
If fast weight adjustment is a top priority for you, then the PowerBlock dumbbells are your best option. It takes no more than 2 to 5 seconds to change the weights of the dumbbells.
Rapid adjustment is an essential feature for you if you plan on doing a lot of supersetting or some type of cross training (or if you're just really impatient). This, in my opinion, is the greatest benefit these dumbbells have over the Ironmaster set.
Self-Contained Storage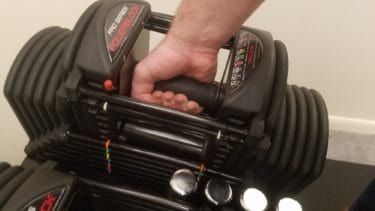 The PowerBlocks utilize a self-containing storage mechanism, where the dumbbell handle and weights conveniently and compactly "nest" within each other. This reduces the space required to store the dumbbells to that of their own small footprint.
There's no need for extra space to store individual weight plates. That said, it's still desirable to have a dumbbell stand to safely and efficiently rack the dumbbells between sets, and to store them when not in use.
Heaviest Models for Home Use Are Expandable to 90 Pounds!
There are several PowerBlock dumbbell models to choose from. Different models have different max weight capacities.

There are a few light to moderate capacity sets, which I do not recommend for any serious lifter. These lighter PowerBlock sets have maximum weight capacities ranging from 24 to 50 lbs:
Sport 24: Adjusts from 3-24 lbs per hand; not expandable beyond that.
Pro 32: Adjusts from 4-32 lbs per hand; not expandable beyond that.
Sport 50, Pro 50, PowerBlock 50: All three of these sets adjust from 5-50 lbs per hand and are not expandable beyond that.
The heavy PowerBlock dumbbell models are all expandable to a max weight of 90 lbs per hand. There are four of these heavy models, listed below:
You'll want one of these sets with a max weight of 90 lbs even if you can't lift such heavy weight yet. Eventually, you will.
Note that you don't necessarily have to buy the heaviest version of the model (Stage 3) right away. You can always buy the Stage 1 version (5-50 lbs) or the Stage 2 version (5-70 lbs), then upgrade later by buying an expansion kit. This is a prudent strategy if you have a tight budget for your initial purchase. However, if you buy the Stage 3 Set from the get-go, you will save a little bit of money because it's all in one purchase.
NOTE: There used to be the "Urethane Series" of PowerBlock dumbbells, which were discontinued in 2018 and replaced by the Pro Series. This Urethane Series included the U-90 dumbbells, which went all the way up to 125 lbs with the U-90 Stage 4 Set.
I personally think the Pro EXP 90 Stage 3 is the best choice for serious lifters. It's the one that I bought for myself, and I'm very happy with it. Here's why I consider it to be the best choice:
It goes all the way up to 90 lbs per dumbbell.
It is the only heavy model that's compatible with three awesome PowerBlock attachments: the EZ curl bar attachment, the Straight Bar attachment and the Kettlebell handle attachment — All are highly useful and affordable attachments that multiply the number of exercises you can do with the dumbbells. I'll discuss these in more detail, later.
The Pro EXP weight blocks are coated in urethane. This makes them more durable, resistant to damage, quieter and safer to use. The plates on all other models are steel with no protective coating (other than paint).
The Pro EXP does cost more than the other heavier models by about 20%. For what you get, that's a very fair price difference. Well worth it in my opinion.
Still, I understand that different people simply have different budgets. Some aren't willing or able to pay a premium. If that's the case, then I'd recommend looking at the Sport EXP Stage 3, Elite 90 or PowerBlock EXP Stage 3.
Also, as I touched upon earlier — Remember that it can be helpful from a budget standpoint to buy just the Stage 1 set of whichever model you choose (e.g. Pro EXP Stage 1, or PowerBlock EXP Stage 1, or Sport EXP Stage 1, or Elite 50). Then you can purchase the expansion kits once you have more cash to spare.
NOTE: PowerBlock does make a dumbbell set that goes even higher. It's the Pro 175 Commercial Set and it can go all the way up to 175 lbs. However, it's part of their commercial equipment line. And it is MUCH more expensive than even the most expensive home-use dumbbell sets. We're talking about a cost of $2129 *before* shipping. It's likely way out of the price range for most people–As such, I chose not to highlight it or make it my top choice (though I'd love to own it!).
Compact Size
All PowerBlock dumbbell models are the most compact dumbbells on the market, at least in terms of their length. This includes both adjustable and traditional fixed dumbbells.
The compact size is helpful, in particular for using the optimal path of movement for bicep curls (i.e. no maneuvering the dumbbells around your hips). And in general, the smaller size makes the weights easier to control during heavy exercises.
Sturdy Construction
These things last people through years and years of consistent use without breaking or needing repair.
This is why you'll see used PowerBlocks being sold on Craigslist that are several years old but still in very good condition (with the expected superficial scratches or bumps from use, of course). Some folks have dropped them multiple times without incident and wouldn't worry if it were to happen again.
That said, dropping the dumbbells is definitely not advised, since they contain parts that could break, crack or warp, more easily than the Ironmasters or traditional dumbbells.
5 Year Limited Warranties
PowerBlock, Inc. offers a 5 year limited warranty for ALL of their home-use dumbbells. Previously, different models had different warranty lengths (e.g. The Classic/Elite Series sets used to have a 10 year warranties; the Sport Series sets used to have 15 year warranties; the now-discontinued Urethane Series sets had lifetime warranties)…
…However, around late 2018 when the Pro Series was released with its 5 year warranty, I believe they switched all other Series/models to have the same warranty duration. After all, it wouldn't make sense for the Pro Series, which is the best overall and most expensive model, to have the shortest warranty.
Of course, if you bought one of the other models before the warranty length change, they would honor the warranty length at the time of purchase.
I won't get into detail on the terms and conditions of each warranty type. I'll give the basics — It covers materials and workmanship defects. It doesn't cover obvious things like misuse or abuse, which includes (among other things) damage from dropping the dumbbells from 12 inches or higher (or 6 inches or higher for some models).
Accompanying Accessories & Complementary Equipment
There are several accessories available for the PowerBlock dumbbells. I'll cover all the major ones in the following sections.
PowerBlock Knurled Handle Grips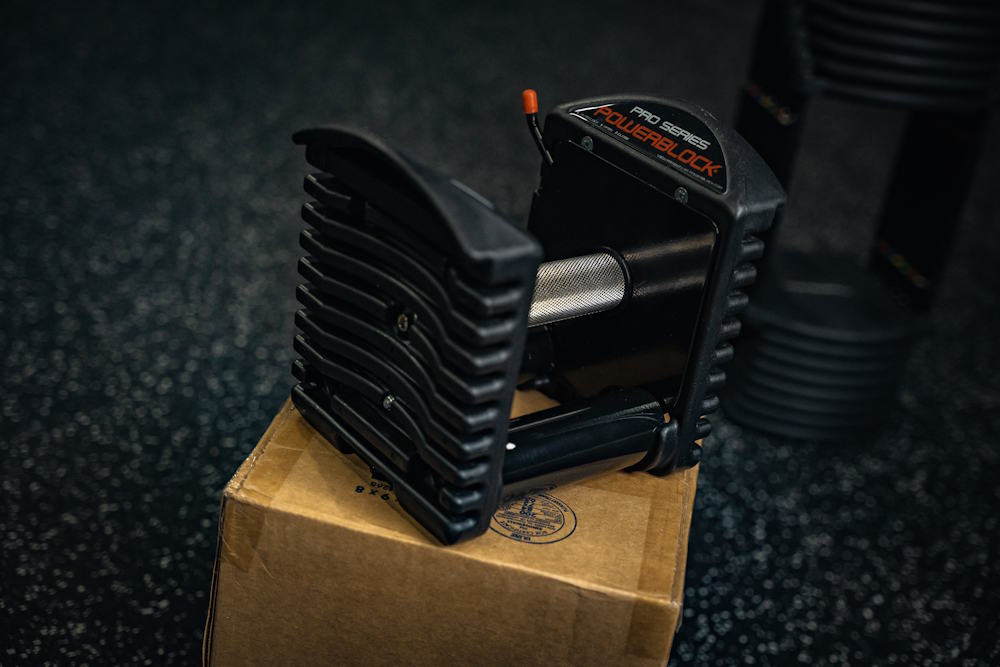 For years, PowerBlock adjustable dumbbells have been lauded by the home gym community, but they've also been critiqued over their lack of knurled steel grips.
Most PowerBlocks come with textured thermoplastic rubber (TPR) grips, with only the Commercial Pro 50 and Pro 90 models flaunting knurled steel ones. While casual gym-goers favored the softer rubberized grips, serious lifters craved the secure hold of the knurled steel.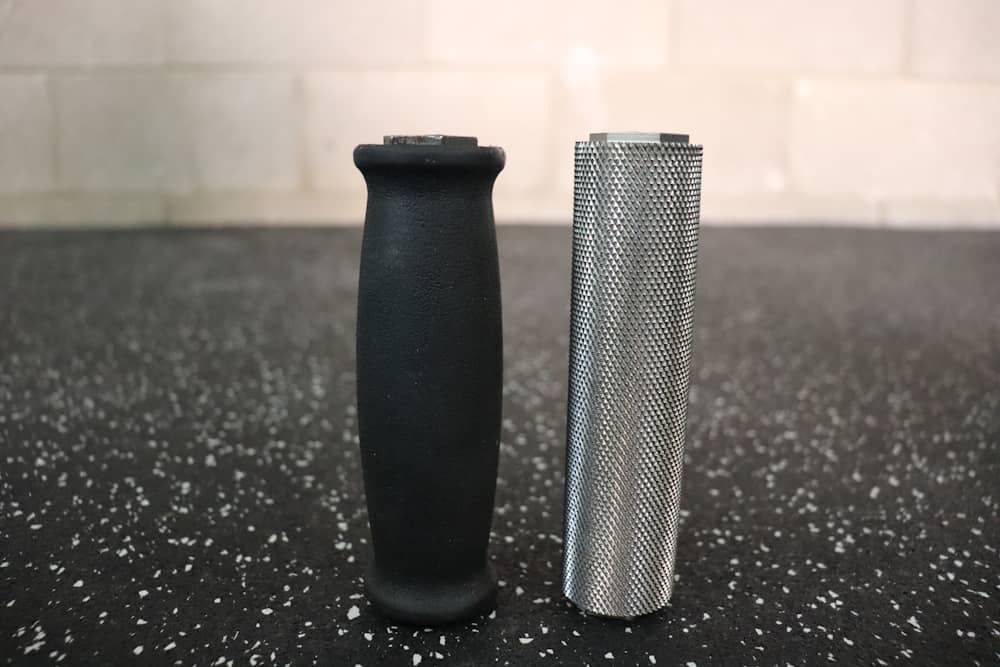 Recognizing this demand — and seeing the popularity of PowerBlock-compatible grips made and sold by small fabrication shops — PowerBlock now offers knurled grips that you can purchase from them.
They beat the competition in price by a wide margin. I should note that part of the price difference is due to them being electroless nickel-plated instead of stainless steel. Still, electroless is a premium finish.
In fact, it's one of the best finishes for corrosion resistance, outside of stainless steel. It's in the same ballpark as cerakote in that regard.
For $159, you can get a pair of new handle blocks with the knurled grips pre-installed. This is ideal for those who want both knurled steel and rubberized handle grip options.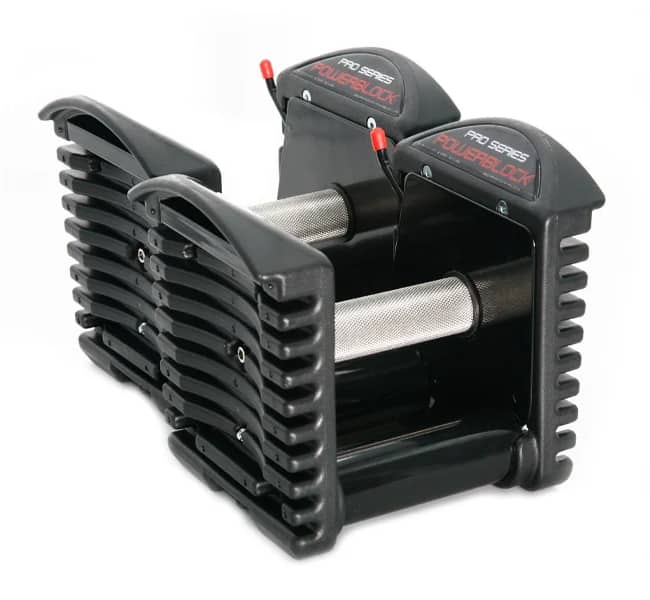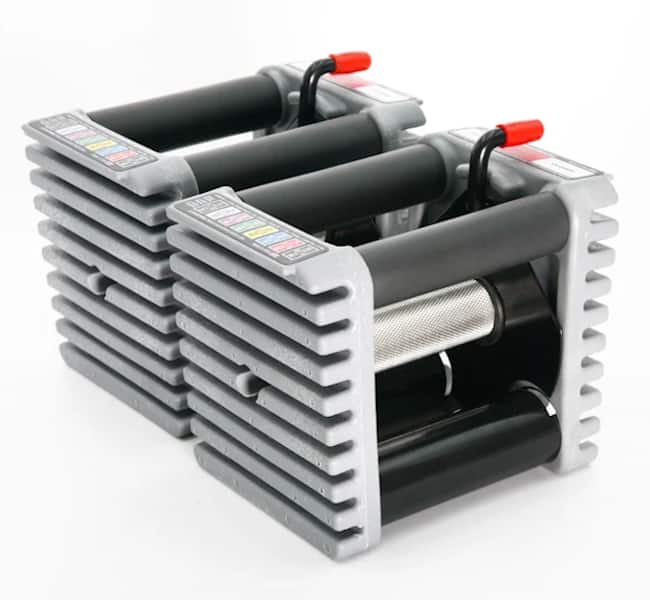 Alternatively, for $99, they offer a pair of just the knurled grips (no handle blocks). You just need to install them in the handle blocks that came with your dumbbell set. It's easy and only requires an Allen key. Models available include: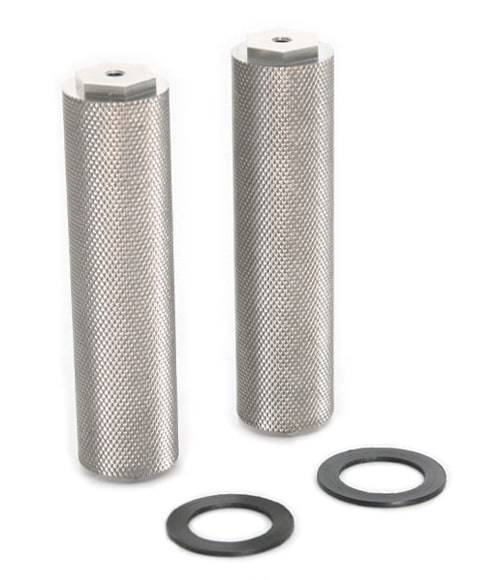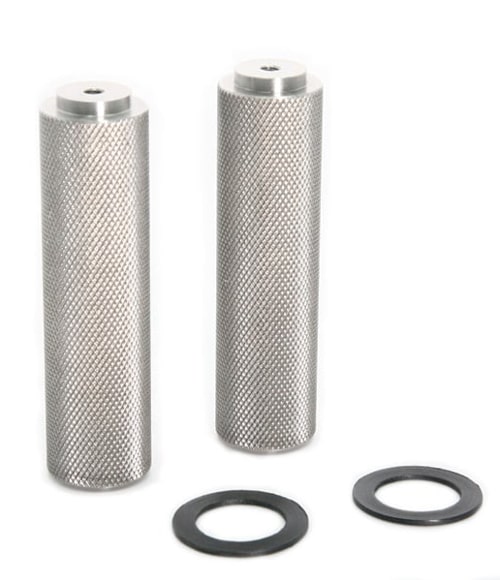 IMPORTANT – COMPATIBILITY DETAILS: The Pro Series grips are only compatible with the Pro EXP and Pro 50 dumbbell models. They don't work with the Pro 32 or the newer Pro 100 EXP — though, the Pro 100 EXP will have its own knurled grip option. They also don't work with any of the Commercial Pro Series models. Likewise, the Elite USA grips only work on the Elite USA dumbbell set; they do not work on the Elite EXP set. Read my PowerBlock knurled handles review for more info.
PowerBlock Pro Series EZ Curl Bar & Straight Bar
My favorite PowerBlock accessories are the Pro Series EZ Curl Bar and the Pro Series Straight Bar. The EZ Curl Bar is best for biceps curl variations and triceps extension variations. The straight bar works well for bench and shoulder presses, squats, lunges, deadlifts and other movements.
These bars are only compatible with certain models, including:
The compatibility of these two accessories with the Pro EXP was the main reason I went with the Pro EXP over the other heavy PowerBlock models. Now that I've been able to train with them for a while, I can say that I made the right decision. I use the EZ curl bar more than the straight bar, though, because I have multiple Olympic straight bars in my home gym, but I don't yet have an Olympic curl bar.
You can see my EZ curl and straight bars below, with the full Pro EXP Stage 3 weight stack on each bar:


The handles on each of these bars have tubes for adder weights so you can achieve smaller increments.
The designs of the Pro Series EZ Curl Bar & Straight Bar attachments have been updated slightly since I bought mine. The only real difference is that the handles are black instead of white, as shown below:

PowerBlock Pro Series Kettlebell Handle
Another cool accessory is the Pro Series Kettlebell Handle. It allows you to transform your PowerBlock dumbbell into a kettlebell just by swapping out the handle.
I should note that I have a previous version of this, which was called the "KettleBlock Handle." The new version, as mentioned already, is called the "Pro Series Kettlebell Handle."
There are a few key differences between the older KettleBlock Handle and the new Pro Series Kettlebell Handle:
The new version has no hollow tubes for adder weights. The old version has 2 hollow tubes for adder weight.
The new version has a starting weight of 10 lbs. The old version has a starting weight of 15 lbs.
The new version is black. The old version is white.
Different stickers on the top of the handles.
Below, I'll include a product shot of the new one, as well as a shot I took of my older version: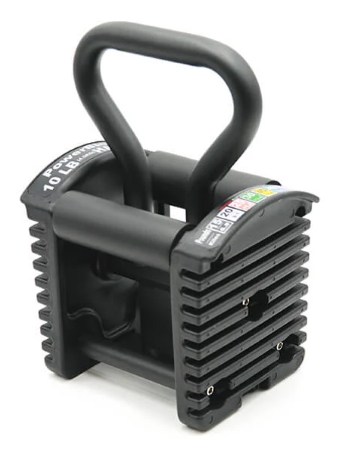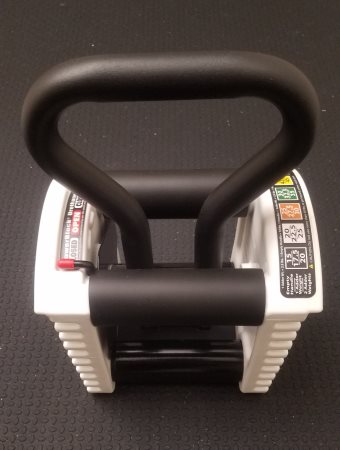 It's important to note that the Pro Series Kettlebell Handle only works with these PowerBlock dumbbells:
The now-discontinued U50, U70 & U90
Compatibility with the kettlebell handle attachment is another reason why the Pro EXP is my top pick for best PowerBlock dumbbell set.
NOTE: The weight guide sticker on the Pro Series Kettlebell Handle is only accurate if you're using it with the Pro 50. If you use it with the Pro EXP, you'll have to do some quick mental math to make sure you're selecting the desired amount of weight.
You can use Pro Series Kettlebell Handle comfortably on most exercises up to 50 lbs, but can go all the way up to a 90 lb max capacity (with the Pro EXP Stage 3). However, the heavier it gets, the wider it becomes, making it awkward to handle at very heavy weights for kettlebell swings and certain other kettlebell exercises.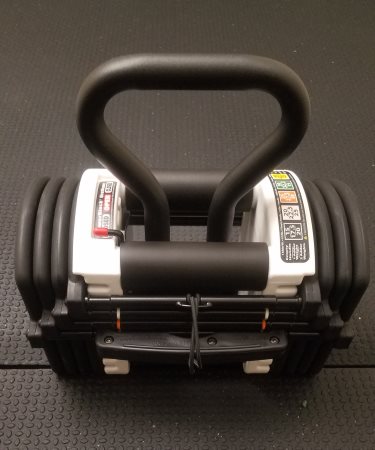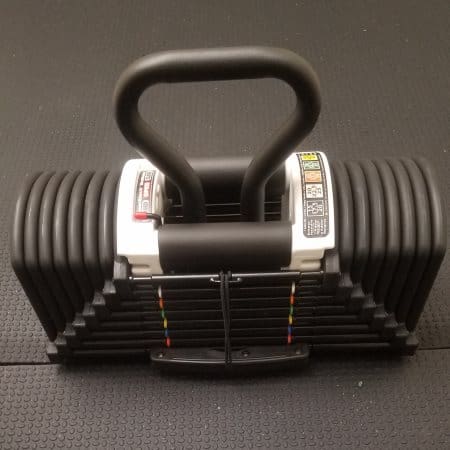 PowerBlock Adjustable Kettlebell
As an aside, PowerBlock, Inc. does make another dedicated adjustable kettlebell system: the PowerBlock Adjustable Kettlebell. It is their newest kettlebell product, which sports a sleeker design compared to the Pro Series Kettlebell Handle attachment. It has 4 weight adjustment increments including 18, 22, 26 and 35 lbs.
Until the Fall of 2019, PowerBlock also made the "KettleBlock 20" (increments of 5, 8, 12, 16 and 20 lbs) and the "KettleBlock 40" (increments of 8, 12, 16, 20, 25, 30, 35 and 40 lbs). However, they have since been discontinued. New kettlebell products may be coming in near future, but I don't know any specifics.
PowerBlock Dumbbell Stands
Other PowerBlock accessories include the array of dumbbell stands for the various PowerBlock dumbbell models.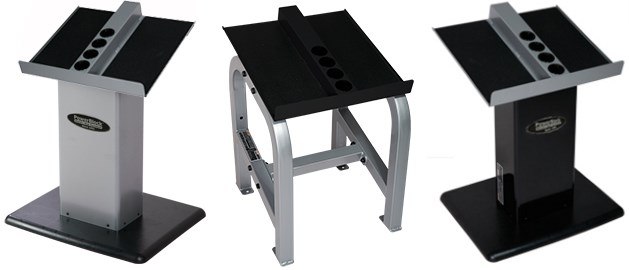 There are several types of PowerBlock dumbbell stands that are designed for different dumbbell set sizes. The ones shown in this image are for some of the larger dumbbell sets.Also, in case you're wondering–the four holes on top of each are for storing the cylindrical adder weights that come with some of the dumbbell sets.
PowerBlock Weight Benches
There are 3 weight benches available from PowerBlock: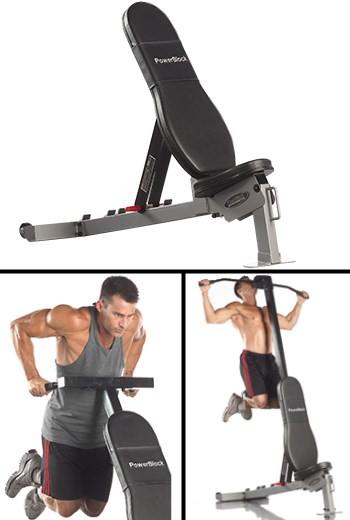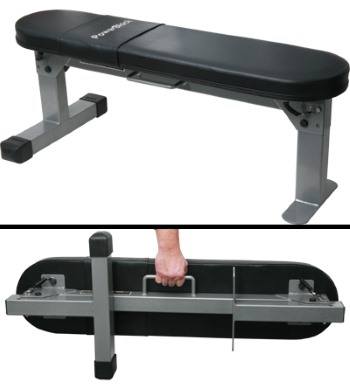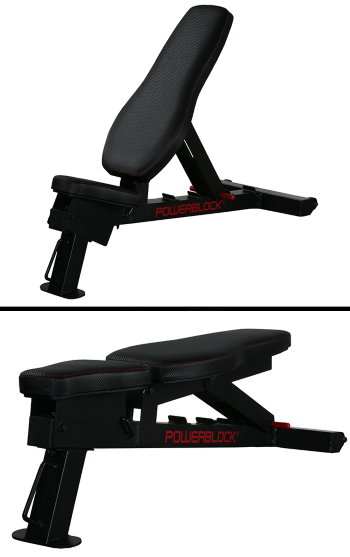 Cons
This wouldn't be a fair PowerBlock dumbbells review without talking about the negatives. In the following sections, I'll discuss where the PowerBlock dumbbells fall short.
Relatively Expensive
Both the PowerBlock dumbbells and the Ironmaster dumbbells are NOT cheap products. They both cost several hundred dollars.
When comparing the costs between the two brands, the PowerBlocks end up costing a slight to moderate amount more than the Iromasters. Sort of…
…It's hard to compare compare their prices directly, though, since the most popular configuration of the Ironmaster is usually the combo package of the 75 lb pair plus the dumbbell stand. If you want more than 75 lbs, you can get the 120 lb add-on, but that will make the price (and max weight) higher than that of the PowerBlocks.
Whereas, stands for the PowerBlocks are never included with the dumbbells; not to mention, having a stand for the PowerBlocks is much less less necessary than for the Ironmasters. Plus, most people reading this page will probably opt for the 90 lbs PowerBlocks.
That all being said — let's simplify things and just compare the prices of the 75 lb Ironmasters + dumbbell stand, and the 90 lb PowerBlock sets.
Currently the Ironmasters are $749 with free US shipping.
Depending on the PowerBlock model you get, a set of PowerBlock dumbbells will be somewhere between $907 + S&H (current price for the Pro EXP Stage 3) on the high end and $767 + S&H (current price for the PowerBlock Sport EXP Stage 3) on the low end. Shipping varies on the destination, but let's call it $100 S&H for shipping a 90 lb set. So, the PowerBlocks cost between 16% to 34% more than Ironmasters, in this specific comparison.
Again, this is not a direct comparison for the reasons explained above, but it gives you a general idea of the price differences. And it shows that both options will cost you several hundred dollars — not cheap for sure, but definitely an investment that will pay off if you're serious about training.
Incompatibility Between Different Models
PowerBlock, Inc. makes several product series and models. The upside of this is that you have a much bigger variety of options from which to choose, compared to the Ironmasters.
However, the downside is that the components of the different dumbbell sets are (usually) incompatible with each other…
…Thus, it's important that you understand and are comfortable with the capabilities and limitations of a given model, before you buy it. You won't be able to modify the weight increments or increase the maximum weight by using extension kits or other parts from different models.
Dumbbell Stand Not Included
Unlike the Ironmaster adjustable dumbbell system, the PowerBlocks don't come standard with a dumbbell stand. Of course, this is good in that you pay less than you otherwise would.
Having a stand for the PowerBlocks is less necessary than for the Ironmasters, since you need the Ironmaster stand to store all the weight plates. However, having a stand for your PowerBlocks is still very desirable. You'll definitely want one; if not right away, then eventually.
Luckily, you can snag the Large PowerBlock Compact Weight Stand for a relatively low price. The added convenience is worth the modest price tag.
They Look… Different
The first thing you probably noticed about the PowerBlock dumbbells was their non-traditional design:
They're constructed with pillars in at least two of corner, which surround the handle and give the dumbbell a cubic shape.
They use weight "brackets" as opposed to traditional plates.
The dumbbells have all the colors of the rainbow showing brightly on the sides of the weight block to indicate the weight.

UPDATE: This is only true of the older models that are still in production (e.g. the Elite 50/70/90 and the Sport 24). Newer models are less flashy in this sense. For example, the Pro EXP only uses small rings of different colors to indicate the weight of the blocks; the Sports EXP and the PowerBlock EXP use just black and red respectively for the weight indicator colors.
Obviously, all of these things serve specific and necessary purposes. All else being equal, I do prefer the more natural look of the Ironmasters. But this is just one factor consider, and a relatively unimportant one. It is not at all a make-or-break issue for me.
That said, there are some folks who say the PowerBlock's design is too "weird" for their tastes.
Non-Traditional Dumbbell Feel
Some people claim that the peculiar dumbbell design gives them a somewhat unnatural "feel" compared to traditional dumbbells.
Part of the unnatural feel comes from the dumbbells not being perfectly balanced, which is to be expected from any selectorized adjustable dumbbell system. And as far as the selectorized dumbbells go, the PowerBlocks are very well balanced especially compared to the likes of the Bowflex-style adjustable dumbbells.
There is also a very slight shift you'll feel when rotating the dumbbells during a movement (e.g. on biceps curls; the handle goes from facing up at the bottom of the motion, to facing the floor at the bottom of motion). There is the result of there being a tiny amount of play between the blocks and the handle. Again, this is to be expected in any selectorized system with many components. While noticeable, it doesn't noticeably affect technique or performance.
Also, some people experience ease-of-use issues on the PowerBlock models with the older "closed handle" design. At this point, this only applies to the the Elite 50/70/90 set. The closed handle design refers to the 2 padded wrist supports at the top of the handle. Some people actually like this design because it lets them comfortably prop the handle on their lower forearm to keep their wrists neutral with minimal effort. It can give you a little leverage on exercises like curls, making it easier to focus on the target muscles.
However, those with bigger forearms/wrists and hands may find that the limited space interferes with their hand position and wrist movement.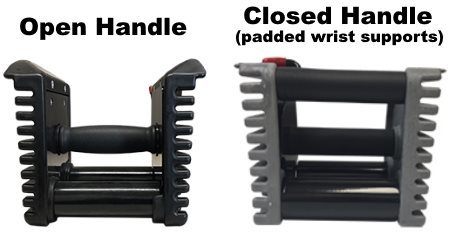 In any case, all other PowerBlock dumbbell models currently in production besides the Elite Series have been upgraded to have an "open handle" design.
Not Designed for Very Rough Use
PowerBlock dumbbells are far from what one might consider fragile or dainty.
As I explained in an earlier point, one of the pros of this dumbbell system is its durability and solid build quality. However, as I also mentioned in that point, you should treat the dumbbells more carefully than you'd treat the Ironmaster dumbbells or traditional fixed dumbbells.
Put differently, they aren't meant to be dropped or thrown around all willy-nilly. Just because the dumbbells will likely survive a drop, that doesn't mean it always will. There is, after all, a reason that their warranties don't cover drops from above 6 or 12 inches (depending on the model).
Hopefully my PowerBlock dumbbells review has helped you to decide if this is the right adjustable dumbbell system for you. Whether you've decided to buy or if you still have questions, one of following two sections will help you out:
"I'm Sold! Where Can I Buy Them?"
If my super-awesome PowerBlock dumbbells review convinced you that you want a set of PowerBlock, then go ahead and buy them on PowerBlock.com.
Be sure to choose the right pair, though. If you're serious about lifting, then your only real choices are:
"I Need to Do More Research Before Making a Decision."
Do you want to see more PowerBlock dumbbells reviews (from first-hand users), and learn more about the specific differences between the various PowerBlock series and models?…
…If so, then I'll direct you to my PowerBlock dumbbells comparison page. It contains a detailed comparison chart of all the PowerBlock models (current and discontinued models), an explanation of the logic behind my top choices and several video reviews from PowerBlock owners.
You can also check out my head-to-head PowerBlock dumbbell comparison guides: