Did you know you can pay under $500 for a heavy duty modular power rack that could reasonably be sold for hundreds more?
The Titan T-3 Series power rack is that rack. I'll tell you all about it in this Titan T-3 power rack review. Before I get into the details, here's a summary:
Model
Pros & Cons
Rating

Pros:

Heavy duty 2"x3" frame with 1100 lb rackable weight capacity
Huge variety of accessories available
Westside hole spacing
Sumo base for extra wide stance exercises
Compatible with most Rogue Monster Lite attachments

Cons:

Needs to be bolted down for stability
Powder coating is subpar; will get scratches/dings easily
May come with some aesthetic imperfections
There have been cases of j-hooks & strap safeties breaking; though new versions have been improved.

Rated 4.5 out of 5 in Power Racks

In my in-depth review, I'll cover all the important things you need to know about the Titan T-3 power rack here: Features, options, pros, cons, uses, alternatives — everything you need to consider when choosing the best power rack for your needs.
​To clarify, my focus is on Titan's original rack: The T-3 Series power rack with 24-inch depth and 91⅛-inch height.
I'll be talking about the 2nd generation of this rack. Many other online reviews actually talk about the 1st generation. I point this out because the 1st generation had several flaws. I will dedicate a section to comparing the 1st and 2nd generations to clear up any confusion.
It's also important to note that there are a few variations of the Titan T-3 power rack:
Some are deeper.
Some are shorter.
Some connect to a wall and fold out.
Some are in a different class of equipment altogether. But they still have the Titan T-3 name and serve a similar function (i.e. squat rack/half rack, squat stands).
I'll talk about all these variations and alternatives later in my Titan T-3 power rack review. However, unless I specify otherwise, you can assume I'm talking about the original Titan T-3 power rack.
Why Get a Power Rack in the First Place?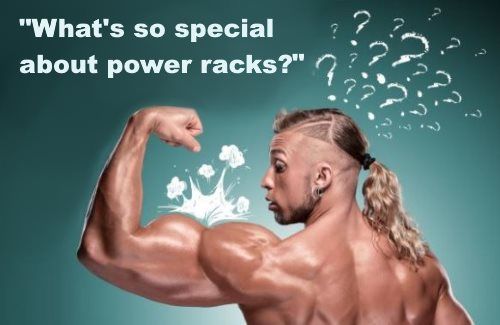 How many times have you experienced this situation?
You finally wrap up the other obligations you need to get done for the day and make your way to the gym for some much needed physical and emotional decompression.
After wading your way through traffic and scouring the parking lot for 15 minutes, you find a parking space that requires enough walking to get to the actually gym that you can justify that being your warm-up.
You step across the precipice of the gym to see every squat rack taken by blasphemers using the j-hooks to take breaks from sets of bicep curls. You see people quarter squatting. You see weight loaded and people gathered around it carrying on like it's break time at the water cooler.
So, you wait. And wait. And wait.
You've wasted gas to get to the gym. You're wasting time waiting for the equipment you need. You're wasting energy being mad at the other gym goers treating your precious squat rack like it's the centerpiece of a coffee table in a dirty college dorm room.
Too bad there is not some kind of fiscally reasonable solution to this problem, right? WRONG! The answer is a home gym with a power rack as the centerpiece.
Why Consider the Titan T-3 vs. Other Power Racks?
True, we have countless options available for home gym equipment.
We are flooded with infomercials in a minute to minute basis about the next big high intensity home workout or the next thigh master. But, if you're reading this Titan T-3 power rack review, you probably take your training a little bit more seriously and want to get some actually hard work done.
The issue is that collegiate grade and commercial grade fitness equipment can be super expensive.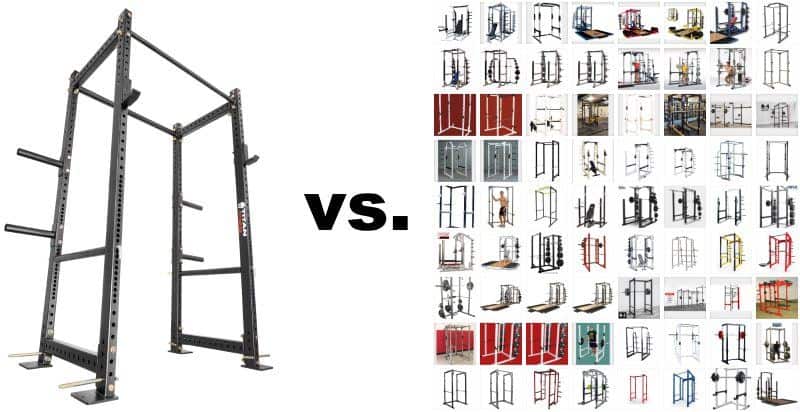 What if I told you a power rack exists that's comparable to equipment used in serious gyms or collegiate strength facilities AND costs around $500?
The Titan T-3 Series power rack is that rack.
It is ​my top recommendation for lifters seeking to abandon their overcrowded and overpriced gym in favor of a home gym set up–without breaking the bank.
Things to Consider Before Buying the Titan T-3 Power Rack
​Is the T-3 power rack ideal for you? If you agree with the points below, the answer is yes:
I want to train at home.
I want to perform barbell training exercises that require racking and unracking the weight.
I want to lift heavy-ass weight and be as safe as possible when doing so.
I don't want to get crushed under the bar on exercises like bench press and squat. Safety spotter bars prevent this.
I don't want to accidentally trip and fall backward on the floor with the bar on me. A cage that completely surrounds me prevents this (as opposed to a squat racks/half rack that is completely open on the back side).
I want a rack I can grow with for years to come in terms of both durability and expandability (i.e. lots of accessories/add-ons available).
I am NOT just looking for the cheapest rack on the market. But at the same time, I do have a budget to consider.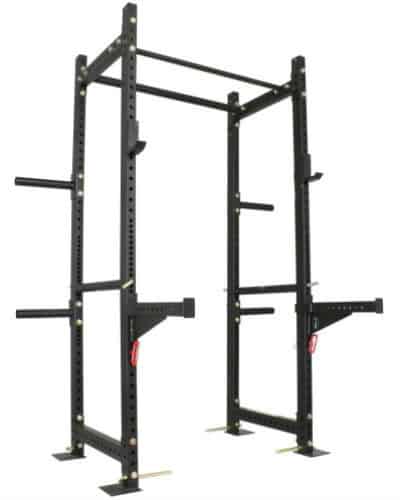 If you're brand new to lifting and aren't sure if this is something you'll stick, then you might be better off going with a super cheap, bare-bones option.
Otherwise, you'll end up with big $400-500 clothes hanger! If you end up falling in love with lifting, then you can always upgrade when you grow out of the cheap rack.
Here's a few other questions you should ask yourself before you pull the trigger on buying the Titan T-3 power rack:
Do I have the room for the rack? I know this seems like a no-brainer, but if you don't have the space for the rack AND to perform the lifts safely, then you may want to explore other options.
Are you able to anchor this rack to a floor? This means bolting it into either a cement floor or a wooden platform (homemade or bought). If not, you should consider a rack with a stabilizing cross-support in the lower/rear part of the rack. Even better, consider a power rack like the Titan X-3 with a double-gusset reinforced "flat feet" design. This allows you to have a non-bolt down "walk through" design (i.e. no need for the lower/rear cross-support). For more information on this rack, you should read my Titan X-3 Power Rack review.
To reiterate, this rack is for dedicated barbell training enthusiasts looking to get the best bang for their buck. You may want to consider different options if 1) you're a complete newbie who isn't sure you'll still be into lifting a few months from now, or 2) you're a highly advanced or elite level powerlifter…
…But, for anyone in between who's committed to training and isn't freakishly strong, this power rack is absolutely perfect.​
Pros & Cons of the Titan T-3 Series Power Rack
I summarized the pros and cons at the beginning of this Titan T-3 power rack review, but I'll expand on the list slightly here:
Pros
Affordable
Heavy duty, 2″x3″ modular power rack
Westside hole spacing
Compatible with attachments from other companies that have 2″x3″ racks with Westside spacing
Tons of attachments available, and more are constantly being made
Super versatile when using attachments
Safe
Shorter versions of T-3 available for low ceilings
Deeper versions of T-3 available for more space between the uprights
Foldable wall rack & more compact half rack versions of T-3 available for home gyms with limited floor space
Cons
Titan has documented cases of j-hooks and safety straps failing, though they have made improvements to fix these issues.
Not the best powder coating
It may arrive with some cosmetic damage
May require being anchored into the floor to maximize safety
Highly advanced and elite powerlifters may prefer a beefier 3×3 power rack.
Compatible with Many Rogue Fitness Accessories
One final point to consider: It looks like most of the accessories from Rogue Monster Light racks (e.g. Rogue R-3) will fit in this rack. The Titan T-3 Power Rack is basically a clone design of the Rogue R3 rack.
This is great news for anyone looking to purchase the T-3 because Rogue makes tons of awesome rack accessories at very reasonable prices.
Some people don't trust some of the Titan safety accessories like their safety straps and j-hooks, since there have been documented failures of those in the past. So, they'll buy Rogue j-hooks and safeties to put on the T-3 frame. Titan has made improvements on these accessories, however, it's still reasonable to be concerned, especially if you're a very strong lifter.
Buying the T-3 frame and Rogue safety accessories is a good strategy for both saving money on the rack while hedging for safety on certain accessories.
Minor Issues
In my personal research, I found some other minor issues worth mentioning:​
Powder Coating. Most of the racks come with a slightly bumpy texture from the powder coat. This just means that it may lose some of it's aesthetic properties from easy scratching. This will not affect the integrity or usefulness of the rack itself. In general, the powder coating is low quality compared to more expensive brands. This explains the common complaint across all generations and models of this particular rack — There are often some "dings" and scratch marks right out of the box.
Pull-up Bars. The crossbars are welded into place. It might have been smarter and more efficient to make these a bolt on attachment. Although this would be a stronger method, it would no doubt increase the cost of the rack.
J-Hooks. This one definitely triggers my OCD. Both J-Hooks are right facing. This means if you use a wider grip, the likelihood of pinching your hands between the hooks and the bar is much higher. Also, this means moving the bar in the J-hooks to re-position it will cause one side to slightly disengage from the rack. This design probably saved some money, but having opposite facing j-hooks is much more practical. Looks like another issue may be that some of the j-hooks might not fit snug against the rack and have a little "wiggle room." This just sounds more mildly frustrating than a safety concern because they still seem to work just fine.
Weight Storage Pegs. You basically need pinpoint accuracy to get the weights on the pegs due to their 2 inch (50mm) diameter. A slimmer peg would make storing and moving plates a heck of a lot less frustrating.
Key Specifications & Features of the Titan T-3 Power Rack
Specs & Features Overview for 24-Inch Deep T-3 Series Power Rack
​42⅛" inside width
53¼" outside width
24″ inside depth
32¾" outside depth
1100 lbs weight capacity
11-gauge solid steel frame
2″ x 3″ steel tubes
1¼" skinny grip pull up bar
2″ fat grip pull up bar
84″ pull up bar height
91⅛" overall rack height (82″ version available)
2 j-hooks (roller j-hooks and sandwich j-hooks also available separately)
2 "pin & pipe" safety catches (originally included standard; now sold separately; flip down safeties, strap safeties and spotter arms also sold separately)
4 weight storage pegs (originally included standard; now an optional add-on)
4 band pegs (originally included standard; now sold separately)
230 lbs overall rack weight
​​​Bolt-to-floor capacity for added safety (optional for light lifting)
UHMW plastic coated j-hooks and spotter arms to prevent damage to bar and pins.
​Westside hole pattern: 1″ hole spacing in bench area. 2″ hole spacing above and below.
5/8″ (16mm) hole diameter
Total floor space of 12.11 square feet (not including plate storage pegs and barbell length)
Great value at a low price
Solid construction and overall high quality rack
1 year limited warranty: Repair, replace or refund.
FREE same day shipping (must order before noon CST Mon-Fri)
Many optional attachments sold separately, which I'll discuss later.
Very Low Price for Very High Quality

You get all of the above specs and features for under $500. That's unheard of.
The Rogue R-3, which is essentially the same as the Titan T-3, is nearly double the price!
Construction & Overall Quality
With the Titan T-3 Power Rack, you're basically getting collegiate strength and conditioning grade hardware at craigslist yard sale pricing. When you get your T-3 rack, you get all of the home training safety features you need to get some heavy training done.
Easy Deconstruction for Transportation
The rack is held together with 5/8'' bolts and can be broken down into several pieces for easy transportation.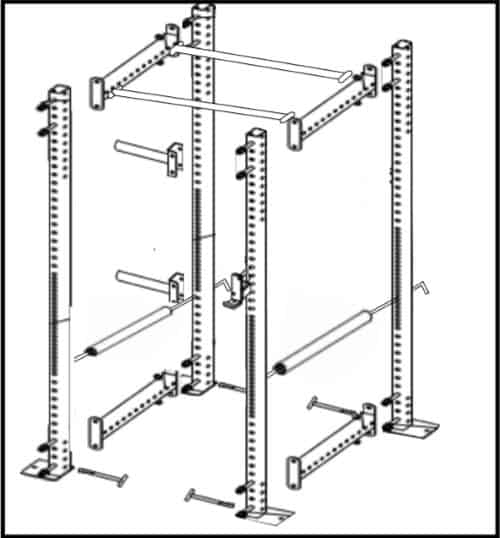 If you want a better idea of the relative ease of assembly/disassembly, here's the instruction manual.​
Strong 11 Gauge Steel Frame
Don't let the easy deconstruction of the rack fool you. Each piece is made up of high quality 11 gauge steel. This is a gold standard to ensure your rack can withstand heavy use and abuse.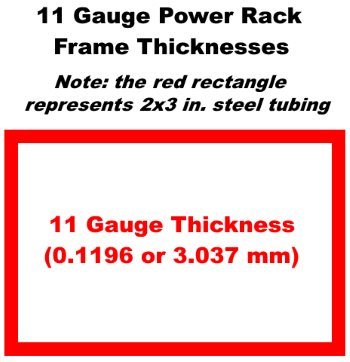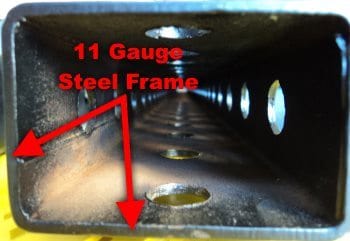 Yes, there are power racks on the market made from thicker steel. Namely, 7-gauge steel. However, that's overkill for the vast majority of lifters.​ 7-gauge racks are usually only necessary in high-traffic commercial gyms, serious strength-oriented gyms or high-level sports training facilities.
In all other scenarios, anything thicker than 11-gauge is overkill in almost all other scenarios. Especially for home gyms. The exceptions are for highly advanced to elite strength athletes who may be doing exercises with close to 1100 lbs or more (e.g. heavy squats, rack pulls or power shrugs).
2″ x 3″ Steel Tubing
The ​11-gauge steel tubes that make up the power rack frame are 2 inches by 3 inches. Many other power racks in the budget price range are 2″x2″.
The extra inch in the tubing dimension – when combined with the 11-gauge thickness – make the T-3 power rack sturdy enough for commercial use.
1100 lbs. Weight Capacity
I've already told you the Titan T-3 power rack is strong and durable.
But just how sturdy is it? Very. Specifically, it has a 1100 lb. rackable capacity rating (total capacity for the entire frame is 4400 lbs).
Do you plan on lifting anywhere near this capacity anytime soon? Ever? Probably not. You'll be set with this rack.
J-Hooks & Safeties
Along with the quality construction of the frame, the Titan T-3 comes with a pair of j-hooks like the ones pictured below: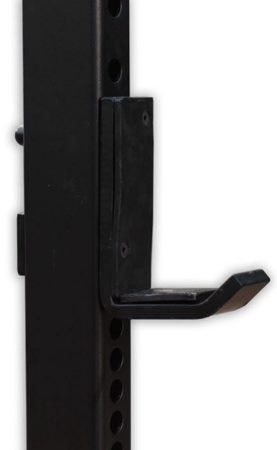 The T-3 used to come with pin and pipe safeties standard. However, now they're an optional add-on. If you prefer, you can get the flip-down safeties or the strap safeties. Of course, safety spotter arms are also available for the front of the rack.
Plate Storage
In the past, this rack came standard with 4 bolt-on weight plate holder attachments for the back of the rack. However, these are now an optional add-on.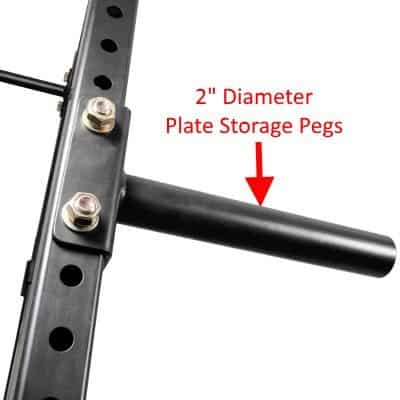 You can also buy optional adjustable plate holders, which can be easily moved to different holes by hand.​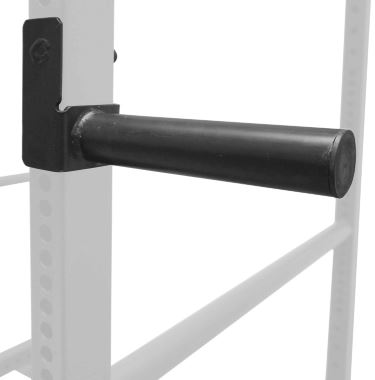 Band Pegs
This rack previously came standard with 4 band pegs. However, these are now an optional offering.
Remember: the T-3 rack has holes all around the rack, on every tube of the frame. As such, you can put the band pegs at any position on the top or bottom of the rack. Even the side if you wanted.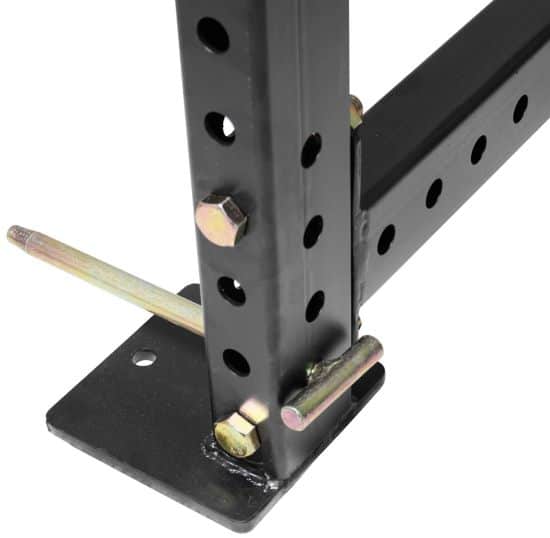 This allows you to do any type of band work. A few examples include:
Band bench press and reverse band bench press
Band squat and reverse band squat
Deadlift and reverse band squat
This greatly expands the number of exercises and exercise variations you can do with this rack.
There is one caveat, though: You must ​bolt the rack down to actually use the band pegs.
Bolt to Floor for Better Security (Must-Do for Heavy Lifting)
The feet of the rack have holes for securing into the ground. Some people choose not to bolt the rack down. This okay until you start using really heavy weight.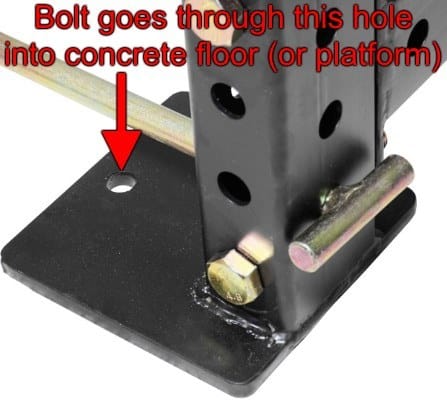 Especially if you plan on using heavy weights, securing the rack with some concrete anchors is going to pay dividends to the safety features of the rack down the road.
If/when you do decide to bolt it down, you'll need the right hardware. If you're bolting it to a concrete floor, you should have 3″ x 3/8″ concrete anchors like the one shown below:

​Then you'll need to drill out an initial 3/8″ hole in the concrete with a masonry drill bit or hammer drill. Then you bolt the anchor into the concrete using the appropriate sized socket (will likely be 9/16″ socket, but may depend on the actual anchor you get).
Power tools can be rented from Home Depot, Lowes, etc. if needed.
You can also bolt the rack to a wooden platform. Titan recommends using 2″ x 3/8″ lag bolts for that. If your platform is deeper, you can use longer lag bolts for more security.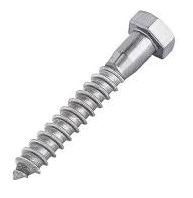 UHMW Plastic-Coated J-Hooks & Spotter Arms
​UHMW plastic coated j-hooks and spotter arms to prevent damage to both the barbell and the metallic portion of the j-hooks/spotter arms.​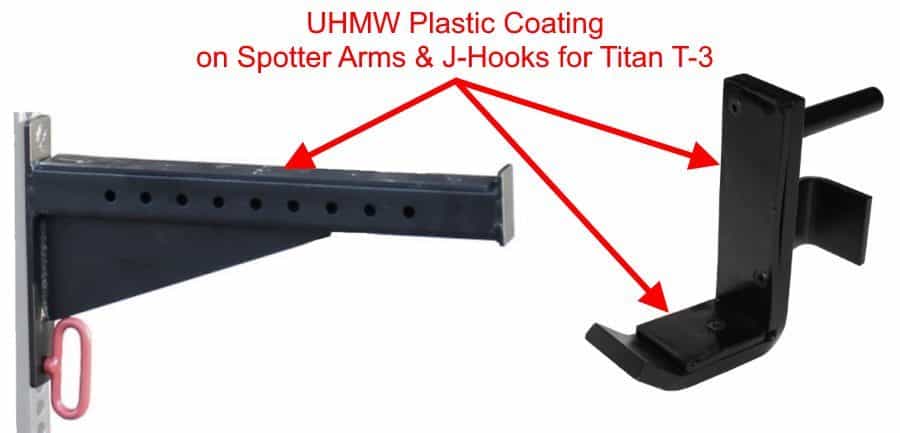 Westside Hole Pattern
Another neat function of the rack is its "Westside" hole pattern.
This means the area of the rack that would be utilized for bench pressing has a much closer hole spacing (1″) in order to safely and effectively accommodate any lifter. The areas above and below this region have a greater amount of space between holes (2″).​
The closer hole spacing allows for more precise placement of spotting bars and j-hooks, and thus a individualized set-up.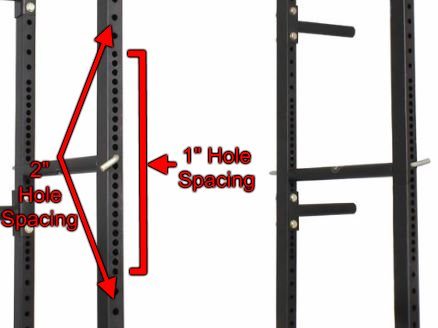 How many times have you used a rack with 4-6 inch hole spacing and your only options were basically either doing half a bench press to get it out of the rack or violently protracting your shoulder blades to clear the j-hooks.
These will be problems of the past with the Titan T-3 Power Rack Westside style hole spacing.
1 Skinny Pull Up Bar & 1 Fat Grip Pull Up Bar
The T-3 power rack comes standard with two different pull up bars. This is twice as many as most other power racks! Especially compared to racks in the same price range.
Both bars are straight (as opposed to curved, parallel or "Monkey bar" style bars).​

The image above shows that:
One is a standard-width 1.25″ thick "skinny" pull up bar. This is just about the same width as an Olympic barbell.
The other is a 2″ thick "fat" pull up bar. This is considered a "Fat Grip" bar because it's thicker than normal. This makes it harder to hold onto. As such, it's an excellent tool for grip strength training and building up your forearms.
Optional Multi-Grip Pull Up Bar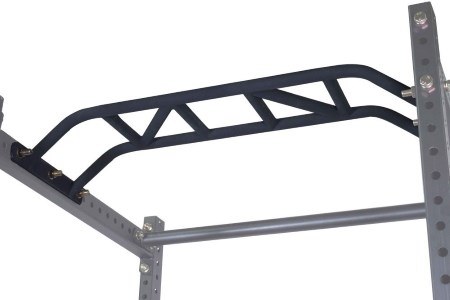 The multi-grip pull up bar attachment for the T-3 is a brand new optional accessory that I'm posting about two months after publishing this article.​
As the name implies, this is a versatile pull up bar that gives you the ability to use just about any grip width or wrist position that you could want.
Just look at it and you can image the possibilities:​
Wide grip pull ups (hands on straight part of bar)
Extra wide grip pull ups (hands on angled-down part of bar)
Neutral grip pull ups
Wide neutral grip pull ups
Semi-pronated pull ups (using diagonal bars — many find this more comfortable on the wrists)
Corner pull ups (hands on bars that intersect at a right angle)
Optional Spotter Arms
Titan Fitness offers these optional spotter arms that expand the capabilities of your T-3 rack. They allow you to do a bunch of barbell exercises outside of the rack that:
Should be done with a spot (e.g. any bench press variation, overhead squat)
Require starting and/or ending the lift with the barbell at a specific height (e.g. any variation of rack pulls, shrugs, pin press)
Are made easier or more convenient with a specific starting and/or ending point (e.g. push press, hang clean, hang snatch, hang pulls, rows, RDL)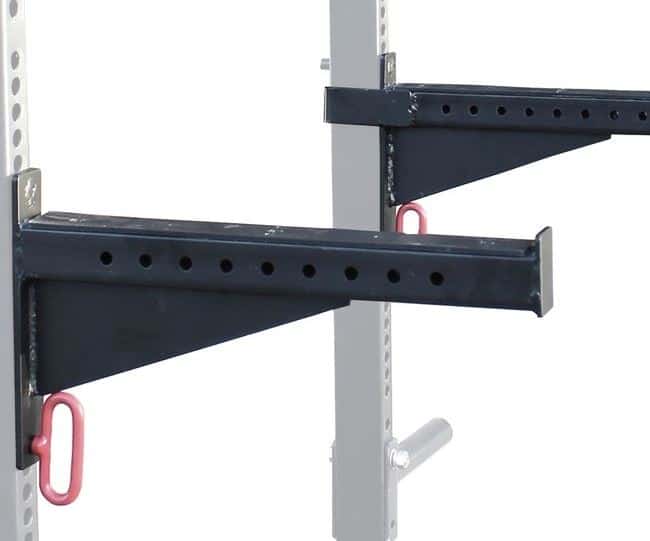 These spotters arms are strong and durable. Just like the T-3 power rack itself. Here's their key specs:
24″ length. This gives you plenty of space for just about any exercise you'd want to use spotter arms for. It's the same amount of space you have inside the T-3 rack.
14 lbs per arm. These are pretty heavy. But that's because they're made from thick steel (see below).
7 gauge steel construction. This is thicker than the 11 gauge steel that the rack frame is made of. The greater thickness allows the spotter arms to still be able to support heavy ass weight, despite attaching to one side of the rack.
800 lbs weight capacity. This is a bit lower than the 1100 lbs capacity you get inside the rack with pin & pipe safeties. However, this is to be expected since these safety bars only attach to one side of the rack. If it weren't for the thicker 7-gauge steel, the weight capacity would be lower.
UHMW plastic coating. The UHMW plastic on the top surface prevents damage to the barbell (e.g. wearing down of the bar knurling, dings, scratches) and to the spotter arms themselves.
Optional Dip Bar Attachments
A dip bar attachment does not come standard with the T-3 power rack. This is common. Dip attachments don't come standard with the majority of other racks, either.
However, you can buy a dip attachment as an optional accessory. In fact, there are 3 dip bar attachment options available.
Dip Option #1 – Separate Dip Handles:
The first option I'll discuss are the separate dip bar handles shown below: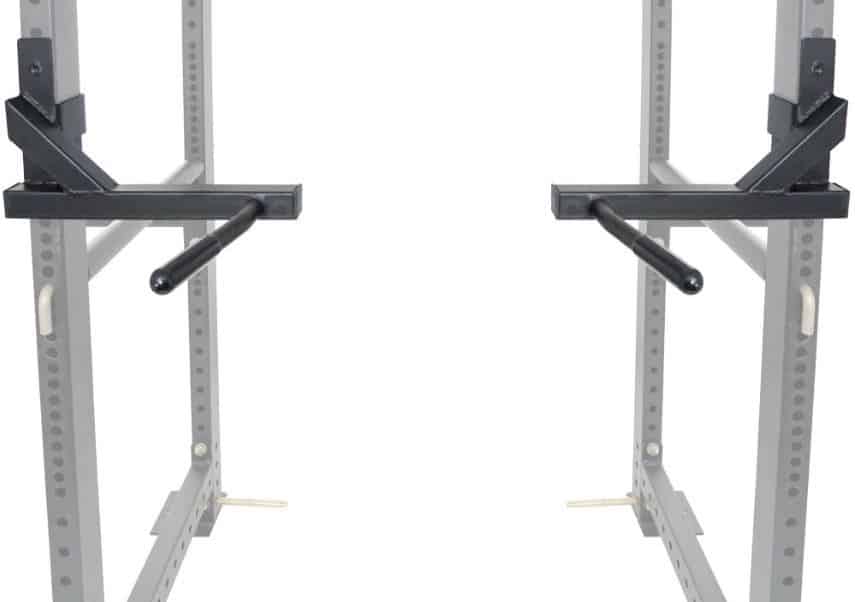 Here is the full list of features and specs​:
This dip option consists of two separate dip handles
1″ thick steel handles
Durable finish on steel portion
Plastic grips to prevent slipping
1.6″ steel tube frame
16″ length x 11″ width (the dimensions for the frame of each piece — not the actual handle part)
Tapered handles that let you use a narrower grip toward the front of the handle or a wider grip toward the end of the handle. Its widest point–at the end of handles–is 20″ apart.
500 lbs weight capacity rating
You can get these dip handles for just $30, but only if you select it as an "add-on" on when purchasing the T-3 power rack. If you buy them without the rack, the price is $49.
This is the most popular of the two dip attachment options. This is because it's been around longer than the second option and is a little bit less expensive.
Dip Option #2 – 'Y' Dip Bar:
The other option is the 'Y' dip bar attachment. It is a relatively new addition to the arsenal of attachments available for the T-3.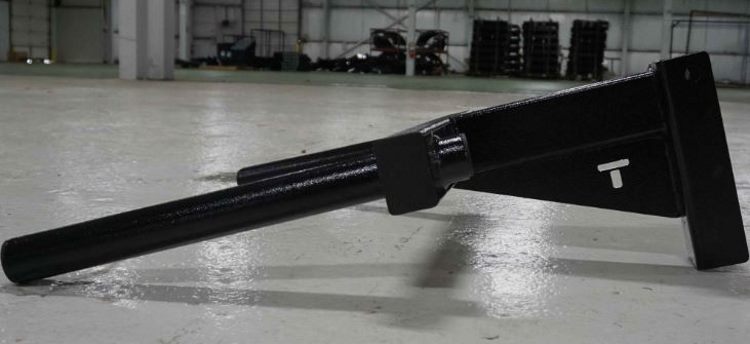 Here are the key features and specs of the 'Y' dip bar attachment:
This dip option is a single Y-shaped piece of steel, as opposed to the separate dip handles discussed above. The main benefits of the 'Y' construction vs. the separate handles are faster adjustment and greater stability.
Quick change pin mounting system for easy set up and removal.
Tapered handles allow you to use any grip width from as narrow as 17″ to as wide as 24″ apart.
Heavy duty solid steel construction with laser cut gusset plate (i.e. the triangular support section with the 'T' in it) make it even more robust than the individual dip bar handles shown previously.
27″ overall length
15.5″ handle length
1 7/8″ (47mm) thick handle diameter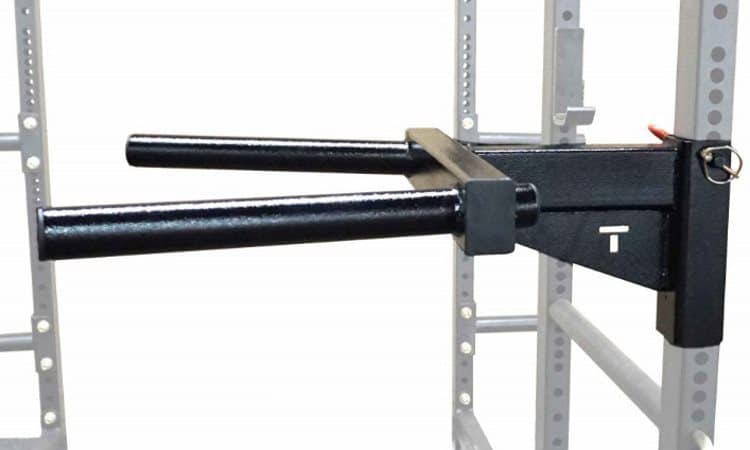 This 'Y' dip attachment will run you $69. That's a cheap price for what you get. Still, it is more expensive than the $49 separate dip bar handles (or $30 if you buy them with the rack)…
…But you should expect to pay more. Yes, the separate dip handles are more than sufficient for doing dips with plenty of weight.
However, the 'Y' bar is a superior piece of hardware. For one, it's sturdier. The more major advantages stem from its more elegant design that makes it:
Easier to adjust: The 'Y' bar is obviously one piece instead of the two separate handles. This makes it basically twice as easy to put on, remove or adjust.
More ergonomic: It has thicker 1 7/8″ (47mm) handles that are easier to grip compared to the 1″ (25.5mm) thick handles on the separate dip handles option
More versatile: It has a greater range of grip widths (17″ – 24″) thanks to the combo of tapered/angled handles and long handles (15.5″).
Dip Option #3 – 'X' Dip Bar:
The third dip option is the cross-rack 'X' dip bar attachment. It is the newest of all the dip attachments. It actually was released after I finished the first draft of this Titan T-3 power rack review, so I had to go back and add this section in!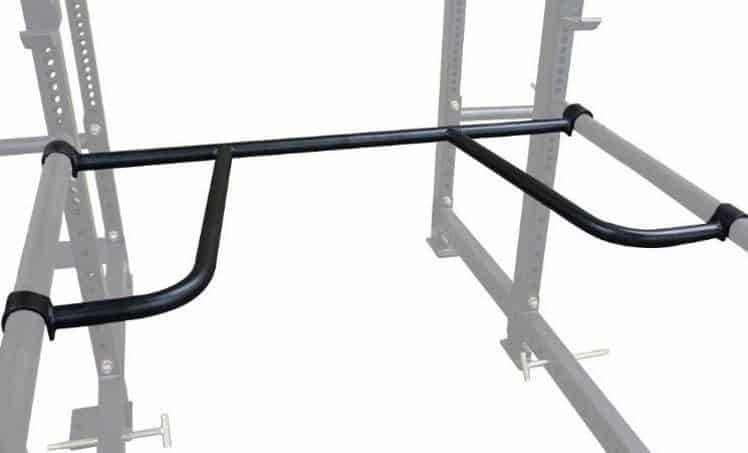 As of the time of writing this Titan T-3 power rack review, there aren't any reviews for this dip attachment since it's so new. Also, there were no specs listed on the product page–just a basic description of the uses…
…So I reached out to the customer support for more information. She gave me a basic rundown of the specs and features, which I have expanded on with my own analysis below:
​The 'X' dip bar provides a lot of support since it's attached at four different points inside the rack. Compare this to the separate dip handles discussed earlier (i.e. dip option #1). Each handle attaches on just one side, outside the rack. If I had to guess, I'd say the 'X' dip bar is probably a bit stronger.
​Changing the height of the dip bar isn't as fast or convenient as either of the other two options. You have to adjust the height of each pin and pipe safety bar, then you have to move the bar into place inside the rack. This negative point is not the end of the world, obviously, but it's worth pointing out.
​The coolest part about this dip bar is that it can double as a multi-grip pull up bar! To do this, you just set the pin and pipe safeties all the way up at the of the rack. Then put the 'X' dip bar on top. Now, you have the ability to do different types of pull up variations that you couldn't with just the two included straight pull up bars. This includes pull ups with a neutral grip, a semi-pronated grip and a semi-supinated grip–including closer and wider grip width variations of these.
You can get creative and do several exercises besides pull ups. Some examples include inverted rows, incline or decline push ups, bodyweight triceps extensions and incline planks.
The "Clips" (i.e. the cup-like attachment points) are meant to fit onto the pin and pipe safety bars. The Titan T-3 pipes are 1.8″ (46mm) outside diameter–which I mention in case you were considering buying this attachment for a different power rack.
18 lbs total weight
46″ overall width
23.5″ overall depth
1.25″ (32mm) handle diameter
Optional Monolift Rack Mounted Attachment
The adjustable monolift attachment is a new optional accessory for the T-3 that came out a month or two after I originally published this Titan T-3 power rack review. This monolift attachment allows you to remove, or adjust the height as needed.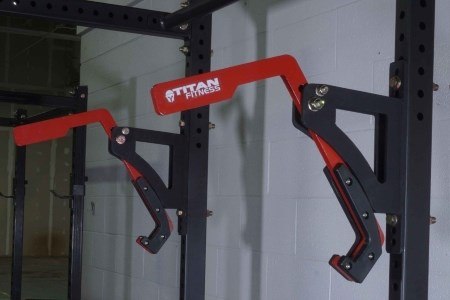 I was very surprised (in a good way!) to see that Titan decided to come out with this type of attachment since it shows they're catering to powerlifters, some of whom utilize a monolift in training and/or at meets…
…In case you're not familiar with monolift​s, it's an apparatus on which you unrack the weight for squats without having walk the weight out.
When you unrack the bar from the monolift's hooks, the counterweight causes the hooks to swing back and out of the way. When it's time to rack the weight, you just lean slightly forward and set the bar back in position.
You don't have to be a competitive powerlifter who competes in federations that use monolifts in order to benefit from this attachment. Rather, you can just be a serious lifter who squats heavy max/near-max weight while alone–and who wants the additional safety that this attachment provides (i.e. no risk of tripping during the walkout or re-rack).
Of course, you still use the safety catches in addition to the monolift if you're squatting with such heavy loads.
Optional Landmine Attachment
The landmine rack attachment is one of the T-3 power rack accessories that came right after I published this Titan T-3 power rack review. They're excellent additions to the growing line of T-3 accessories because versatility. A landmine gives you access to dozens of new exercise variations.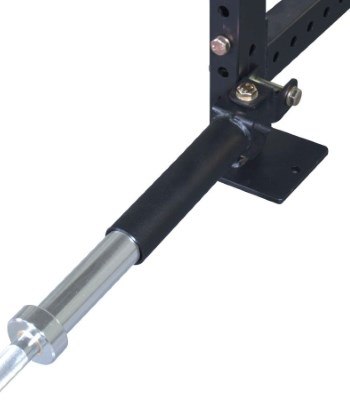 What exactly is a landmine? It's a piece of equipment that holds and anchors one end of a barbell to a fixed point near the floor. But it has two joints that allow you to move the opposite end in any direction: left, right, up, down and all around!
Here's some of exercises you'll have access to with a landmine attachment:
T-bar rows
Landmine presses
Landmine squats
Landmine hack squats
Landmine RDLs
Landmine single leg RDLs
Landmine lunges
Landmine floor press
Landmine unilateral rear delt rows
Landmine clean and press
Landmine rotations
And many more…
Optional Parallel Handle (for Use with Optional Landmine Attachment)
Just like the two attachments mentioned above, this is yet another new Titan T-3 power rack attachment–hot off the manufacturing line!
The parallel handle attachment is meant to be used with the landmine attachment (discussed above). This slides on the end of the barbell that's being used in the landmine. Then you put the barbell plates on after it.
​This handle design gives a convenient, comfortable and secure way to grip bar. This handle is really only for doing one exercise: T-bar rows. But if you're like me, and T-bar rows are one of your favorite back exercises, then this handle and the landmine are must-haves.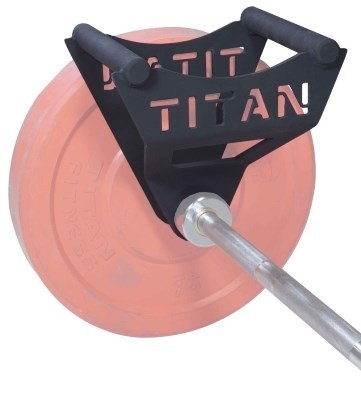 You could get away with only the landmine attachment and just do T-bar rows with your hands clasped together, but once you get strong enough, your grip will give out way before back muscles do…
…A step up to that would be using a makeshift handle (e.g. using a loose v-bar pulley attachment). That can work pretty well, but it's still not ideal because the grip is usually too close, and you have to work at keeping makeshift handle stable.
With a proper handle attachment, you can lift more weight with better technique. And you can focus 100% on using the target back muscles, as opposed to being distracted any grip/handle issues.
The only downside to the Titan parallel landmine handle is that it only allows for a fixed width neutral grip. It doesn't allow you to use a pronated (overhand) grip. Though, if you really wanted, it looks like there's a simple workaround to this: Just stick another bar through the gap; then pull it upward against the undersides of the parallel handles, and toward you against the metal with "TITAN" engraved in it. This should keep the bar fixed in place pretty well. And now you can do T-bar rows with a pronated grip at varying grip widths.
Optional Power Rack Extension Kit
Don't feel like like the T-3 power rack has enough space? No problem!
Just get a one of the T-3 power rack extensions. These are the benefits of getting an extension:
4 additional weight plate holders
​2 additional j-hooks
1 additional 1.25″ (32mm) diameter pull up bar
Eliminates the problem of weight plates getting in the way of some exercises due to being stored on rear uprights of the rack itself (i.e. half of the plates would encroach into rack space). The extensions give plenty of clearance.
More space for doing (some) exercises. You shouldn't do any exercises that require a spot in the area created by the extension. However, anything that requires just j-hooks or pull up bar — and can be done within that space — is fair game. This is especially useful if you have 2 barbells and are supersetting certain exercises, or if you're training with a partner who's doing different exercises (though, it may make sense for them to use the front of the rack depending on the exercise).
There are 2 types of extensions​ available:
24-Inch Rack Extensions: There is a 24 inch power rack extension for the normal height (91⅛") T-3 power rack (both the 24″ depth and 36″ depth versions) as well as one for the short (82¼") T-3 power rack (both the 24″ depth and 36″ depth versions).
36-Inch Rack Extensions: There is a 36 inch extension for the normal height (91⅛") T-3 power rack (both the 24″ depth and 36″ depth versions) as well as one for the short (82¼") T-3 power rack (both the 24″ depth and 36″ depth versions). If one of your primary goals of getting an extension is to maximize the amount of exercises you can comfortably do in this area, then you should go with this 36″ extension. On certain lifts, the extra foot of depth will make the difference between having plenty of room to move vs. sometimes knocking into to uprights or the plates on the storage pegs.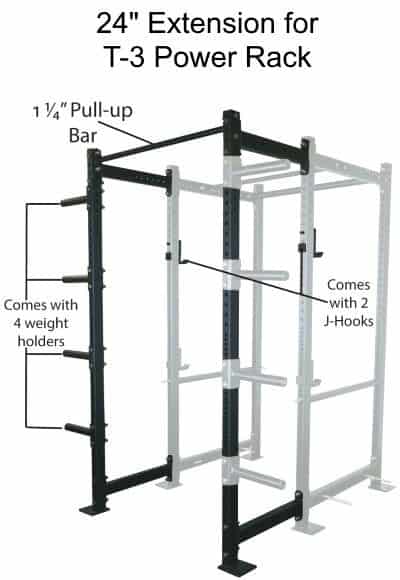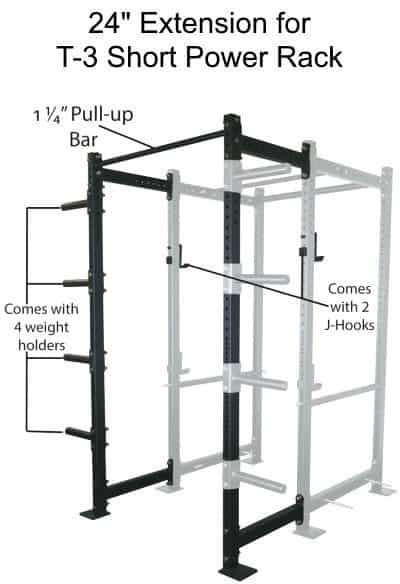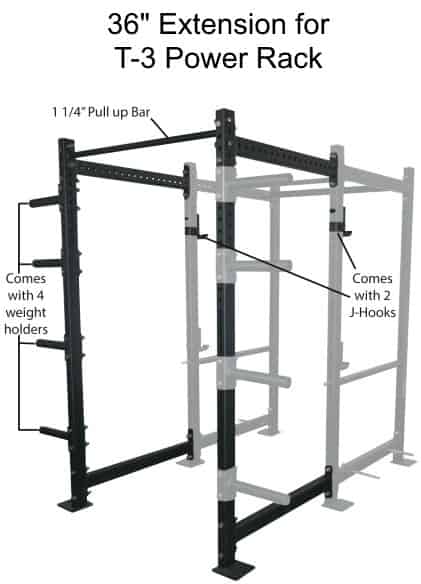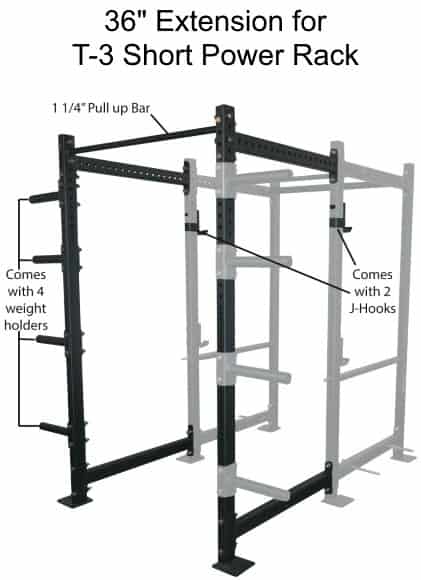 Titan T-3 Power Rack Variations & Alternatives
Another good point about Titan is that they try to accommodate space limitations. Because of this, there are several available variations of the T-3 rack to fit any space situation.
T-3 Series Short Power Rack (24″ Deep & 36″ Deep)
Got low ceiling clearance? Titan thought of that and designed a short rack for basements and low clearance spaces.
Obviously, a shorter space is going to limit some of your standing overhead movements and make pull-ups trickier. But, the short full cage variation will allow you to train at home with all the safety features of the full size T-3 Rack.​
Titan makes makes these 2 short power racks:​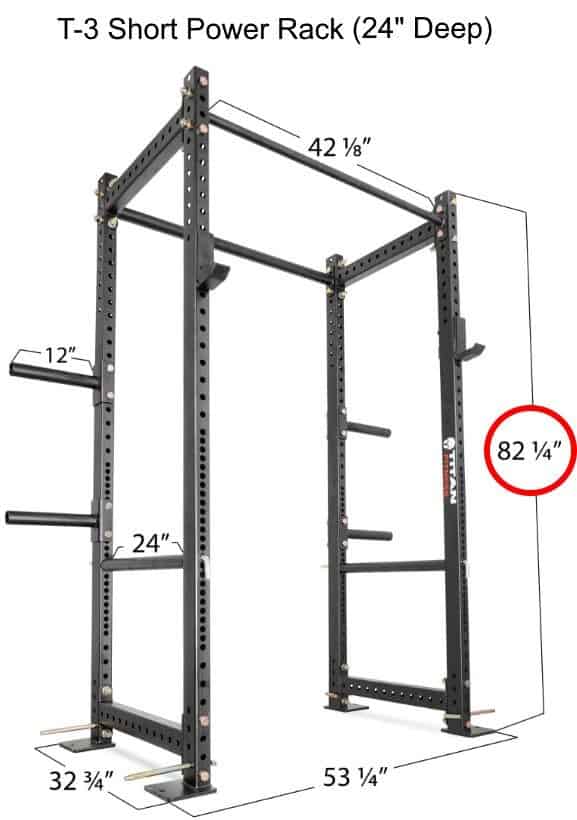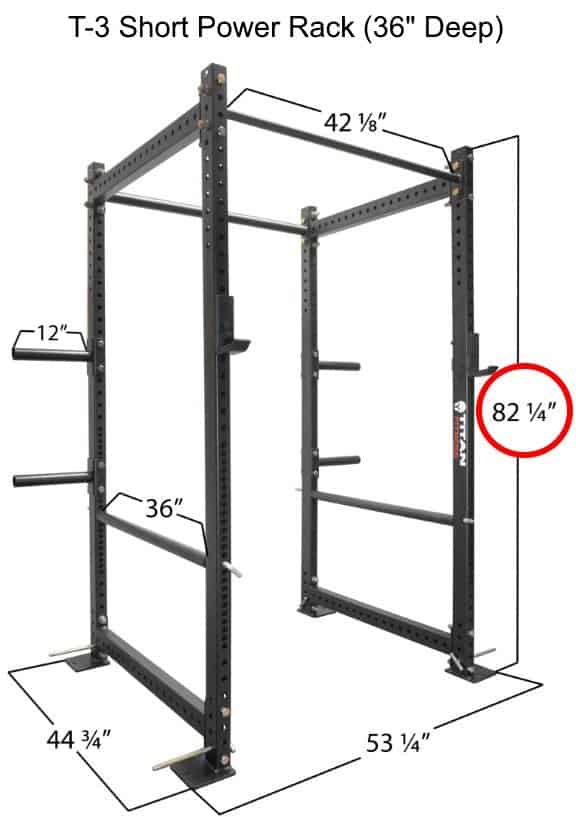 T-3 Series Squat Rack (aka Open Rack)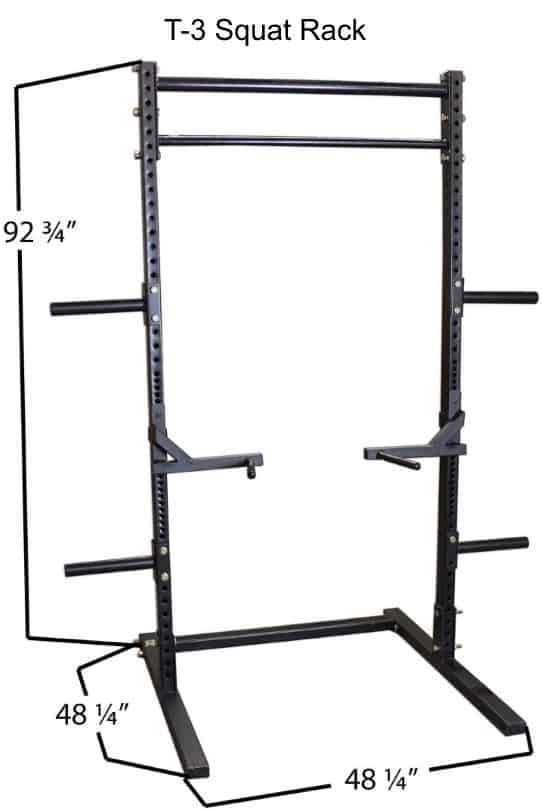 This is a great option for someone that doesn't have the floor space for a whole closed cage. The T-3 Squat Rack variation is basically a set of Squat Stands with cross beam and a wider base to help with stability and safety.
Even though it is only half a rack, there is still plenty of space for bench pressing, pull-ups, and basically every other exercise you can perform in the full cage rack.
The only downside here is that you are missing out on the exceptional safety option of having the "pin and pipe" spotting system. Spotter arms are still available, but are nowhere near the same level of safety as a full cage.
T-3 Series Independent Upright Squat Stand (With Pull Up Bar & Without Pull Up Bar)

If you have the space for a rack, but need it to be movable/storable to still have usable space, the Titan T-3 squat stands are an excellent option.
You can buy them with or without a connecting pull up bar.
Although you are sacrificing all of the safety features of a closed cage or a half squat rack, you can still use these stands for squatting, bench pressing and overhead pressing.
You really can't beat the mobility here, as it's simple to move them out of the way when you're done.
I would strongly suggest making sure you have a spotter or a training partner with you when you use this because, as I mentioned before, all of the safety features of the other racks are not compatible with this rack option.​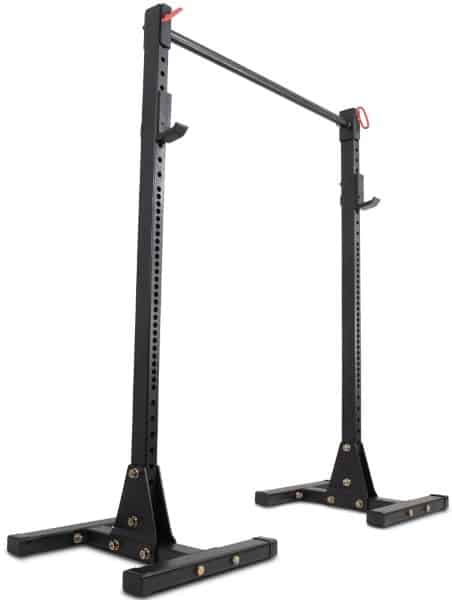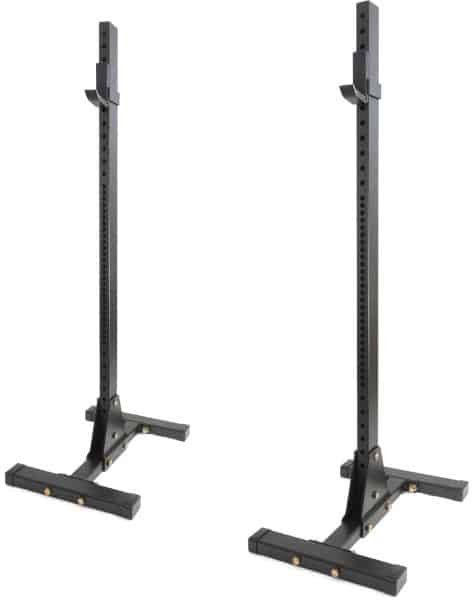 T-3 Series Fold Back Power Rack Wall Mount (21.5″ Deep & 41″ Deep)
Do you want a garage gym? Do you have limited space because you park your car in the garage? If you answered yes to both of these questions, then a T-3 fold back wall mount power rack is the perfect solution for you.
It folds flat against the wall so you have plenty of space to park your car when not in use.
When it's training time, just pull your car out of the garage before you start your workout. Then fold the rack open, hit the weights, fold it back against the wall and pull back into the garage. Easy as pie.
The wall mounted rack comes in 2 heights (82″ and 91″) and 2 depths (21″ and 41″).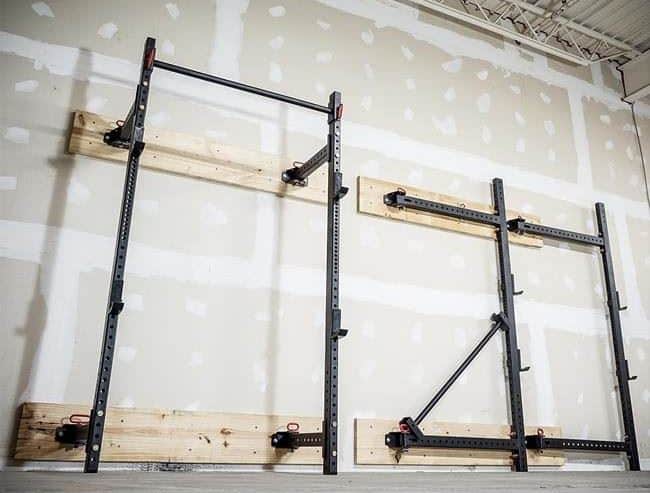 The foldable rack can be closed firmly against the wall so that it only sticks out about 3 inches. Although the convenience and functionality of these are phenomenal, you sacrifice the total weight capacity of the rack.
You are going to be limited by the structural integrity of where ever the rack is attached. And although you can use the spotter arms with these racks, you obviously can't use the pin and pipe safety catches, flip down safeties or strap safeties…
…These things might not be a problem for most fitness enthusiasts and crossfitters, but if your goal is maximum strength and really pushing weights, this variation may not be ideal. Though, if you need the folding feature due to space limitations, then this is your only option.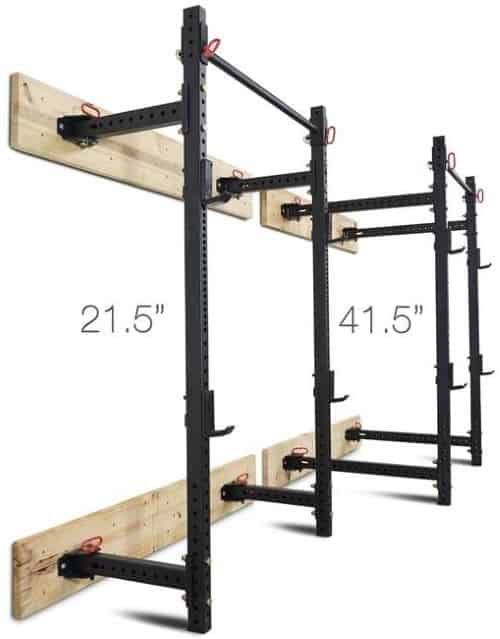 Titan X-2 Power Rack
The Titan X-2 is very similar to the T-3 in it's basic structure. It's key differences are smaller uprights (2″ x 2″), stronger steel (9 gauge, which is thicker than the T-3's 11 gauge) and overall greater weight capacity (3000 lbs vs 1100 lbs). Not to mention, it's cheaper than the T-3 by about $35 to $80 depending on the height.
There are downsides, though. For example, there are very few accessories available for the Titan X-2 currently–because it is so new (it was launched in October 2017). Plus, it's only available in 24″ depth.
If you're interested, be sure to read my full Titan X-2 Power Rack review for all the juicy details!
Improvements Made in 2nd Generation
The 1st generation of the Titan T-3 power rack was okay, but it left a lot of room for improvement. The 2nd generation improved on a lot of the first gen deficiencies. I'll discuss the improvements below:
Welds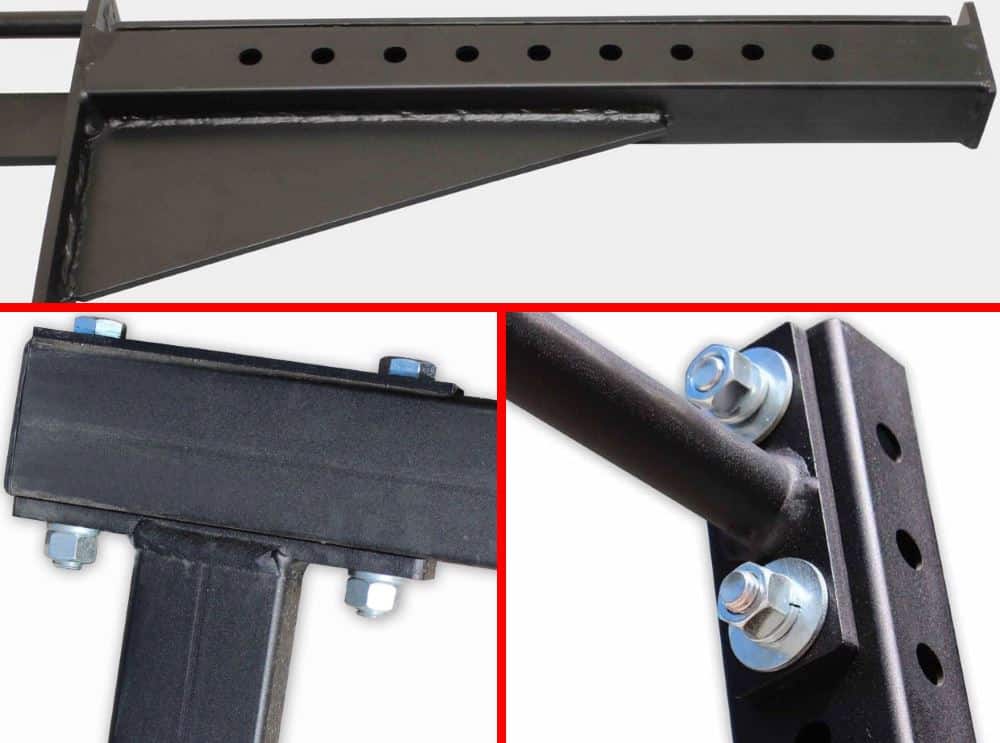 Even with the 2nd gen T-3 racks, the welds are still not the prettiest things on earth. However, numerous reviews (including some from actual welders) claim these are more than adequate in sustaining the heavy abuse associated with lifting heavy barbells.

One of the big improvements of the 2nd gen T-3 over the 1st gen was the quality of the welds.
The first generation of T-3 Power Racks utilized spot welding. This reduced the structural integrity of the entire rack and even led to several failures. However, Titan learned from their mistake and now utilizes a much stronger circumferential weld technique.
Pin & Pipe Safeties
Another first generation issue seems to be the common complaint of the "pin and pipe" safety catches design having washers welded inside of them. So, if you do ditch or drop a bar, the weight would be unevenly dispersed on the pins themselves. This could lead to all kinds of structural issues.
But, again, Titan listened to it's customers and took the washers out of the T-3 Power Rack. Here is a customer review addressing this exact resolution:
Here is another video showing the correction of all the first generation issues:
Reviews from Others
The Titan Fitness website has 70 Titan T-3 power rack reviews with an average rating of 4.9 our of 5 stars.
As far as positive reviews, I had TONS to pick from. I'll start with these two from the Titan site: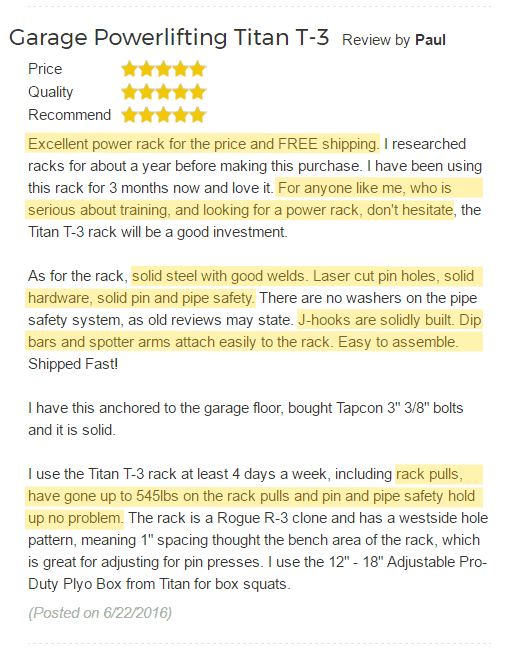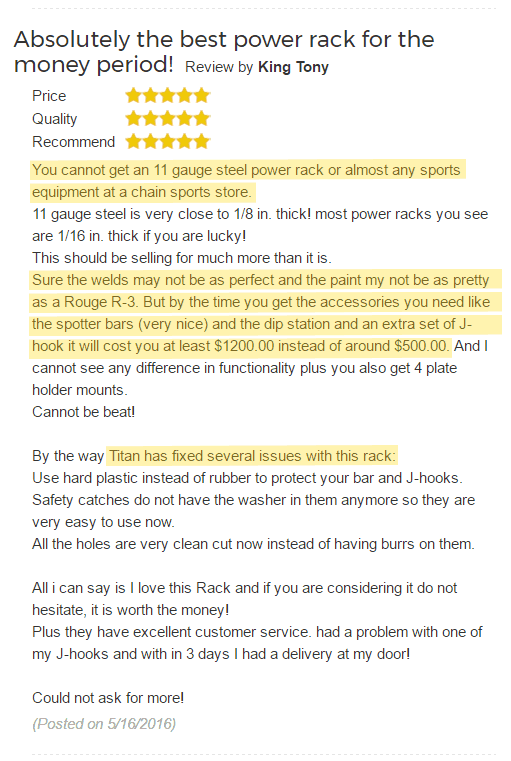 As you can see, the users and owners of the T-3 rack have a wide array of health, fitness, and strength goals. One commonality among all the reviews is that no matter what the aim of your physical exercise program, the Titan T-3 Power Rack is versatile enough to help you in the comfort of your own home gym.
Are You Ready to Buy?
I hope you've enjoyed my Titan T-3 power rack review!
Have you decided to take the plunge on this budget-friendly rack? I don't think you'll be disappointed, especially if this is your first power rack.
The rack frame itself is plenty strong itself. And remember that if you're weary of Titan's safety accessories (e.g. j-hooks, spotter arms, strap safeties), you can can always buy the Rogue version.
The best place to buy the rack is on the Titan Fitness website. You'll always get the best price plus free shipping (in the US). Here's the links to the two main racks:
​Lastly, here are links to t​he listing of power rack accessories and extensions on the Titan Fitness website: