This page contains the most in-depth review of the Force USA MyRack Power Rack that you'll find anywhere online.
I'll tell you absolutely everything you want to know about this power rack, and oh so much more.
Model
Pros & Cons
Rating
Pros:

Great selection of attachments to increase exercise variety
One of the few racks to offer a cable crossover AND lat pulldown/low row
Great bang for your buck
Strong enough for all but the most advanced strength athletes
Very stable with flat feet AND rear stabilizer
Has lower band peg holes, which is rare for flat foot racks

Cons:

2.4" x 2.4" uprights are non-standard, making 3rd-party attachments incompatible
12 gauge steel is thinner than the 11 gauge in many competing racks
Most attachments are great overall, but a few have minor flaws

Rated 4.5 out of 5 in Power Racks

Overview: Force USA MyRack Review
Before I get into the nitty-gritty details, I'll present you with the table below where I summarize the major pros and cons of the MyRack and give my overall rating.
This will be helpful if you want a quick answer as to whether this rack is right for you.
MyRack Video Tour
Before I get into anything, I'll put this video "tour" of my complete MyRack setup, so you can get an up-close look at this power rack and all of its attachments:
MyRack Specs
87″ overall height*

* 87" is the stated height. However, I measured the rack at ~86⅜". The Lat Pulldown/Low Row Attachment measured in at 86.75" at its highest point. And the Cable Crossover Attachment came in at ~87.5". I've included height measurement photos at the end of this spec list.

81" internal height
47″ overall width
42.2″ interior width
55″ overall depth
29" interior depth
12 gauge steel uprights (end plates on the upper cross bracings tubes that connect to uprights are thicker than 12 gauge)
Gusset plates on base of all uprights + reinforcement plates at all other joints to bolster structural integrity
54 laser cut holes on front and back of each upright for adjusting height of j-hooks, safeties and other attachments
5/8″ hole size on front and back of each upright
1″ holes on left and right sides of each upright that can be used for certain other accessories (e.g. weight plate holders, dip handle)
2.4″ x 2.4″ uprights
Westside hole spacing

The region with 1″ hole spacing is much larger compared to other Westside style racks

Free standing design, but the feet have built-in holes for bolting down if wanted
176 lbs total weight of just the rack
Lifetime structural warranty
The rack comes in three boxes; each attachment comes in a single box
Fast shipping (via freight shipping) – I discuss shipping details here.
Below are photos of the max height measurements of the base MyRack unit, the Cable Crossover and the Lat Pulldown/Low Row: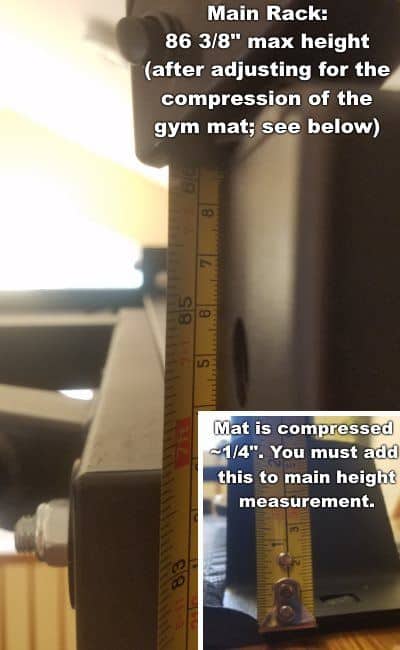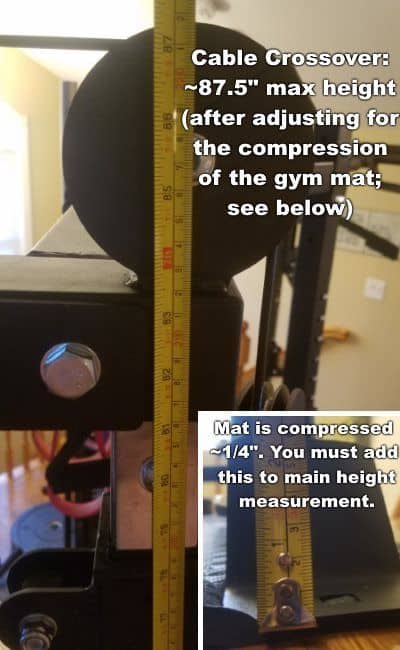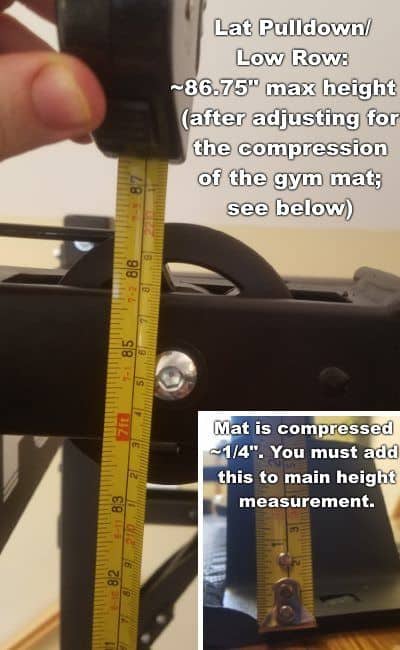 Overall Construction Quality
The base of the MyRack provides a very stable foundation thanks to the combination of two extra long flat feet and a rear support bar that connects between the back two uprights.
Each of the four uprights is reinforced with large trapezoidal gusset plates or rectangular reinforcement plates on both sides. These plates support the weight being transferred through the uprights and help spread it over a wider surface area.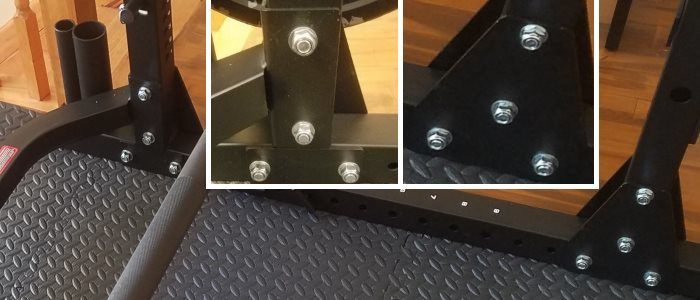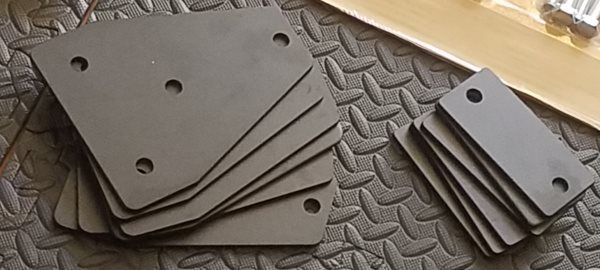 This is a key structural feature that at least in part negates the use of 12 gauge steel for the uprights instead of the slightly thicker 11 gauge steel that would've been ideal.
It should be noted that although the steel tubes that make up the rack's frame are all 12 gauge, the end plates on the upper cross bracings are made from a thicker gauge steel. See below: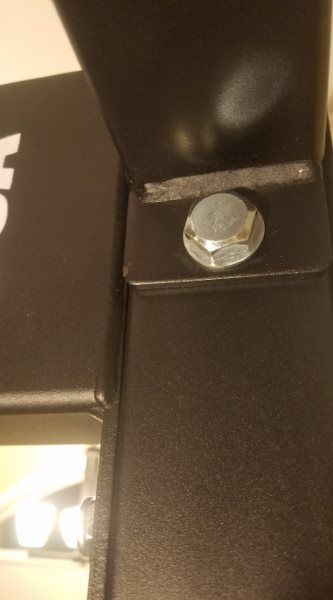 Having the thicker end plates in these structurally important connection points is another good design choice by Force USA. It is another effective way to compensate for the thinner 12 gauge steel tubing.
The MyRack has 2.4" x 2.4" uprights. At this size, they cover a significantly larger surface area than the typical 12 gauge 2″ x 2″ racks that you'll find for cheap on Amazon or in a big box retailer. Here's the math:
Surface area covered by 2" x 2" upright = 4 in² (2 x 2 = 4)
Surface area covered by 2.4" x 2.4" upright = 5.76 in² (2.4 x 2.4 = 5.76)
5.76 in² is 44% greater area than 4 in²
These larger uprights are the final redeeming factor. This combined with the other design factors I've discussed, make up for much of the downside of having a 12 gauge frame instead of 11 gauge.
That said, it would have been even better if the uprights were 2" x 3". I have two reasons for that:
It would add just a tad more surface area/volume to the uprights
It would mean it the rack would be compatible with the many 2" x 3" rack attachments made by other companies like Rep, Titan, Rogue, etc. This of course isn't the case and it's not going to change. So no point in whining!
2.4″ x 2.4″ is still way more robust than 2" x 2". And given the great attachments available from Force USA, I can live with not having access to compatible third-party attachments.
All in all, you still have a sturdy, highly stable rack that's been rated to support a max fixed weight of 2000 lbs. That's way more than most lifters will ever need.
Plus, you get the benefit of a reduced price rack price. An 11 gauge rack would have been heavier and therefore more expensive to manufacture and ship. That would ultimately mean a higher cost for you. The additional rack strength you'd get from 11 gauge is not needed by the vast majority of potential customers, who would rather save the extra dough.
The downside is that it's not suitable for commercial gyms. Also, most truly advanced/elite powerlifters and strongman will probably want to look elsewhere for a beefier rack for their home gym; at least if they're thinking about durability over the long term.
About Force USA
Unlike some equipment companies, Force USA does NOT have a copycat business model.
That is, they don't take existing successful designs from other companies, make a minor modification or two and then mass produce. Now, I'm knocking companies that do that, since they offer a different value to the consumer in terms of price competitiveness (I do love my Titan X-3 power rack after all!).
However, you get a different value with a company like Force USA. They've been in the fitness equipment game for over 40 years, creating their own unique designs for power racks and other strength training equipment. They have a dedicated R&D team that's able to design equipment from concept to completion, with lots of testing in-between to work out the kinks.
Companies that have this process in place tend to deliver well-thought-out products with both major features and minor details that make the training experience better for the lifter.
Like I said, Force USA has a track record of making their own unique strength equipment designs. Examples of these include their Force USA all-in-one gyms that have a power rack, functional trainer, Smith machine and other exercise stations in a single machine. I've tested and reviewed all of their all-in-one gyms, which you can check out below:

More recently, they've come out with the X-Series "multi-trainers." These are similar to the G-Series, except that don't have a Smith machine and have a beefier build quality (3″x3″ 11-gauge steel):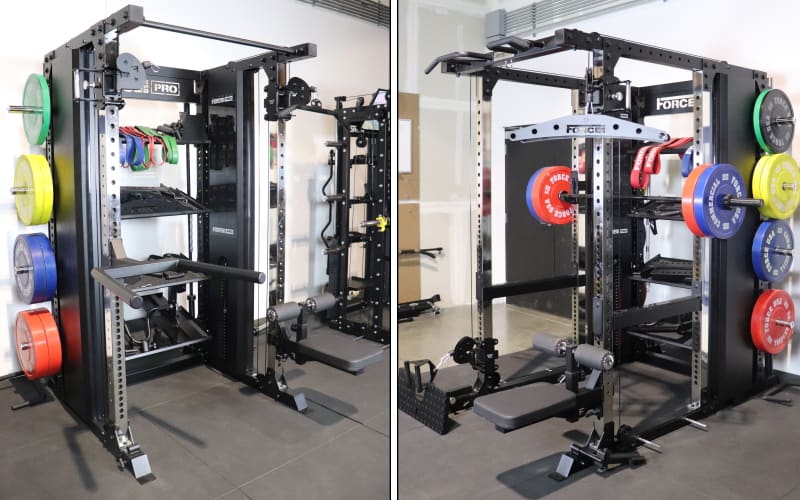 This same approach to smart, innovative design was taken with the MyRack.
The MyRack's stand-out features include small but important details like numbering on the upright holes and band peg holes, and built-in bar storage. They also include more major features like a Lat Pulldown/Low Row Attachment and Cable Crossover Attachments.
Below, I'll discuss all of these features and attachments in detail.
Features
Numbered Holes

One of the minor, but high-impact details that I really appreciate about the MyRack is its hole numbering. And it's not just hole numbering on the uprights, but also on the band peg holes.
Numbered holes makes each and every workout easier because you don't have to guess which height you need to adjust the j-hooks or safeties. You simply have to write down (or commit to memory) which numbers you use for certain exercises.
Also, you avoid accidentally putting the left and right j-hooks/safeties at different heights, only to realize that they're one setting off when you put the bar on.
Essentially, hole numbering makes the process of changing exercises more efficient. Since this is likely something you'll do multiple times per workout, this minor feature can save you up to a full minute or two per workout of wasted time. Plus, it's one less thing you have to think about. Over time, that's a lot of time and mental energy saved.
This is something that most power racks do not have, including many in the higher budget ranges. I don't know why this is, but I really appreciate that it was done on the MyRack.
The only things that could have made this great feature even greater would be to include numbering on the front and back of each upright, and for the numbering to be laser engraved instead of painted on.
Of course, both of those wishes (especially the latter) would increase the cost. You can only add so many costs before it's no longer considered a budget rack.
Built-in Olympic Bar Storage Sleeves
Another small yet convenient and much appreciated feature that comes standard on the MyRack is the built-in bar storage sleeves.
There are two sleeves for Olympic bars located in the rear of the rack; one on the left and on right. They're welded atop the rack's feet, right behind the rear uprights.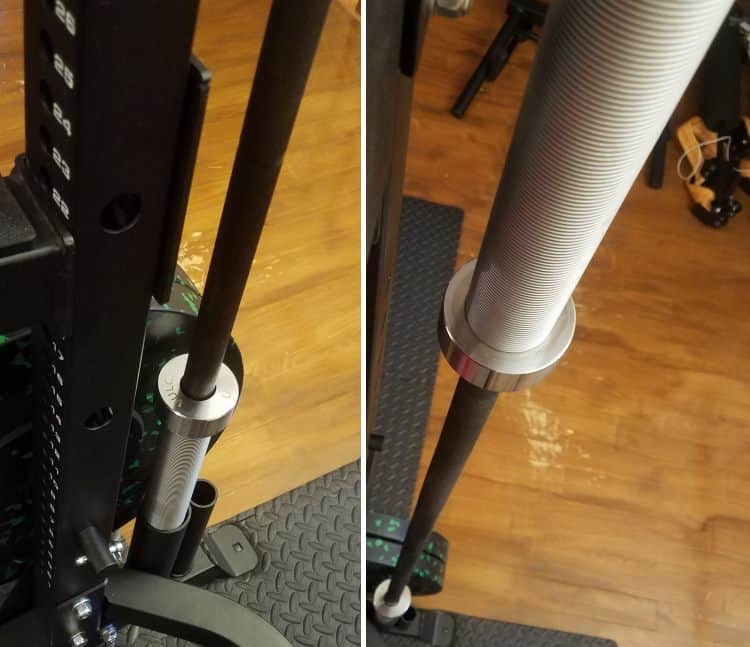 This gives you a place to safely and securely store two barbells vertically behind the rack. This way, they're not taking up any space that you would otherwise be using.
This is especially helpful if you have a very limited amount of space to begin. Even more so if your gym is in a room that you or others use when not working out — You don't want someone to accidentally walk into one of the ends of the bar if it's being stored horizontally across the rack.
If you have just two barbells, this is the perfect solution. If you have three bars and are fine with storing the third bar inside the rack when you're not training, you're still all set. However, if you have 4+ bars, you'll want to look into a dedicated bar storage solution like a wall-mounted bar storage rack or a bar holder stand that sits on the floor.
There are also two 1 inch diameter bar holders made to hold Standard sized bars. They are located directly behind the main Olympic storage sleeves. Though, it's unlikely that you have a full size standard barbell if you're serious about lifting. However, I've found some pretty awesome uses for storing other equipment inside these smaller sleeves as you can see in the images below: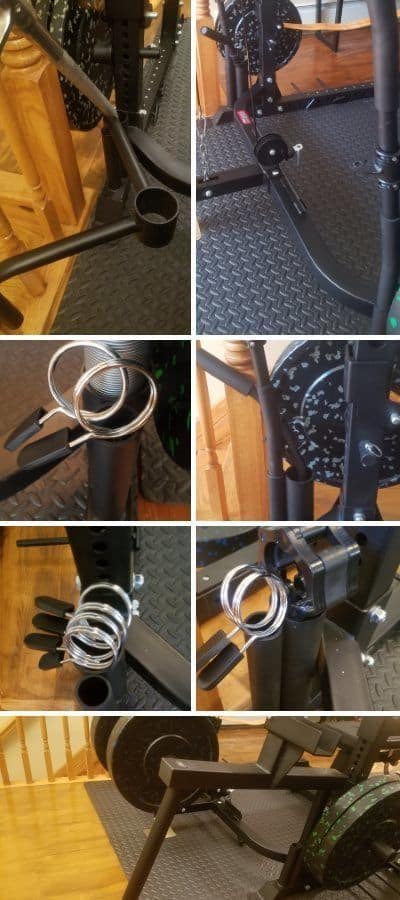 Compared to other power racks, bar storage isn't too common, nor is it super rare either. I'd say around 10-25% of racks on the market have the feature.
Somewhat recently, I've seen more companies that make modular-style racks come out with optional bolt-on bar storage sleeves, like the one below: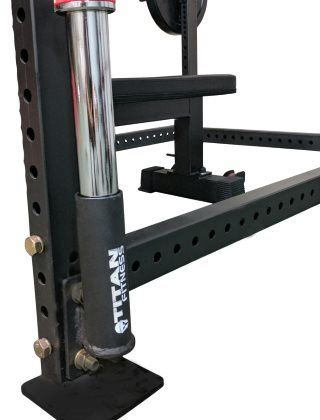 However, they are sold separately as attachments and thus not included standard like on the MyRack. So if you get a another rack offers this as an optional attachment, you'll have to pay a bit more; around $25-50 for one like the kind shown above.
Westside Hole Spacing with 54 Laser Cut Holes

The MyRack has a total of 54 holes on the uprights, giving you 54 different height settings for your j-hooks, safeties or other attachments.
The holes are laser cut, as opposed to being punched like on some cheaper racks. This means the MyRack holes are smooth inside and won't cut your finger or scratch your attachments when installing them.
The MyRack has Westside hole spacing, which refers to 1 inch hole spacing on the uprights in the low-mid portion of the rack, and 2 inch hole spacing above and (usually) below. This is my personal preference for power rack hole spacing.
The 1 inch zone is the region where you need to set the j-hooks and safety heights as precisely as possible. It's important to get the exact height you want on exercises like bench press and RDLs because an inch too high or too low can make a difference in safety and performance.
Generally, the 2 inch zone is where you don't need as much precision because you're doing things where being just one inch away from the "perfect" height won't make a real difference. This includes things like setting the j-hooks for unracking on squats, overhead press or other exercises where you unrack while standing.
That said, 2 inches is still quite close together. So you can still set the j-hooks at a comfortable height for squats, etc. Think of it as being precise, but not hyper-precise like the 1 inch region.
MyRack's Unique Improvement on Traditional Westside Hole Spacing
One thing that's very notable about the MyRack's Westside hole spacing is that the 1 inch zone is significantly larger than on other racks with Westside spacing. Specifically:
The 1 inch hole spacing zone goes ALL the way to the bottom. All other racks on the market have a 2 inch hole spacing region that goes from the bottom of the 1 inch zone to the bottom of the rack (usually around 14-24 inches of space, depending on the rack).
The 1 inch hole spacing zone goes higher than most other racks with Westside hole spacing, by about 8 inches. This ensures guys with super long arms and/or higher than average bench seats will be able to utilize the 1 inch zone on bench press. Similarly, it can mean that some lifters, depending on their limb length and bench height, will be able to utilize the 1 inch zone on exercises like the incline barbell press and seated barbell shoulder press (if they unrack at the bottom of the range of motion). With other racks, all lifters would be in the 2 inch zone for these exercises.
The way that Westside hole spacing is made possible is the use of ⅝-inch diameter holes. Non-Westside style racks usually have 1 inch holes. It'd be literally impossible to do Westside hole spacing with 1 inch holes because the holes would cut into each other the region with 1 inch spacing.
The trade off is that the j-hooks and safety bars on racks with 1 inch diameter holes are stronger than a rack with Westside style rack, all else being equal. A well constructed rack with Westside hole spacing can be way, way stronger than you'd ever need. Conversely, there are plenty of cheap racks out there that have 1 inch diameter holes that are crap quality with low weight capacities.
That said, all of the strongest racks on the market are going to have 1 inch holes (along with thicker gauge steel, heavy duty hardware, and of course a heftier price tag.).
Like I said, my preference is for Westside hole spacing. However, if I were to ever get a rack with 1 inch diameter holes, I'd want it to be a sturdy, well constructed rack like the Rep PR-5000, with hole spacing of 2 inches throughout the rack and large 3" x 3" uprights.
29" Internal Depth

29 inch rack depth is right in the ideal zone for most lifters.
The standard internal depth for many power racks is around 24" deep. That's okay for a lot of lifters, but it can feel a bit cramped if you ever do lifts that require some forward or backward movement inside the rack, such as lunges, reverse lunges and good mornings.
On the other end of the spectrum, there are "deep" power racks, which have an internal depth of around 36"+. While having several additional inches of room is great, there are a couple downsides. First, it increases the price tag by maybe 10% or more. Second, and possibly more of a consideration for home gym owners, is that it takes up more space, which is often very limited to begin with.
A 29″ deep rack is a very nice compromise. It gives you plenty of space to do all power rack exercises, without raising the rack's price considerably or taking up an excess floor space.
Rear Stabilizer Bar
The MyRack comes standard with a rear stabilizer bar. As you might guess, this component of the rack helps to improve its stability by preventing it from tipping. It also increases the rack's durability by reducing rattling, which over time causes wear on the hardware.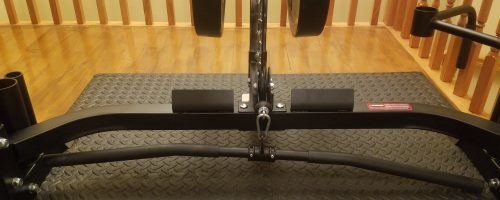 Technically, flat foot racks don't need a stabilizer bar because the extra long, grounded feet provide a sufficient base to keep the rack anchored under normal use conditions.
The MyRack is actually one of the few racks on the market with both a flat foot design AND a rear stabilizer bar. It's not just any kind of rear stabilizer bar, either. It's an elevated one that also curves backward.
This design ensures the rear stabilizer can still do its job while being completely out of the way of your feet and shins for squats. And it lets you position your bench further back in the rack because the bench's feet can slide under the stabilizer bar.
Why have a stabilizer bar if you don't "need" one for a flat foot power rack?
It's simple: it fortifies the power rack so that it can to withstand significantly greater forces without rocking or tipping, compared to if there was no stabilizer bar at all. Without it, the max weight static capacity would be much lower than its rating of 2000 lbs.
I appreciate that this is included as part of the MyRack because it helps help to compensate for the use 12 gauge uprights instead of slightly thicker 11 gauge.
The rear stabilizer bar also serves as a necessary component of the MyRack because the optional Lat Pulldown/Low Row Attachment installs onto it. That's also why the stabilizer bar has the footplate built-in: for low rows.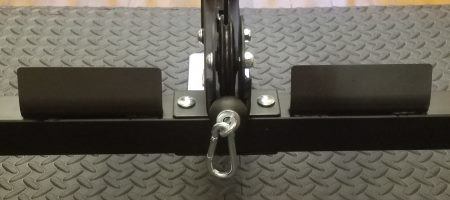 If you don't get the Lat Pulldown/Low Row Attachment, don't worry — the footplate only consists of those two small ~2.5" tall steel rectangles. They won't get in your way during your usual power training. They're not like the large foldable foot plate that comes with the Cable Crossover Attachment.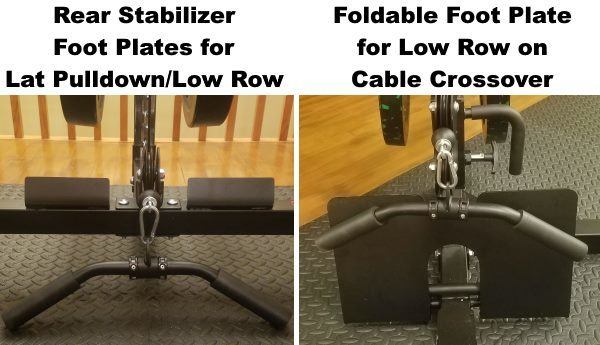 Best Complete Home Gym Solution
The MyRack, when combined with the right attachments, is the ideal power rack for home gym lifters who want to replicate the most important aspects of a commercial gym within a reasonable footprint.
Those key attachments include:
Cable Crossover
Lat Pulldown/Low Row
Pull Up Bar
Dip Handle
J-hooks and Safeties (mandatory for a functioning rack)
Of course, the MyRack is still a great power rack if you don't get all of those attachments. My point is that you maximize the home gym experience when you do. You can do most of the exercises you can do at a commercial gym, all within your power rack setup.
No other power rack, at least in a comparable price range, gives you access to as many exercises, mostly because they don't have MyRack's unique selection of attachments (particularly the combo of Cable Crossovers AND a Lat Pulldown/Low Row).
Attachments
Pull Up/Chin Up Bar Attachments
There are four pull up bar attachments available for the MyRack: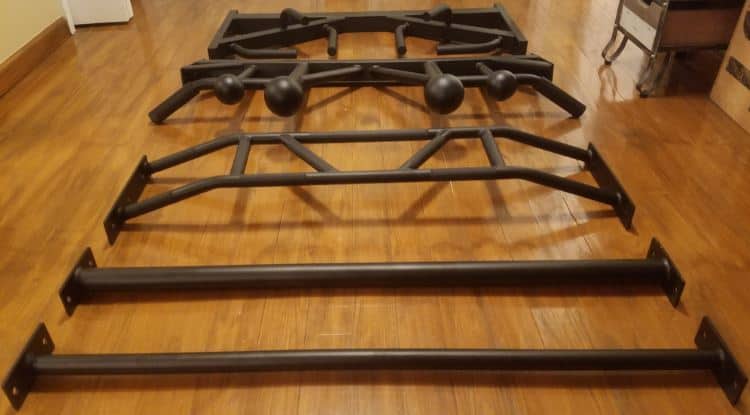 I'll discuss each in the following sections.
Monkey Bar Attachment
The Monkey Bar Attachment is the most simplistic of the four available pull up bar attachments. It's just two straight pull up bars. One is a fat grip bar with a 50mm diameter. The other is a normal bar with a 32mm diameter.

You can position the bars closer together or further apart when installing.
I recommend spacing them so they're the right distance apart for you to comfortably do neutral grip pull ups (1 hand holding the fat bar, the other holding the normal bar). At the same time, make sure you have enough room for your head when using the bar inside the rack.
And if you have the Lat Pulldown/Low Row Attachment, you should make sure the bar isn't too close to the hooks. In the photo above, I installed the fat bar one notch too close to the lat pulldown bar storage hooks. This made it awkward to rack/unrack the bar from the hooks.
The Monkey Bar Attachment is the best option if you're into doing kipping pull ups or muscle ups. Or if you only ever do regular straight bar pull ups and chin ups.
All of the pull up variations that are possible with the Monkey Bar Attachment are listed below:
Pull ups (medium width)
Wide grip pull ups
Chin ups (medium width)
Narrow grip chin up
Hammer grip pull ups (one hand on the fat bar, the other on the normal bar)
Kipping pull ups
Muscle ups
This attachment costs $99.99. I think this is a bit high for two straight pull up bars, but it's justifiable if this is the option that best suits your needs.
Classic Grip Chin Up Bar Attachment
In my opinion, the Classic Grip Chin Up Bar Attachment is the best bang for your buck option for most lifters.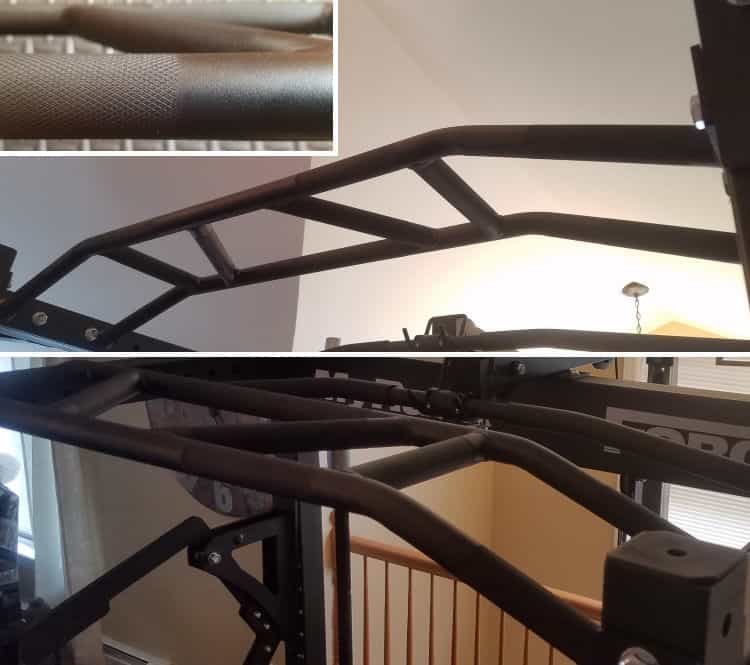 First, it's only $10 more than the Monkey Bar Attachment, which is least expensive option.
What instantly stands out about the Classic Grip Attachment is its distinctive design: two long parallel pars intersected by two short perpendicular bars and two short obliquely angled bars. This design gives you access to a ton of different grip width and wrist position combinations. Each different combo equals a different pull up variation you can do.
I believe it is tied with only the Globe Grip Chin Up Bar Attachment for the greatest number of pull up variation possibilities. None of the other attachments come close in this regard.
Here's most if not all of the pull up variations you'll be able to do with the Classic Grip Chin Up Bar:
Semi-supinated pull ups (medium width)
Semi-supinated pull ups (narrower width)
Semi-pronated pull ups (medium width)
Semi-pronated pull ups (narrower width)
Hammer grip pull ups (medium/wider width)
Hammer grip pull ups (narrow width)
Pull ups (medium width)
Narrow grip pull ups
Wide grip pull ups
Narrow grip chin up
Chin ups (medium width)
Kipping pull ups (ONLY at certain medium grip width – not wide grip)
Muscle ups (ONLY at certain medium grip width – not wide grip)
In addition to the high number of grip widths/positions, this is the ideal pull up solution for doing ring work. This is because there are so many closed segments, where you can secure the rings within a confined area with no chance of it falling off or sliding too far one way or another.
This is the only of the four pull up bar options with knurling on the handles. That's a nice bonus for me and anyone else who tends to sweat a lot during training. Sure, you can always use chalk on the non-knurled bars, but it's convenient to not always have to re-apply.
I've discussed the many great features this attachment does have. However, it can't have everything. Here are some of the features it lacks compared to some of the other attachments:
No fat grip handles: All parts of the Classic Grip Bar are the same smaller diameter as your typical pull up bar handle. If you want to do fat bar pull ups to improve your grip, these are your options:

Buy the Monkey Bar Attachment in addition to, or instead of, the Classic Grip Attachment. You can fit the fat grip bar from the Monkey Bar Attachment, behind the Classic Grip Attachment. Note that you won't have a ton of headroom, especially if you also have the Lat Pulldown/Low Row Attachment. In that case, you'd have to perform the reps slowly when using the fat bar to avoid hitting your head.
Buy a fat grip adapter like Fat Gripz. You just slip the adapter over any part of the Classic Grip Bar handle to instantly make it thicker. These are a very popular easy to use grip training accessory. You can also use them on barbells and dumbbells as well. This is the superior option in my view. It's cheap and you get all the benefits of the Classic Grip Attachment plus the ability to do fat bar pull ups without taking up any additional room.

No straight handle for the wide grip portion: The wide grip portion of the Classic Grip Bar is angled down. This is a common pull up bar design feature. It's meant to reduces stress on the wrist joint. However, some people nonetheless prefer a straight bar even when using a very wide grip. The lack of a straight wide grip portion may also be negative if you want to do kipping pull ups, which are typically done with a wider grip on a straight bar. It's still possible to do kipping pull ups on this attachment, though, if you use a more moderate grip on kipping pull ups (and as long as the perpendicular and angled handles don't get in your way). Luckily, I've never done kipping pull ups and don't have any plans, too. The same is probably true for you, unless you're into CrossFit.
This is a great, high-value option that's well-priced at $109.99.
Globe Grip Chin Up Bar Attachment
I believe the Globe Chin Up Bar Attachment is the best overall pull up attachment available.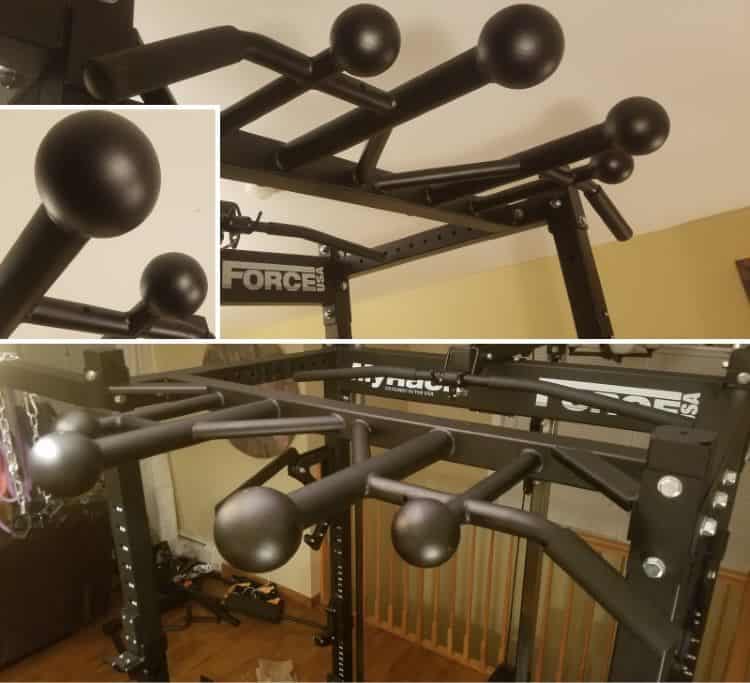 It shares many of the same positives that I discussed above about the Classic Grip Chin Up Bar, including
a high number of wrist position and grip width combinations, and therefore:
a high number of possible pull up variations
The total number of pull up variations are about equal between this attachment and the Classic Grip Attachment. However, the range of training stimuli you can achieve from the variations on the Globe Grip Attachment is much greater.
This is because you have four vastly different types of handle types (small globe, large globe, fat bar and normal diameter bar) on this attachment compared to just one (normal diameter bar) on the Classic Grip.
Here's all the pull up variations I could think of that are possible on the Globe Grip Chin Up Attachment:
Pull ups (medium width)
Wide grip pull ups
Chin ups (medium width)
Hammer grip pull ups (medium width; on the thick bars)
Hammer grip pull ups (medium/wider width; on the normal width parallel bars)
Narrow hammer grip pull ups (one hand on the thick bar, the other on the normal width bar parallel to it)
Narrow semi-supinated pull ups (using "v" bar in the middle of the attachment)
Narrow semi-pronated pull ups (using "v" bar in the middle, but by grasping from behind the pull up attachment)
Globe grip pull ups (3.95", or 10 cm, diameter globe, narrow/medium width)
Globe grip pull ups (3.15", or 8 cm, diameter globe, medium/wide width)
Mixed globe grip pull ups (one hand on the 3.95"/10 cm globe and one hand on the 3.15"/8 cm globe, medium width)
Another benefit the the Globe Chin Up Bar shares with the Classic Grip Chin Up Bar is the ability to secure gymnast rings close together or far apart, so that they won't slide around or fall off.
One neat thing that you can do with this attachment is to install the fat grip bar (from the Monkey Bar Attachment) behind it. Headroom will be limited, particularly if you also have the Lat Pulldown/Low Row Attachment installed. But you can still use it for pull ups, even if you have to go slower to avoid hitting your head…
…Now, I only did this with my setup because I got all four of the pull up attachments for this review. However, it probably won't make sense for most people since you have to pay another $100 for the Monkey Bar Attachment just to get to get the one fat bar. But if you really want it, it is in an option! FYI, I think you can also do this for the Classic Grip Bar, but I didn't test it so I can't say for sure.
The biggest advantages of the Globe Grip Attachment over the Classic Grip Attachment are that:
It has globes! Grasping onto these powder coated metallic spheres for pull ups or flexed arm hangs will give you the ultimate forearm and grip workout. It has two pairs of globes. The larger 3.95" (10 cm) diameter globes are closer together and the smaller 3.15" (8 cm) diameter globes are further apart.
It has a couple of thick fat bar portions. Specifically, those fat bar portions are on the cross bars that connect the large globes to the main bar. These are perfect for fat grip hammer grip pull ups. This particular variation is incredible for overall grip strength as well as muscular development of the wrist flexors/extensors AND the brachioradialis.
That's a lot of positives, right?! Well, no tool is perfect for every job. Here are a couple (potential) negatives of the Globe Grip Chin Up Bar compared to the Classic Grip Chin Up Bar:
Kipping pull ups are pretty much impossible on it, since there's limited space on the straight portion plus the globes are will get in the way during the fast, dynamic kipping motion. Whereas, it may be possible to do it on the Classic Grip Attachment–though even then, it may not be possible depending on your grip width needs.
It doesn't have knurling. This is unfortunate, but not the end of the world. Not everyone needs the extra traction. But if you do, you can always wrap it with athletic tape. Though, I'm personally a fan of some good old fashioned chalk; no wrap needed.
If you do a lot of grip training or want to start, then you pretty much need the Globe Grip Chin Up Bar. Nothing else comes close for this purpose. Doing static holds and pull ups while grasping the globes is one of the most intense ways to increase grip strength. It's also one of the more fun ways to train grip!
I also recommend buying this one if you want to the best overall pull up bar attachment and are willing to pay a little extra for it. It costs $169.99, which is a fair price for what you get, but that's still a relatively high price in absolute terms. It's a full $50 more than the Classic Grip Attachment, which is the second best attachment overall, in my opinion. It's up to you to decide if the features of the Globe Grip Attachment justify the extra $50.
Hammer Grip Chin Up Bar Attachment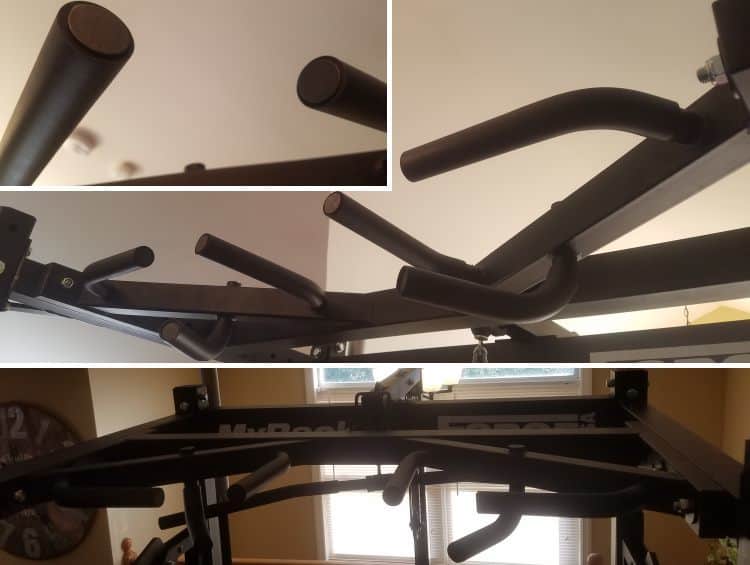 In terms of overall construction, the Hammer Grip Chin Up Bar Attachment is a very well designed and sturdy pull up attachment.
However, it is limited in terms of the number of pull up variations you can do on it. This is inherent to this specific type of multi-handle design.
The fact that exercise selection is limited on this attachment is not necessarily a bad thing. It can be an excellent choice for certain cases. For example, if you do mostly hammer grip pull ups or semi-pronated pull ups, then the Hammer Grip Chin Up Bar is the ideal attachment for you. This attachment was designed specifically to be the best tool for those types of pull up variations.
The list below shows your exactly what your main exercise choices are with this pull up attachment:
Semi-pronated pull ups (medium width)
Hammer grip pull ups (medium width)
Pull ups (medium/wider grip)
Obviously, the options are pretty limited, especially compared to the other attachments. But again, it's the best attachment for those variations.
You should know that the Hammer Grip Attachment takes up more depth inside the power rack than the other pull up options. This is worth noting for two reasons:
You would not be able to fit one of the straight bars (from Monkey Bar Attachment) behind it. There simply wouldn't be enough room to actually do pull ups on it. As I discussed earlier, I was able to do this successfully with my Globe Grip Chin Up Bar.
If you have the Lat Pulldown/Low Row Attachment, the back of the Hammer Grip Chin Up Bar will be very close to the hooks that hold lat handle/bar. There's so little space that you can't put the handle in the hooks unless you make either of these two fixes:

Attach the included chain, which lets you move the bar more freely so you can maneuver onto the hooks. This is definitely the easiest and best method.
Take the weight off the weight sleeves so that you can pull the handle and get some slack in the cable. This will give you the maneuverability you need to get the handle into the hooks. Of course, it's a pain to take all the weight off if you don't have to. So just use the chain method.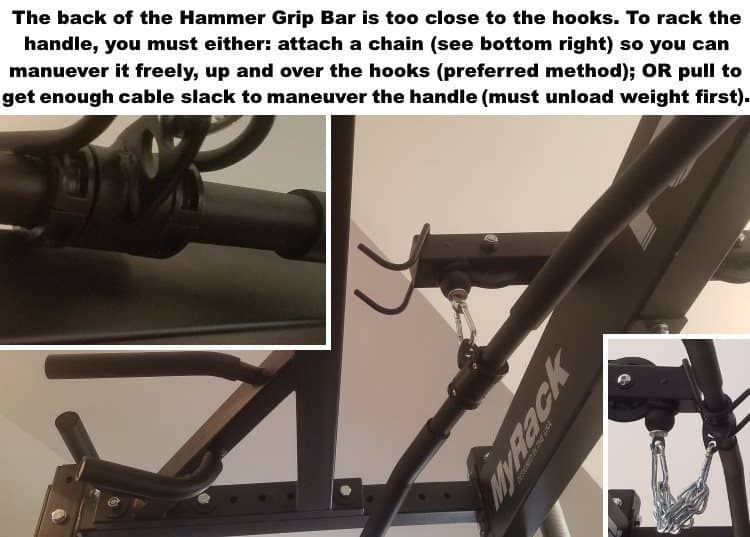 Currently, the Hammer Grip Chin Up Bar costs $139.99, which is a fair price for this type of pull up option. However, it's only worth that price if you really prefer neutral/hammer grip pull ups and semi-pronated pull ups; it's excellent for that and super comfortable, too.
If you want more variety, you'd be better much better suited with the Classic Grip Attachment for $20 less, or the Globe Grip Attachment for $30 more.
Cable Crossover Attachment
The Cable Crossover Attachment is sold as a single side. You have to buy two units if you want the pair. It's not absolutely necessary to buy two sides, but you will have a much greater variety of exercises available if you do.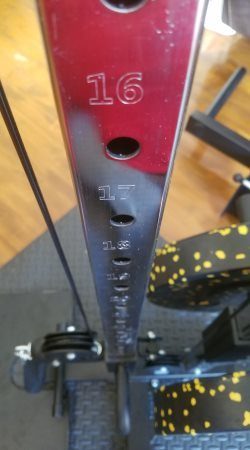 Each column has 28* height settings and they are laser engraved with numbers, which is a nice touch. You can write down or remember which setting you use for a given exercise. This way, you ensure you do the exact same exercise each week (instead of a slightly different angle/variation).
* The very top height setting isn't actually accessible, so really it's 27 available settings. Not a big deal functionality wise, but it's silly to have it there if you can't use it.
The plate holders can hold standard plates (32mm) or olympic plates (50mm) if you put on the included adapters. If you're reading this, you almost certainly will be using Olympic plates. Thus, you'd use the 50mm adapters.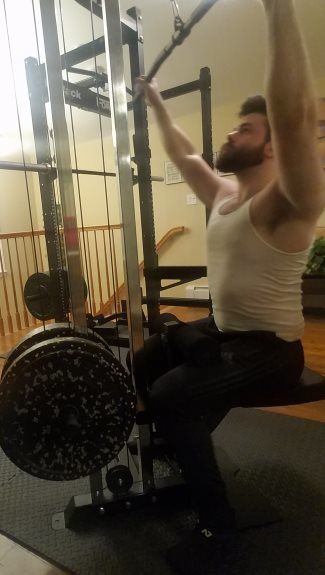 These Olympic plate diameters will work okay for most people, but they are unfortunately thicker than ideal. If you have bumper plates like me, or machined steel plates, they'll go on but may stick at some points when adding or removing them.
If you happen to have competition plates, though, they probably won't go on at all, since those have a slightly thinner opening. In which case, you'll have to just remove the adapters altogether and put the plates on the 32mm base. They'll move around rattle a bit, but it'll work fine. You can cut down on the rattling by putting a standard clip on the end of the holder.
One nice detail that shows some smart thought went into designing the Cable Crossover Attachment is that the plate holders are angled slightly up so that the plates don't accidentally fall the end when you have a lot of weight loaded. You could put clips on the ends, of course, but I find that's not even necessary because of the angled plate holder design.
The length of the Olympic sleeve adapters is 8", which is okay, but it would've been a bonus if they were 11.5" like the sleeves for the Lat Pulldown/Low Row Attachment: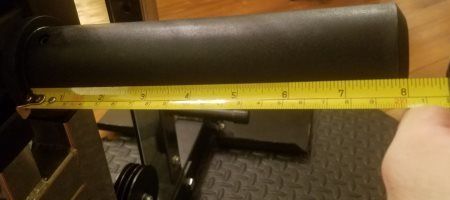 Overall, the quality of the Cable Crossover Attachment is very impressive. It's top of the line as far as a home gym equipment goes. It's not commercial gym quality, of course, but it works very well.
The pull-pin adjustment of the pulley height is seamless once you get the installation optimized.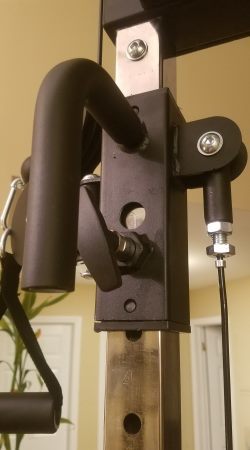 I had to make some tweaks because at first I had some resistance when trying to adjust the height up and down, as you'll see below:
However, I eventually discovered I needed to make some minor adjustments to make it slide up and down smoothly:
Clean off the sticky residue that's been left on the column from the factory. This makes a slight but noticeable improvement in the ease of adjustment.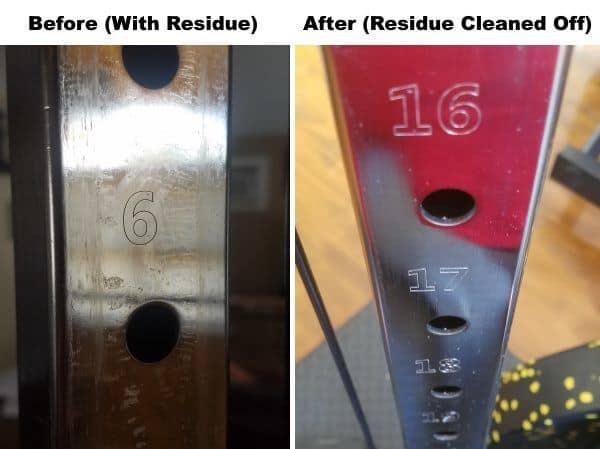 The much bigger impact thing to do is ensure that weight holder bracket is resting on the support platform underneath. If there's a gap, that means all of the tension from the weight will be on the pulley cable, which makes it harder to adjust the pulley height. In my case, this meant I had to make two different tweaks:

I had to let the cable screw out a little bit (see the side-by-side image below).
I had to install the pulley on the back of the weight holder bracket in the highest of four available positions (see the other image below of me pointing at the correct hole).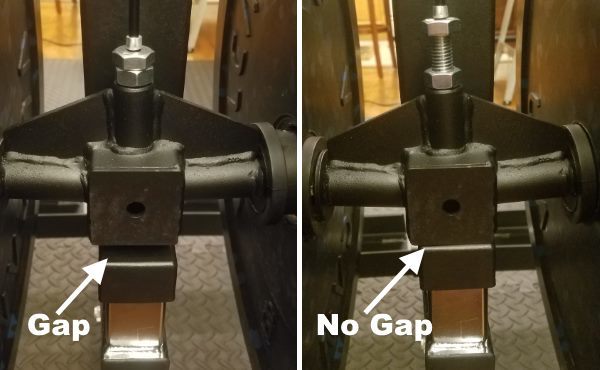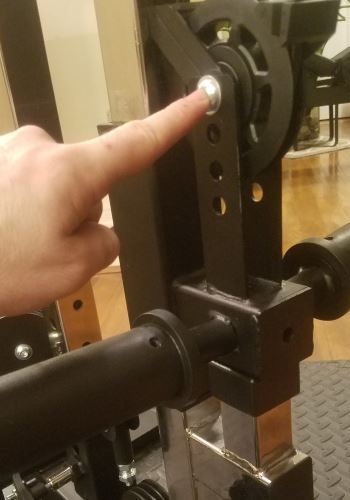 After making all of these modifications, the pulley height adjustment was way smoother, as you can see below:
The weight holder bracket's movement up and down the rear column is impressively smooth for home gym quality equipment. And the bracket itself is sturdy and stable during the movement (no rattling) even with lots of weight loaded on.
The Cable Crossover Attachment also comes with a stirrup handle to use for any one arm exercises, or bilateral exercises if you have a second Cable Crossover.
If you want other cable handle/bar attachments, you'll need to buy those separately elsewhere. Though, if you're getting the Lat Pulldown Seat Attachment, know that it comes with a lat pulldown bar.
Likewise, if you're getting the Lat Pulldown/Low Row Attachment, know that it comes with multiple handle/bar attachments, which I'll discuss in that section.
Even though this is a Cable Crossover station, you can also use it for:
Lat Pulldowns: If you want to use it for this purpose, you'll need to buy the Lat Pulldown Seat Attachment, which attaches on the Cable Crossover column. I'll talk about that in the next section.
Low Rows: The Cable Crossover comes with a built-in foldable foot plate for you to plant your feet on when doing low rows. You just flip it open, adjust the cable pulley toward to the bottom, sit on the floor, position your feet on the plate, and then start rowing.
Here's a close-up of the foldable foot plate for low rows:

Below I've listed several of the exercises you can do if you get just one Cable Crossover Attachment:
Lat pulldowns and low rows (already mentioned above)
Straight arm pulldowns
Triceps pushdowns
Overhead triceps extension
Biceps curls
Upright rows
Face pulls (any height/angle)
Bent over rows
Unilateral side delt raises
Unilateral side delt raises
Cable pull throughs
Glute kickbacks
Kneeling crunches
And many more cable exercises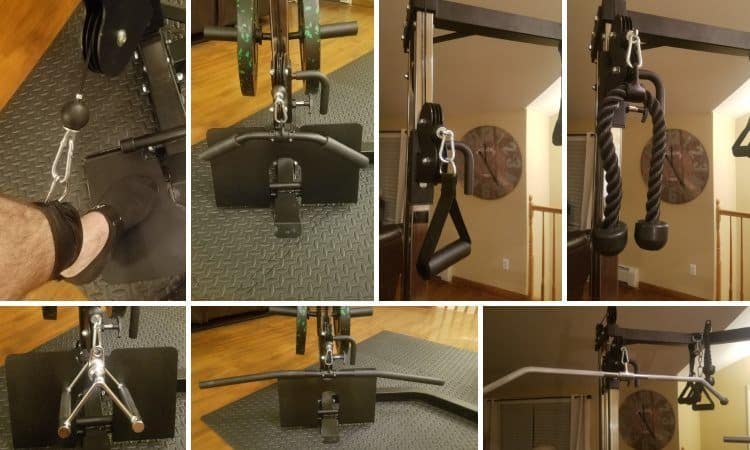 If you get two Cable Crossover Attachments, you can do all of these bilateral cable exercises in addition to all of the exercises listed above:
Low to high cable crossovers
High to low cable crossovers
Kneeling lat pulldowns
Overhead press
Bilateral overhead curls
Bilateral side delt raises
Bilateral rear delt raises
Bilateral rear delt cable pulls (straight arms, standing, arms move horizontally across front of body)
Bilateral cable shrugs
And many more bilateral cable exercises, and variations
The Cable Crossover Attachment connects to the main rack via a couple of angled tubes; one on the top and one the bottom: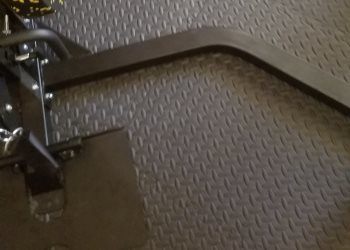 The upper connecting tube shown below makes a great place to use for storage of bands or other training accessories (just watch your head when walking under!).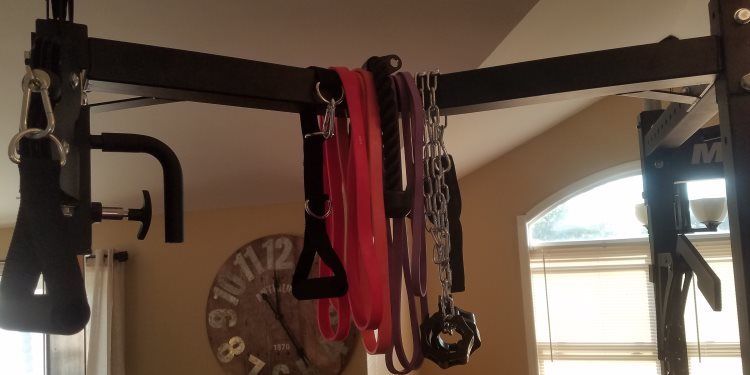 I would consider this attachment to be a fair price considering its quality and the versatility it provides in terms of greater exercise selection. However, it's not exactly cheap either. Each tower costs $429.99, making it the most expensive MyRack attachment you can buy.
And you'll really get the most benefit if you get both sides, so that you can do actual chest cable crossovers and the many other bilateral cable exercises I listed above. Otherwise, if you can't afford both towers, the Lat Pulldown/Low Row Attachment becomes a much easier choice since can do most of the same exercises — It's also better for lat pulldowns and low rows. I'll discuss below why the lat pulldown solution on the Cable Crossover is a bit lackluster:
Lat Pulldown Seat for Cable Crossover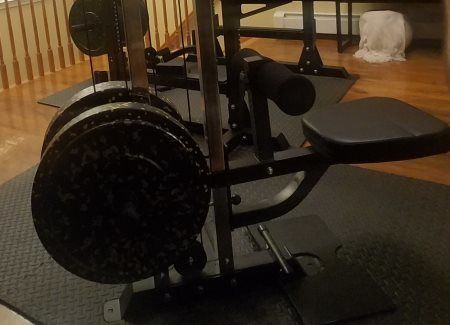 The optional Lat Pulldown Seat Attachment allows you to transform the Cable Crossover station into a lat pulldown station.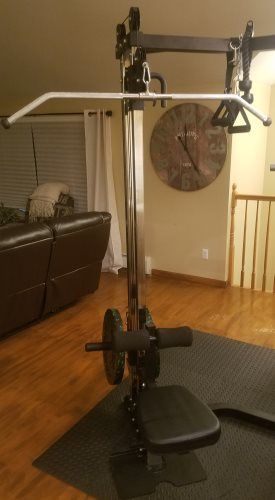 The attachment mechanism is basically the same as a j-hook, but with the addition of pin that also inserts below for additional security.
You'll notice that there are six holes on the lower portion of the Cable Crossover Attachment tower, but you can only attach the seat into any one of the top three holes.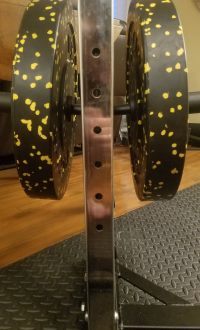 This is because you still need to insert the pin below, through the seat and into one of the lower holes to prevent the seat from falling off the column.
These three seat height settings will be sufficient for the vast majority of people. However, if you're very tall, or very short, you might wish there was an extra height setting. I'm 5'11" and I used the middle height setting (second hole from the top).
There are many more settings for adjusting the knee pad height, so you'll be able to find a suitable setting whether you've got stick legs or thunder thighs. The adjustment mechanism for this portion is a bit clunky. You have to screw the dial on the back off, then adjust the pad holder up or down, then screw it back in.
If you workout alone, you'll probably keep the same setting all the time so this won't be an annoyance. The column itself that the pad holder attaches into is unfortunately not well designed. Even when the bolt connecting it to the base of the seat is fully tightened, it will wobble back and forth if you put any pressure on it as shown below:
While this seat was a valiant attempt by Force USA, it was unfortunately not as well executed as it could have been — especially when you juxtapose it against the Cable Crossover Attachment itself, which is designed excellently and works like a dream.
In addition to the shaky column that holds the knee pad and the clunky pad adjustment mechanism, the seat itself shifts around slightly on the crossover column during use. It's not like it's going to fall off, but you definitely don't feel completely rooted while performing pulldowns. Ideally, you want your legs to be locked down fully and with your butt seated on a rock solid foundation.
Lastly, I noticed that I could feel a slight sinking down feeling each time I sat down on it. I believe this was a result of my admittedly heavy 225 lb. body putting my full weight on the seat which is essentially acting as a lever that's extended about 2 feet away from the main column.
Physics dictates that this will cause the column to sway every so slightly forward; not enough to cause any structural integrity issues, but enough to feel like a minor sinking feeling. That ultimately detracts from your performance, especially if you like to use slight momentum on pulldowns.
All that said, it's not the worst attachment you can buy. It does work well enough for its basic purpose. You can still sit down and plant yourself firmly enough to do some heavy pulldowns. But you won't feel fully stable while doing so. And the seat or pads may wear out eventually.
The dedicated Lat Pulldown/Low Row Attachment that installs in the rear of the rack, provides a superior solution to lat pulldowns.
If you can't or don't want to get the Cable Crossover AND the Lat Pulldown/Low Row Attachments, and are trying to decide on just one of the options, then there are multiple considerations to make — Only one of those considerations is how much you value the having a superior set up for the lat pulldown exercise. I'll discuss all considerations for this conundrum later.
At $105.99, the Lat Pulldown Seat Attachment is far too expensive considering its shortcomings. Generally, I don't recommend this attachment. Only consider buying it if you have the Cable Crossover Attachment(s) AND you never plan on getting the Lat Pulldown/Low Attachment AND you have the extra cash to spare…
…Even then, I'd recommend you try doing floor seated lat pulldowns instead and see if that works good for you. Or better yet, if you're also in the market for a new bench, buy one like the MyBench that has a leg developer attachment that can be locked in order to anchor your knees during pulldowns.
Lat Pulldown/Low Row Attachment
Like the Cable Crossover Attachment, the Lat Pulldown/Low Row Attachment is a BIG winner overall in terms of its construction quality, performance and its versatility in making a ton of exercises possible. That includes lat pulldowns, low rows and many others.
The lat pulldown and low row tower attaches to the rear of the power rack.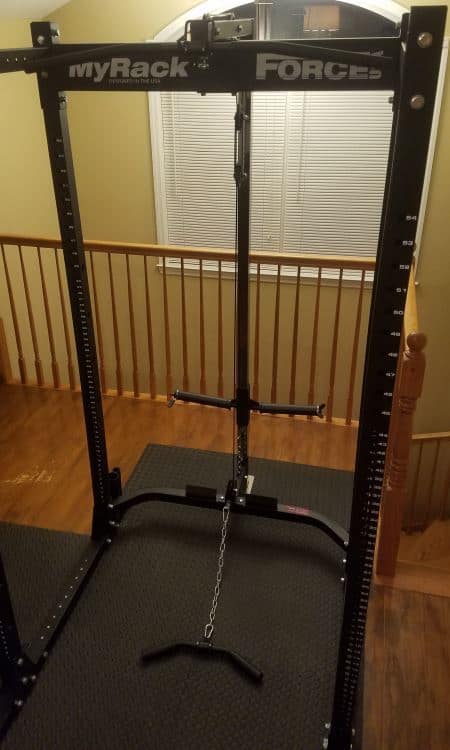 It securely bolts onto the rack at two different points:
The top of the rack, on the large upper stabilizer panel with the "MyRack" logo
The bottom of the rack, on the rear stabilizer bar
This two point connection and the enlarged square base directly beneath the column makes this attachment extremely secure and stable. There is absolutely no wobbling shaking or rattling of the column during use.
The attachment point for the low row comes out right in front of the rear stabilizer bar. This is nice because it won't interfere with the power rack space during squats or other exercises, even if you leave a bar attached to the low row.
The attachment point for the lat pulldown comes out ~8 inches in front of the large upper stabilizer panel. This is because the top of the lat pulldown overhangs on the top of the rack.
The overhanging portion of the pulldown gives extra support to the unit and provides enough space for the hooks used to store the lat bar/handle between sets. It also ensures you'll have enough space to position yourself more directly underneath the pulley so that you can have a more vertical bar path on pulldowns (compared to a somewhat diagonal bar path if you're too far away.
There are two different but interconnected cable pulley systems at work with this type of attachment. One moves the plate holder bracket up the column when pulling on the low row. The other acts to move the plate holder bracket up the column when pulling on the lat pulldown.
The two pulley systems converge with the two connected pulleys that are "suspended" in the middle of the setup. These work together, moving up and down to give or receive slack/tension as needed to pull the weight up the column depending on if you're pulling from the lat pulldown end or the low row end.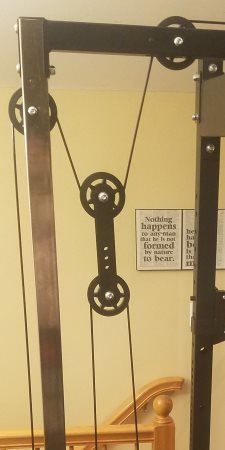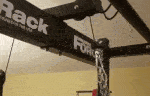 As mentioned earlier in the review, the rear stabilizer has foot plates built in specifically for the lat pulldown and low row attachment. It's not like the large foldable foot plate on the Cable Crossover Attachment. Rather, the foot plates consist of two small ~2.5" tall steel rectangles that have been welded to the top of the stabilizer bar. They're angled backward to accommodate the foot position used on low row exercises.
You might think these foot plates are too small to get a solid and comfortable foot position, but you'd be wrong. They work great. It's easy to plant your feet in a comfortable and mechanically advantageous position. You have enough room to the left and right to angle your feet one way or another based on your preferences.
The movement of the weight holder bracket up and down the column is smooth just like on the Cable Crossover Attachment. It's not quite as smooth as what you'd experience on a commercial lat pulldown system, but it exceeds all expectations for a piece of home gym equipment. There are no sticking points and the tension is even throughout the range of motion.
It requires minimal additional space. You only need an additional 11 inches of space, making the depth 66" compared to the 55" overall depth of just the rack. Of course, you have to account for the additional amount of depth that a large plate would take up, which is about 8" more. So practically, you need to account for 19" of additional depth, or a total depth 72" including the attachment plus the rack.
In any case, it still takes up a very a small amount of space considering all of the additional exercises you can use it for. Certainly much less space than even just one of the Cable Crossover Attachments.
In terms of additional height, the Lat Pulldown/Low Row is maybe ¼-½" taller than the rack at its highest point. This still puts it at just under under 87", which is the rack's stated height (the rack's measured height is 86.5").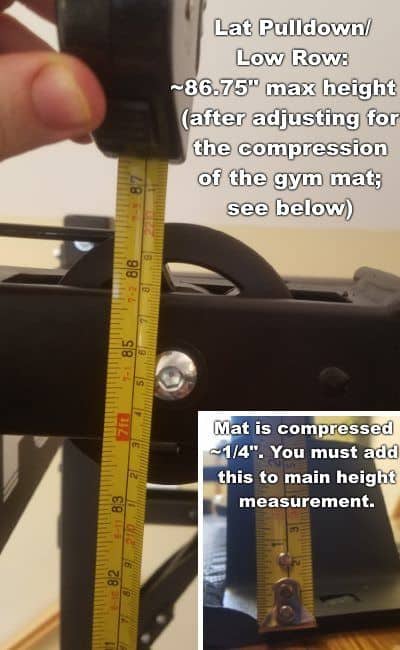 It comes with multiple pulley handle/bar attachments. Force USA conveniently includes multiple handle/bar attachments, including:
Long lat pulldown bar
Short row bar
Ankle cuff attachment
Stirrup attachment
The image below shows all of these attachments, plus three others I bought separately elsewhere (specifically, the double rope, V-bar and the long metal lat bar).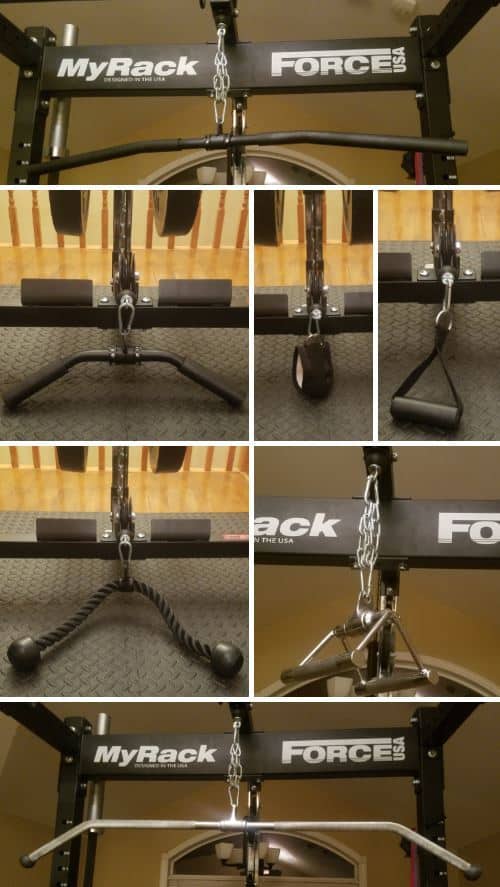 NOTE: If you do decide to upgrade to a different lat pulldown bar from a third party company like I did, just be aware that it will probably be longer than the 42.2" internal width of the rack. To store the bar in the hooks, you'll have to put its ends above the rack's upper cross bracing tubes, as shown below.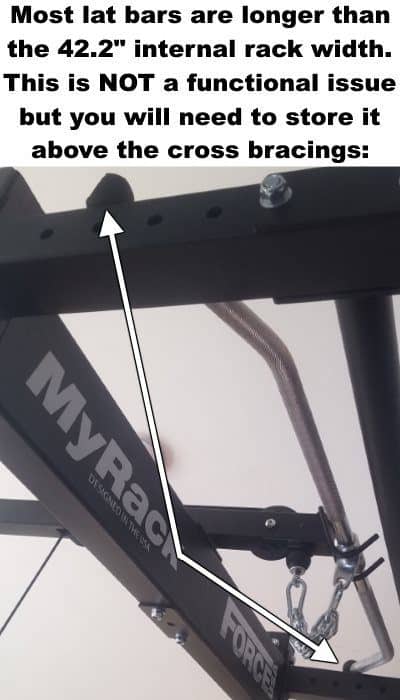 In terms of actually using a longer third party bar for exercises, you will not run into any obstructions as long as you stay inside the rack, between front and rear uprights.
Also, if you upgrade to a metal bar, it will likely be heavier than the weight holder bracket when the weight is off; as such it will fall down. So, you'll have to either rack it in the hooks or detach it from the pulley when finished.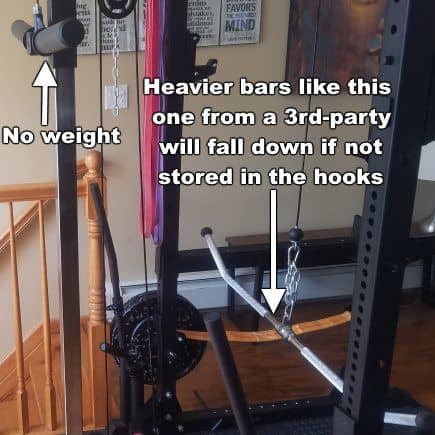 Extremely good bang for your buck. At $299.99, the lat pulldown is in my opinion the the best value attachment available for the MyRack. You have access to tons of new exercises, including the main two: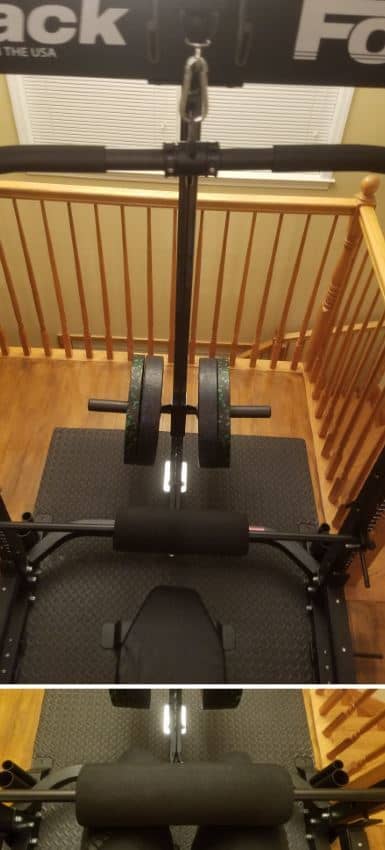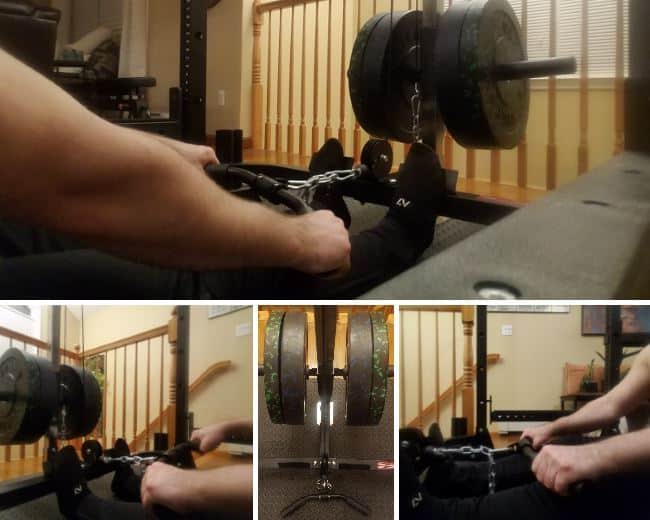 And a great many more:
Straight arm pulldowns
Triceps pushdowns
Overhead triceps extension
Biceps curls
Upright rows
Bent over rows
Unilateral side delt raises
Unilateral rear delt raises
Cable pull throughs
Glute kickbacks
Kneeling crunches
The list goes on…
You can actually do a lot of the same exercises with the Lat Pulldown/Low Row Attachment as you can with the Cable Crossover Attachment. The main differences between these two attachments are that:
You can't adjust the height settings of the pulley attachment on the Lat Pulldown/Low Row Attachment; you have it only at the top of the rack and at the bottom of the rack.
You can't do bilateral exercises like chest cable crossovers, double biceps curls, etc., on the Lat Pulldown/Low Row Attachment. Of course, to do this with the Cable Crossover Attachment, you have to buy two of them, each costing $429.
You may be wondering how you anchor yourself to do lat pulldowns, since it doesn't have a seat. Well, it actually has a decent solution for this. It's creative solution more so than it is an elegant one. But the important thing is that it's an effective solution in terms of performance. That is, it will pin your thighs down, keeping you stable and anchored throughout the exercise.
The mechanism is a long bar with a padded portion in the middle. It spans the width of the power rack (47") and attaches to the included band pegs on each end. Then you just position your bench seat under the pad, sit down, lock your knees down and perform the pulldowns.
UPDATE: I've learned that Force USA is no longer selling this padded knee holder mechanism. They are working on a better solution that they'll apparently be releasing soon. In the meantime, you can perform floor-seated lat pulldowns. Or, if you have a bench with a sit up attachment that lets you lock your knees in place, you can use that.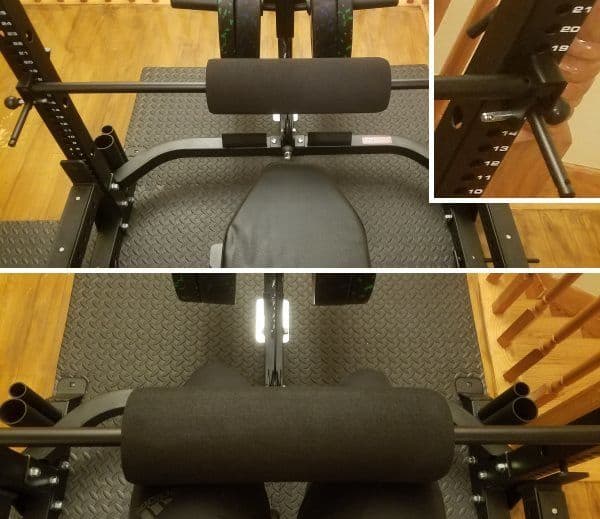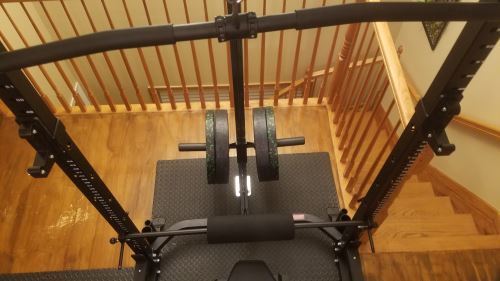 The only downside of the Lat Pulldown/Low Row Attachment is the Olympic plate weight adapters — the same downside you get with all other attachments that have weight plate adapters. That is, they're just a bit thicker than they should be.
Unless you have cheap iron plates with larger holes, then the plates won't slide seamlessly on and off. If you have bumper plates like I do or machined steel plates, you'll notices that they will catch at certain points. This is something you can get used to. Or you can just take the adapters off altogether and load the plates on the 32mm pegs, which works fine but there will be a bit of rattling. You'll definitely have to remove the adapters if you have competition plates, since they have an even narrower hole, which won't fit on the adapters at all. In any case, if you remove the adapters, you can reduce the noise from rattling by using a standard size clamp on 32mm pegs.
With the adapter or without it, the plates won't fall off the pegs even without a clip thanks to the angled weight plate holder design which puts the ends slightly higher up. This is a smart little detail and it's appreciated.
The upside to the adapter sleeves is that they are plenty long! They boast a full 11.5" of loadable length. This gives you more than enough room to load them up with some really impressive weight for heavy back training.

At just $299.99, this attachment is a steal. It provides the best value of all attachments, bar none. Its quality plus the major boost it will give you in terms of exercise options make this a must-have in my opinion. I strongly suggest getting this attachment first, after you chose j-hooks and a safety option of course.
Standard J-Hooks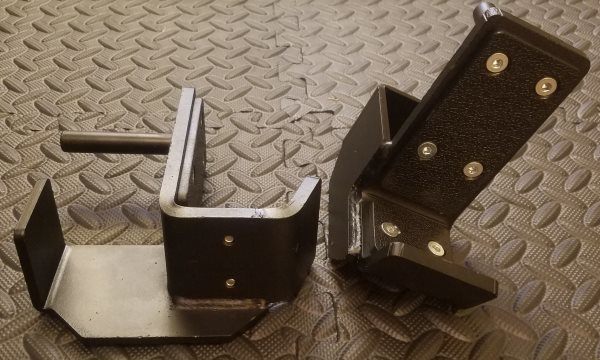 The MyRack Standard J-Hooks are a solid pair of j-hooks that will do the trick if you're looking for a basic but effective solution. With a static weight capacity rating of 1760 lbs, they're plenty strong and will be able to provide a sturdy place to rack and unrack a heavy barbell.
They're simple and quick to adjust, just like any other j-hook.
The protective lining is made of nylon-based plastic. The typical j-hook lining material used in comparable brands is UHMW plastic. Since the nylon lining has worked great during my initial testing, I can't necessarily say this is a bad thing; it's just different. Though it will be interesting to see how it performs over the long term compared to UHMW, for better or worse.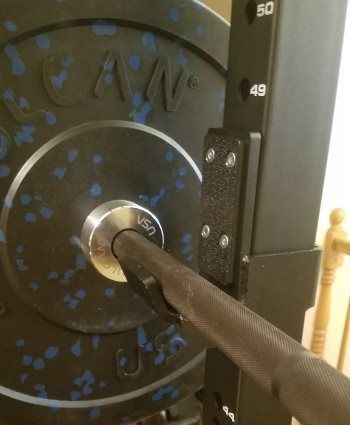 I personally find that the lip is a bit too tall for my liking. And the angle of the lip is almost vertical, which is much steeper than the ideal. I prefer a slightly shorter and more angled lip. This lets you minimize effort and maintain back/shoulder position when you unrack on bench press. You're able to lift the bar very slightly up and forward, over the hooks in a single smooth arc-like motion. I guess this is a personal preference, but I also know I'm not alone on it.
The main negative with the Standard J-Hooks is that the screws in the nylon lining on are not secured below the surface. You may find this is troubling if you've invested in a good quality barbell because the exposed screw head can soften the bar's knurling over time. It will be mild and gradual, but some wear is bound to happen. If you really care, you could wrap some some electric tape over the screw heads.
Even with the negatives, it's still a strong value at $49.99. If budget is a primary concern, these should be your go-to option. They're cheap but very effective at their main function of safely holding a heavy barbell.
Deluxe J-Hooks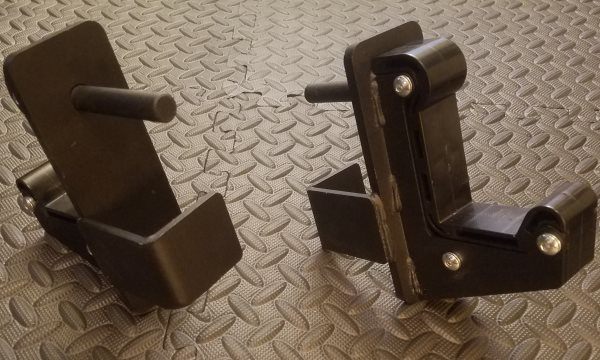 The MyRack Deluxe J-Hooks are a much beefier style of j-hook than the MyRack Standard J-Hooks. They have a precision welded support bracket that extends both further out from the back of the j-hook, and further down from its lower surface. This part of the bracket extending below the bottom surface does so on both sides, which are then fused together. Compare this to the Standard J-Hooks that have support on just one side.
All of these structural improvements give you a full 885 lbs of additional weight capacity. That is, they have a 2645 lb static weight rating compared to 1760 lbs for the Standard J-Hooks. Do you need that much? No, but when it comes to weight capacity ratings, higher is always safer.
The Deluxe J-Hooks use a hard nylon plastic to protect the bar. It's the same material used in the Standard J-Hooks' protective lining. However, the texture on the Deluxe J-Hooks is smooth, whereas it's bumpy on the Standard J-Hooks. UHMW plastic would probably have been a better choice, but so far the nylon is working great.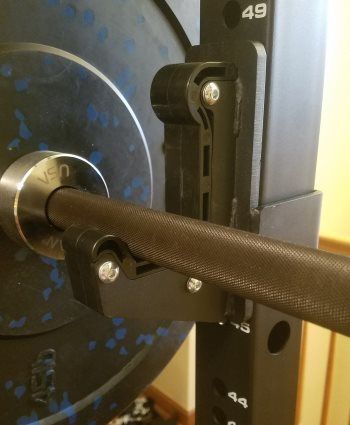 On top of being significantly stronger than the Standard J-Hooks, they also have a superior design. The Deluxe J-Hooks do NOT share the two main flaws of the Standard J-Hooks:
The Standard J-Hooks have exposed screw heads poking through the protective nylon where you'd be racking the bar. The Deluxe J-Hooks don't have any screws going through the top surface of the Nylon. There are screws that secure the Nylon to the j-hook, but they're on sides of the support bracket so there's no chance of damaging your bar's knurling on them.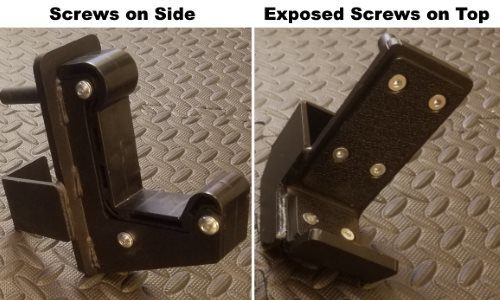 The lip on the Standard J-Hooks is taller and more vertical than is ideal. Whereas, the lip is pretty much perfect on the Deluxe J-Hooks. It's shorter and more angled. It's still tall enough that the bar won't accidentally roll out of it. But the short angled shape will also let you rack and unrack the bar in one smooth, easy motion. This is important on bench press where messing up the unrack can throw off your form on the entire set, and racking wrong can lead to a major injury!
The nylon on the Deluxe J-Hook covers its entire face. This provides a wider surface to rest the bar on, compared to similarly styled j-hooks where the protective material forms a much narrower surface.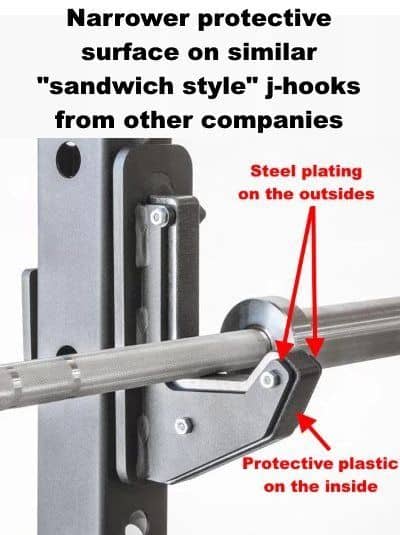 Although the bar is protected in either case, I'd think a wider surface is better for absorbing and distributing weight when racking a heavy barbell.
It appears as if the nylon goes at least somewhat inside the support bracket on the Deluxe J-Hooks. I'm not sure if it's a complete "core" that goes all the way through to the bottom like with "Sandwich J-hooks." If it did, that would be ideal because it would improve the structural integrity of the j-hook as a whole, and also ensure that the nylon completely anchored with no chance wiggling its way free over time. In any case, it looks solid and has performed well initially. It should be able to last many years of hard workouts, but only time will tell.
One additional benefit of the Deluxe J-Hooks is that the lip is made of protective nylon rather than being having an exposed steel lip like the Standard J-Hooks.
They cost $79.99, which I'd consider a good value. That's just $30 more than the Standard J-Hooks. Unless you're really trying to minimize your budget, I strongly recommend the Deluxe J-Hooks over the Standards.
Monolift Attachment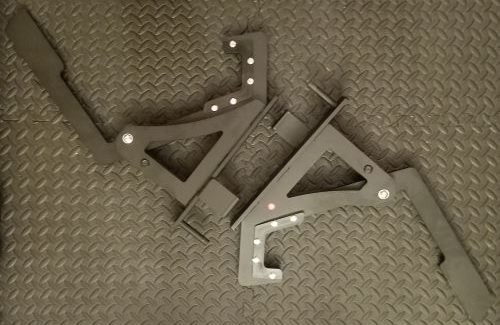 The MyRack Monolift Attachment gives you the key functionality of a full monolift rack at a fraction of the size and cost.
You can rack and unrack on squats without taking a single step. And you can rack and unrack with ease on bench without a lift off from a spotting partner.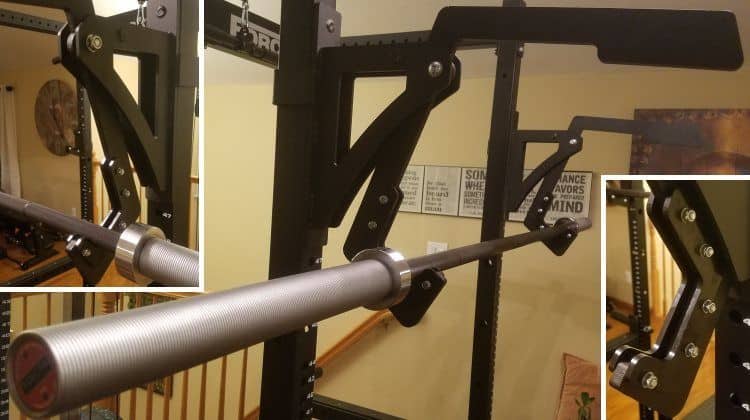 Unlike monolift attachments from some other companies, the MyRack Monolift Attachment does not have the optional "stop bolt." A stop bolt is a secondary bolt you would put through the frame, just above the main bolt, which would act to stop the monolift hooks from swinging beyond a certain point when the bar is on. The idea is that it lets you push back into a fixed bar, so that you can dig your traps in and achieve a stronger squat setup before unracking.
While this sounds good in theory, it really only works well if you have a large enough monolift attachment that can allow the hooks to swing more than just 2-3 inches back before hitting the bolt. The Titan X-3 Monolift Attachment, which I own for my other for my other power rack, has a 3 inch range for the stop bolt.
At first that was okay. After more time, though, I ended up just removing the stop bolts because I found that amount of distance wasn't far enough away from the hooks after they drop away. It feels like you may accidentally hit them on the way up.
For stop bolts to work effectively, you'd need a large monolift attachment with hooks that can swing 4-5 inches back before hitting them.
With that in mind, I have no issue with the lack of a stop bolt on the MyRack Monolift Attachment. It would be a useless feature anyway, since the MyRack Monolift is quite compact. It's somewhat smaller than my Titan X-3 Monolift Attachment, which as I mentioned, doesn't have enough swing-back for a stop bolt to be beneficial.

I find that it's still pretty easy to get into a solid setup position for squat even with the free swinging arms. In fact, the more weight you have on the bar, the easier it is. The image below shows the distance the MyRack Monolift Attachment moves from when the bar is loaded, to when the bar is unracked.

To reiterate, you can push back into the bar to swing it much further away from the uprights, than what is shown in the above image. The video below demonstrates this concept of moving the bar further back:
In terms of the action of the hooks, it's just as you'd expect. They drop straight back toward the uprights after you unrack.
The counterweight is well balanced so the jaws will fall all the way back against the upright and stay there. So there won't be any movement of the jaws when you go to rack the weight. It'll be just like racking into a regular fixed j-hook (albeit a different shaped one).
One thing I was really happy to see with the MyRack Monolift Attachment compared to my Titan X-3 Monolift Attachment, was that there was significantly less lateral play going on with the hooks. This made everything feel a lot more stable.
And the other thing I don't like about my Titan X-3 Monolift was that it is a bolt-on version. As such, it pretty much has to stay in the same spot unless I want to get my toolbox and spend 5+ minutes uninstalling/reinstalling each time I want to move it. Of course, that's because I chose the wrong version, but that's a different story.
With the MyRack Monolift Attachment, there's only one version: an adjustable version.
It installs using the same basic mechanism as a j-hook. There's no pin for additional security — That's not necessary since the total frame of the attachment is compact and the connection around the uprights is tight and there's no shifting whatsoever.

Because these are relatively compact for a monolift attachment, they're also a bit lighter. Don't get me wrong, they're still heavy hunks of metal. But compared to my Titan X-3 Monolift Attachment, the weight difference is noticeable. And this is great when it comes to adjusting their position on the rack. They're much easier to maneuver than I was expecting.
In terms of strength, this attachment has a 2645 lb static weight rating so it can obviously handle heavy loads. But in practical terms, you'd probably want something more robust if you're squatting elite numbers like 600-700+ lbs. Of course, if that was the case, you be buying a commercial grade power rack instead!
While the MyRack Monolift Attachment is a very convenient piece of equipment, you have to consider if it's worth the price for you. Especially if you're on a budget.
It costs $199.99, which is a reasonable price compared to monolift attachments from other companies (Titan's range from $150-175, Rogue's are around $300). However, in terms of its absolute price compared to other MyRack Attachments, it's more toward the mid to high end of the price range.
Consider first that it's not an essential attachment like j-hooks and safeties that you absolutely need to have a functioning power rack. After buying those bare essentials, you have to weigh which optional attachments it makes sense to prioritize given your budget and what those attachments provide in value.
The MyRack Monolift Attachment is great, but its applications are narrow. I personally think that it would make much more sense to put your money toward a more versatile attachment like the Lat Pulldown/Low Row attachment or the Cable Crossover Attachment(s).
Understand, I'm not trying to dissuade you from buying it altogether. If you have a specific training need for it (e.g. competing for powerlifting), then by all means prioritize it over other attachments. Or if you've got a higher budget, go ahead and get it in addition to the higher impact attachments like the Lat Pulldown/Low Row and Cable Crossover Attachments.
Weight Plate Holders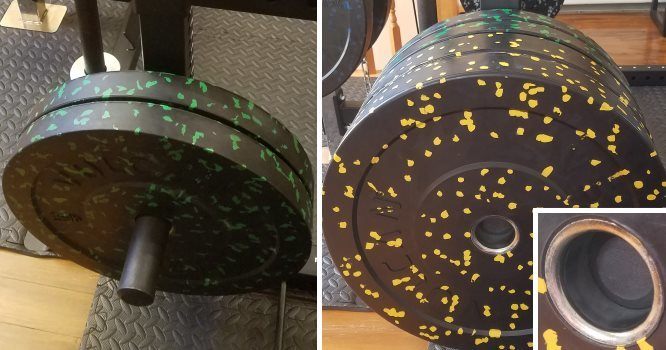 Each Weight Plate Holder consists of a plastic adapter that goes over the 1" diameter steel base. One end of the steel base inserts through any of the 1 inch holes on the sides of the power rack uprights. It is secured with a lynch pin to prevent that end of the holder from coming back out the hole.

Unfortunately, there's not much good I can say about these Weight Plate Holders. While the rest of the MyRack attachments are either great or good with a few flaws, these Weight Plate Holders were a total miss.
The flaws of these Weight Plate Holders are as follows:
They are short: The loadable sleeve length is a mere 8". Accordingly, you can't store many plates, especially if you have bumper plates. Just look at the images above to see that couldn't fully fit four bumper plates (two 25s and two 35s, both of which are thinner than the typical bumper plates). Most plate storage attachments on competing racks have a loadable sleeve length of 12" or a bit more.
The Olympic plate adapters are too thick: Most plates will be a little bit snugger than is ideal. They'll go on, but they'll probably catch slightly when taking them on and off. Calibrated Olympic plates and calibrated powerlifting discs won't fit on at all.
They rattle and are not fully secure: They're kept from falling out of the rack with just a lynch pin that inserts through into the holder, on the inside of the upright. On the outside of the upright, there is almost a full inch of space between the upright and the part of the holder that holds the plates. I believe this gap may have been intentional, so that you could connect other attachments in adjacent holes. However, I would much rather have had a fully secured weight holder that doesn't rattle vs. more flexibility for other attachments. A properly fitted j-hook style plate holder or even a secure bolt-on style holder would have been infinitely better than this design.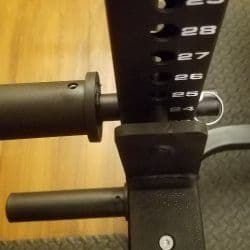 The redeeming qualities are that they technically do hold plates and they won't randomly fall out.
BUT they don't hold enough weight, they may break down over time, they rattle and plates may fall off if you load them to the very end.
At $49.99, they're too expensive for what you get. Even if they were cheaper, I would NOT recommend buying them. Get a weight storage tree instead.
Dip Handle Attachment
The Dip Handle Attachment is great! It's well designed and plenty sturdy even if you're doing heavy weighted dips.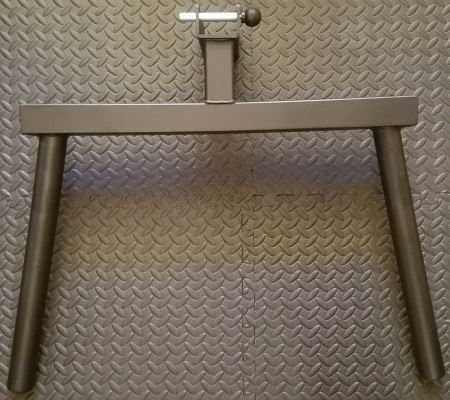 It's a "Y" style dip handle. This is generally considered superior to the separate dip handles seen in many cheaper racks. It's supposed to be more stable, heavier duty, and both easier and faster to adjust or remove.
You can use the MyRack Dip Handle Attachment on any of the four sides of any of the four uprights. While there are other racks with "Y" style dip bars that allow you to do this, there are still others that limit you to only the front or back of the uprights.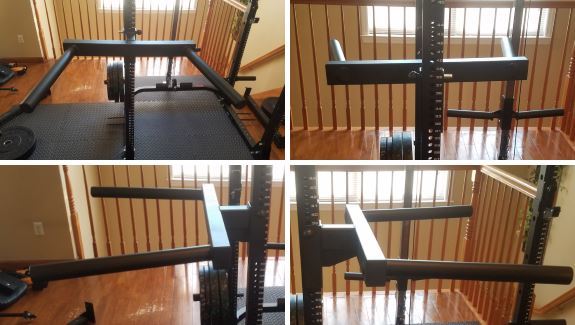 You shouldn't attempt to dip with the Dip Handle Attachment installed on outside of the rack unless you have bolted the rack down. If you're heavier and/or are doing heavy weighted dips, this could potentially lift or tip the rack. If you're not bolting down, you'll be able to do dips safely if you have the Dip Handle Attachment installed inside the rack.
The handle diameter is 1.75" in diameter, which is a comfortable size for dips. Not too big, not too small.
The handle width tapers from about 28.75" at the opening to 22.25" at front end, measured center to center on the handle.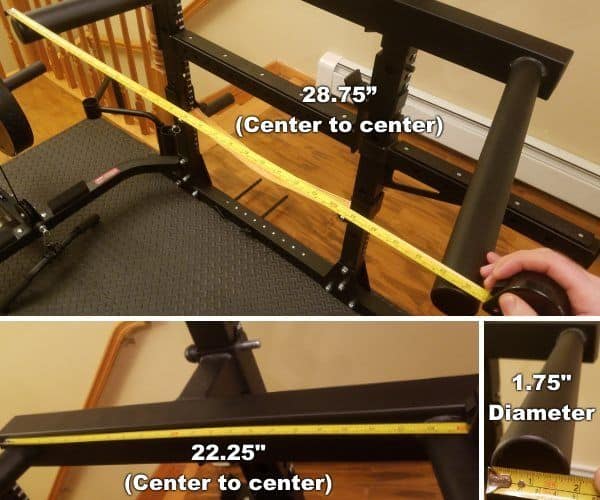 This tapering lets you choose a wider or narrower grip, depending on your arm length/shoulder width and the muscles your trying to target.
One minor difference between the MyRack Dip Handle Attachment and comparable "Y" style dip bars is that the range of grip width is slightly higher. As mentioned, for the MyRack Dip Handle, it's 28.75" to 22.5", center to center. For the Titan X-3 Y Dip Bar, it's 24" to 17". And for Rogue's Matador, it's 23.5" to 16.5". I think the MyRack Dip Handle's range is fine for just about everyone. If you're very wide or have very long arms, the slightly higher width range may be a slight plus.
The only other thing different about this dip handle vs. comparable ones from other companies, is that the tube extending between the main dip bracket and the actual connection point is shorter by a few inches. This could be a slight negative in that you may not be able to use the narrowest grip width if you also lean far forward on your dips, since this would mean your head would hit into the upright.
I didn't personally find this to be an issue when testing because I don't use a super narrow grip on dips. When using my go-to grip width, I always had plenty of headroom even when leaning far forward. Though I did test it out and I could reach my head to the upright when I tried leaning forward while gripping more toward the front of the unit.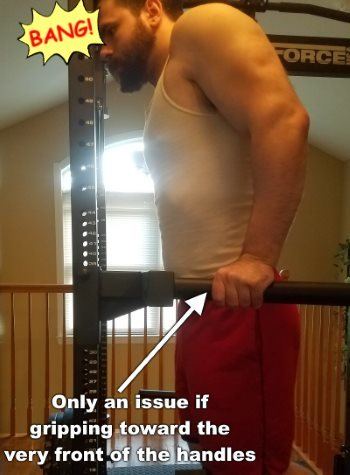 The video below shows me doing two different sets of dips. In the first set, I'm using my usual grip width. In the second set, I choke up on the handles for narrower grip width; as you'll see, my head is almost touching up the upright throughout the set.
The MyRack Dip Handle Attachment will cost you $109.99. I'd have like to seen it be about $20 cheaper, to be more in line with the competition. Still, it's not an overly expensive price. It's worth if you want to dips.
Landmine Attachment

At $79.99, the MyRack Landmine Attachment is a low cost, high impact attachment that will greatly expand your exercise selection your power rack.
The MyRack Landmine Attachment consists of:
A sleeve, which holds one end of an Olympic barbell; it also has a smaller sleeve welded directly on top for use with a smaller diameter "Standard" bars. If you're a serious lifter, you probably don't even have a Standard barbell, so you'll never use that sleeve, but hey, if you need, it's there.
A swivel joint that connects the sleeve to the rack via an included band peg. The band peg includes a lynch pin at the end to prevent the landmine from sliding off. The swivel joint lets you move the far end of the bar up, down, side to side and all around.
A handle that attaches to the far end of the barbell. This is convenient because comparable landmine attachments from other companies are often sold without a handle for a similar price to the MyRack's landmine + handle combo. And if you're getting a landmine, you're definitely going to want a handle so you can take full advantage of it.

The handle allows you to use a medium width neutral grip (palms facing in). This is basic, but it gives you a very natural grip position for doing rows. That's all most lifters will need.
You'll have to pay more for a specialty handle if you want more grip options. I recommend the TDS multi-grip landmine handle if you're going to upgrade.
In terms of how the included handle for the MyRack Landmine is installed, it's simple: You slide the handle on the empty barbell sleeve. Then you secure it by sliding weights on after it.
The most classic landmine exercise is the T-bar row, which is actually one of my personal favorite back exercises. The ability to do just this one exercise was enough of a reason for me to get this attachment. However, there are many more exercises you can do with a landmine, including:
Landmine press
Landmine deadlift / RDL
Landmine squat
Landmine hack squat
Landmine lunge
Landmine floor press
Landmine z-press
Landmine meadows row
Landmine rear delt raise/fly
Landmine clean and press
Landmine rotation
Landmine twist
And many more
A lot of these landmine exercises are:
Single-arm movements (e.g. landmine press) which are particularly useful tools for improving dynamic scapular stability.
Rotational movements (e.g. landmine twist) and anti-rotational movements (e.g. landmine (e.g. landmine rotation), both of which are invaluable for developing core stability and strength.
And yes, some of these exercises train both dynamic scapular and core stability simultaneously. My favorite for integrating these two elements is the landmine meadows row. Another good one is the landmine front squat to twist press.
While many of these landmine exercises aren't exactly "sexy" movements, they are nonetheless highly effective tools for helping you move better, prevent injuries and develop a more balanced musculature. Plus, they are surprisingly fun to do!
In terms of the quality and function of the MyRack Landmine Attachment, it's exactly what you want to see in such a piece of equipment:
The construction is solid.
It has powder coating on the inside of the sleeve to protect the barbell's end when inserted.
The fit of the sleeve around the barbell end is good; not too tight, not too loose.
In terms of movement, you're able to move it in any direction without issue.
The only slightly negative point I can think of is that the handle fit is a bit loose. But this isn't really an issue since you'll be putting plates in front of it, which gives you all the security you need. And if you want to put it front of the plates for certain exercises, you can secure by simply attaching a barbell clip in front of it.
You can install it on any of the bottom band peg holes, inside the rack or outside.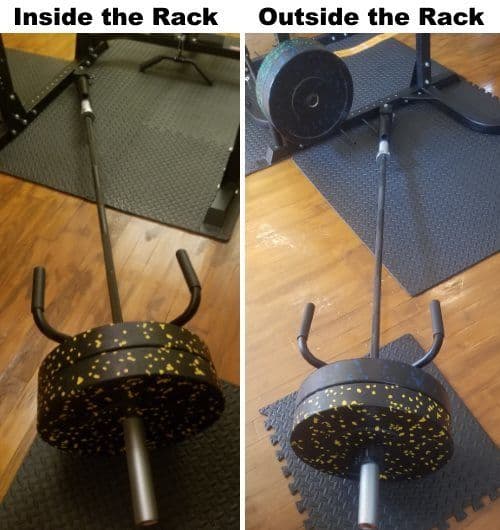 I prefer it on the outside of the rack. That way I can keep it installed at all times without getting in the way of other exercises. When I'm done, I just flip it up and to the side to save even more space as shown below: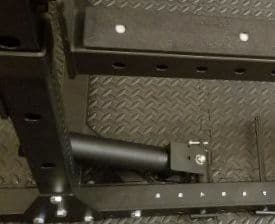 Of course, if you do want to uninstall it or move it to a different location, it's as simple as removing the lynch pin and sliding the band peg out. It takes like 2 seconds. Then another 2 seconds to re-install it.
As mentioned earlier, the MyRack Landmine Attachment costs just $79.99, which gives you a lot of bang for your buck.
Band Pegs
The MyRack Band Pegs are very affordable and they do their job well.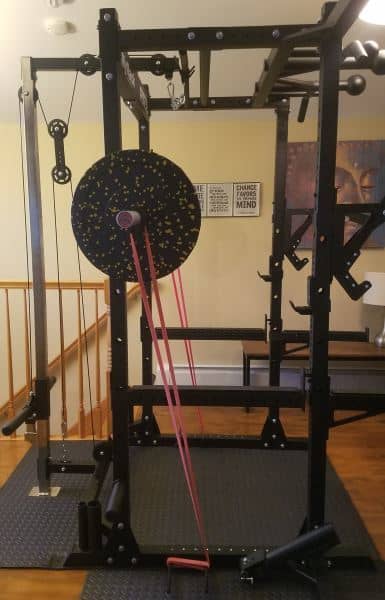 If you didn't know, band pegs are used to hold one end of a resistance band with the other end around the barbell. Many athletes and powerlifters do this to introduce "accommodating resistance" to different lifts.
For example, if you attach bands from the bottom of the rack to the bar for squats, you'll feel more and more resistance from the band tension as you get closer to the top. As you squat down, the band tension reduces until you're at the bottom where the only resistance is from the loaded barbell itself. The idea is to help you be more explosive or get used to a heavier resistance at the top.
The MyRack Band Pegs work just as they should. They're sturdy, won't bend and they fit well. At 10" long, they have plenty of room for holding bands, but they're not so long that they'll stick out obtrusively.
They can go in any of the band peg holes on the bottom of the rack. As mentioned earlier, these holes are numbered so you can easily remember where to place the pegs for different lifts. I think this is a very nice touch.
As far as how you attach your bands to the band pegs, there are many different ways. Below are a few different methods. The top left one is the least effective, since it can potentially come undone if there's too much slack at the bottom of the rep. The bottom right one is absolutely rock solid and is my favorite, though it requires six band pegs total (three per side) instead of four total. Either of the other two methods in the image work great, too, and are easy to set up.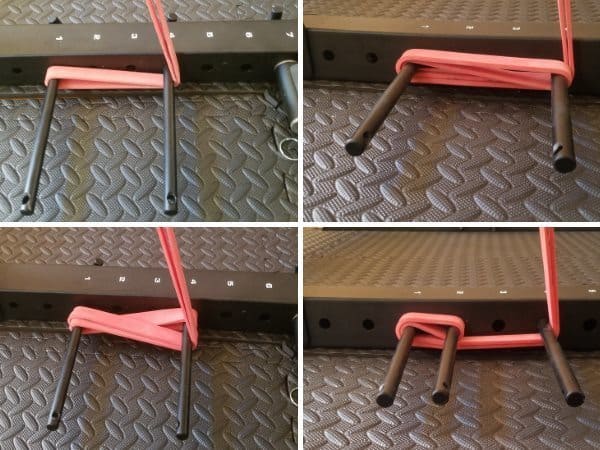 It's important to note that the MyRack Band Pegs are only meant for use on the feet of the rack. They do not fit in the holes on the upper bracings. Those holes are too small. They're meant for securing the pull up bar options.
However, if you're a DIY kind of guy, you could make your own upper band pegs if you really wanted to do reverse band work (here's some inspiration). Or you could just wrap the bands around the upper bracings themselves, and bypass the need for upper band pegs altogether.
That said, lower band pegs are likely more than enough for you, considering most lifters don't do any band exercises. And if they do, it's usually band resisted movements that use lower band pegs.
Also worth noting is that you can also install the MyRack Band Pegs in both the Box Tube Safeties and the Safety Spotter Arms. This could potentially be useful as another workaround for having upper band pegs, if you install the spotters high up on the rack. There could also be other applications for using band pegs on these spotters when they're installed lower on the rack, too — you can get creative.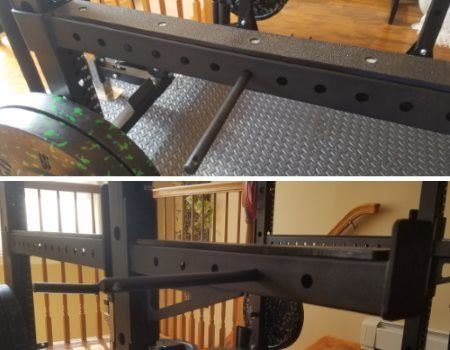 In terms of function, the band pegs stay secure in the holes throughout the movement and show no signs of coming loose.
Some of the band exercises you can do in the MyRack include:
Band bench press
Band deadlifts
You can even add bands to traditionally bodyweight exercises to make them harder. Examples include: band-resisted pull ups, dips, inverted rows, hip thrusts.
It's important to note that if you're going to be lifting against high resistance bands, then you'll need to bolt down the rack so it doesn't tip over. Since you're applying a strong pulling force against the rack — if it's not bolted down, the rack will lift off the floor given enough force.
To summarize, the MyRack Band Pegs themselves are good quality: strong, straight, a good length and they fit securely in the holes. They're also a good deal at just $19.99 for a set of four band pegs.
Box Tube Safeties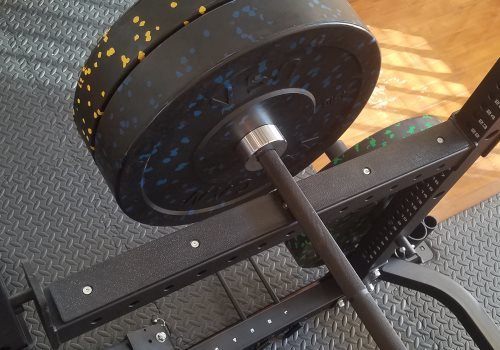 The MyRack Box Tube Safeties are definitely my favorite of the available safety options. The common name for these types of safety catches are "flip-down safeties."
They're the strongest option available. They are rated for 1500 lbs. That's 50% higher than the MyRack Safety Slings, which are the only other MyRack safety option made for use inside the MyRack.
Of course, you'll probably never get near the 1000 lbs rating of the Safety Slings, but having a full 50% more than that gives you peace of mind when you're attempting a new max on your squat.
They're better for your bar than the typical "pin and pipe" safeties that other companies usually give you as a default spotter. MyRack in fact doesn't even offer pin and pipe safeties. Still, to use them as a comparison, the MyRack Box Tube Safeties will protect your barbell MUCH better because they have a nylon-based plastic protective lining that prevents metal-on-metal contact and dampens the impact. They have a flat and wide surface, meaning the barbell will be contacting the full 2.4" width.
Whereas, the bar would only contact maybe 1 cm or less of the surface a pin and pipe safety because it's smaller and round in shape. Any barbell-on-safety impact will be distributed over a very wide area for the Box Tube Safeties. The same force would be concentrated into a much smaller area of your barbell with pin and pipe safeties and could thus cause more damage.

The MyRack Box Tube Safeties were designed to have a 1" gap right in front of where they attach to the front upright.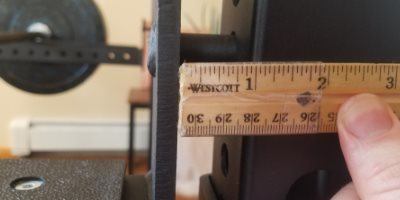 This gap enables you to attach other attachments at the same height on the outside of the uprights, as shown below: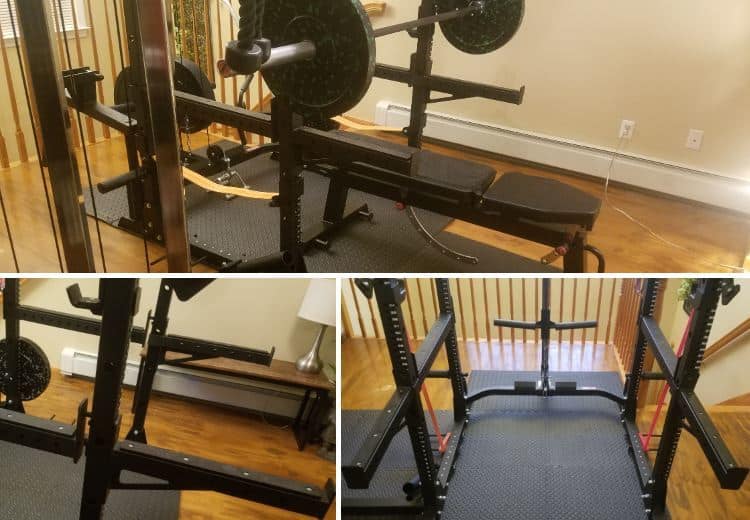 At first I thought this gap was a design flaw, but it is indeed intentional and a smart design idea at that.
The gap isn't big enough that it will mess up your bar placement on any exercises. While having the tube flush against the upright would make the safeties a bit stronger, they are still plenty strong as is. Again, they have a 1500 lb rating.
The ability to attach attachments outside the rack at or near the same height is super convenient. I like to keep my Safety Spotter Arms on the outside of the rack to spot on flat bench and incline bench, and to rest the bar between sets on barbell curls, rows and sometimes light RDLs. For all of these lifts, the Spotter Arms are usually at or very close to the same height that I have my Box Tube Safeties installed for squats.
If there was no gap to allow for this opposing placement, I'd be moving the safeties around a lot more than I do. It's just easier this way.
The Box Tube Safeties are fast to adjust (but with with caveat). They're made for rapid adjustment. The design allows you to simply hold the tube portion between the uprights and move it a couple inches to insert both ends into the uprights. Once inserted, you simply let the tube flip down into place.
So what's the caveat? Well, it can be tricky to line up the pins with the same hole height on each upright. This is because you can't see the hole numbers on both uprights at the same time. The numbers are on the fronts of the uprights, but you're inserting the pins into the rear of each upright. It's easy to see if you're inserting one side into the right hole, but it's hard to tell if the other end is going into the right hole at the same time. If both holes don't align, the safeties won't flip down.
Is there a solution? Yes! A few actually.
The first solution is what I did: Just learn to get the hang of it over time. It takes a few workouts, but you'll eventually get a very refined "feel" for if both pins are aligned with the right holes, before inserting. It'll be frustrating at first, but just be patient. Eventually, adjustment will be a snap.
The second solution is to add your own numbering to the back of the uprights. This way you can have visual reference points for lining both ends up evenly. If you want to be fancy, you can get metallic permanent markers and write the numbers directly on the uprights. Or, you can go the quick and dirty route of sticking some duct tape next to each hole (or every few holes). Then use a regular permanent market to write the correct hole number on each piece of tape.
There is a final option for easy and rapid installation, which I did initially. It's to install them in "backward" with the bracket portion around the front uprights. This allows you see that you're inserting both ends into the same numbers on both uprights. They work perfect when installed this way at least in terms of stability, strength and everything important to spotting you safely. But there is a downside to this backward installation trick: You won't be able to attach other attachments on the front of the rack at the same height.
Once you master the adjustment process, the MyRack Box Tube Safeties are an excellent spotting system. They go for $104.99, which is a great value for a flip-down spotter system.
I own all of the MyRack safety options. However, if I had to choose just one, it would be these Box Tube Safeties. Are they the best choice for you though? Maybe, maybe not. I'd recommend them if:
you want adjust the height of your spotters as rapidly as possible.
you want to be able to install other attachments at the same height as the safety spotters, on the outside of the rack.
you're going to be squatting 450+ lbs, where you could potentially have to dump the bar from high up; OR if you'll be doing heavy partial ROM lifts like above-the-knee rack pulls or power shrugs with 600+ lbs where you'll be not-so-gently setting the barbell onto the spotters every rep or at the end of the set. In either of these situations, you'll be applying much more force to the safeties than the actual weight of the bar since the bar will be in motion (any physics fans will know, f=ma). When you're stressing the safeties with heavy, moving weight, you want the most robust safety option that you can be 110% sure won't fail.
you want the absolute strongest spotter option available, regardless of if you're moving heavy weights on the above-mention lifts or not.
If you won't be lifting that heavy on those types of lifts, then you may want to consider the MyRack Safety Slings instead. They have some unique benefits of their own over the Box Tube Safeties for certain situations. Luckily, I have both options! So I can use each one for different purposes 😀
Safety Slings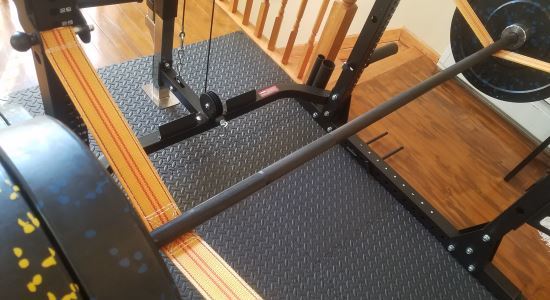 The MyRack Safety Slings are the second of two types of safety spotter systems available for use inside the power rack. The other type being the Box Tube Safeties, discussed in the previous section.
"Safety Slings" are the name used by Force USA, but these are commonly called "strap safeties" or a "strap safety system."
UPDATE: Since I originally wrote this, Force USA has developing an updated version of the Safety Slings with a j-hook style locking mechanism! This is great news because it gets rid of all the issues related to the removable pins and adjustment time. It will make the Safety Slings even more of an attractive safety option.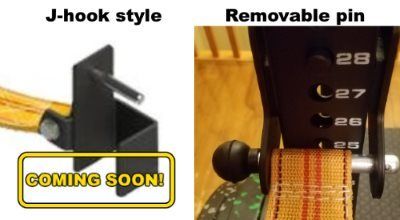 Unless otherwise indicated, the rest of this section will talk about the old version of the Safety Slings, which uses a removable pin for adjustment.
Each Safety Sling consists of a 2.4" wide strap made of heavy duty nylon webbing. Each end of the strap connects to a "strap hanger."
The strap hangers are three-sided steel brackets that wrap around the left, right and rear sides of each upright. Each bracket secures onto its respective upright via the ⅝" pin that's welded to its rear inside surface.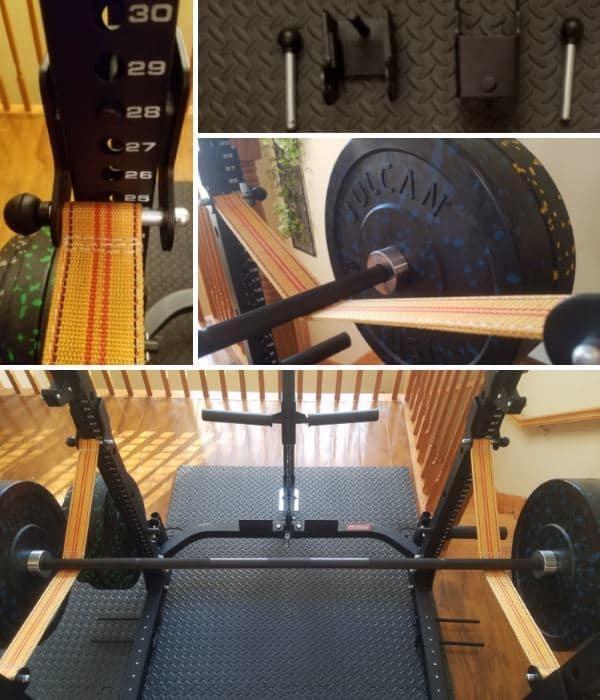 At about 3.25" x 3.25", the bracket is significantly wider and deeper than the 2.4" x 2.4" dimensions of the upright. It has firm padding inserts on the inner left, right and rear surfaces.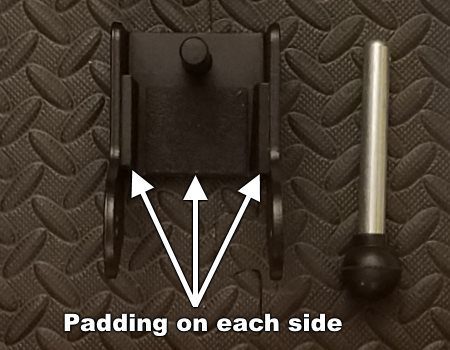 This padding ensures a very snug fit that also reduces wear and tear that would otherwise occur if the bracket-to-upright connection was metal on metal.
The front lower portion of the strap hanger bracket swoops forward, in front of the upright. It has a hole on its left and right side.
Once the strap hanger bracket is on the upright, you then attach the strap to it by doing the following:
Position the looped end of the strap between the holes on the strap hanger bracket.
Insert the removable pin through one hole, into and through the strap loop and out the other hole.
Repeat the process on the three remaining straps/brackets
Safety Sling Advantages
The strap safety system gives some unique benefits over traditional safety options like flip-down safeties (i.e. MyRack Box Tube Safeties), or the classic pin-and-pipe safeties that are common on many competing power racks.
You can adjust each end to different heights
Since the strap is flexible and there's a bit of slack built in, you can adjust one end to a higher setting and the other to a lower setting. This allows the bar to safely roll away from you if it slips or you have to dump it.
This can certainly be useful on squats if you fail at the bottom because you can more easily get out from under the bar compared to straight/rigid safeties. The bar automatically rolls away from your back after you get it off of shoulders and onto the straps.
This should work well on squats even if you have the straps installed at the same height. I find it works a bit better if you install the strap hangers in front of you slightly higher than the ones behind you by about 1-2 inches. This way the bar still rolls back even if you squat more toward the middle of the rack.
However, this could literally be a literal lifesaver on bench press more so than on squats or any other lift.
You can set the ends closer to your head to be a few inches (i.e. 3"+) higher than the ends near your legs. They should be high enough that the straps would prevent your face, neck and at least the upper portion of your chest from being impacted if the bar were to accidentally slip, or if you missed the j-hooks when going back to rack the weight. The strap should be at or just below the point on your sternum/rib cage so that you can touch the bar to your body at the bottom of the rep.
From there, the strap would continue ever so gradually lower until it reaches its end on the other upright. This latter part of the strap will be above the abdomen and hips. So if you have a normal bench press fail where you get stuck at the bottom, this strap safety setup still helps you. You simply roll or hoist the bar forward off your chest, onto the strap, and allow it to roll further forward.
The straps are soft (but still strong)
They are made of a strong nylon fabric that's actually rough and stiff compared to most other fabrics. However, it is soft and has some give compared to these other safety systems which are either steel or steel with a hard protective lining on top.
The Best Spotter System for Preventing Bar Damage
The fact that the straps are wide, soft and flexible means that you won't dent the bar or scratch its knurling from dropping it on the straps. Even if you do so repeatedly over time with heavy weights, any wear will be miniscule compared to the same treatment on rigid steel-based spotters like flip-down safeties or pin-and-pipe safeties.
Additionally, when using a strap safety system, you're far less likely to bend your barbell if you have to dump it from a high height and/or with a lot of weight.. This is because they'll absorb significantly more impact than the rigid safeties. Depending on the bar, weight and height dropped, it may still bend, but it will most certainly be less than the same scenario on rigid safeties.
The quietest spotting system
Do you train in the middle of the night? Got thin walls and nosy neighbors? Got a baby trying to sleep in the next room?
Whatever the reason, if you want to minimize noise while training, then the Safety Slings are by far your best option. As you can imagine, setting or dropping the weight down on nylon fabric is going to make hardly any noise at all compared to the hard impact of the bar on rigid steel spotters even if they have plastic protective lining.
Great for exercises that require racking the bar each rep
If you're going to be setting a heavy bar down on the safeties multiple times per set, you're going to want something that's quieter, won't scratch your bar, and will cut down on the the rattling of the bar and rack on impact.
The #1 exercise I'm thinking of for this is the rack pull and any of its several variations (i.e. snatch grip, above the knee, below the knee, at the knee, etc.). There are other exercises, too, such as pin squats, pin presses and shoulder pin presses.
Provides the Lowest Spotter Height Possible
The straps can be installed so that the lowest point is just ~6.25 inches off the floor, as shown in the photo below. The Box Tube Safeties can only go as low as ~11.25 inches off the floor.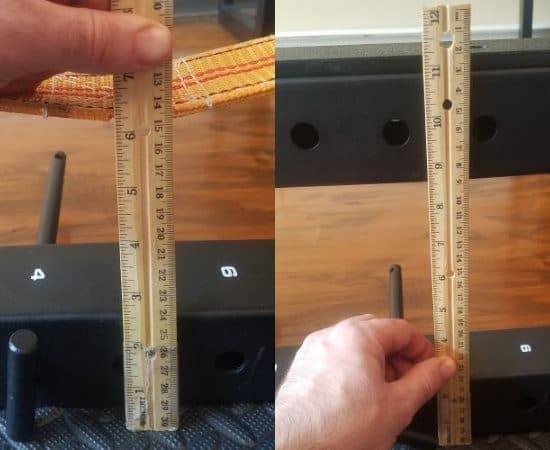 Being able to go lower than this may be useful if you want to do deadlifts, but can't slam the weight on the floor for noise or damage reasons. You could set up the straps so that they're about 9" off the floor. This would give you almost the same range of motion as a regular deadlift, but would stop the weight just before it hits the floor.
Safety Sling Disadvantages
The MyRack Safety Slings are a solid choice for the reasons listed above. However, they are not without their disadvantages:
It's very strong, but not the strongest spotting option
The MyRack Box Tube Safeties are a full 50% stronger, with a max static weight capacity rating of 1500 lbs vs 1000 lbs for the Safety Slings.
This can make a difference potentially if you plan on doing heavy power shrugs, heavy above the knee rack pulls or other high weight/short ROM movements where it's feasible for to eventually get into the 600+ lbs range if you're a stronger guy.
You have to remember that the capacity rating is for a static weight. So let's say you're lowering a 600 lb barbell onto the safeties at the bottom of each rack pull rep. That means there's going to be some speed behind that, even if you're controlling the descent.
You have to consider that the velocity makes the force at impact greater than 600 lbs. As such, if you're getting in this super heavy territory for these exercises, you'll want to consider getting the Box Tube Safeties instead.
Similarly, if you're squatting 450+ lbs, it'd also be wiser to opt for the Box Tube Safeties. I say this because squats come with risk of needing to dump the bar from a higher height if you fail halfway through a rep. A higher drop distance especially at free fall speed, means a much greater impact force for a relatively lighter weight.
I say all of the above knowing that the weight capacity ratings are supposed to be conservative numbers. In practice, they should be able to handle much more weight/force. However, when you're dealing with safety, you don't consider what weight it "should" be able to handle. You go on what weight it "will" be able to handle.
The removable pins could theoretically come out (Update: No longer an issue)
NOTE: Everything discussed below regarding this disadvantage has been rendered irrelevant because Force USA has released their new j-hook style version of the Safety Slings (discussed earlier). The new design eliminates the pins and instead uses bolts to permanently secure the straps.
Unfortunately, the pins that keep the straps on the strap hanger brackets aren't as secure as they ought to be. There's a little bump on the end of the pin that depresses slightly to get the pin through the bracket holes. Once the pin is in, the bump is supposed to prevent it from from sliding back out. And it will…but only to an extent.
If you put enough lateral (side to side) force against the straps, you could pull the pin past the bump and through hole. However, it's not going to come undone if you fail and have to dump the bar on squats since the force is coming straight down in that case.
The only way I see this possibly happening in practice is with high rep rack pulls in particular since you're hitting the bar into the straps at a relatively high velocity each rep. This is because you could shift the pin little by little each rep until it gets past the bump and slips out. It's not likely, but still possible.
I guess the same thing could technically happen with other movements like pin squats or pin presses. It's worth being aware of the possibility, but I really don't see it happening since the bar hits the straps at a much slower speed on those lifts compared to rack pulls.
This whole potential issue could have been avoided by using a hair pin/R-clip or lynch pin clip instead to ensure it stays locked in place. This is what Rogue did for their first version of their Monster Lite Strap Safety System, shown below: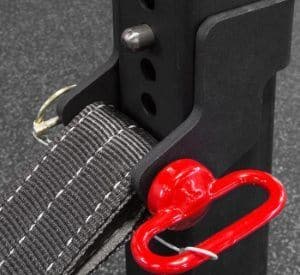 If you don't do high rep rack pulls, you won't have to worry about this.
In any case, other users have recommended inserting the pin through the bracket from inside the rack to outside the rack. It makes it more likely any shift of the pin will be in an outward direction such that the head of the pin hits into the bracket. It also ensures you don't accidentally push it out by bumping into the end of pin while you're inside the rack.
This inside-to-outside pin insertion method is a smart idea that I didn't hear about until after doing most of my testing, hence why you'll see most of my pictures showing the straps going the opposite direction. If you buy this spotting system, definitely make inside-to-outside pin placement a habit, regardless of the exercise you're doing.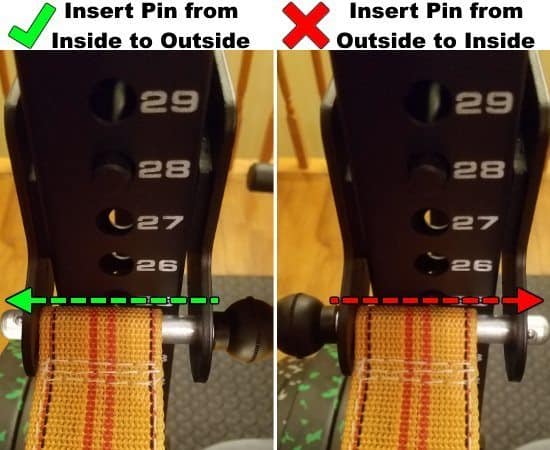 The inside-to-outside placement will make a big difference in keeping the pin in. It's enough of a security measure if you're just using safeties for spotting in the case of failure.
However, if you're going to be doing heavier multi-rep sets of rack pulls, I'd recommend testing them out first to see if you should take other precautions. Here's how I'd go about doing such a test:
Start with a couple warm up sets of rack pulls with lighter weight (e.g. 20 rep max) and controlled descent – 2×15.
Increase the load to a more moderate weight (e.g. 12 rep max) and use the type of form you normally use – 2×10.
If all goes well, work your way up to relatively heavy weights (e.g. 6-8 rep max) – 3×5.

NOTE: On these sets, be less gentle and neat than you'd normally be when lowering the bar onto to the straps (still be safe, though). The idea is to test the pin's security under harder and more volatile conditions that than your normal training.
Pay attention to the pins during all sets. If they stay in place with no issues during this testing, then congrats! You shouldn't need to take any additional precautions during your normal rack pull or pin training exercises.
However, if they get too close to coming out for your comfort, then you can err on the side of caution and consider one of these makeshift solutions:
buying better replacement pins like these 4-inch x ⅝-inch hitch pins with hair pin clips. These are built for hitching trailers or other implements to lawn mowers and tractors, so they're more than strong enough for our needs. This is by far the best solution. But it's not cheapest. You may be able to get them cheaper from your local Walmart, Home Depot, or other hardware or tractor parts store. Definitely test the Safety Slings with their included pins before you consider buying these; you might not even need them.
wrapping just enough electrical tape around the ends of each pin to make it harder to slide off, but still possible to slide in.
Snapping a rubber band around the end of each pin once inserted. You don't have to do this every time you adjust the safeties; only when you're doing high rep rack pulls and you think a pin could rattle out.
It takes a while to adjust the height (Update: No longer an issue)
UPDATE: Since writing this review initially, Force USA has released their updated version (discussed earlier) of the Safety Slings with a j-hook style attachment mechanism. Now, adjustment time is a non-issue. The new and improved j-hook style design makes adjustment 2-3x faster because there's no pin to remove and reinsert through the strap.
In order to adjust the height of the Safety Slings, you need to remove the pin from the bracket and strap, then adjust the bracket to desired height, and finally reinsert the pin through the bracket and strap. Then repeat that three more times on each of the strap hanger brackets.
This means it'll take maybe 30 seconds to adjust the safeties compared to about 10 seconds for the Box Tube Safeties. This is a minor annoyance, in my opinion. It's worth mentioning, yes. But I wouldn't consider it a make-or-break factor.
At $99.99, the MyRack Safety Slings are a fair price for what you get.
Are these the best safety option for you? Depends. I'd personally recommend the Safety Slings over the Box Tube Safeties if:
Safety from catastrophic failure on bench press is of paramount importance to you.
Minimizing noise from bar-to-safety contact is a top priority
Protecting your barbell knurl and finish is very important
You don't plan on doing heavy high rep rack pulls; OR if you do, then you should be okay knowing that you might want to bolster the pin's security with one of the methods I mentioned above. Again, you probably won't need any additional security if you insert the pins from inside to outside the rack, but you may want to.

This last item will be irrelevant once the new j-hook style design is released.
I would advise against the strap safeties as your sole safety option if you're approaching 450+ lbs on squats and 600+ lbs for rack pulls.
As I detailed earlier, slamming 600 lbs on the safeties for rack pulls applies much more than 600 lbs of force. Similarly, dumping 450 lbs off your back from 2 feet up on a squat fail is much greater than 450 lbs of force. This being the case, it's reassuring to have an additional 500 lbs of static weight rating with the Box Tube Safeties (1500 lbs rating vs 1000 lbs for the straps).
That being said, if you do fall into this "strong" category, you can still get the strap safeties. However, I would personally recommend also getting the Box Tube Safeties OR the Spotter Arms. You'd set them up just below the strap as a secondary safeguard when doing extra heavy sets…
…If you go this route, I'd urge you to get the Spotter Arms instead of Box Tube Safeties. This is because the Box Tube Safeties are a redundancy to the Safety Slings; they have the same primary use of spotting inside the rack. The Spotter Arms, on the other hand, can be used for spotting both inside AND outside the rack.
Safety Spotter Arms
The Safety Spotter Arms are meant for use outside the rack.
You can technically use them inside the rack, and in some circumstances it makes sense to. In the few paragraphs above, I explained just such a scenario. The only things to realize are that the arms only have one attachment point and they're shorter than the rack is deep. Thus, you'll have a gap of about 10″ gap in the rack.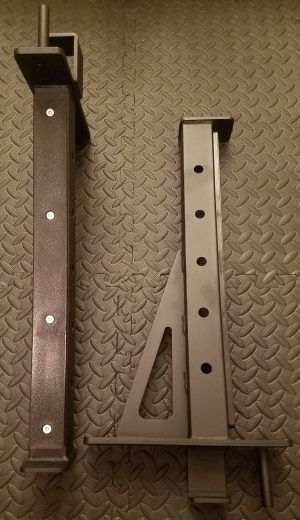 Aside from these rare use cases, the Safety Spotter Arms are most typically used for:
Setting the bar down at the bottom of reps on rack pulls
Unracking during exercises like rows or deadlifts, then walking out, performing the set, walking forward and re-racking — basically a convenient place to set the bar so you can add or remove plates as needed. NOTE: For lower back safety reasons, I don't recommend doing this for deadlifts unless it's for your lighter sets.
Unracking and racking on exercises like shrugs or barbell curls where you stay in the same position for the whole lift (i.e. no walking out).
Spotting on standing shoulder press if you're too tall to do so inside the power rack.
Spotting on exercises just like you would inside the rack, with the only difference being that you're outside (i.e. bench press, squats).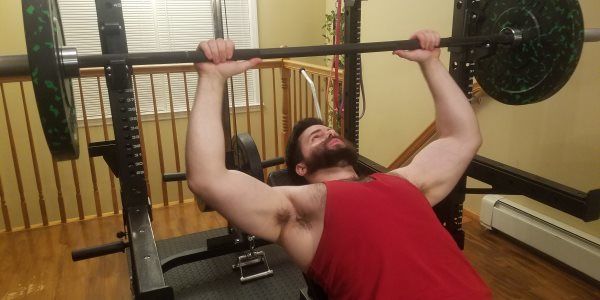 Overall, the MyRack Safety Spotter Arms work great! Just like you'd expect. They have a high weight capacity rating of 1000 lbs. And they have plenty of space to set the bar, with 19.5" of usable length.

There are no real shortcomings for these. The only thing worth mentioning is that the protective lining is made from a hard nylon material instead of UHMW plastic; same as with the Box Tube Safeties, Standard J-Hooks and Deluxe J-Hooks. Based on initial testing, it works great.
You should only consider buying these spotter arms as a secondary spotting tool, to be used solely outside the power rack. You should first buy at least one of the safety spotter options meant specifically for use inside the rack (i.e. the Box Tube Safeties or the Safety Slings).
Note that if you get these with the Box Tube Safeties, you can set both at the same height, as shown in the photo below. This is thanks to the 1 inch gap in the Box Tube Safeties, which is by design.

Lastly, and importantly, you should be prepared to bolt down the rack if you buy these and plan to use heavier weights on them. Because you'll be using them outside the rack, they'll essentially be a lever, which can more easily tip the rack if you put too much weight on it.
Of course, you could weight down the rack by keeping the Weight Plate Holders (not recommended BTW) full of heavy plates, or putting heavy dumbbells over the rear ends of the flat feet. However, the most effective way to secure the rack is by bolting it down.
These Safety Spotter Arms are a great value at $99.99, falling clearly in the more affordable range of the price spectrum among other manufacturers. They're just a bit more expensive than Titan and significantly less expensive than Rogue.
New MyRack Attachments Coming Soon?
I've spoken with Force USA, and they are considering several MyRack attachments:
Heavy Bag Attachment
Medicine Ball Target
Dual Barbell Holder
Updated Padded Knee Holder Bar
Cable Crossover OR Lat Pulldown/Low Row OR Both
The most common question I've heard from people buying the MyRack is whether they should get the Cable Crossover Attachment(s), the Lat Pulldown/Low Row Attachment or both.
This can be a tough decision because:
They're both well made and highly desirable attachments that add a lot of exercise variety.
There is a lot of overlap between these attachments in terms of which exercises you can do with them.
They are the two most expensive MyRack attachments, which means you may not be able to get both, depending on your budget.
To decide which you should buy, you need to weigh these factors:
Your budget
The exercises that are most important to you
If budget is a concern, are you be willing to buy one attachment now, and the other(s) later?
Here's when it makes sense to get just the Lat Pulldown/Low Row Attachment:
When you have a limited budget: You can afford the $299 for the Lat Pulldown/Low Row, but can't afford the $429 x 2 for both sides of the Cable Crossover.
When you want the best cable equipment for back training exercises. It's superior for back training because:

You have a full 11.5 inches of space on each weight plate holder compared to just 8 inches for the Cable Crossover. This is plenty of space for doing very heavy rows and pulldowns even if you're strong and use thick bumper plates. Whereas, you might eventually run out of space with just 8 inches of space if you're strong enough and using bumpers.
The top of the Lat Pulldown/Low Row Attachment overhangs into the rack. This gives you plenty of space to get right underneath the pulley so that you have a more vertical bar path on pulldowns, which is optimal for for lat activation. Whereas, on the Cable Crossover Attachment, you're going to have a somewhat more angled bar path because you can't really get directly under the pulley.

When you don't care as much about being able to do crossover-specific exercises, including:

Any bilateral cable exercises (e.g. chest crossover, double biceps curls).
Any cable exercise that uses one cable column, and also requires adjusting the pulley somewhere other than at the top or the bottom (e.g. standing horizontal one arm cable row, face pulls from any mid-range pulley height setting). The Lat Pulldown/Low Row gives you access to all the cable exercises where the pulley position is at the or the bottom, but not in between.
Here's when it makes sense to get just a single Cable Crossover Attachment:
When you can afford the $429 price tag for the single side.
When your budget is limited and you're planning to save up for the second crossover attachment.

Tip: Don't buy just a single Cable Crossover Attachment, unless you plan on getting a second one eventually. Otherwise, get the Lat Pulldown/Low Row instead!

When the ability to do all crossover-specific exercises (once you get both sides) is a top priority.
When having the best equipment for cable back training is less important than access to crossover-specific exercises.

You'll still be able to do all the cable back exercises that you can do on the Lat Pulldown/Low Row Attachment. BUT you won't be able to do them quite as efficiently. For example, if you're a stronger guy and use bumper plates, you may eventually run out of space on the Cable Crossover weight holders for heavy rows or pulldowns. This is because the holders are only 8 inches long compared to 11.5 inches on the Lat Pulldown/Low Row.
Here's when it makes sense to get the Lat Pulldown/Low Row Attachment AND just a single Cable Crossover Attachment:
When you can only afford the price of $299 for the Lat Pulldown/Low Row Attachment plus $429 for the single Cable Crossover Attachment, but not much more.
When you'll definitely be buying the second Cable Crossover Attachment at a later date, after you save up enough extra money.
When you'd rather have access right away to the best equipment for cable back exercises (i.e. the Lat Pulldown/Low Row Attachment) and the many single column cable exercises, but are okay with not having access bilateral cable crossover exercises (at least not until you save up for the second crossover tower).
When you have enough space for both Cable Crossover sides, for when you eventually buy the second one.
Here's when it makes sense to get just the Cable Crossover Attachments (i.e. both crossover sides, but not the Lat Pulldown/Low Row):
When you can afford the $429 x 2 price tag for the both sides.
When the ability to do all crossover-specific exercises is a top priority.
When having the best equipment for cable back training is less important than access to crossover-specific exercises. You'll still be able to do all the cable back exercises as with the Lat Pulldown/Low Row BUT you won't be able to do quite as efficiently (as explained earlier in this section)
When you have enough space for both cable crossover sides.
And lastly, here's when it makes sense to get the Lat Pulldown/Low Row Attachment AND BOTH Cable Crossover Attachments:
If you've got enough cash you can part with at one time ($299 + $429 + $429).
If you've got enough space for everything.
If you want the best of both worlds:

You'll be able to all the cable crossover exercises you can imagine, from any angle, one side or both.
You'll also have the best equipment for doing cable back exercises as efficiently as possible and without having to worry about maxing out the weight holders.
Force USA MyRack Pros & Cons
Pros
The MyRack boasts some impressive benefits over your average budget-level power rack. I've discussed them at length throughout this MyRack power rack review. Below, I've condensed all the positive points into several key highlights:
It is a modular rack with tons of attachments available. There are a total of 17 different attachments available, giving you the ability transform your power rack into a full blown home gym. As I mentioned here, Force USA is already in the process of developing 4+ new attachments for the MyRack. So you can look forward to even more exercise possibilities in the not-too-distant future.
It is designed to fit in most home or garage gyms. The height of the tallest point of the rack is 86.375″, or 7 ft. 2.375 in. tall (the Lat Pulldown/Low Row is 86.75″; the Cable Crossover is 87.5″). Since many home gym lifters have relatively short 8 ft ceilings, the MyRack gives them more than enough clearance to fit the rack and still be able to do full range of motion pull ups without hitting their head.
When combined with its key unique attachments, it's the best-priced complete home gym solution. You'll have access to most of the exercises you can do in any commercial gym, with a single integrated system.
Better selection of attachments than any other company in terms of maximizing the number of exercises you can do within a minimal floor space. My favorite are the Lat Pulldown/Low Row Attachment and the Cable Crossover Attachments. For most other power racks, you'd have to buy separate (and more expensive) machines to get these capabilities. That would would cost more money and take up more space.
Pay ONLY for what you want; no built-in costs from standard attachments. The base price for rack is $399.99. That's for just the rack. It does not include j-hooks, safeties or a pull up bar, which are often included standard on other power racks. This is done so you can save money by buying the specific options you want (e.g. Standard or Deluxe J-Hooks; Box Tube Safeties or Safety Slings, etc.). If there were default options for these basic attachments, then the base price would be higher and those default options may not be the options you want.
It has very convenient numbered holes. This is a small detail, but it's incredibly convenient and makes each and every workout more seamless. You always know exactly where to adjust the safeties, j-hooks and many other attachments depending on the exercise.
Very sturdy for a home gym power rack. As I've discussed at length, the MyRack uses 12 gauge steel instead of thicker 11 gauge steel. Thus, it's not commercial grade. Despite that drawback, it is still the strongest, best constructed 12 gauge power rack you'll find for home gym use. This is thanks to a number of design elements that bolster the rack's strength and help compensate for the 12 gauge steel. These design elements include: thicker steel on the end plates of the upper cross bracings, reinforcement plates at every joint, heavy duty hardware, a rear stabilizer bar and larger uprights (2.4" x 2.4" as opposed to the 2" x 2" uprights used on most other 12 gauge racks). All of these items contribute the MyRack being able to boast an impressive 2000 lb static weight rating.
No need to bolt it down…unless you want to. The MyRack is free standing by design, thanks to its flat foot design. It is made even more stable with the inclusion of a well-placed rear stabilizer bar. You don't need to bolt it to the floor. However, you can bolt it down if you need additional security for heavy band-resisted exercises or using lots of weight outside the rack on the Safety Spotter Arms. The feet come come with holes built into them for this purpose.
Flat foot design AND has has lower band peg holes. Most flat foot power racks do not have holes on the feet for band pegs. The MyRack does. This is a big plus if you wanted a simple way to do band-resisted exercises without having to resort to any creative workarounds. Oh, and the band peg holes are also numbered which is another nice added touch.
Safe and secure. It is more thoughtfully designed with better quality control measures compared to most budget-level power rack manufacturers.
Cons
Here are all the negatives that I've discussed throughout this review, boiled down into a few key points:
Attachments from other companies aren't compatible because of the non-standard upright tube size. I've researched literally hundreds of power racks over the years, and the MyRack is the only one on the market with 2.4" x 2.4". At least, it's the only 2.4" x 2.4" rack that also uses ⅝" holes. There are some 2 ⅜" x 2 ⅜" racks and some 2.5" x 2.5" racks, but even those use 1" holes rather than ⅝". The most common measurements are 2" x 3" and 3" x 3". If the MyRack used either of these common upright sizes, then you'd have access to even more attachments from other manufacturers.
Uses 12 gauge steel instead of 11 gauge steel. 12 gauge steel is thinner than the 11 gauge steel used in many comparable racks. As mentioned in the "Pros" section above, the MyRack's other design features make up for some of this; it's still plenty sturdy for heavy home use. Still, 11 gauge steel would have made this a 5 star power rack. It would have made it a viable choice for the guys out there with advanced to elite strength levels who need commercial quality equipment.
A couple attachments have bad designs. This includes the Lat Pull Down Seat and the Weight Plate Holders, in particular. They're just not well executed and not worth the purchase, in my opinion.
The holes could have gone higher on the uprights. There are 54 holes on the uprights, which is great. But there's about 8 inches of blank space on the uprights above the hole #54. This could have been used for four additional holes. It's not a huge deal since most lifters would probably never need these hypothetical extra holes. Still, if you're a taller guy, you might need to use a higher setting than #54 to use the MyRack Monolift Attachment for squats. This is because the monolift jaws, where you set the bar, are a full 14-15 inches below where the monolift attaches on the upright; so compared to j-hooks, you need to attach them much higher on the rack to be able to unrack the bar from the correct height. I'm 5'11" and use the monolift at that setting for high bar squats.

UPDATE: I heard back from Force USA about this. They told me they purposely didn't include holes all the way to the top because "most customers don't mount the rack to the floor. Having higher holes and using them could cause the rack to tip."

It uses bolted panels instead of welded panels. Welded side panels would have been great since they're stronger than bolt-together side panels. To be fair, though, that's not reasonable to expect in a budget rack. This is because welded side panels increase costs for both production and especially for shipping. The bolted MyRack is cheaper to manufacture and can also be broken down into compact boxes, hence why the base price of the MyRack is still in the budget range.

As an aside, the only budget rack I know of with welded side panels is the Titan X-2 rack, which is able to be sold for a lower price only because of the smaller 2" x 2" uprights and 24" internal depth. So if you really want a rack with welded panels, the X-2 is definitely worth consideration.
Fast US Shipping
Shipping is fast. Orders typically ship out of their warehouse within 2 business days of placing it. Once leaving the facility, most orders will arrive within 5-7 business days. Mine took 9 day total, or 7 business days.
The shipping cost is affordable — They use flat rate shipping. I did a couple tests of a relatively large order to different locations in the US and got $49.99. Then I added a couple other items and got $99.99. Then I added a few more items and got $149.99 (a huge order). So, it appears the shipping costs jumps up a level once you get past a certain weight. Most orders of the rack + accessories will likely cost $49.99 or $99.99 (depending on how many accessories you get). The only way to know for sure, though, is to check the shipping cost at checkout.
Note that if you already have the rack and you're buying just a single small accessory to add to your unit, then the shipping cost will be lower. I did a test order of just the Hammer Grip Chin-up Bar, and the shipping was only $14.99 for that.
One important thing to note is that most orders use freight shipping. Specifically, orders that include the base rack, OR the base rack + attachments, will ship via freight. However, if you have the rack already and are ordering an attachment separately, it will ship via FedEx; not freight.
If you're not familiar with freight shipping, it means that a private freight carrier company (i.e. not UPS, FedEx, etc.) will deliver your order. They will call you a day or two ahead of time to schedule delivery date and time to ensure you'll be home.
The freight company does curbside delivery, which means they can only leave it on your driveway or in front of your home. They have a pallet jack so they can't drag it through the grass or dirt, bring it up your steps or into your house. They can't unload the pallet either. That's your job.
Be sure to inspect for any damage before you sign for the delivery. As I'll discuss shortly, the packaging is sturdy, but nevertheless it's still possible for things to get beat up in transit. If there is any damage, be sure to make note of it where indicated on the sheet they give you.
If you get a ton of attachments with your MyRack, then have fun unpacking that pallet and bringing everything to your home gym area. Consider it your first workout! 😀
Sturdy Packaging
The MyRack itself comes in three separate boxes. Each attachment ships in just one box.
All boxes are well-packaged in strong and thick cardboard containers. This goes a long way in preventing damage to the parts inside while in transit.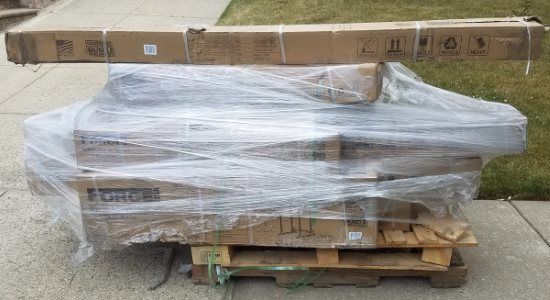 As you can see, the one box on the outside of the pallet got chewed up a bit, but the thick cardboard nonetheless did not break through and everything inside was left unscathed.
There's also styrofoam inside most of the packages that provide an extra layer of protection. Plus, the parts are all wrapped inside plastic to prevent scratching.
Hardware
The hardware (i.e. bolts, nuts, washers) is heavy duty. Most connections in the main MyRack power rack frame used M12 bolts, which means the threaded part is 12mm in diameter. This is much more robust than the hardware you'd get on one of the many cheap-o 12 or 14 gauge power racks you'd find on Amazon or in a big box store.
Many of the connections on the attachments used M10 bolts (10mm diameter). The attachments are able to use this slightly smaller diameter hardware since they'll never be under the same stresses as the actual power rack.
Instructions
The instructions are very detailed, clear and easy to follow for the rack and all attachments — with one exception: The Cable Crossover Attachment.
There were two issues I ran into with the Cable Crossover Attachment instructions, which I've highlighted in the image below: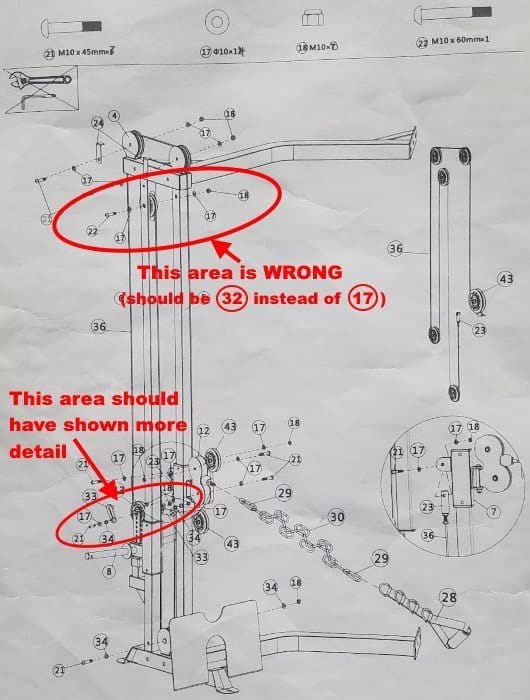 Before I go into detail about each of these issues, I'd like to first point out that the "Exploded Diagram" (see below) in the instruction manual largely rectifies them. However, you probably wouldn't think to look at that diagram when following the instructions step-by-step.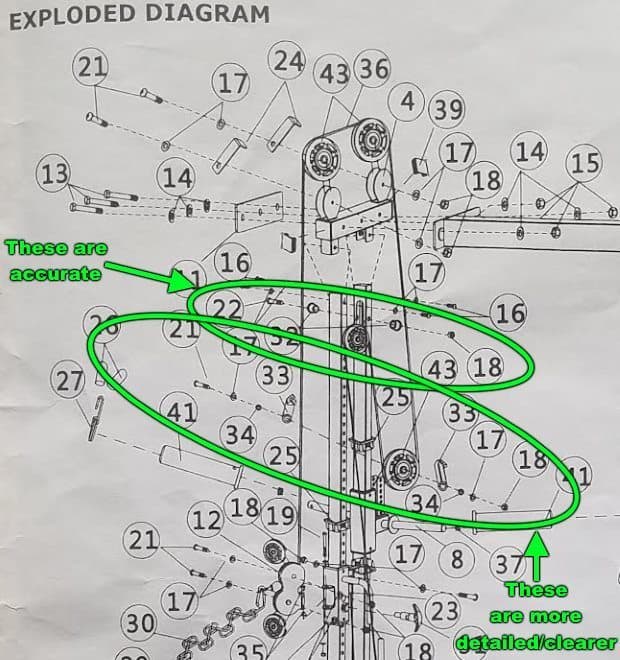 That said, the two issues still deserve additional clarification, which I'll discuss below:
The first issue was due to an actual error. The diagram shows the wrong parts for the pulley near the top of the rear column. The diagram shows it being secured with a bolt, nut and washers. However, it's actually supposed to be secured with the plastic "bearings" (not to be confused with the smaller plastic bearings). Below is how it should look when installed correctly: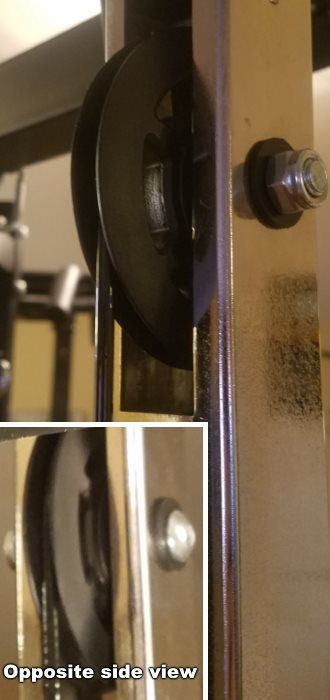 The second issue I experienced was due to a lack of detail in the instructions and diagrams for a particularly intricate part: the pulley assembly on the weight holder bracket. This pulley is installed in a different way and with different parts than all the other pulleys. I had to play around with this for a while before I finally got everything to fit in properly and actually function in a way that made sense.
Visually, it should look like this when installed correctly: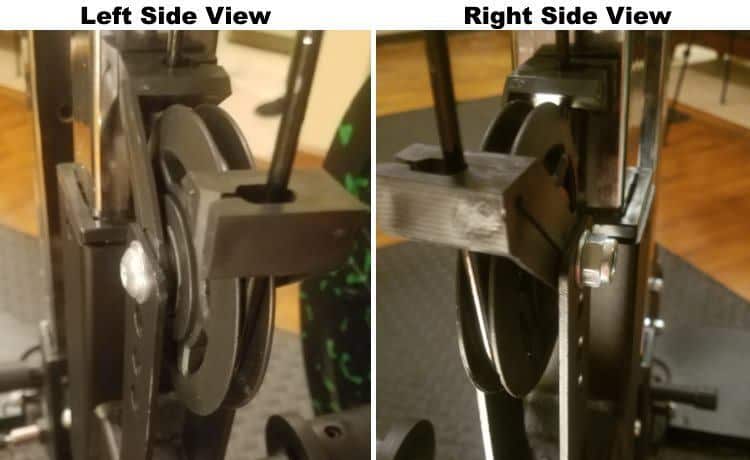 Need additional help with the above-pictured pulley setup? Here's my instructions describing the correct order for installing the parts:
Washer goes on bolt
Bolt goes into the left side of the bracket
Bolt then goes into the small "bearing" which itself is inside rear cable guide piece (it inserts right in the hole that's cut out for it).

NOTE: This "bearing" is the the small piece that looks like a flat black olive; not to be confused with the other large "bearing" I mentioned earlier.

Bolt then goes into the pulley
Bolt then goes through the other bearing (the bearing should be inside the front cable guide piece)
Bolt then goes through the right side of the bracket
Washer goes on end of bolt
Nut goes on end of bolt
Clip the front cable guide onto the front side of the cable; clip the rear cable guide onto the rear side of the cable
Tighten the bolt
You can rotate the cable guides slightly if needed
OTHER NOTES/TIPS:

Make sure cable is inside the bracket first, under where the pulley will go.
It's easier if you line up the pulley and all the plastic pieces in the correct order first. Then, holding it together, slide it between the brackets as you insert the bolt through. If you try to it piece by piece, it gets messy (bearings pop out, pulley moves out of place, etc.).
Install the pulley in the highest of the four holes on the bracket. I initially had it on a lower setting. It turned out that this was making the cable too tight, which made it harder to adjust the height settings.

NOTE: This is what worked for my setup; it's possible your setup will work better by installing the pulley on a lower hole in the bracket.
I spent multiple paragraphs going over these couple of flaws in the instructions. However, they are just a couple of small steps within a much larger installation. I don't want to overshadow the fact that the rest of the installation was very straight-forward.
I really appreciated having good instructions overall (i.e. for everything but the crossover). This saved a ton of time compared to if they had been ambiguous or incomplete instructions, which is not uncommon with home gym equipment. For example, I had some major frustrations in the past when putting together my Titan X-3 rack and the Titan X-3 Monolift, which had terribly vague instructions.
I was able to put the base MyRack unit together very fast. The Lat Pulldown/Low Row Attachment required paying more attention to the steps, but I got it assembled pretty quickly as well.
The pull up bars were very straightforward. However, the heavier pull up options in particular will be a physical struggle if you don't have someone helping you. You need to be on a ladder working overhead. I had someone help me with everything except the pull up bars! Whoops.
All other attachments either required either no assembly at all, or just one or two bolts.
Summary
Overall, I give the MyRack 4.5 out of 5 stars. It's the best budget power rack on the market for home gym use.
More specifically, it's the best complete home gym solution when you buy the MyRack with the Lat Pulldown/Low Row Attachment and/or both Cable Crossover Attachments, plus whichever other attachments you want.
If you do buy the MyRack, you should only really do so if you also get at least one of those two major attachments. The Lat Pulldown/Low Row and Cable Crossover Attachments are what really set the MyRack apart from the competition. They add so much value in terms of exercise variety, that you'd be missing out if you didn't get at least one of them.
Remember, you can purchase them separately later if budget is a concern. I personally recommend prioritizing the Lat Pulldown/Low Row Attachment since it's the best bang for your buck MyRack attachment, in my opinion.
I do not recommend the MyRack if you're already in the advanced to elite strength range. You would be better suited for a commercial grade power rack with at least 11 gauge steel. The Rep PR-4000 would be a good choice in this scenario, since it also has a lat pulldown option.
Use Coupon Code KING5 for 5% Off
If you decide the MyRack is the best power rack for you, be sure to use code KING5 for 5% off. This code is valid on ForceUSA.com, ForceUSA.ca and GymAndFitness.com.au.
Please don't hesitate to ask me any questions in the comment section below.