This Force USA X15 review will give you all the information you need to determine if this compact, half-rack / functional trainer multi-gym is right for you.
Model
Pros & Cons
Rating

Force USA X15 Multi-Trainer

Use code KING5 for 5% off

Pros:

A 6-in-1 machine that you can uprgade to a 9-in-1 machine
Uses a selectorized weight stack system that allows for rapid weight adjustment
Beefy build quality, featuring 3"x3" uprights and crossmembers made of 11-gauge steel
The half rack design provides a compact, space-saving footprint
Includes a well-built dedicated lat pulldown seat attachment with integrated leg holder
A relatively tall rack height ensures nearly all lifters get a full stretch on lat pulldowns
Jammer arms are available as part of the optional upgrade kit
Super smooth rollers on the pulley trolleys make for effortless cable height adjustments

Cons:

I'd prefer 2" hole spacing so more third-party attachments would be compatible
The max resistance per stack is 144.5 lbs (2:1 ratio), which is plenty for most exercises, but strong lifters may want more for rows and pulldowns (there are some workarounds to go heavier if you get creative)

Rated 4.8 out of 5 in Multi-Trainers

View product page
In a nutshell, here is what makes the Force USA X15 Pro Multi-Trainer special:
Compact half rack
Strong 3"x3" 11 gauge chrome-finished steel uprights featuring 1" holes
Functional trainer with two 289 lb selectorized weight stacks and a 2:1 pulley ratio
92" rack height with plenty of room for seated lat pulldowns even if you are taller
Several attachments, some standard and some optional – including jammer arms, lat pulldown seat, shelves and low row footplate to name a few
The base unit gives you a 6-in-1 gym while the optional upgrade kit expands it to a 9-in-1 gym
Sound like the unit you need? Keep reading and find out if this multi-trainer meets your training needs.
I should note that the X15 is very similar to the X20. The main difference between these two Force USA X-Series units is the type of squat rack. The X15 offers a half rack while the X20 provides a full squat rack.
This Force USA X15 review doesn't hold back any punches. Along with detailed information on the features and specifications, you'll find out what I like most about this trainer and where I think Force USA could make some improvements.
You'll also get a full comparison of the X15 to Force USA's popular G-Series All-In-One Trainers in case you're looking at one of those units as well.
RELATED:
What Comes with the Force USA X15?
The Force USA X15 Pro Multi-Trainer is sold as a base unit by default, with some attachments included standard.
You can expand the functionality of the base unit by purchasing the optional upgrade kit, which includes more attachments that you may want.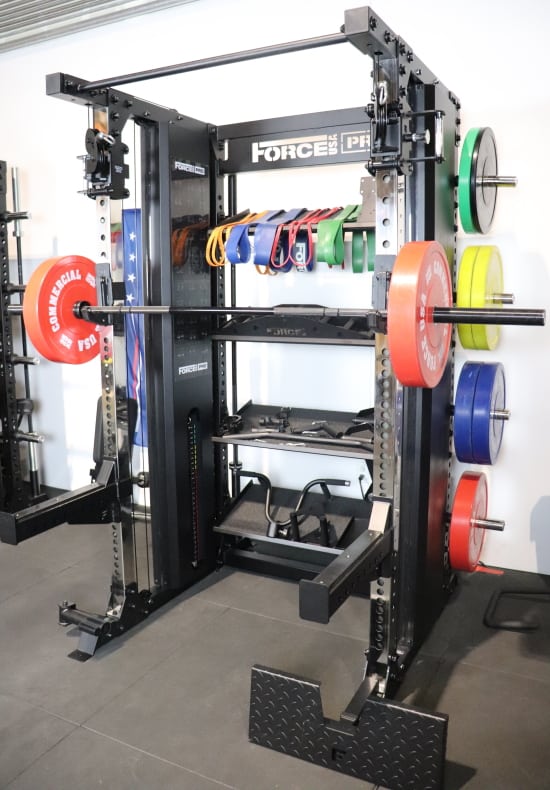 Buy the Force USA X15 – Use KING5 for 5% OFF »
In this review, I'll cover not only the base unit but the upgrade kit as well. This should help you decide if the upgrade kit makes sense for you.
Force USA X15 Base Unit
The Force USA X15 base unit gives you a 6-in-1 gym. The base unit includes the following 6 exercise stations:
A half rack with:

Sandwich j-hooks
Safety spotter arms
Barbell collars

Functional trainer with:

2 x 289 lb selectorized weight stacks with a 2:1 pulley ratio
2 exercise charts
2 extension chains
7 carabiners
8 cable handle attachments including:

Long Straight Bar
Short Straight Bar
Lat Pulldown Bar
Triceps V-Bar
Close Grip Row Handle
Triceps Rope
Nylon Stirrup Handles
Ankle Cuff

Low row station

Includes a removable steel low row footplate attachment that can be installed on either foot of the rack for cable rows.

Chin up station

Provides a multi-grip chin up bar and a straight chin up bar

Landmine / Core trainer station

Includes a removable landmine attachment that installs on either of the front feet of the rack

Suspension trainer station

Includes a sturdy ring on the upper front cross member to hang your suspension trainer or other training accessories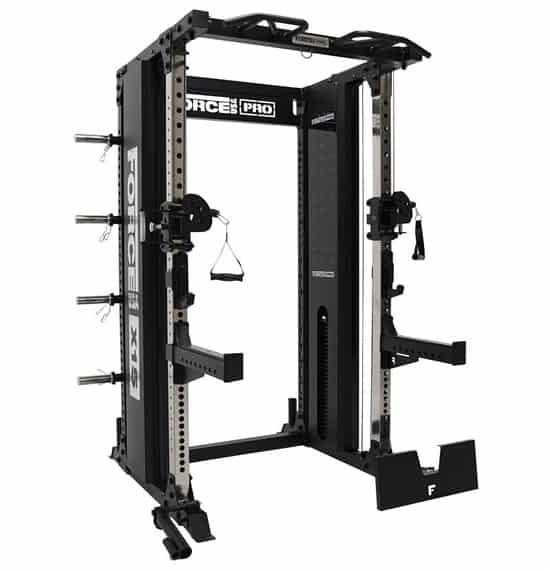 In addition to exercise stations, the Force USA X15 offers these standard storage features:
Plate Holders

Provides 8 weight plate storage pegs

Barbell Storage

Offers 2 vertical barbell storage sleeves on top of the rack feet at the rear of the gym.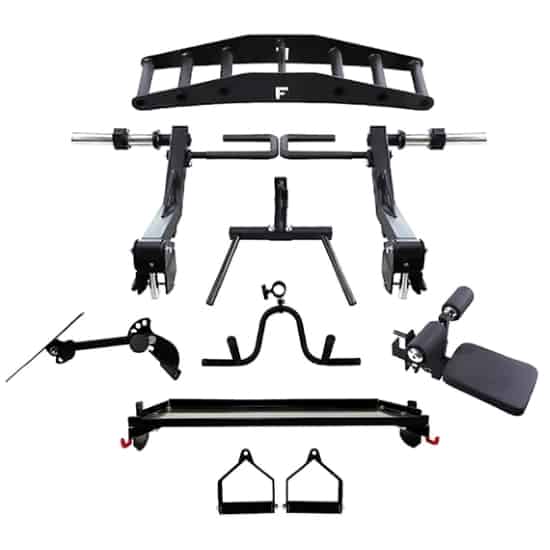 X15 Upgrade Kit
Upgrade your Force USA X15 from a 6-in-1 unit to a 9-in-1 trainer with the optional upgrade kit. Purchasing this kit provides you with 3 high-value attachments:
Lat pulldown seat
Do seated lat pulldowns when you attach the kit's secure lat pulldown seat (with adjustable leg holder pad) to either upright.
Jammer Arms
The pair of jammer arms set attaches to any of the rack holes allowing you to emulate an array of plate-loaded Hammer Strength-style machine exercises.
Dip station
Provides a Matador-style (Y-dip) dip bar you can attach to a single upright at the height of your choosing.
The upgrade kit also provides these accessories:
Metal Stirrup Handles (cable attachment)
Multi-Grip Lat Pulldown / Row Handle (cable attachment)
Multi-Grip Landmine Handle (landmine handle attachment for t-bar rows)
In addition to functional accessories, the upgrade kit gives you options for extra storage to make the most of your trainer's footprint. This includes:
Storage Shelves

4 38"x16.5 storage shelves can be installed in the rear of the unit. Each of the shelves provides 2 storage hooks.

TV mount

Use the TV mount and install a TV up to 32" to watch workout videos, sports or other entertainment.
Dimensions
When considering a home gym, it's important to pay close attention to the dimensions of the unit. Keep in mind the height of your ceiling and the square footage of the room when you review the height and footprint dimensions.
Force USA X15 Dimensions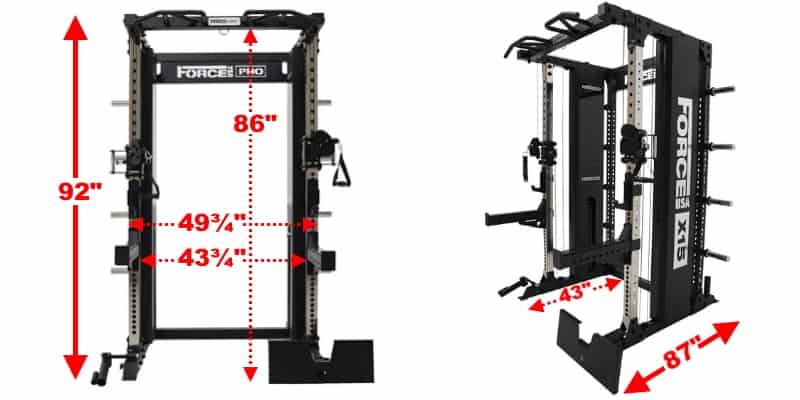 External Rack Width (Outside the Uprights): 49 ¾"
Internal Rack Width (Inside the Uprights): 43 ¾"
Internal Working Depth (Lower Rear Frame Support to Front Feet): 43"
External Rack Height: 92"
Internal Rack Height: 86"
Unit Footprint: 57" D x 49 ¾" W
Unit Weight: Approx. 1400lb lbs (X15 base unit shipping weight is about 1500 lbs plus an estimated 100 lbs worth of packaging material)
Minimum Space Requirements
This is where you really need to think about where you are going to use your unit. Not only do you need room for the equipment itself, but you also need enough space to load and unload weight plates and do exercises.
This is the minimum amount of space I recommend:
A minimum of 1 foot of clearance on both sides of the bar. Because barbells usually run about 86 inches (7'2"), give yourself a space that is at least 9'2" wide.
No extra room is required for the rear. Even if you place the feet flat against the wall, you will still have clear access to the plate and storage areas.
Allow 5 feet in front to perform every barbell and cable exercise. If you do landmine exercises straight out in front of the rack, allow about 7 or 8 feet. In a pinch, you could angle the landmine bar to the side, which should keep you within my recommendation of 5 feet of frontal clearance.
10" above the chin up bar provides enough space to perform chin ups without smacking your head on the ceiling. If you're using the multi-grip chin up bar, the minimum ceiling height should be 100.75" (8'4.75") or 99.5" (8'3.5") for the straight chin up bar. If you have lower ceilings, the unit may fit, but you won't have a full range of motion when performing chin ups.
Force USA X15 Review: Features
Now that you've seen the big picture, let's dig down to the details. Below you'll find an in-depth opinion on every feature. So let's go!
Space-Efficient Design
The Force USA X15 gym makes very efficient use of space.
In fact, it's almost as compact as most of the Force USA G-Series All-In-One Trainers; it's actually more compact than the G20.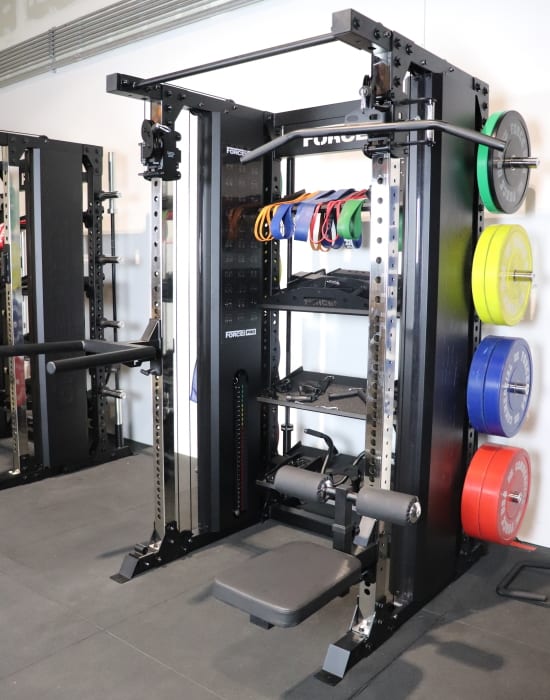 Even with its condensed profile, you still get all the capabilities of a squat rack (and its attachments) and a functional trainer in a footprint the size of a dedicated 4-post power rack.
Otherwise, you would need a dedicated functional trainer machine plus a dedicated half rack or power rack, which would require 2-3x the amount of space as the X15.
The X15 is much more compact than the X20 unit. The space savings come at the expense of the power rack. The X15 gives you a half rack, while the X20 offers a fully enclosed power rack.
If space is an issue, you should give serious consideration to the X15. It requires about 30" less depth than the X20.
High-Value Design
The Force USA X15 Pro Multi-Trainer isn't a cheap piece of equipment by any means. But it packs a great deal of value in its small footprint.
Value comes from:
The uber space-saving design gives you both a squat rack and functional trainer in a compact footprint
A strong steel frame that handles any weight you can handle
Versatile attachments that expand your exercise possibilities and allow you to perform all the popular movements
Rapid-change selectorized weight stack system that's faster and easier to adjust than a plate-loaded system
You may pay a lot of money, but you get loads of utility, versatility and functionality with the X15.
You could save some money by buying the power rack, functional trainer and lat pulldown/low row tower separately, but that's only an option if you have the room to put them.
The most valuable feature of the X15 is the compact design. Every home gym owner knows space is the highest consideration when outfitting your workout space.
Versatility
The Force USA X15 is incredibly versatile as it gives you:
A half rack
A functional trainer
Various attachments for the half rack and functional trainer, which create even more exercise stations when installed
The base unit gives you an at-home 6-in-1 multi-gym you can use to perform an estimated 200 exercises…
…If you add on the upgrade kit, you'll have a 9-in-1 machine with everything you need to do more than 225 exercises!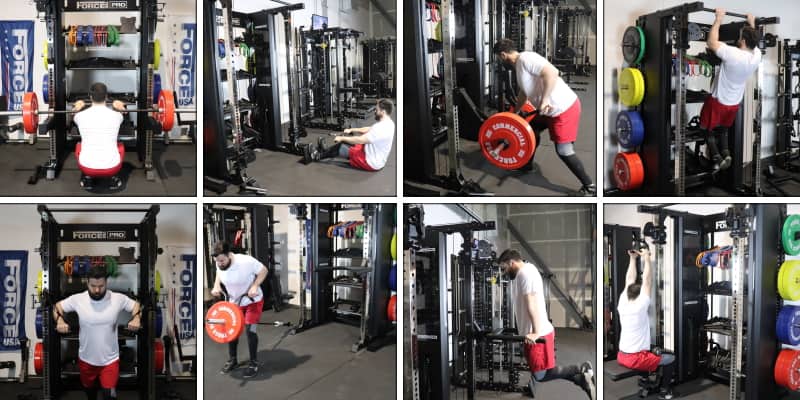 Here's an overview of what you can do at each station:
The squat rack (a half rack) lets you do more than 40 barbell exercises. This encompasses any exercise that requires a barbell and where j-hooks or spotter arms provide safety and convenience. You can do anything from squat and bench to curls and shrugs and everything in between.
The functional trainer provides access to a minimum of 75 cable exercises and if you are creative, way more than that. Each pulley offers you an impressive 34 height settings. This gives you the ability to achieve the exact angle you want on any unilateral or bilateral cable movement. My favorites are cable flies, curls, pushdowns and lateral raises, but that's just the tip of the iceberg.
The lat pulldown station offers plenty of variety. You get 3 different grips widths (narrow, medium, wide) and 3 different hand positions (pronated, supinated and neutral) for a total of 9 lat pulldown variations and that doesn't include the variations you achieve by using other cable attachments like the rope. Lat pulldowns are possible on the X15 base unit (by sitting on a bench and finding a way to keep your legs down). But, if you have the budget for the upgrade kit, go for it because you'll get a dedicated lat pulldown seat attachment with an integrated adjustable leg holder that makes the setup a snap.
The low row station includes a steel footplate attachment that ensures your feet and butt will stay planted so you don't forward when rowing heavier weight. You have variety in grip width (narrow, medium, wide) and grip orientation (pronated, supinated and neutral) with the low row station. Mix them up and there are 9 cable row variations plus whatever other creative variations you can think of with other handles.
The multi-grip chin up station provides straight, perpendicular and diagonal segments to accommodate different grip widths and positions (i.e., supinated, pronated, in-between). With this setup, you can do a minimum of 12 pull up variations. Or, you can opt to use the straight chin up bar for 5+ basic pull up variations. The unit ships with both bar options.
The core trainer station gives you 30+ landmine exercises. This includes exercises like landmine rotations and presses that focus on your core and shoulder. A multi-grip landmine handle attachment comes with the upgrade kit for back movements including t-bar row variations.
The suspension trainer station offers a secure and well-positioned place to attach a suspension training unit that you purchase elsewhere (think TRX). Now you can perform 80+ suspension trainer exercises that rely on your body weight for resistance. You can also use the suspension trainer to hold a heavy bag or even hang resistance bands if you are into band-assisted dips and pull ups.
The jammer arms are included in the upgrade kit. Use them to perform 20+ lever-style machine exercises that emulate the exercises you perform using Hammer Strength machines at the commercial gym.
The dip station is also part of the upgrade kit. It gives you multiple dip variations. Change up your grip or try out one of these less conventional dip variations.
Commercial Build Quality & Lifetime Structural Warranty
The Force USA X15 is built to last. The base unit frame components are built with commercial grade 3"x3" 11-gauge steel tubing throughout. This includes the:
Uprights (squat rack area and weight storage uprights)
Crossmembers
Feet
In addition, changing weights is fast and easy using the high-quality, super smooth selectorized weight stack system.
Sure, there are things I think could be improved (keep reading to find out what they are), but this unit is well built overall. Force USA even advertises it as a unit capable of commercial use.
That said, I don't see them as appropriate for use in a big box gym chain. For one, this unit is made for use in places where space is limited and large commercial gyms have plenty of space filled with specialized equipment. Secondly, the X15 has many different attachments that would probably be lost or abused in a large commercial facility.
Still, I can see a few commercial applications where the X15 would be a good choice:
Small commercial gyms
Small athletic training facilities
Personal training facilities
Athlete-focused physical therapy clinics
Gyms in apartment buildings or hotels
Gyms in police stations or firehouses
I still think the best application of the Force USA X15 is the home gym. It's a smartly-designed and sturdy piece of equipment for home use and in other low-traffic areas.
The Force USA X15 comes with a lifetime structural warranty from Force USA. You also get the security of 2 years warranty for all cables and pulleys. All rack accessories are covered by a 90-day wear and tear warranty.
Half Rack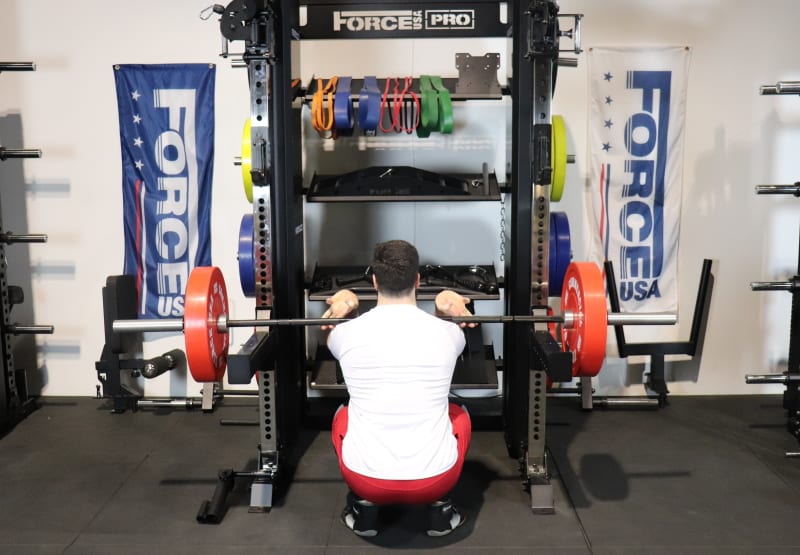 Buy the Force USA X15 – Use KING5 for 5% OFF »
The squat rack is a half rack, which is a 4-post (including the weight storage and weight stack area) open squat rack.
By including a half rack instead of a power rack, Force USA is able to make the unit more compact. The X15 saves 30" of space compared to the X20, which is the same as the X15 except that it has a fully-enclosed power rack instead of a half rack.
That's a big difference for small spaces.
The X15 half rack design also puts the uprights closer to the weight stack compared to the X20. This means you use less time and energy when adjusting the weight on the functional trainer. Now, it's not a big deal – but it does save you 2 steps. That's energy you can put into your workout. Or you could just be lazy like me. ;-P
Of course, you lose out on a bit of security when you go for a half rack instead of a power rack. Some lifters who squat very heavy may feel safer by having uprights both in front of and behind them. Still, a half rack is generally very safe even for heavy lifts.
I should also note that you won't get flip-down safety spotters with the X15. Those only come with the X20 since you need 2 sets of uprights to install them. All you need for safe lifting on the X15 half rack is the pair of safety spotter arms for the outside of the rack.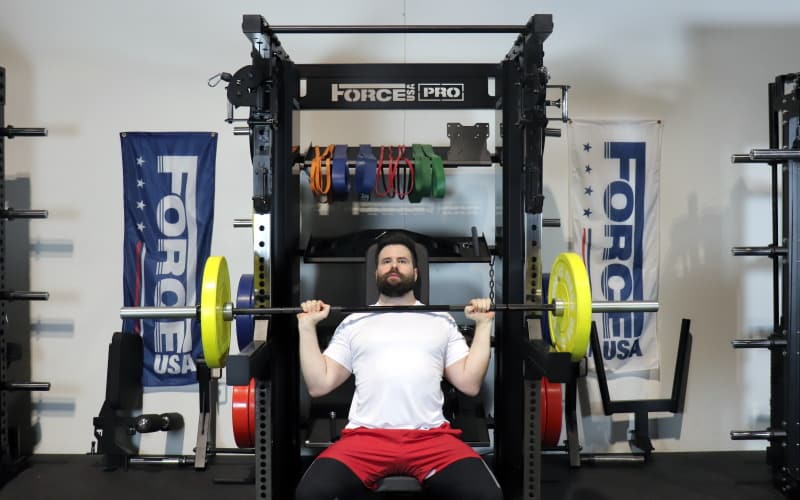 On a related note, this means that you can't set up as many exercise stations simultaneously on the X15 as you can on the X20. That is, the X20 lets you set up an exercise station on the inside of the rack (e.g. squats) and a separate exercise station on the outside (e.g. jammer arm RDLs). Whereas, you only have the outside area to work with on the X15.
There are quite a few barbell exercises you can do with the X15 half rack. Here are just a few to get your imagination going:
Flat Bench Press
Incline Bench Press
Close Grip Bench Press
Overhead Press
Push Press
Squat
Front Squat
Split Squat
Reverse Lunge
Good Morning
Rack Pull
Rack Clean
Shrug
Power Shrug
Biceps Curl
Now the X15 doesn't come with the barbell, weight plates and flat or adjustable weight bench that you need to do those movements. So you will have to buy those separately if you don't already own them.
Half Rack Frame
The frame of the X15 half rack is made with 3"x3" 11 gauge steel tubing. This includes the uprights, feet and cross members. That's commercial grade construction and similar to what you get on units from the other major brands like Rogue, Rep and others.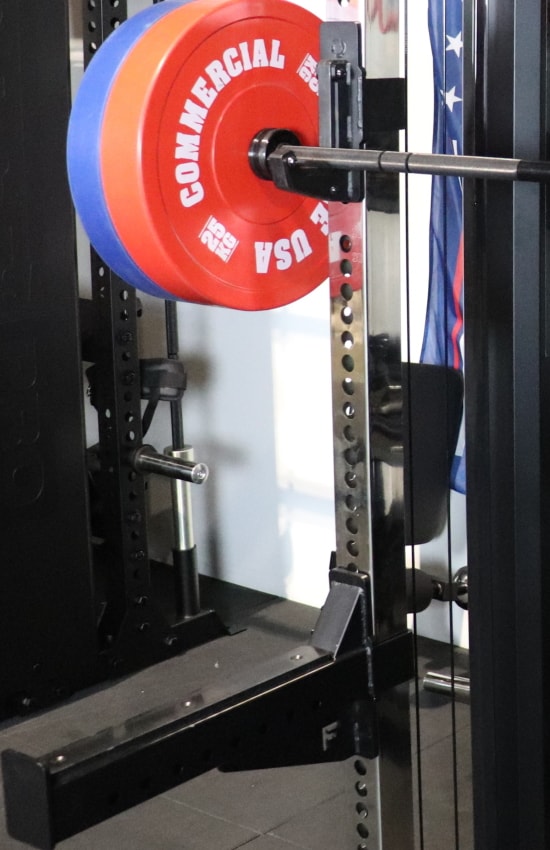 The unit has a beefy 992 lb weight capacity rating. If you want a 1,000-pound rating, you are out of luck and can blame the blasted metric system. See, they capacity tested it at 450 kg and then converted those kilograms to pounds.
I'm pretty sure that the actual weight capacity rating is higher than what they tested. I believe this because the G-Series units sport the same rating and their uprights are only 2"x2" and their spotter arms are much less robust.
Half Rack Dimensions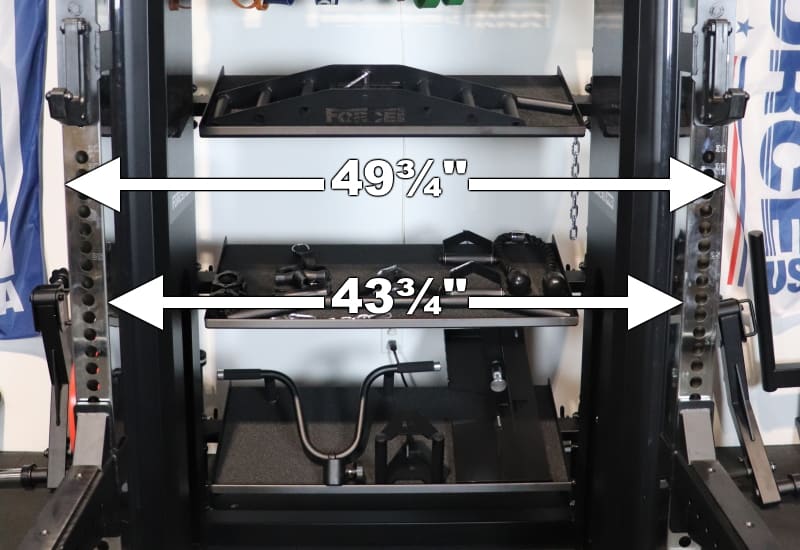 The external width measures the distance from the outside of the left upright to the outside of the right upright. For the Force USA X15, this is 49.75".
Now you'll notice that this gives you more room than most other 3"x3" power racks sold. For comparison purposes, the 3"x3" racks from Rep and Sorinex both give you only 47" in external width. Titan's Titan Series racks are 48" wide. The only thing close is the Rogue Monster racks with a 49" external width.
So you want enough external width to be comfortable, but not so much that it's difficult to rack and unrack the barbell due to the bar collars hitting the j-hooks.
In my experience, if you are using standard j-hooks, this becomes an issue when you get around 49" wide. Of course, the X15 comes in slightly wider at 49.75". I was pleased to find that Force USA gets around this by using sandwich j-hooks that provide a narrower racking surface relative to the width of the uprights. That inch of clearance on the outside of each j-hook makes all the difference. I didn't have any problems racking and unracking the bar during my testing.
The internal width measures the distance from the inside of the left upright to the inside of the right upright. For the X15, this is 43.75".
You need an internal width that gives you enough room to use an extra wide grip on squats or bench press without smashing the pinky fingers on both hands. The X15 gives you plenty of room so this isn't an issue.
Half Rack Holes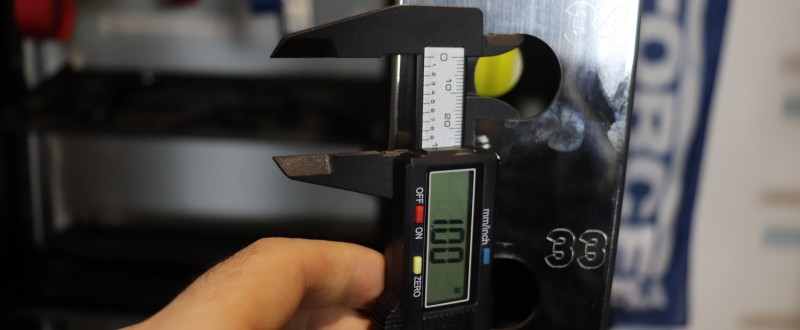 The Force USA X15 holes have a 1" diameter. This bigger hole size lets you use stronger attachments than possible with racks that only have ⅝" holes.
You'll also find holes that are 1" in diameter on the Rep PR-5000 Series Racks, the Titan Series rack from Titan Fitness, all the Rogue Monster Series racks and all Sorinex racks. This means it is possible to use certain attachments made by other companies on the Force USA X15.
But only certain third-party attachments will work with the X15 because of its non-standard hole spacing. Also, the sides of the uprights don't have attachment holes. So you can only use third-party attachments that install on the front of the uprights and only need one hole.
The hole spacing is 2.75" (70mm) apart on the upper half of the uprights and 1.375" (35mm) apart on the lower half of the uprights.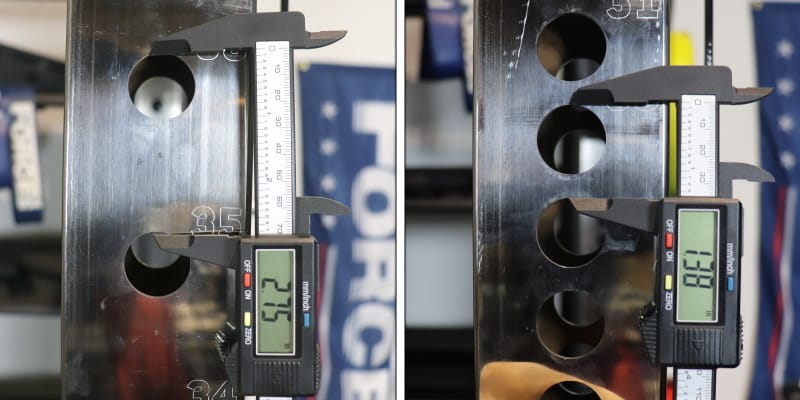 You may think this is like Westside spacing. And it is kind of like that. But technically, Westside hole spacing technically using uses ⅝" holes that are spaced 2" apart in the upper part and 1" below that.
This hole size and spacing configuration on the X15 varies slightly from Westside spacing but aims to provide you the same result: The ability to obtain the precision you want when positioning the j-hooks and spotter arms on bench press, where those small increments matter most. At the same time, you still have great hole spacing for setting the j-hooks for squats where those small increments really aren't as important. And when it comes to setting the spotter height for squats, you don't sacrifice the high precision necessary for safety if you fail at the bottom.
Don't get me wrong, this Westside-esque spacing comes in handy when you want uber precision. But honestly, I think it would have been better to just go for consistent 2" hole spacing. This is why:
The brands that sell 3"x3" racks with 1" holes also provide 2" hole spacing. If the X15 used this spacing scheme, you could use even more third-party attachments that require insertion into multiple holes. You could really customize your rack then, and I think that would be sweet.
For the most part, 2" hole spacing provides all the precision most lifters need.
The Force USA X15 makes it easy to figure out which hole to use to install your attachment because they laser-etched numbers on the holes.

Where the holes are spaced closer together on the lower half of the uprights, a number is displayed every 5 holes. On the upper half of the uprights where the holes are further apart, each hole is numbered. It's a useful feature to have.
I still think they could improve on it:
There should be a number for every hole on the lower half of the uprights. Those holes are so close, that it's easy to make a mistake when setting your j-hooks or any other attachment. Even if it saves just a few seconds, I prefer to not waste time counting holes to the nearest number.
The numbers need to stand out more. They should cut the numbers all the way through or at least laser-etch them more deeply.
Half Rack Attachments & Accessories
The Force USA X15 Pro Multi-Trainer includes the following attachments and accessories for the half rack:
Sandwich j-hooks are used to rack and unrack the bar.
Safety spotter arms will catch the bar in case of failure.
Weight collars that secure the weight plates to the barbell.
Other attachments connect to the half rack uprights (e.g. jammer arms, dip station, lat pulldown seat) to create separate exercise stations. I'll address those further on in this Force USA X15 review. So keep reading!
For now, let's look at each of the primary rack attachments and accessories in more detail.
Sandwich J-Hooks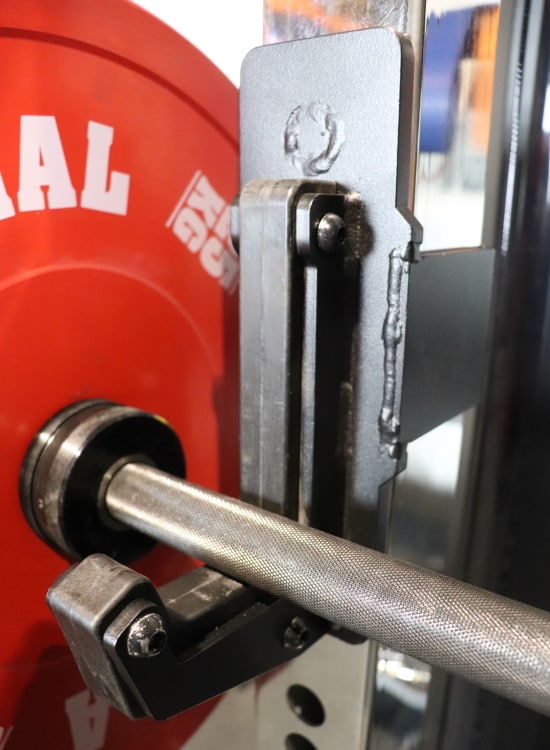 The Force USA X15 includes sandwich-style j-hooks. They use the term "sandwich" because the protective insert is sandwiched between two sides of the frame. Sandwich j-hooks are stronger and more functional than traditional j-hooks.
In addition, the sandwich j-hook's lip and underside are also protected by the insert. Thus, your barbell is protected if you accidentally hit the front or bottom of the j-hook during your set or while racking.
Finally, sandwich j-hooks are narrower so they won't take up the full width of the uprights. This gives you room to use a slightly wider grip if you want.
You also benefit from a little extra clearance on the outside so there's less chance of bumping the barbell collars into the j-hooks – something that's necessary on the X15 because the uprights are already so far apart.
I give these sandwich j-hooks a thumbs up. They're much better than the j-hooks used on all of the G-Series units except the G20, which uses roller j-hooks (the roller feature is very useful on the G20 j-hooks, but the overall build quality of the X15 sandwich j-hooks is superior).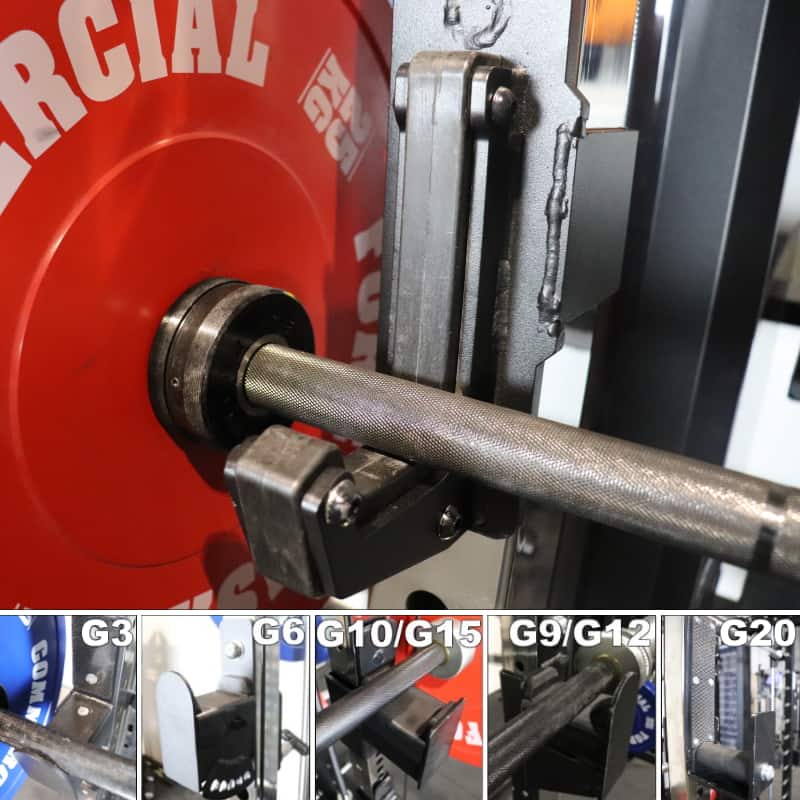 The protective insert on the X15 sandwich j-hooks is made with UHMW plastic. That's a great choice in material because UHMW is strong and durable. That means it will protect the knurling and finish on your bar better than other materials they could have used. There is a reason UHMW is the industry standard.
Most of the Force USA G-Series j-hooks use rubber inserts and the j-hooks on the Force USA MyRack power rack are made of nylon plastic. So the UHMW on the X15 is a major upgrade.
If your heart is set on roller j-hooks or another style of j-hooks, just buy them from another company. As long as you buy j-hooks made specifically for a 3"x3" rack with 1" holes they should work with no problems.
Safety Spotter Arms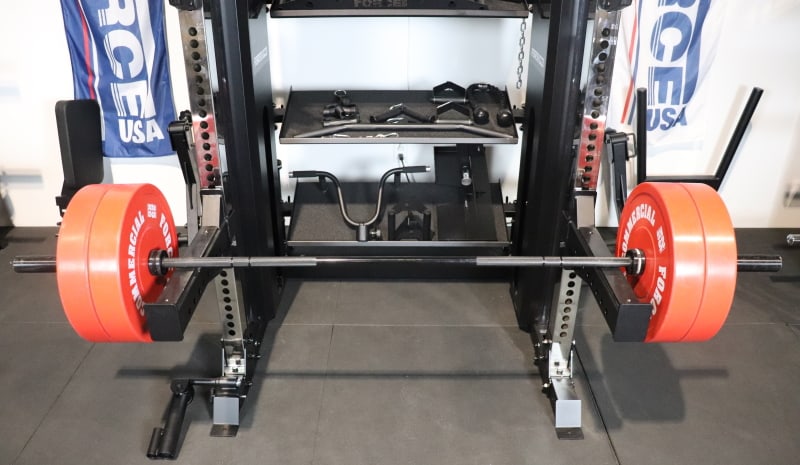 The spotter arms on the X15 are very beefy and they look great too. You can lift confidently knowing that these will safely catch the bar if you ever fail on a lift.
Each spotter arm is 22 ⅜" from the tip to the upright. If you are squatting in front of the rack, you have plenty of room to walk out your squat while keeping the spotter arms under the bar.
I think this is a major improvement over the G-series models. Those units only have 15" spotter arms. If you squat in front of the rack with the G-series, you can't step too far back from the uprights. I'm glad to see the X15 avoided that issue.
The UHMW protective insert on top of the spotter arms protects the barbell from scratches and dents that are otherwise inevitable when setting or dumping the bar. I like the glossy surface for no other reason than it just looks cool. Though I'm sure it'll eventually lose some of its luster once it becomes well-used.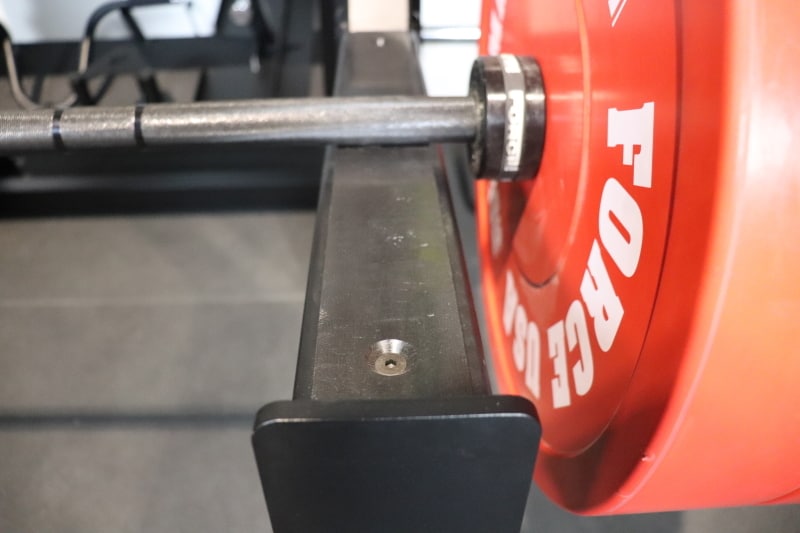 Recessed screws secure the insert to the spotter arms, meaning the screw heads are below the protective surface. Because the heads are recessed, they can't scratch your barbell.
Each spotter arm includes 8 band peg holes that are spaced at even intervals. I like the flexibility this gives you to be creative with band resistance exercises.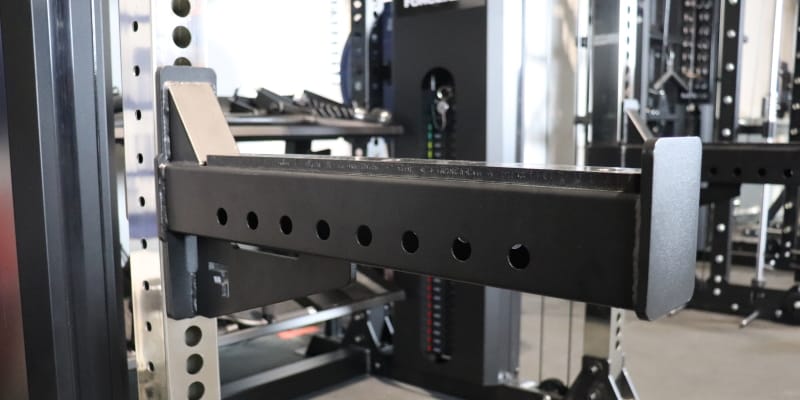 If you have a dip/pull up belt you could utilize the band peg holes for band-resisted pull ups. Start by setting the spotter arms as low as possible. Then connect a band across both spotter arms. Lastly, connect the band to your dip/pull up belt and proceed to do pull ups.
They laser-cut their Force USA "F" logo to the steel support that's on the underbelly of the spotter arm tube. It doesn't add functionality, but like the glossy UHMW inserts, I think it just makes it look a little cooler.
Weight Collars
The Force USA X15 includes 4 pairs of metal spring clip-style barbell collars (for a total of 8) to keep the weight on the barbell.
These bar collars are nothing special. While they will do the job, I always recommend using a better weight collar. Check out the Lock-Jaw PROs. They are stronger, easier to use and more durable so they will last longer. Even if you don't buy them when you buy your trainer, you should eventually upgrade to these collars.
Functional Trainer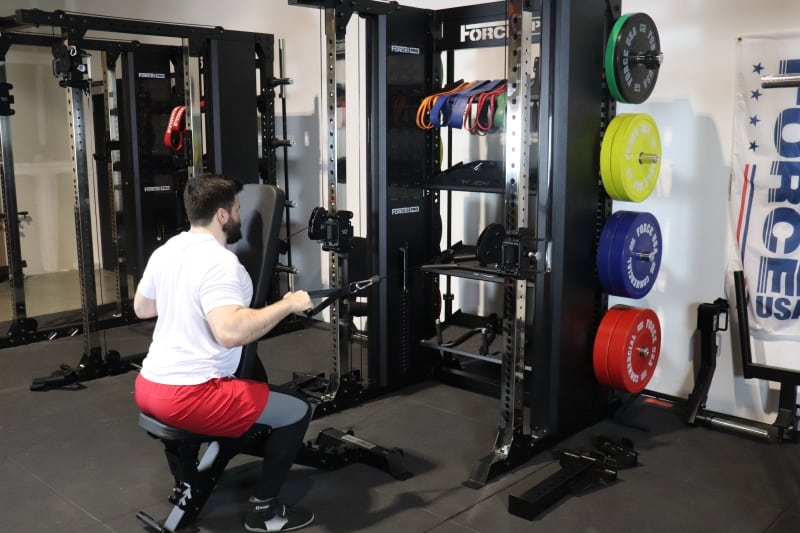 Buy the Force USA X15 – Use KING5 for 5% OFF »
Without the functional trainer, the Force USA X15 Pro Multi-Trainer would just be another half rack. But by integrating a functional trainer into the half rack, they can offer more functionality and value while keeping the footprint small.
Selectorized Weight Stacks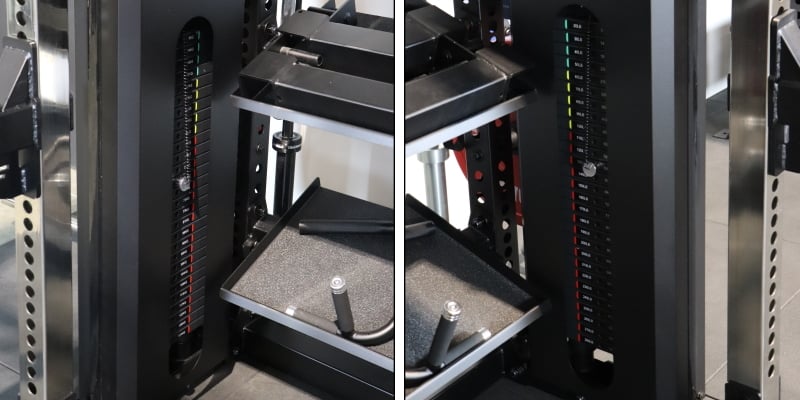 The Force USA X15 functional trainer utilizes dual selectorized weight stacks instead of plate-loaded stacks.
Changing weights using selectorized weight stacks allows you to work more efficiently and offers a great deal of convenience. I consider this to be a premium feature in a functional trainer. Instead of loading and unloading plates, you just move the pin and select the resistance you want. It is as close to effortless as you can get.
With selectorized weight stacks, you'll find circuit training, drop sets and super sets super easy. And even if you don't utilize these strategies, you'll appreciate the ease with which you set up for exercise.
While it may only take 10 to 20 seconds to load or unload a plate-loaded system, that's 10 to 20 seconds of effort that isn't going into your workout routine. Plus, consider the effort you expend stacking and unstacking the weight plates.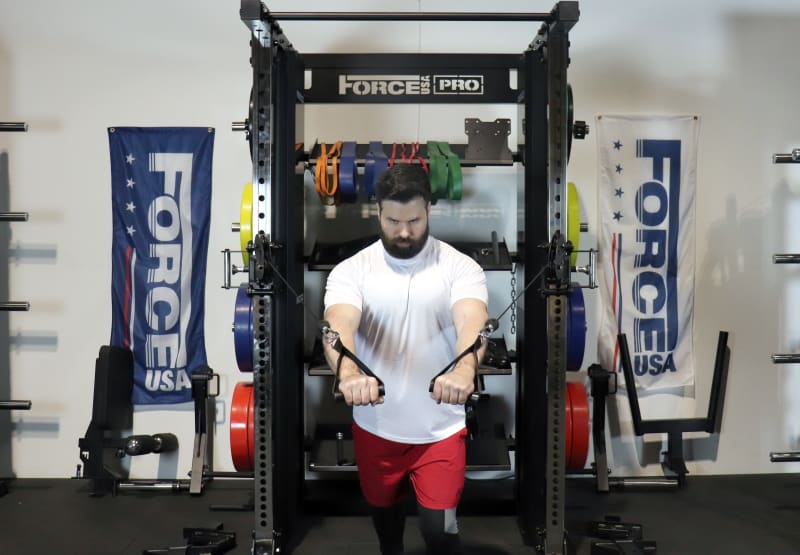 While the convenience and time-saving benefits are massive, there are a couple of trade-offs with a selectorized design compared to a plate-loaded design:
First, it just costs more to make so the purchase price is higher. That selectorized weight system accounts for a big part of the $3,999 cost of the X15.
It places an upper limit on the weight resistance. A plate-loaded system always seems to have room for more weight.
The Force USA X15 functional trainer offers a 2:1 pulley ratio. So when you select 100 lbs, for example, you feel 50 lbs of resistance.
Each weight stack on the X15 weighs 289 lbs. Each of the selectorized plates weighs 10 lbs. So, with the 2:1 pulley ratio, each stack has a maximum resistance of 144.5 lbs and each increment equals 5 lbs.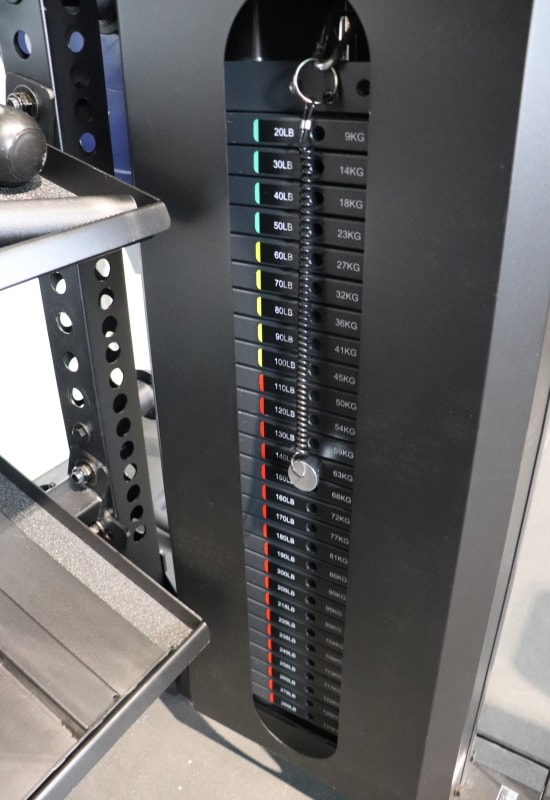 That max resistance of 144.5 lbs on each side provides sufficient weight for most lifters. But if you are a stronger lifter, you may want more weight for low rows and lat pulldowns.
Unfortunately, there are no integrated band pegs on the weight stack, like those provided on the G20. Having those would've allowed you to increase resistance beyond the maximum. I'm not sure how Force USA missed this opportunity on the X15. Bummer.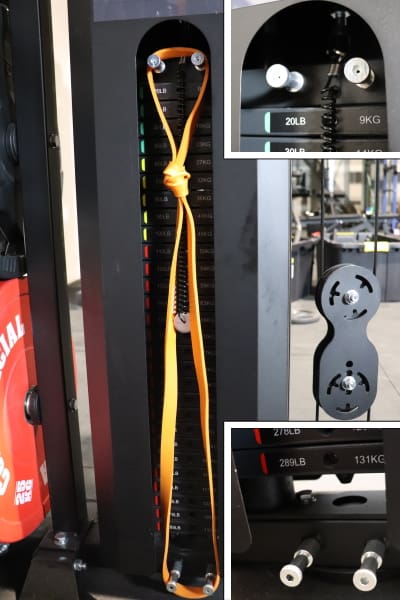 Even if they had included lower band peg holes under the weight stack on the rack feet as they did with the G6, you could use full-sized band pegs to add band resistance. But alas, they didn't.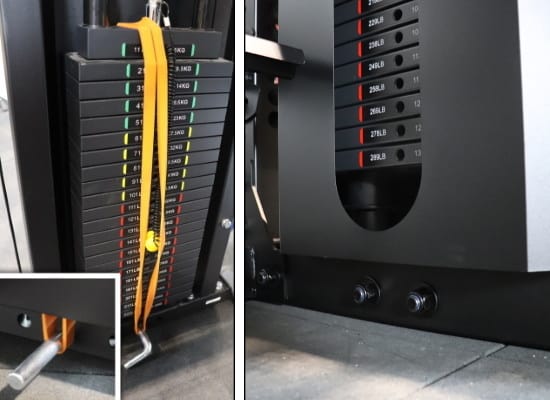 So if you absolutely need to go heavier with the X15, try this workaround to add more weight to a weight stack: Use a weight stack adapter pin like the GymPin or BSE Stacked Weight Pin and insert it into the weight stack. Then add the number of weight plates you want onto the sleeve…
…If you decide to use a weight stack adapter pin on the Force USA X15, keep the following in mind:
You must remove the weight stack panel guard otherwise the adapter pin hits the top of the panel opening.
If you put the adapter pin on the inside of the rack, you'll need to forgo the optional storage shelves. Otherwise, you can't add the weight plates.
If you put the adapter pin on the outside of the rack, you must remove all plates from the weight storage area otherwise they will be in your way.
The easiest way to go heavier is to use both weight stacks at the same time by working in the middle of the rack. For low rows and lat pulldowns, you can use the long straight bar that attaches to both pulleys (or the lat pulldown, which also has holes for two pulleys to connect to). You can also use the individual d-handle stirrup handles for lat pulldowns.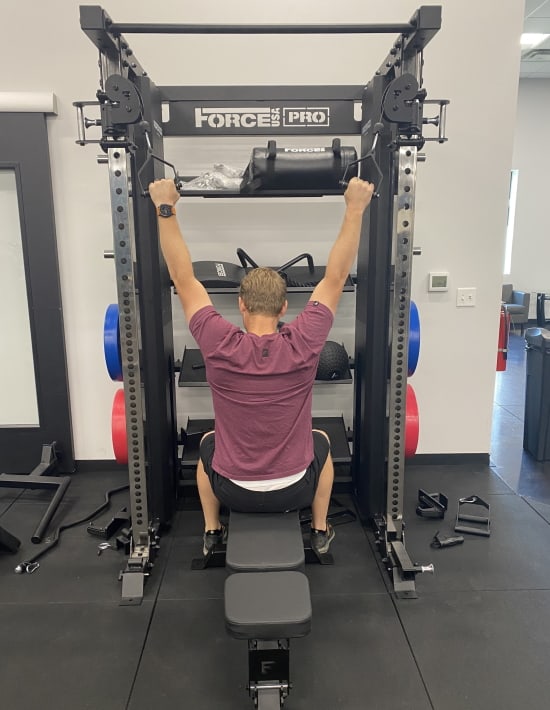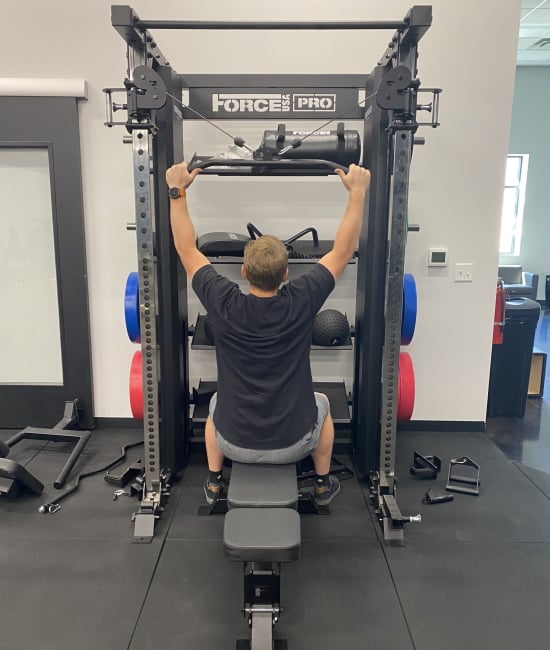 Pulley Trolleys
The Force USA X15 functional trainer uses sturdy roller-style pulley trolleys.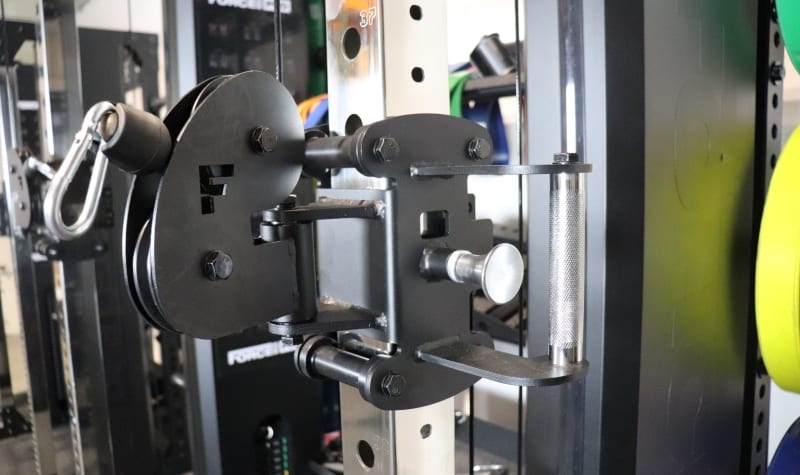 I really like this design. Adjusting the pulley height is so much faster and smoother than with the traditional-style pulley trolleys on the G-Series units. This video shows just how easy they are to use:
The chrome finish on the uprights also contributes to this smoothness compared to if the uprights were powder coated.
You get a massive number (34 to be exact) of height settings for the pulley trolley. They are only 2" apart so you have all the settings you need to achieve the perfect height or angle for whatever functional trainer exercise you want to do.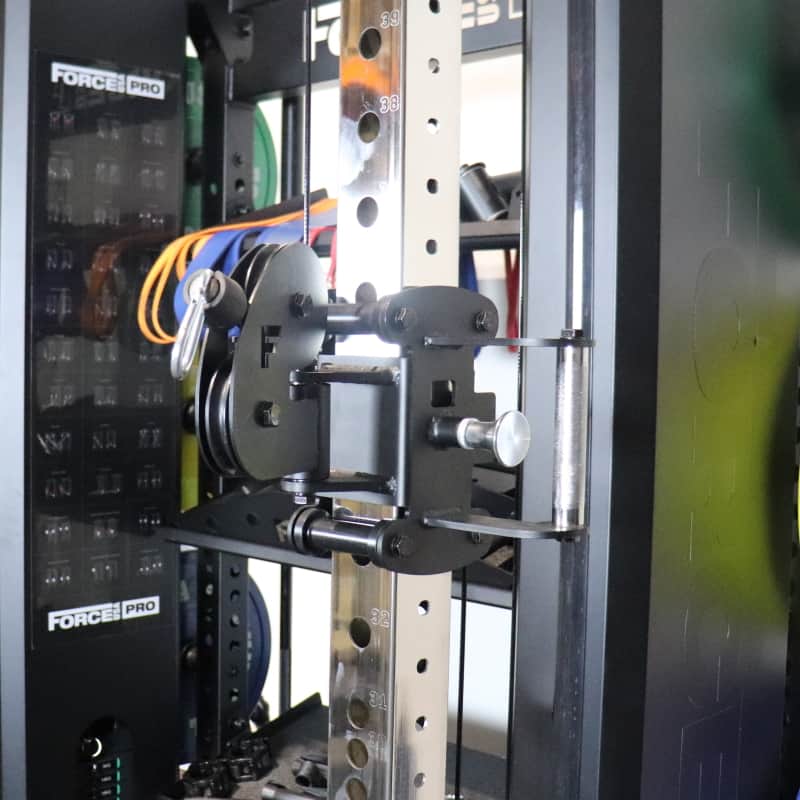 Laser etching marks the pulley height settings. They aren't easy to see, but it is still better than no markings. Force USA could step up their game by simply etching a bit deeper or (preferably) laser cutting the numbers.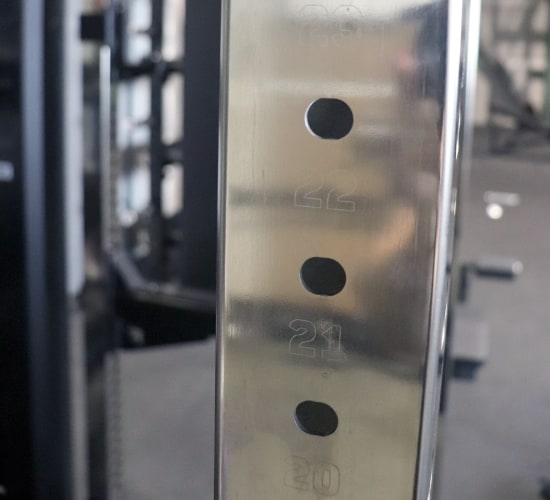 The action of the cable is very smooth no matter how much or how little weight you have. You'll feel like you're using the cable system at a commercial gym.
The cable travels a maximum distance of 86". You'll find this gives you all the clearance you need to do almost any cable exercise you can imagine. It's enough room for movements where you may want to take a few steps in front of the rack.
The width between the uprights is 49.75". That's enough room for a good stretch with cable flies. I have an extra long 6'4"-6'5" wingspan and I never felt like the pulleys were too narrow.
As a bonus, the pulleys freely rotate. If you decide you need more room, you can stand further in front of the rack and when you extend your arms out, the pulleys will rotate out until they are ~52" apart.
The only issue I encountered when testing the functional trainer was when I had a cable attachment clipped on the pulley. When you clip a cable attachment on the pulley and remove the selector pin, the top weight stack plate slightly lifts off of the rest of the weight stack. Once lifted, you can't reinsert the pin in the stack unless you press the top plate back in place.
It doesn't happen with extra light cable attachments. But still, you only need a moderately heavy handle attached to encounter this problem.
You can just press down on the top weight with your finger to fix the problem or use my hack to this problem, outlined below:
Get a second 10mm (⅜") selector pin for each weight stack.
Just keep this second pin inserted in the plate with the 20 lb sticker. Now the top plate is weighted down and it won't lift off the stack when you move the original selector pin. There's no problem keeping both pins in during use.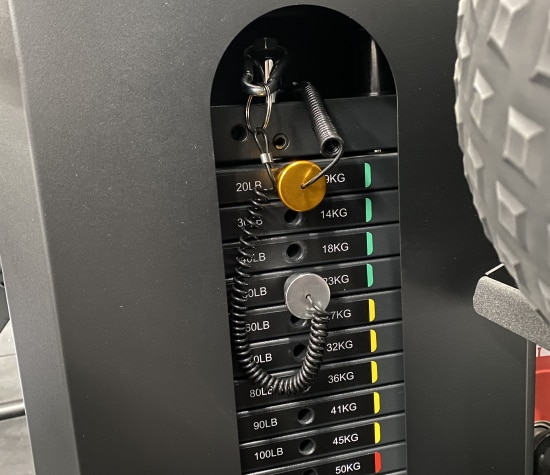 Cable Handle Attachments
The Force USA X15 base unit comes with 8 cable handle attachments and the upgrade kit provides 2 additional handle attachments.
Long Straight Bar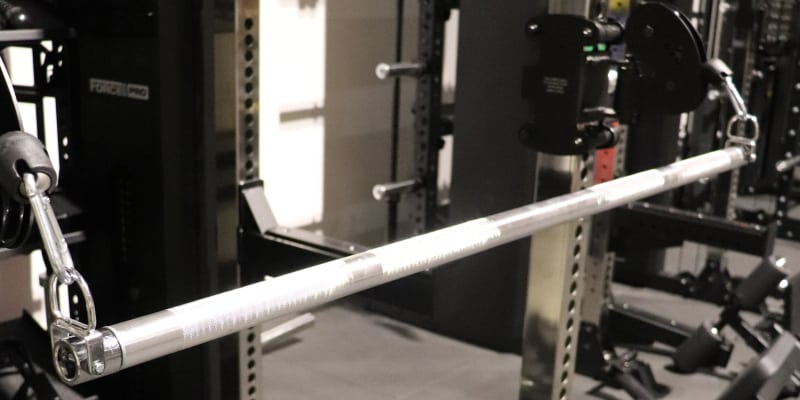 This cable handle attaches to both pulleys at the same time (though you can attach just one side for certain exercises). This is your go-to attachment for using both weight stacks together.
The bar is made from aluminum, and sports a relatively thick diameter on the handle which is mildly knurled. It's enough knurling for pushing exercises but if you are pulling heavy, I suggest you switch to the straps to get a better grip. The handle rotates, which makes for a smooth motion.
I like to use this attachment for:
Jackhammer Pushdowns
Standing Chest Press
Standing Shoulder Press
Back Squat
Low Row (middle of the rack)
Lat Pulldown (middle of the rack)
Wood Chopper (using just one pulley)
Short Straight Bar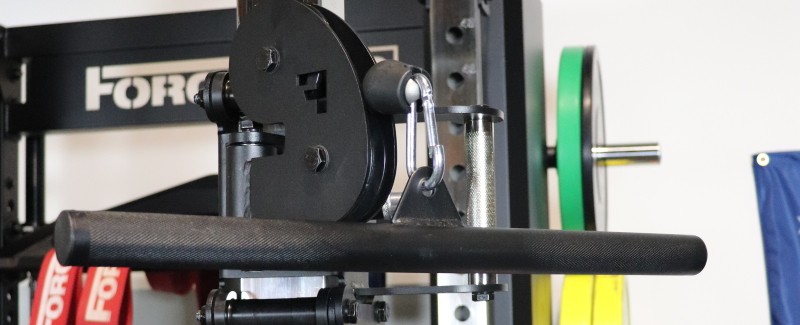 The short, straight bar is powder-coated black and the handle has a mild knurl.
The handle does not rotate and that's too bad. So while cable curls and other similar movements are still effective, they don't feel as smooth as when the handle rotates.
I like this bar for:
Triceps Pushdown
Biceps Curl
Close Grip Row
Close Grip Underhand Row
Close Grip Underhand Lat Pulldown
Lat Pulldown Bar

This lat pulldown bar is a classic. It's straight for most of its length but then angles down at each end to provide your wrists a comfortable position for wide grip pulldowns.
Like the short bar, the lat pulldown bar is powder-coated black and has light knurling. It provides a good enough grip for most sets. I just wish the knurling was a bit more aggressive knurl for heavy sets.
I like the lat pulldown bar for:
Close Grip Underhand Lat Pulldown
Medium Grip Lat Pulldown
Medium Grip Underhand Lat Pulldown
Wide Grip Lat Pulldown
Straight-Arm Pulldown
Wide Grip Row
Medium Grip Row
Medium Grip Underhand Row
Triceps V-Bar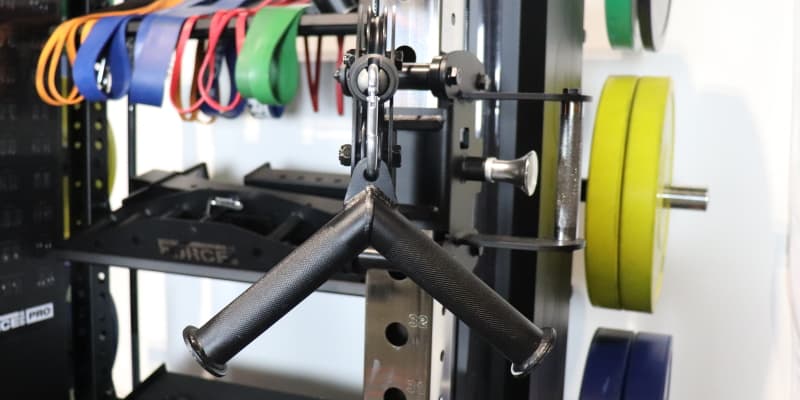 The v-shaped triceps attachment is also finished with a black powder coating. The handles are lightly knurled and have end flanges that keep your hands on the bar. The "v" in v-bar doesn't stand for versatility. It's perfect for just a handful of movements, most notably triceps pushdowns and close-grip straight arm pulldowns.
If you want to keep your hands apart in a fixed position, the v-bar attachment is better than a triceps rope attachment for pushdowns. Because the rope is flexible, you may find that your hands don't stay in the position you want.
Close Grip Row Handle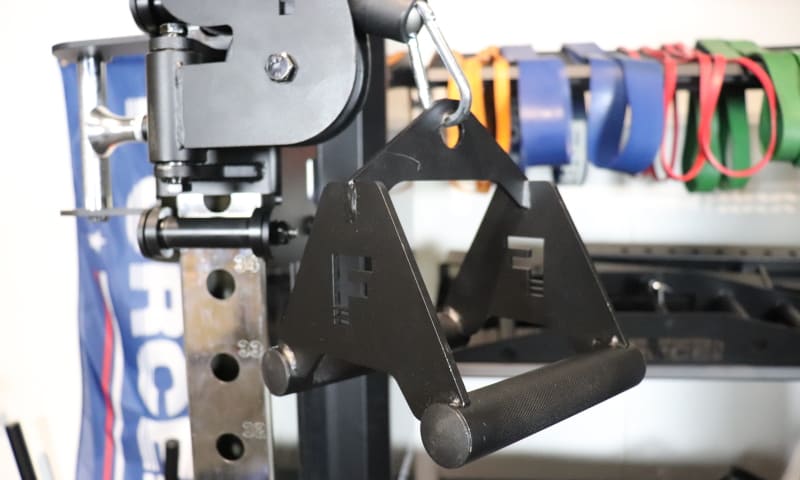 The close grip row handle is powder-coated like the other attachments and also gives you mild knurling. Even without aggressive knurling, I didn't have a problem with slippage even when using the entire weight stack. The reinforced frame has a laser-cut Force USA "F" icon on both sides, which provides a nice touch.
I've used close grip handles that just feel like the handles are too close. That's not a problem with this attachment. I think the grips are spaced perfectly.
Even if it's only good for a few moves, it's still one of my favorites. I recommend it for:
Close Grip Row
Close Grip Lat Pulldown
Triceps Rope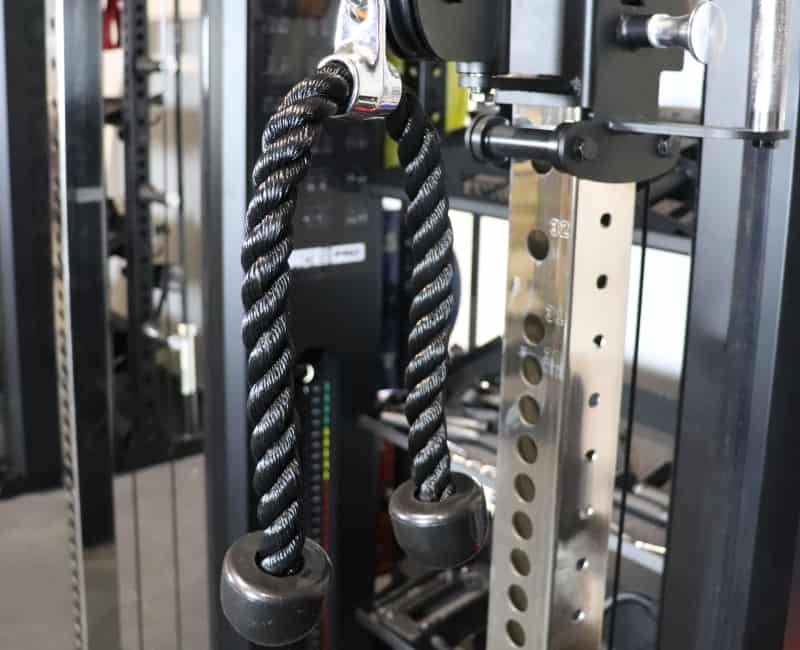 The triceps rope attachment is a black double-ended rope with large rubber knots on the end to keep your hands from sliding off.
It's just like any triceps rope you'll find in any commercial gym.
The triceps rope isn't confined to just triceps movements. I like it for all of these movements:
Triceps Pushdown
Hammer Curl
Face Pull
Upright Row
Front Raise
Straight-Arm Pulldown
Pullover
Kneeling Ab Crunch
Wood Choppers
Nylon Stirrup Handles (2)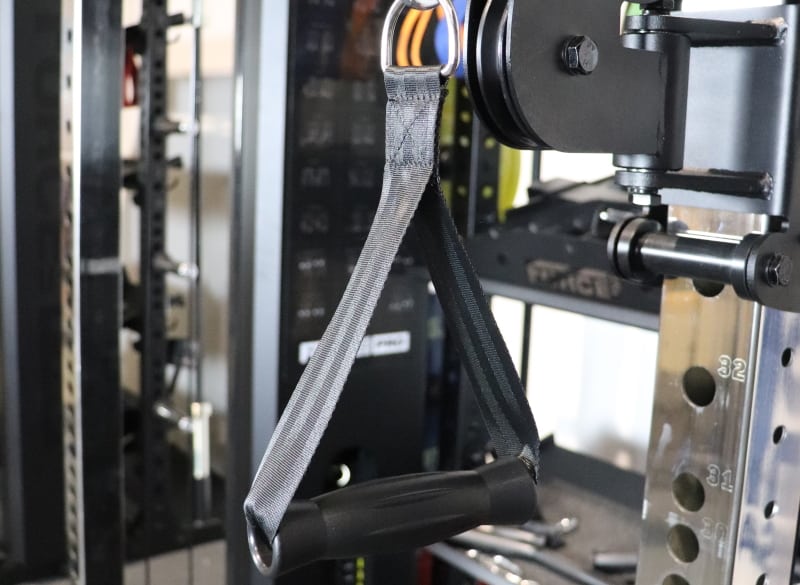 This attachment gives you lightweight d-handle stirrups featuring a plastic grip over a flexible nylon strap.
They may not be fancy, but they do the job. I'm a fan of d-handles like these that allow you to slide the grip over the strap. That allows you to adjust your wrist tilt or rotation for your exercise. It comes in handy with lateral raises and chest flies.
Use these handles for bilateral cable exercises such as:
Cable Fly/Crossover
Reverse Fly
Standing Chest Press
Seated Chest Press
Standing Shoulder Press
Seated Shoulder Press
Chest-Supported Row
They work for unilateral exercises such as:
Concentration Curl
Rotational Press
One Arm Row
One Arm Bent Over Lateral Raise
Ankle Cuff (1)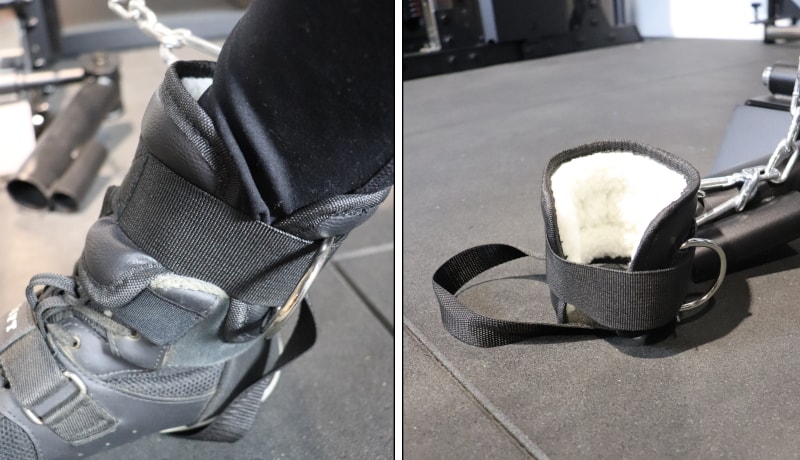 The ankle cuff features a loop strap to put under your foot. This prevents the cuff from sliding up your ankle. This may be a little thing, but it provides big benefits in the comfort and performance departments. Not every ankle cuff attachments include this loop and you miss it when it isn't there. And speaking of comfort, the cuff also comes with a padded inner lining.
The cuff provides 2 metal rings for flexibility in attaching the cuff to the cable. You use different positions to fit the exercise you want to perform.
I think Force USA should include two ankle cuff attachments instead of just one. When you only have one cuff, you must switch ankles between sets. Not efficient!
I like to use the ankle cuff attachment when isolating glute and leg muscles, which for me, honestly isn't that often. In any case, this attachment is perfect for:
Hip Extension
Hip Adduction
Hip Abduction
Hip Flexion
Knee Raise
Glute Kickback
Standing Hamstring Curl
Lying Hamstring Curl
Multi-Grip Lat Pulldown / Row Handle (Optional)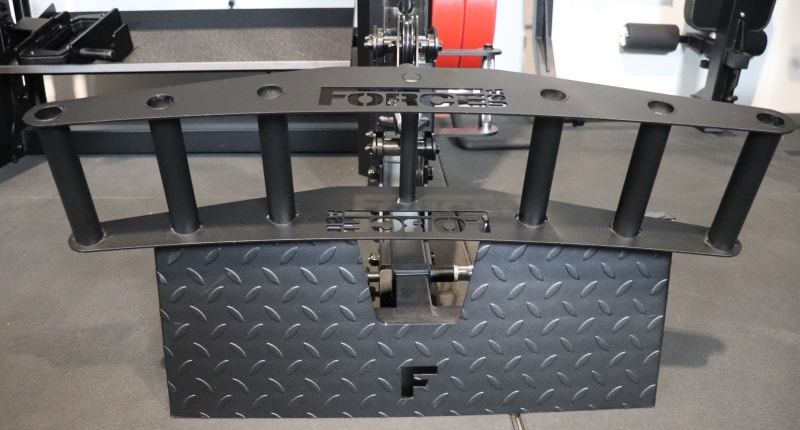 The multi-grip lat pulldown / row handle is only available as part of the optional upgrade kit. That's a shame because it is my favorite attachment for the X15.
Like the other cable attachments, this one is powder-coated black.
What I like about this pulldown handle is the grip configuration. The frame is robust and offers 3 sets of parallel grips allowing you the option of using a narrow, medium or wide neutral grip. Each grip is knurled sufficiently for most scenarios.
There's a nice piece of branding in the form of a large laser-cut "Force USA" logo in the middle of the frame on both sides.
It might be my favorite attachment but that doesn't mean it is without fault. I would like to see the outer frame more curved in the middle so you can pull the handle a bit closer to your body before it touches you. But that's a minor thing and overall, this is a solid handle.
I recommend this handle for:
Narrow Neutral Grip Lat Pulldown
Medium Neutral Grip Lat Pulldown
Wide Neutral Grip Lat Pulldown
Narrow Neutral Grip Row
Medium Neutral Grip Row
Wide Neutral Grip Row
I like to use this handle with a burnout technique. First, work with the outer grip and go to failure. Next, work the middle grip to failure. Finish up working the narrow grip until failure. This is going to give you a crazy pump!
Metal Stirrup Handles (Optional)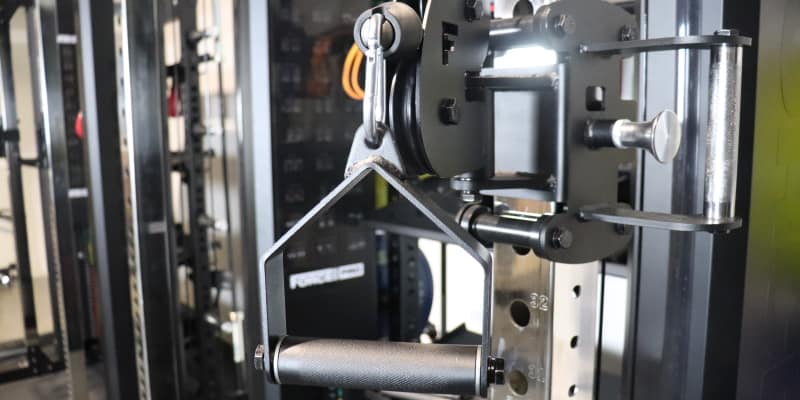 These stirrups/d-handles are part of the optional upgrade kit. Each handle consists of a beefy powder-coated black steel frame with lightly knurled steel grips that rotate.
I don't find these stirrup handles to be as versatile as the nylon d-handle stirrups that are part of the base unit.
I don't like these for doing cable flies or presses because the steel frame presses uncomfortably into your forearm. That's not the sensation that "no pain, no gain" refers to. The nylon handles allow you to tweak your handle angle or position and you just can't do that with the metal handles. So skip these for exercises like lateral raises.
But that doesn't mean they aren't useful. I recommend them for:
One Arm Row
One Arm Pulldown
Bilateral Chest Supported Row
Bilateral Lat Pulldown
Concentration Curl
Unilateral Underhand Triceps Extension
Miscellaneous Cable Accessories
The Force USA X15 base unit also includes some smaller but quite handy accessories. This includes:
Carabiners (7): Use these to attach the cable handle attachments to the pulleys or extension chains. You can never have too many carabiners around.
Extension Chains (2): If you need more space between yourself and the cable column, connect one of these chains between the pulley and your attachment. These are great to keep your foot from hitting the pulley or cable column when doing recumbent hamstring curls, among other uses.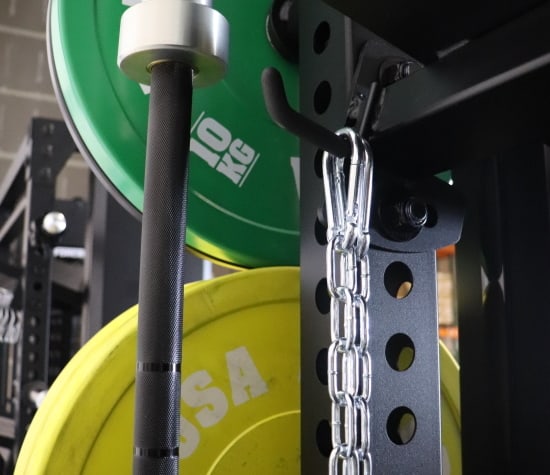 Lat Pulldown Station (Optional)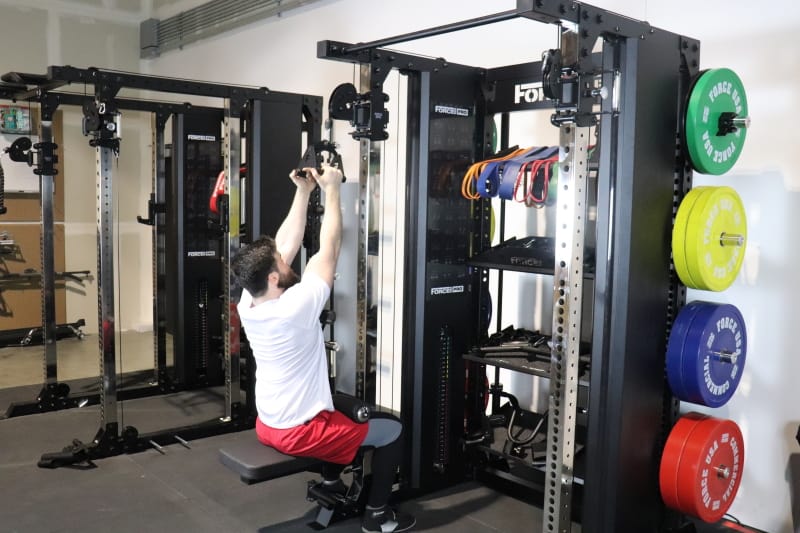 Buy the Force USA X15 – Use KING5 for 5% OFF »
The lat pulldown station is part of the optional upgrade kit. The station includes a dedicated lat pulldown seat with an integrated adjustable knee holder pad.
The seat attaches to either of the uprights. With this station, your lat pulldowns are performed while seated and your thighs are securely held in place.
It makes performing lat pulldowns efficient, effective and convenient.
Sure, you can still do lat pulldowns on the functional trainer without this upgrade, but it's so worth it if lat pulldowns are important to your training. You'll get a large, well-constructed seat with a 3"x3" frame that's covered in high-quality upholstery.
I find the knee holder roller pads to be firm while still being comfortable. They are covered in the same high-quality upholstery material used to cover the seat pad and will stand up to use over time. The end caps on both ends of the rollers secure and protect the rollers.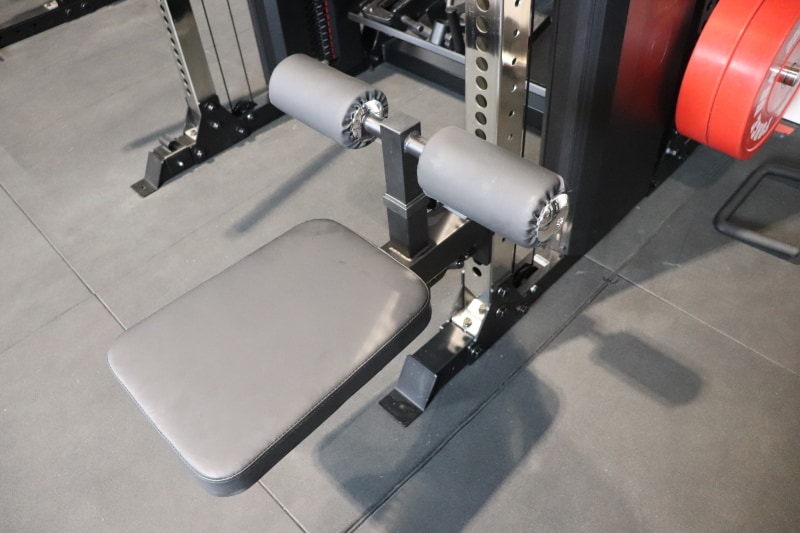 And speaking of secure, that's exactly the word I would use to describe how the seat connects to the upright. The seat's frame attaches along 7-8" of the upright using 2 separate pins. There's the main attachment pin at the top and a secondary pop-pin at the bottom.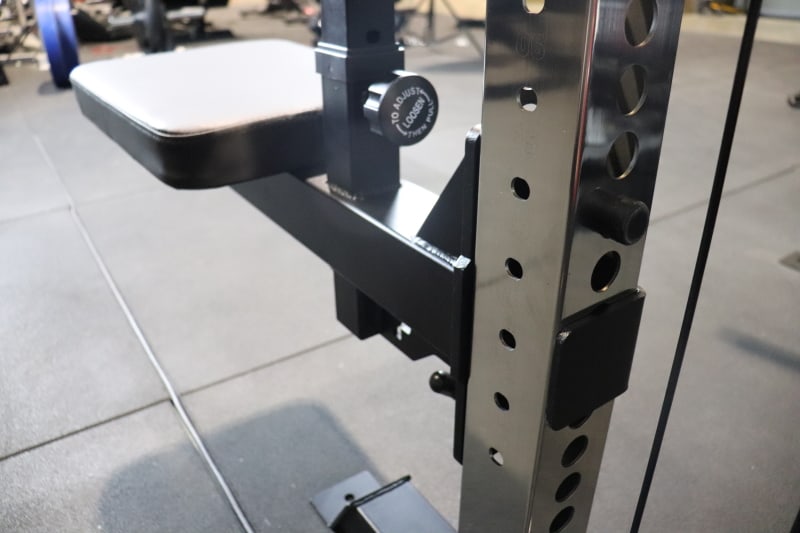 You will not experience rattling or shifting of the seat during use. During testing, I didn't notice any sway or sinking of the seat caused by my body's force while pulling down and leaning back. That's something I experienced on every rep using the Force USA G3's lat pulldown seat.
The adjustable knee holder provides 5 height settings to accommodate legs from twigs to trunks. You make adjustments using a threaded knob which requires you to unscrew it completely.
It's not as efficient as adjusting a regular pop-pin mechanism. However, once in, it's rock solid. Those roller pads are going to stay where you put them without wiggling. You may lose a little speed but gain much security. And unless you share the trainer, you aren't making this adjustment very often.
The bottom frame sports a laser-cut Force USA "F" logo icon. It's a nice little aesthetic touch.
Because the seat installs on the uprights, you can control the height. You can install it as low as 17.5" from the floor to the top of the seat pad. From there, you can increase the height by 1.375" increments until your feet no longer touch the floor.
I'm 5'11" with a ~6'4" wingspan and found the perfect seat height for me ranged from the lowest hole to the 2 holes above. At this height, I had plenty of room for a full range of motion lat pulldowns with a secure footing.
Chin Up Station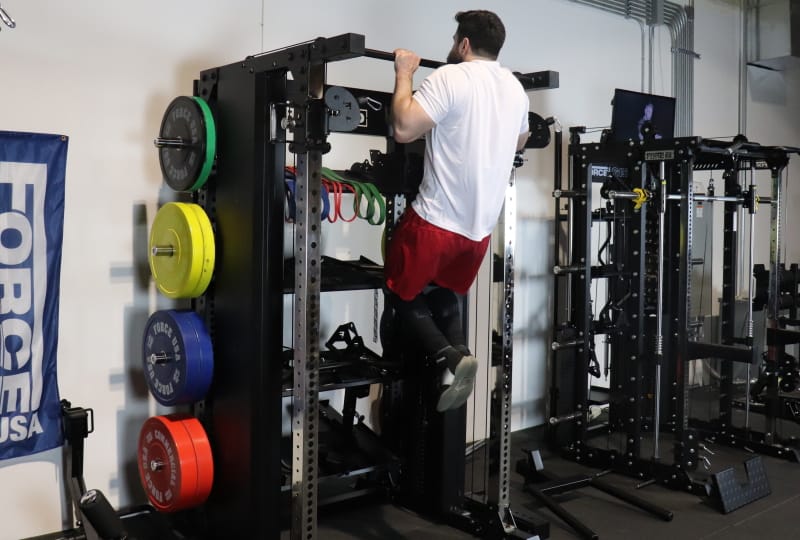 The Force USA X15 Pro Multi-Trainer allows you to install the multi-grip chin up bar OR the straight chin up bar.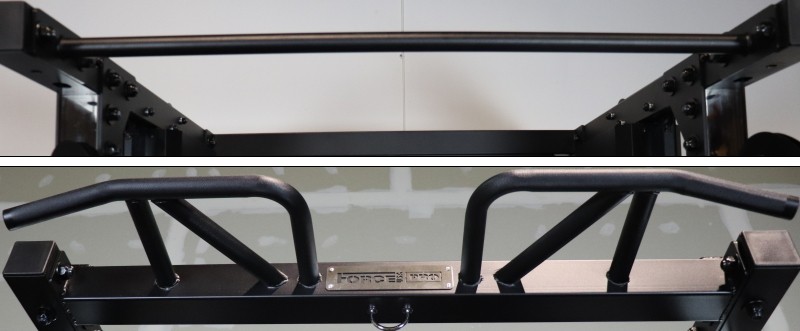 The multi-grip chin up bar provides the following:
4 parallel bar segments for close and medium width neutral grip chin ups
2 diagonal bar segments for semi-supinated and semi-pronated pull ups
2 straight bar segments for medium grip pull ups and chin ups
2 angled-down bar segments for wide grip pull ups
The segments are 32mm thick and provide light knurling for better grip.

The straight chin up bar doesn't give you the options of the multi-grip bar. But it is still useful for:
Wide Grip Pull Up
Medium Grip Pull Up
Medium Grip Chin Up
Narrow Grip Chin Up
Kipping Pull Up
Muscle Up
The straight chin up bar is also 32mm thick. It isn't knurled but you get a little added grip from the powder-coated finish. I recommend lifting chalk for your more difficult sets if you use this bar.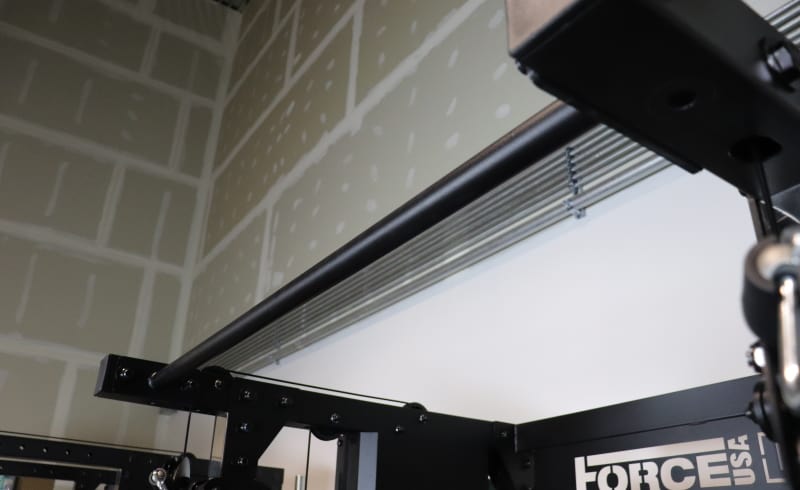 However, installing the straight chin up bar doesn't give you access to the Suspension Trainer Station. That is only available with the multi-grip bar.
To be clear, the Force USA X15 base unit comes with both the multi-grip bar and straight bar included. Unlike with the X20, you can't install both bars at the same time on the X15. You have to decide between the two. You can always swap them if you get tired of using one.
Ceiling Clearance Required for Chin Ups
The multi-grip chin up bar is 90.75" tall. And the straight chin up bar, at 89.5" tall, is only slightly shorter.
To avoid hitting your head on the ceiling at the top of your motion, you'll want at least 10 additional inches for clearance.
Low Row Station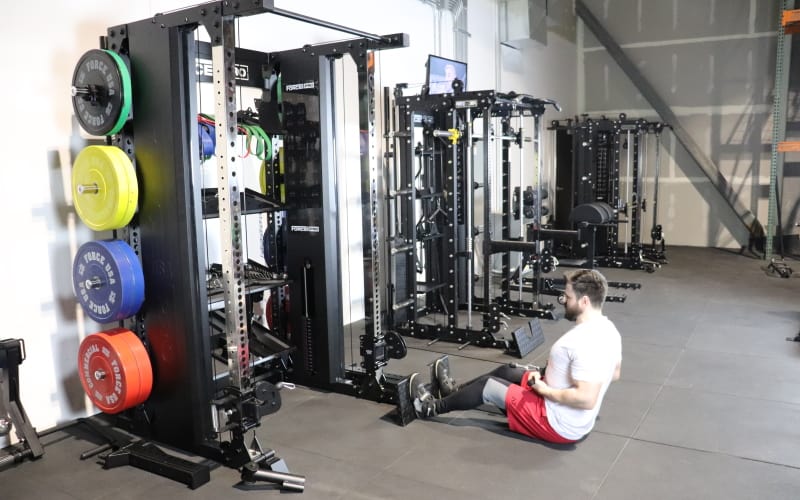 Buy the Force USA X15 – Use KING5 for 5% OFF »
The low row station is created by attaching a 25.5" x 10" steel footplate. This attachment allows you to do any variation of the cable low row exercise while firmly planting yourself in a stable, floor-seated position.
Attach the footplate to create the station in seconds by using a pin to install it on the front of the left or right rack foot. Once installed, perform your low rows on the cable column in front of the footplate.
The steel footplate surface includes a stamped diamond pattern that prevents your feet from shifting or slipping while in use.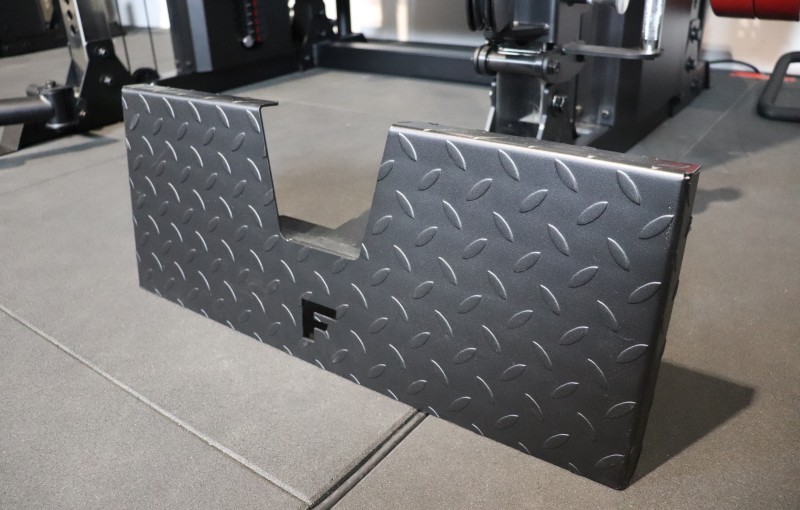 There is a bit of wiggle if you're moving it with your hand, but it remains stable when you're pressing against it with your feet, which is the most important part. Because you aren't worried about keeping your feet or body stable during the movement, you can focus your energy and attention on your back muscles during cable rows.
The footplate tilts backward at a slight 10-15° angle. This angle isn't adjustable as it is on the G10 and G15 all-in-one footplates. But the factory pre-set angle is comfortable enough.
This footplate is unique in that it uses a pop-pin mechanism for extension or retraction. This feature gives you the ability to adjust the amount of space between your feet and the pulley to accommodate your limb length and flexibility.

I like how the top center of the footplate has a segment cut out that's the perfect size for resting the cable handle attachment. Park your attachment here between sets to keep it within reach.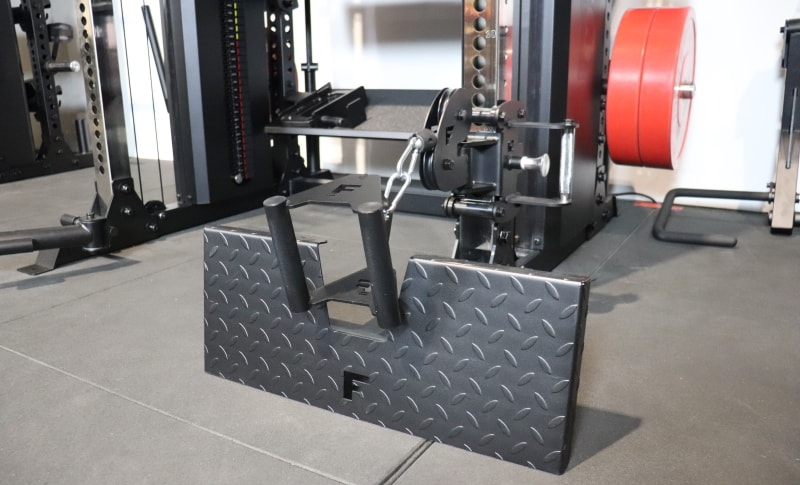 Finally, like the other attachments, this one has a little branding in the form of a small laser-cut Force USA "F" icon at the bottom center of the footplate. Overall, the branding is nice without being in-your-face.
Dip Station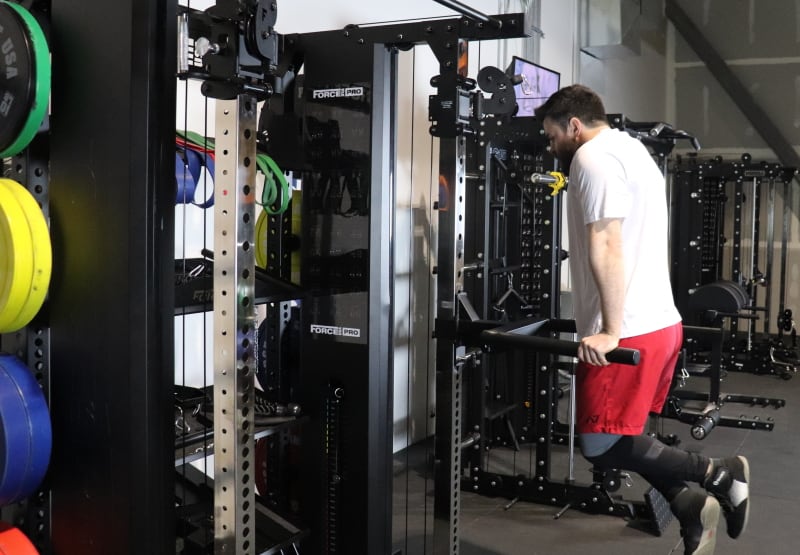 The dip station on the Force USA X15 Pro Multi-Trainer features a Matador-style dip handle attachment. You may hear people call this a y-dip bar because it resembles the letter Y.
This dip handle attaches to the front either upright at any height you need.
This dip bar doesn't provide knurling or rubber handles for extra grip. Grip comes from the powder-coated finished and honestly, that's all the grip you need. After all, you are only using this attachment for dips, which are pushing movements, not pulling.
The handle diameter is the typical 50mm (~2") thickness, which is standard for a y-dip attachment. I like the way it feels in the hand. You get a good solid grip, even if you can't wrap your hand all the way around it.
Because it's got a larger diameter, it won't dig into your palm, which is a critique some lifters have of skinnier dip bars. You'll appreciate that on heavy-weighted dips.
The grip width tapers from 23" to 17". That's plenty of room for you to hit the width you need for your body size and/or training goal.
If you are focusing on your chest, use a wide grip for your dips. If you are targeting triceps, then you want a narrower grip during your dips.
I like the long neck on the dip station. I'm referring to the bridge between the 2 handles and where the attachment connects to the upright. The neck creates enough room for you to lean forward without bumping your head on the rack upright if you are doing your dips facing the rack and using a wide or medium grip.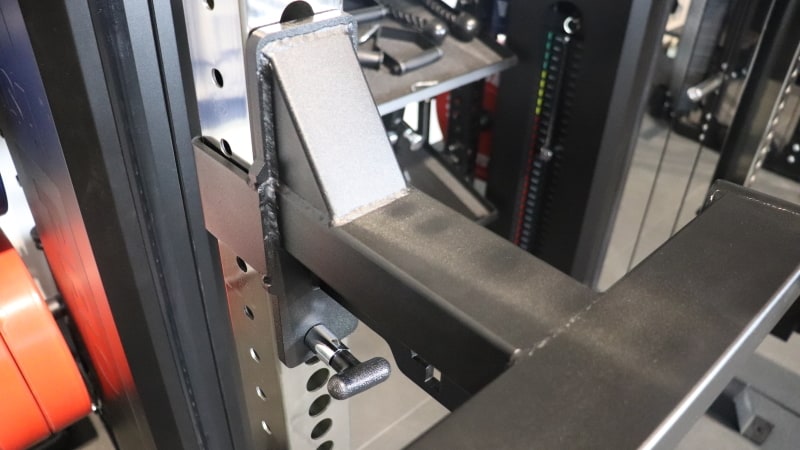 But you'll still want to face away from the rack if you want to do dips using a narrow grip. Otherwise, you may hit your head if you lean forward.
Suspension Trainer Station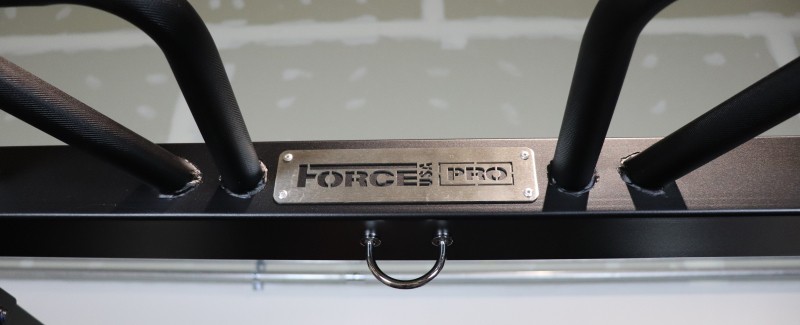 What do you get when you mount a U-bolt on the center of the multi-grip chin up bar? The Force USA X15 Suspension Trainer Station.
If you decide that you prefer the straight chin up bar, you won't have the suspension trainer ring. It's an important consideration when deciding which chin up station you want to install.
The suspension trainer provides a secure and convenient spot to mount a suspension trainer unit like the TRX.
A suspension trainer utilizes your body weight for training and it allows you to get creative. If you already use weights and cables for traditional resistance training, you'll find suspension training a fun and challenging way to mix things up a bit.
These are just a few of the suspension trainer exercises you can do with this station:
Suspension Trainer Inverted Row
Suspension Trainer Single-Arm Row
Suspension Trainer Push Up
Suspension Trainer Feet-Elevated Push Up
Suspension Trainer Fly
Suspension Trainer Reverse Fly
Suspension Trainer Curl
Suspension Trainer Triceps Extension
Suspension Trainer Bulgarian Split Squat
Suspension Trainer Hamstring Curl
Suspension Trainer Hip Thrust
Suspension Trainer Assisted Pistols
The suspension trainer ring is strong enough to safely support your entire body weight, even if you're a big guy.
Because the ring is on the front and center of the rack, you get lots of room to move as you work out with the suspension trainer. This position provides room behind, in front and on either side of the rack.
Other uses for the suspension trainer station include:
Hanging a punching bag for cardio
Attaching a resistance band to do band-assisted chin ups (or band-resisted exercises like band face pulls or band triceps extensions)
Barbell Storage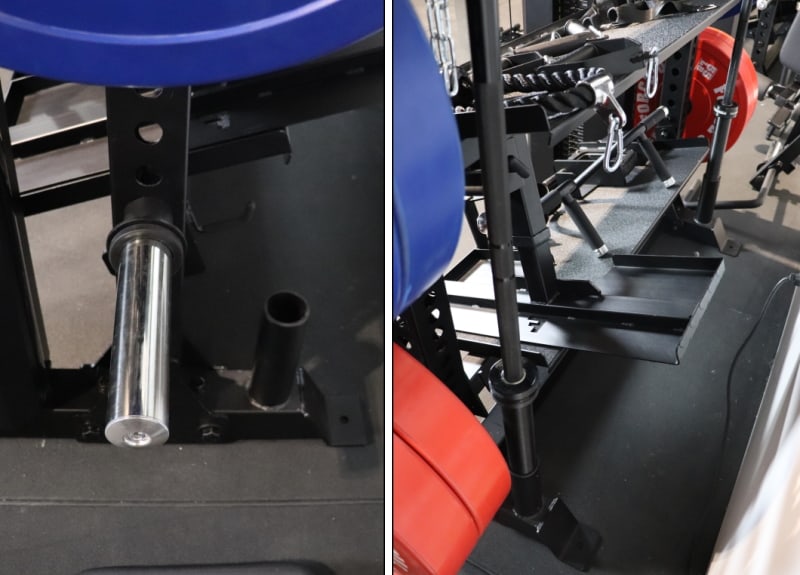 The Force USA X15 Pro Multi-Trainer provides 2 barbell storage sleeves on the back of the unit. The sleeves are on the rack's feet, behind the plate storage.
Using these sleeves, you can store up to 2 barbells vertically. That's important when it comes to keeping your workout area well-organized and neat.
Storage for 2 bars provides plenty of room for a home gym setting since the average home gym owner doesn't have more than 2 bars. In the event you are a bar aficionado like myself and have a bar collection, you really should buy a wall-mounted gunrack-style barbell storage rack to keep your collection tidy.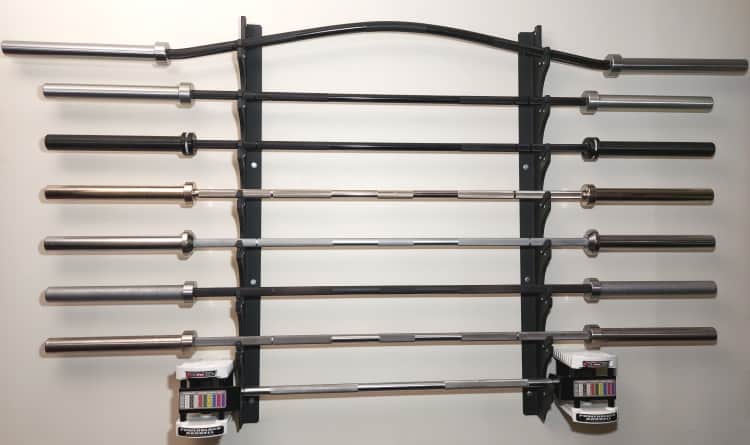 The bar storage sleeve opening is 10.5" from the floor. You'll need a ceiling height of at least 96" (8'0") if you want to use this feature because you need at least 10.5" more than your barbell length (generally 86.5").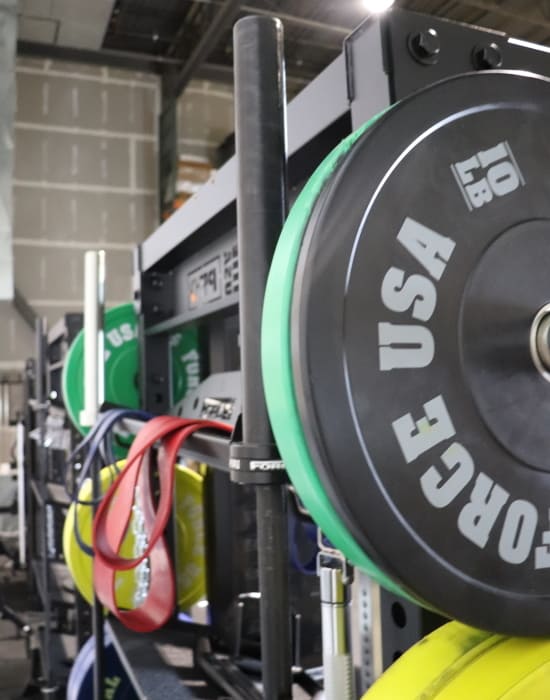 If your ceilings are under 8', you'll need to store your bar elsewhere. An alternative to the barbell storage rack mentioned previously is a wall-mounted vertical storage hook system that allows you to hang the bars from the top.
If you are big on keeping your bars as pristine as possible, you might want to skip the storage sleeves because they don't have a protective lining inside to prevent scuffing. If that's the case, you are better off getting a gunrack-style barbell rack with UHMW plastic on the holders.
But if you aren't worried about the minor scratch in the finish, these built-in storage sleeves are an excellent space-saving storage solution.
Weight Plate Storage
The Force USA X15 Pro Multi-Trainer includes an area on the back of the rack for weight plate storage.
In total, the rack has 8 pegs for holding weight plates. Each of these pegs provides 8" of storage length. That's sufficient room to store a complete set of weights even if you own thick bumper plates. If your weights are regular iron plates, you'll even have room.
The storage pegs are supposed to be installed on the sides of the rear, black powder-coated uprights, located behind the weight stacks. These uprights have a 4-way hole configuration with 1" holes and 2" spacing.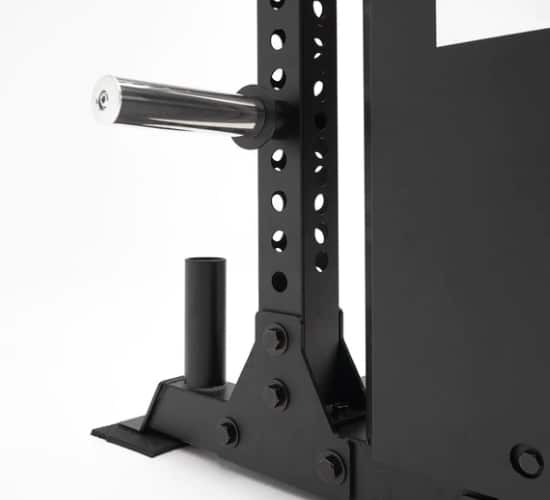 Because of this hole configuration, you could technically install the storage pegs on the back of these uprights if you wanted (rather than the sides). But then you wouldn't be able to use the barbell storage sleeves.
The other reason someone may want to install the storage pegs on the back of these uprights is to provide room for a weight stack adapter pin (e.g. GymPin) so you can add Olympic plates to the outside of the weight stack to get above max resistance – something I mentioned earlier in this review. If this is your goal, you can't put the storage pegs on the side because your stored weight plates will get in the way of the plates that you load onto the weight stack adapter pin…
…Opting to put the pegs on the back of the uprights keeps your stored weights out of the way. Keep in mind that this whole setup only works if you remove the outer weight stack panels to provide access to the weight stack from the outside.
The storage peg is constructed using a steel rod inside a plastic shell, covered with a metal casting. It connects to a stem providing a few inches of space so that it has enough clearance for the weight stack panel.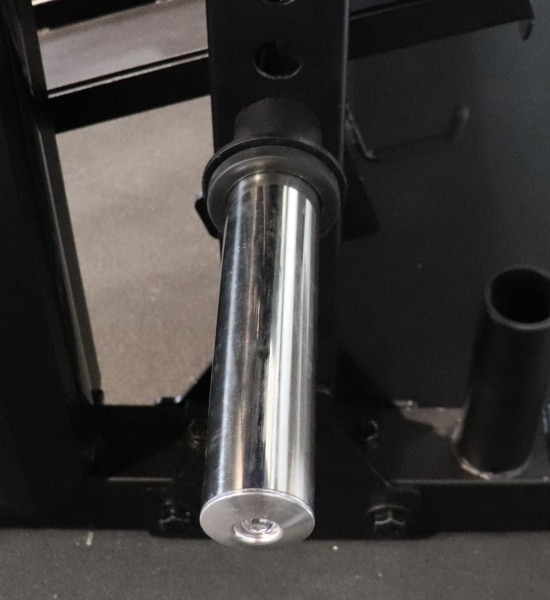 The pegs do the job, but I think a plain powder-coated steel peg would be better. It would be a simpler and sturdier approach.
In addition, I think the peg stem would benefit from a plastic washer to stop metal-on-metal contact at the upright. I think the uprights are going to get scratched if the owner moves those storage pegs around a lot.
One final, interesting fact about the weight storage area: You can actually use other attachments like the dip bar on the rear frame uprights. If you decide to do that, make sure you give yourself sufficient room in the rear of the rack to exercise. You won't be able to place the rack against a wall and you may not be able to use the weight storage pegs since they might interfere with your movements.
Exercise Charts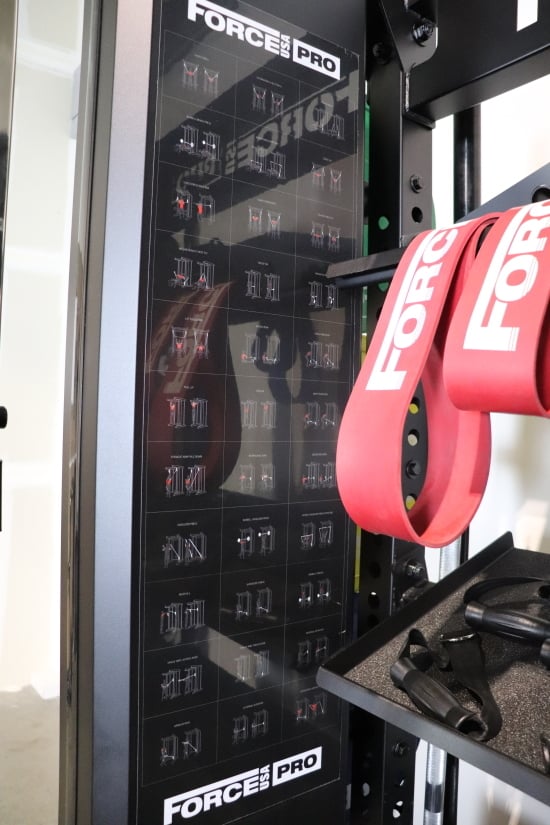 The Force USA X15 provides an exercise chart with 33 exercises above each of the weight stacks. These 2 exercise charts show how to do 66 exercises, most of them being cable movements.
It's useful for newbies and serves as a handy reference for many common exercises.
There's nothing new here for experienced lifters. Although they may provide a little inspiration for mixing up your workout on the fly.
Jammer Arms (Optional)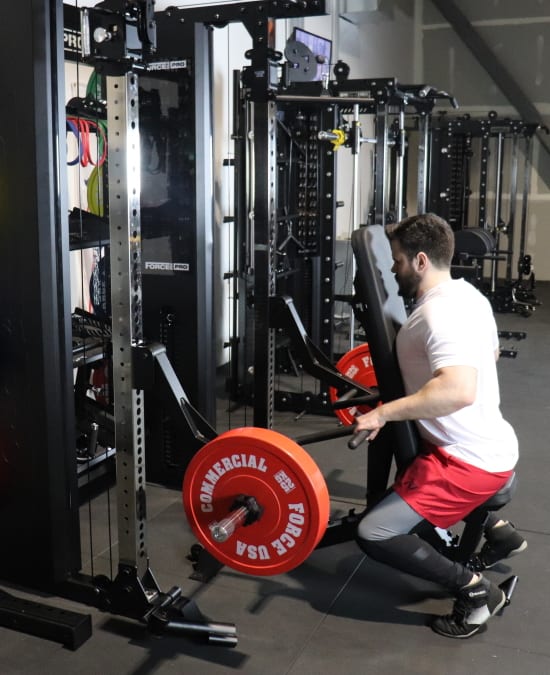 Buy the Force USA X15 – Use KING5 for 5% OFF »
The optional jammer arms are my favorite Force USA X15 attachment.
These arms attach to the half rack uprights at the height of your choosing. To attach the jammer arms, you insert its 1" threaded pin through the upright and then secure it on the other side with a threaded fastener. For added security, you also have a second shorter pin to insert in the lower hole.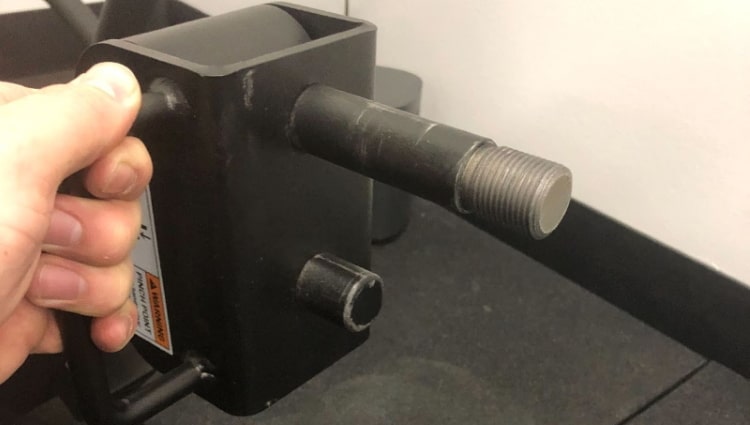 The arms feature a peg for adding weight plates. And each arm has a multi-grip handle to allow for different hand positions and leverages.
These jammer arms emulate the Hammer Strength plate-loaded machines at commercial gyms.
This equipment is great for supporting bodybuilding-style training and can also be a great tool for training explosiveness. The arms have you swinging a lever on a fixed path. There's no need to worry about stabilization.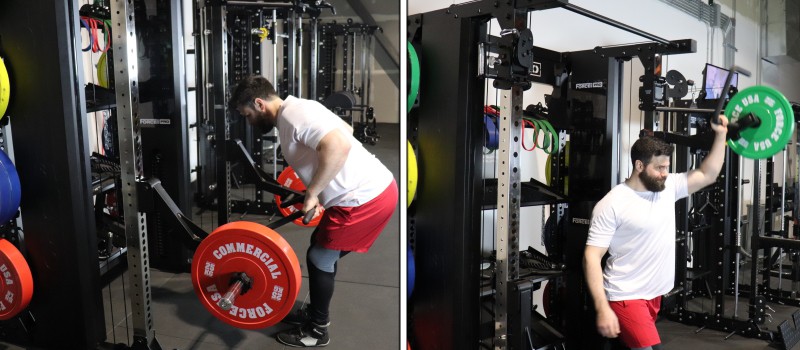 For hypertrophy (muscle building) training, put your focus on squeezing the target muscles. When training for explosiveness, focus on how fast you move.
To get the maximum benefit from jammer arms, you must set them up correctly:
Install the arms at the right height on the uprights for the exercise you want to perform. For example, this means installing the jammer arms low for shrugs and high for shoulder presses.
If the exercise can benefit from it, you can use the spotter arms to prop up the jammer arms to start a movement with the arms extended so you can get under the weight. Like you do with a flat bench press. This isn't a hack, it's real functionality baked into the design. The bend in the middle allows you to place the lower half of the jammer arm flat on the spotter arm parallel to the floor. This positions it to rest on a rubber stopper that protects the jammer spotter and arm.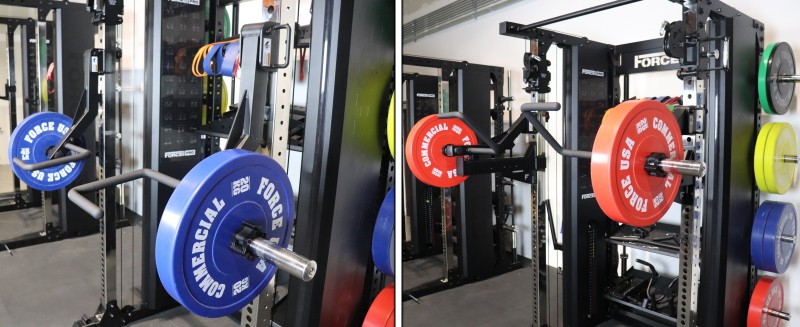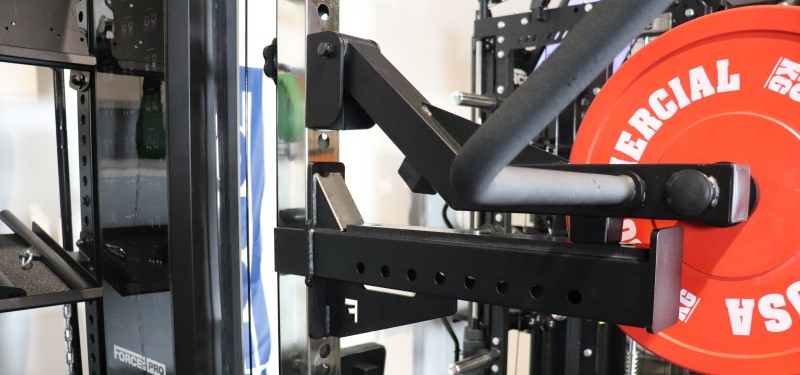 The jammer arm weight holding pegs provide you with 12.5" of loadable length. That's about what you'll find on the other jammer arms sold elsewhere. You really don't need more length unless you are a very strong lifter who uses super thick crumb bumper plates to do shrugs or deadlifts.
The jammer arms have large U-shaped handles covered in a grippy rubber coating. The handles are 32mm thick, which is a comfortable size for pushing and pulling.
The U-shape provides a neutral grip segment and two straight grip segments on each handle.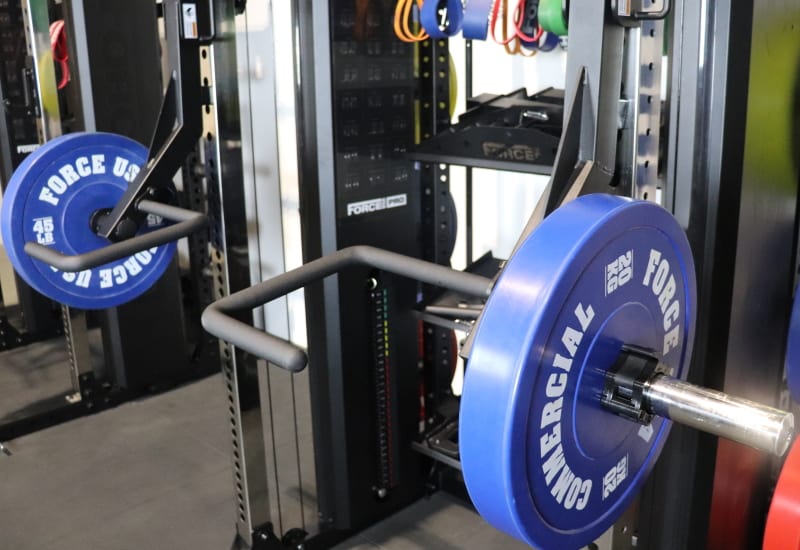 Those two straight grip segments provide a couple of different leverage options. The segment connected to the jammer arm makes the weight seem heavier. The segment further away makes the weight seem lighter.
The jammer arms let you do some of my favorite exercises:
Jammer Arm Chest Press
Jammer Arm Incline Bench Press
Jammer Arm Shrug
Jammer Arm Chest-Supported Row
Jammer Arm One-Arm Row
Jammer Arm Split Squat
Jammer Arm Romanian Deadlift
Jammer Arm Shoulder Press
Jammer Arm One-Arm Push Press
The only downside to the jammer arms is the amount of time required to adjust them. Once installed, they are adjusted as follows:
Remove any weight plates.
Unscrew the fastener.
Reset the jammer arm to the new height.
Resecure the fastener.
Install the spotter arm underneath the jammer arm if you want the arm to be propped up.
Load the weight.
Rinse and repeat to adjust the other arm.
The effort spent on moving the jammer arms is a waste, but it isn't limited to Force USA. The jammer arms from other companies entail a similarly tedious adjustment process.
Putting the jammer arms on a trolley like Rogue would make the process faster. But that setup wouldn't work on the Force USA X15 because the unit already has a pulley trolley for the functional trainer and you can only have 1 set of trolleys on the uprights.
Even if the setup takes time and effort, I still think the jammer arms are well worth it.
To speed up the setup, you can write down the hole numbers for the settings you use most often for jammer arm exercises. This will serve as a quick reference guide so you always set the jammer arms at the right height on the first try.
Landmine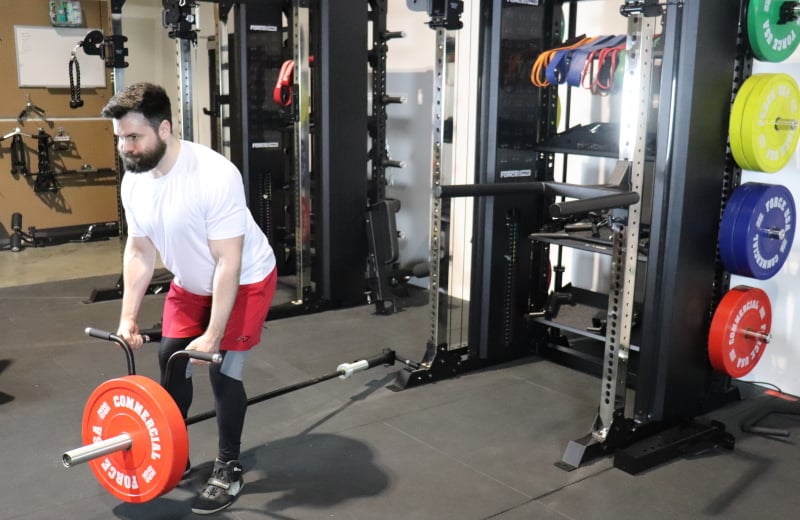 The Force USA X15 base unit includes a landmine attachment.
The landmine may not be fancy or complex, but it certainly gets the job done for rotational torso and shoulder stability training.
It consists of a sleeve where you insert one end of your barbell. The sleeve connects to a rod using a hinge. The rod connects to a bracket that anchors the attachment to the front of the rack's foot. The rod rotates and the hinge pivots side-to-side.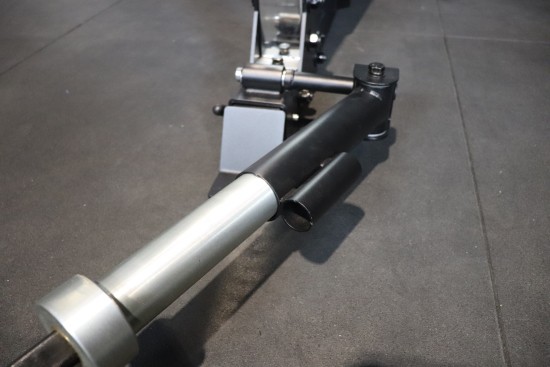 The combined ability to rotate and move side-to-side lets you move the end of the barbell in all directions.
The landmine attaches to the left or right foot of the rack. Just set the landmine bracket over the rack foot, then line up the holes and simply insert a pin through. It's the same process you use to install the low row foot attachment. And when you are done, just reverse the process to remove the landmine attachment.
The landmine attachment may look like the landmine attachment that is included with the Force USA G10 and G15 but it is better – You never have to worry about the rod coming loose if you orient the attachment in a certain way. No matter your position, the remains secure on the X15.
Force USA doesn't call this a landmine attachment. Instead, they use the name Core Trainer station to put the focus on core training. I agree that this attachment is great for core-specific movements, but that's just the start. I find it to be very versatile and valuable for shoulder exercises and even for doing some variations of traditional compound exercises.
Here are just a few of the exercises you can do with the landmine attachment:
Landmine Press
Landmine Push Press
Landmine Rotation
Landmine Lunge
Landmine Floor Press
Landmine Rear Delt Row
Landmine One Arm Row
Landmine RDL
Landmine Hack Squat
Landmine Overhead Squat
T-Bar Row Handle (Optional)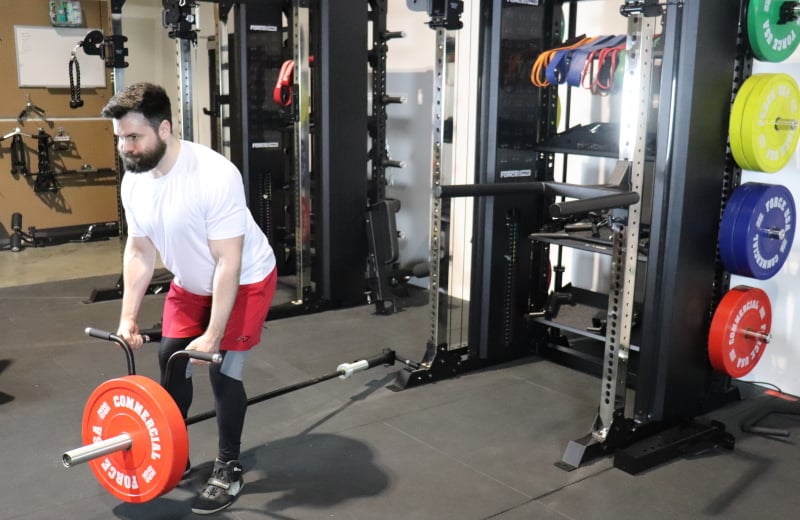 When it comes to landmine exercises, my favorite is the landmine t-bar row. It's a great movement for back training because it provides the opportunity to pull a good amount of weight. But that movement requires a t-bar row landmine handle like the one included in the optional upgrade package.
Now I personally wouldn't buy the upgrade kit just to get this attachment, but if you are already eyeing the kit, this is just one more point in its favor. Plus, it saves you from buying it elsewhere.
This t-bar row attachment has a multi-grip landmine handle with:
Neutral grip handles for neutral grip (palms together) t-bar rows
Standard grip handles for pronated (overhand) and supinated (underhand) t-bar rows

It's not the snazziest of the attachments, but I like the way it feels when I use it.
The handles feature rubberized coverings, which provide a decent grip and are comfortable. Both handle sets are spaced well apart: the neutral grip handles are narrower and the standard grip handles are wider.
I like the way the hinge allows the handle to swing up or down. This lets you adjust the starting position and draw the weight to the spot on your torso you want to hit.
If you want something beyond the basics, then check out my review on the Ironmaster Ultimate Row Handle for an attachment with all the bells and whistles.
Storage Shelves (Optional)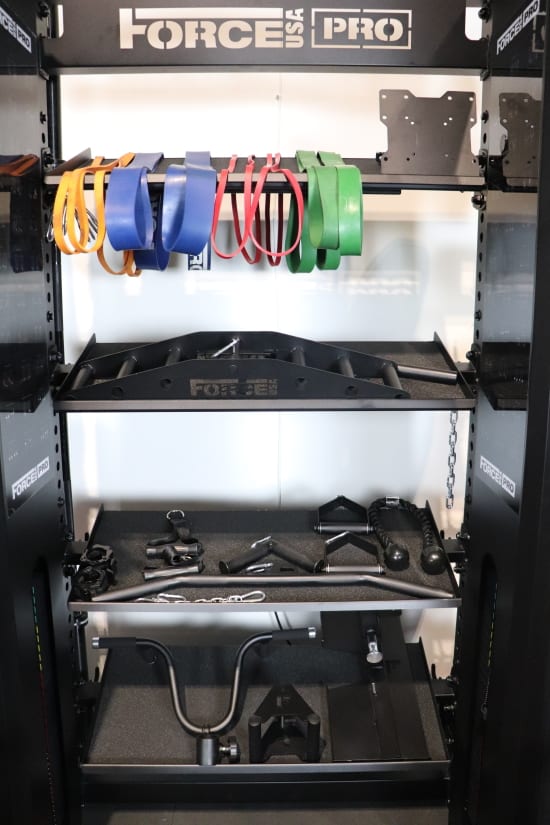 The optional upgrade kit gives you a set of 4 beefy storage shelves.
These shelves add an incredible amount of value to your purchase. That's because they will give you storage space within the footprint of the multi-trainer. This storage is invaluable when space is at a premium. The shelves provide plenty of room for your gym accessories, attachments or other equipment.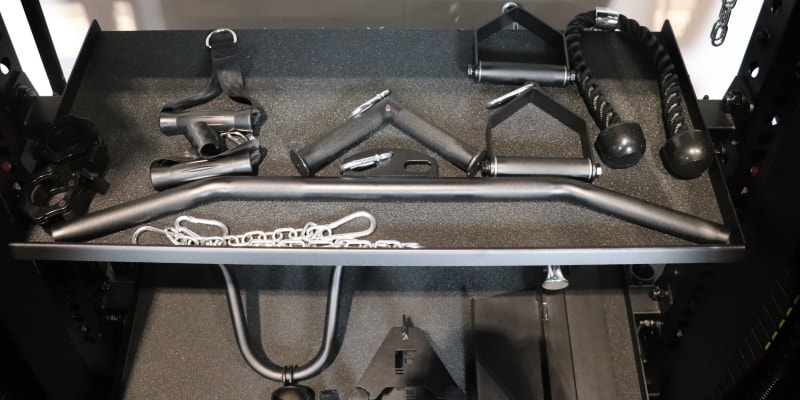 The shelves consist of a heavy 38" x 16.5" steel panel. That's ample room to organize and store your gear. A lip on the front and sides of the panel serves as mini guardrails to help hold your items in place.
The steel panels are lined with a rubber covering on top to add extra grip. The rubber prevents sliding, which comes in handy if you choose to angle the shelves forward for easy access. Plus, it protects any attachments or equipment you store on it. The rubber lining is securely affixed to the steel shelf and shows no signs of peeling off.
Each shelf also provides 2 storage hooks in the back. Because the upgrade provides 4 shelves, you score a total of 8 storage hooks. Hooks might not seem like a big thing, but they are just what you need when it comes to storing things like cable handle accessories.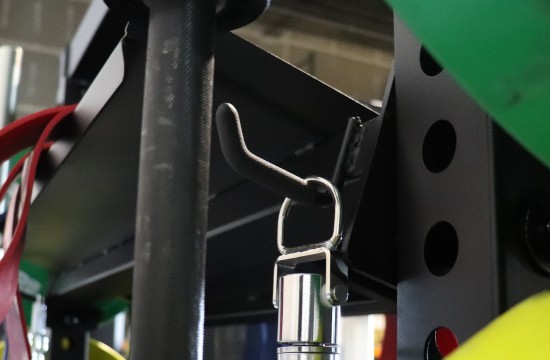 Installing the shelves is pretty easy. You just set them at the height you want on the rear frame uprights, align them with the holes on the frame and attach them using the bolts and nuts provided.
You can choose to install them flat or at one of two forward angles. This makes it much easier to access items stored on the higher shelves.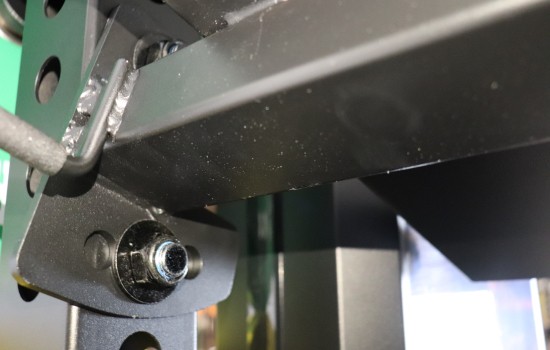 The typical home user is going to want those shelves for storage. The main reason not to use them is if you plan on entering and exiting through the back of the rack. Or maybe you already have a shelving or other storage system in your home gym.
TV Mount (Optional)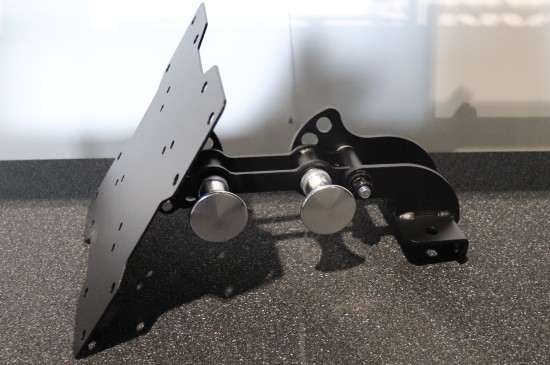 The upgrade kit also includes a TV mount in case you want to adorn your Force USA X15 Pro Multi-Trainer with audiovisuals.
The mounting kit uses the VESA hole pattern that's the industry standard and can support a display up to 32" display.
Because the TV mount attaches to the rear cross member, your TV watching may get in the way of your exercising, but your TV screen will not. It's a pretty good viewing location so you can watch training videos, sports or whatever you want as you train.
The display height and angle are adjustable using the 2 pop-pin adjustment joints. Each of these offers 3 settings so you can fine-tune the screen for your viewing pleasure.
What the X15 is Missing
The Force USA X15 Pro Multi-Trainer includes most of the features you want in this type of equipment. What isn't included with the base unit is mostly covered by the upgrade kit.
But, when you compare the X15 to the Force USA G-Series all-in-one gyms you find some features lacking. It boils down to the difference between a multi-trainer (what the X15 is) and an all-in-one gym (what the X15 isn't). Here's what you won't find with the X15:
Smith machine
You won't get a Smith machine with the X15. The G-Series all-in-one trainers have a Smith machine because they are all-in-ones, not a multi-trainer.
Leg press
Without a Smith machine, you won't get a leg press attachment. It's back to the all-in-one versus multi-trainer thing.
Monolift
The X15 doesn't have a monolift attachment and I think such an attachment would be a good offering for this unit. When I talked to the Force USA people they told me they would consider the addition if they saw a demand for it. If you agree this would add value, let them know.
So if you want a monolift attachment, I recommend this Titan monolift attachment. Just keep in mind you can't insert the hitch pin because X15 doesn't use standard hole spacing.
Band pegs
The X15 doesn't provide band peg holes on the rack frame, which makes sense considering the compact design (i.e. there's no place to put band peg holes since the feet don't extend far forward).
But that doesn't mean they couldn't include band pegs with the X15. Since, after all, the spotter arms have band peg holes.
If you want to use band pegs in the spotter arms, you'll need to buy them from a company that offers ⅝" band pegs.
Force USA Training App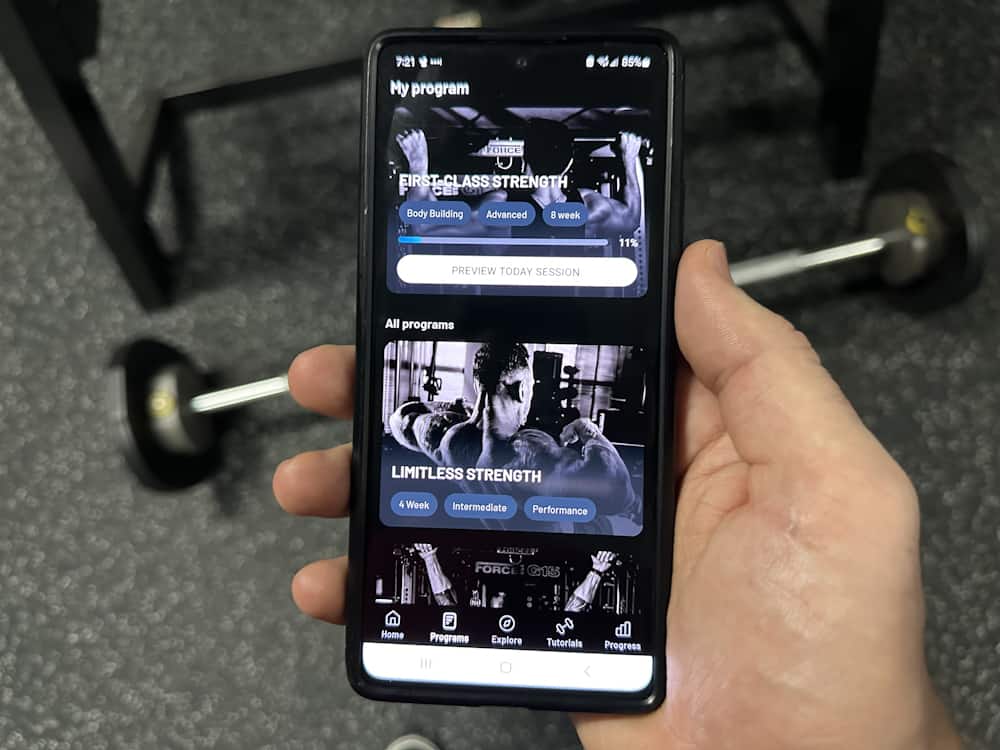 For some, contemplating the Force USA X15 and its array of exercise possibilities can be daunting.
The Force USA Training App makes things easier. Not only does it show you all of the different exercises you can do on the X15, but it also provides a bunch of different workout routines that integrate these exercises so you can get the most out of your machine.
I've tested the app and my impression is largely positive. It's tailored to serve user needs, making it a genuinely helpful tool for those who want extra guidance.
Delving into the app's primary features:
Workout Library: Users are provided with an expansive array of preset workout programs, organized by training goals and experience level.
Exercise Library: You can view short how-to videos showing proper form on a ton of different exercises that are possible on the X15. This is useful whether you're seeking new exercise ideas or need clarity on a specific exercise included in your routine.
Progress Tracking: You can save every workout, which logs your history of every set. The app uses your historical data to show your best performance on the big 3 lifts. The "Program Pyramid" prominently displayed on the app's home screen visually shows your performance and adherence to your current program.
Intuitive User Interface: Despite having a decent number of features, the app nonetheless has a simple design. This makes it straightforward to navigate. Ultimately, this means you'll be more apt to use it long-term.
Guided Workout Flow: As you start your session, the app guides you, step-by-step, through each exercise and set. You can quickly adjust the weight used and reps performed for a given set. Beyond that, a simple tap progresses you from set to set.
Rest Timer: This is one of my favorite parts. There's a rest timer that automatically appears after you tap the button to complete your set. It's timed for the prescribed rest period. This keeps you from losing track of time, which means a more efficient workout.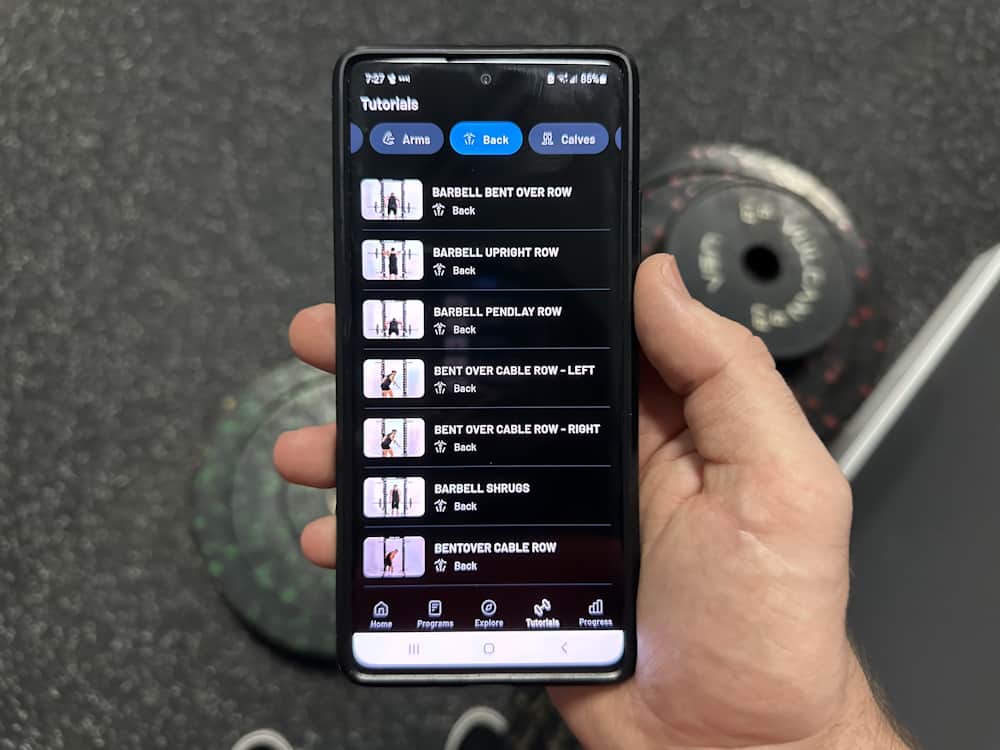 However, a limitation I observed: the app doesn't support building entirely custom workout routines. If your specific regimen isn't present in their collection, you're out of luck. That said, the exercise library can still be a useful feature if you need inspiration.
I don't use this app for my workout tracking because I have a personalized routine and prefer to log it in Google Sheets. Still, I can see the value for many people who own the Force USA X15 especially if they're newer to lifting.
Shipping
You can buy the Force USA X15 Pro Multi-Trainer in many countries around the world. The retailer you purchase from will vary by country.
Keep reading to find out where you can buy the X15 and how much you'll spend on shipping.
No matter where you live or what company you buy from, these things won't change:
Curbside delivery via LTL freight. A third-party freight company will contact you and coordinate the delivery time. The X15 will arrive at your driveway, but it won't be carried into your home.
You must inspect the delivery for any obvious damage before signing.
The X15 base unit is shipped on a single pallet and packaged inside 3 wooden crates. The total shipping weight is ~1500 lbs.
The optional upgrade kit weighs about 300 lbs and ships in its own wooden crate. This crate may be stacked on the pallet with the base unit or if you ordered additional items, it may be with them on a second pallet.
US Shipping
In the US, you can only buy the Force USA X15 through ForceUSA.com. They ship to the 48 contiguous states, but if you live in Hawaii or Alaska, you are out of luck.
No matter where the base unit ships in the US, the shipping charge is a flat $349. When you buy the upgrade kit with the base unit, there's no additional shipping fee. Otherwise, the upgrade kit shipping charge is $99 if you buy it separately later.
Use my coupon code KING5 to save 5% and you'll say goodbye to almost the equivalent of the shipping charge.
International Shipping
Australia Delivery
I Australians buy their X15 through GymAndFitness.com.au, which is the largest Force USA retailer in Australia.
My KING5 discount code works to save Australian readers 5% on the X15 at Gym And Fitness.
The shipping costs in Australia depend on the delivery region and shipment weight. Shipping costs, ranked by region from least to most expensive: QLD, ACT, NSW, SA, VIC, NT, TAS.
To get an idea of shipping costs, it can be as low as AUD$160 to deliver just the X15 base unit to Queensland (though I've tested some addresses in QLD where the shipping costs were over AUD$500 — it just depends). On the high end, if you deliver the X15 base unit and the optional upgrade kit to Tasmania, then shipping costs will be somewhere in the range of AUD$900-1150+.
That estimate may go up or down depending on the rates at the time you order.
MONEY-SAVING TIP: Get FREE shipping when you join their loyalty program. The offer is not extended to shipping to the Northern Territory, Western Australia and Tasmania.
Canada Delivery
ForceUSA.com has expanded into the Canadian market and they created a separate website to serve residents of Canada:
Canadians must use the official ForceUSA.ca site to order the X15 or any other Force USA equipment.
Good news! My special KING5 coupon code works at this site, too.
The shipping charge depends on your delivery destination. The cost for shipping to Canadian addresses is slightly higher than for US addresses.
But the shipping price remains the same if you add more items to your X15 order. This means if you want that upgrade kit, go ahead and buy it now and you won't pay extra for shipping. The same strategy applies to any other equipment or accessories you are thinking about purchasing.
Delivery to the Middle East
If you're in the Gulf region, I recommend buying your X15 through either Garner Fitness Supplies or Alqudra Sports Equipment (Alqudra.sa).
You can use my special KING5 discount code on both of those websites to get 5% off your order.
The stores are owned by the same company but operate under different names, depending on the country.
Garner Fitness Supplies is based in Dubai. They ship to the UAE, Kuwait, Bahrain, Oman, Qatar and Saudi Arabia. Alqudra Sports Equipment is located in Saudi Arabia. They ship to Saudi Arabia, Kuwait, Bahrain, Oman and the UAE.
To get the best price on shipping, you should order from the location that is closest to your delivery address.
Who Should Buy the Force USA X15?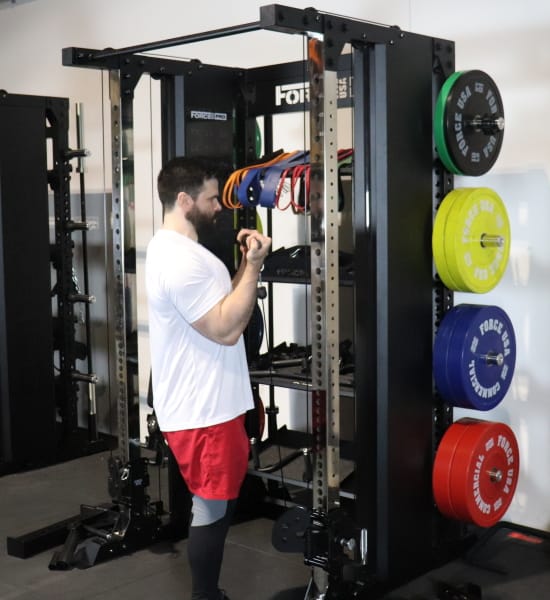 Buy the Force USA X15 – Use KING5 for 5% OFF »
The Force USA X15 Pro Multi-Trainer isn't the best unit for every person and every situation. However, it is incredibly well-suited for certain applications, including:
Serious at-home lifters who need to get the most out of their limited space AND who rely on powerlifting and bodybuilding style training. The X15 makes the most of its footprint by placing the dual cable system and a half rack all on the same unit. The hefty 3"x3" 11 gauge rack frame can handle your heavy powerlifting movements. You also get a functional trainer complete with lat pulldown and low row stations for your bodybuilding-style training. The cable system allows you to target specific muscle groups at any angle with constant tension.
Lifters who don't need a Smith machine with their all-in-one gym. So, if the Force USA G-Series units are appealing but you can pass on the Smith machine, the X15 is right up your alley.
Personal trainers that train athletes or sports-centric physical therapists that have limited space in their studio or clinic. The X15 provides all the major training tools you need in a compact footprint.
Strength coaches running a small athletic facility in a school or other athletic organization. The 3"x3" 11 gauge uprights can handle the weight strong athletes need. The space-saving integrated cable design keeps the footprint small. It's perfect for small facilities that don't have room for dedicated racks and separate cable systems.
Small commercial gyms where the number of members is limited. This multi-trainer is perfect for gyms in small towns or small clubs.
Niche commercial applications like apartment/hotel exercise rooms or cop/firefighter gyms. These small spaces demand a space-efficient design if you are going to provide the ability to do both cable and barbell work. The durable frame can handle the low to moderate daily flow of daily users.
Who Shouldn't Buy the Force USA X15?
The Force USA X15 Pro Multi-Trainer isn't for every lifter. I don't recommend this unit for:
Home gym owners with lots of space. The X15 makes more sense when you must maximize a small space. If you have the room, it's better to get dedicated equipment. This way every piece is specialized and moving between exercise stations will be more efficient. If you have the space, I recommend a dedicated full power rack like the Rep PR-5000, a functional trainer like the Rep FT-5000 and a lat pulldown/low row machine like the Titan Selectorized Lat Tower or the Titan Plate-Loaded Lat Tower.
Lifters who want a multi-trainer with a Smith machine. The X15 doesn't have a built-in Smith machine. If you must have a Smith machine, get the Force USA G20. It's the primo feature-rich model in the G-Series. While the current model doesn't offer jammer arms, they will be available soon.
Lifters who can't handle the heavy price tag. Lifters with a smaller budget are better served by one of the lower-cost G-Series all-in-one units. The G9 and G3 are plate-loaded units and have the lowest cost within the G-Series product line. The G6 has the lowest cost of the selectorized units.
Athletes who must have a rack with standard hole spacing on the uprights. If you demand standard 2" hole spacing to accommodate additional power rack attachments, get the new Rep Ares system. This attaches to a Rep PR-5000 power rack or the Rep PR-4000 (with ⅝" holes and Westside hole spacing).
Force USA X-Series vs G-series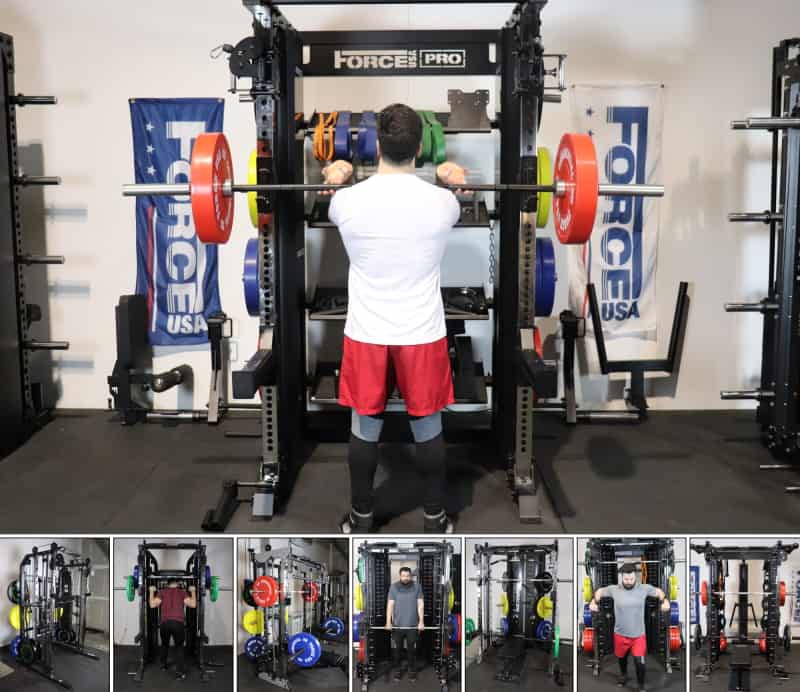 People that look at the Force USA X15 also consider the Force USA G-Series units. It's only natural because they are similar in many respects.
But they have key differences including:
The G-Series units include a Smith machine and an accompanying leg press attachment. The X15 does not.
The G-Series units include 2"x2" uprights. The X15 uses 3"x3" uprights.
The G-series models offer selectorized (G6, G12, G15, G20) and plate-loaded models (G3, G9, G10). Both X-Series models are selectorized.
So which one should you pick?
Go with the G-Series if you want a Smith machine and/or leg press.
Go with lower-priced G-Series units (G3, G6, G9) if the budget is tight.
Go with the X15 or X20 if a Smith machine isn't important.
Go with the X15 or X20 for a stronger, thicker rack and frame.
Need to better understand the differences between the various G-Series models? Check out my article comparing the Force USA G3 vs G6 vs G9 vs G10 vs G12 vs G15 vs G20.
I've also reviewed individual G-Series units too:
Force USA X15 vs Force USA X20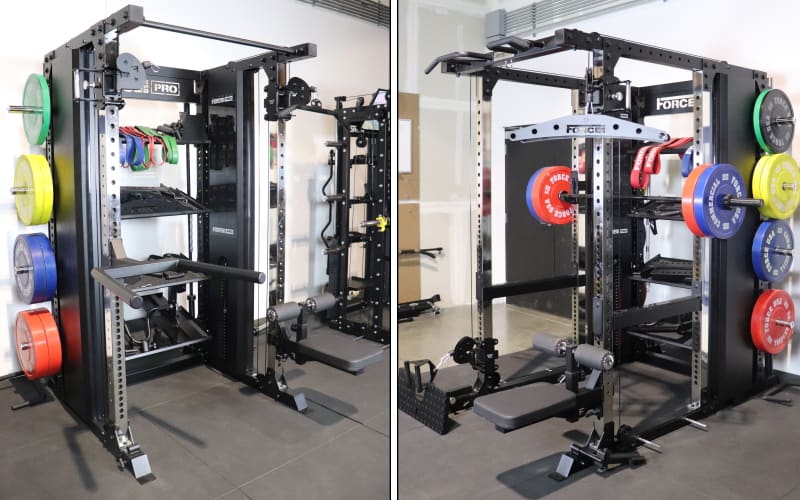 If it boils down to the Force USA X15 or the Force USA X20 – this section should help you decide. (You can also read my X20 review for more info.)
It really comes down to deciding if you want a half rack or a power rack…
…When making that decision, you'll need to factor in your training style, your budget and the amount of space you have available for training.
Training Style
If you focus on heavy powerlifting movements and do a lot of near-max and max work on bench and squat (i.e. 90-100% of your one rep max) then the X20 will give you additional safety because it's a fully enclosed rack. The X15 half rack is safe, but the X20 full power rack offers a little extra peace of mind.
If band-resisted squats and bench press are important to you, then the X20 is your only option. The X15 lacks band peg holes on the frame.
Budget
Speaking of budgets, neither unit is cheap. The X15 is $3,999 and the X20 costs slightly more, coming in at $4,249.
Space
Do you have any extra space in your gym?
The X20 requires an additional 30" of depth. So if you don't have much space or you want to use your extra space for other equipment, go with the X15. Now 30" doesn't sound like much, but when space is tight, it's a big difference.
But if you have the room and budget, go for the X20.
Overall Rating
Force USA X15 Pro Multi-Trainer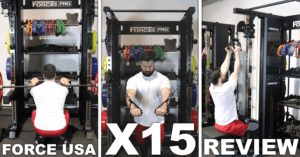 The Force USA X15 Pro Multi-Gym is perfect for serious home gym lifters with limited space who want to do both cable work and heavy barbell work. It combines a selectorized functional trainer and half rack into a space-saving 4-post setup. On top of that, it offers several standard and optional attachments that use the existing footprint to create even more exercise stations.
Product Brand: Force USA
Conclusion
I sincerely hope this in-depth Force USA X15 review helped you decide if it is the multi-trainer for you.
If you know the Force USA X15 Pro Multi-Trainer will meet your needs and you're ready to pull the trigger on this purchase, use this link:
Buy Now – Force USA X15 All-In-One Trainer »
And don't forget to use code KING5 for 5% off your entire order.
P.S. Australian and Canadian readers – Remember my KING5 discount saves you 5% at GymAndFitness.com.au and ForceUSA.ca.