This is the most in-depth Force USA G12 review you'll find anywhere online on this piece of gym equipment.
The Force USA G12, formerly called the Force USA Monster G12, is one of the most premium models available in Force USA's series of all-in-one gyms; second only to the G20.
Model
Pros & Cons
Rating

Force USA G12 All-In-One Trainer

Use code KING5 for 5% off

Pros:

An 9-in-1 machine with all options standard
Uses a selectorized weight stack system for the functional trainer, which makes changing the resistance fast and easy
The 1:1 pulley ratio gives you a heavy max resistance of 200 lbs per stack, which is great for stronger lifters on pulldowns and rows. If you need smaller increments between weight settings, you can easily fit a cheap 5 lb add-on weight on top of the stack.
The most compact G-Series unit available with a shallow external depth of 49". This combined with the ability to store it flush against the wall, makes it the best space-saving all-in-one.
The uprights are as far apart as possible (52") while still being able to fit a barbell (since the j-hooks are indented in). This extra width which gives you a better stretch on cable flies.

Cons:

A trade-off of the compact depth is that there isn't enough internal depth to do incline Smith machine exercises
The upright holes are spaced further apart at 3.75". Thus, the j-hook/spotter positioning is less precise than on some of the other units
There are no band peg holes
Tall lifters (i.e. 6'4"-6'5"+) won't be able to set the j-hooks high enough to squat comfortably. There's a workaround for this that I'll discuss, but it's not ideal.

Rated 4.7 out of 5 in All-In-Ones

View product page
What makes the Force USA G12 such a high-end model? A lot of things. But its two standout features are that:
It has a

selectorized weight stack pulley system

as opposed to a plate-loaded system (both stacks have a 1:1 pulley ratio and provide up to 201 lbs of resistance each)

,

AND

…
It has an extra-wide, reinforced frame that makes it more robust than some of the lower-priced G-Series models
Read on to find out about ALL of its features, specs, attachments, pros and cons. By the end of this Force USA G12 review, you'll know if this machine is the best all-in-one gym for you.
RELATED POSTS:
Use the table of contents below to jump to any section of the Force USA G12 review:
What Comes with the Force USA G12?
The Force USA G12 is a 9-in-1 machine. Here's a high-level overview of its main components:
Power rack
Functional trainer
Smith machine
Vertical leg press
Chin up station
Dip station
Core trainer / Landmine station
Suspension trainer
Lat pulldown (includes leg holder attachment for the cable column, which can also double as a makeshift footplate for low rows)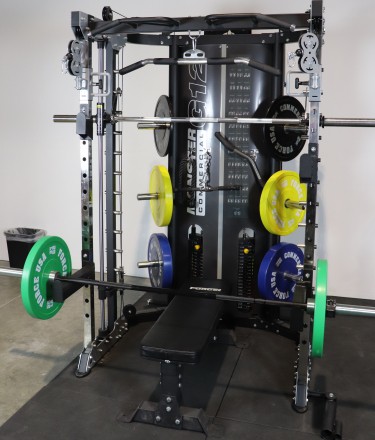 Buy the Force USA G12 – Use KING5 for 5% OFF »
The G12 comes with the same functional trainer accessories as the G9. This includes the following items:
Short Angled Bar
Lat Pulldown Bar
Nylon Stirrup Handles
Long Straight Bar
Triceps Rope
NOTE: I'll provide exercise examples and show photos of each of these accessories later in this Force USA G12 review when I go in-depth on the functional trainer station.
Force USA G12 Dimensions
External Width
79"
External Depth
49"
External Height
89″
Internal Width
(Between Uprights)
48" (45″ between the j-hooks & safety spotters; they're indented 1.5″ to the inside of each upright)
Internal Width
(Smith Machine)
43"
Internal Depth
34"
Internal Height
79"
Unit Weight
950 lbs
Force USA G12 Review: Features
Space-Efficient Design
The Force USA G12 is very compact when you consider all of the exercise stations contained in its design. It packs 9 different training stations into about a third of the footprint you'd need if you instead bought dedicated equipment for each station.
Being compact while delivering tons of features is a design priority for an all-in-one gym like the G12. The G12 has the smallest external depth footprint of all the G-Series, at 49″ (vs 55" for the G3; 63" for the G6; 53" for the G9; 67″ for the G20 base unit; 95″ for the G20 base unit + the G20 Lat Row Station Upgrade).
External depth is probably the most important footprint dimension for space efficiency. External width isn't as important, since you'll need a little over 7 feet of width anyway to use a barbell and the Smith machine, regardless of which model you buy.
On top of the smaller depth footprint, the Force USA G12 is the only model you can position flush against a wall. Whereas, the other models all require at least a few inches of clearance to fit the weights on the plate storage area, or on the plate-loaded weight bracket in the case of the G9. This makes the G12 even more compact in practice compared to others.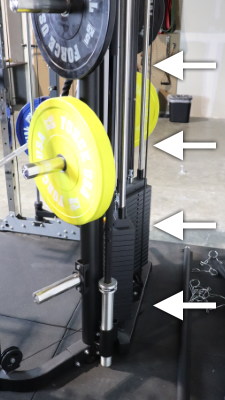 The Force USA G12's space-efficient design is perfect for anyone with limited space who does NOT want to compromise on exercise selection. This includes:
Home gym lifters with only a small room in their house, or with limited space in their garage or basement.
Certain commercial settings, such as personal training studios, physical therapy offices and many other places that I'll cover below. The G12, along with the G20 and G9 are the best options for this type of commercial use.
In a lifter's utopia, everyone would have dedicated gym equipment instead of an all-in-one gym. You get more out of dedicated equipment since it's designed for a single purpose. Whereas, equipment companies sometimes need to make slight design compromises on all-in-one exercise stations to ensure all components fit together and function properly…
…For example, a dedicated power rack has a deeper space to squat inside, with uprights protecting you in both the front and back. In comparison, the G12's power rack uses just the uprights in the front. Similarly, it's easier to get into a reclined seated position on a dedicated 45-degree leg press machine compared to laying flat on the G12's vertical leg press; plus, you can load on more weight.
However, we don't live in a utopia. As such, there are plenty of reasons why buying separate equipment doesn't make sense for a lot of people. Limited space, budget and convenience are the big ones — You get these 3 major benefits as a trade-off when you get an all-in-one like the Force USA G12 instead of dedicated equipment.
You still get the most important benefits and capabilities of specialized equipment. You lose out on the marginal benefits. But you also get a more space-efficient, budget-friendly and convenient solution.
Cost Saving Design
Yes, the Force USA G12 is the most expensive G-Series model. Yet it will still save you hundreds if not thousands of dollars compared to buying separate pieces of comparable quality equipment that replicate the G12's functionality.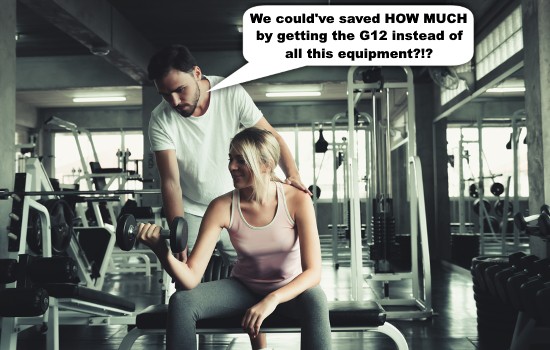 With a price tag of $5499 — before the 5% discount from using code KING5 — the Force USA G12 will be out of some peoples' budgets. However, when you pay more, you get more. Even at the higher price, you still get a lot of value out of the G12 for what you pay.
The most expensive part to manufacture on the G12 is also its most attractive feature: the two 201 lb selectorized weight stacks.
Changing weight on these weight stacks is orders of magnitude faster than it is on the plate-loaded G9 and G3 units. And they have almost twice as much resistance as the G6's selectorized weight stacks (201 lbs vs 110.5 lbs per stack). Only the G20 has heavier weight stacks at 289 lbs per stack, which is extremely heavy.
If you have the budget for it, then I'd recommend choosing the G12 to get its weight stacks — You'll love how efficient it is and you'll enjoy its convenience every single workout.
However, if you're on a tighter budget, the G9 will get you every other feature that the G12 has but for $2000 less. Or, you could pay $1000 less and still get a selectorized weight stack system by opting for the G6 if you're okay with less resistance.
Versatile Design
The Force USA G12 is built for versatility. That is the point of an all-in-one gym, after all.

It has a total of 9 exercise stations that let you do some version of nearly every movement you could do in a fully outfitted commercial facility.
The only feature it lacks that detracts from its versatility is band peg holes. So you can't do band-resisted exercises like you can on the G20, G6 and G3. Though, there is a DIY workaround to this, which I'll explain later on in my Force USA G12 review.
Here's a breakdown of the hundreds of exercises that are possible on the Force USA G12 all-in-one gym:
The power rack gives you access to 40+ free weight barbell exercises including variations of the squat, bench press, overhead press and many other movements.
The exercise station that puts the biggest dent in exercise selection is the functional trainer. It allows you to do an impressive 75+ cable exercises. The secret to its versatility is that you can use any hand position at any pulley height using any number of accessories — allowing you to hit any angle through an unrestricted range of motion.
You can do a Smith machine variation of most power rack barbell movements. There are also some movements you can do only in the Smith machine. In total, you have an easy 30+ Smith machine exercises at your disposal.
You can do 30+ exercises on the landmine / core trainer. One of the most powerful movements is the T-bar row, but there are also several core-focused movements and many landmine variations of traditional lifts (e.g. squats, deadlifts, press).
You can do 9 basic chin up variations based solely on the various ways you can grip the handles. You can do several more chin up variations if you get creative (e.g. static holds, explosive/clapping, side-to-side, weighted, band-assisted).
The dip station has 2 pairs of handles that let you do 2 basic dip variations (wide and narrow grip). Other dip variations are possible if you think outside the box (e.g. side-to-side, weighted, band-assisted) as well as some non-dip exercises like inverted rows and inverted shrugs.
The suspension trainer ring is the perfect place to install your own TRX (or other anbrand) to take advantage of 80 suspension trainer exercises. A cool "off-label" use involves looping a band through the ring so you can do resistance band exercises (e.g. triceps extensions, face pulls, assisted chin ups and others).
The vertical leg press attachment is a powerful leg training tool that lets you do 3 leg press variations: narrow, shoulder width and wide stance leg press.
Later on in this Force USA G12 review, I'll give you many more exercise examples when I talk about each exercise station in-depth.
Build Quality & Warranty
The Force USA G12 is stronger, wider and more durable frame than the G6 and G3. This allows it to better stand up to the rigors of more demanding training environments, whether that's in your home gym or a niche commercial setting.
The G12 (and G9) used to have the strongest frame in the G-Series product line — until the G20, G15 and G10 came around. Those newer models all have thicker 11-gauge uprights instead of 12-gauge. Nonetheless, the G12 has a sturdy frame reinforced with large gusset plates on both sides of the upper and lower crossmembers, which makes up for the thinner uprights.
To be clear, the G12 is not ideal for a high-traffic big box gym setting. This is because it is an all-in-one gym, which doesn't make sense in that type of environment because:
You could potentially have too many people waiting to use any one of the many stations.
Big box gyms will already have tons of dedicated training equipment, which makes an all-in-one machine redundant and thus unnecessary.
However, the G12 is perfect for other types of commercial settings, including:
Small local gyms or community fitness centers with limited strength training equipment
Personal training studios
Physical therapy practices
Boxing/MMA gyms
Police department gyms
Fire station gyms
Military base gyms
Office gyms
Hotel gyms
The Force USA G9 is also great for all of these commercial settings. However, the Force USA G12 has an edge because each cable column can be used independently; meaning two people can do different cable exercises at the same time. You can only use one cable column at a time on the G9.
Likewise, the Force USA G20 is an excellent choice for commercial settings like these. Its cable columns can also be used independently. It's also more feature-rich than the G12 in general. Of course, it's also $1500 more expensive.
The G12, like all G-Series models, comes with a lifetime structural warranty, a 2 year warranty for the cables and a 90 day wear and tear warranty for attachments/accessories.
Power Rack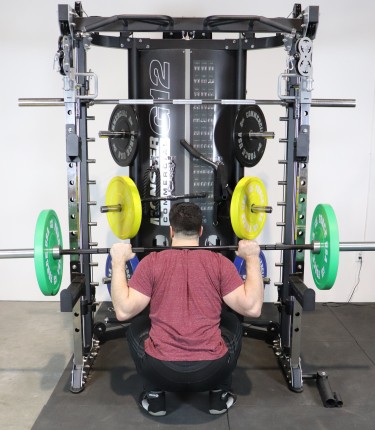 The Force USA G12 power rack is technically a "half rack" because it has just two columns in the front. It isn't fully enclosed with another two columns in the back.
Nevertheless, you can do nearly all the same barbell exercises in a half rack as you can in a true power rack. And you get the benefit of taking up much less space in your gym area.
The Force USA G12 power rack gives you access to 40+ barbell exercises. Here are some of my favorite ones:
Incline bench press
Decline bench press
Floor press
Seated press
Bulgarian split squat
Upright row
Note that some of the above movements require an adjustable weight bench, which is not included with the G12.
The Force USA G12 has a 992 lb weight capacity rating. This is the same as all the other Force USA G-Series models. It's more than strong enough for you unless you're truly an elite squatter.
The G12 has the same extra wide power rack frame as the G9. It also shares the same j-hook and spotter arm designs. You can see just how wide the unit is in the video below — I'm using a super wide grip on bench press and I still have a lot of extra space on each side:
To be specific, the Force USA G12 power rack has a 48″ internal width, which refers to the distance between the insides of the uprights. Its external width measures 52″ from the outside of one upright to the outside of the other. This beats out the width of the G6 by 7″, the G3 by 4″ and G20 by 3.5″.

One benefit of the wider frame is that you feel a deeper pec stretch at the top of the range of motion when doing cable flyes because your arms can open up even further. It's closer to being like a dedicated cable crossover machine, which has the cable columns spaced several feet apart.
Another big benefit of the wider power rack uprights is that it makes the entire unit more stable since the base of the frame is wider.
The distance between the j-hooks and the safety spotter arms is actually less than the distance between the uprights. The j-hooks and spotters are both spaced 45″ apart (49″ from outside to outside). This is because they're "indented" 1.5 inches to the inside of each upright.

This indented design was made to ensure an Olympic bar could fit on the j-hooks and spotters. A regular Olympic barbell has a shaft that's 51.5″ long. If the j-hooks/spotters weren't indented, their outside to outside width would be 52″, which would mean the bar wouldn't fit. By being indented, the outside to outside width is 49″, which leaves enough room to fit a 51.5″ bar shaft.
Buy the Force USA G12 – Use KING5 for 5% OFF »
Spotter Arms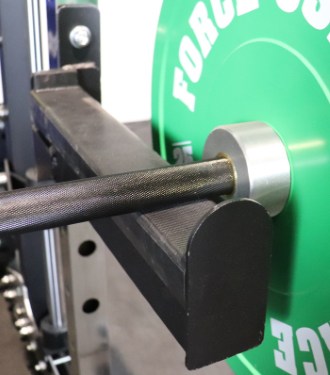 The Force USA G12 power rack comes with a pair of safety spotter arms. The primary function of these is to catch the barbell at the bottom of the range of motion in case you fail on squat, bench press and other exercises.
It has a protective rubber insert along the entire length of the top surface. This will protect the bar from scratches and also absorb some of the impact when you set it down or accidentally drop the weight.
The Force USA G12 spotter arms are 15 inches long, just like the ones on the G6, G9 and G20. If they were just a bit longer — like the G3's 17.5" spotter arms — it would be perfect. I usually take a fairly large step back when walking the weight out since I'm used to squatting in a full power rack. If I do the same walkout on the G12, I end up with the bar just past the end of the spotters at the bottom of the range of motion…
…Of course, the solution to this is easy. You just have to do a shorter walkout. It may be slightly annoying at first because you'll be closer to the uprights. But you'll get used to it within a couples of sessions.
J-hooks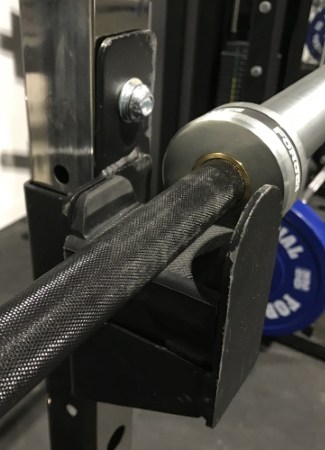 The Force USA G12 comes with a pair of j-hooks for racking and unracking the barbell on power rack exercises.
They're the same pair of j-hooks as the ones used on the G9. And they're very similar to the G6 j-hooks; except the G6 j-hooks have a redundant pop-pin security mechanism and are not indented to the inside of the uprights. Only the G3 and G20 j-hooks are markedly different.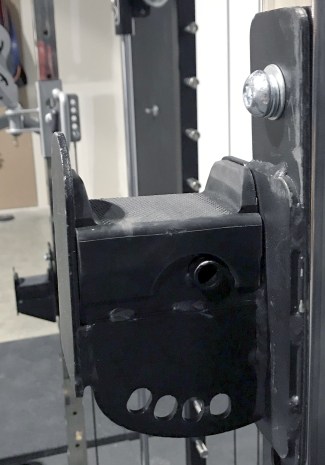 The thing that stands out most when you look at the G12 j-hooks is the series of 4 holes on the bottom of each one. These are used to make micro-adjustments to the height of the pads on the lat pulldown leg holder, which is another attachment that connects to the j-hooks. I'll talk about the leg holder later on in its own section.
The j-hooks have a protective rubber insert just like the safety spotter arms. It lays across the top surface of the lower portion of each j-hook where you rack the bar. It helps prevent scratches or dings to the bar's finish and knurling.
The G12 j-hooks have the same issues as the G6 and G9 j-hooks:
There's no protective backing on the upper/rear portion. It will experience minor scratching over time and so will your bar. Nothing major, but it could've been avoided.
There's a bolt head sticking out of the upper/rear portion. This poses a risk of scratching or dinging your bar if you slam the bar directly into it.
Most people won't care about minor cosmetic damage from these issues…
…However, if you're like me and are obsessive about keeping your barbell(s) looking as new as possible, I'd recommend putting some type of protective covering over it. Here are some easy DIY ideas if you want to do this:
You could buy some cheap foam tape to cover it. You'd need to reapply it every so often.
A longer-term solution would be to buy some rubber bumpers (also cheap) to cover the bolt head. You might have to use a utility knife to carve out a groove in the bumper to fit over the bolt head. This way, it would cover the bolt head and you'd be able to lay it flat against the back of the j-hook. You could add a second bumper atop the first bumper for good measure if extra padding is required.
The G3 j-hooks are better than the G12/G9/G6 j-hooks because they have neither of these issues: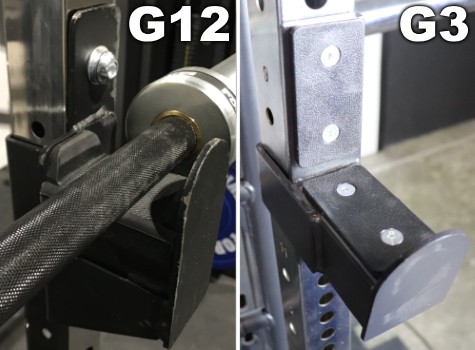 The G20 j-hooks are even better. They are roller j-hooks so you can easily move the loaded barbell left or right to center it. Plus, it has a super tall back so you can rack it high without banging into the uprights.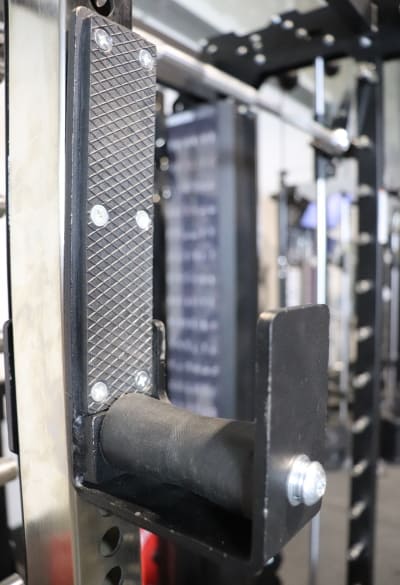 While the Force USA G12 j-hooks could be better, they do serve their basic function of being able to:
hold a heavy bar
remain secure when installed in the uprights
Hole Spacing & Hole Accessibility
The Force USA G12 power rack has 16 holes on each upright. The holes are 1″ in diameter and are spaced 3.75″ apart center-on-center.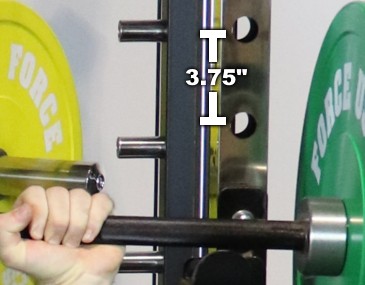 ---
A NOTE ON MAX HOLE HEIGHT / HOLE ACCESSIBILITY:
The top 2 j-hook holes on the power rack uprights are inaccessible…unless you use a workaround, which I'll explain in a second. But first, let me explain why the two holes are inaccessible under normal circumstances:
Regardless of which hole you're using, the cable pulley needs to be above the j-hooks (or spotter arms, or dip handles). This is because the cable runs directly in front of the power rack holes, extending from the pulley up to the top of the rack. So, the cable blocks you from installing any attachments above the pulley. Usually, you can solve this problem by simply moving the pulley to a higher setting…
…But when the pulley is at its highest possible setting, the pulley itself blocks the uppermost two j-hook holes.
Now, I mentioned that there's a workaround. I'll explain that now:
First, set the pulleys on a low height setting. Then, move each cable slightly to the side of its upright; just enough to install the j-hooks in one of the top two holes. There will be enough slack for the cable to run along the side of the j-hook. There'll also be enough slack for the cable to move back when you rack the barbell in the j-hook, as shown below: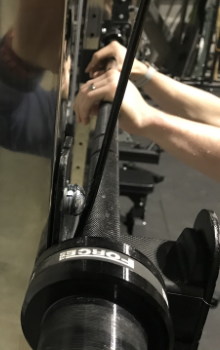 I should stress that Force USA does not recommend or advertise doing this, as it could cause the cable to wear down over time from the contact with the barbell's knurling (though, you could temper this by wrapping the cable with athletic tape around the area of contact for protection).
While this isn't officially advised, my thinking is that you'd be okay if you only did this occasionally — For example, if you're using the Force USA G12 in a personal training or physical therapy setting, you could get away with doing it the few times you have a client squatting who's taller than 6'5″.
Below is a video of one of the guys at Force USA demonstrating this workaround. Note that he's 6'4″ and using a high bar position with no weights on the bar — even at his tall stature with the bar as high on his back as possible, he still has a little trouble getting the barbell cleanly over the j-hooks. This is why I say this workaround would only be useful for squatters who are over 6'5″.
The same issue exists on all of the G-Series racks except for the G6 and G20. And on the G3, just one hole is blocked.
---
The Force USA G12's 3.75″ power rack hole spacing is the same as on the G9 and G6. It does not have the narrower "Westside" hole spacing that many powerlifters have come to know and love.
If you're unfamiliar, Westside spacing consists of ⅝" diameter holes spaced 1" apart in the bench press region and 2" apart everywhere else. This allows for extremely precise j-hook and spotter arm placement on all exercises, especially bench press.
You should consider the G3 or G20 if Westside hole spacing is a must-have for you. They're the only two Force USA all-in-one gym models with this feature.
It would've been nice if the Force USA G12 had Westside spacing as well. However, its 3.75″ hole spacing is still acceptable for most lifters. You'll be able to set the j-hooks and spotter arms at the appropriate heights for safety and performance. You just won't get the absolute "perfect" height on every single exercise.
I consider hole spacing less than 4″ to be adequate for most use cases. Even a little more than 4″ can be okay. But you'll quickly run into issues the further you go above that. The first issue is performance loss from an unnecessary range of motion during the unrack (e.g. unracking from a quarter-squat position). The second issue is a decrease in safety because you have to set the safeties much lower than the bottom of the range of motion to stop the bar in case of failure.
Functional Trainer
The functional trainer is the focal point of the Force USA G12 all-in-one gym. It's the single feature that delivers the greatest amount of versatility in terms of exercise selection.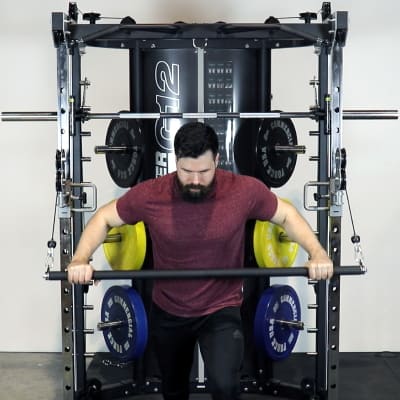 Buy the Force USA G12 – Use KING5 for 5% OFF »
The functional trainer consists of two pulleys, each on its own column. The pulleys connect with cables to two separate weight stacks.
The pulley columns are the same as the power rack uprights. The pulley, though, does not insert into the large j-hook holes on the front of the uprights. Instead, it inserts into the smaller holes on the inside of the uprights for its height settings.
There are a total of 16 pulley height settings on each column. In comparison, the G9 also has 16 height settings, the G20 and G6 each have 19 and the G3 has 22. Sixteen settings are plenty to do all the movements you need, at whichever angle you want to hit.
The cable is 16″ high at the lowest pulley setting and 73″ high at the top setting. All the other settings are distributed evenly throughout these min and max heights.
The pulley adjustment mechanism is designed so you can easily change the height setting with one hand. Considering how much you'll be adjusting the pulley height, this is a nice feature to have. It makes every workout a little bit smoother and less tedious. The G20, G9 and G6 have the same design. The G3 has a different mechanism designed for two-hand operation.
The Force USA G12's standout feature is its selectorized weight stacks. The G20 and G6 share this feature. The G3 and G9 are both plate-loaded.
No other feature will improve your workout efficiency more than selectorized weight stacks. The speed at which you can change the resistance is almost instant. You just move the pin to a different hole in the stack. Whereas, a plate-loaded machine can take 20+ seconds if you're adding or removing a lot of weight.
The weight stack lets you very easily perform drop sets or supersets with virtually no rest between sets. It also means less moving around and handling weights between your sets. It makes you more efficient so you can focus more on actual training instead of preparing to train.
It should also be pointed out that 2 people can use the pulleys at the same since each pulley cable is connected to its own weight stack. This is super helpful if you're ever training with a partner. You save time because you don't have to wait for each other to finish. This is also possible on the G3, G6 and G20. But it's not possible on the Force USA G9.
Are selectorized weight stacks a "necessary" feature? No. But it is very convenient that can save you lots of time, energy and focus.
It is a premium feature. So it comes at a cost compared to a plate-loaded setup. It's $5499, whereas the G9 plate-loaded unit is $3499 and the G3 plate-loaded unit is $2199.
However, if you have the budget and want the convenience and efficiency it affords, it's worth it! You WILL love it, especially if you do a lot of bodybuilding style training where drop sets, supersets and short rest periods are essential.
Why go with the Force USA G12 vs Force USA G6? They both have selectorized weight stacks, but the G6 is a full $1000 less expensive…
…Well, there are a few benefits of the G12 over the G6. But the primary advantage is that Force USA G12 has a 1-to-1 pulley ratio. This means the amount of resistance is the same as the weight you select.
So if you put the pin in the 81 lb hole for cable curls, then you'll be curling 81 lbs of resistance. This might seem obvious, but many pulley systems have a 2-to-1 ratio, which means the resistance is half of the amount you select.
The G6 has a 2-to-1 pulley ratio. So even though the G6's weight stacks go up to 221 lbs, you can only get a max of 110.5 lbs of resistance from each one.
The Force USA G12 has two 201 lb weight stacks. Thanks to the 1-to-1 pulley ratio, you can get the full 201 lbs of resistance from each stack (up to 402 lbs on double pulley exercises!). That's plenty of resistance even for very strong lifters.
If you do want heavier weight stacks, though, you should look at the G20. It has massive 289 lb weight stacks with a 1-to-1 pulley ratio.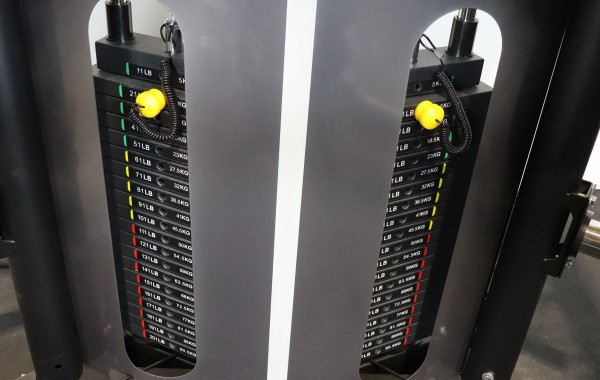 If you're advanced, you may need a little extra weight for a bigger movement like cable rows — in which case you can simply do a double pulley version of the movement to take advantage of the second weight stack, or you can buy some 5 lb weight stack add-on plates. But again, most people will never max out this weight stack on any exercise.
So, what does the functional trainer experience feel like? One word: SMOOTH.
It's the same smoothness as on the G20, G9 and G6, but it does feel a bit smoother than the G3. I think this is because the weights on the G20, G12, G9 and G6 models slide on a track constructed with two cylindrical solid steel rods. Whereas, the weights on the G3 slide on a track made of a single large steel square tube. The G3 is still smooth, just not as smooth as the other models.
Basically, the Force USA G12 functional trainer's smoothness is comparable to that of the pulley units you'll find in big commercial gyms. You won't be disappointed.
The Force USA G12 functional trainer comes standard with the following cable accessories (click the images below to enlarge them to their full size):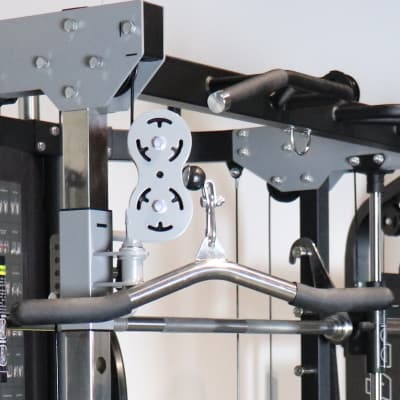 Short Angled Bar: This handle is perfect for several cable exercises like biceps curls, triceps pushdowns, underhand rows, overhand rows, upright rows, upright rows and forearm curls.
Lat Pulldown Bar: The main use for this popular cable accessory is lat pulldowns (duh!). This includes wide grip lat pulldowns as well as medium grip lat pulldowns (both underhand and overhand). However, this bar has other uses, too, including wide grip cable rows, medium grip overhand cable rows, medium grip underhand cable rows, biceps curls, upright rows, rear delt rows, shrugs, straight-arm pulldowns and more.
Nylon Stirrup Handles: These stirrup handles give you more exercise options than any other cable accessory because they allow for complete freedom of hand/wrist position. You can use them for unilateral or bilateral movements. Some of the most popular cable exercises you can do with stirrup handles include: standing chest flyes (low to high, high to low and parallel to the floor), lying chest flyes, reverse flyes, lateral raises, one arm rows, one arm presses, bench press, shoulder press, lunges, concentration curls, unilateral underhand triceps extensions, shrugs, and unilateral or bilateral lat pulldowns.
Long Straight Bar: I love this bar. It has a nice grippy rubber coating and a thick diameter, which makes it comfortable to hold for many cable exercises. It attaches to both pulleys so it's designed for double pulley cable movements (which you can use up to 402 lbs on) such as squats, split squats, lunges, RDLs, bench press, overhead press, standing chest press, biceps curls, triceps pressdowns, standing rows and seated rows. You can attach it to just one pulley and use it for rotational core movements.
Triceps Rope: This is your go-to accessory for triceps pushdowns. It's also excellent for some other cable movements like overhead triceps extensions, cable crunches, hammer curls, upright rows and face pulls.
These are the same accessories included with the G9. They will cover you for most if not all of the cable movements you want to do.
That said, there are only 5 cable accessories total included. This is fewer than the number of accessories included with the G3, G6 and G20. It would've been nice to have a couple more accessories included with the Force USA G12. I personally would've liked it if they included a close grip handle, which is great for seated cable rows and close grip lat pulldowns.
The good news is that it's easy to find lots of quality well-priced cable accessories on Amazon if you feel like you need another type of handle. Though, many people will be perfectly satisfied with just the included accessories.
Lat Pulldown Leg Holder
The Force USA G12 comes with a leg holder attachment for lat pulldowns. The purpose is to keep your thighs locked firmly in place so your butt doesn't lift during lat pulldowns.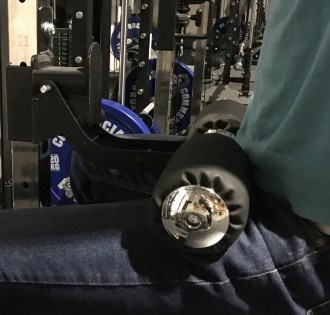 The attachment consists of a steel bracket with 2 roller pads on the end. Both pads are covered in commercial-grade vinyl fabric for long-term durability.
You can install the attachment on either of the j-hooks. You insert a pin through the leg holder bracket, then through the j-hook and out the other side. Then there is a pop-pin that you insert into one of the 4 micro-adjustment holes on the base of the j-hook. These holes let you increase or decrease the pad height slightly to get a perfect fit against your thighs.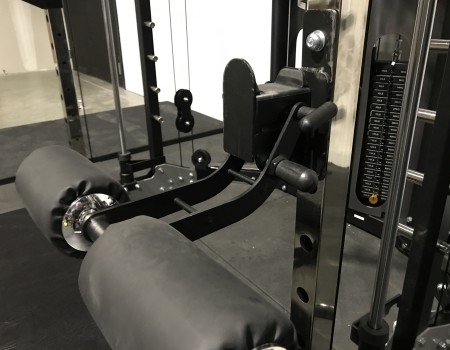 The Force USA G12 lat pulldown leg holder attachment is designed to be used with a weight bench as the seat. This is different than the G3's optional lat pulldown leg holder attachment, which combines a seat and leg holder into one piece of equipment.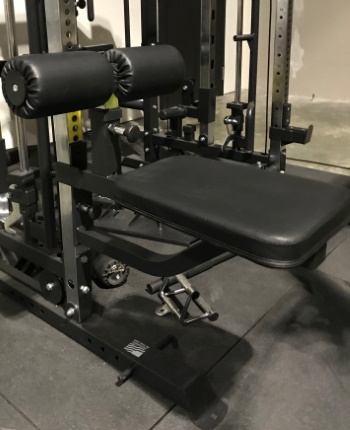 This is convenient, but the seat does flex slightly when using momentum. I prefer the Force USA G12 leg holder since you feel completely stable when you're sitting on a weight bench.
The leg holder attachment is also designed to be used as a sort of footplate for cable rows. You install it at the lowest hole on the power rack and plant your feet against the rollers to stabilize your torso and keep from sliding forward during rows. You can forcefully drive your feet into it without issue.
The Force USA G20, G9 and G6 all use the same type of lat pulldown leg holder attachment as the Force USA G12.
However, the G9 has a dedicated low row station with a large steel footplate inside the unit. As such, you don't need to use the leg holder attachment as a footplate for rows on the G9 unless you want to.
Similarly, the G20 has a dedicated low row station with a built-in footplate, but only if you buy the optional G20 Lat Row Station Upgrade — If you don't buy the upgrade, you can do the low rows with the leg holder on the front of the functional trainer, just like on the G12.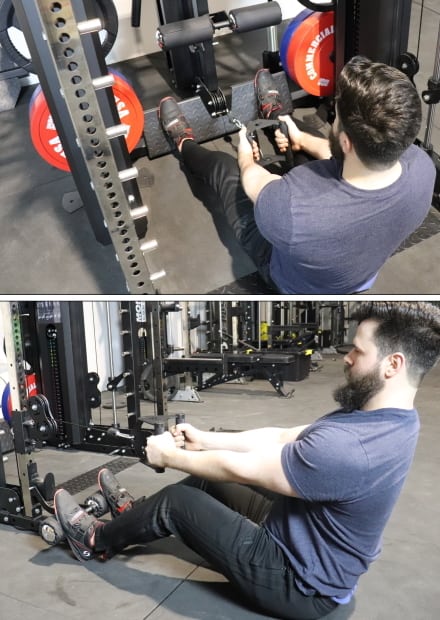 Smith Machine
The Force USA G12 Smith machine lets you do a version of just about every barbell exercise you can do in the power rack. Plus, there are a few exercises you can do only in the Smith machine.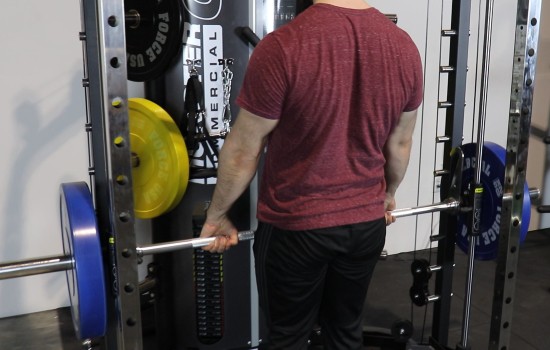 Buy the Force USA G12 – Use KING5 for 5% OFF »
The Smith machine has gotten a bad rap as being an ineffective machine because it's a bar on a fixed track — It's a common "gym bro" belief. But it's wrong…
…While some exercises are best done with a free weight barbell instead of a Smith machine, there are tons of great exercises that you can do on a Smith machine safely and effectively. Here are some examples:
Smith machine front squat (not back squats)
Smith machine hack squat (different foot position than regular back squats)
Smith machine split squat
Smith machine Bulgarian split squat
Smith machine flat bench press
Smith machine shrug
Smith machine power shrug
Smith machine RDL
Smith machine single leg RDL
Smith machine rear delt row
Smith machine one arm row
Smith machine inverted row
Smith machine standing calf raise
Smith machine seated calf raise
Smith machine glute bridge
Smith machine hip thrust
Smith machine glute kickback
Smith machine biceps drag curl
There are also A LOT of "booty" exercises that can be done on the Smith machine. I named a few in the list above, but there are many more creative ones you can find just by searching "smith machine" on Pinterest. This is why the Smith machine is a favorite of many female lifters, and why the G12 is an attractive piece of equipment if it will be used by a woman — whether that's you, your wife, your personal training clients or your gym members.
Note that you can't do Smith machine incline bench press because of the small amount of internal depth inside the G12. The lack of space is a result of the compact footprint. You simply don't have enough room to put the bench far enough back in the incline position. The G9 also has this issue. It is not an issue on the G3, G6 and G20, which have more internal depth. As a workaround, you can do incline bench press on the functional trainer using the long straight bar.
While incline Smith press is not possible in the G12, you can do Smith machine flat bench press.
The Force USA G12 Smith machine has a 770 lb weight capacity rating, as do all the other Force USA all-in-one gym models. Virtually nobody needs a higher weight capacity than this for Smith machine exercises.
The G12 Smith machine bar has 12″ long sleeves, which is the same as all the other G-Series models.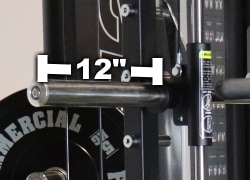 It would be ideal to have a little bit more length on these, just because some people may only have the super thick "crumb" bumper plates. Those people will only be able to fit six 45 lb plates on the entire bar, or 270 lbs total. However, most people will have thinner bumper plates or regular thin cast iron plates, in which case they can load on more than enough weight.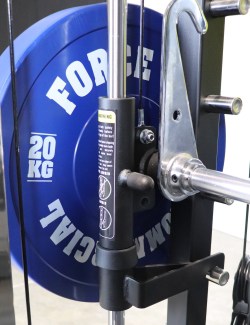 The G12 has the same style of Smith machine safety catches that are on the G20, G9 and G6 Smith machines. It's a steel mechanism that you can slide up and down the Smith machine track. It has a long steel strip that you rotate and place on top of any of the chrome pegs on the adjacent column. It prevents the Smith bar from going any further down.
The idea is to set the safety catches at or just below the bottom of the range of motion for any Smith machine exercise where you could possibly get stuck under the bar if you failed. I advise using it even if you're using a weight you can easily handle. It's just a good safety practice to make into a habit.
The G12's Smith machine action is extremely smooth thanks to its linear bearing design. The up and down gliding motion feels frictionless, with or without weight. It's just as smooth as the Smith machines on the G20, G9 and G6. However, it's notably smoother than the G3 Smith machine, which has a bit of drag because it uses a less sophisticated wheel and ball bearing system.
A standout feature of the Force USA G12 (and G9) is that it has a counterbalanced Smith machine. There is a mechanism that reduces the Smith bar weight so that it's 0 lbs when the bar is empty. In comparison, the non-counterbalanced Smith machines on the G20, G6 and G3 weigh 45 lbs when the bar is empty.
You can see the counterbalanced bar in action in the following clip:
This feature lets you do exercises with very light weight. If you're healthy and somewhat in shape, you'll probably never need to do a Smith machine exercise with less than 45 lbs.
However, if you're getting the G12 for a personal training studio or physical therapy practice, this can be very helpful. You may need extra light resistance if you're training out-of-shape beginners or individuals undergoing rehab.
Vertical Leg Press
The Force USA G12 vertical leg press attachment provides a powerful way to overload your quads, hamstrings and glutes. The quality and ease of operation of the vertical leg press make it one of my favorite stations on the Force USA G12.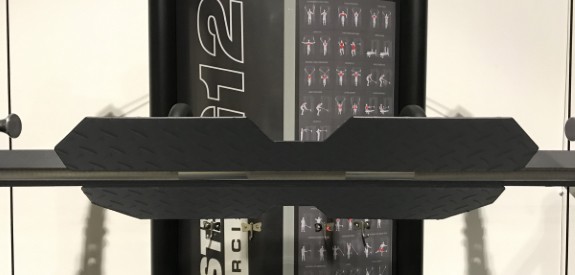 Buy the Force USA G12 – Use KING5 for 5% OFF »
Many people are not used to vertical leg pressing. It can feel awkward to have to lay flat on your back to get in position if you've never done this exercise before. However, the vertical leg press has a key advantage over the traditional 45-degree leg press: You get a comparable leg workout without having to use as much weight. This means:
It's quicker to load on the weight

You don't need as many weight plates in your gym

(which means more money and space savings)
The G12 leg press plate uses the same design as the G20, G9 and G6 plates. It installs onto the Smith machine barbell via a pop-pin on each end of the attachment. The pop-pins snap cleanly into the holes on the Smith machine hooks at the end of the Smith bar. There is no discernible amount of play in the connections. To uninstall it, you simply both pop-pins out.
Note that you can use the vertical leg press by either laying on a flat bench OR on the floor. Laying on a bench is far more comfortable because it's cushioned. If you use the floor, you may want to put down a couple of yoga mats or a thick exercise mat.
The action of the leg press plate is very smooth. You can see the vertical leg press attachment in action in the video below:
I'll also include a better quality clip of me using the G9's vertical leg press attachment, which is exactly the same as the one on the G12:
You can use the Smith machine safety catches while leg pressing. This ensures you won't get pinned if you fail. To use them, simply set them at or just below the bottom of your range of motion.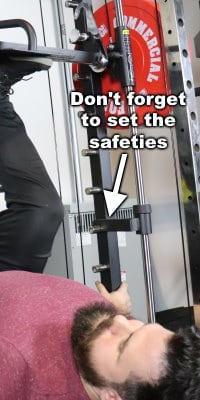 I recommend using these safety catches for every single leg press set, even when you're using light weight. It's a good habit to develop so you don't forget to set the safeties the one time you accidentally use too much weight or attempt one too many reps.
The Force USA G12 leg press plate differs markedly from the Force USA G3 leg press plate. Here are the key distinctions:
The G12 plate has a more angular shape, whereas the G3 plate is more of a rectangle.
The installation mechanism is different. The G3 plate installs with two lock pins that must be manually inserted through holes in the center of the Smith bar. It's effective and safe but is less efficient than the G12 plate's pop-pin installation. Plus, there's a slight amount of play in the connection on the G3 (though it feels very stable when you're leg pressing).
The G12 plate comes standard whereas the G3 plate is sold separately.
Leg pressing on the G12 feels smoother. This doesn't have to do with differences in the actual leg press attachments. Rather, it's because the G12 Smith machine has a smoother action than the G3 Smith machine.
The G3 plate is 29″ wide, which is a half-inch narrower than the G12 plate. In practice, this is a negligible difference.
The G3 has a spotter rail system. You rotate the rails in or out to rack or unrack the leg press plate.
You can optionally lock the G3 plate in place so it stays completely parallel to the floor. This is possible because the G3 has pins you can insert through the Smith bar hooks and the gliding mechanism, thus preventing the Smith bar from rotating. This isn't possible on the G12 because it has a different Smith machine design (which is superior to the G3's in other ways).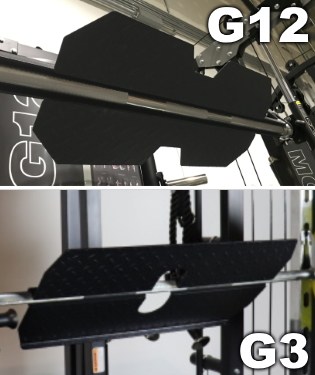 Dip Station
The Force USA G12 dip station attachment consists of two pieces. You install them just like you'd install a pair of j-hooks: One goes on each power rack upright at the same height.

The dip station gives you 2 sets of handles, which give you 2 different grip widths to choose from:
A narrower 21″ grip width: This is better for doing closer grip dips that target the triceps; and/or for lifters with narrower frames.
A wider 27.5″ grip width: This is better for doing wider grip dips that target the chest; and/or for lifters with wider frames.
Each handle is rubber coated and 30mm (1-3/16″) thick. This gives you a comfortable and slip-free grip experience. The diameter is not so narrow that it feels like it's pressing into the meat of your hand. Yet, it's not so thick that you can't give it a good squeeze, which I find can boost overall power on dips.
I like that the G12 dip station is installed on both uprights because it positions you over the midline of the unit. Compare this to a Y-dip bar style of attachment, which installs on a single upright and is common on most traditional power racks — The G12 dip station is better in these ways:
It's a more stable setup since you're over the middle of the unit, which is its center of balance.
You can lean forward as far as you want without any possibility of hitting an upright.

You can

face forward or backward

. Nothing will be in the way of your feet or head.
Wide and close grip dips aren't the only exercises you can do on the Force USA G12 dip station. There are several others, some of which aren't even dip-related movements:
Scap dips
Inverted rows
Inverted shrugs
Incline push ups
Band-assisted dips
And many other unique dip variations
Note that this is the same type of dip station as on the G9 and G6. The G3 does not currently have a dip attachment, though one is in development and will be sold separately once it's available. The G20 does not currently have a dip attachment that attaches to the power rack, though one is in development. However, there is a flip-down dip attachment on the optional G20 Lat Row Station Upgrade.
Chin Up Station

The Force USA G12 comes with a multi-grip chin up station that consists of:
Two oblique bars
Four short bars that are parallel to each other
Two longer straight bars that are perpendicular to the short bars; both of these bars angle downward at their ends
All of these bar segments allow you to use many different grip positions. At a minimum, you'll be able to do the following chin up variations:
Close pronated grip chin ups
Close supinated grip chin ups
Close semi-pronated grip chin ups (with a diagonal & straight bar segment)
Close neutral grip chin ups
Normal width pronated grip chin ups
Normal width supinated grip chin ups
Normal width semi-supinated grip chin ups
Wide pronated grip chin ups
Wide neutral grip chin ups
Here's me demonstrating a few of these chin up variations:
The list above includes just the basic chin up variations that are possible on the Force USA G12. There are other less conventional chin up variations you can do as well.
The angled wide grip portions of the chin up bar are rubber coated to enhance grip and comfort — They're 38mm (1.5″) thick while the bare steel portions are 33mm (1.3″) thick.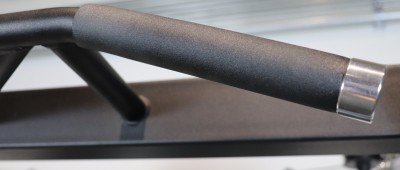 The style of the chin up station on the G12 is the same as on the G6 and G9, and the same as on the front of the G20 (there's also a globe-grip style chin up bar on each side of the G20).
The G12 chin up station differs from the G3's "Monkey style" chin up station, but it's primarily a visual/stylistic difference: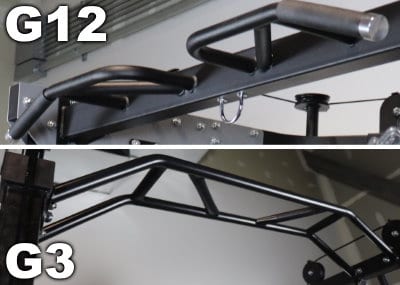 Functionally, both the G3 and G12 chin up bars let you do most of the same chin up variations — except you can do close grip neutral grip chin ups on the G12, but not on the G3.
One detail that the G3 chin up station has that the G12 lacks is knurling on some of its segments for additional grip. It would've been nice if the G12 had knurling, too. But that's more of a personal preference because the powder coated steel on the G12's chin up bar will provide enough grip in most situations. If you ever feel you don't have sufficient grip, you can use lifting chalk, which should always be in your arsenal of gym tools.
Landmine / Core Trainer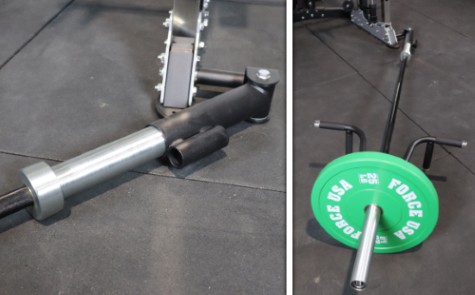 Buy the Force USA G12 – Use KING5 for 5% OFF »
The Force USA G12 landmine / core trainer station has the following components:
Landmine attachment: The landmine consists of a steel sleeve that's designed to hold one end of your Olympic barbell (there's also a second sleeve on top that can hold a 1″ diameter standard-sized bar). The landmine is permanently fixed to the base of the power rack. You can install it on the inside or outside of the rack — with the outside being preferable since it's out of the way. It has a swivel joint, which lets you move the opposite end of the barbell in any direction.
Dual-grip handle attachment:

The handle is designed for

T-bar rows

, which is a powerful

back building exercise

and one of the most popular landmine exercises. The handle slides onto the opposite barbell sleeve. You secure it by putting the weights on after it. The handle is hinged so you can rotate it up or down. It has two sets of grip positions: a straight set for overhand rows and a parallel set for neutral grip rows.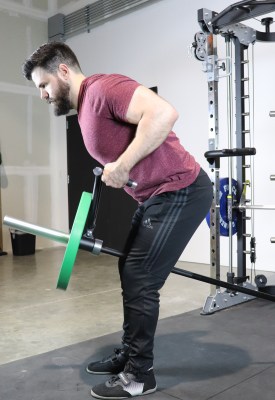 The landmine / core trainer station delivers a disproportionate number of exercises relative to its size. Many of the movements are core-focused. There are also plenty of landmine movements that target other muscle parts. Here are some example exercises:
Overhand T-bar row
Neutral grip T-bar row
Landmine single arm row
Landmine standing shrugs
Landmine bent over shrugs
Landmine rotation
Landmine crunch
Landmine press
Landmine half-kneeling press
Landmine front squat
Landmine hack squat
Landmine overhead squat
Landmine split squat
Landmine Romanian deadlift
Landmine single leg Romanian deadlift
Suspension Trainer Ring
The suspension trainer ring gives you an easy way to further expand the exercise possibilities on the Force USA G12.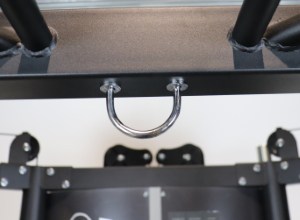 It provides a fast and convenient way to install a suspension trainer like the TRX (or even a pair of gymnastic rings). You can clip the suspension trainer's carabiner directly onto the ring, or you can loop its extension strap through it. NOTE: You will need your own suspension trainer since one is not included with the Force USA G12.
The ring also ensures that your suspension trainer setup is:
Safe: The suspension trainer ring is a U-bolt that's installed through the G12's upper crossbeam. The "U" part of the U-bolt is what you see on the underside of the crossbeam. What you don't see is the heavy duty hardware securing the U-bolt on top of the crossbeam. The strength of the crossbeam and the hardware ensures the ring can safely support your body weight and then some.
Secure: You don't have to worry about the suspension trainer sliding around since it will be contained within the confines of the ring. Whereas, sliding would be a concern if you attached it around a straight bar or beam.
Here's a sample of the 80+ suspension trainer exercises you can do, including some of my personal favorites:
Suspension trainer chest fly
Suspension trainer inverted row
Suspension trainer inverted shrug
Suspension trainer biceps curl
Suspension trainer chest dip (legs behind you, off the floor)
Suspension trainer triceps dip (legs in front of you, on the floor)
Suspension trainer triceps extension
Suspension trainer reverse fly
Suspension trainer Bulgarian split squat
Suspension trainer hamstring curl
Suspension trainer plank
Suspension trainer mountain climbers
The suspension trainer ring is NOT just for hanging a suspension trainer. You can also loop a resistance band through it for band exercises such as:
Band triceps pulldown
Band lat pulldown
Band straight arm pulldown
Band high-to-low row
Band face pull
Band high-to-low woodchop
Band-assisted dips/pull ups (performed by stepping into the bottom loop of the band to effectively reduce your body weight)
Accessory Storage
The cable accessory storage area is located on the rear panel inside the Force USA G12.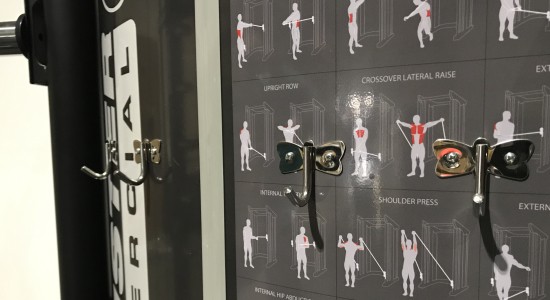 There are 4 storage hooks on the panel. This provides enough space to fit all the included accessories, except for the long straight bar, which you'll have to prop up against the panel since it's too long to hang on one of the hooks.
You'll also be able to fit any other cable accessories you may own on these hooks since you can fit multiple accessories on a hook. Still, I would've liked it if there were one or two more storage hooks so you could spread things out more.
The rear panel is not just the storage area. It also displays a large exercise diagram showing 37 movements — most of which are done on the functional trainer.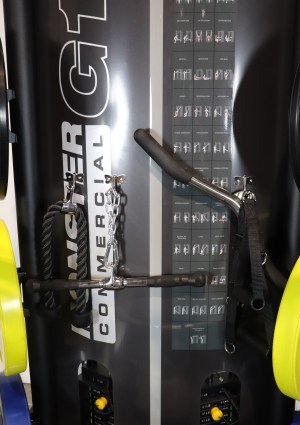 The exercise diagram is particularly useful for anyone using Force USA G12 who's not very familiar with the capabilities of a functional trainer. This could include you, a training partner, a family member, personal training clients or people using it in a facility.
The chart shows the same 37 exercises that the Force USA G6 displays on its accessory storage board. In comparison, the G20 displays 42 exercises, the G9 displays 35 exercises and the G3 displays none.
Weight Plate Storage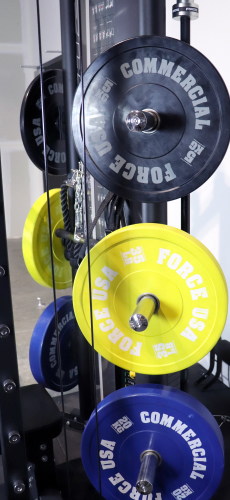 There is a dedicated weight storage area in the rear of the Force USA G12. It consists of 6 total plate holders, with 3 on the left side and 3 on the right. This gives the vast majority of users more than enough space to store all their weights.
Each weight storage holder is 8 inches long. The number of plates you can fit on the pegs depends on the type of plates you have:
If you have basic cast iron plates, you can fit four 45 lb plates on each holder
If you have competition bumpers, you can fit three 55 lb plates or four 45 lb plates on each holder
If you have super thick hi-temp bumpers, you can fit two 45 lb plates per holder
Having 6 plate holders is enough to organize your plates by weight: 45s on the bottom, 35s on the middle, and 25s and under on the top — or a similar configuration.
It's so much easier to add and remove plates from the bar or pulley when your plates are stored in an accessible way. Your workouts become more efficient and you have more time to rest between sets.
A great but not-so-obvious feature of the weight plate holder pegs is that they're angled ~30-40 degrees forward. The benefit of this is that it saves space because the unit can sit flush against a wall. If the weight holders were pointed straight out to the sides, the unit would have to be several inches away from the wall so the plates could fit.
Another side benefit of this angled weight holder setup is that puts the plates a little bit closer to the Smith machine. This makes the transfer of plates from bar to peg (and vice versa) more efficient.
The outer part of the plate holder can be removed to reveal a narrower 1" diameter peg that fits standard-sized weight plates. This is a neat feature if you have a bunch of standard plates in your gym, though most people will have Olympic plates only.
Buy the Force USA G12 – Use KING5 for 5% OFF »
Barbell Storage
The Force USA G12 has vertical barbell storage on one side of the rack, toward the rear. This provides a convenient spot to store your barbell when not in use.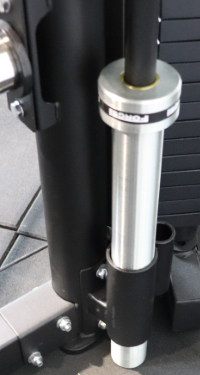 There is a holder for an Olympic barbell (~2" sleeve diameter) and a standard barbell (1" sleeve diameter).
You need additional ceiling clearance above the max height of the Force USA G12 to store a full-sized Olympic bar. As long as your ceiling is at least 7'11" tall, you'll be able to store your bar here. This accounts for the extra distance you need to lift the bar into and out of the storage sleeve.
If your ceiling is too short, you can always buy a wall-mounted storage solution like this vertical storage hook or this horizontal storage rack. Or you can simply store the bar on the j-hooks when you're finished training.
Olympic AND Standard Compatibility
As mentioned in the sections above, ALL aspects of the Force USA G12 are compatible with both Olympic and standard bars and plates, including:
Barbell storage
Plate storage
Smith machine
Landmine attachment
Most people won't ever use this feature. However, there are plenty of home gym owners who have a ton of standard plates to go along with their standard spinlock dumbbells and/or barbell set.
Missing Features on the Force USA G12
Band Peg Holes
Like the G9, the G12 has no band peg holes. You won't be able to perform band squats, band bench or other band-resisted movements. You also won't be able to add band resistance to the Smith machine or pulley weights.
If that's something you really want to do, you should go with the G20, G6 or G3, all of which have band peg holes along their base…
…But what if you love everything else about the G12, and just wish you could do band work on it?
Well, don't give up on your dream of owning the Force USA G12 just yet.
There is a DIY workaround for getting band pegs: You can install a set of mountable band pegs outside of the G12. You'd simply bolt them into your into your concrete floor or your lifting platform if you have one. This is a surprisingly affordable option and an easy DIY project if you have some basic handyman skills.
Bolt-down Capability
You can't bolt the Force USA G12 to the floor.
But luckily, there's no real need to do so because:
The Force USA G12 is a behemoth of a machine, as is. It feels rock-solid even without any weight plates on it. This is because it has a significantly wider frame than the residential models and a whopping 402 lbs of selectorized plates built into it — for a total unit weight of 950 lbs!
It doesn't have any band pegs on the base of the unit. So you won't be doing any heavy band squats, which would require more stability to keep the band tension from potentially shifting the unit around.
It should be pointed out that the G12 may appear to be a bolt-down unit because there are holes in the feet: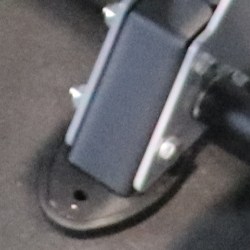 However, I checked with Force USA and they confirmed these are not designed for bolting down. They don't recommend trying to use them for that because:
The hole diameter wouldn't fit a 5/8″ bolt, which is the typical size needed for safely bolting down a rack.
The feet plates with the holes in them aren't welded to the frame (meaning they'd be a weak point).
There are no holes on the rear of the rack; only on the two front feet.
I would've said it might be okay to put smaller bolts through these holes if you were doing it only to prevent shifting over time (as opposed to for safety/stability reasons) — But even that would be pointless since the unit weights nearly 1000 lbs before you add any weights on. It's just not gonna budge from regular use.
Shipping
US Shipping
The Force USA G12 is sold only through ForceUSA.com in the United States. It ships to the 48 contiguous United States. The shipping cost is $349, which is quite reasonable considering the size and weight of the Force USA G12 package.
The unit ships in 2 wood boxes. The first is a larger, coffin-like box weighing 500+ pounds. The second is smaller but houses the two stacks so it's a little over 400 pounds.
It ships via freight and will arrive packaged on a pallet. Freight shipping brings down the shipping cost and reduces the likelihood of damage compared to traditional parcel ground shipping (i.e. UPS, FedEx). The freight company will call ahead of time to schedule the delivery date and time. Be sure to inspect for any obvious damage before signing upon delivery.
International Shipping
Shipping to Australia
Even though my review is geared toward American customers who buy from ForceUSA.com, the Force USA G12 is also sold in other countries. This includes Australia where the Force USA brand is very popular.
After receiving questions from many readers in Australia regarding the Force USA G12 and the other G-Series model, I got in touch with Gym and Fitness, the largest Australian retailer of Force USA products…
…They hooked me up with a discount code for my Australian readers that matches the one I have for my US readers. So if you're an Aussie, be sure to use code KING5 at checkout on GymAndFitness.com.au for 5% off.
When it comes to shipping from Gym and Fitness, note the following:
The average shipping cost varies from around $130 to $480 for all of the G-Series units (not only the G12). The region you're shipping to plays a major role in the actual shipping cost. The regions, from least expensive to most, rank as follows: QLD, ACT, NSW, SA, VIC, NT, TAS.
PRO TIP: You can get FREE shipping if you sign up for their loyalty program unless you're shipping to the Northern Territory, Western Australia or Tasmania.
If you need flooring for your home gym, I recommend getting some VersaFit rubber gym mats with your order. Combining this with your G12 purchase will help you save more on shipping.
Shipping to Canada
Force USA recently launched ForceUSA.ca to serve the Canadian market. This is the only place for Canadian customers to purchase the G12 or any of the other G-Series models.
My KING5 coupon code also works for the Canadian site.
Shipping to the Middle East
For anyone living in the Gulf region, your go-to retailer for the G12 will be either Garner Fitness Supplies (Garner.ae) or Alqudra Sports Equipment (Alqudra.sa). You can use my KING5 code at either site to save 5% on your order.
Both retailers have the same parent company and there is some overlap in their shipping territories. Specifically, Garner is based in the UAE and ships to the UAE, Kuwait, Bahrain, Oman, Qatar and Saudi Arabia (if needed). Whereas, Alqudra is located in Saudi Arabia and can ship throughout Saudi Arabia as well as Kuwait, Bahrain, Oman and the UAE (if needed).
Who Is the Force USA G12 Best for?
The Force USA G12 has a few different use cases. I want to use this part of my Force USA G12 review to discuss these applications.
The first use is for physical therapy practices or personal training studios. Here's why:
It can take the daily wear and tear it would receive in a PT clinic or personal training studio.
It has selectorized weight stacks. This feature is indispensable in physical therapy or personal training settings because it allows for rapid weight change when time is limited for the session.
It has a counterbalanced Smith machine. This makes the starting weight 0 lbs. This is essential if you're using it to train individuals who are too weak to lift a 45 lb bar. In contrast, non-counterbalanced Smith bars start at 45 lbs.
The Force USA G12 is a great option for home gym owners looking for a premium all-in-one home gym solution. In addition to wanting the most premium model, these home gym owners will be using it for general fitness, bodybuilding-focused training or serious but traditional strength/resistance training (i.e. not necessarily powerlifting-specific). Here's why:
It has a robust build quality that will be able to take what you can throw at it.
Like the G6 and G20, it has the "luxury" feature of selectorized weight stacks. This lets you change the weight on the pulleys almost instantly.
The inclusion of the selectorized weight stacks makes the G12 great for bodybuilders. That's why I also recommended the G20 and G6 for this demographic. A selectorized system makes it MUCH easier to do drop sets and supersets, which are staples in bodybuilding training. The G12's weight stacks are even better for bodybuilders than the G6's because the G12 has a 1:1 weight ratio vs 2:1 for the G6. This means each of the G12's 201 lb weight stacks allows you to select up to 201 lbs of resistance. Whereas, each of the G6's 221 lb weight stacks only allows you to select up to 110.5 lbs of resistance. That's nearly twice as much resistance for the G12. Most people will never outgrow the 201 lb stacks on the G12; though, if you think that's a possibility, definitely consider the G20. However, it's more likely that someone would outgrow the G6 stacks for some exercises (Note: You can progress beyond 110.5 lbs on the G6 by using the band pegs to add band resistance to the weight stack, but that's an extra step that's not needed on the G12 or the G20).
You can do anything you'd need to do on the G12 for a serious strength training regimen: All the basic barbell movements. Plus, any functional trainer movement — And again, you can go all the way up to 201 lbs of resistance per side, which people who are serious about improving strength will appreciate. However, I say the G12 is not necessarily the best choice for a powerlifting-focused type of strength training because it lacks Westside hole spacing and band pegs — both of which are important features for many powerlifters. Certainly, the G20 and arguably G3 are better options for powerlifters seeking an all-in-one gym.
Other great Force USA G12 use cases are for hotel gyms and corporate/office gyms. Here's why:
The average hotel gym and corporate gym are relatively small and have limited equipment. The G12 provides a well-built all-in-one gym solution that will add a ton of exercise variety in a compact footprint.
The users will be able to get an intense and heavy training session in. If you've been in many hotel or office gyms, you'll know how poorly equipped they are for people who want to do an effective resistance training workout.
The selectorized weight stacks are perfect for hotel and corporate gyms. It keeps the gym area cleaner and more organized because the users don't have to load plates on and off the pulley system. This is important because these gyms usually aren't staffed. Anything that keeps the training area less cluttered for other users is a win for these types of gyms.
The Force USA G12 is also a practical gym solution for fire departments, police departments and military bases. Here's why:
The G12 has a robust frame that can withstand regular daily use from multiple people in a commercial setting. Force USA stands behind it with a lifetime structural warranty.
While the G9 is also a good choice for police/firefighter/military gyms since it too has a lifetime structural warranty, the G12 has one major advantage over it: It uses two heavy selectorized weight stacks that provide more convenience and efficiency than the G9's plate-loaded system. The ability to complete workouts faster can be a major benefit for police/firefighters/military personnel who often can be squeezed for time. The G20 achieves the same if not more than the G12 for this situation, but it also has a higher price tag to consider.
Lastly, the G12 is a good match for small rec centers and fitness centers. Here's why:
These gyms usually don't have a ton of floor space to begin with. And much of the room they do have is likely taken up by cardio equipment. The G12 provides everything needed to cover all the bases for strength training equipment; all in a single unit that takes up minimal floor space.
These types of gyms are usually low-traffic. You'll rarely have the issue of multiple people waiting to use one of the 9 stations on the G12. In the cases where there are multiple people in the gym at once, you can have two people doing different exercises at the same time; one on each cable column. This is a big advantage over the G9. Although the G9 can also work well for these types of small gyms, you can't have two people simultaneously using the functional trainer. If you want the ability to have as many as 3 people training at the same time, you should consider the G20 with the optional Lat Row Station Upgrade, which gives you a 3rd weight stack.
Overall Rating
Force USA G12 All-In-One Trainer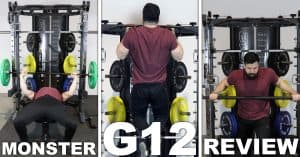 The Force USA G12 is the best premium all-in-one gym for bodybuilders or any serious lifter that wants heavy weight stacks with a 1:1 pulley ratio. Its counterbalanced Smith machine also makes it a good fit for personal training studios or PT clinics.
Product Brand: Force USA
Product In-Stock: InStock
Buy the Force USA G12 – Use KING5 for 5% OFF »
Force USA G12 vs G3 vs G6 vs G9 vs G20
All of the Force USA all-in-one gym models have their own unique set of features and pros and cons. So it can be difficult to decide which is best for you.
If you've read this full Force USA G12 review and you're still unsure if this is the best unit for your needs, I urge you to read my Force USA G3, G6, G9, G12 & G20 review and buying guide. It will help you compare the different models across all the key features and specs.
You can also read up on the different models by clicking the link below:
Check Current Prices – Force USA G3, G6, G9, G12 & G20 »
Don't forget! My discount code KING5 will get you 5% off your entire order, regardless of which model you choose:
P.S. A reminder to my Australian and Canadian readers — Remember that you also have access to my 5% off code (KING5) if you buy from GymAndFitness.com.au or ForceUSA.ca.