In this Force USA G3 review, I'll tell you all about this unit. I'll give you an overview of this all-in-one gym, followed by a deep dive into its features, and end with a discussion of who should or shouldn't buy the G3.
The Force USA G3, previously called the Force USA Monster G3, is one of seven models in the Force USA all-in-one gym product line. In many ways, the G3 is the most unique model in terms of features and specs compared to the others.
Model
Pros & Cons
Rating

Force USA G3 All-In-One Trainer

Use code KING5 for 5% off

Pros:

A 5-in-1 machine that you can upgrade to an 7-in-1 machine (plus other non-exercise station attachments)
Lowest-cost G-Series model.
You have the ability to buy each optional attachment separately instead of bundled in a kit. You only pay for what you want.
It has 2 separate plate-loaded weight carriages (one per side). You can use each side independently, which is useful if training with a partner.
Precise Westside hole spacing (1" & 2") lets you position the j-hooks/spotters exactly where you want.
The only G-Series model with an actual seat attachment for lat pulldowns.
Band peg holes are located across the entire depth of the rack on the rack's feet (power rack, Smith machine and plate-loaded areas)
The only model with hand rails for racking/unracking the leg press
Compatible with the G20 optional upgrade kit, which includes jammer arms, dip bars and a leg curl/extension attachment

Cons:

When using both sides of the functional trainer simultaneously (e.g. cable crossover), it's easiest if you have 4 of each type of plate for even loading (e.g. for 20 lbs on each side, you need 4 x 10 lb plates; 1 per peg)
It takes twice as long to load/unload vs other plate-loaded models (e.g. G9, G10) since you have 2 plate-loaded carriages vs 1
The plate-loaded pegs are only 6" long. This is adequate for many lifters, but longer would be nicer. If you're stronger, get thinner cast iron plates instead of bumper plates to fit more weight.

Rated 4.6 out of 5 in All-In-Ones

View product page
RELATED POSTS:
Feel free to jump to any section of my Force USA G3 review by using the table of contents below:
What Comes with the Force USA G3?
The Force USA G3 is different than the rest of the Force USA all-in-one gyms in that all major optional attachments are sold individually. The other G-Series units have any optional attachments bundled in upgrade kits.
I'll discuss later how the G3 having optional attachments can be seen as a pro or a con.
For now, I'll tell you which exercise stations come standard with the G3:
Power rack
Functional trainer
Smith machine
Chin up station
Core trainer / Landmine station (with handle)
There are several cable accessories that come with the Force USA G3 for use on the functional trainer. I'll cover those in the later section of this G3 review when I discuss the functional trainer feature.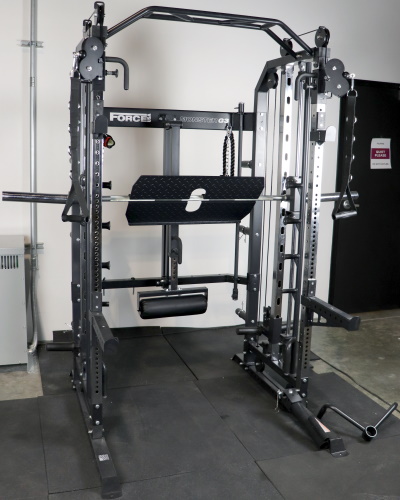 Buy the Force USA G3 – Use KING5 for 5% OFF »
There are some optional attachments that you can buy separately to upgrade the G3 into an even more versatile machine. I'll list and briefly discuss each below — I'll discuss some of these attachments in greater detail, later on in my Force USA G3 review:
UPDATE: In November 2022, Force USA released the G20 optional upgrade kit. The cool thing is that this kit is (mostly) compatible with the G3!
If you buy it, you'll expand the G3's capabilities even further with these attachments:
Dip bars: The dip bars attach to each side of the power rack and allow you to perform dips in the middle of the rack.
Leg Curl/Extension: This attachment installs on one of the power rack uprights. It allows you to do seated leg extensions (while seated on a bench or plyo box) and standing single-leg leg curls. The ability to do these popular isolation leg exercises without buying a larger dedicated machine is a big win. You can also use this attachment to do hip thrusts if you remove the top roller.
Jammer Arms: Jammer arms are really cool because they let you mimic the lever-style machines (e.g. Hammer Strength) that you often find in commercial gyms. It's a great tool for hypertrophy because it keeps you in a fixed path, which lets you focus more on contracting the muscle and less on stabilizing the load. Unfortunately, you can only install jammer arms on the 1″ hole spacing region of the G3 uprights (i.e. the lower and middle section). You can't install them in 2″ hole spacing region (i.e. the upper region). Still, this gives you a lot of exercise options.
Force USA G3 Dimensions
External Width
80″
External Depth
55″
External Height
87″
Internal Width
(Between Uprights)
44″
Internal Width
(Smith Machine)
43″
Internal Depth
34"
Internal Height
85″
Force USA G3 Review: Features
Space Saving Footprint
The Force USA G3 all-in-one home gym and functional trainer is a space efficient solution for combining several different training stations into one.
The G3 takes up a fraction of the floor space that you'd need if you bought dedicated equipment for each of the 6 possible G3 exercise stations. This makes it an ideal solution for home gym or garage gym owners who want a lot of exercise variety but have very limited space.
At the same time, you lose the benefit of having dedicated pieces of equipment. In an ideal world, you'd be able to have a separate piece of equipment for each the exercise stations in the G3. Specialized equipment obviously has benefits over multi-purpose equipment. Of course, we don't live in an ideal world. You have to consider floorspace and budget restrictions. The Force USA G3 gives you a solution that works within these restrictions.
You still get most (though not all) of the benefits of having separate, specialized equipment. As long as you understand the trade-off, you'll be happy with your decision.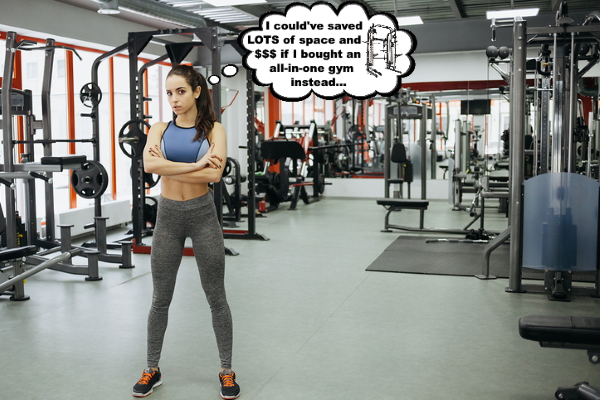 Cost-Saving Concept
The Force USA G3 won't just save you space, it will also save you money. You will save hundreds if not thousands of dollars compared to if you purchased a dedicated piece of equipment of comparable quality for each exercise station.
Although the G3 will save you money compared to the alternative, it's not "cheap" in absolute dollars. The Force USA G3 provides great value for everything you get. However, you do need a reasonable budget set aside for this purchase. Remember that you're buying an all-in-one home gym setup, which has a more complex design than, say, just a power rack or just a functional trainer. This translates to higher design, materials and manufacturing costs, which all add to the price you pay.
The Force USA G3 nevertheless gives you A LOT of bang for your buck. It is the lowest priced model in the Force USA G-Series lineup. It starts at $2199. The next least expensive model is the G9, which comes in at $3499 with everything except the new optional upgrade kit included. Even if you buy all the major optional accessories for the G3, you still save compared to the G9's price.
Having major attachments available for sale separately contributes to the G3's cost-savings. This is because you can buy just the attachments you want. If everything was included standard, the base price would be higher. However, this can also be seen as a negative if you thought the $2199 price included a fully loaded unit.
Most people will end up paying more than $2199 since they'll want at least one of the optional accessories. I know the leg press attachment and stabilizer bar would be on my must-have list.
Remember — you can always buy just the base unit now and save up for the attachments later if your budget is tight. Or maybe you're fine without any extras, in which case the base price is all you'll ever need to pay!
Buy the Force USA G3 – Use KING5 for 5% OFF »
Versatile Design
The Force USA G3 is built for versatility. It is an all-in-one gym, after all.
As mentioned, it comes standard with 5 exercise stations. You can add a 6th station if you buy the vertical leg press plate attachment separately. And you can add a 7th station if you get the lat pulldown seat, also sold separately.
All of these stations give you access to a ton of exercise variety. From free weight to bodyweight movements, and from cable to Smith machine exercises, all your bases are covered.
All of the stations in the Force USA G3 give you access to hundreds of possible exercise variations. Here's an estimate of the number of exercises you can do on each station:
The power rack easily gives you access to 40+ exercise variations, assuming you also have a barbell and a flat or adjustable weight bench.
The functional trainer component alone allows you to do 75+ exercises. This includes the various lat pulldown variations you can do if you get the lat pulldown seat attachment.
You can do another 30+ exercises on the Smith machine.
The chin up station lets you do 9 different basic chin up variations (I'll list these later in the Chin Up Station section of this Force USA G3 review).
The landmine station is particularly versatile. When you consider the various back/pulling exercises and many core movements, you can do 30+ exercises on it.
The vertical leg press station lets you do 3 very effective exercises: narrow, normal and wide leg press.
The jammer arms give you access to 10+ lever-style exercise variations. (Just note that you can't install them on the upper portion of the rack for standing jammer arm movements.)
The leg curl/extension attachment gives you access to 3 popular leg exercises including standing leg curls, seated leg extension and hip thrusts.
The dip handles give you the ability to do 2+ dip exercises, including wide grip and narrow grip dips. Many other dip variations are possible if you get creative.
If you get creative, you can do many more variations.
Power Rack
The Force USA G3 power rack (technically a "half rack") lets you do nearly all of the barbell exercises you could do in a full-sized power rack. It has a max weight capacity rating of 992 lbs, which is strong enough for all but the most elite lifters in the world.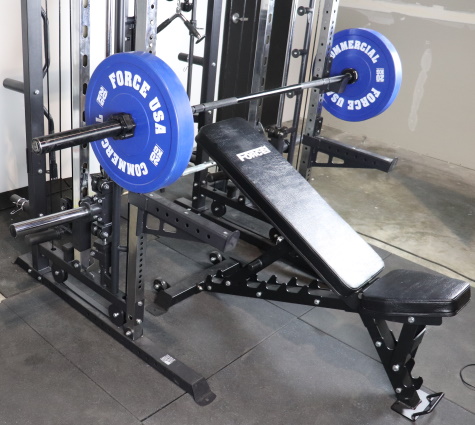 Of course, the top two exercises most people will want to do in the Force USA G3 power rack are squats and bench press.
However, you can do so much more than just these two exercises. Here's just a few of the many other exercises you can do in the G3 power rack:
Band deadlift
Band bench press
Barbell Incline bench press
And plenty more…
The Force USA G3 power rack comes with j-hooks so you can rack and unrack the bar. And it has safety spotter arms so you can safely dump the bar and not get pinned underneath if you fail. It has Westside hole spacing, so you can set the j-hooks and spotters in 1″ or 2″ height increments on the uprights.
Below, I'll talk in-depth about the spotter arms, j-hooks and hole spacing.
Spotter Arms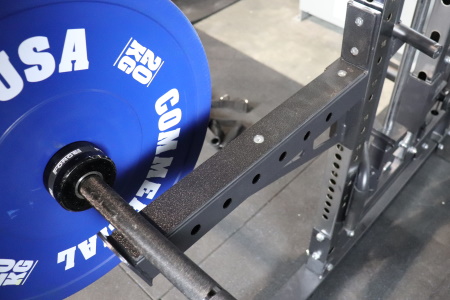 The G3 has the longest safety spotter arms of all the G-Series machines. They have 17.5" inches of usable space, compared to 15" for the other models. This means you can move further away from the uprights on squats while still having the spotter arms under you in case you fail.
I'm used to squatting in a ~30" deep power rack, so this spotter arm length felt pretty comfortable right away. Whereas, the 15" spotter arms on the other models took some getting used.
J-hooks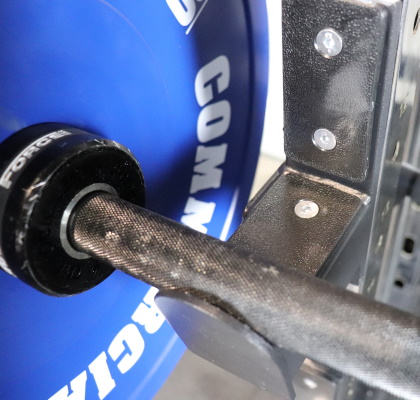 The j-hooks are overall better than on all of the other models except for the G20, which has roller j-hooks. The G3 j-hooks have an upper portion with protective nylon plastic to minimize scratching on the bar when racking the weight.
The j-hooks on the G6, G9, G10, G12 and G15 have an unprotected upper portion. On the G6, G9 and G12 j-hooks, the upper portions aren't just unprotected, but they have a large bolt head sticking out.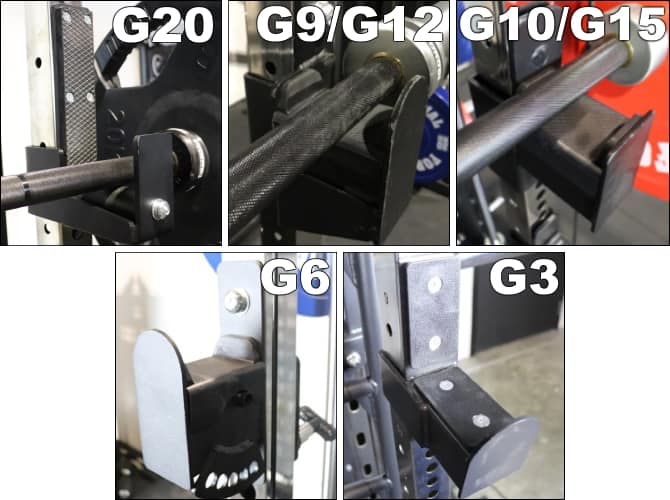 Westside Hole Spacing
The Force USA G3 has precise Westside hole spacing. This is a big contrast to the much more spaced out holes on the G6, G9 and G12.

Westside hole spacing gives you as much precision as you need to adjust the j-hooks and safeties to the ideal height, particularly when benching.
The type of Westside spacing on the G3 is actually different (and better!) than the "traditional" type of Westside spacing: It has 1 inch spacing in the middle AND lower part of the rack. Whereas the traditional type has 1 inch spacing only in the middle. Having the 1 inch spacing go all the way to the bottom lets you set the safety spotters precisely for other exercises, such as floor presses and rack pulls.
The G20, G15 and G10 have similar hole spacing to the G3. However, go a step further and uniform 1 inch hole spacing throughout the entire height of the uprights. There is no 2 inch hole spacing section.
When comparing the G3's hole spacing to the G6, G9 and G12, it gives your greater precision at any height. Even the 2 inch hole spacing in the G3's upper portion beats out the hole spacing everywhere on the G6, G9 and G12, which all have uniform 3.75" hole spacing. Hole spacing isn't everything. 3.75" still allows you to do all lifts safely and effectively. However, it's a nice convenience to set the j-hooks and safeties so they're "just right" for every lift.
The Force USA G3 has 10 j-hook holes with 2 inch spacing in the upper part of the rack. It has 40 holes with 1 inch spacing in the middle and lower part of the rack. That's a total of 50 holes.
However, it should be noted that only 49 holes are accessible. Let me explain…
…You can't put the j-hooks in the uppermost hole on the uprights. This is because the pulley always needs to be set higher than the j-hooks. And you can't install the j-hooks above the pulley because the pulley cable will block the hole. When the pulley is at the highest setting, it actually blocks the top hole, making it inaccessible.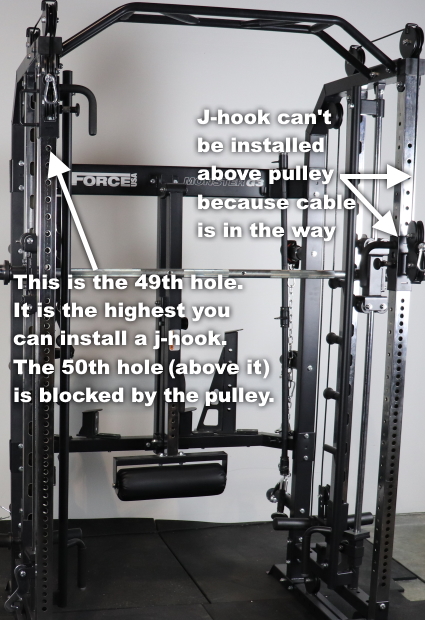 The good news is that there's few if any reasons to want to use the highest j-hook hole setting. Still, if it's there, you'd think you'd be able to put the j-hooks on them.
When the j-hooks are installed in the highest accessible hole (i.e. the 49th hole), the distance from the floor to the bottom of the barbell shaft is 66″, or 5'6″. This height should allow anyone as tall as 6'10″-6'11″ to squat without having to bend their knees too much to get under the bar. (Note that the exact max user height depends on where the user holds their bar on their back, their stance width an body proportions).
When the j-hooks or spotter arms are installed in the lowest hole on the uprights, the bar will be just 14″ above the floor. This is useful info in case you wanted to know the lowest height you could do rack pulls at.
Pulling 14″ above the floor is equivalent to doing pulls off ~6″ blocks. This is great if you want to do rack pulls from a low starting height. Since you have the Westside spacing, you can increase the spotters by one inch per setting for incrementally higher rack pulls.
Buy the Force USA G3 – Use KING5 for 5% OFF »
Functional Trainer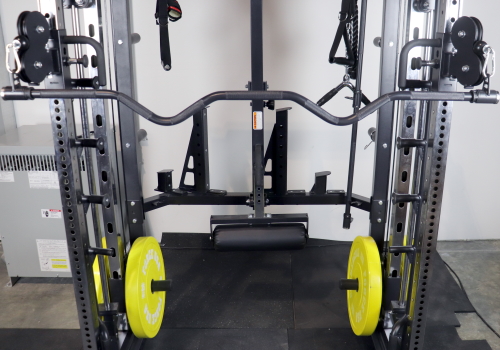 The functional trainer is the centerpiece of the Force USA G3 all-in-one home gym. It consists of two pulleys on the front uprights connected by cables to plate-loaded weight carriages. Each of the two plate-loaded weight carriages has two weight pegs to hold the weights. Each weight peg is 6 inches long.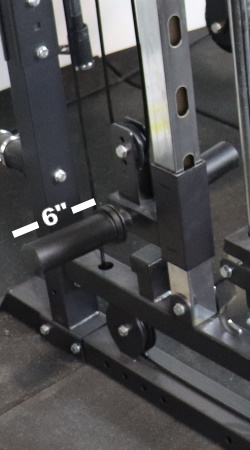 You can adjust each pulley up or down to any of 22 possible height settings. This is tied with the G10 and G15 for most pulley height settings among the G-Series models. Here is how the other units compare:
G6: 19 pulley height settings
G9: 16 pulley height settings
G10: 22 pulley height settings
G12: 16 pulley height settings
G15: 22 pulley height settings
G20: 19 pulley height settings
The Force USA G3 functional trainer has a 2-to-1 pulley ratio. This means that you get 1 pound of resistance for every 2 pounds loaded on. So if you load 90 pounds on one of the pulleys, it will feel like 45 pounds.
This is typical for many functional trainers on the market, including the G6, G10 and G15 (the G10 and G15 can also be switched to a 4-to-1 ratio).
However, some — like the Force USA G9 and G12 — have a 1-to-1 ratio, where the amount loaded on the pulley is the same as the resistance you feel.
This means you just have to load on more weights if you want to lift heavier on the Force USA G3 functional trainer. At the same time, it means you can achieve smaller weight increments and the cable has a longer max travel length.
The functional trainer comes standard with several cable accessories to ensure you have access to a wide variety of exercises. The accessories include:
Long Cambered Bar
Long Straight Bar
Short Straight Bar
Close Grip Row Handle
Nylon Stirrup Handles (2)
Ankle Strap
Triceps Rope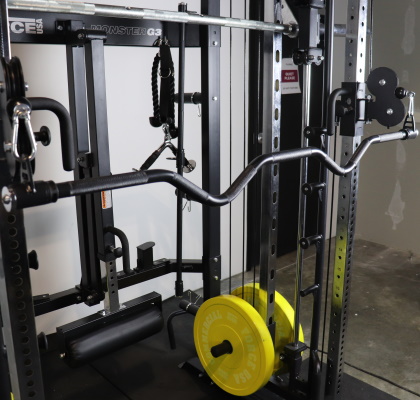 The functional trainer and the included cable accessories give you access to 75+ exercises. Really, your imagination is the limit when it comes to this station. It provides incredible versatility in terms of exercise selection.
I can't possibly list all of the functional trainer exercise variations, but I'll list the most popular ones as well as some of my personal favorites:
Low to high cable chest fly
High to low cable chest fly
Cable chest press
Cable shoulder press
Cable stirrup shrug
Cable lateral raise
Cable rear delt raise
Cable upright row
Lat pulldown
Cable low row
Triceps pushdown
Lying cable triceps extension
Cable biceps curl
Cable pullthroughs
Cable glute kickbacks
Cable squat
And many, many more!
The quality of the functional trainer on the Force USA G3 is great. It feels very smooth.
In fact, the "smoothness" of the pulley action on the Force USA G3 is good overall, but it's not as smooth as on the more expensive units (i.e. G6, G9, G10, G12, G15, G20). The main reason for the difference in smoothness is that the G3's weight carriages slide along a single square tube. Whereas, the other units use double guide rods, which provide a more balanced setup with less friction.
…To maximize the smoothness of the G3 cables, you should evenly load the left and right weight horns on the weight carriage (e.g. 20 lbs on one weight horn, 20 lbs on the other). The greater the imbalance between the weight holders, the greater the drag.
You will also experience some drag on the G9 and G10 models if you unevenly load their weight horns, but it takes a much bigger weight imbalance to be noticeable compared to the G3. The selectorized models (G6, G12, G15 and G20) never experience this issue since they have weight stacks, which necessarily are always balanced.
I want to point something out about the G3 as it relates to the topic of even loading: It can be a challenge to evenly load both weight carriages evenly when you're doing double pulley exercises IF you have just one pair of all the weight plate sizes. Let me explain:
You won't have any issues with even loading on a single pulley exercise if you have just one pair of each plate size because single pulley exercises only require loading plates onto just two weight pegs.
However, you will *sometimes* need more plates when doing a double pulley exercise (e.g. cable crossovers or anything else using the stirrup handles on both columns; or anything using the long bar or cambered bar which attach to both pulleys) because that involves loading weight evenly over four weight pegs…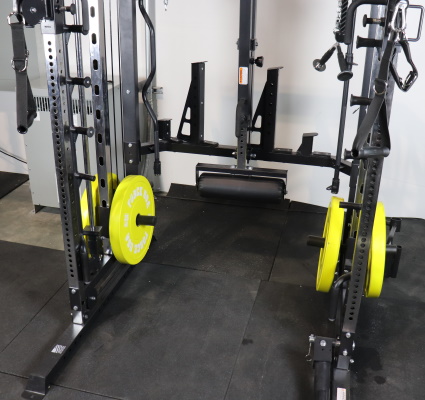 …I say "sometimes" because you can often get the desired weight on both pulleys by combining weight plates — Here's what I mean, as an example: You can load 70 lbs of plates (equating to 35 lbs of resistance) evenly on each column by using a 35 lb plate on the left weight horn and a 25 lb plate + a 10 lb plate on the right horn; and do the same on the opposite column.
Of course, there will be some weight increments you can't achieve this way if you only have a single weight plate set with no duplicate plates (though many people have duplicate plates of the heaviest weight plate in their set i.e. 45 lbs or 55 lbs depending on your set).
Obviously this isn't ideal since you can't be as precise with the resistance. You also need to do a little extra mental math on fly. Plus, you have to take the time to grab more plates and put them on all four weight horns. My point is that you can get away with having just one pair of each weight plate size, but it would be more efficient to have two pairs of every plate size when doing double pulley exercises on the Force USA G3.
One of the most unique features of Force USA G3 functional trainer is that both of its pulley cables can extend a full 145 inches (12.1 ft) in front of the rack. This is MUCH further than you can extend the pulleys on the other models:
The Force USA G6 cables extend just 60 inches (5 ft).
The Force USA G9 cables extend only 51.5 inches (4.3 ft) if you use both pulleys at the same time. If you use just one pulley, the cable will extend 103 inches (8.6 ft).
The Force USA G10 cables extend 60″ (5 ft) with the 2:1 ratio and 120″ (10 ft) with the 4:1 ratio.
The Force USA G12 cables extend just 53 inches (4.4 ft).
The Force USA G15 cables extend 60″ (5 ft) with the 2:1 ratio and 120″ (10 ft) with the 4:1 ratio.
The Force USA G20 cables extend just 53 inches (4.4 ft).
Having so much usable distance for the cables gives you the ability to do some creative exercises, such as:
Walking cable lunges
Cable sled pulls
Cable squat walks
Lateral cable squat walks
And many others
As a side note, you may want to invest in a sled harness or functional training vest to get the most out of these types of cable exercises. The video below shows several more functional trainer exercises you can do with a vest and a long cable:
Buy the Force USA G3 – Use KING5 for 5% OFF »
Stabilizer Bar
The G3 is the only G-Series model with a stabilizer bar. When looking at the attachment options at first, I didn't think much of the stabilizer bar. Well, that's because I've never used one. Once I was able to try it in person on the G3, I instantly saw the appeal.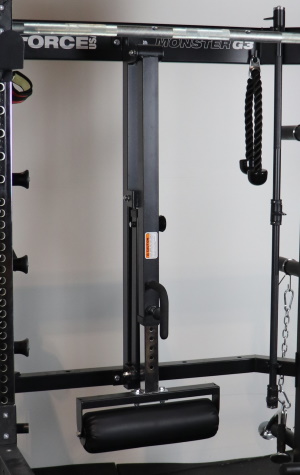 If you're not familiar with this handy piece of equipment, let me fill you in…
…The bar has a pad on the end. You can extend, retract, raise or lower the bar. This lets you position the pad exactly where you need it for a given cable exercise. You lean against the pad to support your body in positions that would otherwise require a great deal of core stability.
The stabilizer bar allows you to execute certain cable exercises with greater efficiency and intensity. You can focus 100% on the target muscles.
Here's a few examples of my favorite exercises that use this attachment:
Low to high cable flyes, which target the upper pecs. You're able to lean your torso back so you can efficiently achieve the ideal incline motion.
Any chest pressing cable movement, with either individual stirrup handles or a single long handle attachment. If you were cable pressing without a stabilizer bar, you'd need to really lean forward in a staggered stance. But when you're cable pressing with the stabilizer pad against your back, it keeps you from moving backward, leaning forward or using an uneven stance. The stabilizer lets you press much more weight this way, at any angle you want: low, straight out or incline.
Chest-supported cable movements. You can turn around and put your chest up against the pad to keep your torso in place while you perform rowing movements. I'm a huge fan of chest supported rows because they really let you isolate the back by removing momentum. Usually this requires a dedicated machine. But getting creative with the stabilizer arm and the cable pulleys lets you mimic several variations of the chest supported row.
And many more exercises. The above are just a few examples. You can get very creative with it.
There's an additional "hidden" use of this attachment that I discovered when testing out the Force USA G3. You can extend it out and down so the pad holds your knees against the weight bench while performing lat pulldowns with a double pulley attachment.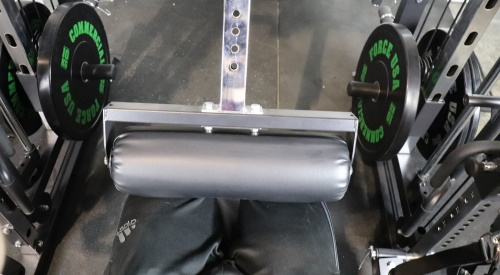 Note that the stabilizer arm doesn't fully replace the utility of the G3's optional lat pulldown seat. The seat attachment allows you to do lat pulldowns on either column using any single pulley attachment for lat pulldowns (e.g. close grip row handle, short bar, rope).
I'd personally rate this as a high-priority attachment. It would be the second one I'd buy, with the leg press attachment being the first.
Lat Pulldown Seat
The Force USA G3 is the only unit that offers a dedicated lat pulldown seat. That is, it includes the leg holder pad and the seat all in one. The G6, G9, G10, G12, G15 and G20 have lat pulldown leg holder attachments where you put your bench under the leg holder to create a seat.
You can see the Force USA G3 lat pulldown seat in action below. (Note: It's not me in the video — I forgot to get footage of myself using this piece, so I asked Force USA to send me a clip of one their team members using the seat.)
This G3 lat pulldown seat is sold separately. It's definitely a worthwhile attachment if you like lat training.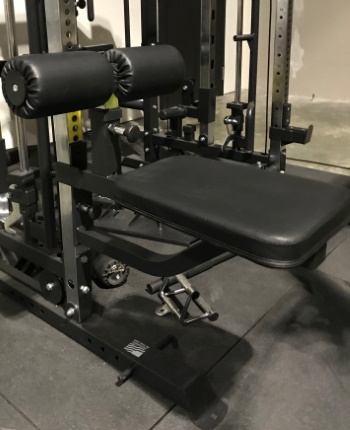 If you're familiar with the Force USA MyRack power rack, it has a similar lat pulldown seat that attaches to its cable cable crossover attachment. That seat is not the greatest, mostly because it attaches to a single column, which would sway back slightly. But also, it had no covering over the foam pads on the leg holder. Plus, the part of the frame underneath the was too short, which made the seat less supported…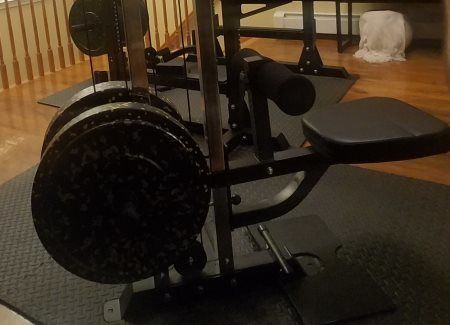 …Luckily all those issues are fixed on the G3 lat pulldown seat. Most importantly, the uprights that it connects will not sway forward since they're not freestanding; they're rock solid because they're part of the enclosed frame of the G3. Second, the beam on the underside of the G3 seat's frame extends further back under the seat, which provides better structural support. Lastly, the foam leg holder pads have a protective covering.
The only reasons not to consider this attachment would be if:
You don't care much for doing lat pulldowns
You have a weight bench with its own knee holder attachment or a decline leg/foot holder attachment
You buy the stabilizer arm attachment, which you can position to hold your knees down to do a dual cable lat pull down with one of the long bar attachments (straight or cambered) in the middle of the rack. Note, however, that you won't be able to do lat pulldowns with any other attachments (e.g. short bar, rope), as those can only be attached to one cable, on either the left or right pulley column.
The Force USA G3 lat pulldown seat inserts into any hole on the uprights just like a j-hook would. You then secure it with a pop-pin that goes into a lower hole. Since you'd be using this on the lower part of the rack, you'll be able to adjust the heights in one inch increments. That allows you to be very precise.
There's a secondary pop-pin adjustment mechanism for increasing or decreasing the height of the knee holder pads. This lets anyone get a firm fit against their thighs, whether they have tree trunk quads or toothpick legs.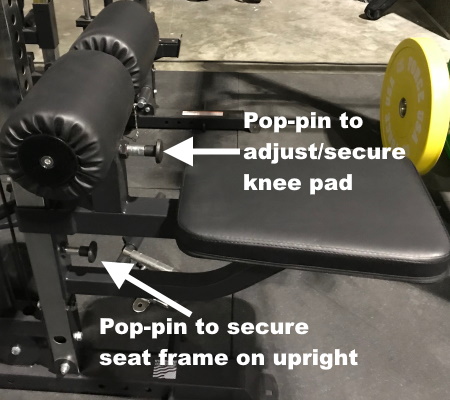 The pads have commercial grade vinyl upholstery to protect the foam inside from rips and tears. This is much better than many cheaper leg holder solutions that have the bare foam exposed.
Smith Machine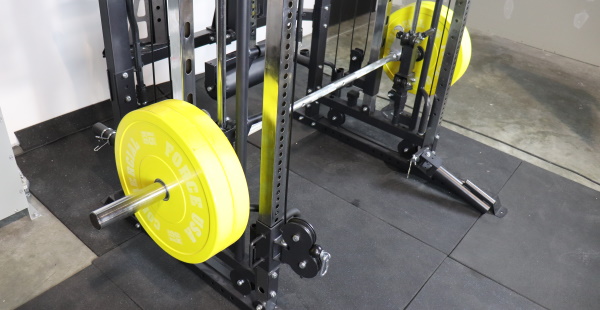 You can use the Force USA G3 Smith machine for tons of exercises — including almost any lift you can use a free weight barbell for. However, I personally like to do all the main compound lifts with free weights.
That said, I've come to appreciate Smith machines over the years for several different exercises. Here are some of my favorites:
Smith machine shrugs
Smith machine incline press
Smith machine RDL (though it should be noted that you may want to get a stable box/platform to stand on for the G3 to get more range of motion, since its lowest point is relatively high — for me, it was around knee level)
Smith machine hack squat
Smith machine standing calf raise
Smith machine seated calf raise
Smith machine rear delt row
Smith machine one arm row
Inverted row (using Smith machine to hold onto)
And I know many women LOVE to use Smith machines for any number of "booty" exercises, like hip thrusts and glute kickbacks, among others.
The Force USA G3 Smith machine also makes it possible to do vertical leg presses if you buy the optional leg press plate attachment.
The sleeves on the Force USA G3 Smith machine are 12″ long. The sleeves are also angled slightly up, which ensures all the weights will stay on without a clip even if you fill up the entire sleeve length with plates. It has a 770 lb max weight rating, which is more than enough for almost anyone.

The Force USA G3 Smith machine works great for most peoples needs. It does exactly what it needs to do: Hold plenty of weight so you can move it up and down on a fixed vertical track.
However, it is not the same type of system as on the G6, G9, G10, G12, G15 and G20. The G3 Smith machine uses the standard wheel and ball bearing system. Whereas, the other models use a slightly better linear bearing system.
The end result is that you get a smoother gliding action on the G6, G9, G10, G12, G15 and G20. The G3 has a small amount of drag in comparison. But again, it doesn't impair it's essential functionality. The others just have a more premium feel, which is in line with their more premium price tags.
You can see the gliding action of the Force USA G3 Smith machine in the video below:
The Force USA G3 Smith machine is not counterbalanced. This means the empty bar weighs as much as a regular bar (i.e. 45 lbs). The Force USA G6 and Force USA G20 Smith machines are also not counterbalanced.
The G9, G10, G12 and G15 have counterbalanced Smith machines, which reduce the starting weight to zero pounds. This is particularly helpful if it will be used by beginners or people recovering from injury who need super light weight on certain Smith machine exercises.
While the counterbalanced feature is nice, it's not important unless you see yourself needing to use less than 45 lbs on the Smith machine.
The Force USA G3 Smith machine has one cool little feature not available on the other models. It has to do with locking the vertical leg press attachment into place. I'll discuss the details in the next section of my Force USA G3 review.
Buy the Force USA G3 – Use KING5 for 5% OFF »
Vertical Leg Press Attachment
The vertical leg press attachment is my favorite optional attachment on the Force USA G3. This should be your #1 pick among the various optional attachments if leg training is important for you.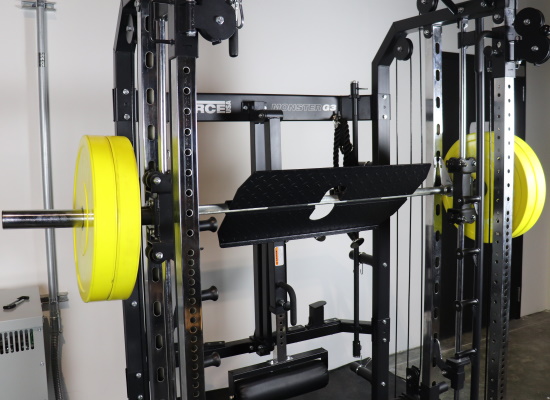 It's an excellent way to train your quads, hamstrings and glutes with heavy loads without loading your spine. If you only train legs with exercises that axially load the spine (e.g. barbell squats), your results can be limited by your lower back strength and/or lower back recovery.
I've personally had great success in the past by training legs 2+ times per week; doing heavier barbell squats earlier in the week with leg press later in the week. This approach ensures performance on the leg press isn't limited by the lower back, which may still be recovering from the heavy squat session.
Similarly, you can squeeze more leg volume into a single workout session by doing leg press after heavy squats. You can continue to get as much out of your quads/hams/glutes without being limited by a fatigued lower back.
The G3 leg press plate is 29" wide, which is just a half-inch narrower than the leg press plates on the G6, G9, G10, G12, G15 and G20. It works great for leg pressing with anything from a narrow stance to a normal shoulder width stance to a wide stance.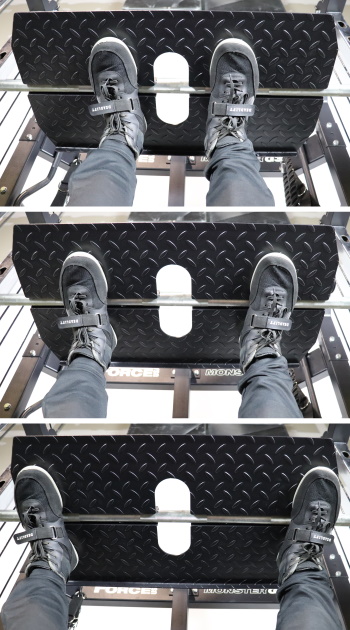 The only thing you can't do is an extra wide (i.e. sumo) stance. This shouldn't be a problem for most people. It's not common to perform leg presses with a sumo stance. I've personally never used such a wide stance.
There are a few key differences between the leg press plates on the G3 vs the G6/G9/G10/G12/G15/G20 (other than the half-inch width difference mentioned above):
First, the shape is rectangular on the G3. Whereas, it's more angular on the other models. There's no real functional difference. It's primarily aesthetic.
The G3 leg press plate attaches through the Smith bar. There are two pins that insert through the plate, then into two holes in the Smith bar, then through the other side of the plate. This takes a little bit longer to install than the leg press plates on the other models, which use pop-pins to snap into the hooks on the ends of the Smith bar.
Both mechanisms are safe and secure, but there's a small amount of play if you wiggle the G3 plate with your hand. That said, any wiggling is not really noticeable when you're actually using the G3 leg press with weight on it.
You can optionally lock the plate so it doesn't rotate — it will be in a completely fixed position, parallel to the floor. Compare this to the G6/G9/G10/G12/G15/G20 leg press plates that rotate down (so you can rack the Smith bar on the pins) and up (so you can unrack it, and so you can use a variable ankle angle during the movement as needed).
If you have good angle mobility, it's nice to keep the G3 plate in a flat, fixed position because you don't have to worry about any minor ankle stabilization during the press.
How does this work on the G3? You insert the included pins through the holes on the Smith machine hook and its wheel and ball bearing mechanism, as shown below: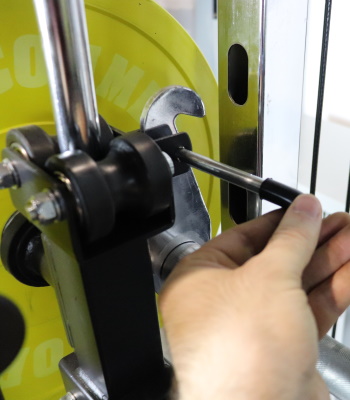 This is possible only on the G3 because you don't have to rack the weight by rotating the Smith bar hooks down into a locked position like you do for the G6/G9/G10/G12/G15/G20.
Instead, you can use the hand spotter rails to rack and unrack. You rotate the rails in to catch the bar when your rack the weight. You rotate them out of the way when when you unrack.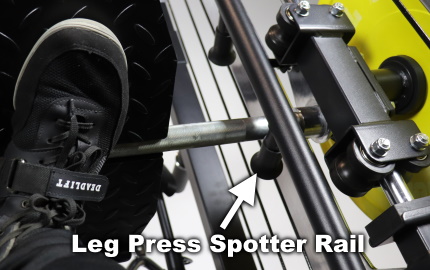 If you don't want to use the Force USA G3 leg press in the fixed position, you don't have to. It will work essentially the same as the other Force USA all-in-one gym models if you don't lock it in place. Though, you can still use the spotter rails in this scenario if you want to.
Chin Up Station
All Force USA all-in-one gym models have "multi-grip" chin up stations. However, the G3 has a different style than the other units. It has what's typically known as a "Monkey style" multi-grip chin up bar.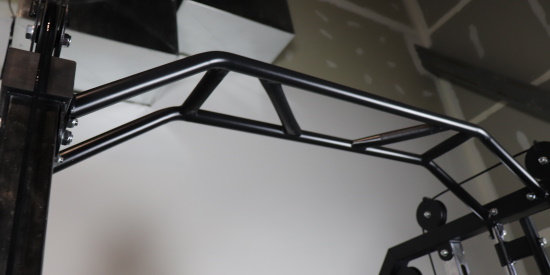 It has two long, angled bars that run parallel to each other across the width of the rack. Two straight bar segments and two oblique bar segments connect between the long bars. This creates several different grip configurations you can use:
Close pronated grip
Close supinated grip
Close semi-pronated grip (using oblique and straight segments)
Normal width pronated grip
Normal width supinated grip
Normal width semi-pronated grip
Normal width semi-supinated grip
Wide pronated grip
Wide neutral grip
You can do all of these grip configurations on the G6, G9, G10, G12, G15 and G20 — except it can be a little more difficult to do the normal width semi-pronated grip on them.
Close neutral grip is the only grip configuration you can't do on the G3 multi-grip station that you can do on the others.
Unlike the other models, the G3's chin up station is elevated above the top of the rack's frame. This increases the max height of the unit by a couple inches.
If it's borderline whether you'll have enough ceiling clearance to perform full range of motion chin ups without hitting your head, you could buy the G3 straight chin up bars instead.
NOTE: Some people have asked if you can install the G3 multi-grip chin up bar upside down to allow for more headroom on pull ups when ceiling space is limited. Unfortunately, you cannot do this because there is a lip on top of the bar that makes it only fit one way. As mentioned above, the best workaround for this scenario is to get the optional G3 straight chin up bars.
My favorite part of the G3 multi-grip bar is that it has knurled portions. This gives you a better grip than smooth chin up bars. It provides a more natural feeling than foam or rubberized grips, in my opinion.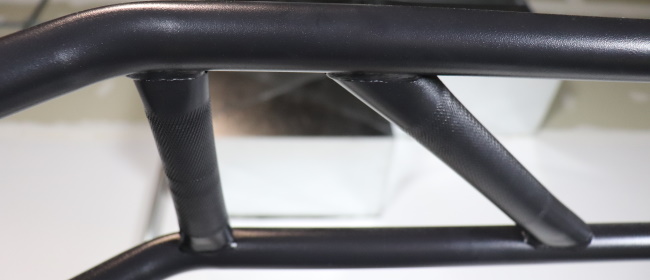 It is the only unit with knurling. This is not an "essential" feature. Rather, I consider it a nice bonus.
Landmine / Core Trainer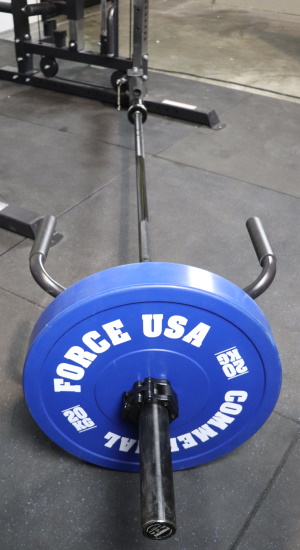 The landmine / core trainer attachment comes standard with the Force USA G3. It includes the landmine itself, which you insert one end of the barbell in. It also includes a handle, which attaches to the other end of the barbell and is only needed for some landmine exercises.
You can attach the landmine to either the left or right upright, at the base of the rack. It is permanently affixed there.
This attachment is small and simple yet highly versatile. There's dozens of possible exercise variations you can do on a landmine. My personal favorite is t-bar rows, which involves using the included handle.
Here are just a few of the many landmine exercises you can do:
Landmine squats
Landmine hack squats
Landmine thrusters
Landmine one arm rows
Landmine one arm presses
Landmine anti-rotations
Landmine lunges
Landmine RDL
Landmine single leg RDL
And many more!
You can rotate the landmine upward or backward to position it out of your way when doing other exercises.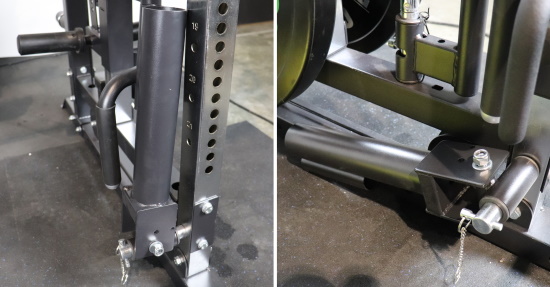 Technically, you can use the MyRack landmine on the G3 if you wanted to. Most people wouldn't have any need to do this, since the G3 already comes standard with the landmine / core trainer attachment.
However, the MyRack landmine attachment is removable. You can install it in any band peg hole on the base of these racks. If your gym space is really tight, you could install the MyRack landmine in the very rear of the rack to save a few feet of space in front of the rack.
Buy the Force USA G3 – Use KING5 for 5% OFF »
Dip Bars
For the longest time, the G3 didn't have dip bars. Force USA had told me some time ago that they would eventually make some available — and now they're here!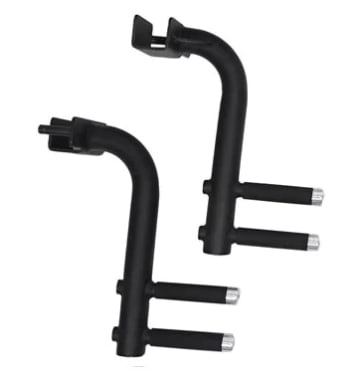 In order to get them, you need to buy the G20 optional upgrade kit. Yes, even though it's made for the G20, it will work on the G3.
These are the same basic style of dip bars available on all of the other G-Series models. They include two separate handles and they attach to both sides of the power rack. This allows you to do dips in the middle of the rack so you can face either to the front or back without worrying about your feet hitting the uprights.
There are two grip width options:
Narrow Grip: Spaced 20″ apart, this grip width option is ideal if you have narrower shoulders or if want to emphasize your triceps more than your chest.
Wide Grip: Spaced 26.5″ apart, this grip width option is best suited for lifters with broader shoulders or those who want to emphasize the chest more than the triceps.
The handle grips have a rubberized covering, which makes for a no-slip experience.
Each handle grip measures 30mm (1-3/16 inches) in diameter. That's just 1mm larger than a standard powerlifting barbell. This thickness is comfortable for most lifters and provides a secure grip without digging into the palms.
The dip bars can be used for a variety of exercises beyond narrow and wide grip dips, such as inverted rows, incline push ups, neutral grip pull ups (if you install it high on the uprights), scap dips, band-assisted dips and many other dip variations.
Leg Curl/Extension
The leg curl/extension attachment was launched in November 2022. If you want this attachment for the G3, you can buy the G20 optional upgrade kit which also features jammer arms and dip bars. As mentioned earlier, the attachments in the G20 upgrade kit also work on the G3.
However, the leg curl/extension attachment can also be bought individually for those who don't need or want the jammer arms and dip bars.
The photos below show this attachment in action on the G20. It works exactly the same on the G3: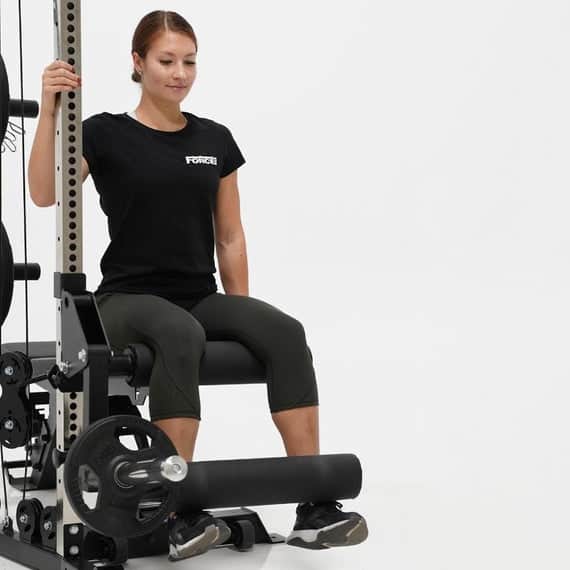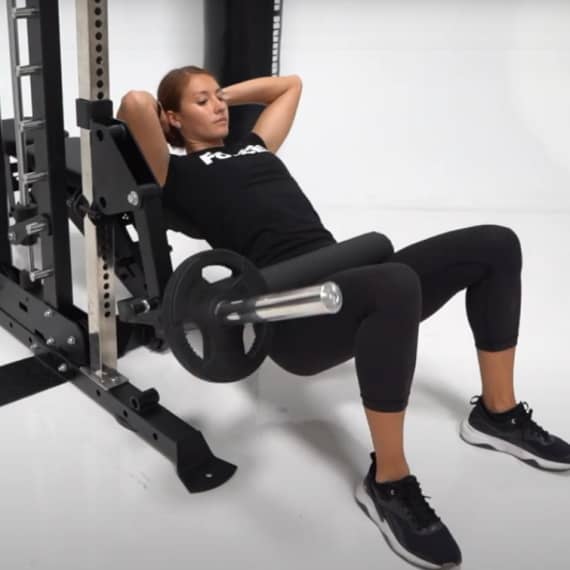 This attachment's design is relatively novel, as there are currently only a few companies like Kingbox and BLK BOX (both UK-based) and some DIY versions of the same concept.
The attachment consists of a frame that attaches to the power rack, a lever that attaches to the frame, two high-density foam rollers with sweat-resistant covers, and a pop-pin adjustment mechanism for adjusting the bottom roller.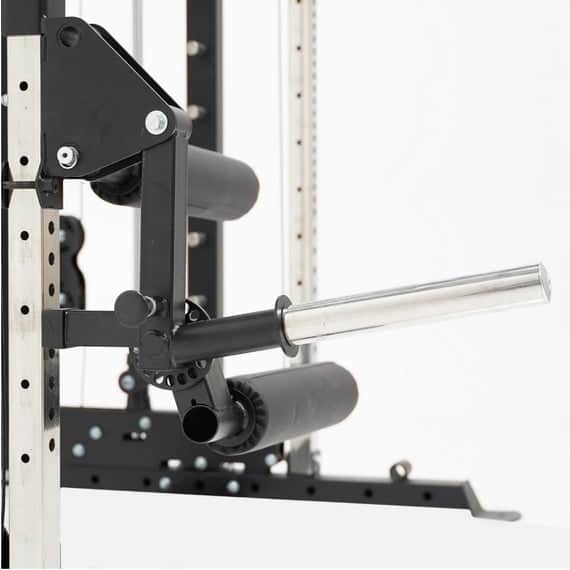 It installs to a single power rack upright at the desired height.
You can use the attachment for the following exercises:
Seated leg extensions (unilateral or bilateral): To do seated leg extensions, you'll need to set up a weight bench or a plyo box to sit on, then set the height of the leg curl/extension accordingly. You can do leg extensions with both legs or one leg at a time with this attachment. I generally recommend doing unilateral (i.e. single-leg) leg extensions on this attachment. This is because if you do bilateral leg extensions (both legs simultaneously), you'll notice a slight variation in resistance between your left and right leg. This is due to the weight being placed on one side, rather than being centered. As a result, the leg closer to the weight will experience less resistance compared to the leg further away.
Single-leg standing leg curls: Lying leg curls are not possible with this design. And since you're standing, you can obviously only use one leg at a time. While it may not be as efficient to train one leg at a time, you'll still get a very effective hamstring workout. Plus, training one leg at a time prevents you from using your stronger leg from compensating for your weaker leg.
Hip thrusts: In order to do hip thrusts, you must first remove the top roller pad. The main downside of doing hip thrusts with this attachment is that you can only load so much weight onto the plate holder. Eventually, you'll outgrow it and will need to switch to barbell hip thrusts to continue progressing in strength.
Jammer Arms
Jammer arms are now available for the G3, but there's a caveat…
…So as I mentioned already, these jammer arms are available in the optional upgrade kit that was made for the newly-redesigned G20. The jammer arms were designed for the new G20's uniform 1″ hole spacing.
But as you know from reading this G3 review, the G3 has both 1″ and 2″ hole spacing. The 2″ spacing is on the upper ~1/3 of the uprights. Unfortunately, these jammer arms can't be installed in the 2″ spacing region.
The jammer arms WILL work in the 1″ hole spacing region of the G3. That still gives you a good amount of exercise options with the jammer arms.
The jammer arms look like this: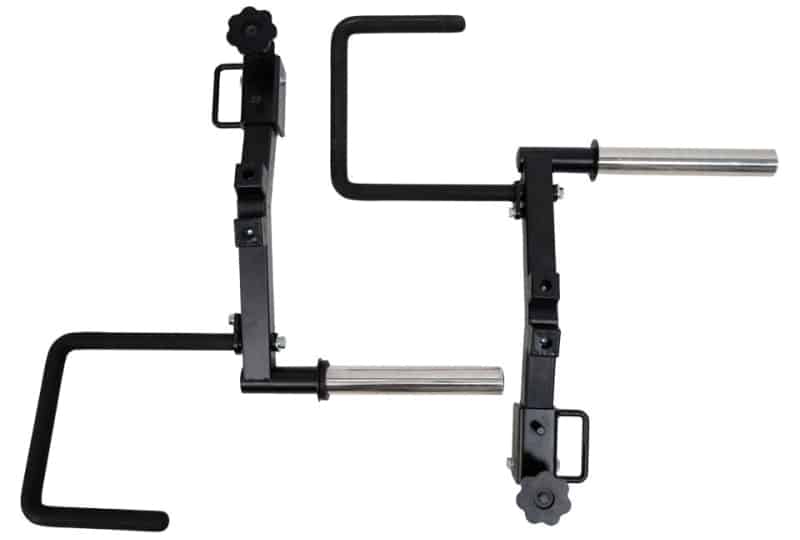 In case you're not familiar with this type of attachment, these arms attach to the power rack uprights at the desired height.
The actual installation process is pretty straightforward: You insert the threaded pin on the back of the jammer arm through a hole in the upright. Then secure it on the other side of the upright with an included star knob.
Once attached, you add weight to the pegs. Then you use the handles to perform any number of pushing or pulling exercises. The arms swing out on a hinge.
This setup is the closest thing you'll get to recreating many of the lever-style machines you'll find in commercial gyms.
I love using jammer arms for hypertrophy training because the fact that the arms travel through a fixed path means you don't have to worry about stabilizing the load. Rather, you can focus mind-muscle connection.
Some people also use jammer arms for training explosiveness. This is most commonly seen on standing push press and snatch jammer arm variations. Unfortunately, that's not an option when using these jammer arms on the G3 because you can't install them on the upper part of the rack (i.e. the 2″ hole spacing zone), which would be required to standing jammer arm movements.
Although standing jammer arm movements aren't possible, many seated and kneeling movements are. Here are just a few examples:
Jammer Arm Bent Over One Arm Row
Jammer Arm Flat Bench
Jammer Arm Incline Press
Jammer Arm Seated Shoulder Press
Jammer Arm Chest Supported Row
Jammer Arm Shrugs
Jammer Arm Lunges
What sets these jammer arms apart from others on the market is the slight (~30 degree) bend in the arm.
Unlike most jammer arms which are straight, this bend allows for easy propping on the spotter arms, enabling exercises where the jammer arms need to start in a completely straight-out position. This is beneficial when performing exercises where the weight is directly above the user.
Additionally, these jammer arms come with built-in rubber stopper pads on the back to prevent damage, whether they are used on the spotter arms or against the uprights.
The jammer arms feature large, rubber-coated U-shaped handles with a grippy surface. This handle design allows for a neutral grip as well as two pairs of straight grip segments.
The straight grip segments provide two different leverage options. The weight feels heavier when you use the straight grip segment closer to the rack. When you use the one further away, the resistance decreases.
One cool thing to play with is using the band peg feature on the G3 to add band resistance to the jammer arms. It's a great way to mix up your workout and give your body a different training stimulus compared to just using weight plates all the time.
Speaking of weight plates, you won't have an issue fitting enough of them on the jammer arms. Each jammer arm has a 12″ long sleeve for loading plates. That is more than enough space to add enough weight for any jammer arm exercise, especially if you have regular cast iron plates. Even if you use extra-thick bumper plates, you'll be fine.
While the jammer arms are a great addition to any workout routine, they can be time-consuming to install. Determining the correct height for installation can be a bit tricky and may require some adjustments before finding the right fit.
Here's my tip for making installation easier: In your training log, write down the hole number of the preferred installation height for your most frequently used jammer arm exercises. You can even place small stickers next to the holes as a reminder. This will save time and effort in the long run.
Accessory Storage
The functional trainer is a major component of the Force USA G3. It comes with a plethora of cable handle attachments for use on different exercises.
You need a place to store all these accessories when they're not in use. Plus, it's nice to have a place to put any of the other accessories you may have around your gym, like resistance bands, a weight lifting belt and barbell clamps.
That's where the accessory storage area comes into play on the G3. It's located on the inside of the G3, on the two horizontal posts that make up the back of the frame.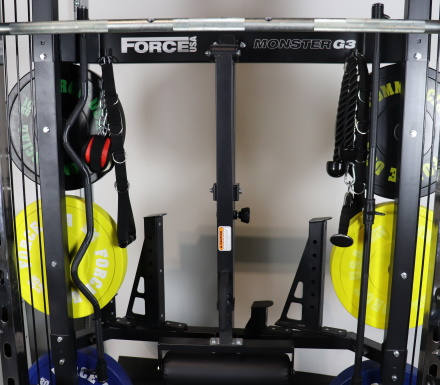 It consists of two holders designed to hold the long straight bar and the long cambered bar. Plus, there are two storage hooks that will hold the other accessories (you can put multiple accessories on a single hook). You can also drape any bands, chains, belts, wraps and other flexible accessories you may have over the two horizontal frame posts if you need more storage space.
There's a sort of "hidden" feature in the storage area that lets you vertically store the j-hooks and safety spotter arms. It's a pretty creative solution. There are four 5/8″ holes on the lower crossbar that the pins on these attachments can insert into. It's a big space saver and no other model has a similar feature.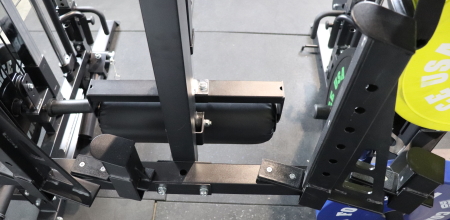 Weight Plate Storage
Having a place to store your plates is essential for keeping your training area safe, tidy and efficient. The Force USA G3 has this feature built-in.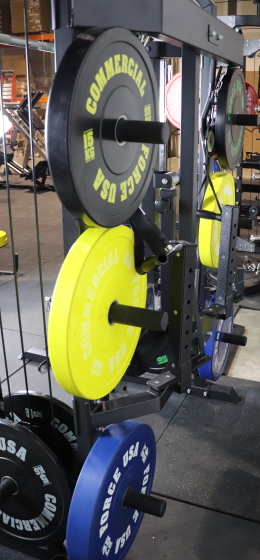 It has 6 weight plate storage pegs on the rear frame columns, with 3 on left side and 3 on the right. Each sleeve is 8 inches long. Most people will be able to store all of their plates, with room to spare.
The benefit of having this many storage pegs is that you'll be able to group the plates together by size. That makes it possible to quickly grab the plate size you need. If it had just 2 or even 4 plate holders, you'd be constantly needing to strip all the plates off because the one you need is in the back.
You can optionally remove the outer portion of the plate holder pegs. There's a smaller diameter (1") peg underneath that will fit standard plates, in case you have any. If you don't have any standard plates, you won't care about this feature
The G3 has weight plate holders that stick out to the rear instead of to the sides. Only the G20 shares this feature. All other units have plate holders that stick out to side.
This plate holder configuration is part of space saving design for the G3.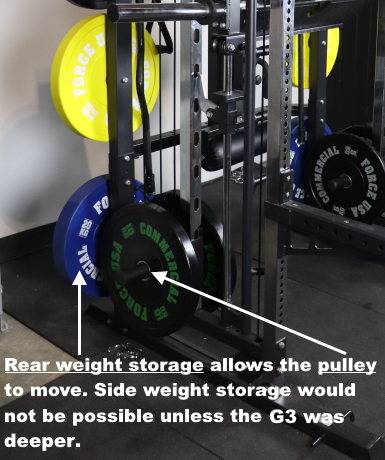 As you can see in the image above, the weight carriage on the pulley track would interfere with weight storage holders if they were on the side of the rack. You'd need a deeper rack to allow for the holders to stick out to the side.
The smart, space efficient design is what Force USA did for this unit: put the weight holders toward the back. Doing so only adds a couple of inches of depth beyond the end of the rack's feet.
Barbell Storage
The Force USA G3 has a barbell storage attachment on the rear of the machine, near the base. It can hold one Olympic bar (~2" diameter sleeve) and one standard bar (1" diameter sleeve).
The bars are stored vertically, by inserting the bar sleeve into the holder sleeve.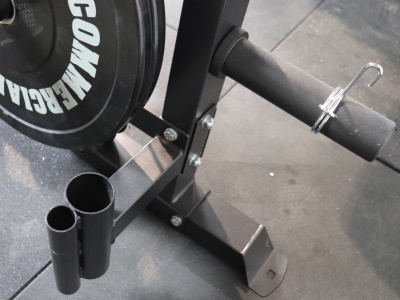 Note that you'll need more ceiling clearance than the Force USA G3's listed 87" max height to use this. The barbell will be slightly taller than the top of the unit when it's stored. Plus you need additional clearance to lift the bar in and out of the sleeve.
As long as your ceiling is at least 98" (8'2″), you'll be able to use the vertical bar storage feature.
If your ceilings are too short, there are other cheap options for bar storage such as this and this. Otherwise, you can just leave the barbell in the j-hooks, which many lifters do anyway.
Olympic and Standard Compatible
You're in luck if you happen to have some standard-sized weight plates and bars in your gym.
As I touched up on in the previous two sections of this Force USA G3 review, the G3 is compatible with both Olympic bars and plates (~2″ dia.) AND standard bars and plates (1" dia.).
You can store any standard bar in the bar storage area, whether that's a straight standard bar, EZ curl standard bar or any other type of standard bar.
And not only can you store the standard sized plates, but you can use them as weight on the pulley system and even the Smith machine.
A lot of people won't care about this feature because most home gym owners have only Olympic bars and plates. But there's surely a few lifters out there who will appreciate it — I know many home gym lifters have spin-lock dumbbells and curl bars with lots of standard plates to go along with them.
Bolt-down Capability
The feet on the Force USA G3 have holes that let you bolt it to the floor. This is not required, but you have the option if you want the rack to be as stable as possible.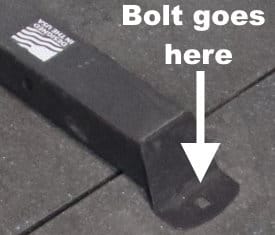 Bolting it down can be helpful if you plan on doing heavy band work (e.g. band squats, band bench, band deadlifts). It will ensure the rack doesn't move around during your work. You won't have to worry about loading enough plates onto to the rack to weigh it down while doing band work.
Buy the Force USA G3 – Use KING5 for 5% OFF »
Band Peg Holes
The Force USA G3 is one of five G-Series models with band peg holes. The others are the G6, G10, G15 and G20.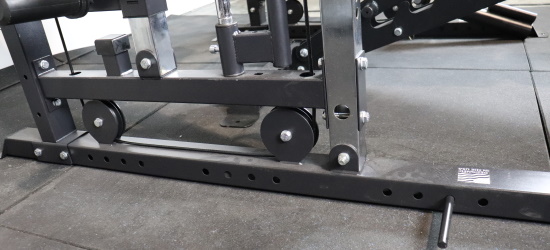 The G3 has more band peg holes than the G6, G10, G15 and G20. It has holes across the entire depth of the rack on the rack's feet. This includes band peg holes in the front (for use on free weight barbell movements), middle (for use on the Smith machine) and rear (for use on the pulley system).
The G6 only has band peg holes in the front and the rear. The G10 and G15 only have band peg holes in the middle. The G20 only has band peg holes in the front and middle.
I should note that you can still add band tension to the Smith machine on the G6 despite it not having band peg holes in the middle section — You'd attach the band on one peg in the front section and one in the rear, and then around the Smith machine bar. It works, but adjusting for the ideal tension is slightly trickier than if it had a middle band peg section like the Force USA G3.
With the G10 and G15, you can only add band tension to the Smith machine (or the jammer arms if you get the optional upgrade kit). It's not possible to add band tension to free weight barbell movements or to cable exercises.
Also, the G20 does not need band pegs in the rear for the pulley system. It actually has built-in mini band pegs on the weight stacks themselves specifically designed to add band resistance on cable exercises.
If you plan on adding tension to the pulley system on the G3, it's important that you distribute the tension evenly between the left and right weight holders. If you don't, you'll notice some drag in the pulley when performing your exercise. It can be a little tricky getting the tension even on both sides at first. But it becomes easier to set up the bands properly once you get the hang of it.
Missing Features
Below, I'll go over the main features that the Force USA G3 lacks that the other Force USA all-in-one models have.
Suspension Trainer Ring
The G3 is the only G-Series model without a suspension trainer ring. That said, you could easily attach a suspension trainer to the G3's pull up bar attachment as a workaround. It's not as elegant of a solution, but it will get the job done.
Footplate for Cable Low Rows
The Force USA G10, G12, G15 and G20 all have a removable steel footplate attachment for doing rows on the functional trainer.
The G6 and G9 have the lat pulldown leg holder attachment, which doubles as an effective (though not ideal) footplate alternative when doing low rows on the functional trainer.
The Force USA G9 goes a step further: It has a built-in metal footplate for its dedicated low row station inside the rack.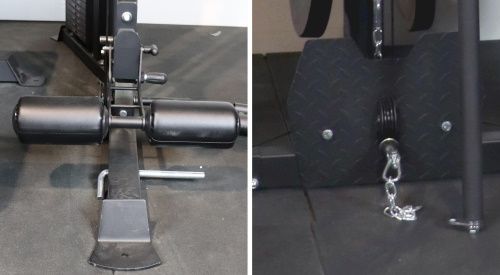 The G20 also has a built-in steel footplate, but only if you buy the optional G20 Lat Row Station Upgrade, which attaches to the back of the G20 base unit.
There is no G3 attachment made specifically for use as a cable row footplate. Having some type of attachment for this would have been nice. However, there are a couple decent workarounds:
One workaround is to put a band peg halfway through one of the holes on the base of the rack, in front of the pulley column. Then press your heels against either end of band peg, and you're good to go. You do have to use a narrow stance, but you'll be fully supported even when doing heavy low rows.
The other way is to do cable rows with both pulleys (i.e. using long bar attachment or both stirrup handles). This way you'll be able to stretch your legs apart and plant your heels against the rack's feet.
Shipping
US Shipping
The Force USA G3 ships via ForceUSA.com to the lower 48 states in the US. Shipping is $249, which is a fair rate considering the heavy weight and large physical dimensions of the shipment.
It ships via LTL freight inside a large crate, on a pallet. The shipping weight for the main G3 unit 370 lbs. The weight will increase if you buy any optional G3 attachments.
The unit ships via LTL freight. This is the most economical shipping method. It also reduces the likelihood of damage compared to traditional ground shipping.
In terms of logistics, the freight shipping company will coordinate with you ahead of time to set a delivery date and time. You'll need to be there in-person to sign for the delivery. Remember to inspect the shipment to check for damage before you sign.
Note that this is a curbside delivery, so the shippers won't bring it into your home.
International Shipping
Shipping to Australia
Although most people reading this article are based in the USA and would be buying from ForceUSA.com, I know there are a large number of international readers interested in the G3 as well. In particular, I get A LOT of messages from Australians asking about the G-Series units.
With that in mind, I reached out to the largest retailer of Force USA products in Australia: Gym and Fitness. I was able to get them to match the discount code I have for US customers. So now Aussie readers can also save 5% with code KING5 if they order through GymAndFitness.com.au!
A few notes on shipping from Gym and Fitness:
Depending on where you are in Australia, shipping costs can vary quite a bit. I asked Gym and Fitness for data on shipping prices and they provided me with the average shipping costs for all G-Series units (not just the G3) for each region. The average range was from $180 to $480. The ranking of regions from lowest to highest shipping cost was: QLD, ACT, NSW, SA, VIC, NT, TAS.
PRO TIP: Sign up for their loyalty program to get FREE shipping. Just note that this offer isn't available for the Northern Territory, Western Australia and Tasmania.
If you're going to need gym flooring anyway, you may want to add some VersaFit gym mats to your order. They're quality thick rubber mats and you'll save on shipping if you buy them together with the G3.
Shipping to Canada
If you live in Canada, you're in luck. Force USA recently created ForceUSA.ca to give the Canadian market access to the G-Series lineup and other Force USA products. You can use my KING5 discount code for 5% off your order.
Shipping to the Middle East
If you're in any of the Gulf countries, you can purchase the G3 from Garner.ae or Alqudra.sa, both of which are owned by the same company. My KING5 code will work on both sites to give you 5% off.
Garner has a showroom in Dubai. They ship throughout the UAE and can export to Kuwait, Bahrain, Oman, Qatar and Saudi Arabia (if needed).
Alqudra's showroom is in Saudi Arabia. They ship throughout Saudi Arabia and can export to Kuwait, Bahrain, Oman and the UAE (if needed).
Who Is the Force USA G3 Best for?
The Force USA G3 is for anyone in the market for an all-in-one gym who places a strong emphasis on strength or powerlifting style training. There are two main reasons for this:
The Force USA G3 has Westside hole spacing. The G3, G10, G15 and G20 are the only G-Series racks with this type of narrow hole spacing (the G10/G15/G20 have uniform 1″ spacing). But the G3 is ~$1500-3000 dollars less expensive than these other units. The remaining models (G6/G9/G12) have uniform 3.75 inch spacing. Westside spacing gives you 1 inch hole spacing in the bench region of the power rack with 2 inch spacing above that. This is important if you're serious about maximizing strength on the powerlifts. You'll always be able to execute any lift from the ideal starting and ending point. You'll never have to worry about losing ANY performance or efficiency from the j-hooks being set a little too high or low. This matters if you're seriously into powerlifting training, but not as much if you do more traditional strength training or bodybuilding workouts.
The Force USA G3 has band peg holes. Only the G3, G6 and G20 have this powerlifting-friendly feature (the G10 and G15 also have band peg holes, but only in the Smith machine area, which isn't as useful for powerlifters). The band peg holes throughout the base of the G3 allow you to do band-resisted exercises like band squats, band bench and even band deadlifts. These are banded variations of the Big 3, which are commonly performed by powerlifters. The band tension allows you to train explosiveness and get used to heavier loads at the top of the range of motion.
The Force USA G3 is also perfect for any type of fitness enthusiast looking for a more budget-friendly all-in-one gym and functional trainer solution. The G3 is the lowest-cost G-Series option. It delivers A LOT of bang for the buck.
The Force USA G3 should also be considered strongly by tall lifters. Its internal height is sufficiently high at 85″ (7'1″).
And if you're going to be squatting in the power rack area, the G3 will let you set the barbell as high as 66″ (5'6″) above the floor. This height should allow guys as tall as 6'10″-6'11″ to squat comfortably.
This is comparable to the slightly taller max bar heights of the G20 (67″ or 5'7″), G15/G10 (70″ (5'10″) and G6 (69″ or 5'9″).
The G3 allows for a significantly higher max bar height than the G9 and G12, which both top out at 60″ (5'0″) — Those models are most comfortable to squat in for lifters up to 6'5″ tall.
Overall Rating
Force USA G3 All-In-One Trainer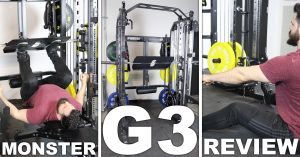 The Force USA G3 All-In-One Trainer is the ideal choice for lifters seeking a more budget-friendly all-in-one gym setup and/or are focused on powerlifting-style training.
Product Brand: Force USA
Product In-Stock: InStock
Buy the Force USA G3 – Use KING5 for 5% OFF »
Force USA G3 vs G6 vs G9 vs G10 vs G12 vs G15 vs G20
I hope you found my Force USA G3 review super helpful!
But if you're still not sure if the Force USA G3 is the right model for you, don't worry! You can learn more about the differences between all the different Force USA all-in-one gym units by reading my Force USA G3, G6, G9, G10, G12, G15 and G20 review and buying guide.
You can see all of the Force USA G-Series models by clicking below:
Check Current Prices – Force USA G3, G6, G9, G10, G12, G15 & G20 »
Don't forget you can save 5% off your entire order with code KING5 regardless of which unit you buy:
P.S. To any Australian or Canadian readers — remember you can also take advantage of my 5% off code KING5 if you order through GymAndFitness.com.au (for Australia) or ForceUSA.ca (for Canada).