Use this page to find in-stock updates and good deals on popular home gym equipment. I've done my best to curate this page with products and deals that most people will be interested in.
I'll update this page frequently, so be sure to bookmark it for easy access!
Last update: 5/6/2021
Featured Equipment
PowerBlock Pro EXP Dumbbells AND Elite USA Dumbbells: PowerBlock adjustable dumbbells are arguably the best adjustable dumbbells on the market, especially if you value the ability to adjust the weight rapidly. These sell out super fast, so be sure to jump on them now.
NOTE: If it says out of stock, try pressing CTRL + F5 or CMD + R. If that doesn't work, edit the end of URL to have a question mark + one letter.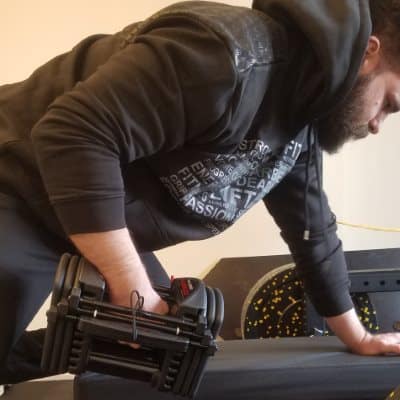 The Pro EXP model is the top of the line home adjustable dumbbell set they have, with the standout feature being the urethane coated weight blocks. The Elite USA has a slightly different handle type (closed handle design instead of open handle; less wrist room from side to side) than both the Pro EXP and Sport EXP, but it's made in the USA. Overall, all are great adjustable dumbbells that go up to 90 lbs per dumbbell.
Read my PowerBlock pros & cons article and PowerBlock model comparison guide for more info.
Pro EXP / Elite USA Expansion Kits (50-70 lbs, 70-90 lbs): If you already have the Pro EXP or Elite USA dumbbells, but you don't have the max weight (90 lbs), you can upgrade by buying these expansion kits.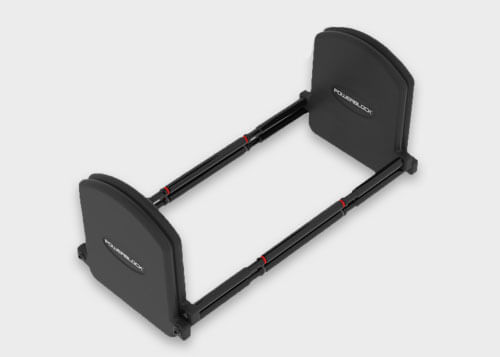 Force USA MyRack: This is the power rack I currently own and use. It's one of the best budget racks you can buy. The base unit starts at $399 and you can choose just the attachments you want. It's particularly a good choice because of the available accessories it has. No other rack offers a Cable Crossover AND a Lat Pulldown/Low Row — so if you want those (either now or in the future), this rack should be near the top of your list. Read my full Force USA MyRack review here. Use code KING5 for 5% off.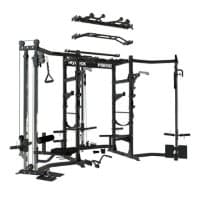 Force USA G3 All-In-One Gym — *SPRING SALE $400 OFF*: Until just recently, the G3 started at $2,499.99. But Force USA is now having a limited time Spring sale on the G3, offering it at $2,099 for the base unit — This is the best all-in-one gym for powerlifters. It's also the best all-in-one for anyone on a budget, regardless of their training style. Read my Force USA G3 review here. Use code KING5 for 5% off.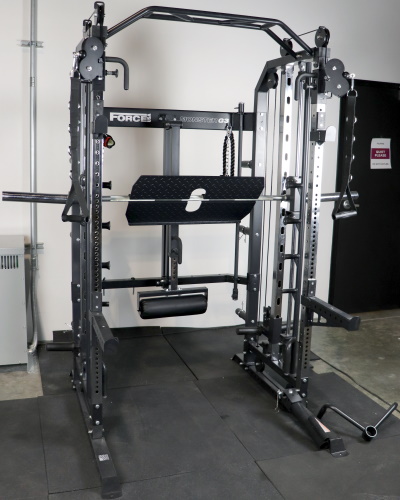 Force USA G9 All-In-One Gym — SPRING SALE $500 OFF: After being out of stock for over a month, the commercial plate-loaded version of the Force USA G-series all-in-one gyms is back in stock! And it's on sale this Spring for $500 off (usually $3,499, it's now $2,999). This is the best all-in-one gym for serious strength trainees (not necessarily powerlifters) seeking premium quality within a (relatively) limited budget. Read my Force USA G9 review here. Use code KING5 for 5% off.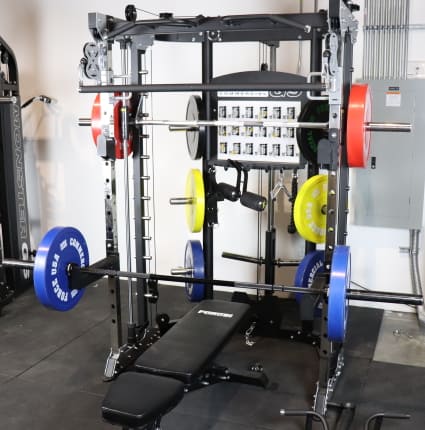 Force USA G6 AND Force USA G12 All-In-One Gyms: After being out of stock for a long while, the two plate-loaded versions of the Force USA G-Series all-in-one gyms are back in stock! If you want an all-in-one gym with a convenient weight stack setup, look no further than these two models. Read my G6 review here and my G12 review here. Use code KING5 for 5% off.
Vulcan Elite V4.0 Training Bushing Bar: I bought this 28mm Olympic weightlifting training bar recently, as I'm just now starting to get into the basic Oly lifting (just focusing on the power clean now).
It's amazingly constructed, with good whip at even relatively low weights — I also use it for deadlifts sometimes to take advantage of the flex. It's one of the best value and overall quality Oly bushing bars you can buy. It'll serve you well even once you become an intermediate or advanced Oly lifter.
Force USA Colored Bumper Plates (Lbs): These are good all around bumper plates at a great price. All sets and pairs are currently in-stock. The available sets include 160 lb, 340 lbs and 680 lb sets. There are also KG pairs and sets available, too. You can save an extra 5% OFF your order by using discount code KING5.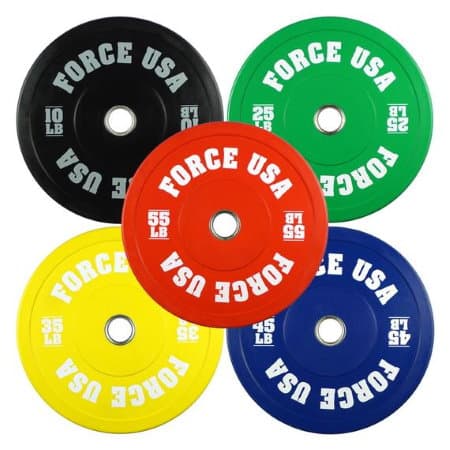 Titan Yukon Bar: I recently bought this bar and am very happy with the purchase. It's a Buffalo bar, which is specialty curved bar made mostly to reduce shoulder, elbow and wrist pain on squats by making the point where you grip the bar lower. However, you can also use it for bench and overhead pressing with less strain. Cambered rows are possible, too.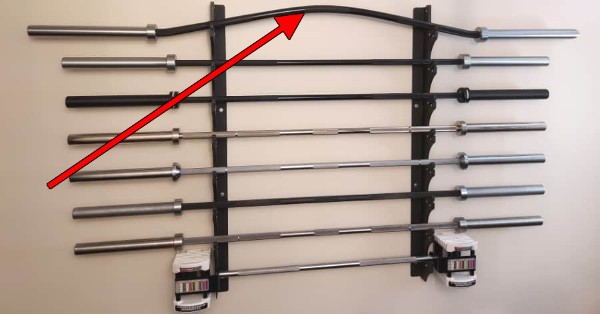 The knurling is lighter than ideal, but gets the job done. You have to be careful not to take too much off one side at a time when removing weights. Otherwise, you can't beat the barbell at this super low price.
The Gym Pin: Do you have a selectorized weight stack that doesn't go heavy enough for you? Then get a Gym Pin, which allows you to add Olympic plates to increase the max stack weight. There's a few options, but I own and recommend The Original 2″ GymPin (I have the 10mm rod size, but if you're unsure that will fit in the holes in your gym's weight stack, get the 8mm version, which is universal). Use code KING10 for 10% off any of the Gym Pins.
You can also check out the Bare Steel Equipment Stacked Weight Pin, which uses the same concept as the Gym Pin. The main difference is it uses magnets for a more secure fit to the stack. It's also heavier and somewhat more expensive. Plus, it's available in many cerakote options if you're willing to pay a premium. Use code KING10 for 10% off any weight pin from Bare Steel Equipment.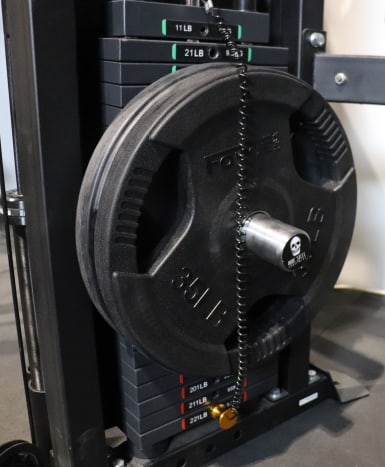 In-Stock Listings by Manufacturer
Many, though not all, manufacturers now have pages to show their in-stock products since are constantly going in and out of stock due to high demand from the pandemic. I've compiled those pages for manufacturers that have them:
Bars
Power Bars, Oly Bars, Multipurpose Bars
Specialty Bars
Dumbbells
Adjustable Dumbbells
POWERBLOCK WEBSITE GLITCH FIX: Some people are seeing "Out of Stock" on the PowerBlock pages (linked below). If this is happening for you, then try to fix it by pressing CTRL + F5 on Windows (or CMD + R on Mac) to clear your cache. If you can't see the "Add to Cart" button after trying that, then try edit the end of URL to have a question mark + one letter. If you still see "Out of Stock" after that, then it probably actually is out of stock.
Fixed Dumbbells
Kettlebells
Weight Plates
Bumper Plates
Iron Plates
Rubberized Iron Plates
Steel Powerlifting Plates
Racks
Benches
All-In-One Gyms & Functional Trainers
Machines
GHD / Core Equipment
Cardio
Accessories