If you're thinking of buying a Powertec WB-PR power rack (sometimes called the P-PR), be sure to read my Powertec power rack review before you make a decision.
On this page, I'll discuss my experience in training with my Powertec power rack, including my overall opinion, then list and explain its pros and cons.
Note – differences between WB-PR and P-PR: Before 2010, the Powertec power rack models were called P-PR, which is what I own. In 2010, Powertec changed the name of the model series to WB-PR (Workbench Power Rack). The current Powertec power rack model is the WB-PR.

However, the new Powertec racks are sometimes called P-PR (even though they're really the WB-PR) on some websites that sell it, including Amazon (see link to right).

The WB-PR and the old P-PR are essentially the same power rack, but the WB-PR has a few improvements, including:

Better color options (black or yellow, as opposed to grey)
"Innovative Gravity Lock" bar catches (it's easier to adjust and more secure than the P-PR catches)
Differently shaped j-hooks (not necessarily better, just different)
Comes with connector for securing a bench inside the power rack (you had to buy this separately for the P-PR)
Improved pull up bar (it's wider and has capped ends to prevent the grip material from slipping), though, as I discuss here, I still have a complaint
By the time you finish reading my review, you should be able to make a better judgement on whether or not a Powertec power rack is right for you.
If you're not familiar with what power racks are, and how they're used, then you might want to check out power rack training before proceeding with this review.
Powertec Power Rack Review
Overall Opinion:
I've had this Powertec power rack (see picture below, right) for a little more than 3 years (I bought it in 2008). I have been more than satisfied with my purchase, and can confidently say that I would buy it again if I had to.
It allows me to do all the exercises that I need it for, and it keeps me safe while doing them. With the exception of a couple small critiques, everything I have to say is positive about this piece of equipment. Read below for the specifics.
Pros: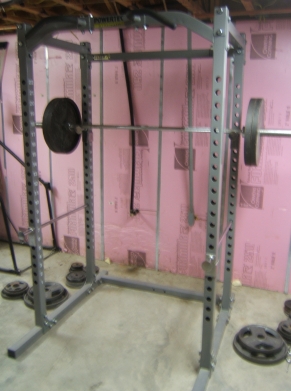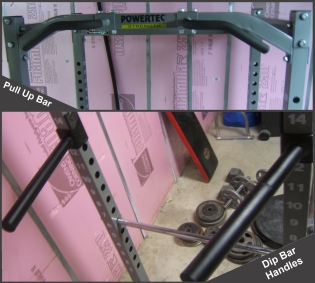 Cons:
Alternatives
UPDATE – Sept. 2018: Over the past several years, there's been an explosion in the number of power racks on the market and the number of gym equipment companies manufacturing them. There's a lot more competition in the industry now compared to 2013 when I first published this review. And you can hardly even compare the difference between now and when I originally bought my Powertec power rack in 2008. The fea
Be sure to consider some popular alternatives to the Powertec rack before making a final decision. I've reviewed several great power racks since writing this piece. You can read those reviews below:
There's also the Rep Fitness PR-5000, which I haven't reviewed (yet). But it looks amazing and has received very positive feedback since it came out in late 2016.
Conclusion
This Powertec power rack is a high quality piece of weight training equipment that won't break the bank, and will last you years. So if you're looking for a great power rack for your home gym, and you can deal with its minor shortfalls, then I'd strongly recommend this rack for you, especially if you don't want to spend an arm and a leg.
If you're interested, you can buy the Powertec power rack here
 – Note: The rack is no longer called Powertec P-PR. The new model is now called the Powertec WB-PR, or Workbench Power Rack.
If you don't believe this power rack is right for you, then be sure to read my power racking buying guide to figure out which type of rack suits your needs. Then, browse through my power rack comparison chart to sort through 100s of different models to find the perfect one for you.