I've been using the 30″ GymPin D-Handle Bar for the past couple months and I gotta say, I'm a big fan!
This is the first cable attachment from the GymPin company, which is known for its innovative GymPin weight stack adapter pin that lets you add Olympic plates to a weight stack.
I wanted to write up a quick GymPin D-Handle Bar review to let you know the pros and cons so you can decide if it's right for you.
If you do end up getting one, be sure to use code KING10 for 10% off at checkout.
GymPin D-Handle Bar Review: Pros & Cons
Pros
Here are my favorite things about it GymPin D-Handle Bar:
Versatility
The GymPin D-Handle Bar is super versatile. It allows you to attach any pair of D-handles/stirrups or other unilateral cable attachments to any of its holes via carabiners.
Rotation
This bar allows for the rotation of the D-handles that you attach to it. When the attached D-handles are able to rotate, your wrists, elbows and shoulders can move through a more natural range of motion. This reduces strain on the joints and improves your technique. This means fewer injuries and better gains in the long run.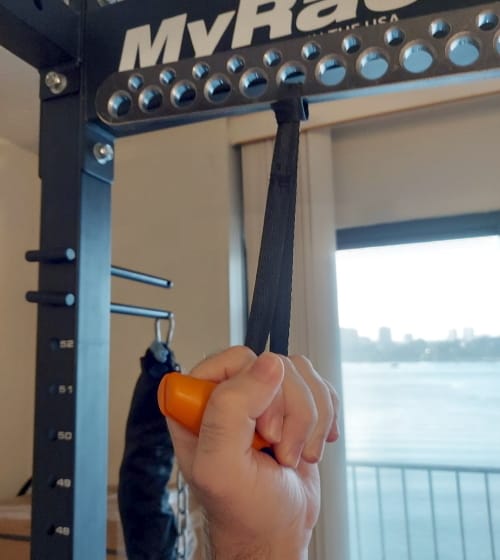 Using flexible fabric D-handles (e.g. Angles 90, or generic nylon stirrup straps) provides maximum rotation. However, you still get partial rotation when attaching non-flexible D-handles.
Do Bilateral Movements on Single Pulley
The GymPin D-Handle Bar makes it possible to do bilateral cable exercises from a single cable pulley instead of a double pulley.
Many Grip Width Options
This D-Handle Bar gives you access to a ton of grip width options.

Specifically, you get 13 holes per side, with the holes spaced 1″ apart, center on center. The widest possible grip width is 29″ and the narrowest possible grip width is 5″.
To get a similar range of both narrow and wider grip widths with the comparable Prime RO-T8 bars, you'd have to get both their short and long bars. That said, the RO-T8 long bar does give you more extra wide grip settings.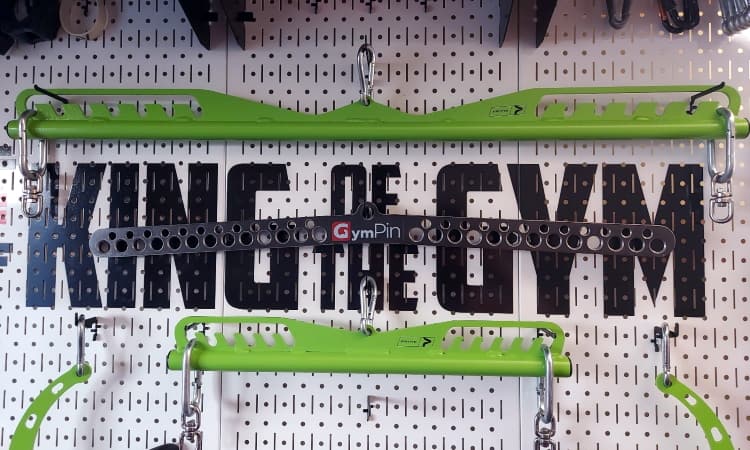 If you're looking for a versatile cable attachment that has the full range of narrow to wide grip width settings, take a look at my Ironmaster Ultimate Row Handle review.
Lightweight, Slim Profile
This bar has an easy-to-store flat profile.

Plus, it's pretty lightweight at just 2kg. The small holes at the top help with weight reduction.
Many Cable Exercise Possibilities
You can do a lot of exercises on with the GymPin D-Handle Bar. Some of my favorite exercises are:
Lat pulldowns
Biceps curls
Triceps extensions (with both single ropes and D-handles)
Rows (including low rows and chest supported rows on an incline bench)
Shrugs
Face pulls
Remember, all of these movements can be done at whichever grip width you desire, between 5″ and 29″ apart.
Of course, there are many more exercise possibilities than the ones I listed. Your creativity is the limit.
Shorter Version Available
There's also a shorter 20″ version of the GymPin D-Handle available.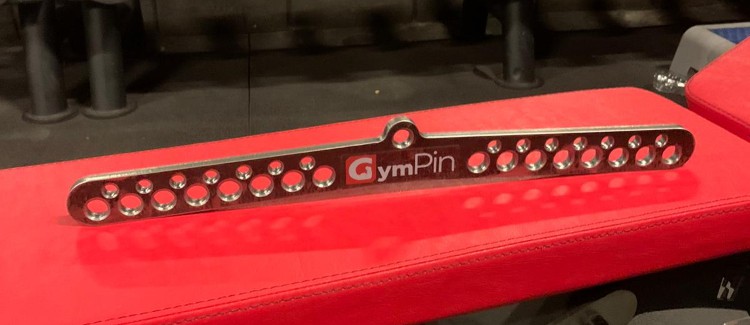 This would be great if you want a more portable version to bring with you in your gym bag to a commercial gym.
Cons
Here are my only gripes about the GymPin D-Handle Bar:
Adjustment Process
Taking the carabiners on and off can be tedious if you're doing it frequently. Compare this to the seamless sliding transition you get with the Prime RO-T8 long and short handles.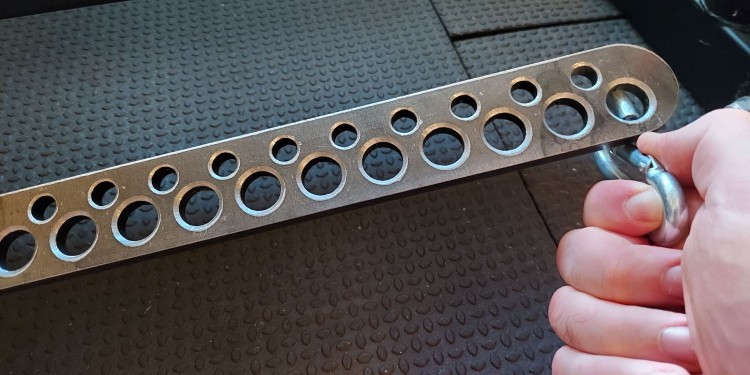 No Extra Wide Setting
There are no extra wide grip width settings on the bar. The furthest apart you can go is 29″, which is probably sufficient for most people. However, if you like to hit your lats with an even wider grip on pulldowns, you may need to supplement this bar with a longer bar.

The extra wide settings are one place where the Prime RO-T8 long bar beats the GymPin D-Handle Bar. Of course, if you buy just the RO-T8 long bar, you miss out on many narrower settings. You'd need the RO-T8 short bar to get those.
Handles Hang Far Down
Depending on the height of your pulley system, the D-handles may hang too far down to do lat pulldowns in the seated position. You may have to do floor-seated lat pulldowns instead. However, this is an issue with any similar type of bar, including the Prime RO-T8 long and short handles, which end up actually hanging even lower.
Logo Sticker
Currently, there is a simple transparent rectangular sticker in the middle of the bar with a colored GymPin logo in the center. This will eventually come off after years of use.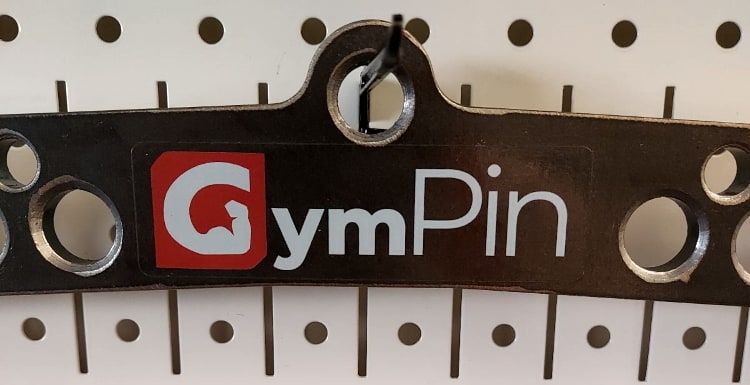 As such, it'd be nicer to have the GymPin logo etched on the bar instead. It would look better from the start, and more importantly, it would last the life of the bar.
UPDATE: The GymPin company just notified me that the new batches of the bar will have a superior gel/resin sticker, which looks way better and is much more durable.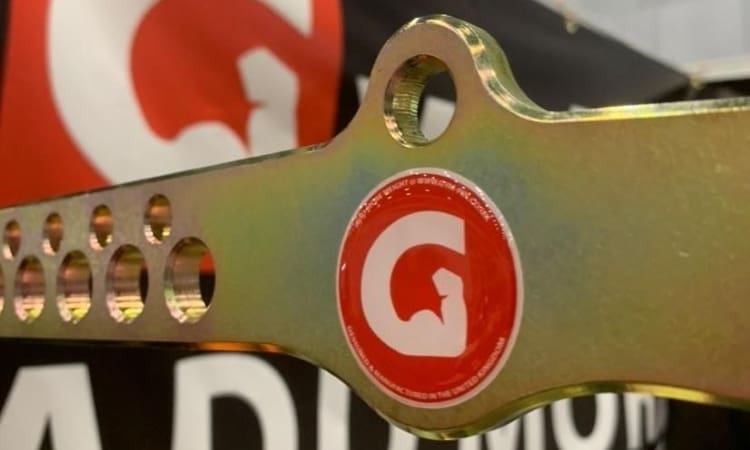 Is the GymPin D-Handle Bar Worth It?
The 30″ GymPin D-Handle Bar is an excellent cable accessory for most home gym owners with a cable machine to have in their arsenal.
It's such a good choice for most home gym lifters because it's so versatile. You can replace the need for several cable bars with just one. This saves both space and money. Of course, you'll also need at least one pair of D-handles to use on it.
If you don't have a home gym and instead go to a commercial gym, then the 20″ version is better because it can much more easily fit in your gym bag. Of course, this makes the most sense if the gym you go to doesn't already have the cable bars that replicate the D-Handle Bar's capabilities.
If you decide the GymPin D-Handle Bar is right for you, be sure to use code KING10 for 10% off your order.