In this A7 PAL Lever Belt review, I'll tell you all about this popular lifting belt, starting with a summary of its most noteworthy features:
It's IPF-approved, meaning you can use it in official IPF powerlifting meets. It's also allowed in USAPL and USPA.
The "PAL" (Pioneer Adjustable Lever) mechanism provides easy adjustment of the belt's tightness without having to reinstall the lever assembly.
With four half-inch adjustment increments, the belt lets you adjust tightness as needed, depending on how heavy you're lifting or the belt height on your torso.
High-quality leather and stitching ensure durability, while A7 branding adds a touch of style.
This A7 PAL Lever Belt review aims to provide an objective and comprehensive evaluation of the belt, covering its specifications, performance, pros and cons, and comparisons to popular alternatives like the SBD lever belt.
Model
Pros & Cons
Rating
Pros:

IPF-approved for competition use
The PAL adjustable lever system allows for half-inch increments without uninstalling the buckle
The lever can install on any lever belt slab with a standard hole pattern
High-quality leather and stitching for durability
Made in the USA

Cons:

High price point will deter some buyers
Limited color options (only black with a silver or black lever)

Rated 4.8 out of 5

View product page
First, Some Background
A lever belt is a weightlifting belt featuring a lever mechanism for quick and easy tightening and loosening. Unlike traditional prong belts, which require manual adjustment, a lever belt uses a flip buckle for fast and consistent securement, offering both convenience and a reliable level of support.
There are different types of lever belts – including the traditional standard lever belts as well as the newer adjustable lever belts.

Standard lever belts have one setting. You can adjust that setting, but that requires using a screwdriver to remove the buckle mechanism and install it in a different hole position.
The A7 PAL Lever Belt is the adjustable type of lever belt, which lets you adjust the tightness in small increments without needing to unscrew the lever.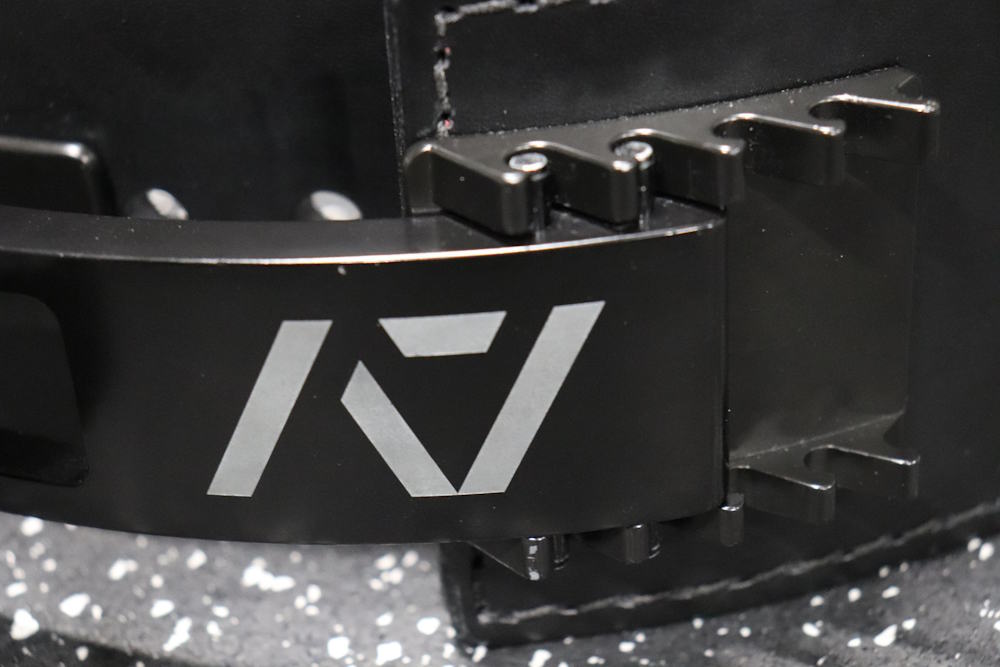 The "PAL" in A7 PAL Lever Belt actually stands for Pioneer Adjustable Lever. The belt is manufactured by Pioneer, an esteemed belt manufacturer known for quality and innovation. But it's branded for, and sold by, A7. This is important because this gives it IPF-approval for competition use since A7 is an IPF-approved brand for gear.
Pioneer branded equipment used to be IPF-approved, but they decided to not renew their IPF-approval status in 2018. By partnering with A7, you can still use their belt in competition.
And in case you don't know, A7 is a popular powerlifting brand that's known for their Bar Grip Shirts, Rigor Mortis knee sleeves, squat shorts, and other lifting gear.
Specifications
Thickness: 10 mm or 13mm
Width: 4 inches
Length: XS to 3XL
Leather: Full-grained sole leather; two pieces split to size and glued together
Lining: Suede
Color: Dyed black leather with black stitching; black or silver lever; gray suede lining
Adjustments: 4 x ½" increments
Materials
The belt is made of vegetable-tanned sole leather that is custom-dyed black.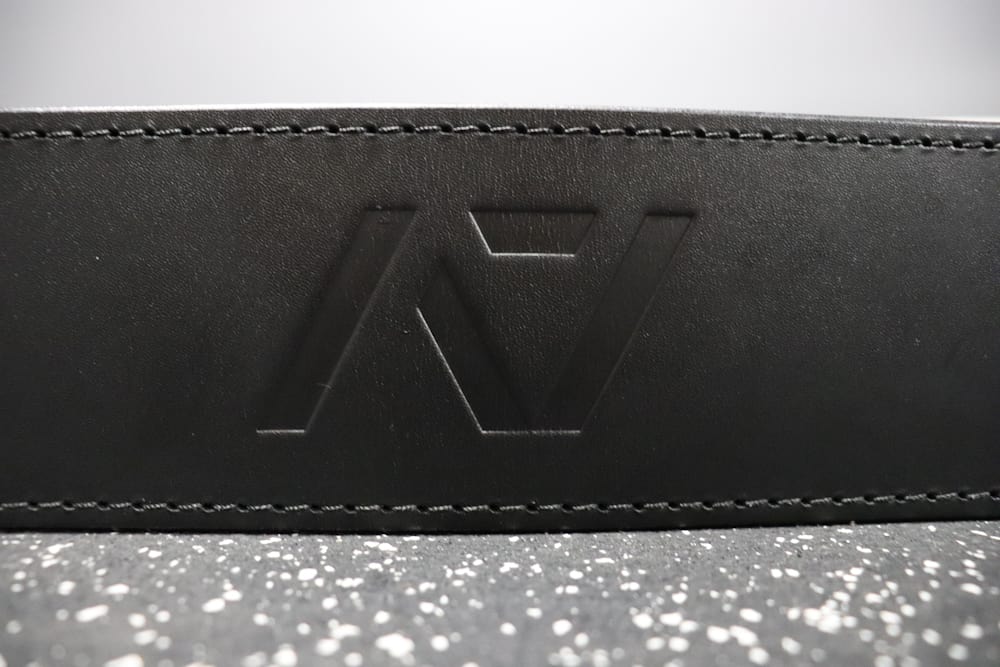 In terms of the construction of the leather slabs, each 10mm belt and each 13mm slab is made exactly the same.
They start with the raw leather and run it through a splitting machine to cut it down to the appropriate size (this is done in large batches). Two of these pieces of leather are glued together and the suede lining is then glued to one side for the interior.
The suede, which is on just the interior, measures 2mm thick. This means that for a 10mm belt, each piece of leather is 4mm thick. For a 13mm belt, each piece of leather is 5.5mm thick.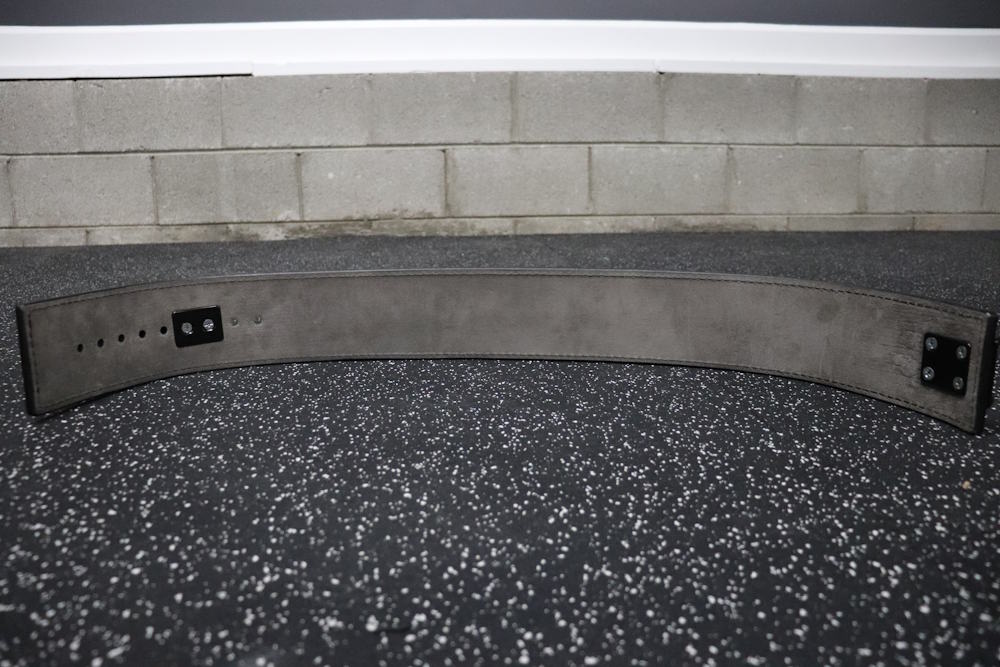 You may be wondering – Why don't they just use a single extra thick piece of leather? Since that would be a slightly higher build quality. Well, bovine skin isn't that thick. The thickest ones are 8mm and that's very rare.
I wanted to mention this because some other review sites online state that Pioneer powerlifting belts use a single piece of sole leather. This is only true for their 10mm double suede belts, which use a single piece of 7mm leather in the middle with 1.5mm of suede on the inside and outside.
All other 10mm and 13mm Pioneer belts have split leather.
It should be noted that you only really get support out of the leather. So a 10mm belt with only a suede interior like the A7 PAL Lever Belt will have more support than a double suede 10mm belt (8mm of leather vs 7mm)
The leather slabs on the A7 belt (and all Pioneer 10mm/13mm belts) are secured with both glue and stitching around the perimeter, making it incredibly sturdy.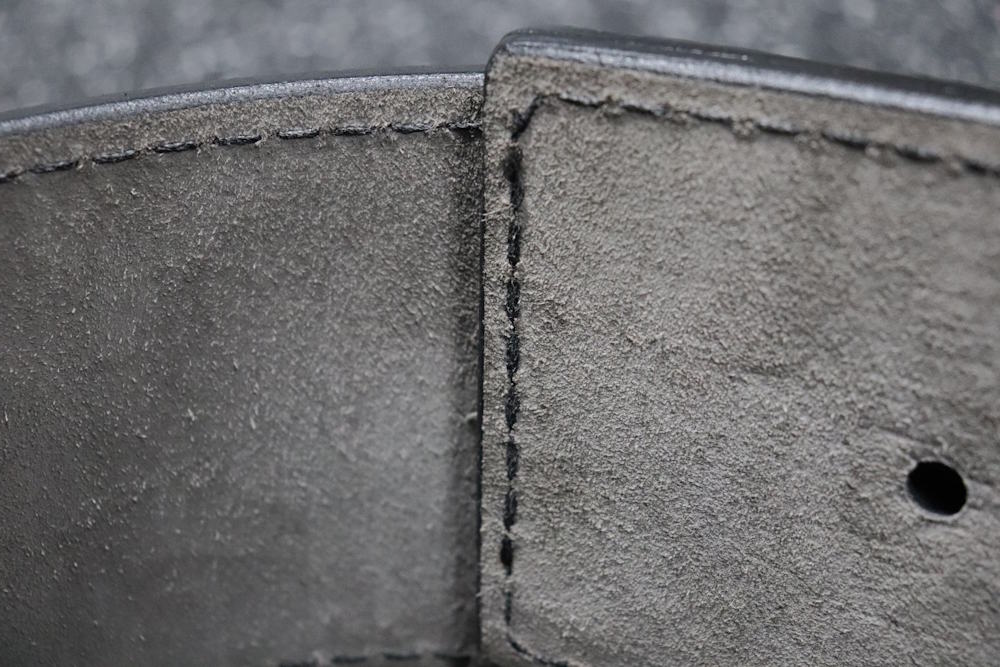 Some manufacturers just stitch the leather together without gluing, which reduces longevity.
The PAL buckle itself is made of zinc alloy and is available in either black or silver finishes, featuring a contrasting A7 logo.
All About the PAL Mechanism
PAL Adjustment Increments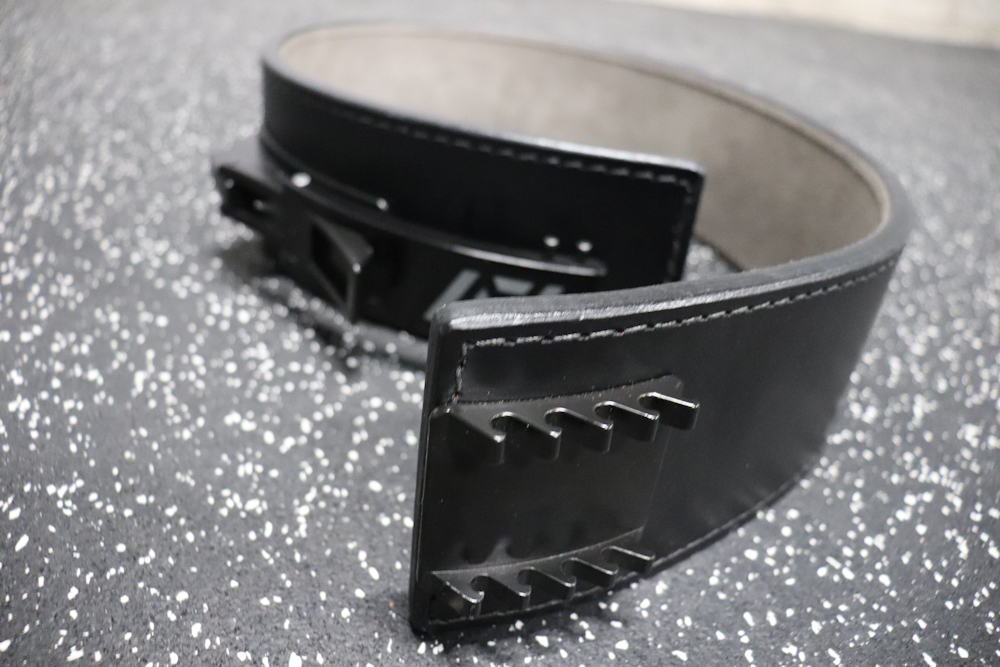 The PAL system allows you to make micro-adjustments of just a half-inch. Typical prong lifting belts have larger one-inch adjustments and other adjustable lever belts (e.g. SBD) also have one-inch increments.
Having extra precision with these micro-adjustments lets you get the perfect belt tightness for different situations.
Officially, the PAL has four adjustable positions, giving you a total of two inches of adjustability to take the belt in or let it out. That's plenty for any one person.
However, technically, you actually have five micro-adjustment positions for a total of 2.5 inches of adjustability. If you latch in the buckle so that only one of the two sets of hooks are hooked secured, you can get an extra increment out of this.
Of course, it's not as strong as if both sets are secured. Even so, I'll still occasionally do this on my light warm up sets. If you ever do this, beware that you need to make sure you're hooked into both the top and bottom of the buckle. When you're using just one set of hooks rather than both, it's possible to miss the bottom hook if you're not paying attention.
If you gain or lose enough weight, you'll eventually need to get out your screwdriver and move the lever latch portion of the PAL to a different hole.
Benefits of an Adjustable Lever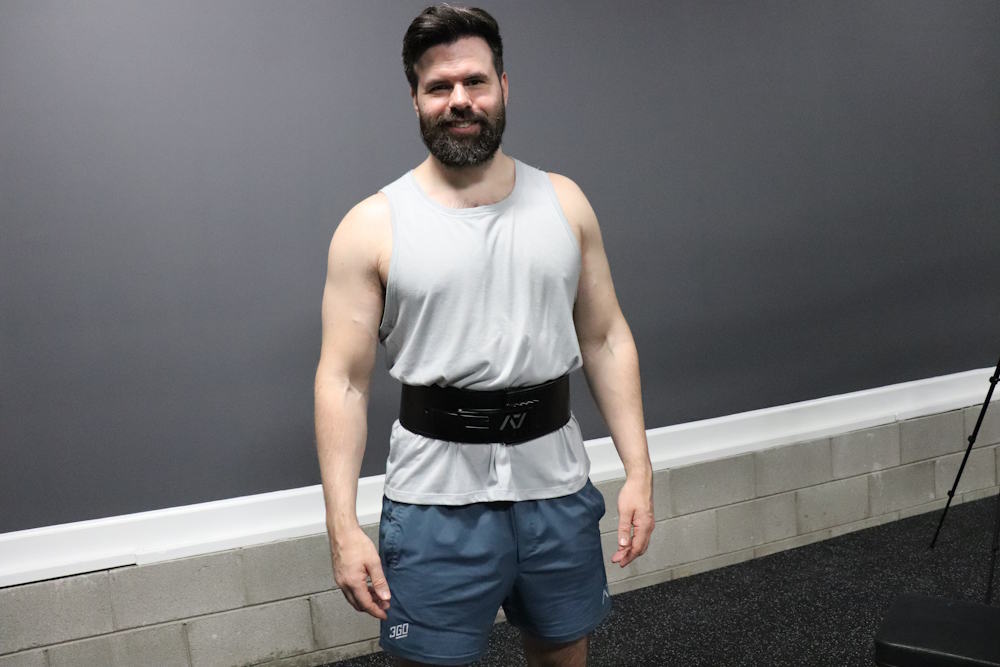 The PAL system's adjustability offers multiple benefits:
It allows for variable tightness during different stages of your workout. For example, you can keep it looser during your warm ups and initial work sets. Then you can tighten make it tighter on your top sets.
You can take it in or let it out as needed according to where you position the belt on your torso for certain exercises. For example, some people like the belt higher on deadlifts or lower on squats.
Its adaptability makes it cost-effective as you don't need a new belt, especially useful if you have already invested time breaking into a current belt. The adjustability also comes in handy when wearing the belt over layers in colder seasons.
Applications Where Adjustability Comes in Handy
The PAL system shines in various lifting situations. During squats, you can start loose and tighten the belt as needed. Deadlifts may require the belt to be worn higher and potentially looser, while warm-ups can start with loose settings that are tightened as you approach your work sets. During high-rep work, a looser setting may help facilitate better breathing.
Just the PAL vs PAL + Belt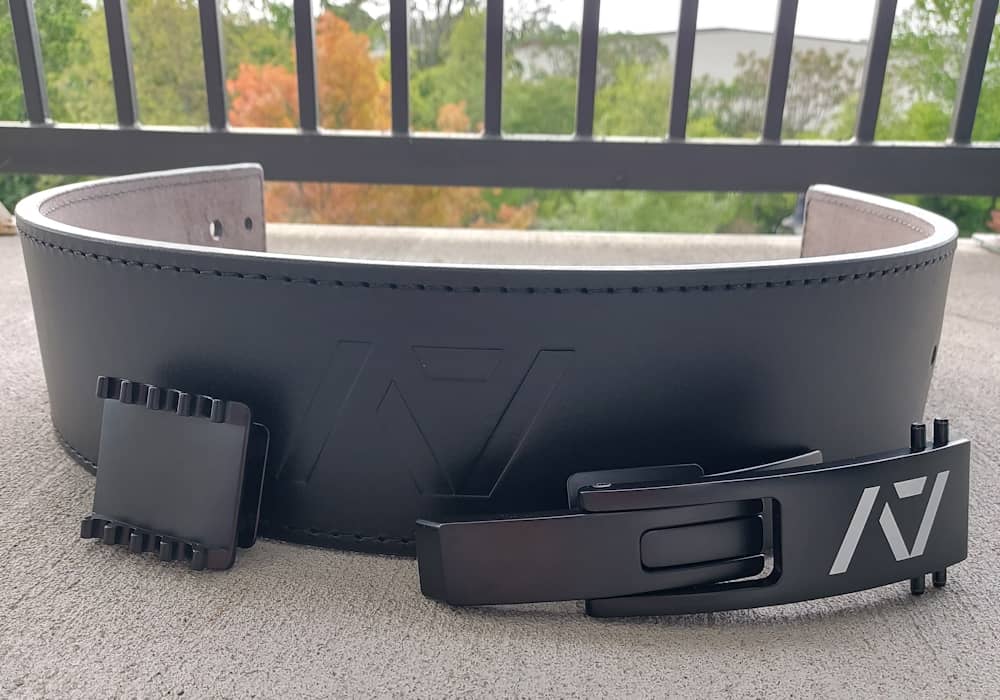 You can buy the belt slab with the lever included. Or you can buy just the lever for use on other leather slabs.
If you buy just the PAL lever, you can install it on any other standard lever belts with a standard hole pattern.
This includes the standard A7 lever belt, any Pioneer lever belts, the Inzer Forever Belt, and many others from brands like Titan and Strength Shop, to name a few. Notably, it does not work on the SBD lever belt slabs due to their non-standard hole pattern.
As long as the hole pattern is standard, you can install the A7 PAL on it.
If you have the regular A7 lever belt (i.e. with the traditional, non-adjustable lever), you can buy the PAL lever to use on it and the entire belt will still be IPF compliant.
However, if you buy the PAL lever and install it on a lever belt from a brand that's not IPF-approved, the belt will not be allowed in IPF-sanctioned competitions.
Installation
The installation process is straightforward, requiring only a screwdriver and a few screws.
You secure the shorter tooth-shaped "catch" portion of the PAL mechanism to the end of the belt with just two holes. This part will always be at the very end.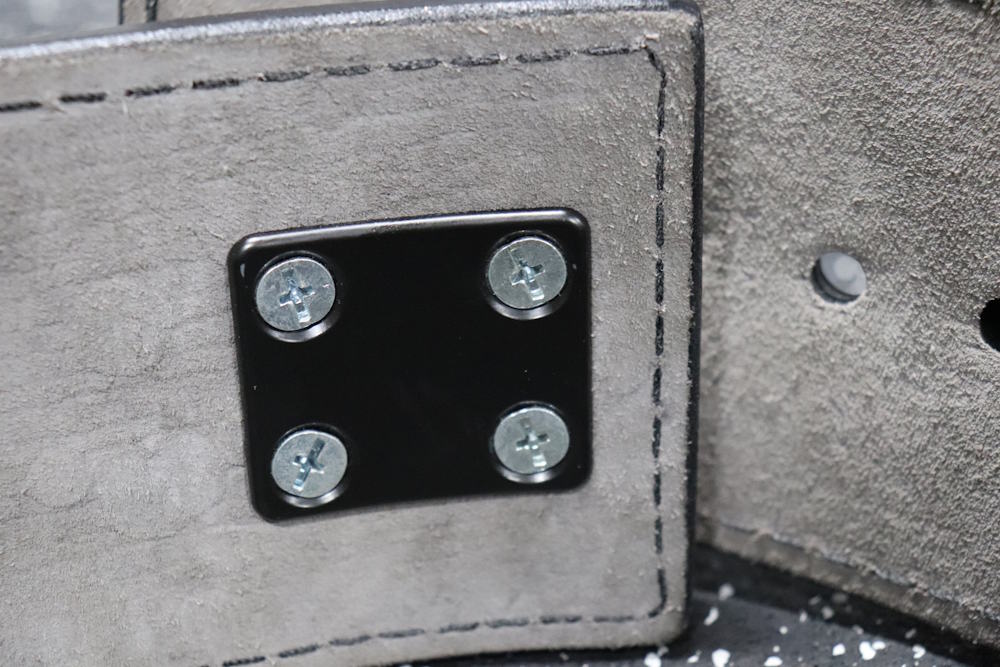 You secure the other part of the PAL mechanism – the lever latch portion – on the other end of the belt into the appropriate holes for your waist size. You can estimate which holes to use by putting the belt around your waist first and eyeballing where you think it'd be.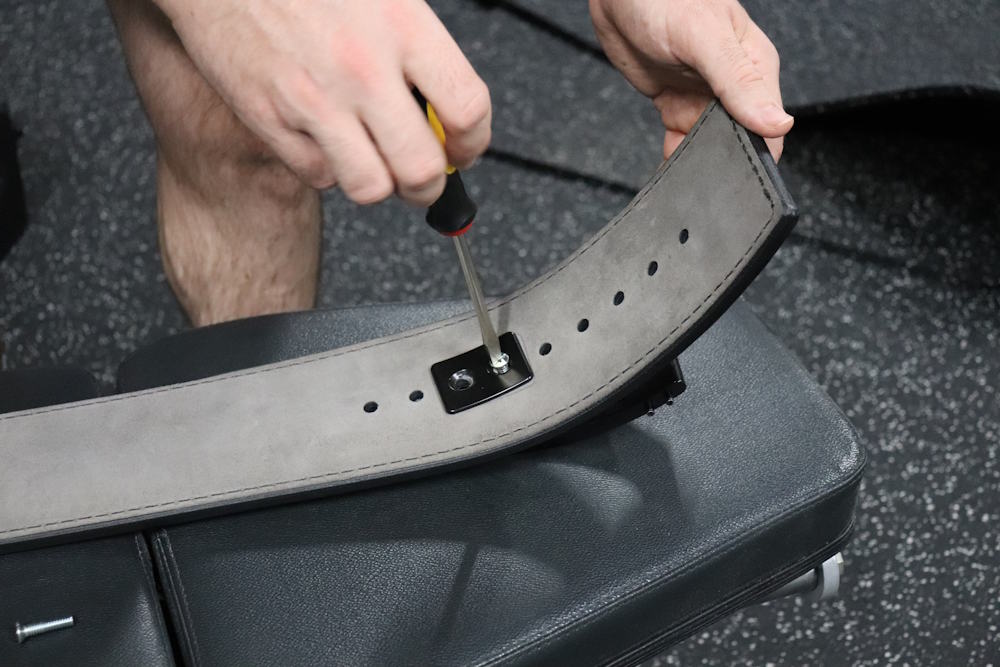 However, you may need to install it a couple of times to get it right. So save yourself some time and don't fully tighten the screws on the lever latch backplate until you test the fit.
Performance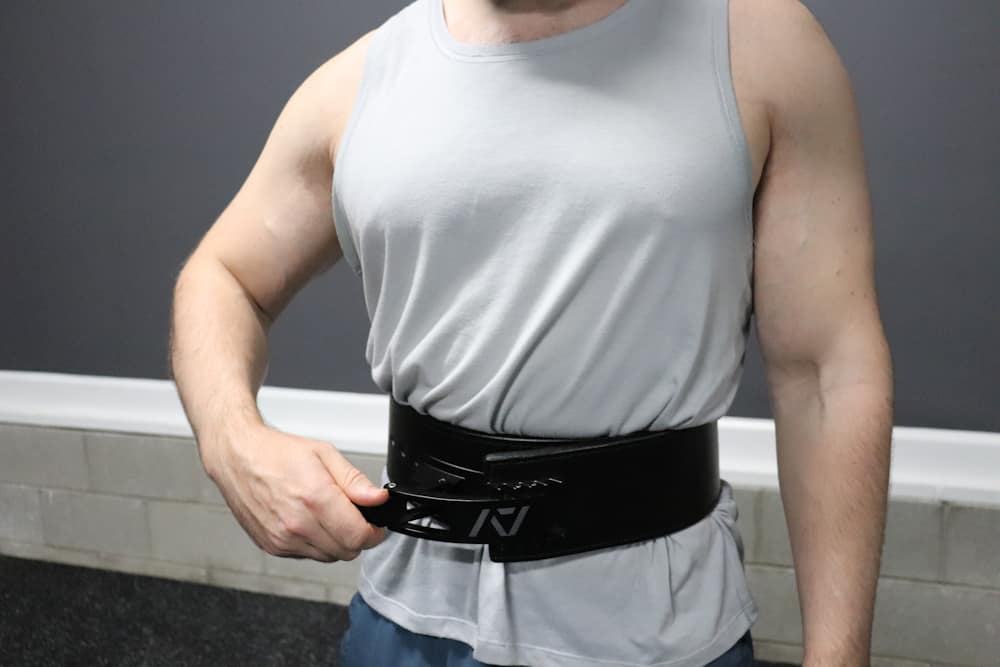 The PAL system's ease of use is remarkable, with hole spacings at 0.5-inch increments allowing for precision fitting. The belt offers both comfort and robust support for the core and spine during heavy lifts.
The fact that you can wear the belt loser or tighter helps your performance by ensuring the exact desired fit for any given set. You can keep it looser for warm up sets and tighter for work sets.
You can also wear the belt higher or lower on your torso while still maintaining the appropriate tightness.
You can't do these things with a traditional lever belt.
However, you can do them with a simple prong belt (though you'll have larger one-inch increments). But what you can't do with a prong belt is quickly secure, release, or remove the belt with one hand and almost no effort.
Comfort
The A7 PAL Lever Belt is going to be stiff when you get it. It does not come broken in like some belts.
But notably, it will break in over time and become more comfortable. Some belts, like the Inzer Forever belts, do not break in and stay (almost) as stiff as the day you got them throughout their lifespan.
The more you use your A7 PAL Lever Belt, the faster it will break in. But it will take some time. You can hasten that process by manually flexing the belt occasionally. Or you can keep it tightly rolled up for extended periods. It's kind of like breaking in a baseball glove.
Of course, you don't want to actually crease the leather. Just be smart and patient about it.
I do have one tip as it relates to wearing the belt for improving comfort – or rather, avoiding discomfort: Make sure the end of the belt that goes underneath the rest of the belt doesn't go into your side. If it does, it will press into your ribs, which doesn't feel great.
To avoid this, you may need to rotate the belt slightly in other. If you can't avoid this, you may have the lever installed on the wrong hole. Or worst case, you have the wrong belt size.
If you're not at all familiar with lever belts, one tip for comfort between sets is to release the lever between sets. It feels a whole lot better to have it open when you're resting. This, of course, applies to any lever belt, not just the A7 PAL belt. See the photos below for what I mean: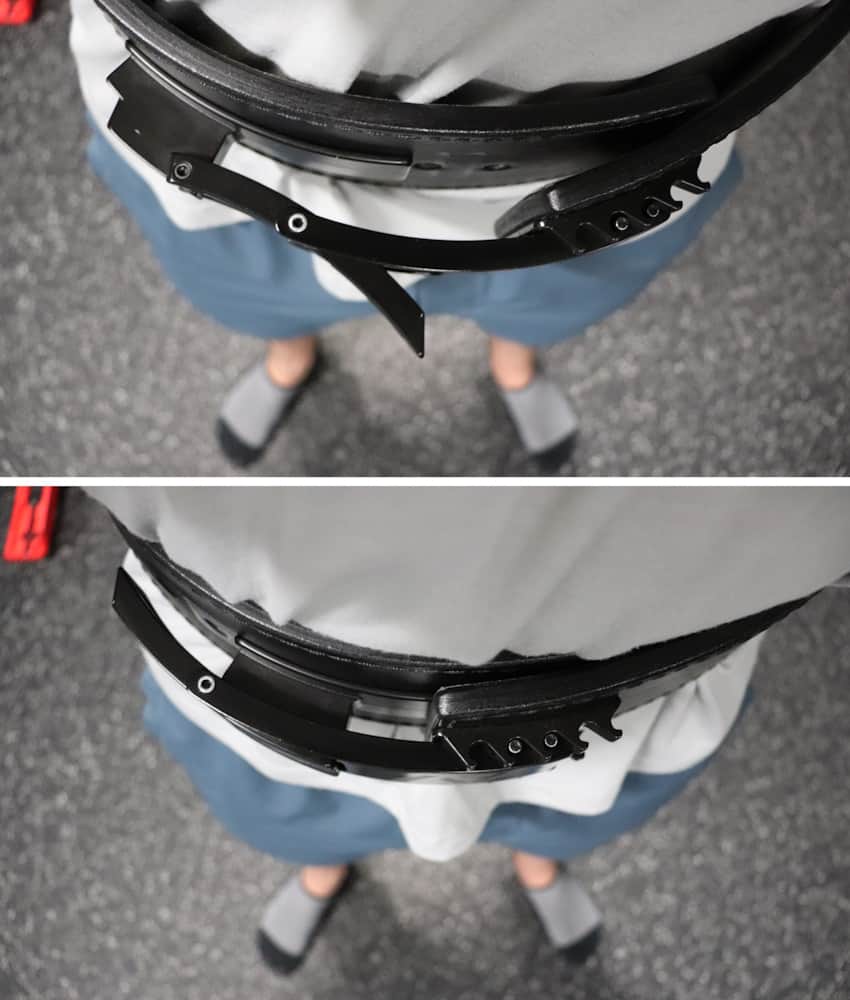 Customization Options
Pioneer is known for their customization options.
For example, you can get:
Different colors of suede linings
Different stitching colors
Different lever colors
Custom words or images burnt into or embroidered onto the leather
Custom images or words engraved on the lever
But you have to remember that this is the A7 PAL Belt, so you're not buying this directly from Pioneer. That means you don't have access to their customization options.
You're limited to these two options:
A black belt with a black lever
A black belt with a silver lever
If you want customization, buy direct from Pioneer. But just know it won't be IPF-approved.
Sizing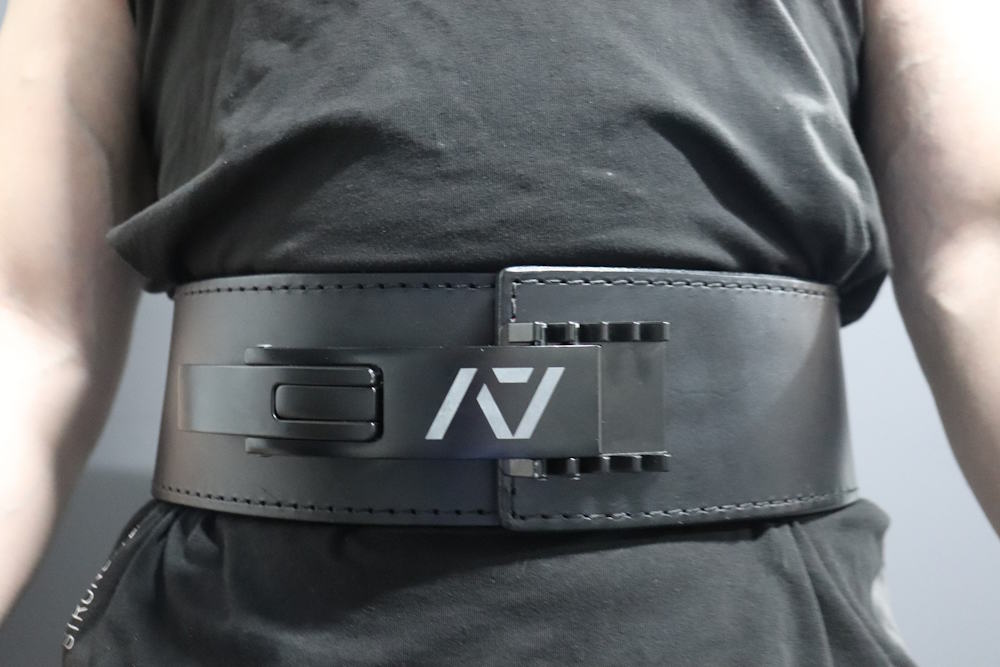 Getting the right belt size starts with measuring your waist. And it's imperative that you measure it correctly. Follow these guidelines for proper measurement:
Use a soft tape measure
Measure around your navel; don't have slack and don't pull it so tight that it presses into your fat
Do not suck your stomach in, as that will result in an incorrect measurement
Refer to the size guide below – Note the overlap between sizes; it's important. You want to pick the size that your waist measurement falls in the middle of the range. For example, if you have a ~35" waist like I do, then you'd pick the medium size. This is because 35" is closer to the middle of the medium size range of a 31" – 40" waist measurement compared to the small size range of a 27" – 36" waist measurement.
Sizing guidelines by waist measurement:
X-Small: 22" – 31" (55.9-78.7cm)
Small- 27" – 36" (cm)
Medium- 31″ – 40″ (cm)
Large- 35″ – 44″ (cm)
X-Large- 39″ – 48″ (cm)
XX-Large- 43″ – 52″ (cm)
XXX-Large- 47″ – 56″ (cm)
These are the same instructions A7 provides as well as Pioneer.
But what about belt thickness? Ultimately, that's more personal preference, but I'll give you my thoughts.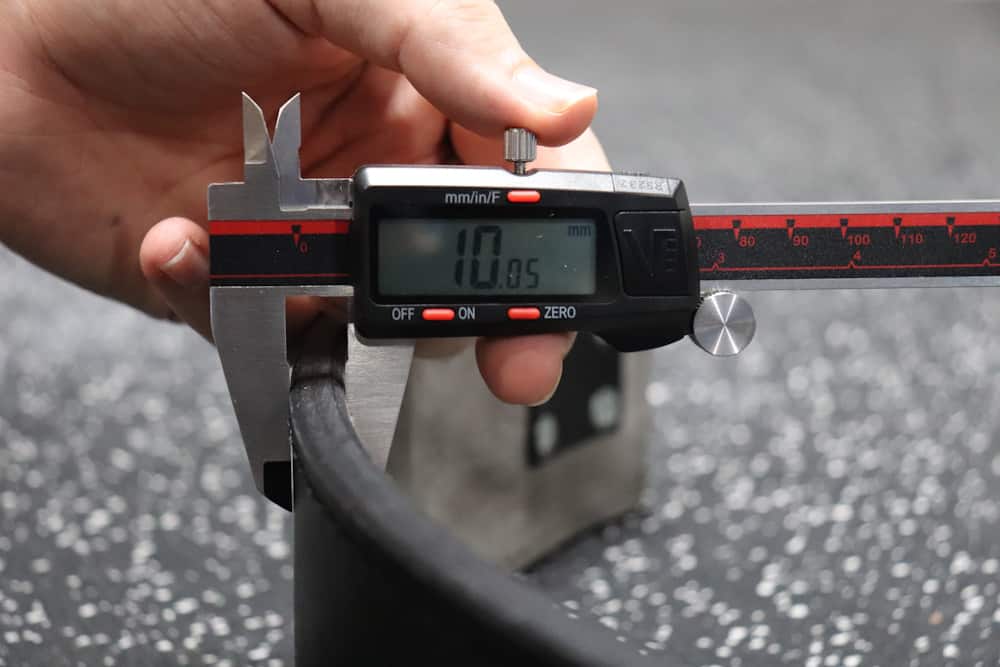 First off, there are two options:
Thicker belts provide more support. But they're also stiffer. Note that more support isn't always necessary, especially if you give up some comfort for it.
The fact is that 10mm thick belts provide plenty of support. In my opinion, most people will do best with 10mm.
Of course, if you're strong even amongst competitive lifters, you could probably get more benefit out of a 13mm belt.
Moreover, if you've tried 13mm belts before and you know you like them, go with that.
But if you're not sure about the thickness, then you should go with the 10mm thickness. You don't want to get one that's too thick as it's not as comfortable to wear, particularly during the break-in period.
I own the 10mm A7 PAL Lever Belt. It provides all the support I need and plenty more.
Best for IPF Competitors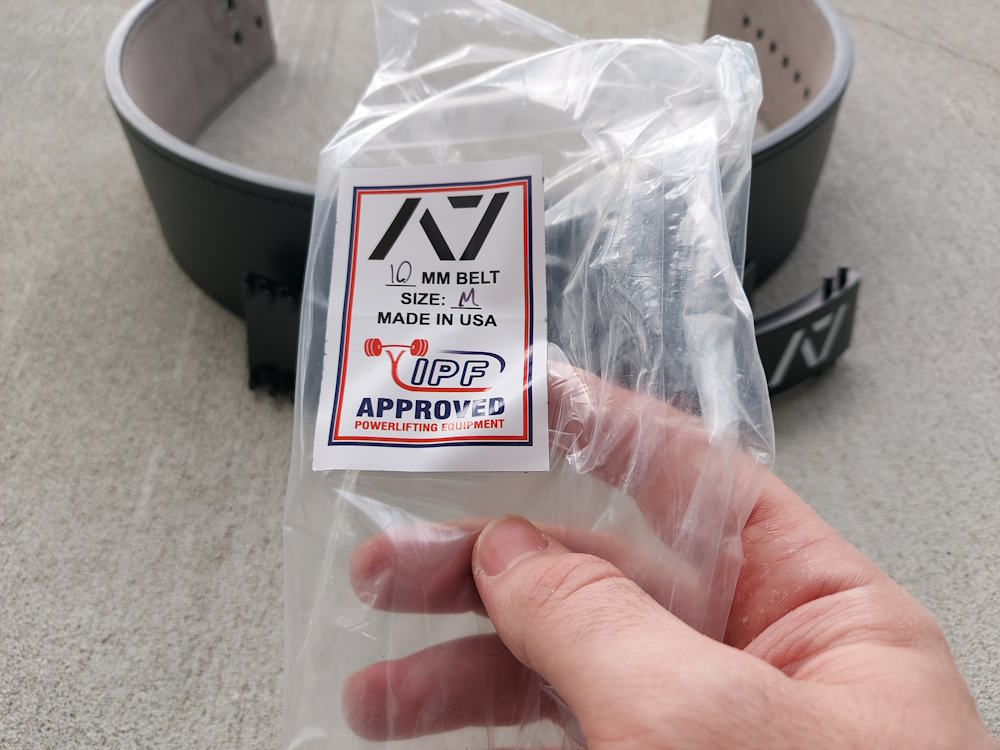 This belt makes the most sense if you're buying a belt that you need in order to compete in IPF-sanctioned competitions.
Otherwise, you can get virtually the same PAL belt (minus the A7 branding) directly from Pioneer for a lower price. And you'll have access to customization options.
If you also compete in the USAPL or USPA, this belt is allowed because it complies with their technical specs (USAPL/USPA don't require specific brands like the IPF).
So if you want just one belt that will work in the IPF and either/both of these other organizations, the A7 PAL Lever Belt will do the trick.
Price
The A7 PAL Lever Belt currently retails for $274.99. That's a pretty penny.
But you have to understand that when you get this belt, you're paying a premium to own IPF-approved gear. It costs more because IPF approval costs money so that cost has to be passed on.
If you want the same belt without the IPF approval and A7 branding, you can get it for significantly less when you buy directly from Pioneer.
Comparison with Other Belts
When it comes to adjustable lever belts, the A7 PAL Lever Belt stands up well against its competition. Let's look at how it compares to other popular belts in the market:
SBD Lever Belt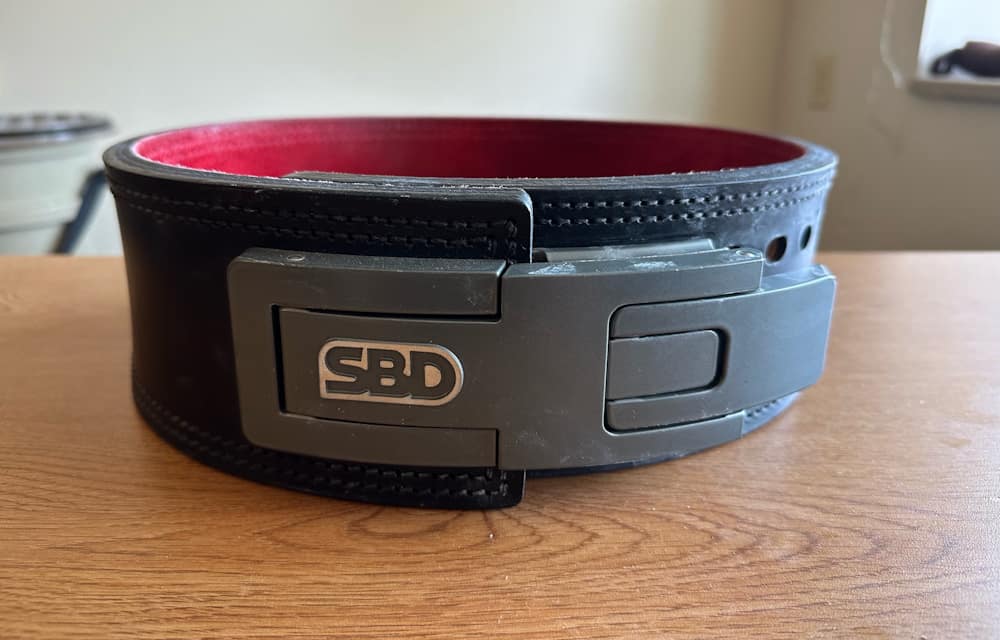 The SBD Lever Belt is another IPF-approved belt and was one of the pioneers in offering an adjustable lever mechanism.
Unlike the A7 PAL Lever Belt's half-inch hole spacing for more precise adjustments, SBD belts have one-inch hole spacing, making the fit somewhat less precise.
One drawback with the SBD option is that you can't buy the lever separately like you can with the A7 PAL belt. You have to purchase the whole belt, making it less cost-effective if you already own a belt. Even if you could buy the lever separately, there aren't any other belt slabs on the market with the same hole pattern.
Also, the SBD belts come only in a 13mm thickness, giving users no option to opt for a thinner 10mm belt.
I will say, though, visually the SBD looks pretty badass.
In terms of price, it currently costs $280, making it $5 more than A7 PAL Lever Belt.
Inzer Forever Lever Belt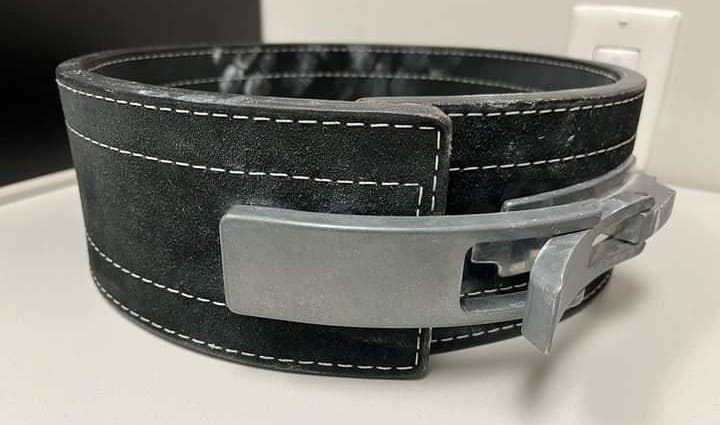 The Inzer Forever Lever Belt is popular among lifters for its lifetime warranty and variety in colors and thickness (10mm or 13mm). It, too, is IPF-approved.
However, it falls short compared to the A7 PAL belt in a couple of key areas. First and foremost, the lever is not adjustable. You need to use a screwdriver to make any tightness adjustments, which can be inconvenient and time-consuming.
Additionally, the Inzer belts are made of a rigid "Robus Leather," which makes them permanently stiffer. They break in much at all over time.
However, their price is significantly less than the A7's, making it better for budget-conscious buyers who need an IPF-approved belt.
Overall Rating
A7 PAL Lever Belt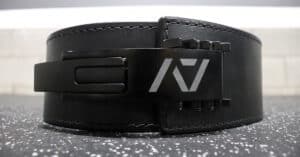 The A7 PAL Lever Belt is produced by Pioneer, a renowned lifting belt manufacturer. But it's branded and sold by A7, which makes it IPF-approved for use in competition. This belt features the innovative Pioneer Adjustable Lever (PAL), which allows you to quickly adjust the tightness in tiny half-inch increments without the need for a screwdriver like traditional lever belts.
Pros
IPF-approved for competition use
The PAL adjustable lever system allows for half-inch increments without uninstalling the buckle
The lever can install on any lever belt slab with a standard hole pattern
High-quality leather and stitching for durability
Made in the USA
Cons
High price point will deter some buyers
Limited color options (only black with a silver or black lever)
Conclusion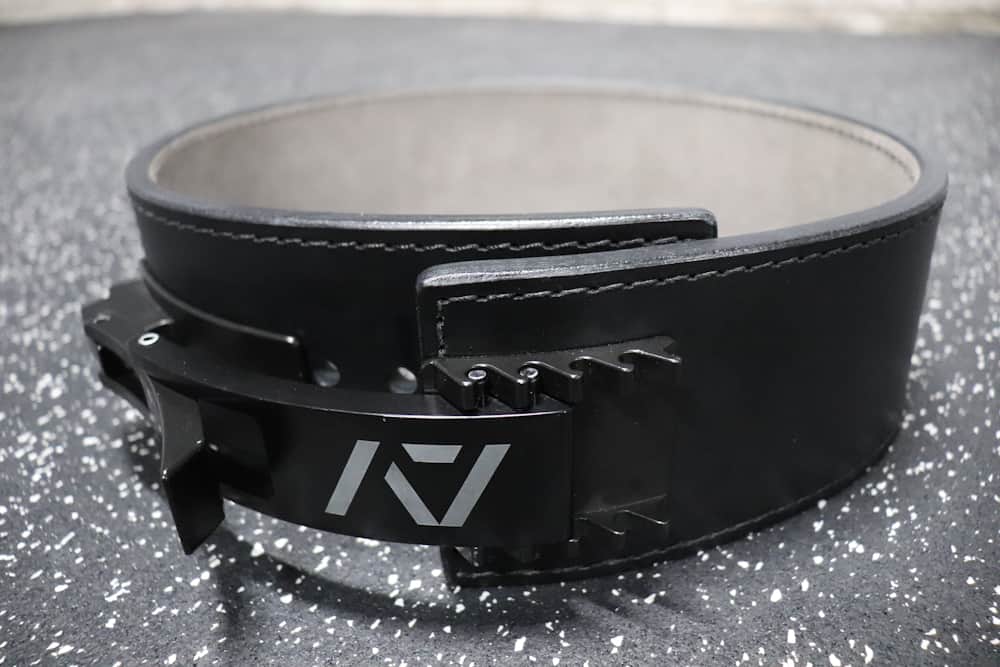 The A7 PAL Lever Belt is a high-quality, high-performance adjustable lever belt. It will save you time and effort in the gym while allowing you to zero-in on the perfect tightness regardless of where you're positioning it on your torso.
It's an excellent investment for powerlifters competing in the IPF or any of its affiliated federations. It also complies with the technical specs for the USAPL and USPA.
If you're not an IPF competitor, the high price is hard to justify since you can get the same belt directly from Pioneer but without the A7 branding and IPF approval.
To learn more about this belt or buy one for yourself, visit the links below: