I recently tested out the new A7 Hourglass Rigor Mortis knee sleeves and it was quite the experience.
These knee sleeves offer a well-priced knee sleeve option for serious powerlifters who want to maximize knee support and performance on squats.
To preface this review, let me say that these are my first and only pair of extra-stiff high-density neoprene knee sleeves. I'm aware that there are others out there like the Inzer ErgoPro sleeves and the Iron Rebel PR sleeves. So I can't compare to those options, though I'm sure they provide a similar general experience as the A7 Rigor Mortis sleeves.
I'm used to squatting in my regular SBD sleeves or the A7 Cone knee sleeves, both of which provide great support. However, as I'll discuss in this review, it's nothing compared to the stiffness and support you get in the Rigor Mortis sleeves.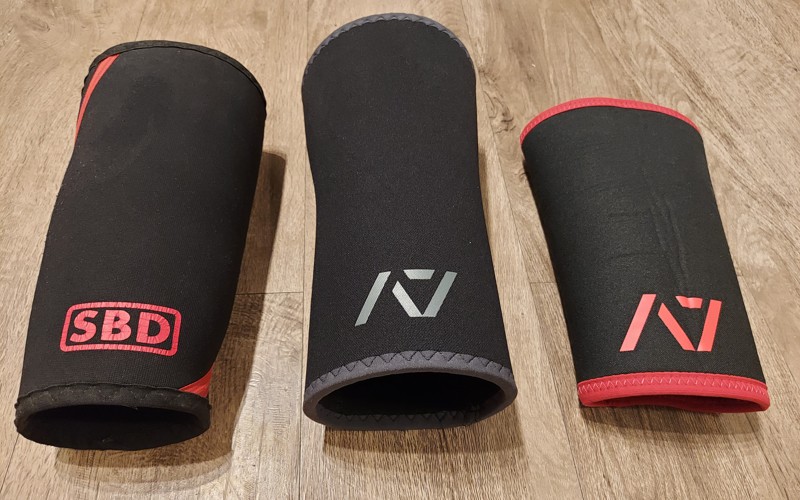 Specs
The A7 Rigor Mortis knee sleeves have the following specs:
Material: High-density neoprene
Thickness: 7mm
Length: 30cm
Shape: Center-tapered ("Hourglass")
Stiffness: Extra stiff ("Rigor Mortis")
Weight: 14.5 oz. per sleeve
Price: $99.95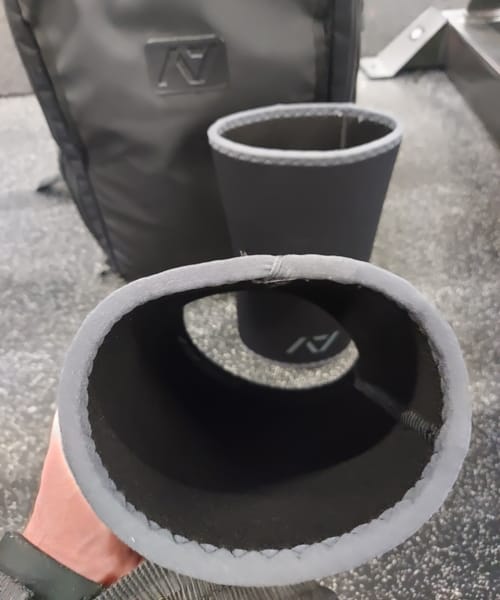 Construction
There are a few different things about the construction of these sleeves that contribute to their stiffness/support compared to regular knee sleeves:
A denser neoprene material — These are 7mm knee sleeves just like my other regular A7 and SBD knee sleeves, yet the Rigor Mortis sleeves are 2.5x heavier.
An hourglass-shaped center taper, which focuses the most tension at the knee joint
The back has two seams going down it, which focuses tension on the back of the knee joint. It should also improve durability compared to sleeves with a single rear seam.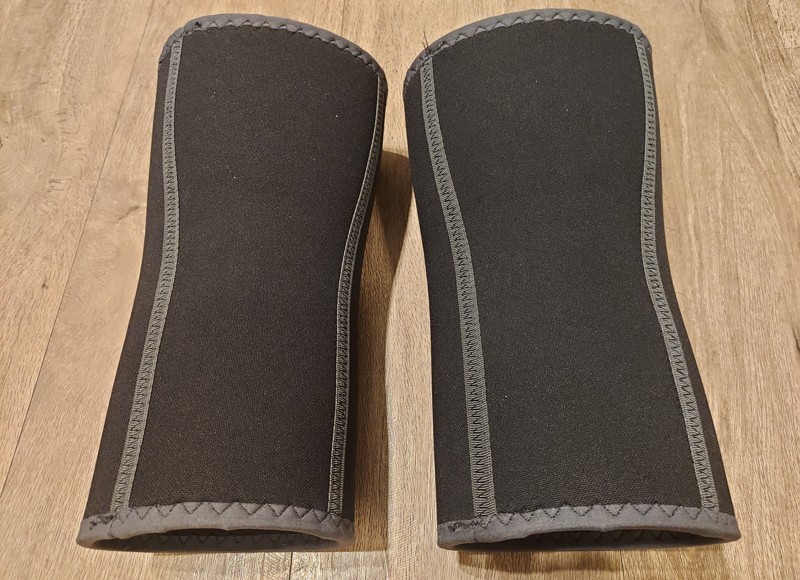 Approved for Use in Powerlifting Competitions
These sleeves max out specs allowed in most powerlifting federations:
They're approved for competition use in these federations:
Using the A7 Rigor Mortis Knee Sleeves: My Review
When you first start using these and walk around with the sleeves on, you'll feel like Forrest Gump in leg braces. That is, your knees won't bend much with each step unless you actively try to. That's how stiff they are.
When it comes to squatting, this stiffness translates to a whole lot of support at the bottom of the ROM. And of course, this gives you a very nice pop out of the bottom of the range of motion.
The first time I used these sleeves, I ended up hitting 395×3 on my top set. This was the most I've squatted in the 2.5 years since a meniscus injury, which has had some lingering effects (which thankfully have been improving more recently).
Needless to say, I was stoked about hitting this post-injury PR! Both knees, and especially my injured knee, felt very stable during the lift.
Here's a clip of me hitting a heavy double in the Rigor Mortis knee sleeves:
Ease of Use
As you might expect from such thick sleeves, the process of getting these on and off is certainly more strenuous and takes longer than with regular knee sleeves.
To get them on, you'll need to fold the top of the sleeve down and fold the bottom of the sleeve up. Then you'll need to hook your fingers under the bottom and pull up (hard!). If you're not sure if it's high enough, it probably isn't, so pull up a bit more. After you get it to the right spot over your knee joint, unfold both ends.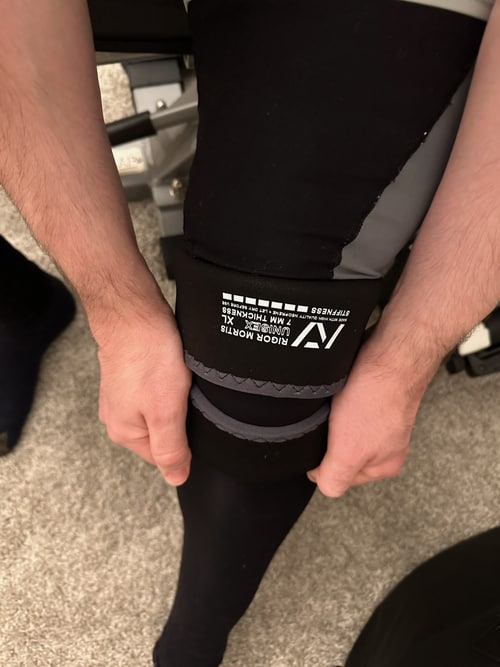 Comfort
Once they're on, they're also not as comfortable as more flexible sleeve options, especially after longer wear. This isn't a surprise, considering they're designed for stiffness. Still, you should be aware of this.
If you're looking for longer-duration comfort, ease of use, and efficiency in getting ready for your workouts, these probably aren't for you.
Even for me, I'll probably be skipping these sleeves on lighter squat days. That highlights their key benefit and use case: for performance and maximizing support on heavy squats
Portability
If you're not a home gym lifter and go to a commercial gym, understand that these will take up more room in your bag since they're not easily foldable.
Plus, each sleeve weighs approx. 14.5 oz (well, one weighed 14.8 oz, and the other weighed 14.5 oz). So they'll add nearly two pounds of weight to your gym bag. That's not a big deal if you bring a big bag with you. But if you travel light, it may be a concern.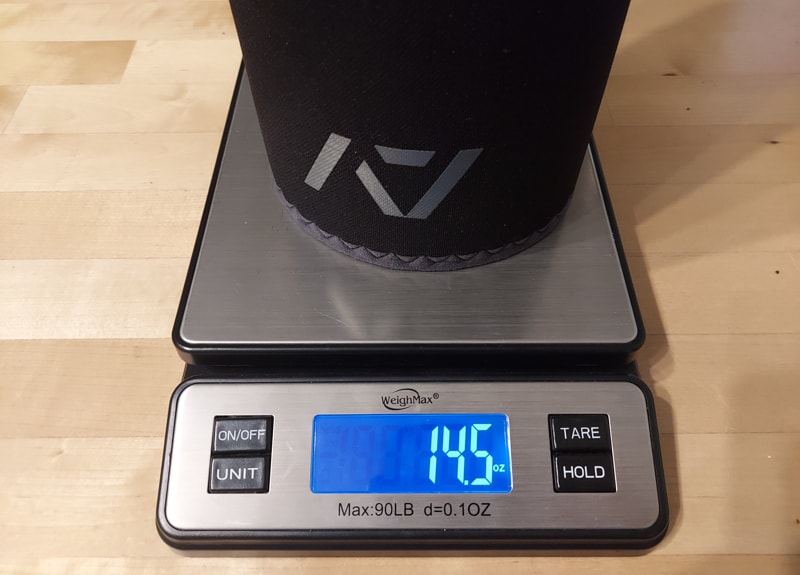 Sizing
As far as sizing goes, I went with the XL. My knee circumference is 15.5″ on the left knee and 15.75″ on the right knee. For my knee size, A7 recommended either XL or 2XL. I feel like XL was the right size for me.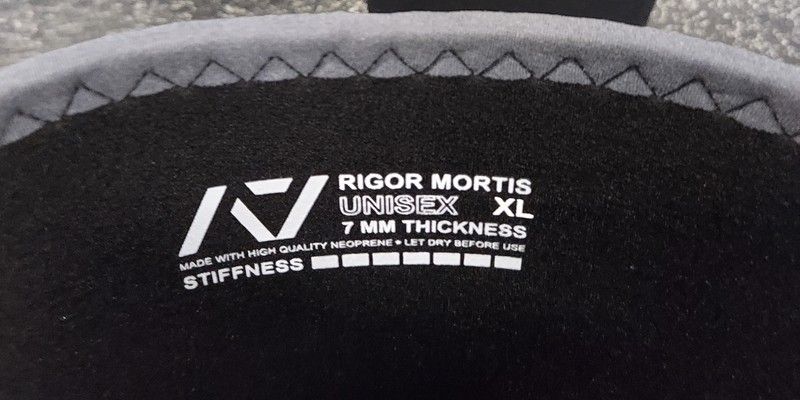 If I had sized down to an L, I probably could've gotten it on, but it would be too much of a hassle and probably too uncomfortable for my preferences. However, I know some people prefer a very tight fit, so your mileage may vary. If you're unsure, just go with the chart's recommendation.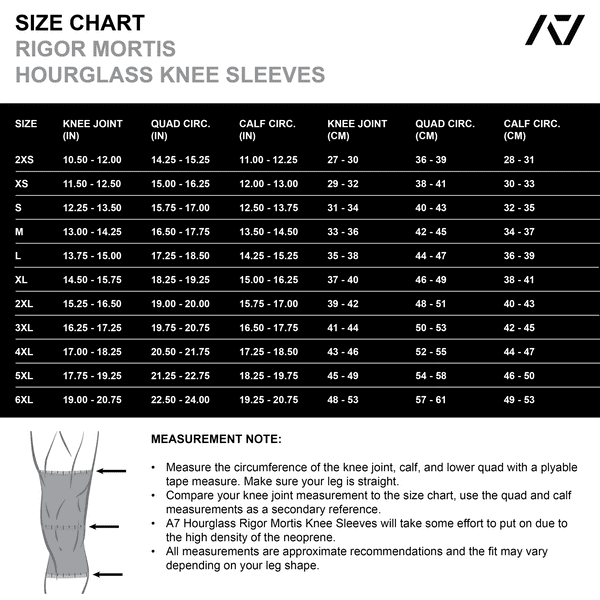 Price
As I mentioned earlier, the main high-density knee sleeve alternatives to the A7 Rigor Mortis sleeves are the Inzer Ergo Pros and the Iron Rebel PRs.
However, the A7 Hourglass Rigor Mortis sleeves are available at a notably lower price point. This is a major benefit for anyone on a budget seeking this style of sleeve.
At $99.95, the A7 sleeves currently retail for $35 less than the Inzer option and $39 less than the Iron Rebel option.