Check out my Body Solid GFID31 bench review to find out if this adjustable weight bench is right for you.

The Body Solid GFID31 bench is a flat/incline/decline adjustable weight bench (i.e. you can raise/lower the backrest and seat settings to change the bench angle).
It's a popular choice among weight lifters who have home gyms…
…And I own one. By the time you finish my review, you'll know whether or not this is the right piece of equipment for you.
Read on to discover my overall opinion on this bench, as well my take on its specific pros and cons.
My Body Solid GFID31 Review
Overall Opinion:
I bought my GFID31 bench in 2008 (at the same time I got my Powertec power rack).
The bench has served me quite well since I've had it. Despite a few small flaws, I am still satisfied with my purchase. I believe that this bench deserves serious consideration from lifters of just about all levels of experience.
And while some advanced lifters (i.e. those with several years of experience) would be totally content with owning this bench, I'd bet many of them would probably prefer to buy a more expensive weight bench; one with a greater number of features/capabilities and fewer flaws, which most precisely fits their refined tastes, so to speak…
…Put differently, the Body Solid GFID31 bench is generally most desirable among beginners and intermediates, but should not necessarily be dismissed by advanced lifters right off the bat.
Pros:
Sturdy Frame. The steel frame of this Body Solid weight bench is, as the company's name suggests, quite solid indeed. It has to be, considering the bench is rated at a 1000+ lb. capacity (bar weight plus your bodyweight). So as you would expect, it has the thick steel and good welds needed to withstand heavy loads. I have seen no signs whatsoever of damage to the frame, besides a few superficial blemishes. But to be completely honest, I can't verify the 1000 lb. capacity claim because I haven't tried to bench a heavy enough load. Not yet anyway!… BRB, going to the basement for an 800 lb bench press attempt!
An Offer You Can't Refuse… Or, at least I couldn't refuse the offer. You get a lot of bang for your buck with this bench. It's not one of those dinky little benches that you can buy at Walmart. But, it also isn't the "créme de la créme" of benches. It's a well-constructed, professional-grade piece of weight training equipment. When I originally posted this review, the price was $210, which was a steal. Its price has since gone up ($280 as of Mar. 2012). That said, I'd still consider anything under $300-325 to be an attractive offer for what you get; you could pay almost double that for a bench with relatively marginal improvements. On the flipside, if you think that's way too much to pay for a bench, then you might want to reassess your perspective: Think long-term. Sure, you could get one of those "all-in-one" doohickies (i.e. a bench, quasi-squat rack, lat station, leg developer attachment and preacher curl attachment) for $200 or less… BUT that's a waste of money. Those cheap weight systems may look great in a picture, especially if you're new to lifting, but you get what you pay for. Speaking from my own experience of buying such equipment, you outgrow it within a few to several months of training. Then you have to throw down more money to buy the quality equipment you should have bought in the first place (or, as I did, risk your safety by greatly exceeding the weight limit on a piece o' crap gym ←

not

advised). Even if you choose not to buy the Body Solid GFID31 bench,

don't be cheap!
6 Bench Angle Settings. You can have six bench positions from which to choose. You simply change the backrest and seat settings to make adjustments: Go from an approx. -25° decline, to 0° flat, to a low 30° incline, to a moderate 45° incline, to a high 60° incline, and all the way up to a 90° vertical incline. The Body Solid GFID31 bench has a broad enough range of angles settings to more than fulfill my needs (I very rarely use the vertical and decline settings). It's simple to modify the angle of the backrest by using the ladder rung-style mechanism: To increase angle, simply raise the backrest until the latch on the end of the support bar falls into place in the next-highest rung. To lower the angle, raise the backrest up enough to pull the support bar latch out of the way, and proceed to lower the backrest and insert the latch into one of the lower rungs.
No Wobble (unless you don't tighten the screws enough!). The wobble on my previous bench was a major reason for (eventually) deciding to upgrade to my Body Solid weight bench. After originally assembling the Body Solid bench and testing it out for a few workouts: It wobbled. And I was disappointed. However, my disappointment vanished when I realized I simply needed to tightening some screws on both ends of the support bar (the latch and hinge). I mention this because I've read reviews from others online, and some complain that the backrest wobbles. It's my guess that these people can solve the problem simply by tightening up these screws.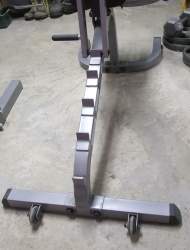 Pop-A-Wheelie! One particularly convenient feature is the wheels built into the bench, which take the hassle out of moving bench from point A to point B. You simply lift the seat-end off the ground and roll it to its destination, kind of like when rolling luggage around at the airport. Though it may seem like a negligible feature, after having enjoyed its usefulness; mobility would be essentially a mandatory requirement if I were shopping for a new bench. Given limited amount of space where I train in my basement, I'm always moving the bench around: into my power rack, out of my power rack, off to the side, into the open and stored out of the way against the wall. So the wheels eliminate unnecessary straining and makes my workout go smoother than if I had lift, drag, shove, slide, fenagle, or otherwise struggle with moving the bench to its proper place (some may call this "laziness" but I call it being efficient and conserving energy!).
DuraFirm™ Upholstery/Padding Is Strong & Comfy. Yup, the upholstry on this bench is so nice that it deserves its own trademarked name, haha. The seat and backrest have thick padding with a very firm feel to it. The firmness ensures stablity by preventing the padding from compressing too much and too quickly under a heavy load. The thickness makes the bench comfortable because, when the padding does compress slightly, your back won't be anywhere near to pressing into the hard surface under the padding (as was the case with my old bench). Also, I've been impressed with the type of fabric that's upholstered over the padding. You can tell it's strong, resilient material just by feeling it with your hand. Yet it also has a very smooth and soft texture to it. This material is responsible for making a quick job of evaporating any residual sweat you leave on it. Whereas, many other benches use a leather-esque material that allows your sweat to collect and linger. Overall, other than being in need of cleaning, the upholstrey and padding on my bench is the same as when I got it. No rips, stains, wrinkles, lose stitching, and no weakness or permanent indentations in the padding.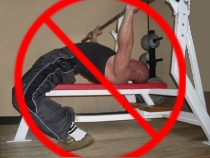 Bench Height. The GFID31 is higher than most other benches on the market. When I first tried it out, it felt much different than what I was used to; almost awkward. However, after getting used to it, I've found that I actually prefer this above-average height. This is because I don't have to position my feet way back on the floor behind my knees to "dig" my heels into the floor and form a proper back arch while keeping my butt on the seat – sort of like the guy in the pic to the right (yes, that's an exaggeration). Basically, I find that the extra height improves my stance, which in turn improves my leg drive while benching. But just because the height works great for me, at 5'11", doesn't necessarily mean it will be the best for you too & See the cons section for more on this point.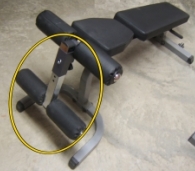 T-bar Leg Hold Down Attachment. This attachment (circled in the pic on the right) has two foam pads on its end, and inserts into the underside of a slot at the edge of the seat. It can be adjusted up and down to 8 different settings. The whole point of this thing is to allow you to effectively utilize the decline bench setting for exercises such as decline crunches, sit ups or lying tricep extensions. By hooking your feet under the foam pads, you can safely lay back into the decline position and secure yourself during the exercise.
Expandability. You have the option to expand the capabilities of the bench by purchasing attachments. There's a leg developer attachment for doing leg extensions and leg curls. And there's a preacher curl attachment for doing, yup you guessed it, preacher curls. I own neither of these and don't have any plans on buying them. That said, the mere fact that I have the option to do so is comforting.
Cons: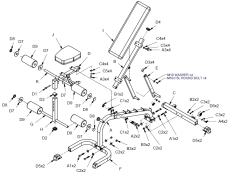 Tedious Assembly. You don't have to be a rocket scientist to put this thing together. However, seeing as how the instructions consist only of a single exploded diagram (and a parts list), it may at first seem like you need a PhD qualification for assembly… Okay, it's not that hard to put it together, but I can recall the bench assembly taking noticeably longer than that of my Powertec power rack, since I got them at the same time. That said, I finished it by myself and without any hiccups, despite the fact that I am no Bob the Builder. So long as you work patiently and diligently, you can complete it in one shot without issue.
Bench Height. Although I listed Bench Height among the pros, it will most certainly be a con for some folks; specifically, those who are shorter. I'm 5'11" and can plant my feet flat on the floor when benching, with a little "slack" leftover. But if I were a few inches shorter, I'd imagine that getting my feet planted firmly on the floor would be a bit of a stretch (pun intended). Although everyone is different, I'd estimate that the height of the bench is much more likely to be a problem for those under 5'9″ than it is for people over that height. If you think it may be too high for you, then there's an easy way to find out for sure – First consider that, for all practial purposes, the bench is about 21 inches high in the flat position (it's techincally 22 inches high, but the padding compresses about 2 inches when you're benching). With this information in mind, here's what to do: Try finding or making some type of platform that's 21 inches high, which you can lay on as if it were a bench. It doesn't have to have be sophisticated; something as simple as a board laid across two stacks of books will do the trick. Once you've got something figured out, lay down, position your body as if you were about to perfom the bench press and go through the movement. The point is to see whether or not you can comfortably plant your feet on the floor. Ideally, though, you should see if there's one you can test out at your local sporting goods store.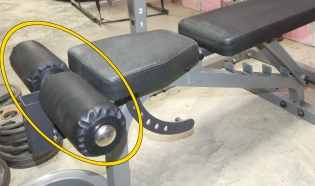 Must Remove Foam Pads for Flat Bench. Initially, I was agitated after I started using the bench because I couldn't seem to get my leg positioning right on flat bench. The foam pads (circled in the picture) forced me to position my legs way too far apart. This also forced me so that my butt was right on the gap (see the bullet below). As you could imagine, this was bothersome and certainly not conducive to intense lifting. Eventually though, I smartened up, and decided to take the foam pads off. To do this, you have to pry a cap off one of the ends with a some kind of tool – I used a flathead screwdriver and some elbow grease. These pads are only used for leg extensions and leg curls (if you buy the leg developer – I haven't), or decline exercises (e.g. decline bench, decline crunches), which I almost never do. So I've just left the pads off.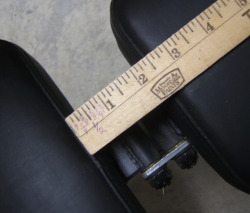 Gap Between Seat & Backrest. There's a 2.5-inch gap between the seat and backrest when the bench is in the flat position (it's about 3.25 inches wide in the decline position). It's purposely made this way so the backrest can go all the way up to a vertical incline. This is only a problem if you keep the foam pads on the end, because that forces you to sit your butt right on the gap during flat bench. But, as discussed in the previous bullet, if you simply remove the foam pads, you can scoot up into a comfortable position so that your ass is off the gap and on the seat, where it should be. Additionally, or alternatively, you can do as others have done: Cut a properly fitted block of styrofoam or hard insulation and place it snuggly in the gap.
Leg Developer Issue. As mentioned, I don't have the leg developer attachment. But I have looked up what others said about it, and there is one stand-out problem with it: After loading weight onto the leg developer, the opposite side will start to lift off the ground, so you have to counteract this by placing enough weight on the opposite end of the bench.
Summary of Body Solid GFID31 Bench
Overall, the Body Solid GFID31 bench is professional quality weight bench. It has all the essential features required to do just about any exercise that requires a bench. It's durable and will last you a long time. So is this the right bench for you? Well, ask yourself these three questions…
Are you were satisfied with the "pros" listed above?
Can you deal with "cons" listed above?
Did you make sure that the bench won't be too high for you?
…If you answered yes to all three of the above questions, then I'd say go ahead and buy it. My guess is that you'll be very happy with outcome.
If you've decided that this is the right bench for you, then you can buy it on Amazon
.
To be as transparent as possible, I'd like to disclose that I receive a small commission if you buy through this product link (at no extra cost to you)…
This fact doesn't effect my review. The money I earn this way lets me spend more time working on this site, while also supporting my protein addiction. 😀