This is an exhaustive review of the STEPR Stair Climber, a fully connected and compact stair climber designed for the convenience of in-home fitness.
Model
Pros & Cons
Rating

STEPR Stair Climber

Use code KING for a FREE 36-Month Extended Warranty

Pros:

Space-efficient for home use, fits in 8′ ceilings.
Diverse on-demand classes for all levels
STEPSync matches machine pace with coach (coming soon)
27" 1080p touchscreen
Includes streaming apps
Reasonably priced for a stepmill
Among the quietest stepmills available
Sturdy build quality for a home-use machine

Cons:

Sensitive touchscreen, slow response (being addressed in upcoming updates)
Optional All-Access Membership will cost $39/mo starting 10/2024
Short 5.2" steps
Heart rate tracking via Bluetooth chest strap only; no contact hand monitors

Rated 4.5 out of 5

View product page
Think of it like Peleton but for stair climbing.
I've spent a lot of time testing the STEPR using a variety of workout styles to bring you an honest, in-depth, comprehensive review that you can trust.
I'm also bringing my knowledge of the stair climber (aka stepmill or stairmill) equipment category, which I've become familiar with from years of training in commercial gyms.
I found the STEPR to be a game-changer for home gym cardio equipment. It stands out from its competition for two major reasons:
It's the only truly connected stepmill with a library of coach-led on-demand classes that syncs your machine with your coach's machine to match their rhythm.
It has a compact design that makes stair climbing accessible to home users with low ceilings and space limitations.
There are tradeoffs that come with the compact design, which I'll discuss, among other considerations. But for many home gym owners in the market for a stair climber, it's worth it.
Now, let's get into this STEPR review!
STEPR: An Overview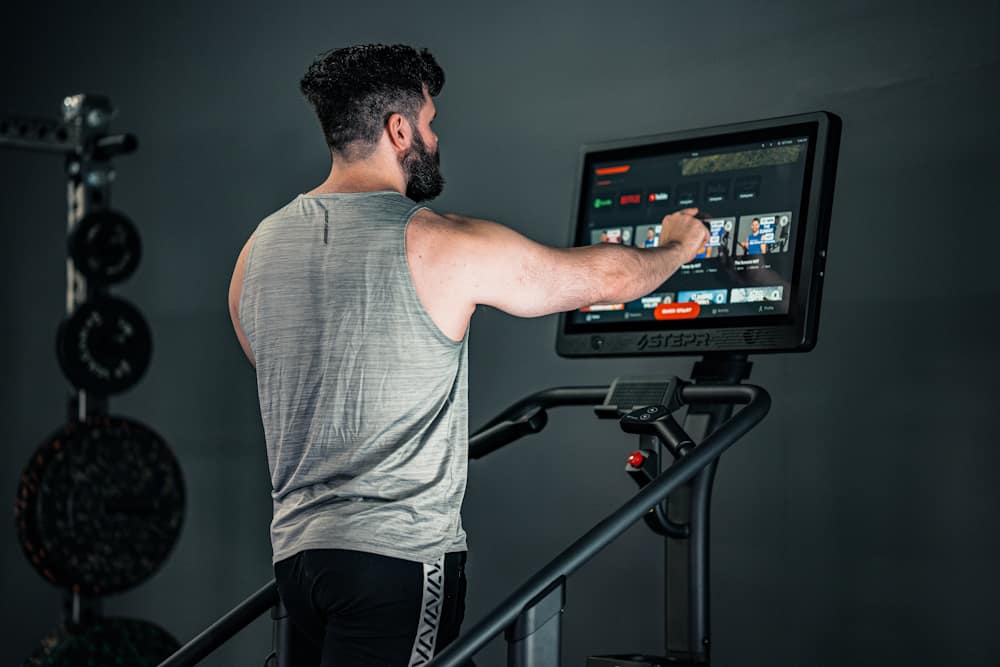 The STEPR Stair Climber is the world's first fully connected stair climber. Its compact design and (relatively) competitive price point aim to make stepmills a more accessible cardio option for at-home workouts compared to full-sized commercial stepmills.
The fact is stepmills are very popular because:
They provide a low-impact cardio workout.
They generally burn more calories in a faster amount of time compared to most alternatives.
You don't have to move as much to achieve a given heart rate level as other common cardio machines.
But most people only have access to them at commercial gyms. This is because most stairmills on the market are super expensive and require very tall ceilings.
There are some compact alternatives, but they're also pretty expensive. The ones that do cost less than the STEPR are bare bones and lack entertainment options or other advanced features.
None of the competing compact stair climbers, regardless of price, offer on-demand stepping classes.
In the market of stair climbers, STEPR stands out amongst its competitors. While models such as the Pro 6 Aspen StairMill, StairMaster SM3, Stairmaster 4G Gauntlet, and Matrix Climbhill C50 have their strengths, STEPR's unique selling points lie in its compactness, connected capability, and price point.
I have an entire section in this STEPR review dedicated to comparing the STEPR to these other compact stair climber options.
Despite being a new product on the market, STEPR comes from a team whose founders have 15 years of experience in the gym equipment industry running other companies. They've also hired staff with experience at industry giants like Stairmaster and iFit.
STEPR is their new company, and they've leveraged their R&D experience, manufacturing connections, and understanding of the market to create a product that fits the needs of modern users.
They've blended a traditional piece of cardio equipment (the stair climber) with cutting-edge technology for a truly unique offering.
Buy the STEPR Stair Climber – Use Code KING for a FREE 36-Month Extended Warranty »
Things to Consider Before Buying the STEPR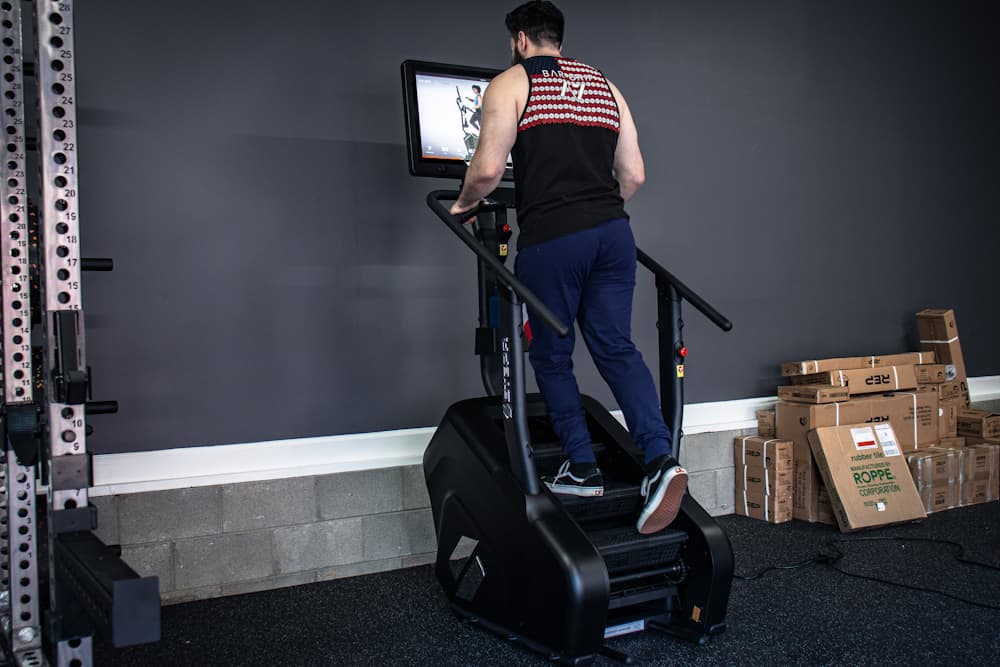 STEPR isn't for everyone. Before you buy it, you need to consider several factors that I'll briefly go over in the sections below:
Assessing Your Fitness Needs
Before diving into any fitness equipment purchase, it's crucial to evaluate your fitness goals.
Consider how a stepmill like STEPR fits into your training. If you're seeking low-impact cardio workouts that burn calories fast while focusing on lower body strength, STEPR should be on your shortlist.
Furthermore, the importance of variety in workouts cannot be overstated. One of the significant advantages of the STEPR unit is its extensive library of on-demand classes. These classes go beyond stair climbing with bootcamp workouts where you alternate stepping with light resistance training.
Space and Setup Requirements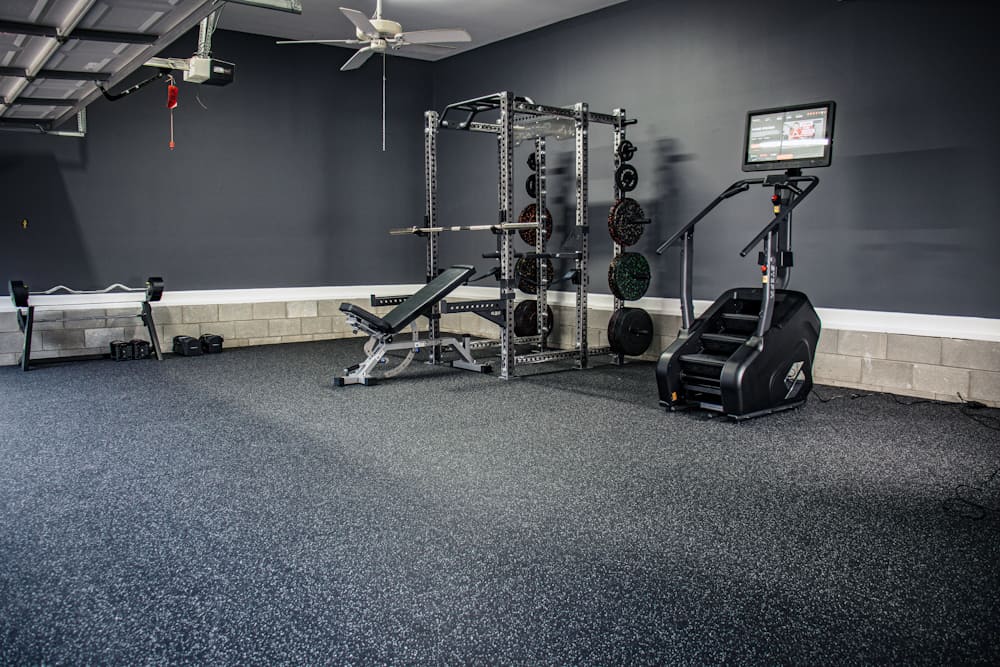 While the STEPR is more compact than many other types of cardio equipment, you still need to have enough space for it in your home gym.
If your home gym is already low on space, it might not work. You can't look at just the dimensions (82″ height, 42″ length x 27.5″ wide) to know if it'll work in your space. You also have to consider the recommended workout space around it, which I discuss here.
Also, ceiling height is a consideration. Luckily, the minimum recommended ceiling height for most people is an 8' ceiling. The good news is that virtually all homes have ceilings at least this height.
However, if you'll be using it in a basement, which often has a shorter ceiling, you may well not have enough headroom.
Lastly, if you're very tall — 6'3″+ (maybe you can get away with 6'4″) — you'll need a bit above the recommended 8' ceilings for safe clearance.
Budget Considerations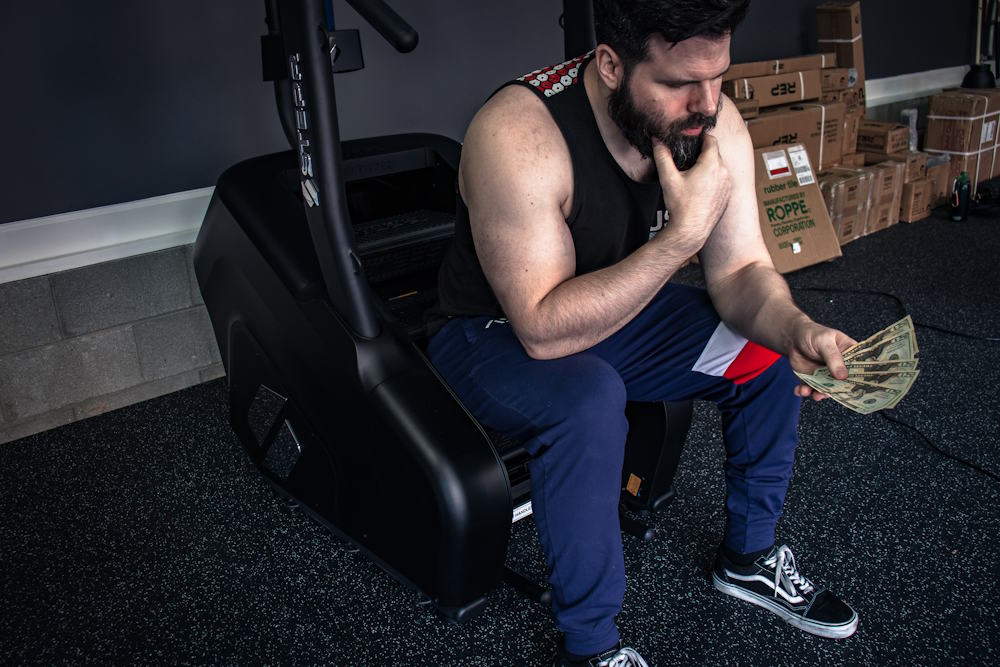 Budget considerations are often at the forefront when investing in fitness equipment. The STEPR unit retails at $4,999, which is no doubt a lot of money. But even at this price, I'd still only consider it to be a mid-range price point, even in the compact stepmill market.
When deciding whether the price is worth it, you have to consider the value it offers. Think about the costs saved on gym memberships and commuting time.
If you take in-person fitness classes, consider the savings you'd get by switching to the on-demand classes offered by STEPR.
Buy the STEPR Stair Climber – Use Code KING for a FREE 36-Month Extended Warranty »
User Compatibility
STEPR specifies a user height range of 4'11" – 7'2" and a weight range of 95lb min and 375lb max. Make sure you fall within these ranges before purchasing.
As noted earlier, you need to be aware that if you're 6'3″+, you'll probably need a ceiling taller than 8' for sufficient headroom.
Long-term Commitment
Investing in the STEPR Stair Climber entails a long-term commitment to a particular style of cardio. Consider whether you'll use it consistently over the years to come. You don't want this to become an expensive clothes hanger after a few months.
The STEPR also offers an optional paid subscription called the STEPR "All-Access" App Membership. It gives you access to the on-demand classes and a membership profile with workout tracking.
IMPORTANT NOTE: For approximately the first 12 months after STEPR first started shipping units (October 2023), the "All-Access" app will be free! They're doing this because there will be some major app upgrades in this time, and they think it's fairer to start charging after these are implemented.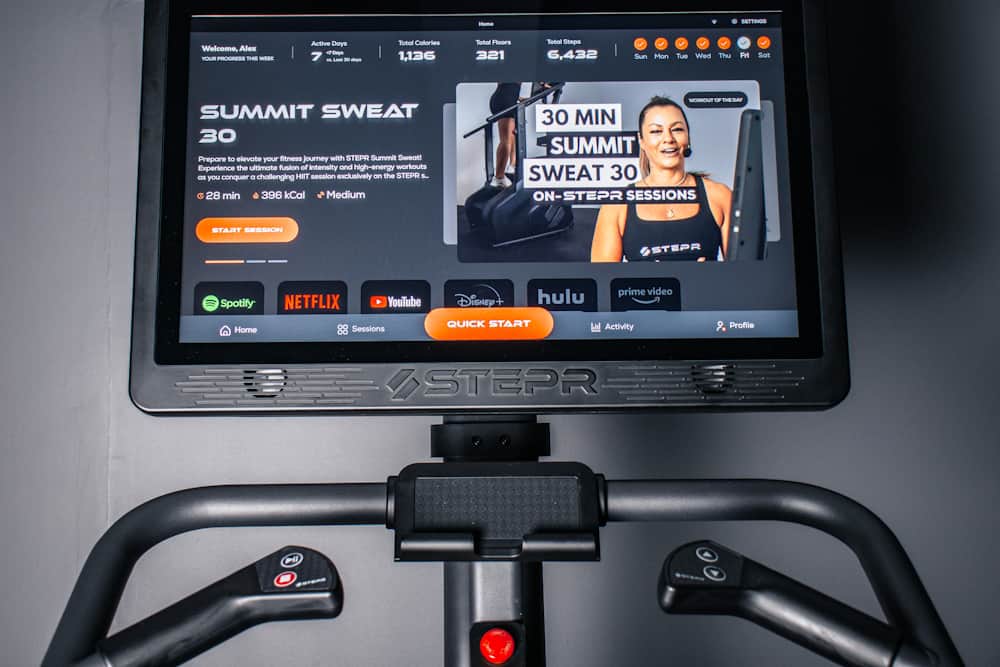 Be aware that there will be ongoing costs associated with the "All-Access" subscription – specifically, it will be $39 per month. This includes profiles for up to five users.
However, you can skip the monthly subscription and choose to use the free guest mode instead. However, you'll have limited access to on-demand classes and progress tracking.
I'll talk more about the STEPR "All-Access" App Membership vs the free guest mode in a later section of this STEPR review.
What Comes With STEPR?
Main Unit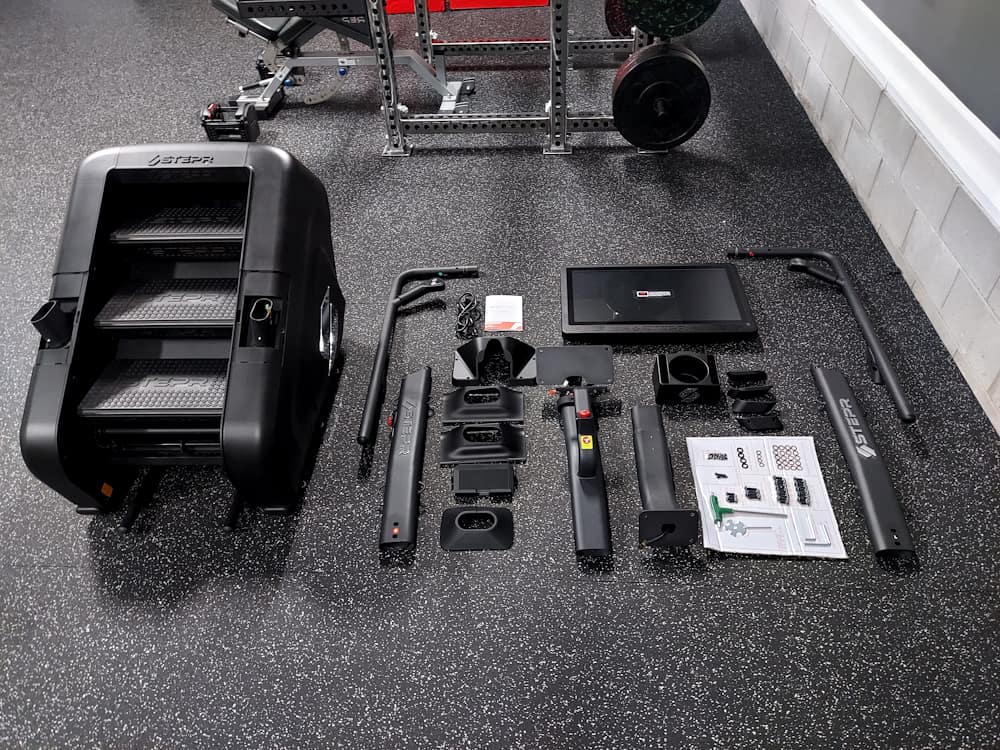 The box includes the main STEPR unit, including the stairmill itself as well as the 27" touchscreen display where all the magic happens.
There is a physical instruction manual included in the box.
However, STEPR also uses the BILT App to provide 3D interactive assembly instructions. It's pretty cool since you can zoom in on parts to see exactly what you need to do. It's much more useful than the physical instruction manual.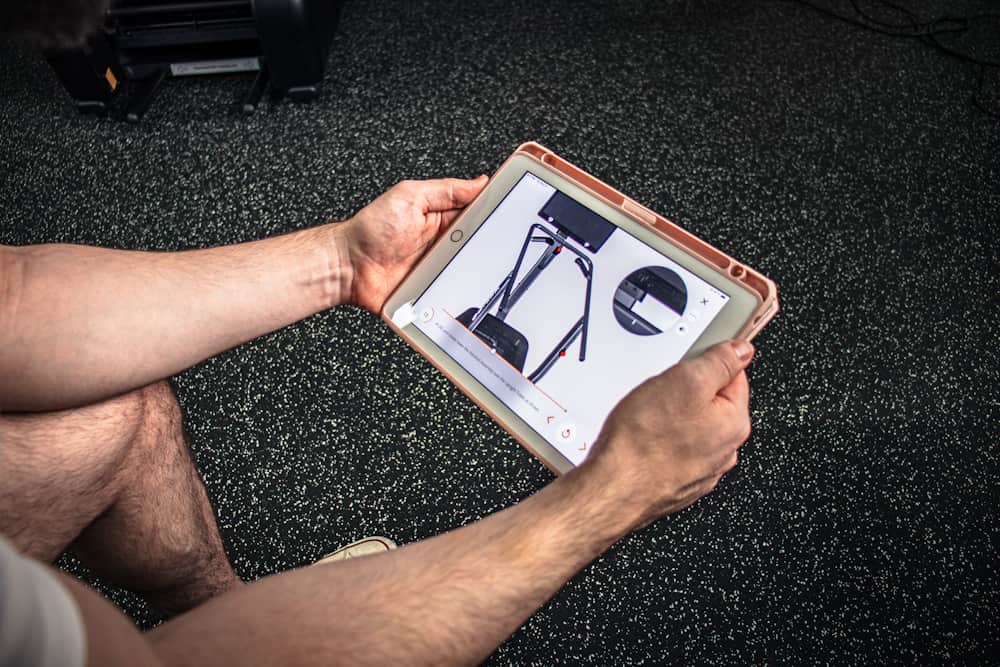 Optional "Ultimate Pack"
NOTE: As of the time of originally publishing this STEPR Stair Climber review, the Ultimate Pack was not available and I have not been able to use and test it. Once it is, I will update this section. Until then, I've described what you'll be able to do on the STEPR when these accessories are available.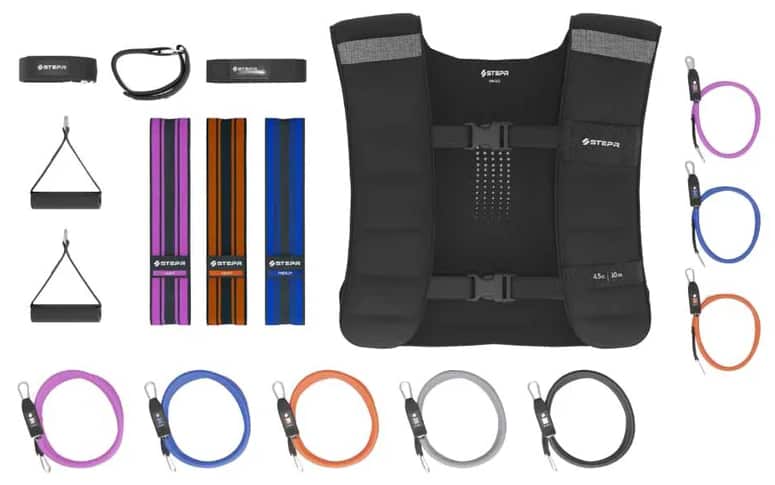 The optional Ultimate Pack is available for those who wish to get the most out of the STEPR both in terms of training data (heart rate) and increased exercise variety. It currently costs $399.
IMPORTANT NOTE: All of the accessories that are bundled in the Ultimate Pack are also available for sale individually if you don't want to buy the pack. This way, you can pick and choose only the items you want.
The Ultimate Pack includes the following:
Two Resistance Band Sets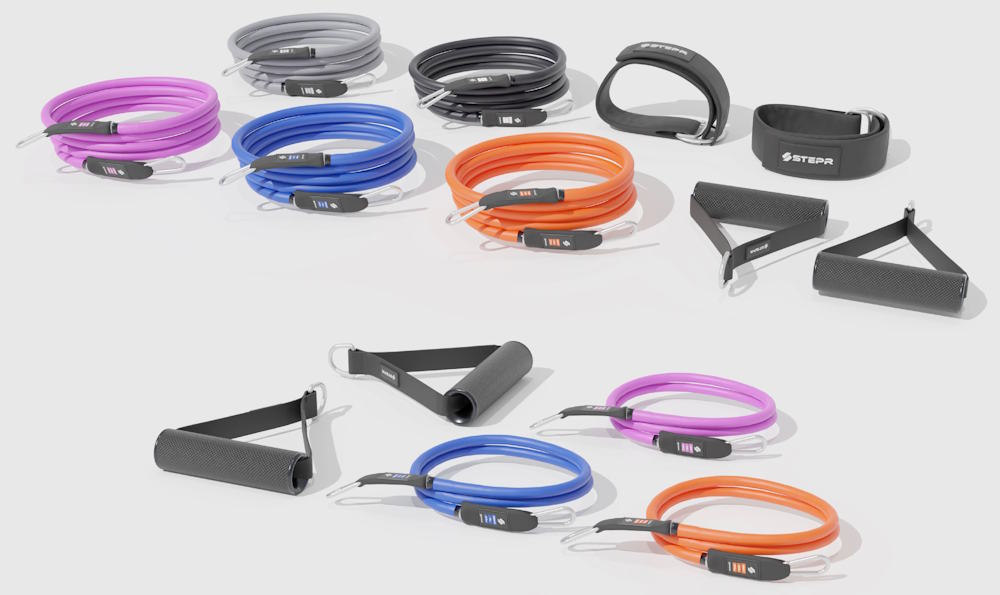 Each resistance band in both sets has a carabiner clip on each end. One end attaches to any of the built-in hooks on the front, side, and rear of the STEPR's frame at varying heights. You attach a handle (or ankle strap) to the clip on the other end to hold onto.
These bands offer a convenient way to integrate resistance training into your workout. STEPR's "Bootcamp" on-demand classes alternate between stepping and band exercises.
The two sets of resistance bands include the following:
The quality of these bands is good. They're similar in style and quality to the ones from PTP, a popular resistance band company.
My only gripe is that I wish they included pairs of bands instead of individual bands for each resistance level. Without matching pairs, it will be tough to do bilateral movements like rows with the same resistance in each hand.
Weight Vest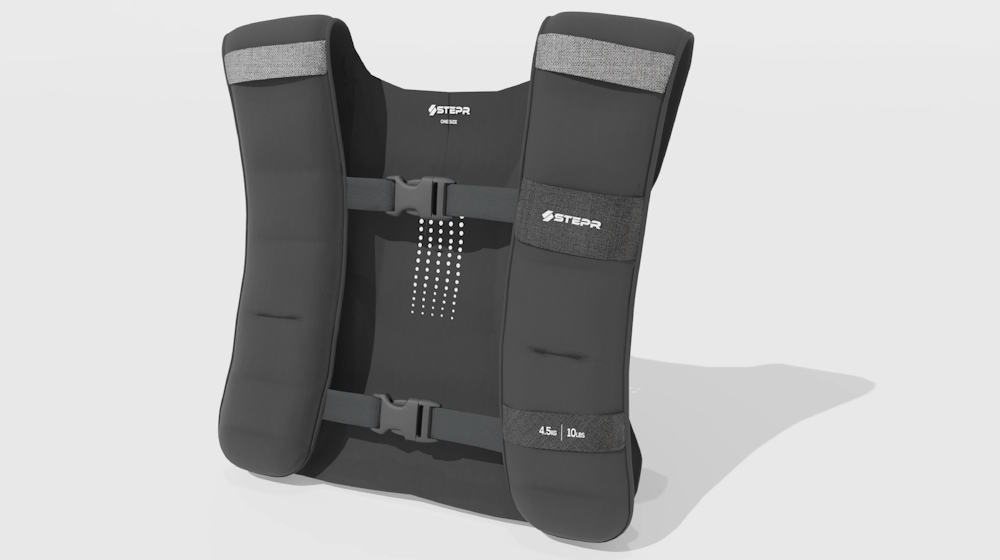 The pack includes a 10 lb weight vest that effectively increases your body weight. This will make your stepping workouts more demanding.
Wireless Heart Rate Monitor Strap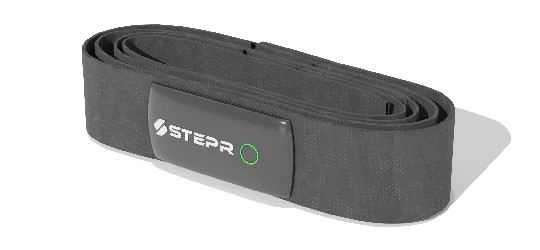 The wireless heart rate strap goes around your chest with the monitor positioned on or near your sternum. Direct contact with your skin is required. This monitor connects to the STEPR unit via Bluetooth to transfer your heart rate data.
You need this to track your heart rate since the handles don't have built-in contact heart rate monitors. As I'll discuss later on, STEPR will likely release a future software update to allow smartwatch owners to wirelessly share real-time heart rate readings from their watch to the STEPR. But until then, the STEPR chest strap monitor is the only way to do it.
This is arguably the most important accessory in the Ultimate Pack, which is why STEPR offers it for sale individually as well – since some people will only want this and not the other accessories.
Booty Bands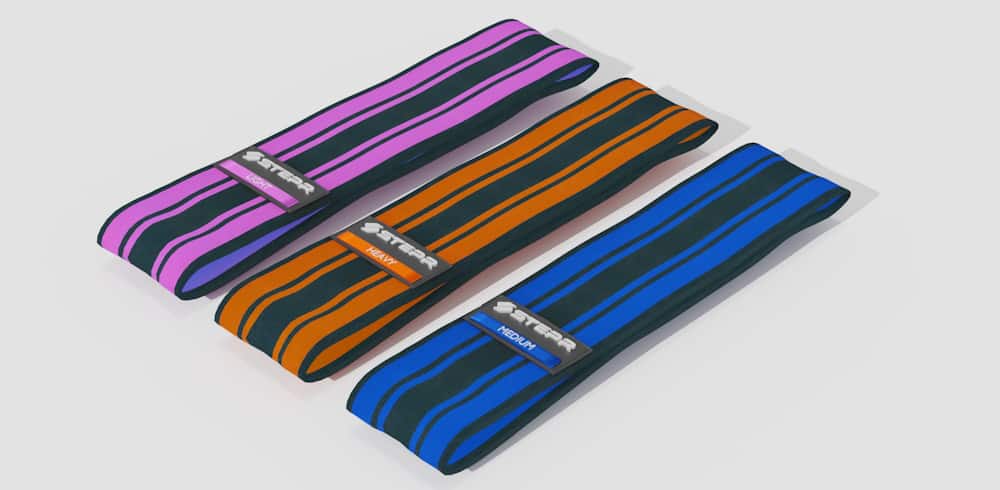 The booty bands go around your thighs, providing additional resistance when you move your legs in any direction. You can use these while stepping on the STEPR with regular strides, extended strides, and side-stepping strides.
Of course, you can also use them for separate resistance exercises when you're not stepping. Some of the "Bootcamp" on-demand classes integrate these into the workouts.
While these bands can be useful for anyone, they may hold particular appeal for the female demographic, due to their focus on "booty" training.
The Booty Bands come in a pack of 5 with the following resistance levels:
UltraLight
Light
Medium
Heavy
Ultimate
STEPR Dimensions
In this section, I'll go over the dimensions of the STEPR unit as well as give you the recommended clearances and total workout space.
Knowing this is essential for figuring out if you'll have enough room for one. Not only that, but it'll help you plan out the best area to put your STEPR once you receive it.
Unit Dimensions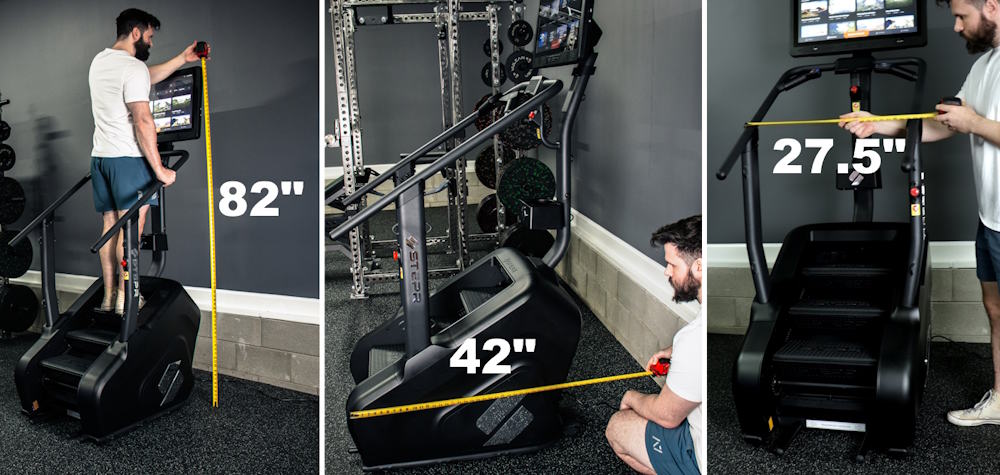 Height: The STEPR stands at 82 inches, from the floor to the top of the display.
Length: At 42 inches in length, the unit is deep enough to provide sufficient depth for three steps at any given time. Yet at just 3.5 feet deep, it doesn't stick out very much at all.
Width: Crucially, the STEPR is designed to be 27.5 inches wide, and carefully constructed to fit through standard doorways. It's worth noting that the standard doorway width in many homes is 32 inches. However, some homes have narrower doorways, down to 30 inches or even 28 inches. The STEPR can accommodate all these scenarios, making it a highly versatile addition to any home gym.
Buy the STEPR Stair Climber – Use Code KING for a FREE 36-Month Extended Warranty »
Step Dimensions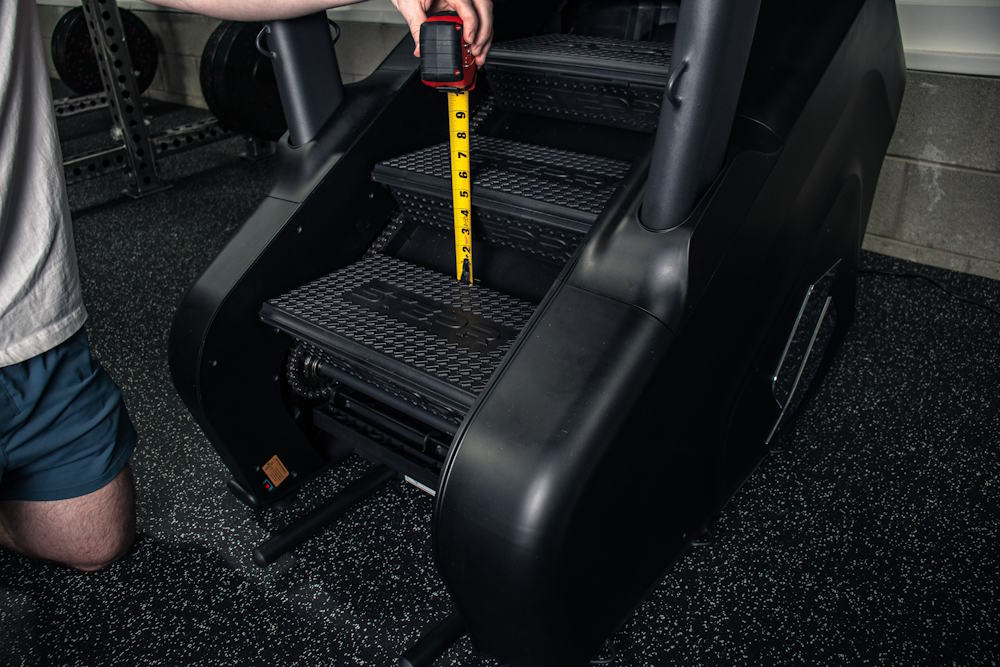 I have a full section dedicated to the steps later on, but for now, I'll summarize the step specs here:
Step Height: 5.2" (125mm)
Step Width: 15.7" (300mm)
Step Depth: 8.7" (220mm) (10.5 – 11″ of space with extra space from "floating step" design)
Step-on Height: 15.2"
Top Step Height: 25.6"
Steps Per Minute: 24 to 137
Unit Weight
The STEPR weighs 286 lbs, which gives it enough heft for stability while stepping. Yet it's not so heavy that it's hard to move.
Recommended Workout Space
Front and Side Clearance: To enable a safe and effective workout, STEPR recommends maintaining a clearance of 2 feet on each side and in front of the stairs. Realistically, you can get away with less, but that's the ideal minimum.
Rear Clearance: If you're considering engaging in bootcamp training that incorporates resistance bands attached to the unit's rear, additional clearance will be necessary. You may want at least 4 feet. Realistically, most people will pull their STEPR away from the wall whenever they want rear clearance. If you'll never be doing band exercises on the back of the unit, no rear clearance is needed.
Total Workout Space: For those looking to do band workouts behind the unit, which are done in the including bootcamp classes, a total workout space of 8 feet long by 6 feet wide is recommended, with the STEPR situated in the middle.
User Requirements
User Weight: The STEPR is rated for users as light as 95 lbs and as heavy as 375 lbs. The 375 lb weight limit is on the high end of the spectrum as far as compact stepmills go. It's a testament to how solidly constructed the frame and components are.
User Height: The STEPR can safely handle the vast majority of most adult users, from as short as 4'11" all the way up to 7'2". However, you'll need taller than 8' ceilings once you get around the 6'3″+ height range. The 7'2″ max user height is more theoretical than anything. After a certain height (probably mid-6-footers), you'll just feel too big to use a compact stair climber without feeling too cramped.
STEPR Pros & Cons
Like any product, the STEPR has its pros and cons. I'll list the major ones below:
Pros:
Compact and space-saving design suitable for home use (usable in 8' ceilings).
Wide range of on-demand classes (in-studio and on-trail) catering to all fitness levels.
STEPSync feature (coming soon) matches your machine's pace with that of your on-demand coach. If you can't keep up, you can adjust the speed while still matching the cadence.
Near-360º swivel and pivot 27" 1080p touchscreen comes standard.
Provides entertainment with streaming apps such as Netflix, YouTube, and Spotify — with many others coming soon.
Though not cheap, it's priced reasonably in the compact stairmill market, where there are only a handful of competitors.
One of the the quietest stepmills on the market.
Sturdy machine with great build quality for a home-use cardio machine.
Cons:
Some software bugs need to be worked out; examples include a sensitive touchscreen, and long wait times between hitting buttons (e.g. launching apps, finishing workouts, etc.). I've been assured by the STEPR team that these bugs are known and that they're a top priority for the dev team. I'll add an update if/when the fixes are made.
Optional STEPR "All-Access" App Membership for up to 5 users will cost $39/month. (NOTE: This is free until approx. 10/2024).
Short (5.2") stadium-style steps take getting used to if you're accustomed to commercial stair climbers.
Heart rate is only tracked with a Bluetooth chest strap monitor (available soon). There are no contact monitors in the handles, which aren't nearly as accurate but are more convenient. (Smartwatch integration planned for the future.)
STEPR Features
Compact Footprint & Height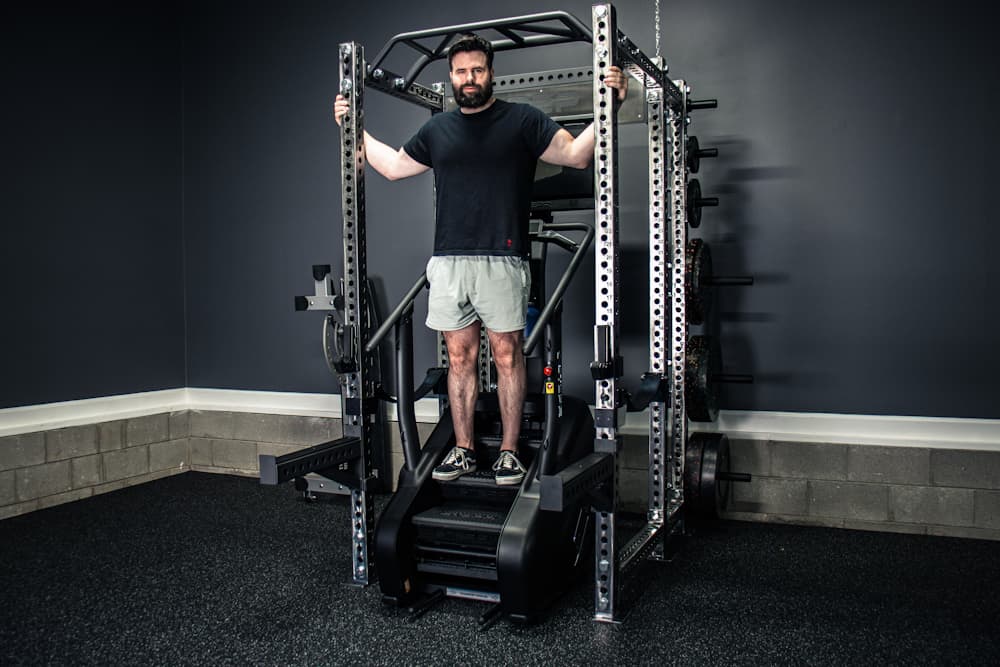 Stepmills are a very popular category of cardio equipment, especially among bodybuilders, but really anyone looking for an efficient low-impact cardio session. However, unlike treadmills, rowers, ellipticals, and bikes, you'll rarely see these in anyone's home.
The main reason for this is that most stepmills are huge. They're meant for commercial facilities. They're far too wide, deep, heavy, and especially too tall, to fit in most people's homes. Not to mention the price.
The STEPR's compact design addresses all of these issues, making it practical to choose a stepmill as your in-home cardio machine.
It allows (most) users to step on it in rooms with ceilings as low as 8′. This gives you the ability to use it in virtually any room in any home. While many people, especially those with relatively newer homes, have 9'+ ceilings, many homes still have 8ft homes. Technically, 8′ is the standard ceiling height as per the National Building Code (NBC).
However, this 8ft ceiling height recommendation only applies to users up to approximately 6'3″. I replicated an 8′ ceiling height with my STEPR. I'm 5'11" and I had between 4″ to 5″ of headroom above me while trying to stand up as straight as possible.
That puts the max recommended height safely at 6'3″ — with 6'4″ pushing it. Of course, if you're that tall, and push up onto your tippy toes, then you might bump your head. Conversely, many times you'll be slightly leaning forward, giving you a few extra inches of buffer room.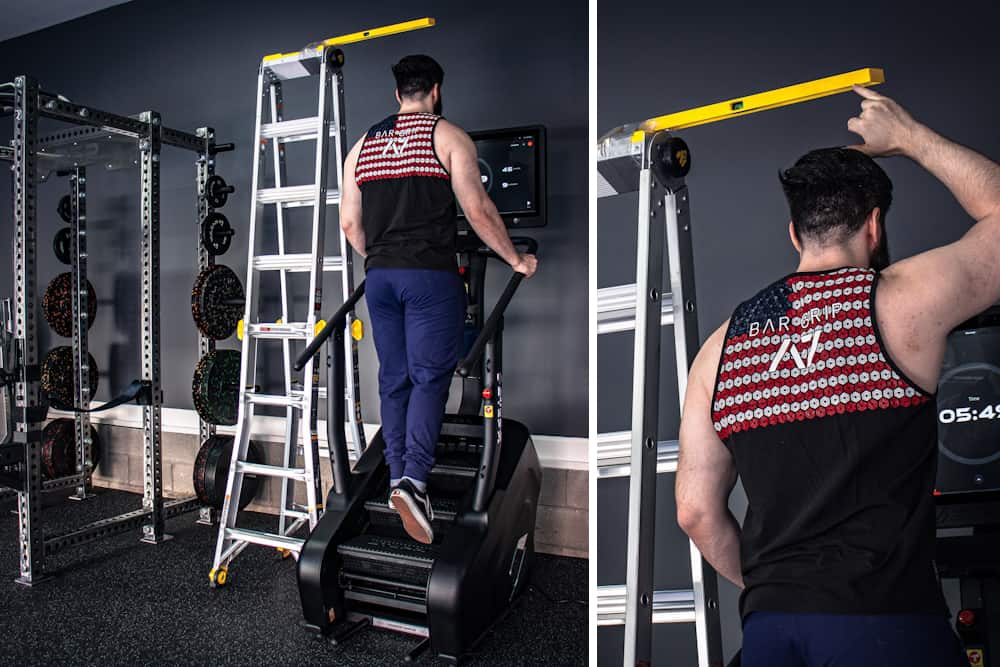 Crucially, the STEPR is designed to fit through standard doorways. It's worth noting that the standard doorway width in many homes is 32 inches. However, some homes have narrower doorways, down to 30 inches or even 28 inches. The STEPR, with its 27.5" width, can accommodate all these scenarios. This is an important feature for a cardio machine that'll be used in homes, where you may occasionally want to move it from room to room.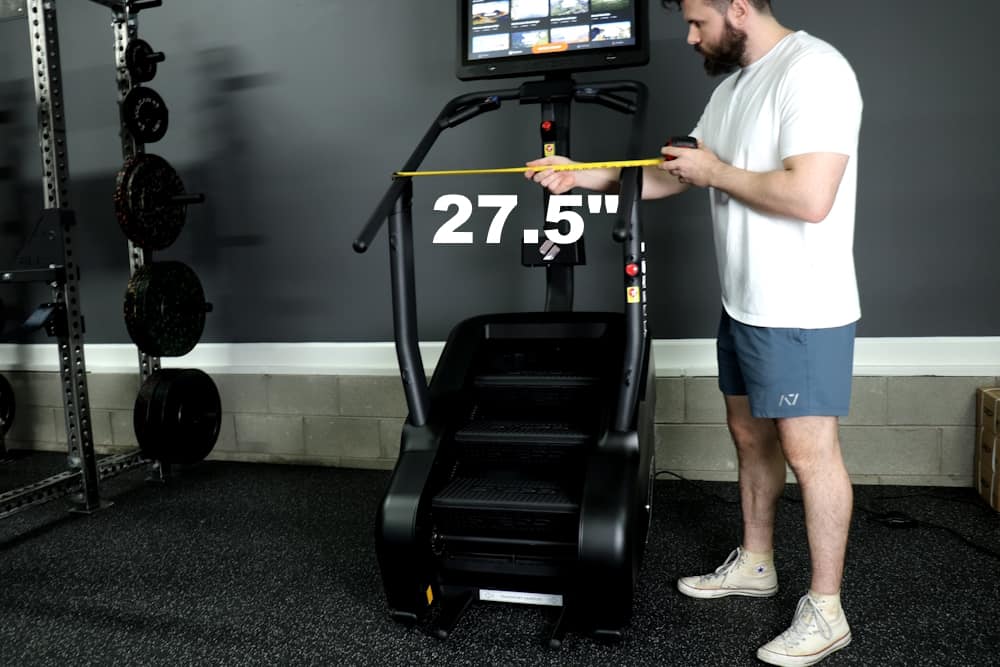 The only downside of a narrow design is that you may feel enclosed. But that's not the case with STEPR since they specifically included rails that bow outward, making for a relatively more spacious feel. In fact, there's enough room to sidestep comfortably on the STEPR without the worry of knocking your knees or hips into the rails.
The STEPR's length/depth at just 3.5ft (42") is as minimal as you can get. In fact, it's the shallowest of all compact stairmills on the market, beating out the super small Aspen Pro 6 by two inches. When space is a concern, as it is in any home gym, having a machine that doesn't stick out too far into your space is a major plus.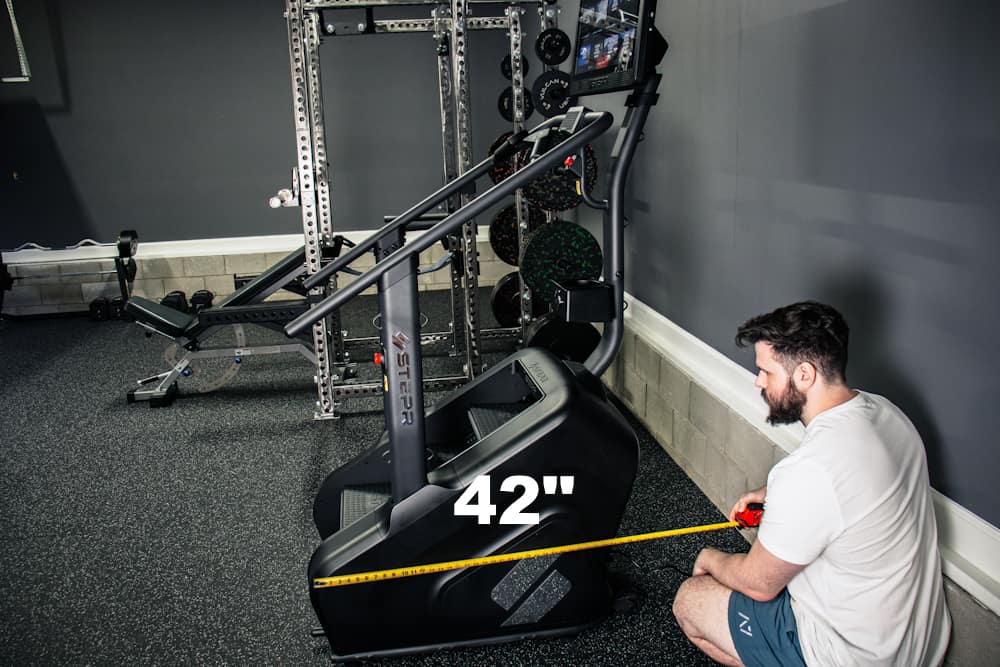 When you look at the STEPR's footprint as a whole, it actually takes up significantly less floor space than a treadmill. Treadmills vary in size but are generally around 2.75ft W x 5.5ft L (33" W x 66" L).
It's much shallower than rowers, which are around 7ft long. However, many rowers can be folded and/or stored upright for a much more compact stored footprint.
The STEPR's length dimension is shallower than most stationary bikes, which are usually around 4ft (48") long.
27" Touchscreen Display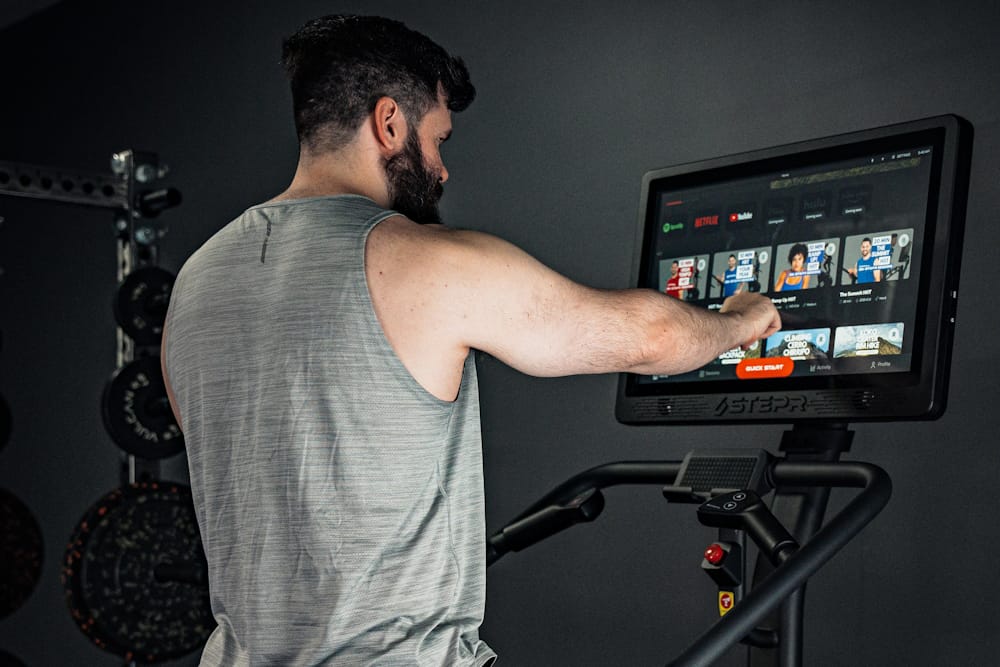 At the forefront of the STEPR's user experience is its large 27" touchscreen display, far bigger than the console on any other stepmill on the market.
This screen serves multiple purposes: from monitoring your workout metrics and participating in on-demand workout classes to indulging in pure entertainment during your training session.
The display offers a sharp 1080p resolution. While a 4K resolution could have provided a slightly enhanced visual experience given the proximity users have to the screen, the current 1080p quality remains excellent and delivers a vibrant viewing experience.
The touchscreen functionality ensures seamless navigation, enhancing the overall user experience.
While the display boasts a swivel feature, it's essential to note it isn't a full 360-degree rotation. Specifically designed to safeguard the internal cables, the screen can swivel 270 degrees to the right and 40 degrees to the left. This range offers flexibility, particularly useful if you're engaged in varied training activities either behind or beside the STEPR.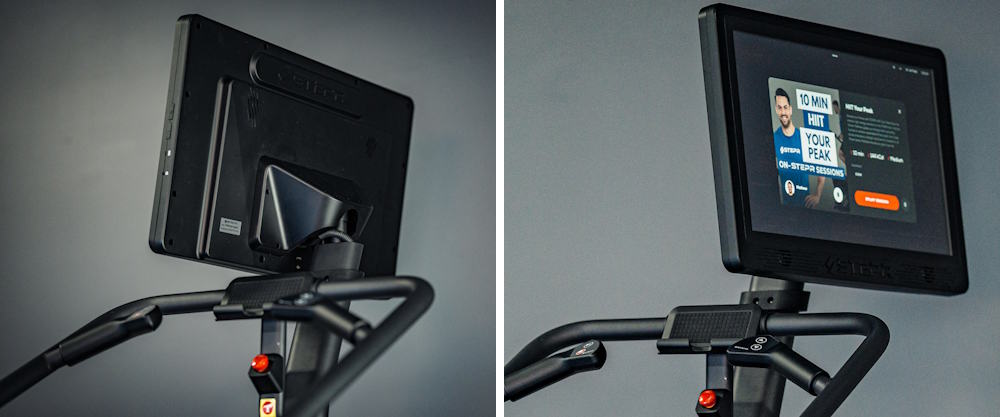 The screen can also pivot, or tilt, 45 degrees, allowing you to angle it at your eyeline for the best possible view.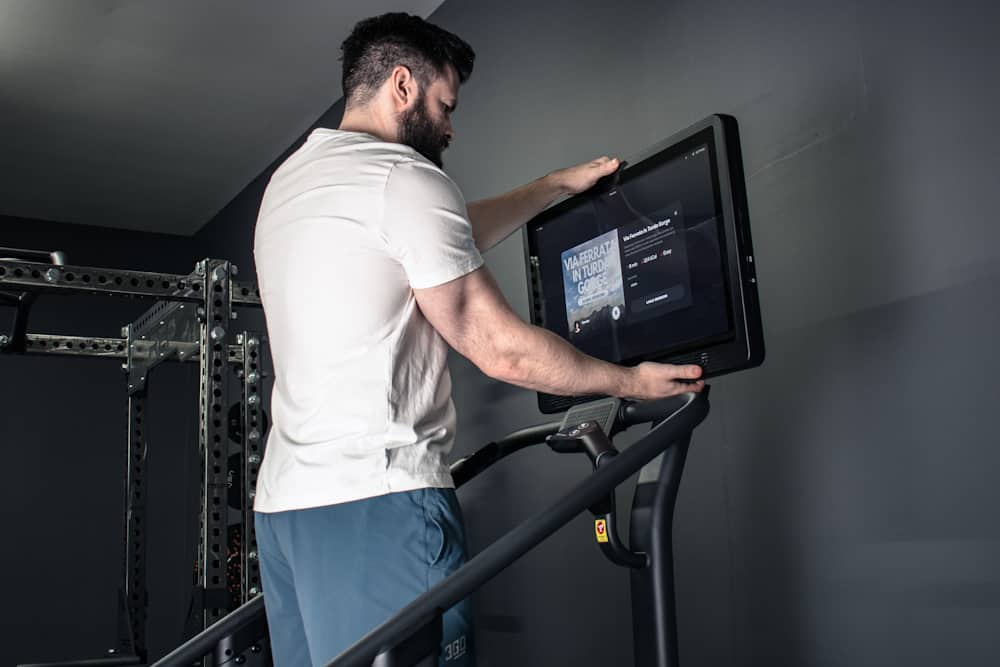 The screen displays the following workout stats during the workout:
Steps per minute
Floors climbed
Total steps climbed
Heart rate (coming soon)
Calories
Altitude climbed (ft)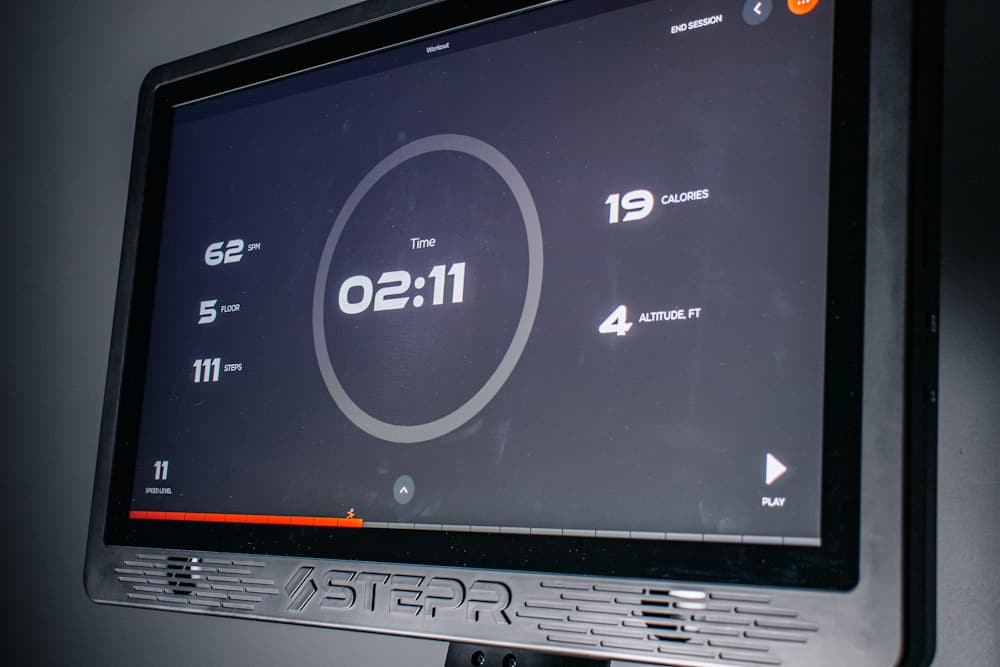 All the stats are useful, but the ones I personally care about the most are calories burned and heart rate.
The stats can also be overlaid in an opaque floating ribbon on whatever you're viewing, whether you're training along with a class, or watching YouTube or a streaming app. So you can keep track of your workout without distracting from what you're watching.
Buy the STEPR Stair Climber – Use Code KING for a FREE 36-Month Extended Warranty »
On-Demand Classes with "STEPSync"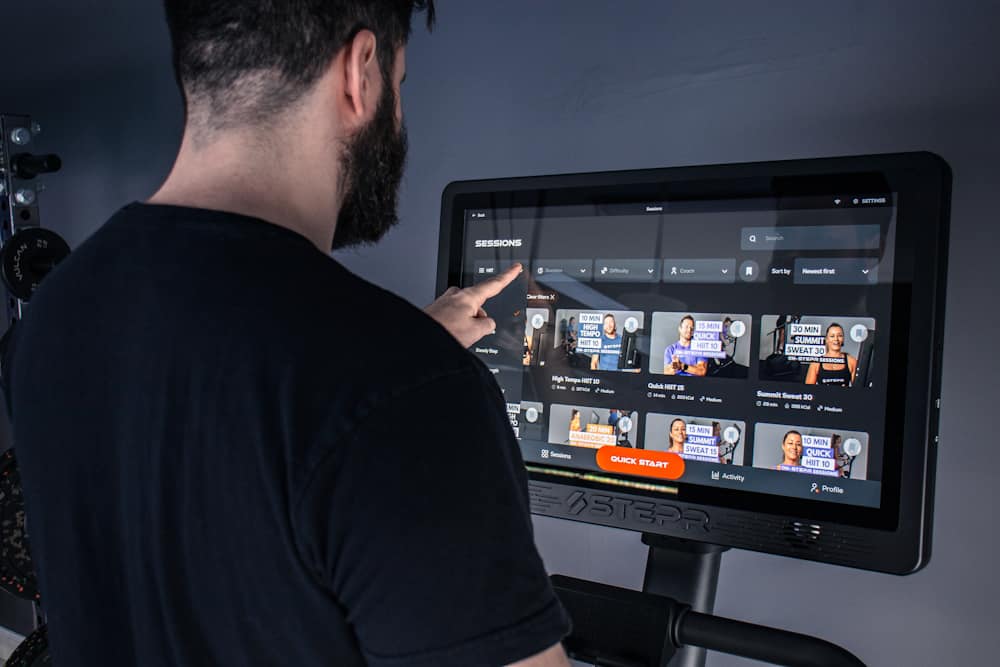 The STEPR app gives you access to a large and expanding library of on-demand classes that you can follow along with. This makes for more effective and engaging workouts.
At the time of launch, STEPR already had a little over 80 on-demand sessions in their library. They've recently set up content studios in Gold Coast, Australia, and Denver, Colorado in the US to further ramp up their content production.
They'll be adding new on-demand classes monthly to ensure an ongoing supply of fresh content in their library to keep you engaged in your STEPR workouts.
There are several different coaches, both men and women, with different personalities – all teaching a variety of classes. So you can find the right coach and workout for your preferences.
There's a feature coming soon to the STEPR called STEPSync that goes hand-in-hand with the on-demand classes. It's not available at the time of this review, but it could be a game changer in terms of ease of use and making following along with your classes seamless.
I can't give you my personal insights on this feature until — yet. I'll do that shortly after it's released. But I will say that, in theory, it will add a lot of value. Until then, I will discuss the potential benefits of STEPSycn…
…All that said, what exactly is StepSync?
Well, instead of simply following along with your coach using the speed control buttons, the STEPSync functionality ensures that your machine is always in harmony with your on-demand coach's pace and rhythm.
When activated, the STEPSync system matches the pace and cadence set by the coach, granting you a seamlessly integrated exercise experience.
What if you can't keep up with the coach's speed? No problem. Part of the STEPSync feature is the ability to independently adjust the intensity to suit your stamina while still matching the rhythm.
It's all about maintaining synchronization while still offering users the flexibility they need to titrate the intensity of the workout.
Ultimately, this feature improves your adhesion to the workout, which translates to better performance. Over time, this means you'll see results faster, whether that's fat loss, increased stamina, or just improved health.
One feature I'd like to see with the on-demand classes is a leaderboard feature. This would allow you to see how you compare against other STEPR owners across the globe.
A little competition will push you harder in your workouts and make it a bit more fun. Peloton has a similar feature and it's one of the more popular parts about the experience. I spoke to the STEPR team about this and they're considering it for a future software update. I hope they go through with it since I think it would make the STEPR experience that much more immersive and like you're in a real class.
Types of On-Demand Classes
There are three categories of on-demand classes you'll have access to with a subscription:
In-Studio Stepping-Only Classes
In-Studio Bootcamp/Strength Classes
Immersive Outdoor On-Demand Virtual Trail Classes
I'll briefly discuss each below:
In-Studio Stepping-Only Classes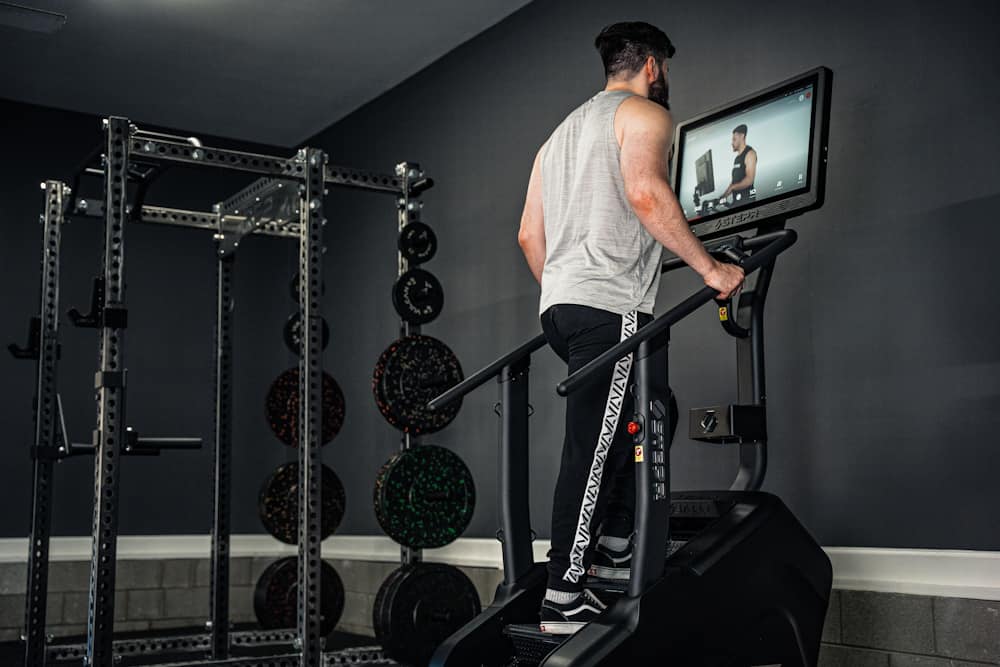 These are your bread and butter of the on-demand classes. It's filmed in a studio and the coach has his or her own STEPR unit. It is purely a stepping workout.
There are different classes for different types of goals, whether that's general cardiovascular health, steady-state cardio for fat loss, or HIIT.
When I do on-demand classes on the STEPR, these are my go-to.
Bootcamp/Strength Classes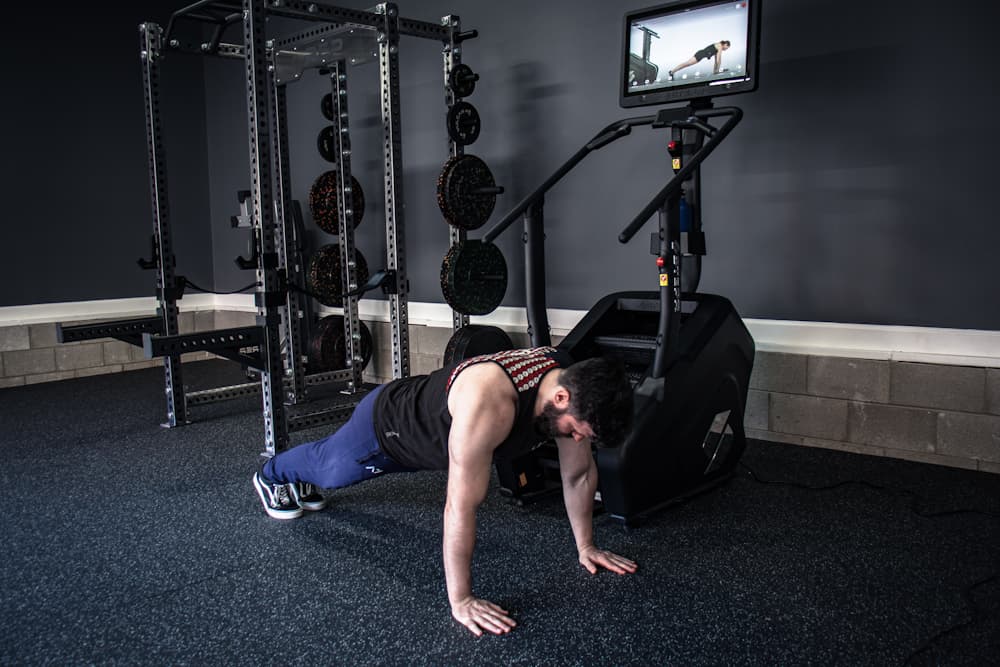 The bootcamp classes typically include either of the following:
Alternating between stepping on the STEPR and doing resistance exercises using resistance bands (attached to the STEPR), booty bands, and/or bodyweight exercises. This gives you a good mix of cardio and light strength training. This is an excellent way to potentially burn calories faster.
Completely off-STEPR workouts consisting of strength training movements using resistance bands (attached to the STEPR), booty bands, and/or bodyweight exercises.
The bootcamp/strength classes are shot in a studio setting and they're led by the same seasoned coaches that teach the stepping-only classes.
I've tried these classes and they're intense. And they were fun, at least for the novelty factor. However, I personally like to do straight cardio on the STEPR. And I like to do weights separately for resistance training. This is purely a preference. I know many other people will prefer STEPR's bootcamp/strength classes.
Immersive On-Demand Virtual Trail Classes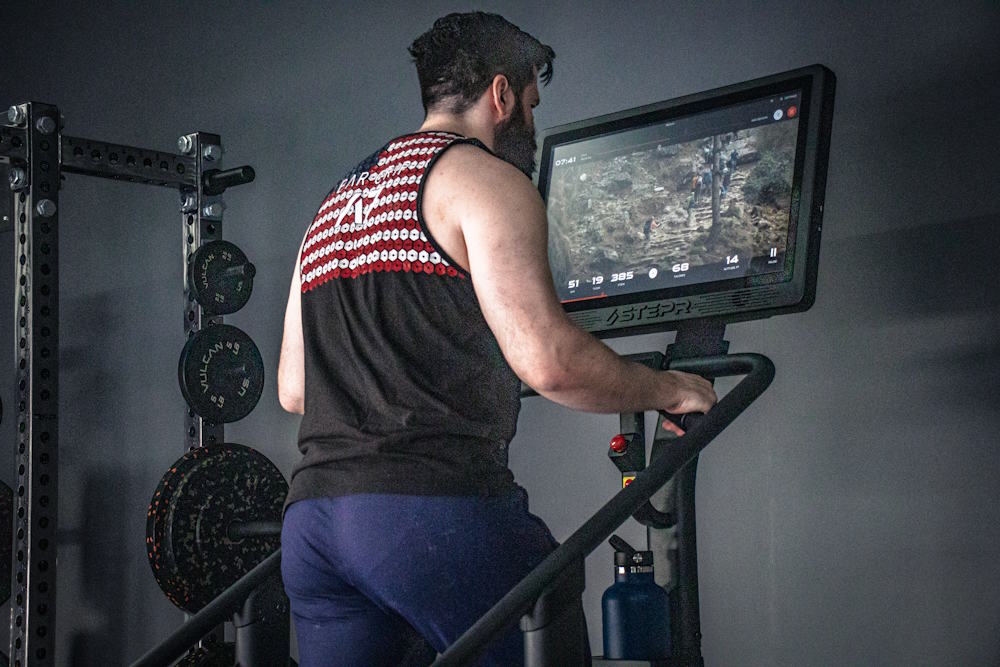 This type of on-demand class is not shot in a studio setting and the coach is not on a STEPR unit. Rather, you follow the coach who is filmed hiking a real-world scenic trail.
This is about as close as you can get to the experience of hiking a trail while still being indoors. It gives you a more natural and serene feeling, but you'll still get a heck of a workout.
I'm a fan of these classes. They're fun and the locations are beautiful. They give you a nice change of scenery compared to the studio-filmed sessions.
One cool thing about these on-demand trail sessions is that they will use the STEPSync technology once it's available, according to the STEPR team.
So your machine will automatically synchronize its cadence and pace with that of the virtual coach, creating a more immersive and motivating workout. You can separately increase or decrease speed as needed, but the cadence will always match your coach's – unless you choose to manually take over.
I look forward to seeing how STEPSync works on immersive trail sessions once it's launched.
As with the in-studio on-demand classes, STEPR is coming out with more virtual trail hiking classes over time. However, there aren't as many trail hiking classes as in-studio classes simply because they take more time and resources to produce, as you can imagine.
Streaming / Entertainment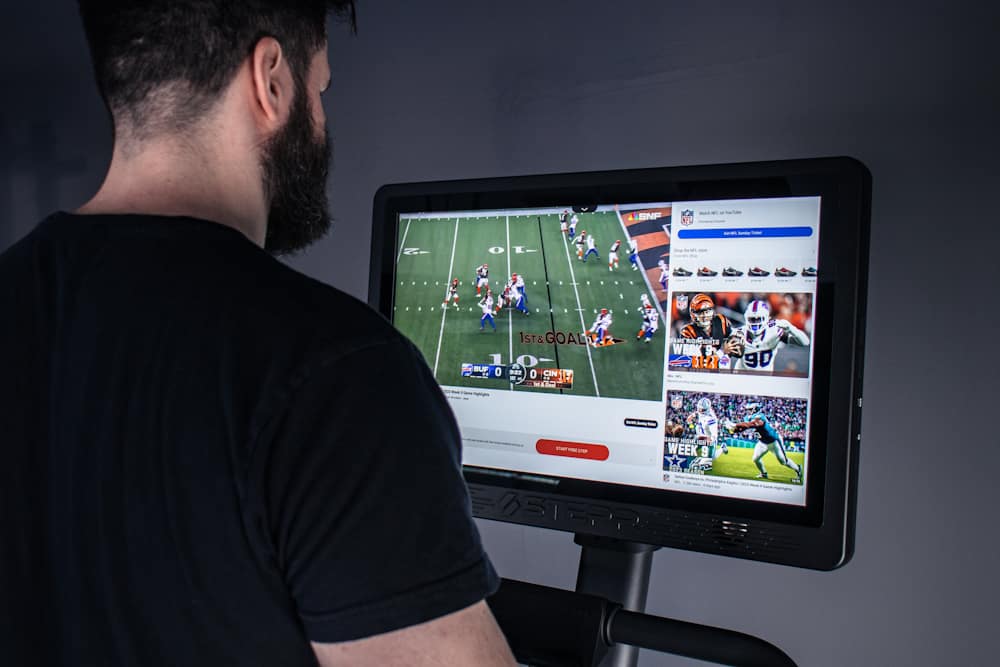 One of my favorite things about STEPR is that it comes with entertainment built-in. At launch, and at the time I'm publishing this review, the only entertainment apps available are:
Having so few apps available initially was done as part of the STEPR team's focus on getting a minimum viable product (MVP) so that they can get a good, working product out to customers without significant delay.
The idea is to be able to build upon it after that with software updates.
And that's exactly what they'll be doing, soon. Not too long after launch, they're rolling out V1 of their software, which will include all of the most popular streaming services, specifically:
Disney+
Hulu
Prime Video
YouTubeTV
AppleTV
Disney+, Hulu, and Prime Video will likely come first — as you can see in the photo above where they're greyed out. I believe YouTubeTV and AppleTV will come after that.
And then beyond all of those, there will be even more apps added to STEPR in future software updates.
STEPR is also integrated with Feed.fm, which gives you access to any of these premium stations that you can select as background music for your on-demand workouts:
Hottest Hits (Pop)
Hip-Hop
Dance
Rock
Seasonal (a rotating station)
Chill Beats
Decades 70s, 80s, 90s or 2000s
When listening to these as the background music for your sessions, you can control the volume independently by adjusting the "Background" volume setting on the touchscreen.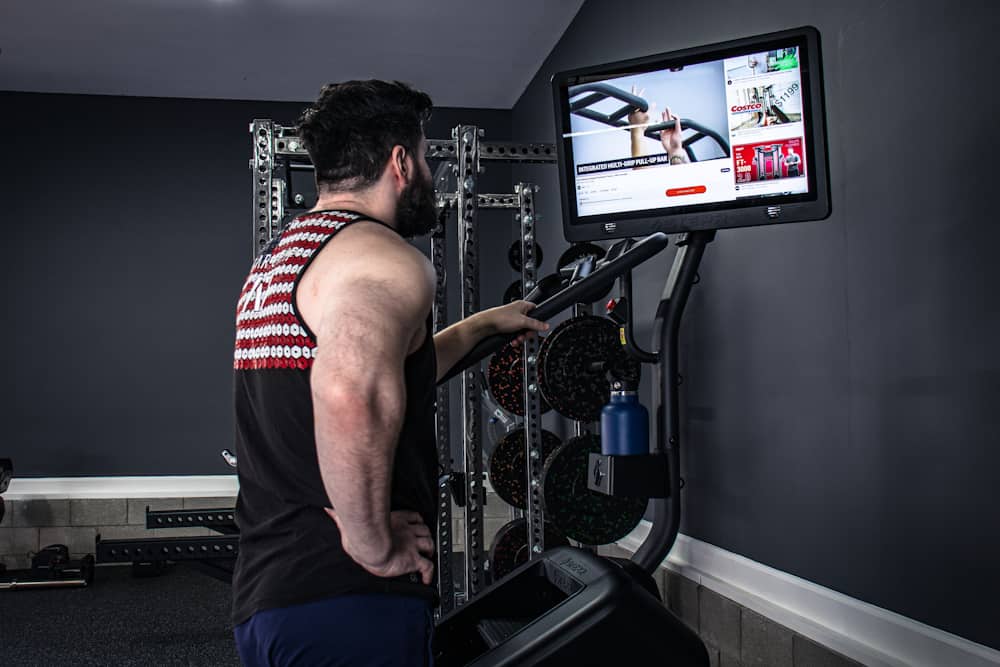 I don't know about you, but cardio isn't the most pleasant or engaging activity for me. Having some mindless entertainment in front of you can help take your mind off the monotony and physical discomfort of cardio to make it a more enjoyable experience.
Watching YouTube videos, listening to your favorite tunes, watching your favorite podcasts, or streaming your favorite shows and movies is made even better by having it in front of you on a large 27" display.
Even when watching your entertainment, you'll have access to your real-time training stats — either overlaid as a thin floating ribbon on your screen or shown in picture-in-picture mode.
This is the case for both the free and paid versions of the STEPR app. However, if you have the paid subscription, you'll also be able to view your entertainment and your on-demand classes simultaneously with split screen and picture-in-picture modes.
As of the launch, there are no social media apps included on the STEPR app. This is something I'd like to see in future updates as I know some people would love to be able to casually scroll their feeds while stepping. It would be particularly valuable if you could display it in a split-screen mode with your on-demand class on one side and the feed on the other. Of course, this would only make sense when stepping at a slower pace.
STEPR does not come with a built-in web browser. While I personally don't see much use for a web browser while stepping, some other stepmills with built-in touchscreens do advertise this feature.
A possible use case would be for cases where STEPR doesn't have an app that you like, but there is a web version available. Or, you want to read articles online, though that's only something you could do at a slow pace. For those who find value in this, I hope STEPR adds it in a future software release.
Unfortunately, you don't have access to any app store to download specific apps that may not be included by default on the STEPR. While most people will have all they need with the default pre-loaded apps, I'm sure there are other people who will want a specific app that they use.
Steps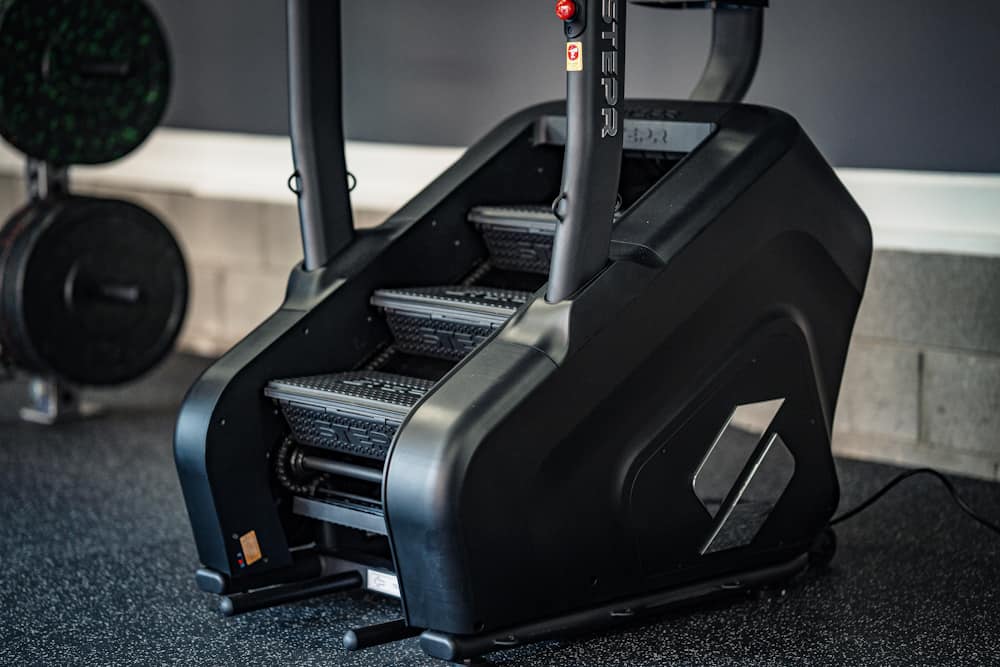 At the heart of the STEPR is a rotating staircase. It has a total of six steps with three of those steps visible and usable at any given time.
The stairs are made from a matte finish high-density PP plastic with the STEPR logo in the center and a textured pattern around it to give additional grip on the feet. There is also steel incorporated within the step to give it additional strength support.
Here are the key specs for the steps:
Step Height: 5.2" (125mm)
Step Width: 15.7" (300mm)
Step Depth: 8.7" (220mm)

The actual usable step depth is about 2″ deeper than this due to the "floating steps" design, where the deepest point of the step is further back than the front of the step above it.

Step-on Height: 15.2"
Top Step Height: 25.6"
Steps Per Minute: 24 to 137
The steps are the weakest point of ANY compact stairmill, the STEPR being no exception. In order to make the unit smaller, and specifically, shorter so that you can use it in rooms with lower ceilings, the steps have to get smaller.
It's important to understand this and be okay with it before you buy the STEPR because the workout experience is notably difference if you're used to full-sized commercial stairmills. The typical step height on a large commercial unit is a full 9" high compared to 5.2" on the STEPR.
All else being equal, you have to go faster on the STEPR to achieve the same heart rate or caloric expenditure compared to a full-sized stairmill. It's more similar to walking up the stairs in a stadium than walking up the stairs in a regular stairwell. Stadium steps are shorter. And "stadium steps" is actually how STEPR refers to their steps.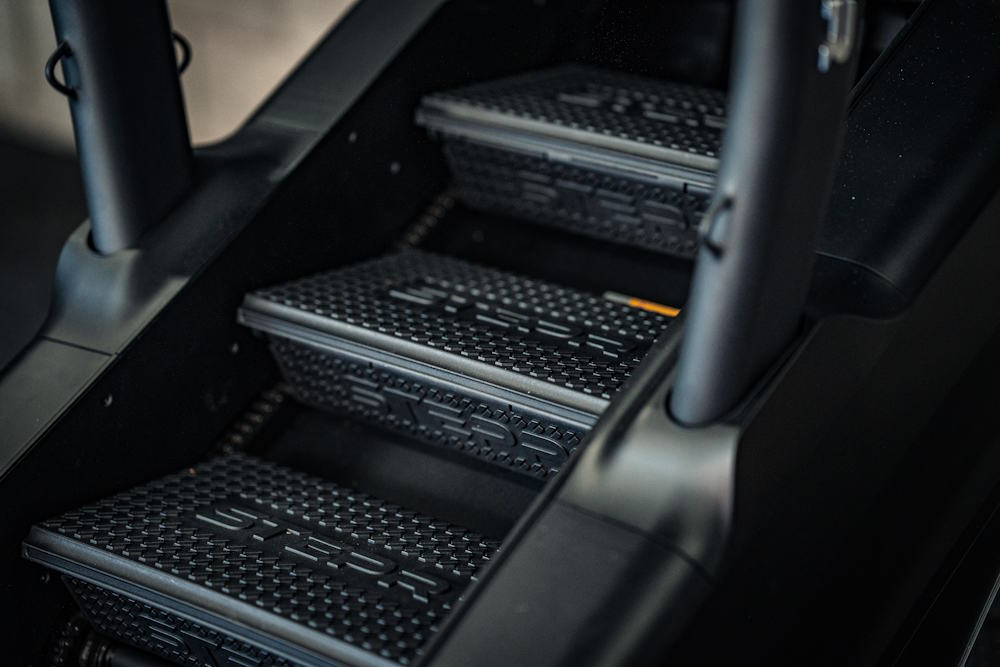 The STEPR's 5.2" step height is slightly shorter than other compact stairmills on the market. Although the difference is relatively minimal I wish the STEPR steps could've matched step height of other compact models on the market like the Matrix C50 (5.6"), StairMaster SM3 (6"), and Pro 6 Aspen StairMill (6").
You also have to realize that the stairs aren't as deep as on full-sized commercial stairmills. They're 8.7" deep compared to 12" on full-sized units. However, the STEPR's 8.7" step depth metric is a little deceiving because it makes the foot space seem more restricted than it actually is.
Let me explain – The STEPR has a "floating step" design. This is where the front of the higher step hangs partially over the rear step, forming an area beyond the edge of the step surface where you have extra space for the front of your foot.
Effectively, you have about two to three inches of additional footroom beyond the 8.7" step surface. This means there isn't a ton of heel overhang.
I was pleasantly surprised by this feature as I thought I was going to have to do a stepping technique where I was stepping on the balls of my feet. I was wrong. I can, in fact, step normally.
I wear size 10 for most shoes, and depending on how far forward I put my foot, there's only about 1.5" – 2.5" of heel overhang. This feels normal and allows me to take a regular flat step. Of course, I can also get up on your toes if I want a more calf-targeted workout, but the point is I don't have to.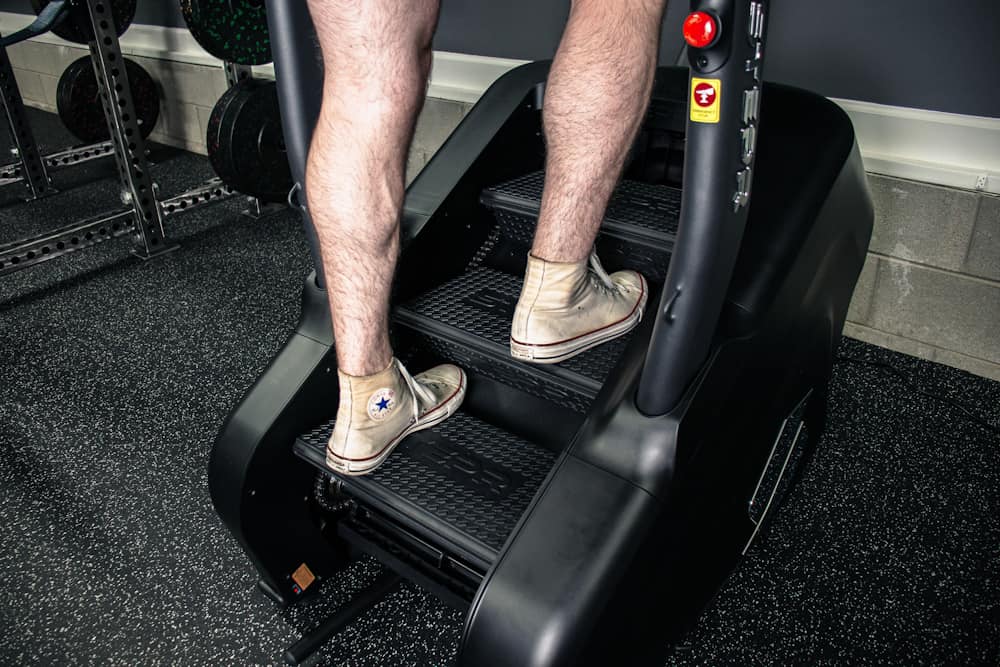 The number of steps is also different than commercial units, which have four steps, compared to three on the STEPR. That gives you the ability to easily skip steps for very tall strides on a commercial unit.
Although there are three steps on the STEPR, skipping steps is possible, but definitely more difficult than on a commercial stair climber that has four steps. Skipping steps is really only possible at slower speeds. This is because you need to wait until the top step appears so you can put your front foot on it, and you also need enough time to get your rear leg off of the bottom step.
If the staircase is rotating too fast, the bottom step will start to flip while your rear foot is still on it. Obviously, you don't want that to happen.
So if you were wondering about double-stepping — yes, you can do it. In fact, the coaches use those in some of the on-demand classes. But, it takes practice to get the hang of. And it's only something you can do at lower speeds.
All that being said, while you can't match the performance that you get from a commercial stairmill with larger and more steps, you can still burn faster/more efficiently on the STEPR compared to other non-stepmill cardio machines like treadmills, row machines, and more.
The STEPR's steps have a textured anti-slip surface. This is a must-have safety feature for a rotating staircase that you'll be sweating on. This design minimizes the risk of slipping, ensuring users can workout with an added layer of confidence.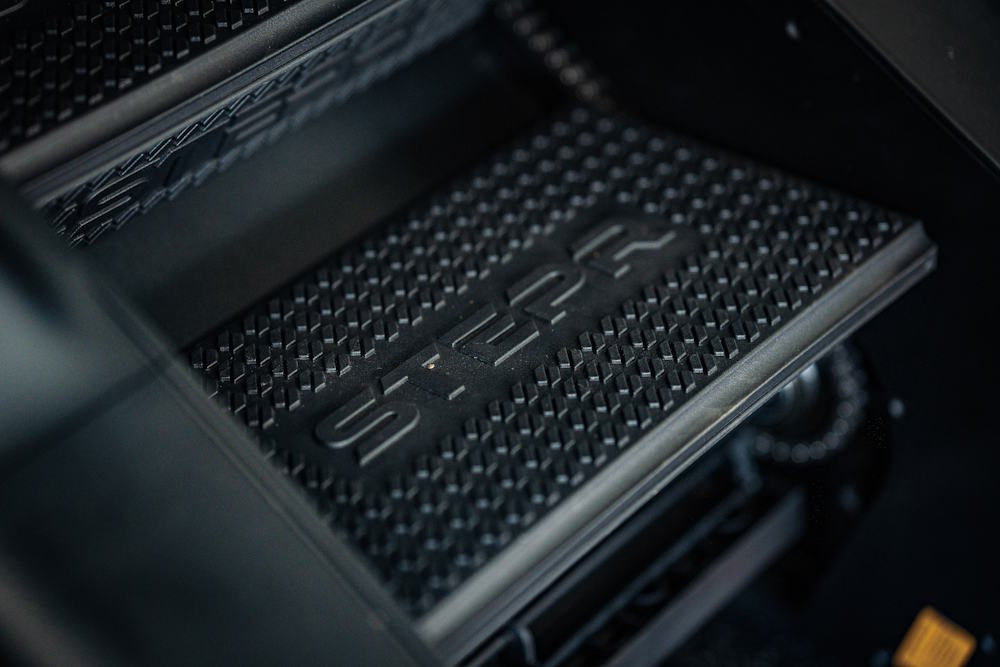 Buy the STEPR Stair Climber – Use Code KING for a FREE 36-Month Extended Warranty »
Braking System
A braking system for a stepmill refers to the mechanism that creates resistance, which controls the speed of the rotating staircase.
When a user wants a more intense workout, the braking system reduces its resistance, allowing the staircase to rotate faster. Conversely, when a user desires a less intense workout, the braking system increases its resistance, slowing the rotation of the staircase.
In essence, the braking system on a stepmill governs the pace at which the user must step, making it either more leisurely or more demanding, based on the chosen setting.
The STEPR utilizes the unique Exact Force Induction Brake, setting it apart from the conventional braking systems in some other stepmills as well as many exercise bikes and ellipticals. Rather than using motor-driven magnets for resistance, this system creates its own electromagnetic resistance field.
This more advanced type of braking system allows for instantaneous, smooth, and precise resistance adjustments. A notable advantage of this induction brake system is its silent operation, thanks to the absence of moving parts. This also makes it more durable than motor-operated braking systems.
Additionally, it provides enhanced watt accuracy. This makes it ideal for high-intensity interval training (HIIT), where wattage is the preferred metric for monitoring performance and tracking progression across workouts.
This is the same style of braking system seen on the Matrix C50.
Handles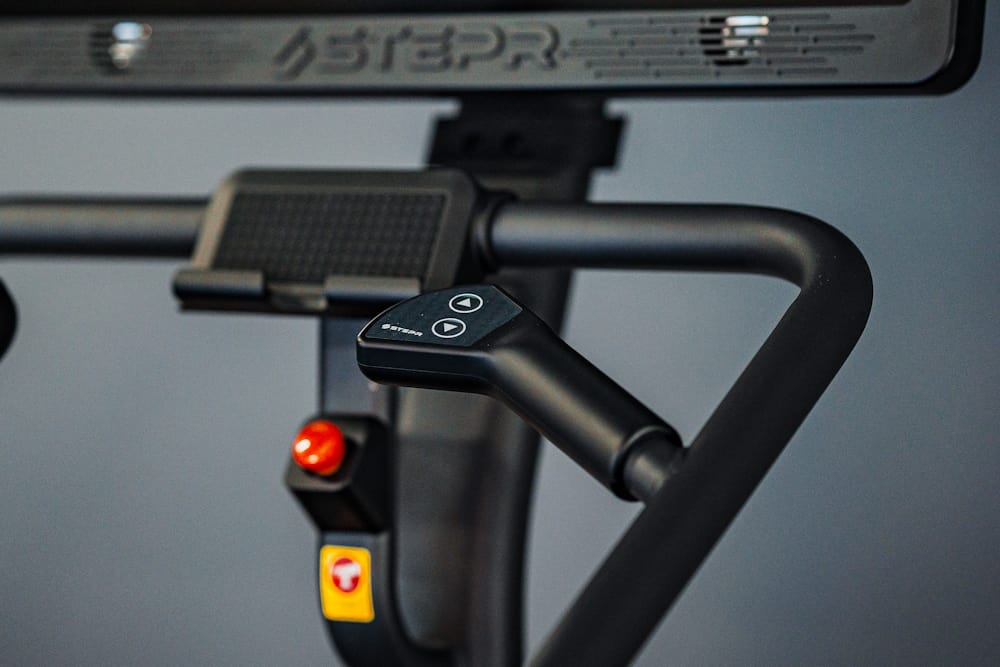 The handles are fixed at an ergonomic angle and height. This puts them in a natural position, allowing you to grasp them comfortably during your workout. No wrist or shoulder strain.
These handles give you easy access to essential controls. The controls on each handle are as follows:
The right handle has an up button and a down button that allow you to increase or decrease the step speed setting.
The left handle has:

A play/pause button that lets you temporarily stop and resume your workout. This can come in handy if you're mid-workout and you need to bring the steps to a halt for some reason (e.g. tie shoes, take a water break, etc.).
A stop button for when you finish training. This not only halts the steps but completes your workout session.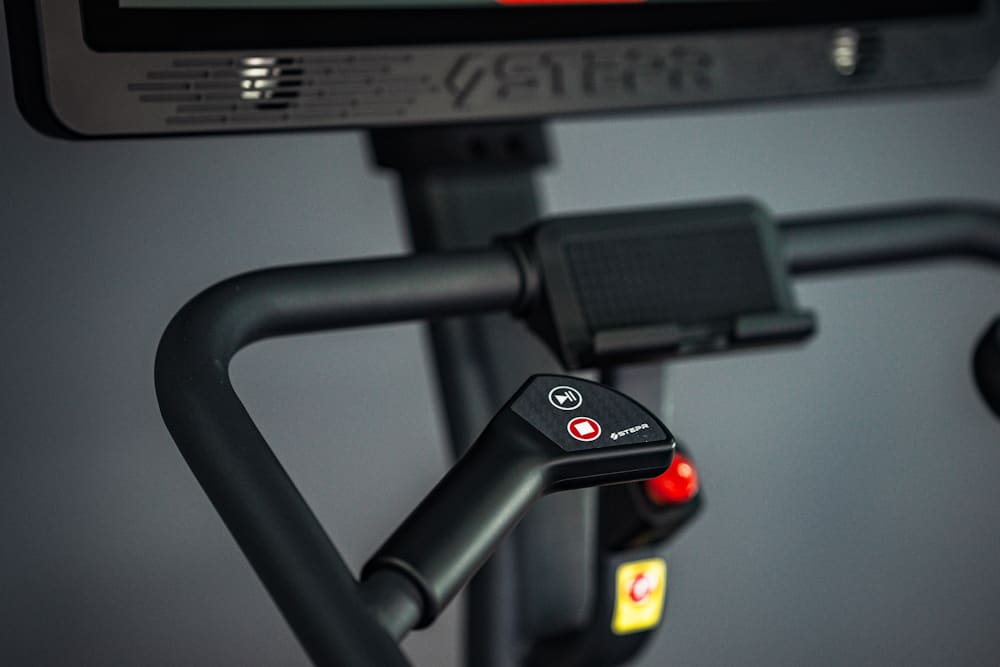 Unfortunately, the handles do not have built-in contact heart rate monitors, which I was surprised by. STEPR decided not to include these for two reasons:
They offer a wireless chest strap heart rate monitor, which is very accurate and collects data regardless of where your hands are.
Traditional handle sensors aren't very accurate. They're more of a general guide.
While handle contact monitors may not be the best tool, they are certainly convenient. I wish STEPR included them anyway just for that convenience factor.
Many users won't find the lack of handle contact monitors to be an issue because:
They prefer STEPR's chest strap heart rate monitor.
They already use their Apple watch, Garmin watch, or other wearable.
Chest Strap Heart Rate Monitor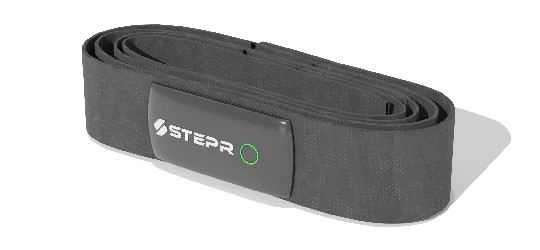 STEPR offers a wireless heart rate monitor that straps around your chest. It's available for sale separately either on its own or as part of the Ultimate Pack.
At the time of publishing this review, I haven't received mine yet because STEPR is still waiting to stock them in their warehouse, along with all of the other accessories. So I haven't been able to test one first-hand. Even if I did, I'd need to wait until the Bluetooth app update drops.
The monitor connects via Bluetooth and transmits your heart rate reading to the STEPR display so you can see it with your other workout stats in realtime.
This is STEPR's alternative to having contact monitors built into the handles. It's a better solution in terms of accuracy because chest heart rate monitor readings are more reliable due to its proximity to your heart, plus the fact it's always collecting data – unlike handle contact monitors that can't track when you move your hands.
While I'm sure this chest strap monitor will work great (I'll verify after I test it), some people may skip putting it on if they're in a rush or if it needs to be charged.
Additionally, some people may not like the feel of it on them since it goes around the torso. Plus, it must be in contact with your skin for the electrodes to reliably measure your heartbeat.
The heart rate monitor has a 70mAh capacity. This gives it 50 hours of battery life after a full charge so you don't have to worry about having to charge it frequently. But when it does run low on juice, you charge it via an included USB-C cable. Conveniently, you can charge it on the STEPR's USB-C port on the display.
Smart Watch Compatibility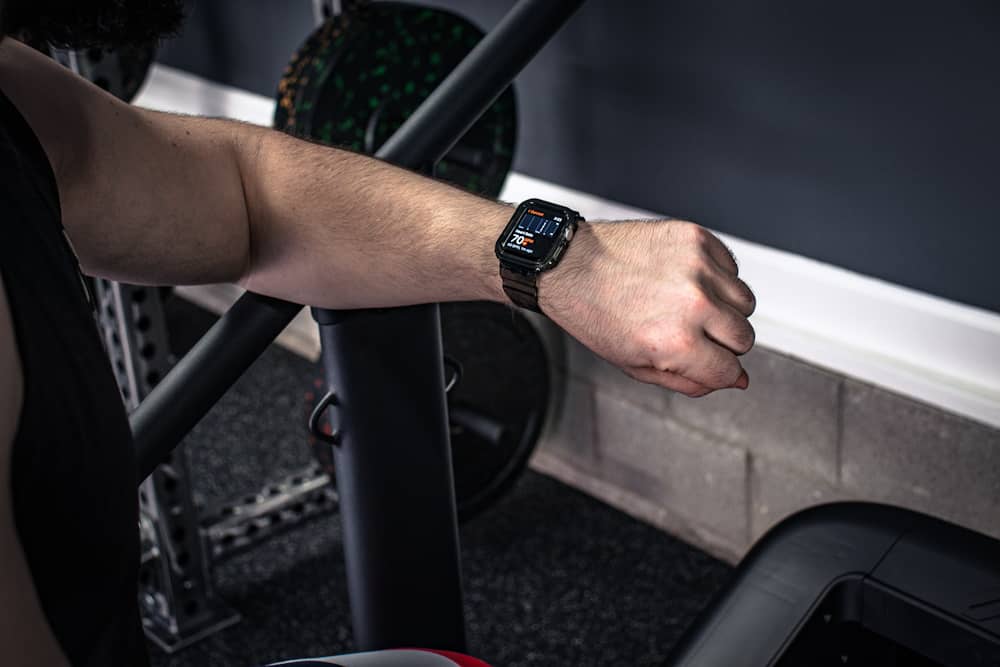 As I touched upon earlier, many people will opt to simply use their existing Apple Watch, Google Pixel Watch, Samsung Galaxy Watch, Garmin Watch, or other smartwatches to track and log their heart rate.
Currently, there is no way to connect a smartwatch to share data with the STEPR. However, I have spoken with the STEPR team and they've emphasized that this is a high-priority feature on their software development roadmap. This feature will likely be released before the end of 2023.
I'm happy to hear this because it's a great, more convenient alternative to the chest strap heart rate monitor. You'll be able to simply pair your watch to the STEPR and the STEPR's screen will display your heart rate data (and possibly other data). This data will be saved to your STEPR user profile.
Of course, you'll have to own a smartwatch to take advantage of this feature. However, my guess is that most people in the position to buy a STEPR unit already own and use a smartwatch.
I'll update this section once this feature is rolled out and I can test how exactly it works.
Frame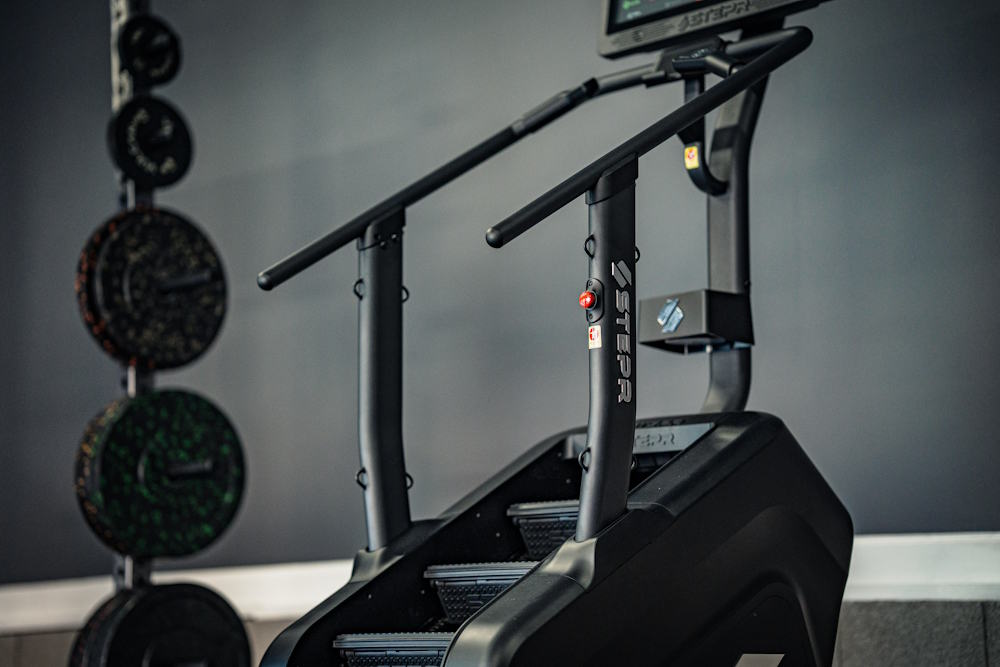 The frame of the STEPR includes the rails, feet, and the rear post that holds the display. It's constructed from Q235 steel and #45 steel, both of which are carbon structural steels that are appropriate for this application.
The various steel segments are connected using robotic welding. I visually inspected all of the welds and they look high quality. Moreover, the frame feels solid and stable during use, including when leaning forward and putting some of your weight on the rails. I have no worries about the construction quality, strength, or durability of the frame.
The shape of the rail posts on the STEPR is well-thought-out. That is, they bow outward. This makes it so that you don't feel too constricted on either side while stepping. Because, remember, this is a compact unit and the stairs aren't super wide.
The rails are just a few inches further apart than where they'd otherwise be if they extended straight up. But that's enough to make a practical difference. You even have enough room to sidestep on the STEPR without bumping your knees into the rails.
Similar to how the rail posts bow outward, the rear post also extends backward. In fact, the post has two bends in it to allow for more clearance: one bend as the post comes out of the chassis and another bend halfway up.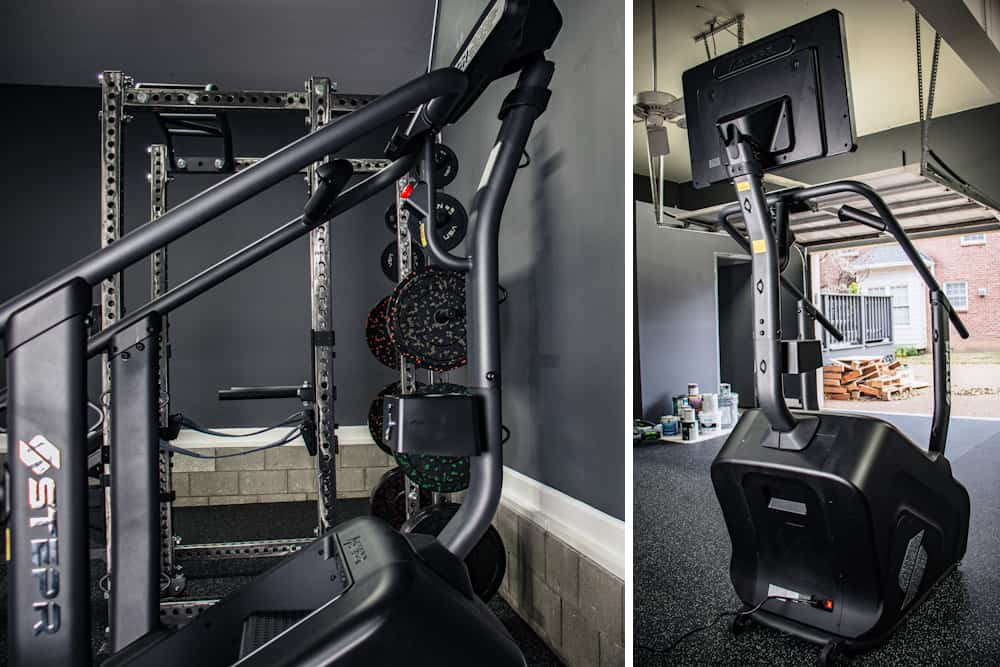 Having this additional rear clearance is essential because it allows the large 27" display to be positioned further back. Without this, the screen would be too close to your face, potentially bumping into you if you leaned forward. This was one of the changes the STEPR team made during the prototype phase.
Another noteworthy feature of the frame is the inclusion of built-in resistance band hooks on all vertical posts, including the rail posts and rear posts. These provide a convenient anchor to connect the optional resistance bands for the on-demand bootcamp classes that alternate resistance band exercises with stepping.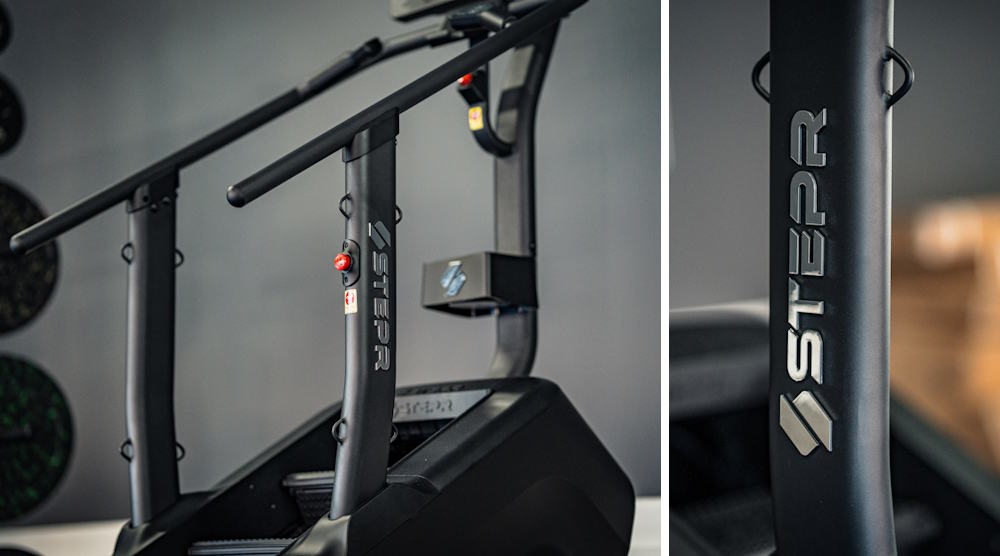 The frame is still stable even when pulling on it with a strong resistance band.
Chassis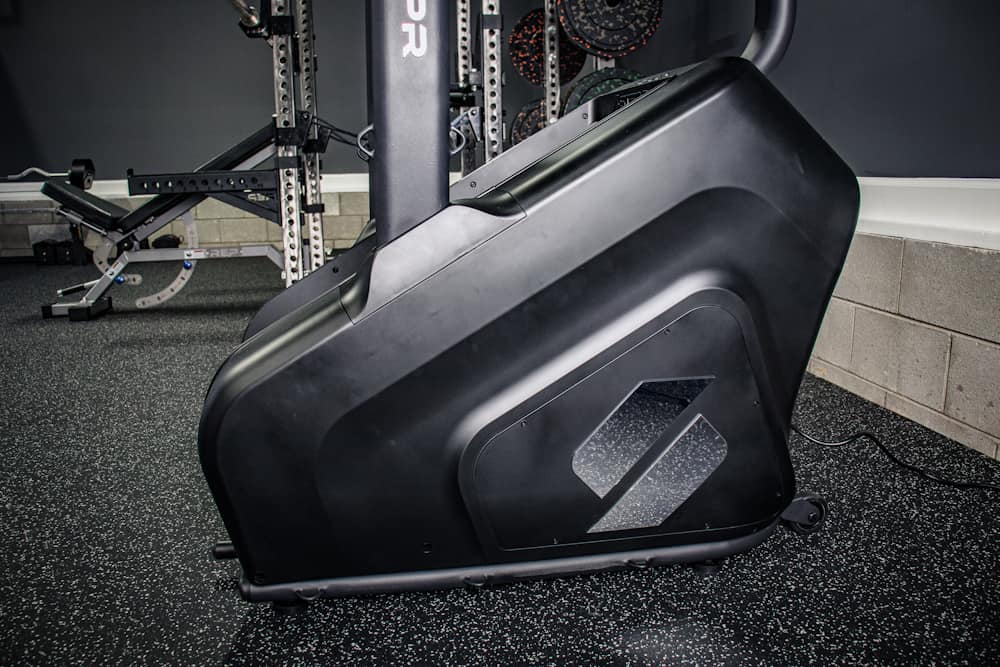 The STEPR's outer shell houses both the stairs and the induction braking system. It's constructed from durable ABS plastic, molded to give it a sleek and modern style.
Its design incorporates practical features like the ridge on the top surface. This ridge is designed to catch sweat, ensuring it doesn't trickle into the stairs, which minimizes slippage and prevents potential damage to the internal electronics.
On the aesthetics front, each side of the machine flaunts a flashy embossed STEPR logo icon. It has a reflective sheen and is silver in color, which really makes it pop on the black background.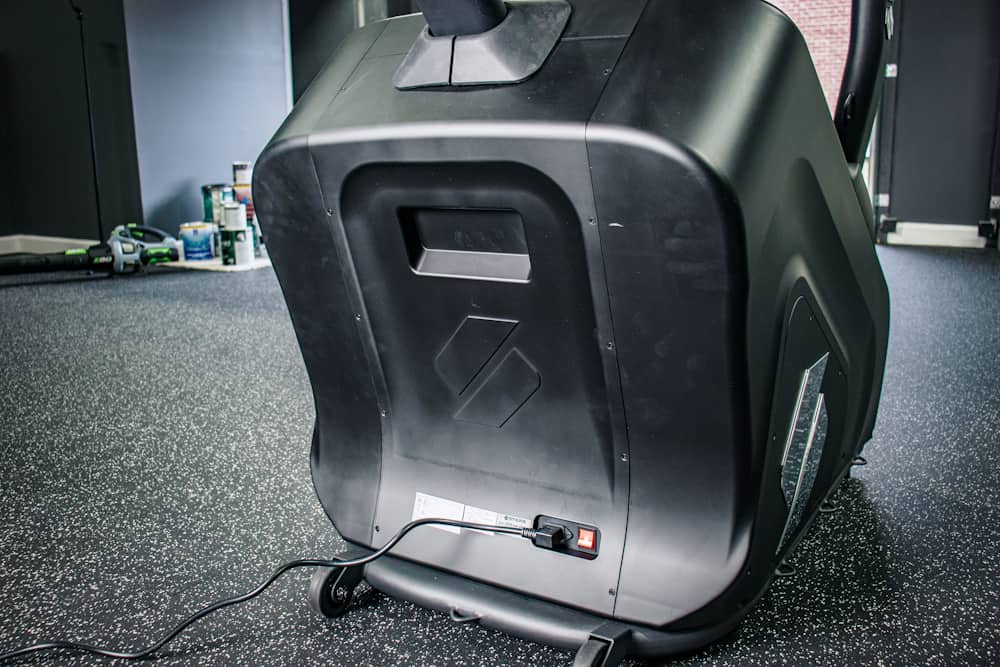 Buy the STEPR Stair Climber – Use Code KING for a FREE 36-Month Extended Warranty »
Water Bottle Holder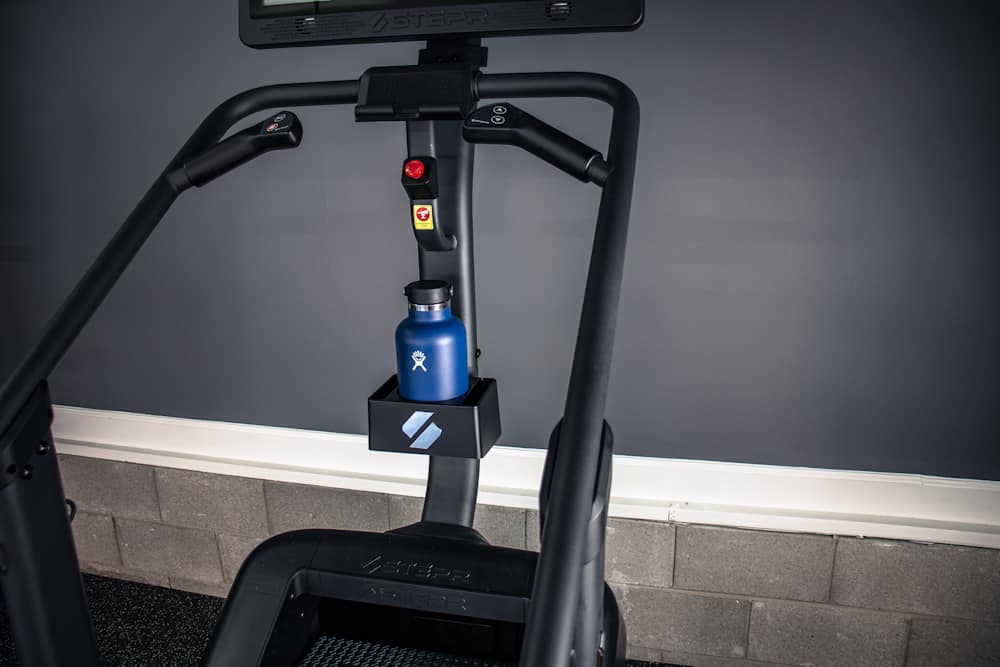 Hydration is a must during cardio. For both performance and safety. So you need to have your water bottle nearby.
The STEPR makes that easy with a water bottle holder front and center mounted to the same frame post the TV is connected to.
I appreciate the placement of the water bottle holder. It's safe and easy to grab your bottle by simply reaching down in front of you.
Some of the commercial stepmills that I've used in the past have the bottle holder on the side rails, making it so that you have to rotate left or right to get your drink. It's not a major issue, but you do have to slow down a bit more and watch your step. Front placement is better, in my opinion.
Importantly, the STEPR team understood oversized water bottles are popular. So they made the holder large enough to accommodate most bottle sizes. The max diameter it will hold is 4.75", which can fit bottles up to 64 oz depending on the bottle design. My 64 oz. Hydro Flask bottle has just enough room to fit as you can see in the photo above.
There is a slot on each side of the water bottle holder. These are convenient spots to drop your phone into if you don't want it on the phone mount.
Phone Mount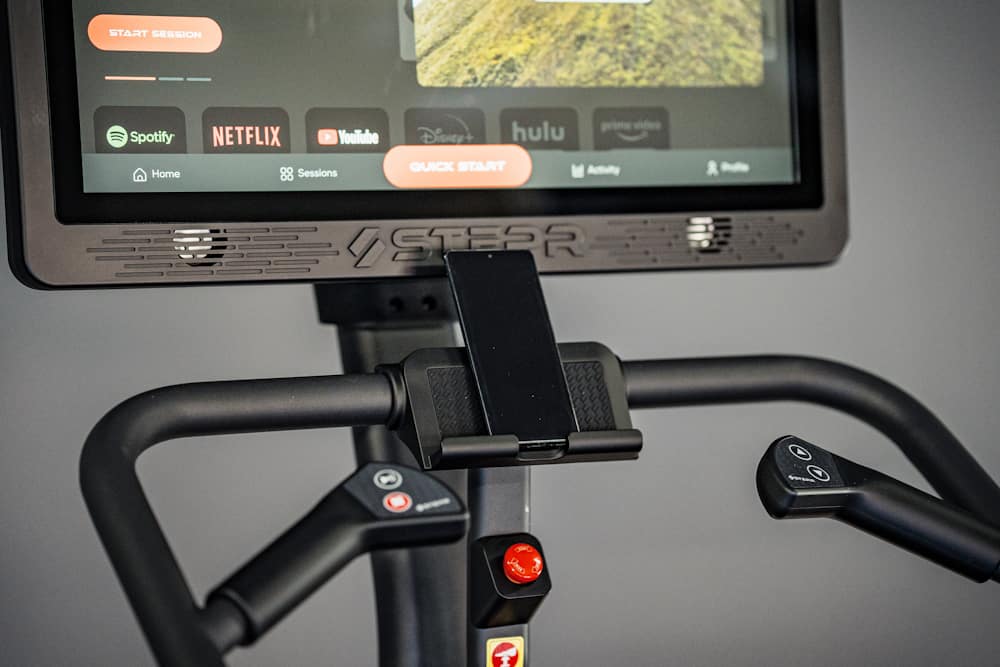 For better or worse, our phones are always on us. People want them within reach, including (and sometimes especially) during exercise.
This is even the case when you've already got a large 27" touchscreen display right in front of you. I'm not judging, I'm the same way.
Knowing this, the STEPR team included a phone mount, which is located conveniently below the touchscreen display and above the handles. It's easy to both view and use while stepping. Though, I don't recommend using your phone in any way that requires real concentration while you're stepping at a fast pace. It's a distraction at that point.
You can charge the phone while mounted by connecting your charging cable from your phone to the STEPR's USB-C port on the right side of the display.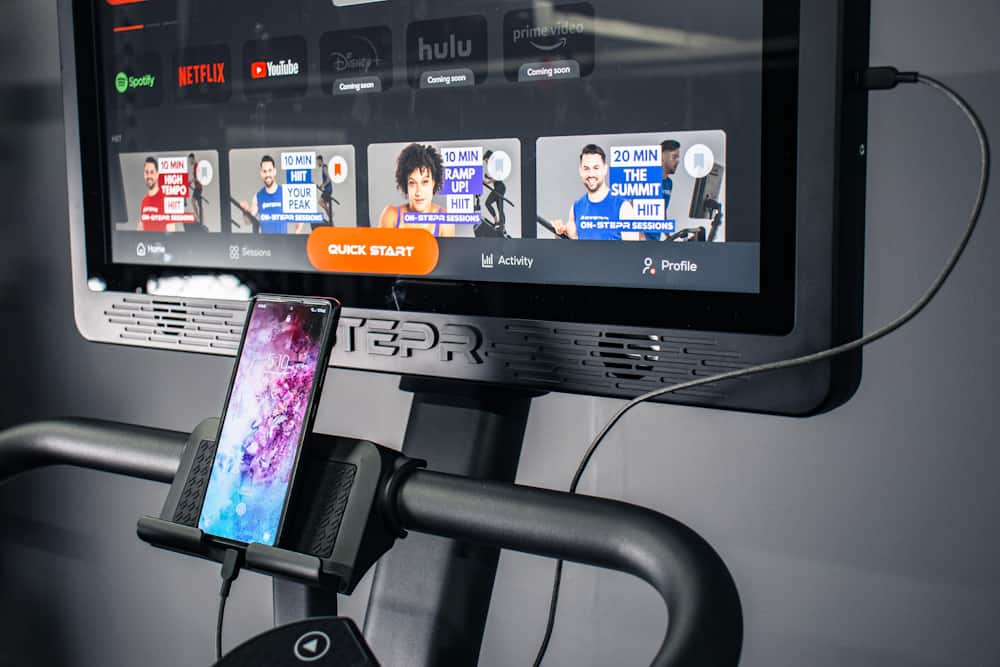 Software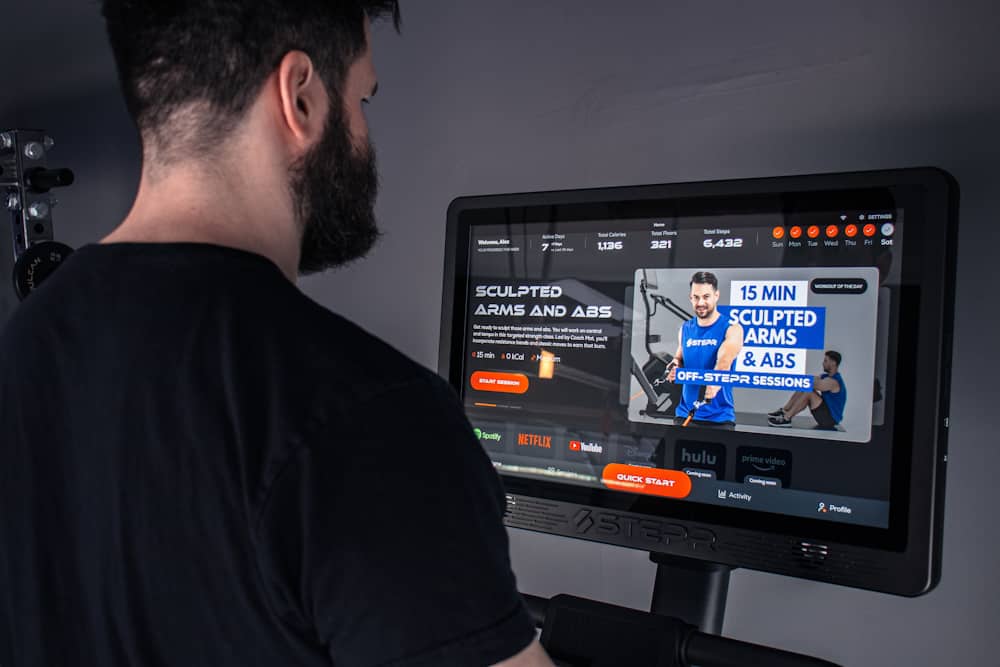 The STEPR's software is built on the Android platform. They have a development team that's made it their own proprietary system so it's not like you can download your own third-party apps to use on it from the Google Play store like you would on a regular Android device.
The STEPR development team is constantly working on updates, which they release periodically. Once available, these updates will be available for download over WiFi. A prompt will come up when a new update is available, asking your permission to download and install.
It only takes a few minutes for updates to install, including the time for downloading and restarting your unit.
Speakers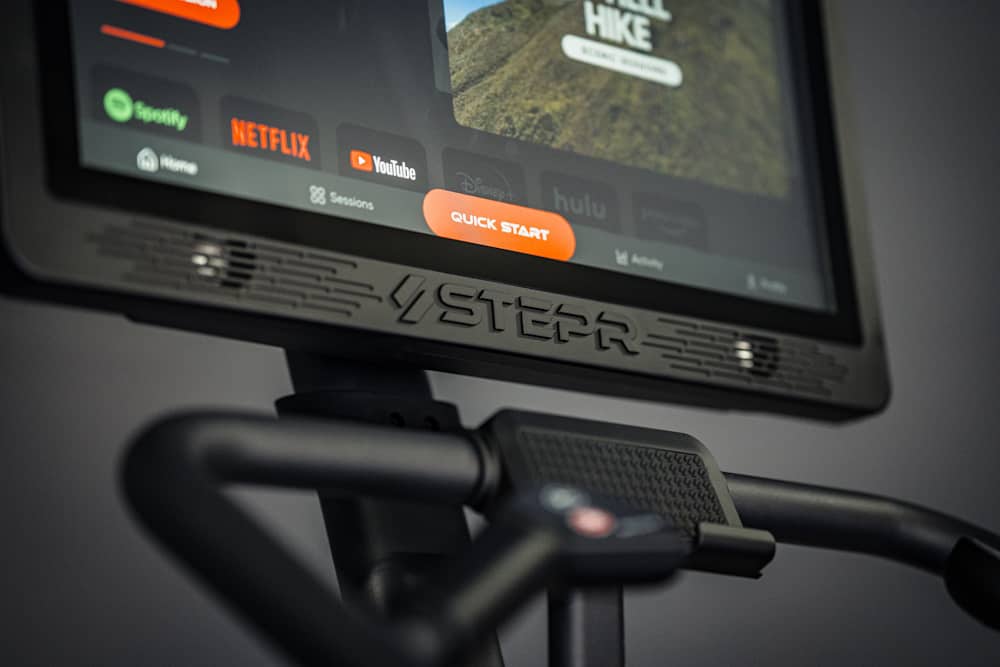 The speakers have plenty of volume with good clarity. Even with the STEPR at max speed, you can still clearly hear the speakers. This is partly because the speakers are powerful enough and partly because of the STEPR's relatively low noise level.
There are two speakers in the front and two in the rear. This ensures that the volume is not only loud enough, but that it projects to both the front and rear of the unit so you hear it regardless of where you're training.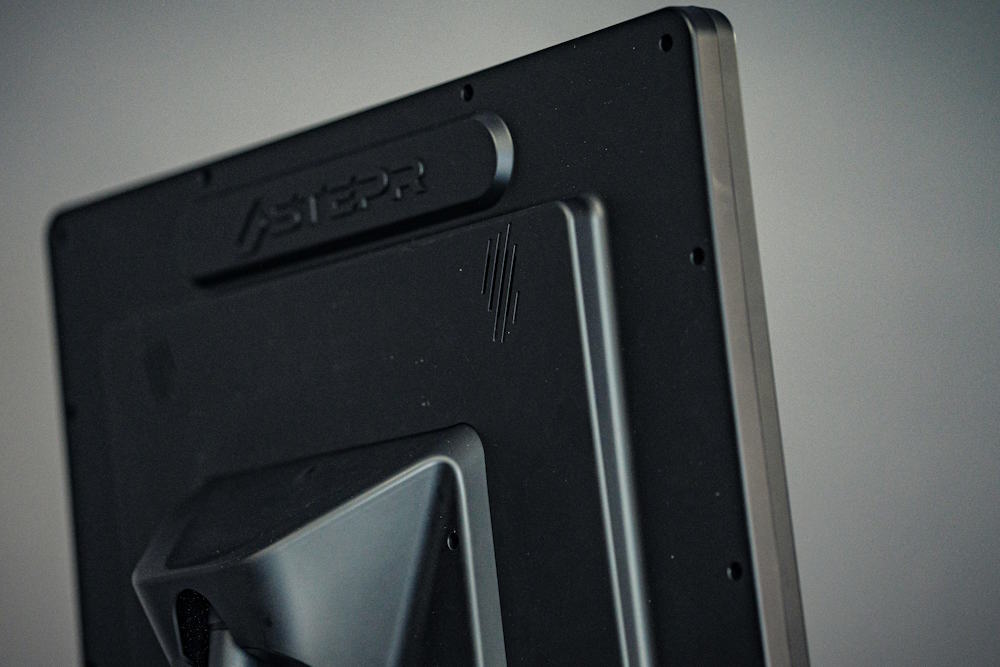 Physical volume buttons are placed on the right side of the monitor, making it easy to quickly adjust the volume. They're relatively large so they're easy to find and press even when you're moving quickly on the steps.
Bluetooth, USB-C, and Headphone Jack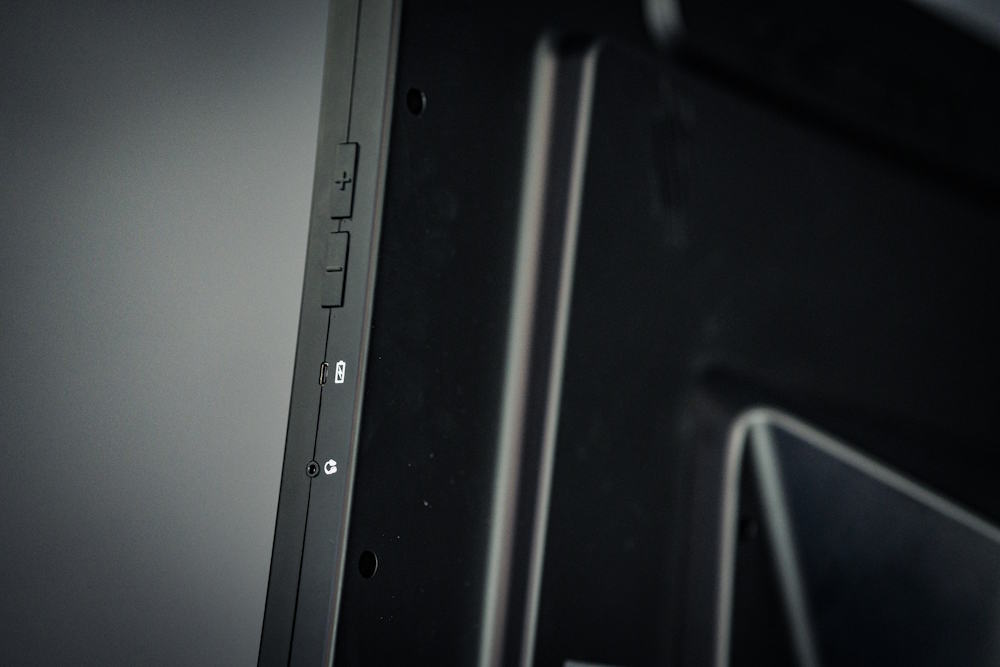 The STEPR comes with Bluetooth and USB-C connectivity built in. These are must-have features for any modern cardio machine, especially one that bills itself as a connected cardio machine.
It also comes with a headphone jack for any wired headphone users.
USB-C
There is one USB-C port on the right side of the touchscreen display. This allows you to easily:
Charge the optional Bluetooth heart rate monitor.
Charge your phone when it's mounted in the phone holder.
Bluetooth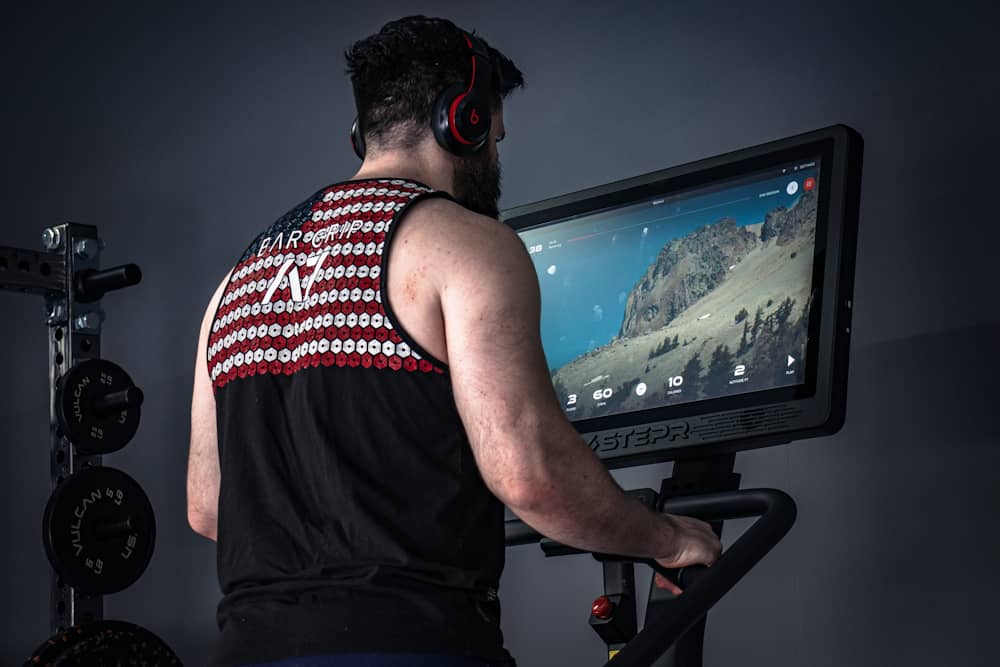 Bluetooth capability will be coming soon in an app update. At the time of publication, it's not available so I haven't tested it yet. Once it's available, I'll update this section to describe how to connect.
While the built-in speakers are great, pairing your wireless headphones via Bluetooth will give you a more immersive audio experience.
It's also preferable if you're training on the STEPR while others in your household are sleeping or working.
Headphone Jack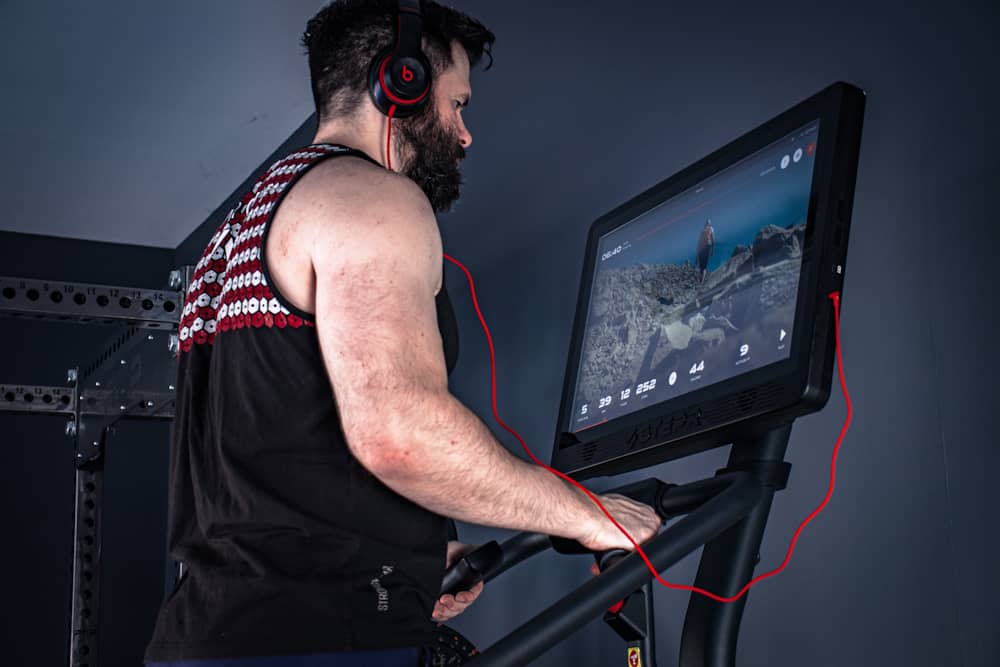 If you're one of the few wired headphone users left, you're in luck. The STEPR has a headphone jack just below the USB-C port. Just plug it in and you'll have audio flowing.
No HDMI
Unfortunately, there are no HDMI ports on the STEPR. So you won't be able to connect your phone or tablet this way to mirror your device.
This is one feature I wish they added since it's convenient and sometimes you may not be able to access certain media through the STEPR interface. For example, you may have an app on your phone that's not available on the STEPR.
Energy Saving Mode
Currently, there is no "energy saving mode." However, one is planned. From what I've been told, the machine will simply go to sleep after a certain period of inactivity and the monitor will shut off.
As is, you have to power your STEPR off by physically switching the on/off button in the back of the machine. While this doesn't hurt the unit (something I verified with STEPR), it's not convenient.
Plus, it means it takes slightly longer to start the next time you want to workout because it has to power on. The alternative is to just leave the STEPR on, but that's a waste especially if you won't be using it for a few days.
Luckily, the STEPR team assured me that this is one of their priority items to address in the upcoming updates.
Noise Level
The STEPR was designed to be among the quietest stairmills on the market. The STEPR team even came up with the branded term "Silent Step" to describe the machine's noise level, indicating how much of a priority this is for them.
Its relative quietness is achieved by a combination of the following:
It is simply a smaller machine.
Its chassis helps to dampen the noise.
It uses an induction brake system (instead of being motor-driven), meaning fewer moving parts.
It uses commercial-grade components and precise tolerances on the rails, bearings, and chain system.
Having a quieter machine is particularly important for a machine designed to go into homes and apartments. Most customers don't want to worry about disturbing their family members or neighbors with an excessively loud machine. Beyond that, a loud machine is just annoying.
The decibel level is 77 decibels at its highest setting. This is quite a low amount of noise for a stepmill. Stepmills in general are one of the louder categories of cardio equipment.
However, the STEPR competes with the noise levels of treadmills, which are the best-selling category of cardio equipment. They typically produce noise levels around 70-85 dB.
The noise from the rotation itself is surprisingly low.
Most of the noise you hear is from each step you take. When your foot hits the stair, the stair clacks a bit. This is a result of the small amount of play in each stair due to the design of a rotating staircase with "floating steps."
Buy the STEPR Stair Climber – Use Code KING for a FREE 36-Month Extended Warranty »
Transportation/Mobility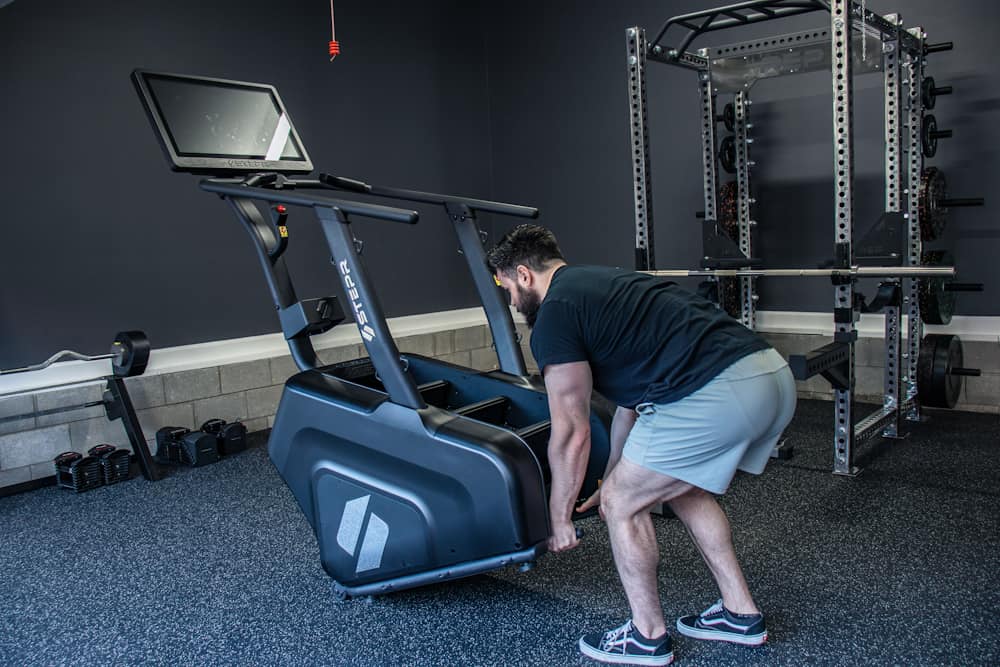 Moving the STEPR is quite easy. It has a set of sturdy wheels in the rear. You tip the unit onto these wheels to move it.
Tipping the unit onto the wheels is made simple thanks to a pair of removable handles that you can screw into the front of the unit. They are installed below the stairs, which allows you to more easily maneuver the unit, almost like a wheelbarrow.
I've personally just kept these handles installed because they don't get in the way during exercise.
It's worth noting that moving your STEPR can be a bit trickier if you have it right against the wall. In this case, you can't simply tip the unit onto the rear wheels because you'll hit the display and the rear frame. Instead, you'll have to shimmy it forward, one side at a time, until you have sufficient clearance to tip it back.
If you'll be moving the STEPR through a doorway, you should first rotate the screen 90 degrees to avoid any chance of it bumping into the door frame.
Safety Features
Exercising on any type of cardio equipment comes with safety risks. The STEPR is no exception. However, the STEPR has multiple safety features to help minimize the risk of injury. I'll discuss those features in this section.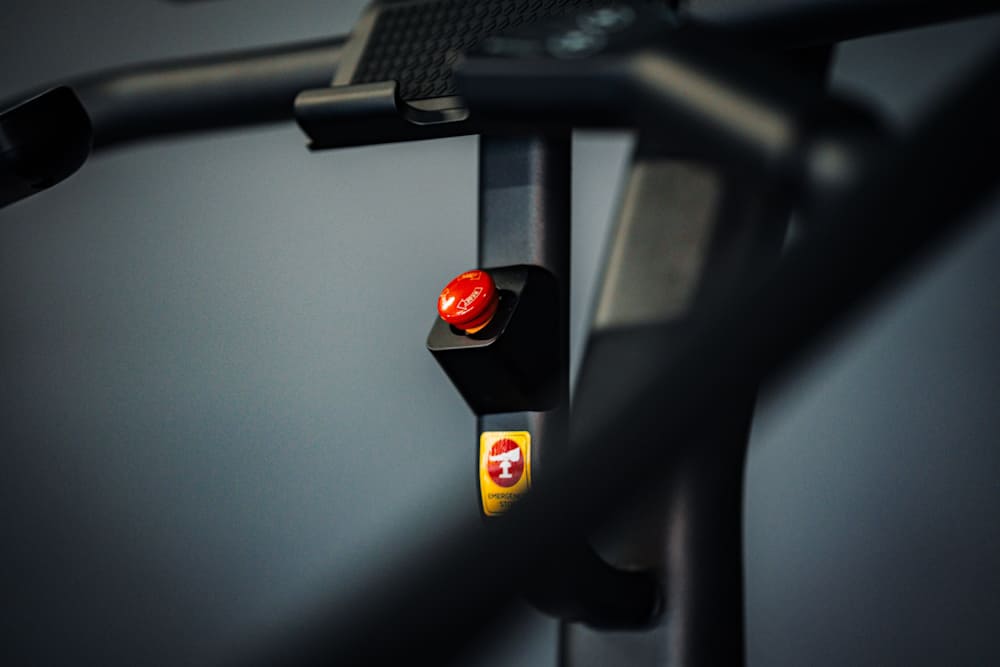 The first safety feature is the inclusion of not one, but two emergency stop buttons on the STEPR's frame. There is one at the top of the staircase and one at the bottom. These buttons serve two purposes:
If you ever feel like you're unbalanced, unstable, or starting to fall, one of the buttons will be within reach regardless of where you are.
Having two buttons makes the machine more durable. The reason being – and this applies to any stepmill – if you only had one and the electronics hooked up to it failed, then the machine won't work because it's an essential safety feature. By having a second button, it serves as a backup to keep the machine working in such a scenario.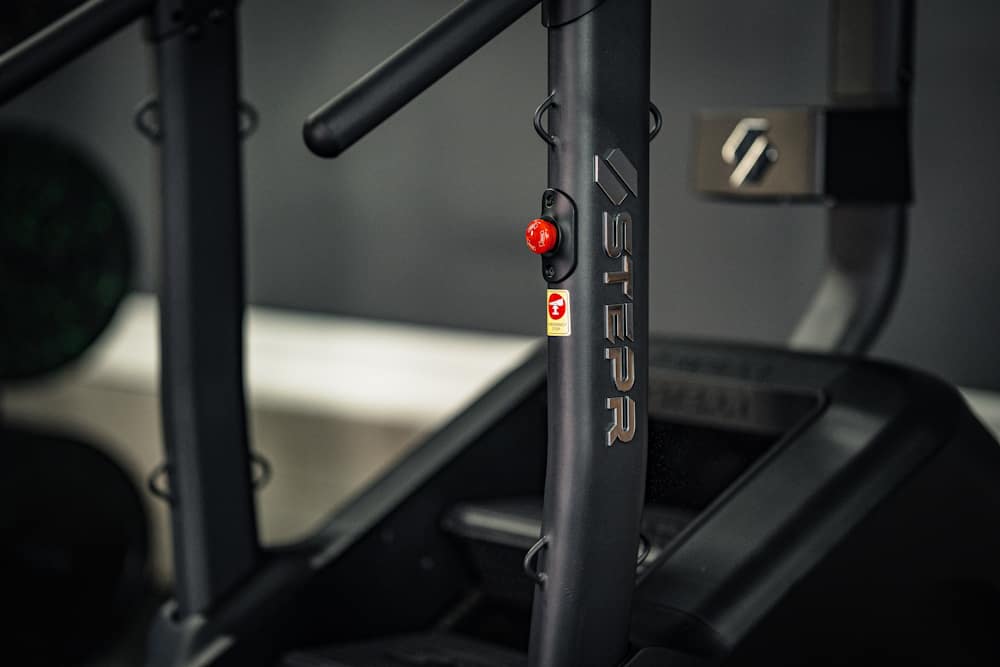 Another safety feature is the Autostop function. if you jump, fall, or step off the STEPR, the staircase will automatically come to a halt. It eliminates the need for manual interventions, which is important if you somehow fall off the STEPR and can't reach either of the manual buttons.
Additionally, if you found yourself going too fast and losing control, you could grab the rails and lift your feet up (like doing a dip). This would allow the stairs to stop beneath you, preventing you from falling or having to jump off.
Another safety feature on the STEPR is that it requires you to be on the steps in order to start. Obviously, it wouldn't be safe to step onto a moving staircase.
Last but not least, the STEPR has an infrared sensor at the base of the steps for safety – it stops the machine if activated. This can come in handy if you have a pet or a child who comes too close to the steps while you're working out.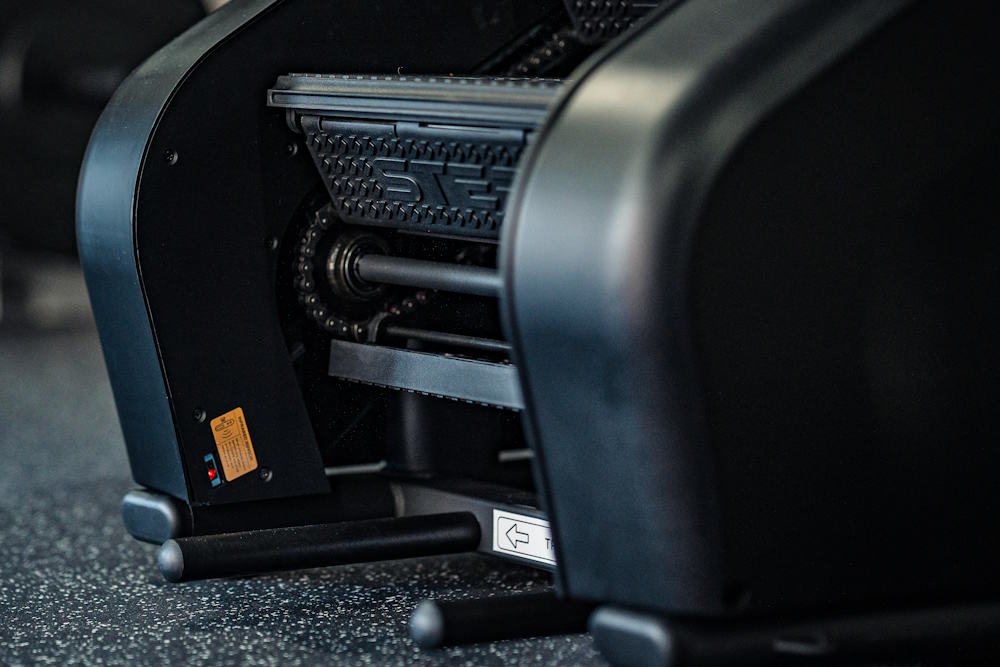 NOTE: At the time of original publication of this STEPR review, if this safety sensor is activated, you need to hit an emergency stop button, and then release it, in order to clear the sensor warning that pops up on the display. I'm sure the STEPR team is aware of this little bug and will address it with an update so that you can just clear the error by tapping something on the touchscreen.
Sweat Management Features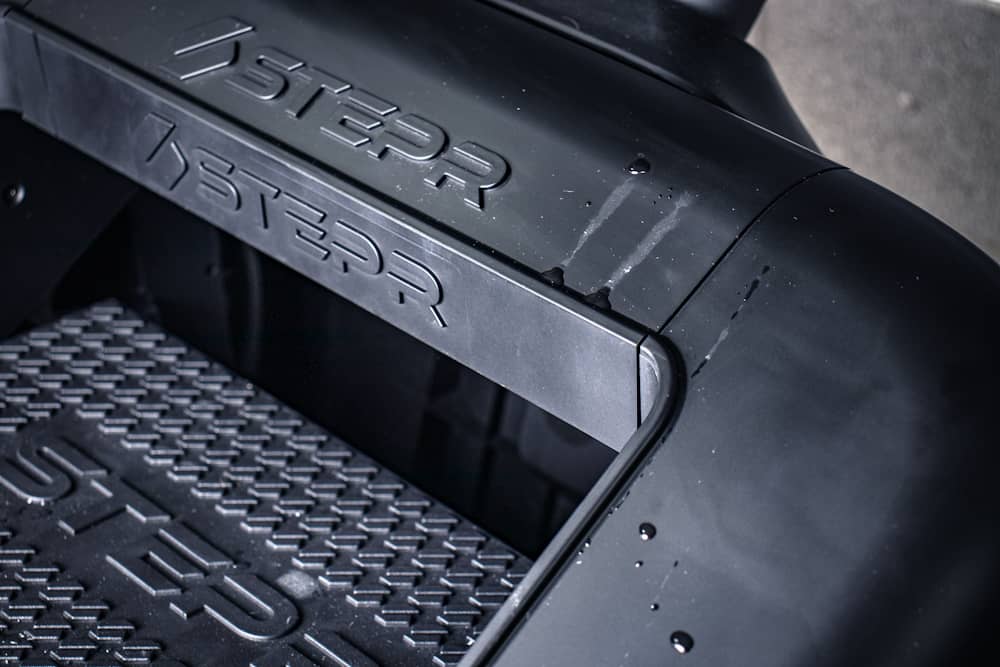 Sweat management features are crucial for a stepmill like the STEPR Stair Climber for several reasons:
Safety: Stair climbing is an intensive workout, and it's natural for users to sweat a lot. Accumulated sweat on the steps can lead to slippage, increasing the risk of accidents or injuries. Proper sweat management ensures that the steps remain dry and safe to use.
Equipment Longevity: Excessive sweat can seep into the machine's internal components, potentially damaging the electronics and causing malfunctions. Protecting the internals from moisture helps in prolonging the machine's life and maintaining its performance.
The STEPR has multiple sweat management features to keep sweat from interfering with your workouts or ruining your machine.
The first line of defense against sweat is the molded lip that goes all the way around the inner edge of the top surface of the chassis. Much of your sweat will drop on the outside of this lip. The lip itself ensures the sweat doesn't roll to the inside and down toward the staircase. Rather, diverts your sweat off the sides of the chassis and eventually onto the floor, which is exactly where you want it to go.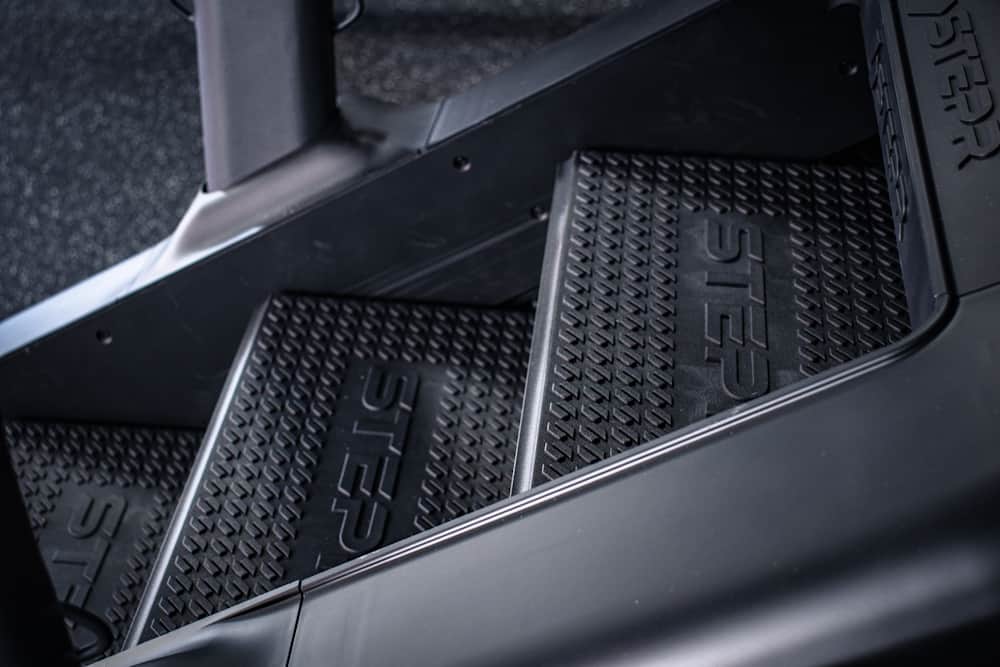 Of course, not all sweat will land there. A little bit will drip directly onto the steps. A lot of this sweat will eventually wall onto the floor when the steps tilt downward as they go under the machine. However, there is inevitably a small amount of sweat that will get near the internals.
This is where the second, more direct barrier to sweat comes into play. There are metal covers encasing the electronic components to protect them from moisture and salt.
For the electronics that go through the frame that may be more exposed, there are plastic coverings that cover any gaps in the frame. For example, there are some wires in the handrail segments, where they're connected in the front/center, below the touchscreen. The phone holder covers where the two metal pieces slide together, preventing any moisture from working its way in.
How can you be confident that these sweat mitigation features are actually effective? Well, I can tell you that so far in my testing, I can visually see that the majority of my sweat is caught by the top of the chassis and diverted off the sides and down the unit.
Beyond that, in the design and prototyping phase, the STEPR underwent saltwater spray testing to analyze durability under simulated sweaty conditions. The STEPR passed the testing.
For any nerds out there, I'll give you a rundown of what's entailed in the saltwater spray testing process:
It's an accelerated corrosion test used to measure the comparative corrosion resistance of materials exposed to a salt spray or salt fog at high temperatures.
This corrosion test is intended to provide corrosion resistance information on metals and coated metals. With visual inspection following this test, the suitability of coatings, paints and metals to resist corrosion or exposure to marine environments can be determined.
Samples are placed in an enclosed salt spray testing cabinet or chamber and subjected to uninterrupted indirect fog or spray of a saltwater solution. This environment is maintained throughout the duration of the test. Chamber construction, testing procedure, and testing parameters are standardized under national and international standards, like ASTM B117 and ISO 9227.
The temperature is maintained at 95°F (+ 34°F to 35°F) (35°C (+ 1.1°C to 1.7°C)), with a pH range of 6.5 to 7.2. The testing time varies based on different levels of requirements.
The STEPR's test duration was 48 hours, which is sufficient for sports equipment.
This testing process gave STEPR the data needed to choose the proper metal coatings that resist salt and perspiration.
STEPR All-Access App (Paid) vs Guest Mode (Free)
UPDATE: I mentioned this earlier, but I'll repeat it here because it's relevant to this section – For approx. the first 12 months after their official launch (i.e. starting October 2023), all STEPR owners will have access to the STEPR "All-Access" App for free. They're still working on adding more software features in the app and they don't want to charge until they're implemented.
---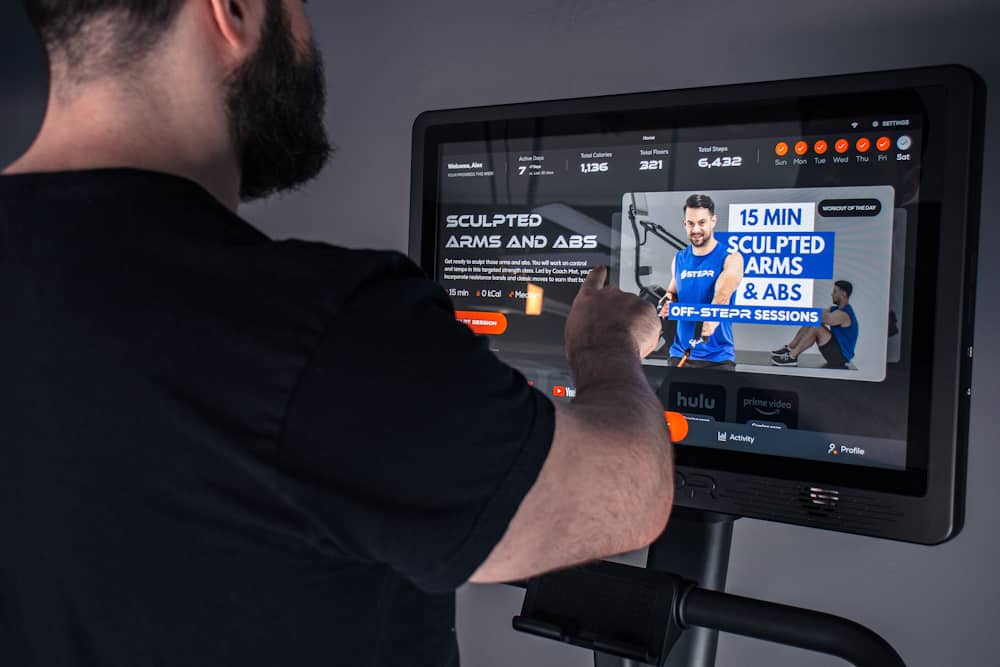 You can use STEPR with the paid monthly subscription or without a subscription in guest mode.
In this section, I'll talk about both options, starting with the subscription, which is called the STEPR "All-Access" App Membership.
STEPR's "All-Access" App Membership will cost $39 per month once they eventually start charging. This will make it slightly less expensive than premium subscriptions from other connected cardio equipment like Peloton and Hydrow.
It gives you access to STEPR's entire (and growing) library of on-demand coach-led:
In-studio stepping classes
In-studio bootcamp classes
Immersive outdoor trail hiking workouts
Workout of the day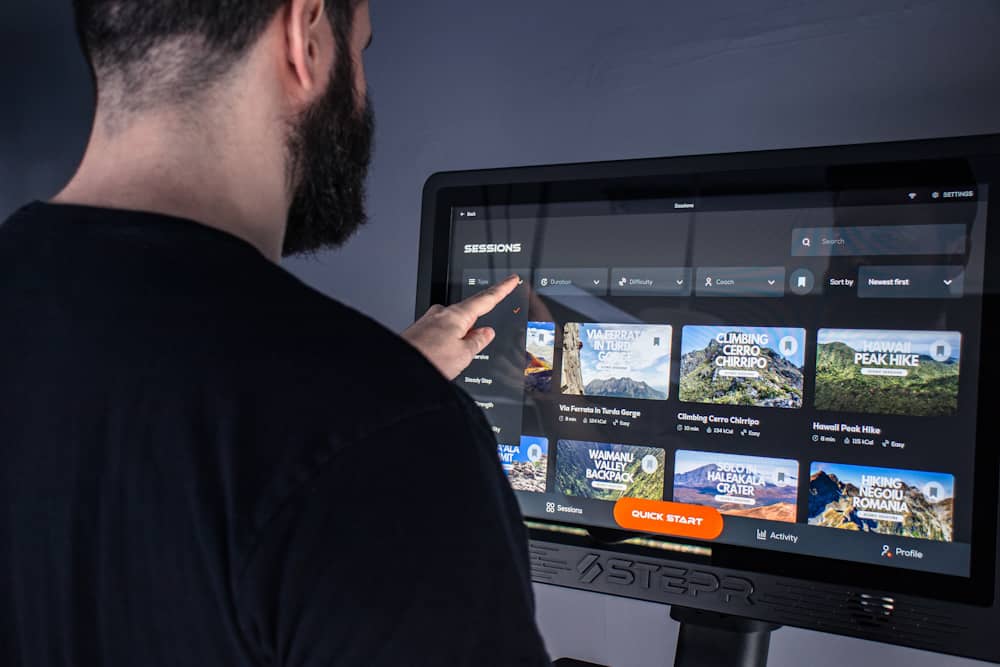 All of the on-demand content involving on-STEPR workouts will eventually have access to the upcoming STEPSync feature so your machine automatically stays with the flow of your coach (you can independently adjust the intensity).
The "All-Access" Membership also gives you access to up to five user profiles for you and your entire family or workout partners.
Your profile allows you to track your workout progress over time. You can:
View summaries of all your past sessions
See your personal bests, which is great for motivation
Set and achieve goals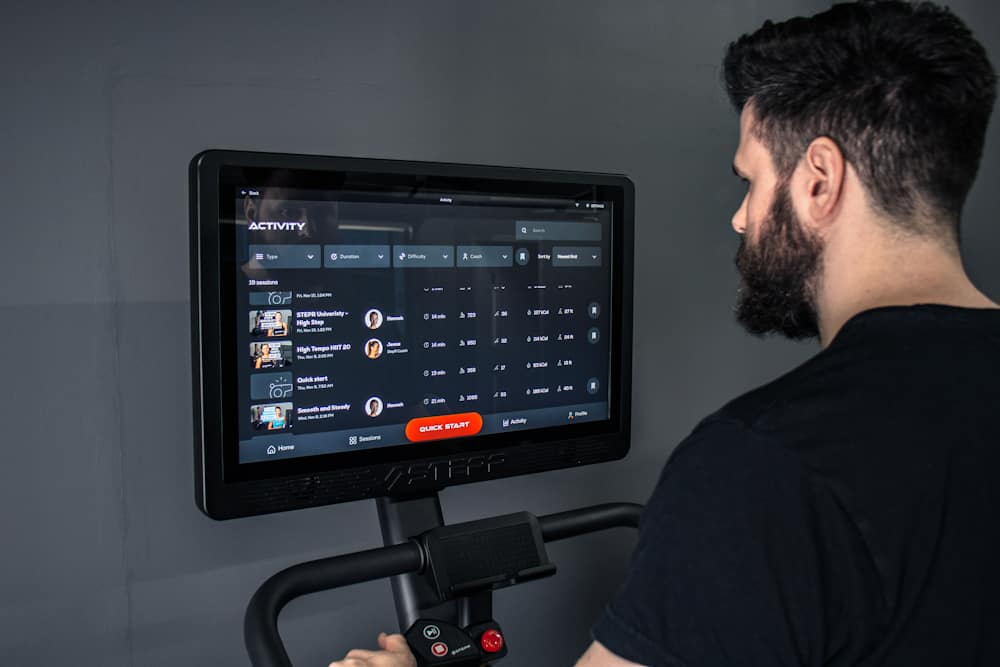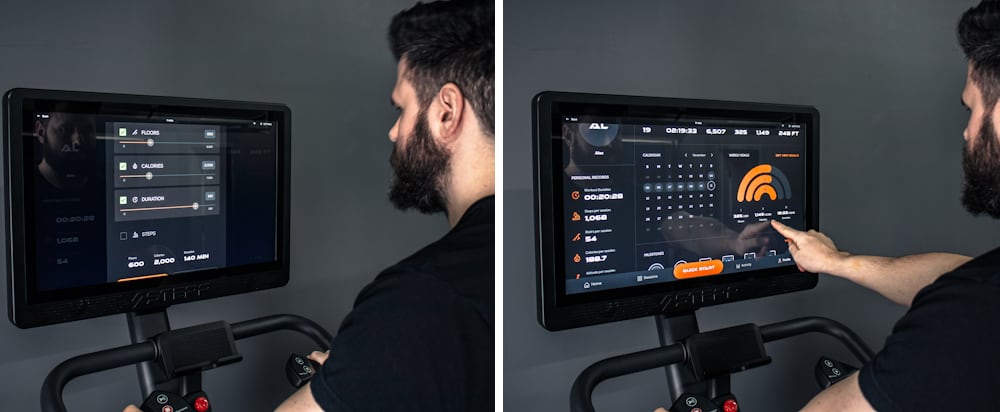 Additionally, you have the ability to unlock achievements in the "Milestones" area of the app. These are fun to unlock and give a small sense of accomplishment.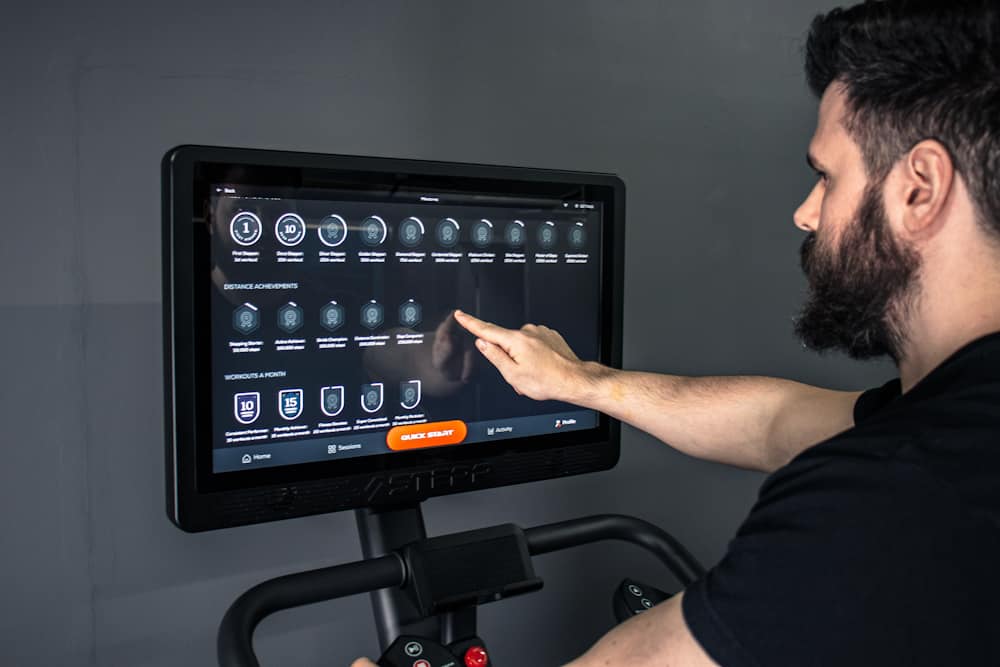 The membership also gives you access to dual media viewing options including split screen (coming soon) and picture-in-picture (available now), so you can stream your favorite shows and follow your on-demand STEPR class simultaneously.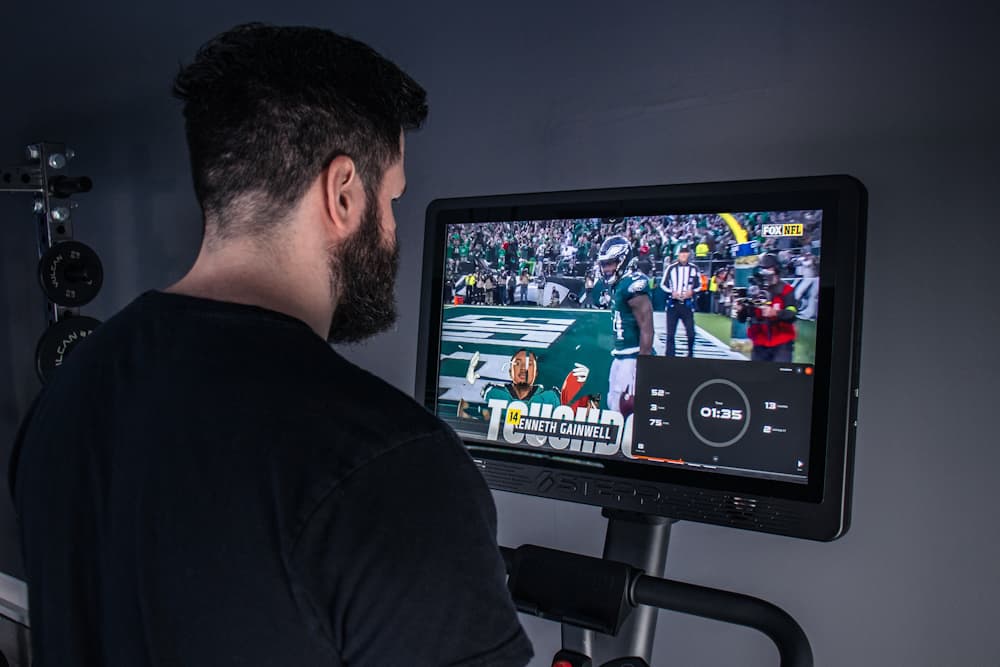 You can also view your real-time stats as a floating ribbon that you can move out of the way of your streaming/entertainment apps. This is my preferred stat-viewing mode when watching entertainment on the STEPR. Notably, you don't need to use the paid subscription for this feature.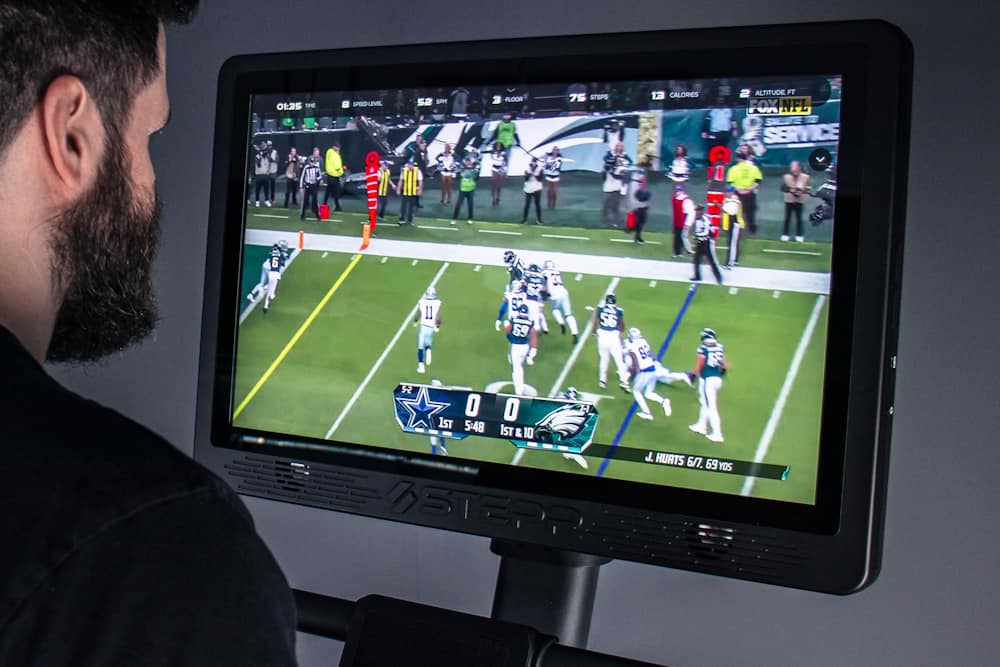 You can skip the STEPR "All-Access" Membership (once it eventually becomes a paid option). and opt for the free guest mode version. However, you'll only have access to a limited amount of on-demand content, including:
A workout of the day
A few in-studio stepping classes (refreshed periodically)
A few in-studio bootcamp classes (refreshed periodically)
A few immersive outdoor trail hiking workouts (refreshed periodically)
This limited content is nice to have in the free guest mode. However, it's nothing close to having access to a full library of premium workout content. It's basically teaser content.
Notably, you will get access to the STEPSync feature (once it's available) with the teaser content so your machine automatically stays in pace with the instructor. Originally, the STEPR team wasn't going to make this available on guest mode. However, they changed their mind, which is great for those who don't want the membership.
Additionally, in guest mode, you won't be able to track your workout progress over time.
When you're not using the guest mode's limited on-demand teaser content, you can still use the "free step" mode. This is where you manually control the pace by increasing or decreasing the stepping speed with the controls.
While "free stepping" may not be as fun or as optimal for achieving your cardio goals compared to pre-programmed on-demand sessions, it still gives you a great workout – completely at your control.
So basically, it'd be like a workout on any regular "non-connected" stair climber machine.
In fact, many people prefer to set their own pace; they don't care about pre-programmed workouts or following along with classes.
Note that in guest mode, you can still see all of your real-time stats shown in the paid version. However, you'll miss out on the long-term workout tracking features that come with having a membership profile.
Whether you get the All-Access Membership or opt for the guest mode, you'll still get access to the same entertainment through your favorite streaming apps.
I'll note that neither the paid subscriptions nor the free option have access to a STEPR leaderboard system, which would allow you to compete and compare yourself against other people in the STEPR community.
This is something I was hoping to see since I know that's what a lot of people love about Peleton. However, I did speak to STEPR about this and they said they're strongly considering it for a future software update. I hope they go through with it!
Buy the STEPR Stair Climber – Use Code KING for a FREE 36-Month Extended Warranty »
STEPR Alternatives
STEPR vs Other Compact Stairmills
StairMaster SM3 vs STEPR
I'll briefly summarize how the StairMaster SM3 compares to the STEPR in the sections below:
Specs:
| | | |
| --- | --- | --- |
| Specification | StairMaster SM3 | STEPR |
| Height | 73" | 82" |
| Length | 46" | 42" |
| Width | 29" | 27.5" |
| Weight | 223 lbs | 286 lbs |
| Step Height | 6" | 5.2" |
| Step Width | 17" | 15.7" |
| Step Depth | 9" | 8.7" |
| Steps Per Minute | 26 to 162 | 24 to 137 |
| Step-on Height | 12" | 15.2" |
| Minimum Ceiling Height | 8' | 8' |
| Price | Check Price Here | $4,999 |
Design & Footprint:
STEPR: It has a compact design (42" L x 27.5" W) that complements most home spaces, with the ability to be used in rooms with just 8' ceilings. Because it's compact, it has 5.2" high stadium-style steps, which are notably shorter than commercial units. In terms of looks, it's sleek and modern.
SM3: Although it has a slightly bigger footprint (46" L x 29" W) than the STEPR, it can also be used in rooms with 8′ ceilings. Its steps are 0.8" taller than STEPR's at 6", making for a relatively more challenging stepping experience. However, its aesthetics are dated, and it lacks ergonomic handles.
Performance & Features:
STEPR: It boasts a rotating 27″ touchscreen and features like STEPSync (coming soon) for pace-matching with your coach in the on-demand classes. It's quiet for a stair climber with just a 77-decibel noise level at max speed, making it comparable to an average treadmill.
SM3: It offers ten distinct workout programs but lacks any type of on-demand classes. There's only an old-school backlit LCD console for tracking workout progress and stats. In terms of noise level, the SM3 is louder than the STEPR. Notably, the SM3 has a higher max speed of 162 steps per minute vs 137 for the STEPR.
Connectivity & Interface:
STEPR: Features modern connectivity features including WiFi, Bluetooth, USB-C, and a large touchscreen with dual speakers on the front and rear. Its on-demand classes make it stand out as the first of its kind in the stepmill world. The ability to add entertainment options with third-party streaming apps is a bonus.
SM3: Relies on a blue backlit LCD, showing only basic stats. Modern connectivity options are noticeably absent. No speakers.
Durability & Safety:
STEPR: Emphasizes durability with internal metal covers to protect its electronics. Its safety mechanisms include two emergency stop buttons, the ability to stop when no weight is detected, and an infrared autostop at the base.
SM3: Although its build quality is okay for home use, it is lighter than the STEPR both in terms of product weight and user weight capacity. More importantly, though, many people have experienced mechanical issues with their SM3. Safety-wise, it comes with fewer emergency stop features than the STEPR.
Price & Warranty:
STEPR: Priced at $4,999. Its warranty covers 10 years for the frame, 2 years for parts, and 1 year for labor.
SM3: Ranges from $3800-4500 new, with refurbished units sometimes available at reduced rates. It boasts a strong 10-year frame and 3-year parts and labor warranty, but this applies only to newly purchased units, which are few are far between these days.
For a more detailed comparison, check out my full StairMaster SM3 vs STEPR article.
Matrix C50 Climbmill vs STEPR
I'll quickly summarize how the Matrix C50 Climbmill matches up with the STEPR, below:
Specs:
| | | |
| --- | --- | --- |
| Specification | Matrix C50 | STEPR |
| Height | 75" | 82" |
| Length | 53" | 42" |
| Width | 28" | 27.5" |
| Weight | 297 lbs | 286 lbs |
| Step Height | 5.6" | 5.2" |
| Step Width | N/A | 15.7" |
| Step Depth | 9" | 8.7" |
| Steps Per Minute | 24 to 137 | 24 to 137 |
| Step-on Height | 10.5" | 15.2" |
| Minimum Ceiling Height | 8' | 8' |
| Price | $4,999 to $6,999 | $4,999 |
Design and Footprint:
STEPR: It has the most compact design footprint (42″ L x 27.5″ W) of the two models. The step height is slightly shorter with 5.2" tall steps. Moving the unit around is slightly easier than the Matrix because it comes with detachable lift handles that make rolling it around easier.
Matrix C50: Its footprint is a bit larger than STEPR's, at 53″ L x 28″ W, yet it's still plenty compact enough for home use. Like the STEPR, it can be used by most people under 8' ceilings. The steps are 5.6" tall making them slightly taller than STEPR's. Wheels make moving the C50 easy enough, though not as convenient because of the lack of handles.
Performance and Features:
STEPR: Stands out with its STEPSync (coming soon) for on-demand classes (in-studio and on-trail) where your machine will automatically match the pace and rhythm of your coach; with speed being independently adjustable of rhythm. Has an optional Bluetooth wireless heart rate monitor available; lacks contact heart rate monitors in the handles.
Matrix C50: Provides the unique challenge of "virtually" climbing 21 world landmarks; though this is simply chasing a goal of a set number of steps or flights of stairs with background photography; not video of virtual climbing. The C50 is compatible with iFit, but there are no stepmill-specific climbing classes and no auto-syncing of pace/rhythm. For heart rate, there are both contact monitors in the handles and a Bluetooth chest strap.
Connectivity and User Interface:
STEPR: A feature-rich 27″ rotating touchscreen allows for immersive viewing of on-demand classes as well as third-party streaming apps. Integrated with Wi-Fi, Bluetooth, and USB-C, it covers modern user needs with the exception of HDMI for device mirroring. Dual front/rear speakers are embedded in the touchscreen monitor.
Matrix C50: Available with console options from an 8.5" backlit LCD display to a 22" touchscreen display. The more advanced console options rival STEPR in terms of having a touchscreen with access to streaming apps for entertainment. All but the LCD model have Wi-Fi, Bluetooth, USB, and speakers. The two most advanced consoles have HDMI for device mirroring, which the STEPR lacks.
Durability and Safety Features:
STEPR: The carbon steel frame and ABS plastic chassis give the unit an overall solid build quality for a home-use environment. Sweat management features further prolong the life of the machine by keeping moisture away from electronic components.
Matrix C50: Durably constructed for home use, including both the frame and chassis. It has virtually the same safety features as the STEPR.
Price and Warranty:
STEPR: At $4,999, it offers a 10-year frame warranty, 2-year parts warranty, and 1-year labor warranty, which is above average at least compared to other connected cardio equipment systems (e.g. Peloton, CLMBR, Hydrow).
Matrix C50: The price can range from $4,999 to $6,999 depending on the console choice. An impressive lifetime frame warranty, 5-year parts warranty, and 1-year labor warranty gives it an edge.
For a more detailed comparison, check out my full Matrix C50 Climbmill vs STEPR article.
Pro 6 Aspen StairMill vs STEPR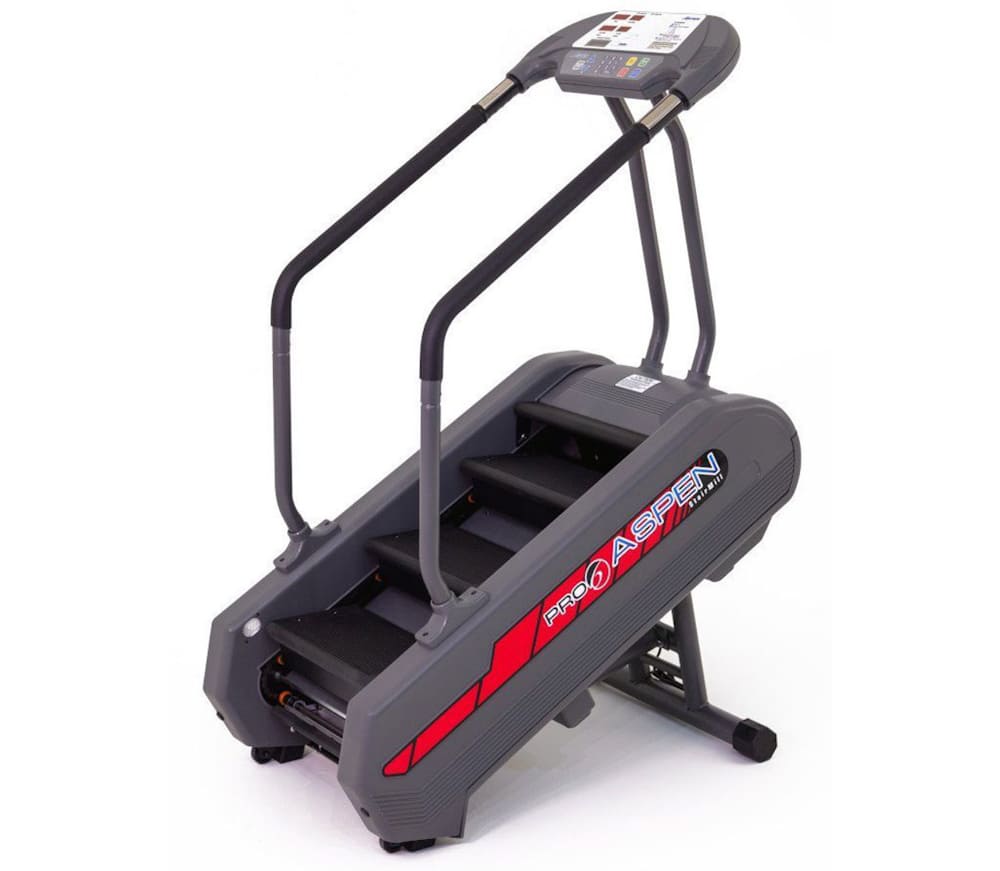 I'll quickly discuss how the Pro 6 Aspen StairMill compares to the STEPR:
Specs:
| | | |
| --- | --- | --- |
| Specification | Pro 6 Aspen StairMill | STEPR |
| Height | 68" | 82" |
| Length | 44" | 42" |
| Width | 26" | 27.5" |
| Weight | 222 lbs | 286 lbs |
| Step Height | 6" | 5.2" |
| Step Width | 17" | 15.7" |
| Step Depth | 9" | 8.7" |
| Steps Per Minute | 30 to 120 | 24 to 137 |
| Step-on Height | N/A | 15.2" |
| Minimum Ceiling Height | 8' | 8' |
| Price | $3,995 | $4,999 |
Design and Footprint:
STEPR: Boasts a sleek, modern look. It's sized at 42″ L x 27.5″ W, making for a super compact footprint that also allows most people to use it in ceilings as low as 8'. Weighing 286 lbs, it's hefty but manageable due to its built-in wheels with removable handles that let you move it like a wheelbarrow.
Aspen StairMill: Adopts a simpler and more dated design. It's similarly compact at 44″ L x 26″ W and works in rooms with 8' ceilings. With a lighter 222 lb weight, it's also designed for easy relocation with its built-in wheels.
Performance and Features:
STEPR: Features its unique STEPSync technology (coming soon) for pacing with the coach in your on-demand classes. Its Exact Force Induction Brake produces fluid speed shifts from 24 to 137 steps per minute. The steps are shorter at 5.2". Heart rate monitoring is done solely through an optional Bluetooth chest strap; there are no contact monitors in the handles.
Aspen StairMill: Focuses on essential workout functionalities only. It uses the user's own bodyweight with an electromagnetic braking system to control speed with minimal power consumption. Goes from 30 to 120 steps per minute. The 6" steps are a bit more challenging since they're almost an inch taller than STEPR's. It lacks a wireless chest strap heart rate monitor but has contact monitors in the rail handles.
Connectivity and User Interface:
STEPR: Includes Wi-Fi and Bluetooth connectivity. It's outfitted with a 27″ touchscreen that rotates almost 360º for viewing on-demand coach-led classes as well as entertainment in the form of streaming apps like YouTube, Netflix, Spotify, and several others (coming soon). Includes WiFi, Bluetooth, USB-C, and dual front/rear speakers. It's only missing HDMI.
Aspen StairMill: Keeps things straightforward with a basic digital readout. No Bluetooth, WiFi, USB, HDMI, or speakers.
Durability and Safety Features:
STEPR: Great quality for home equipment with a sturdy carbon steel frame and ABS chassis. No internal durability issues thus far. It offers two manual emergency stop buttons (one at the top and one at the bottom), an autostop function if users jump, fall, or step off, and an infrared sensor at the base that stops the machine if an obstruction approaches the steps.
Aspen StairMill: Has a more minimalist design that's promising for longevity since there's less that can go wrong. However, some users have experienced drive chain issues. Its step lock system stops the machine if the user steps too low.
Price and Warranty:
STEPR: It has a higher price tag of $4,999 owing to its tech-rich offerings. The warranty includes 10 years for the frame, 2 years for parts, and 1 year for labor.
Aspen StairMill: At $3,995, it offers a somewhat more budget-friendly price. It comes with a less impressive 1-year parts and labor warranty.
For a more detailed comparison, check out my full Pro 6 Aspen StairMill vs STEPR article.
Stairmaster 4G Gauntlet StepMill vs STEPR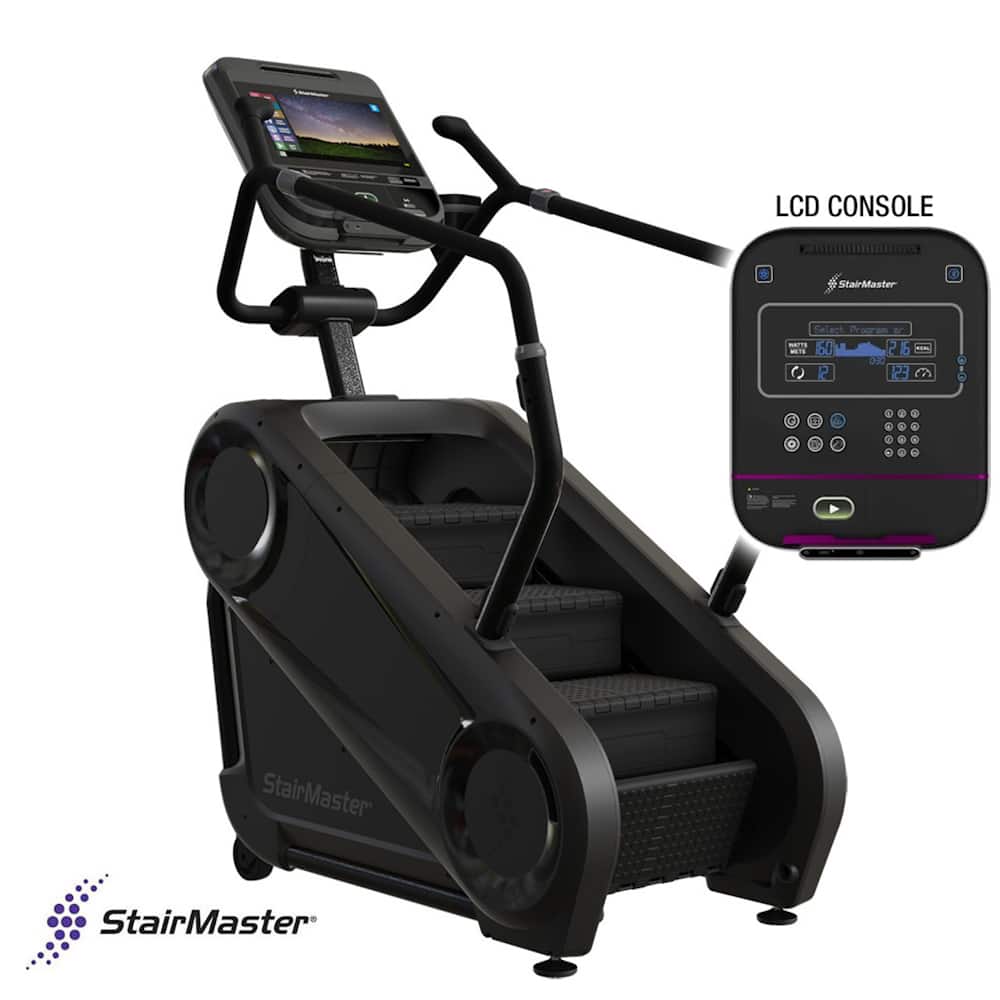 Below, I'll summarize how the StairMaster 4G StepMill lines up against the STEPR Stair Climber. The 4G, as mentioned earlier, is StairMaster's newer compact unit that's replacing the SM3.
Specs:
| | | |
| --- | --- | --- |
| Specification | Stairmaster 4G Gauntlet | STEPR |
| Height | 64" | 82" |
| Length | 54" | 42" |
| Width | 29" | 27.5" |
| Weight | 348 lbs | 286 lbs |
| Step Height | 7" | 5.2" |
| Step Width | 18" | 15.7" |
| Step Depth | 10" | 8.7" |
| Steps Per Minute | 24 to 162 | 24 to 137 |
| Step-on Height | 14" | 15.2" |
| Minimum Ceiling Height | 8' | 8' |
| Price | $5,999 to $10,999 | $4,999 |
Design and Footprint:
STEPR: Compact at 42″ L x 27.5″ W, designed for home use, requiring a ceiling of just 8′ for most users. While not light at 286 lbs, the wheels and removable lift handles make for easy transportation.
StairMaster 4G: Larger footprint of 29″ W x 54″ L, but still technically compact and suitable for 8′ ceilings. At 348 lbs, it's harder to move around, but it does have wheels so it's doable.
Performance and Features:
STEPR: Offers on-demand classes (in-studio and on-trail) with the STEPSync feature (coming soon) to match pace/rhythm with on-demand coaches, 24 resistance levels, and step speed between 24 to 137 steps/min for a leisurely to a rapid pace. Its "Silent Step" feature refers to its relatively quiet operation compared to other stepmills. It has "stadium steps" with a shorter 5.2″ height.
StairMaster 4G: The top-end model does have RunTV, which provides first-person running videos, but they aren't actual stepping classes. It features 20 levels of step resistance, with a larger speed range than the STEPR, ranging from 24 to 162 steps/min. It even includes a personal cooling fan. It boasts notably larger 7″ high steps, which is impressive considering the relatively compact unit height.
Connectivity and User Interface:
STEPR: Equipped with Wi-Fi, Bluetooth, USB-C, and a 27″ rotating 1080p touchscreen for viewing on-demand classes and streaming apps. No HDMI port for device mirroring. It has dual front and rear speakers for sufficiently loud audio even at max speeds.
StairMaster 4G: All models have Bluetooth, WiFi, USB, and front-facing speakers. HDMI is available on the most expensive model. There are three different models/console options: a basic 10" LCD display, a 10" touchscreen, and a 15" touchscreen.
Durability and Safety Features:
STEPR: The frame and chassis are well built for home use and feel sturdy during use. Metal covers inside the chassis protect from sweat. It features manual emergency stop buttons, an autostop function, and an infrared stop sensor if any obstruction gets too close to the stairs.
StairMaster 4G: Designed with a generally more heavy-duty build quality, the 4G can withstand light commercial use. Safety features include emergency stop buttons and a stop sensor that kills the machine if you fall or otherwise get off.
Price and Warranty:
STEPR: At $4,999, it's priced much more competitively than the 4G. It comes with an above-average warranty for this product category, including 10 years for the frame, 2 years for parts, and 1 year for labor.
For a more detailed comparison, check out my full Stairmaster 4G Gauntlet StepMill vs STEPR article.
STEPR vs Large Commercial Stairmills
When comparing the STEPR to traditional large commercial stairmills often seen in big box gyms, several key distinctions emerge:
Step Height: STEPR's steps, at a height of 5.2 inches, are notably shorter than the steps on most commercial stairmills, which are typically about 9" tall. This makes each step comparatively less challenging on the STEPR.
Step Depth: The STEPR features steps with a depth of 8.7 inches, making them shallower than the standard commercial options, which are typically around 12" deep. However, it's worth noting that STEPR's "floating step" design lets you put your foot a couple of inches further forward, thus reducing heel overhang significantly. Still, it's not quite the same as 12″ of fully supported step beneath your feet.
Step Width: The width of STEPR's steps is narrower, restricting side-to-side movement to an extent compared to a commercial stepmill. While the STEPR's step width is certainly more confined, there's still enough room for most people to sidestep without restriction.
Number of Steps: The STEPR only ever has a max of three usable steps available at any given time. Compare this to the four steps available to use on a large commercial stepmill. That means you can take larger strides, especially when skipping steps. Additionally, you can stay on a step for a longer period of time before having to take the next step (a useful resting technique when you're winded).
Weight: The STEPR's relatively lighter weight of 286 lbs enhances its portability and positions it as a more home-friendly option compared to the bulkier commercial stairmills. However, commercial units are so heavy in part due to the use of heavier-duty steel and other components that give it the ability to handle frequent use from many people every day — including people over 375 lbs.
Minimum Ceiling Height Needed: Given the STEPR's compact design, it's suited for rooms with lower ceilings, making it the preferred choice for home environments. Commercial gyms typically have super tall ceilings that can easily accommodate the high staircase height.
Acclimation Period: If you're transitioning from a commercial stair climber to the STEPR, there'll be an adjustment curve. The step dimensions, particularly the step height and depth, will feel different, and it will require some time to adapt.
Feeling of Spaciousness: While the STEPR's narrower step and rail width means a bit less side-to-side clearance, you won't find yourself uncomfortably colliding with the sides. Nevertheless, the experience won't feel as open as that of spacious commercial units.
Display Size: A defining feature of the STEPR is its 27" touchscreen display. Having a touchscreen at all is a rarity in most commercial gym stairmills. Having one this size is unheard of. This screen not only offers workout tracking but also provides immersive entertainment options.
Connected Experience: No other stepmill on the market, commercial or otherwise, has a fully connected experience; at least not in the same way as the STEPR. While some stepmills come with an iFit subscription, those classes aren't specific to stair climbing. And they certainly don't have a feature comparable to STEPR's STEPSync (coming soon), which matches the machine's rhythm and pace to that of the coach.
Price Consideration: The STEPR is far more affordable than any commercial stepmill on the market. It depends on the specific model you're comparing it to, but they're generally about twice as expensive.
In essence, the STEPR provides a unique blend of compact design and advanced tech features with a connected experience.
Whereas, a commercial unit has larger and more steps that make it more challenging at a given speed. Plus, it has added durability to withstand the rigors of commercial use.
These differences make the STEPR a more home-centric, technologically enhanced workout experience at a better price.
A commercial stepmill may still be the right choice for home gym owners who value larger/more steps and overall performance and don't mind the lack of a connected experience. However, these buyers will need both the ceiling height and the budget for this to be a viable in-home option.
Buy the STEPR Stair Climber – Use Code KING for a FREE 36-Month Extended Warranty »
STEPR vs Non-Stepmill Alternatives
CLMBR vs STEPR
Both STEPR and CLMBR are focused on providing users with an intense vertical workout, but they come with their own unique designs, features, and benefits. Here's a comparative breakdown of these two machines:
Nature of Workout:
STEPR: Emulates climbing stairs, primarily targeting cardiovascular health while engaging the core and lower body muscles with a low-impact workout.
CLMBR: A vertical climbing machine that more closely mimics climbing a ladder. It offers a full-body workout since it involves more of the upper body. It combines the benefits of both cardio and strength training.
Build & Design:
STEPR: Features a steel frame and ABS plastic chassis, with a focus on a sleek and modern look. All my experience thus far points to a solid, durable design.
CLMBR: Made of less robust extruded aluminum, though visually it looks great. Boasts a sleek and minimalistic design, with a connected and non-connected version available, offering flexibility in usage. Some customers have complained of durability and quality control issues.
Display & Tech:
STEPR: Equipped with a 27" touchscreen display that serves for workout tracking, on-demand classes, and entertainment purposes.
CLMBR: Comes with a smaller but adequate 21.5" touchscreen for workout tracking, and on-demand classes. However, you don't have access to entertainment options (e.g. YouTube, Netflix, etc.) like on the STEPR. It does offer CLMBR Vision, which gives users live AI-based coaching/feedback for off-machine strength classes.
Size & Portability:
STEPR: Designed to take up a minimal footprint of 42" x 27.5", which is less than that of a treadmill. Importantly, it's made for use in ceilings as low as 8' tall for users up to ~6'3″. Taller users will need taller ceilings. Wheels plus lift handles make for easy transport.
CLMBR: It's 4.5" wider than the STEPR, which may make transport through narrow doors an issue. However, it's about 7" shorter than the STEPR, making it more compact overall. It's 100 lbs lighter and has wheels, so transport is easier. While it can also fit in low ceilings (7.5'), it's not recommended for users 6'4"+, regardless of ceiling height.
Price:
STEPR: At $4,999, it's positioned to offer a more affordable yet premium experience compared to large commercial stairmills. But, it will cost you more than the CLMBR. However, the plus is that currently, the price of the subscription is on the lower end for connected cardio machines at $39 per month.
CLMBR: The CLMBR also has a premium price point, starting at $3,495, significantly more than the Peloton and Hydrow, but less than the STEPR. The monthly subscription price is about the same as STEPR's at $40.
Content & Engagement:
STEPR: Provides on-demand classes, including stepping-only classes and bootcamp classes that mix stepping with resistance workouts. Currently, there are no live classes, something in common with the CLMBR. As of yet, there is no leaderboard feature.
CLMBR: Features on-demand classes, including climbing-only classes, bootcamp classes (climbing plus strength training), purely strength training classes, and restorative maintenance classes. Like the STEPR, the CLMBR lacks scheduled live classes. It does have a leaderboard, but only for its "Challenges" feature.
While both STEPR and CLMBR offer quality low-impact vertical workouts, the choice hinges on user preference. STEPR is better if you're looking mostly for a cardio workout experience; though the STEPR bootcamp classes do offer some strength training. It may also be better if you're looking for an exercise style that feels more natural (i.e. stepping instead of climbing).
However, the CLIMBR is for those who want a more even mix of strength and cardio since it has resistance levels that you can ramp up for a more muscle-focused metabolic workout.
Peloton vs STEPR
When considering connected home fitness solutions, the Peloton stands out as the industry leader, as it was the first to market with a compelling offering.
STEPR competes with Peloton. However, it's not direct competition since the two machines provide totally different types of workouts – stepping vs cycling.
So they cater to different people depending on training preferences. Let's dive into all of the differences and similarities:
Nature of Workout:
STEPR: Designed for vertical cardio, it simulates the act of climbing stairs, providing a low-impact yet intense full-body workout.
Peloton: A stationary bike, it targets cardiovascular training with the added advantage of low-impact seated or out-of-saddle cycling experiences.
Build & Design:
STEPR: Features a steel frame with sturdy ABS plastic construction for the chassis. It uses an electromagnetic induction braking system for resistance/speed levels.
Peloton: Boasts a robust steel frame and a flywheel-based resistance system.
Display & Tech:
STEPR: Has a 27" touchscreen display with 1080p resolution, equipped to showcase on-demand classes and provide entertainment through streaming apps.
Peloton: Comes with a 21.5" or 23.8" (depending on the model) 1080p touchscreen, streaming both live and on-demand cycling and an array of non-cycling classes. You cannot access streaming apps like Netflix unless you "hack" your unit, which is not approved by Peleton and could cause issues.
Space & Portability:
STEPR: Very compact for a stepmill, but it does take up more space than the Peloton, particularly in terms of vertical space and width. Though it does take up 6" less depth. Most users can use it in 8' ceilings (taller users will need somewhat taller ceilings). It's relatively heavy at 286 lbs, but transportation is made much easier with wheels and removable lift handles.
Peloton: Requires less floor space overall than the STEPR. And there's no minimum ceiling height; no need to worry about vertical clearance whatsoever. While it's not easily portable, it's designed to remain stationary in a dedicated workout space. It's easier to move around than STEPR thanks to a lighter 135-140 lb weight, smaller size, and built-in wheels.
Price:
STEPR: At $4,999, it's much more affordable than commercial stairmills. However, it costs quite a bit more than a Peloton bike for the initial investment. Notably, the optional monthly subscription is slightly cheaper per month at $39.
Peloton: With the intro model retailing at $1445, the Peloton's price is easier to swallow, at least at first. However, the monthly subscription fee for Peloton's All-Access subscription is just a bit pricier at $44 per month.
Diverse Workouts:
STEPR: Beyond stair climbing classes, STEPR offers bootcamp classes that alternate between stepping and resistance exercises, as well as regular strength classes (bands and bodyweight) and some stretching/mobility classes, too.
Peloton: Aside from cycling classes, Peloton provides access to diverse workouts like yoga, stretching, strength training, and more through its All-Access app.
Community & Content:
STEPR: Offers on-demand classes, making the workout experience interactive and engaging. Currently, there are no community features like leaderboards or live classes. Though leaderboards are being considered for future updates.
Peloton: Known for its vibrant online community, on-demand and live classes with leaderboards, which create a strong sense of competition and camaraderie.
Choosing between STEPR and Peloton boils down mostly to cardio style preference, budget, and the connected features you want. STEPR offers a vertical cardio challenge replicating stair climbing with on-demand classes and third-party entertainment options.
Whereas, Peloton delivers a comprehensive cycling experience combined with a ton of both on-demand and live classes with a bustling community spirit. However, there is no support for third-party entertainment options.
Hyrdow vs STEPR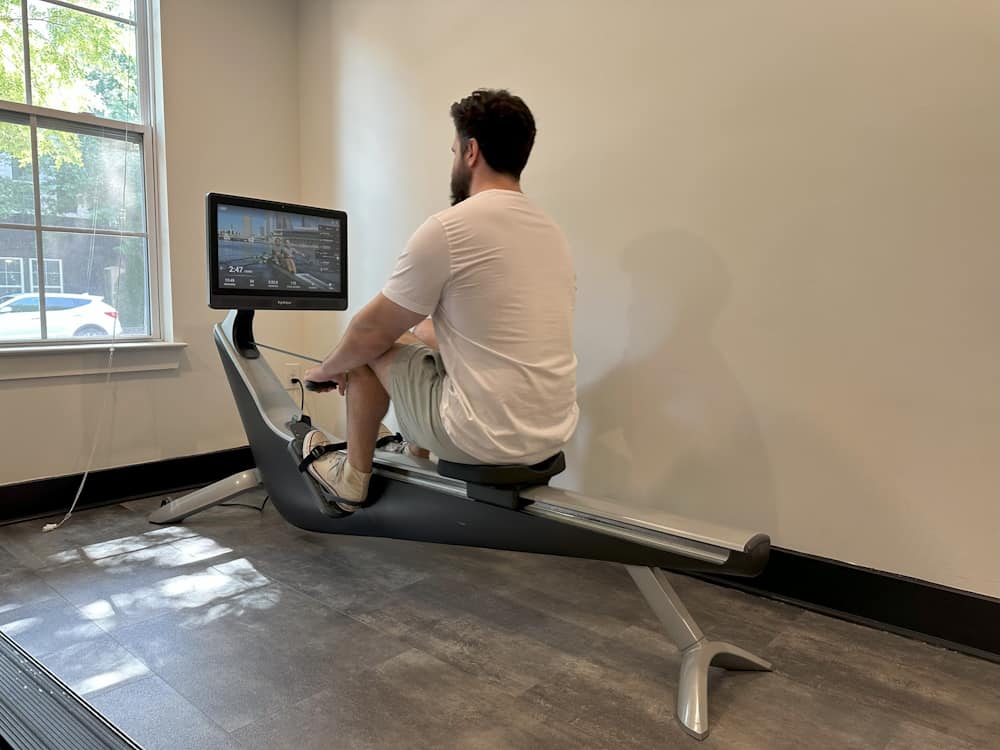 Both the STEPR and the Hydrow are connected machines that provide effective, intense cardio experiences. One is done horizontally while seated and the other is done vertically while standing. Here's a breakdown of their similarities and differences:
Nature of Workout:
STEPR: As a stepmill, it emulates climbing stairs, which gives users a cardiovascular workout that engages the core and lower body muscles.
Hydrow: As a rowing machine, it simulates water rowing and targets both upper and lower body muscles for a full-body cardiovascular workout.
Build & Design:
STEPR: Boasts a sturdy design for an in-home unit, featuring a steel frame and an ABS plastic chassis construction. The rotating staircase uses an induction brake to control resistance.
Hydrow: Features a well-built and sleek, low-profile design with an aluminum and steel frame and a flat anthracite polymer body. Its electromagnetic resistance closely mimics the feel of rowing on water.
Display & Tech:
STEPR: Offers a 27" touchscreen display, enabling users to track metrics, engage in on-demand classes, and entertain themselves.
Hydrow: Comes with a 22" HD sweatproof touchscreen that streams live and on-demand rowing classes, offering real-time feedback and performance metrics.
Space & Portability:
STEPR: It's designed with compactness in mind, making it a viable in-home alternative to a commercial stepmill. It's wider and much taller than the Hydrow, but it's significantly less deep (42" vs 86"). While tall, it can be used in 8' ceilings for users up to ~6'3″; marginally taller ceilings are required for taller trainees. It's a heavier machine at 286 lbs, but moving it is made easier by attaching the removable lift handles.
Hydrow: Its horizontal layout requires more floor space in terms of the length footprint. At 86" long you'll need a fair amount of space to use it. Luckily, you can flip it up on its end to store it vertically when finished. However, the optional Upright Storage Kit is recommended to secure it. Moving the Hydrow is easier than the STEPR thanks to the lighter 145 lb weight and the long, low-profile design that makes for easy leverage.
Price:
STEPR: Costing $4,999, it's much more cost-effective than a commercial stairmill, yet it's about double the price of the Hydrow. The monthly subscription is $39, which is a few bucks less than Hydrow's.
Hydrow: Coming in at $2,495, the Hydrow is by no means cheap. But it is half the price of the STEPR. Yet, the monthly cost if you opt for the subscription is slightly more at $44 per month.
Workout Diversity:
STEPR: The main focus for workouts is stepping-only classes with both in-studio as well as immersive on-trail options. However, there's also a growing selection of other workouts such as bootcamp classes (stepping and resistance training), strength-focused off-STEPR classes, and even stretching/mobility classes.
Hydrow: It's mainly focused on rowing classes, all of which are shot in the water as opposed to in a studio, for a more natural feel. In addition to rowing, the app also provides a variety of mat-based workouts such as Pilates, strength training, and yoga, shot in scenic outdoor locations.
Content & Community:
STEPR: Features on-demand classes that enhance user engagement and motivation. There are currently no live classes or leaderboard options, though those could be available in future updates.
Hydrow: Known for its immersive on-demand and scheduled live outdoor reality rowing experiences. Hydrow has more of a community-driven approach, complete with challenges, leaderboards, and even in-person meetups.
If you seek a unique vertical cardio challenge, STEPR is your go-to.
On the other hand, if you desire a full-body workout reminiscent of water rowing, Hydrow is the choice.
You can also weigh other factors in your decision such as initial price (don't forget to factor in the subscription cost over time) as well as the level of community involvement.
Warranty
The STEPR warranty is as follows:
10-year frame warranty
2-year parts warranty
1-year labor warranty
This warranty is above average, but not wildly impressive when compared to some other stair climbers. I would've liked to see longer warranties for both parts and labor, considering the price tag. For example, I'd be impressed with a lifetime frame warranty and at least 3 years on both the parts warranty and the labor warranties.
If you compare it to the Stairmaster 4G, the warranty is less impressive. The 4G comes with a more robust warranty, including 10 years for the frame and parts with a 3-year labor warranty. Of course, the 4G is also a heavier-duty machine that costs much more than the STEPR.
Although I'd like a stronger warranty, it's important to note that it does beat the "connected" cardio equipment industry standards. For example, Peloton and Hydrow both have the exact same warranties: 5-year frame, 1-year parts, and 1-year labor. STEPR's standard warranty is basically double that.
Extended Warranty Options
If you want a stronger, more comprehensive warranty for your STEPR unit, you can buy an extended warranty from STEPR at checkout. All of their warranties are serviced by Safeware, which is a leading warranty provider in the fitness industry.
They offer three bumper-to-bumper warranty options:
Notably, all of these warranties overlap with STEPR's standard warranty, meaning they kick in when you receive the unit; not when the standard warranty ends.
However, they're very comprehensive so they cover more items than the standard warranty. Here's what's covered:
Parts and labor coverage
Accidental damage
Power surge coverage
Battery coverage
No deductibles
On-site repairs
Transferable
Whether an extended warranty is worth it or not is up to you. Generally, I avoid these, though the inclusion of accidental damage protection and power surge/battery coverage is enticing and makes it worth considering.
EXCLUSIVE OFFER: You can get the 36-month (3-year) extended warranty and protection plan (a $259.99 value) for FREE if you add it to your cart and then use my coupon code KING at checkout. This is a no-brainer because it gives you better and longer coverage than the standard warranty at NO cost to you.
Buy the STEPR Stair Climber – Use Code KING for a FREE 36-Month Extended Warranty »
Maintenance and Repair
You may eventually need to tighten the tension of the chain, which is common for any stair climber machine. It's easy to do and all that's required is an Allen tool, which comes with the STEPR machine. The adjustment is similar to a treadmill belt.
Other than that, you just need to carry out basic cleaning practices. This can include things like wiping down excess sweat after a workout, dusting off the machine occasionally, or cleaning the steps if your shoes make them dirty over time.
What if something breaks down on the STEPR? And what if that happens outside of the warranty period? These are valid concerns with any machine with a chain and moving parts, especially the longer you have.
I asked the STEPR team about this to see how they'd handle product issues both within and outside of the standard warranty period (10 years frame, 2 years parts, 1-year labor).
The STEPR team told me they maintain an inventory of replacement parts and have US-based customer service as well as technical teams that are able to assist with applicable product issues. In terms of cost, this would be covered by STEPR if under the warranty period.
But what if something breaks outside of the warranty period?
If that happens, STEPR will still be able to help you get replacement parts since they maintain an inventory. However, you'll have to pay for it as well as the servicing costs if a technician needs to fix it. But the point is that the parts and servicing are available (again, at a cost) and you will be able to get ahold of someone to speak to.
Of course, I haven't been able to test these claims personally, but I have no reason to distrust them. Especially knowing the founders have a long and successful history in the equipment industry.
Price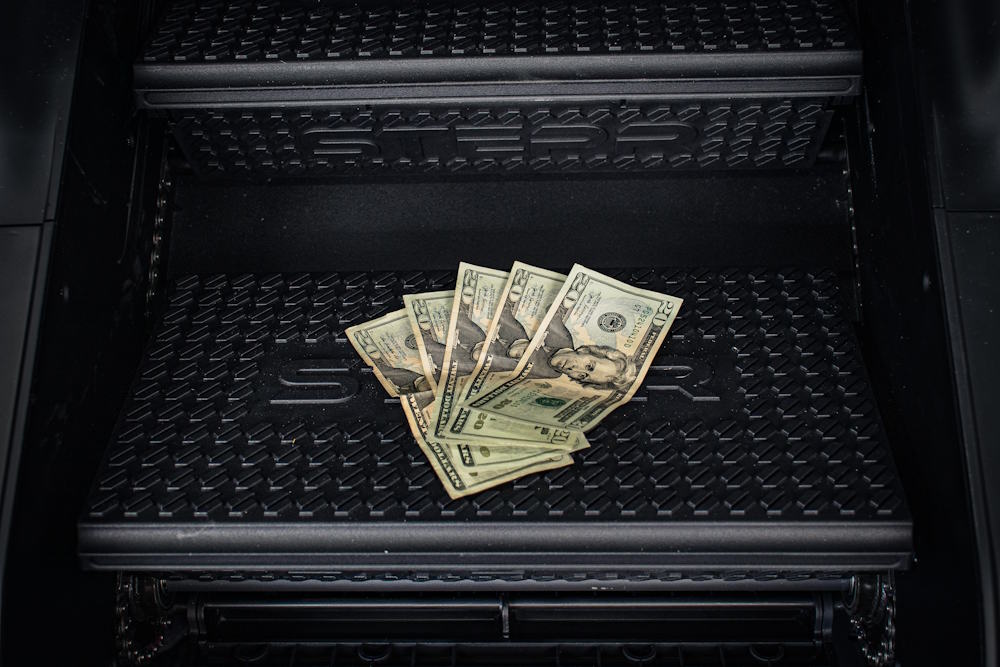 The STEPR retails at $4,999 before adding any taxes or the $299 shipping fee (or $499 white glove delivery/installation — more on that in a bit).
Obviously, it's not a cheap purchase. But it's not a cheap quality machine either. Furthermore, it's priced competitively within the compact stairmill niche. It's not the lowest-cost option. But it's far from the most expensive. I think it would be accurate to say it's the best value option.
For example, let's compare it to the Matrix C50, which is most comparable to the STEPR in terms of function and look. The most basic version of the C50 with a simple LED screen costs the same as the STEPR. However, the highest-end version of the C50 has a 22" touchscreen, and it costs a full $6999, making it $2000 more expensive than the STEPR, which boasts a 27" touchscreen.
Of course, price is only one factor to consider when comparing. Not all features are the same between the different options. Most notably, STEPR is the only stairmill with access to on-demand classes specifically for stairmills that will automatically match your machine's pace to the instructor's pace with the STEPSync feature (coming soon).
Shipping
Standard Shipping vs White Glove Service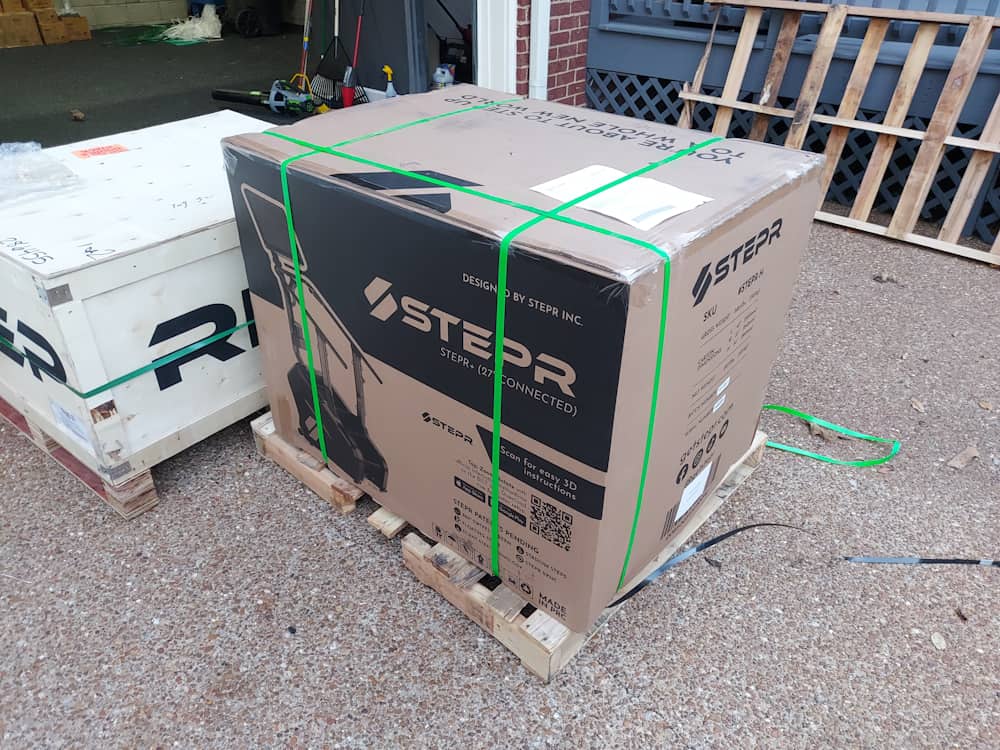 Standard shipping for the STEPR costs $299 to the lower 48 US states.
The STEPR ships on a pallet via LTL freight. It's curbside delivery so the truck driver will leave it in your driveway.
However, you can instead choose the optional white glove delivery service where a team will deliver it, bring it inside your home, and install it. They'll also take the pallet with them when they're finished.
The white glove service costs $499. Note that this fee is instead of the $299 standard shipping fee. It is NOT an additional cost.
In other words, the white glove delivery and installation service costs $200 more than standard shipping.
STEPR also provides live-tracking data with the majority of deliveries to keep you in the loop.
Availability
At launch, STEPR is going to be available in the US, Europe, and Australia. The next country it will be available in after that will be Canada. The rollout will continue to other countries after that.
The pricing for the non-US countries may vary a bit from the US pricing discussed earlier since they have different currencies.
Who Is STEPR Best For?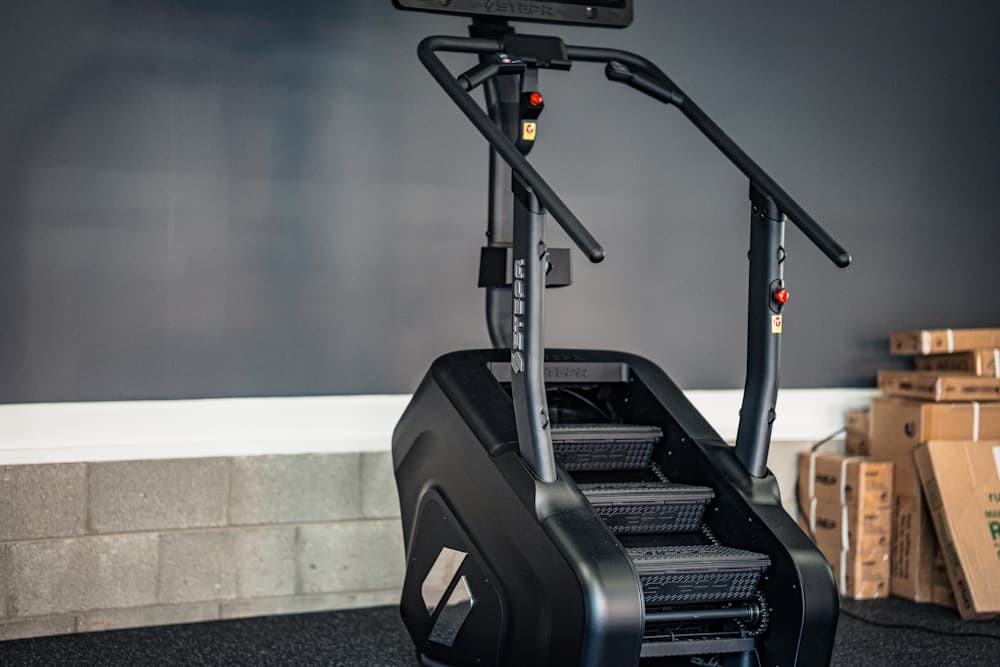 The STEPR, with its innovative features and design, caters to a wide demographic of fitness enthusiasts. Here's a breakdown of who might benefit the most:
Bodybuilders: Stair climbers, like STEPR, are a top pick among bodybuilders. Why? They offer a potent combination of cardio and calorie burn without excessive movement. That is, you can do low-intensity steady-state (LISS) cardio and still burn a ton of calories, without burning as much muscle as you would with high-intensity cardio alternatives. This makes it ideal for bodybuilders who are cutting and looking to retain as much muscle as possible.
People Looking to Maximize Calorie Burn: For those who aim to achieve maximum calorie burn in the least amount of time, the STEPR is a perfect choice. It's one of the most efficient forms of cardio in terms of calorie expenditure. This is because stepping against gravity requires a lot of effort, which boosts your heart rate more than many other forms of cardio – assuming a comparable pace. Plus, it engages the entire lower body musculature as well as the core, burning more calories in shorter sessions.
Those Wanting a Low-Impact Cardio Experience: Not everyone is after the high-impact jolt of running. For individuals seeking a more joint-friendly cardio option, the STEPR is a haven. The motion is fluid, consistent, and doesn't jar joints, while still offering the dual advantage of cardio coupled with the strengthening of legs and glutes due to the resistance of stepping upward.
Space-Conscious Home Gym Owners: Those living in apartments or homes with limited space, yet desiring gym-quality workouts, will find the compact design of STEPR a boon. Its ability to offer intensive workouts without occupying a significant footprint is a major plus.
Tech-Savvy Exercisers: If you're someone who enjoys the integration of technology with workouts — tracking metrics, following along with coach-led classes, or simply being entertained while sweating it out — the STEPR's 27" touchscreen offers a modern and engaging workout experience.
Versatility Seekers: For individuals who crave variety in their workouts, STEPR's combination of stair climbing and the potential for bootcamp/strength/mobility workouts ensures that your exercise routine remains fresh and challenging.
Who Shouldn't Buy STEPR?
While the STEPR is an excellent piece of cardio equipment for many different types of fitness enthusiasts, it's not right for everyone. These are the types of people who may want to consider other cardio options:
People Seeking a Full Body Cardio Option: Those who aim for an all-encompassing, full-body cardio workout might find the STEPR limited. Machines like rowers or ellipticals engage both the upper and lower body simultaneously, offering a more holistic cardio experience.
Those Who Prefer Seated Cardio: If standing workouts aren't your preference, the STEPR might not be your go-to. Individuals who lean towards rowers or bikes or similar equipment where you can sit and/or pedal, might not find the STEPR aligning with their taste.
Commercial Stepmill Enthusiasts: For those set on a more spacious stepping experience, options like a full-sized commercial stepmill might be more suitable. However, you should note that these alternatives are significantly pricier and don't offer on-demand stepping classes. They also demand considerably taller ceilings, around 10 feet high.
Taller Individuals with 8-foot Ceilings: If you're over 6'3″, the STEPR might pose a challenge in rooms with just 8′ ceilings. Such a ceiling height might not provide ample head clearance for comfortable stepping. Thankfully, a majority either fall under the 6'3″ mark or have homes equipped with 9′ ceilings.
Budget Conscious Buyers: For individuals looking for basic cardio equipment without the bells and whistles of touchscreen displays and on-demand classes, there are a couple of somewhat more budget-friendly alternatives in the market. Consider the Pro 6 Aspen StairMill or StairMaster SM3. They're still expensive in absolute terms, but they will save you some compared to the STEPR. Just understand that they're more bare bones in terms of features.
Overall Rating
STEPR Stair Climber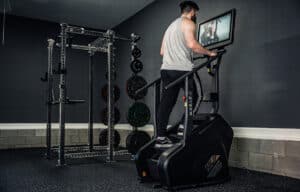 The STEPR is a well-designed compact, connected stair climber. It's ideal for fitness enthusiasts who love stepmills but don't have the space or budget for a full-sized commercial unit. It's the only stepmill on the market with a connected experience that delivers on-demand classes and a variety of entertainment options (i.e. streaming), all of which are displayed on a large, vibrant 27" HD touchscreen monitor. The STEPSync technology (coming soon), which automatically matches the coach's rhythm, makes classes more seamless and engaging.
Product Brand: STEPR
Are You Ready to Start Stepping?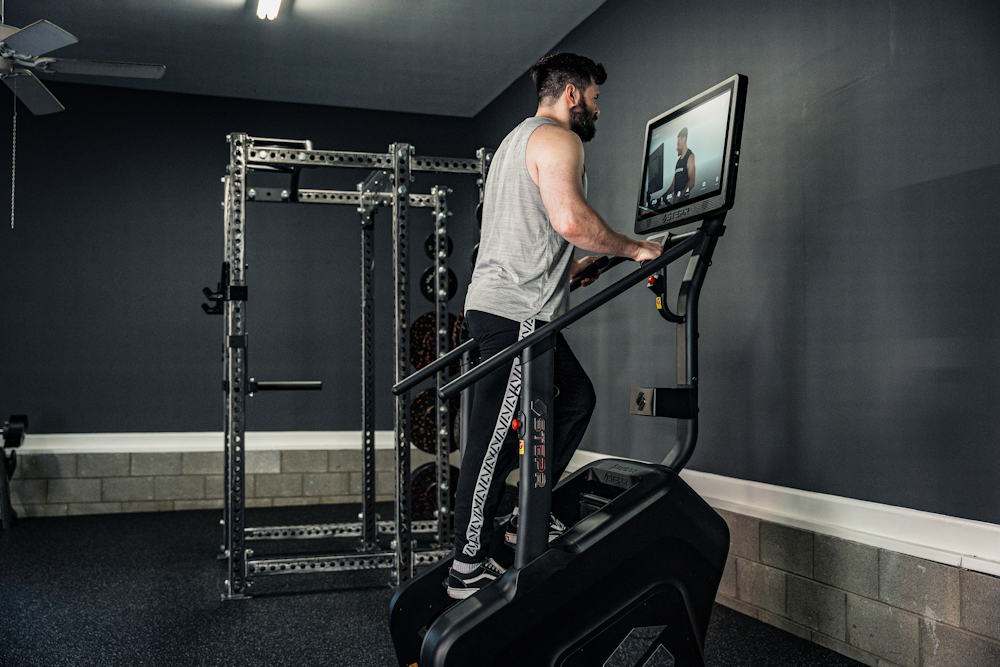 I hope my STEPR review has given you all of the information you need (and possibly more) to decide if this stair climber is right for you.
To summarize, this is the first connected stepmill to market, which has made a monotonous and sometimes grueling form of cardio more engaging, immersive, and dare I say, fun (at times).
Just as importantly, it takes the stepmill category – traditionally only seen in commercial gyms because of its vertical nature – and makes it accessible to the home setting thanks to a compact design that works in ceilings as low as 8 feet tall.
Of course, it's not perfect, as I've discussed in the review. The main negative in my eyes is the shorter step height. Plus, while it's less expensive than most stepmills on the market, it costs considerably more than other types of cardio equipment.
However, if those aren't disqualifiers for you, and you want an in-home connected stepmill, the STEPR is an excellent choice.
If you're ready to take the next step (yes, I went there), then you can buy the STEPR here:
Buy the STEPR Stair Climber – Use Code KING for a FREE 36-Month Extended Warranty »