Rep Fitness shook up the barbell world when they dropped their new and improved stainless steel power bar called the Rep Deep Knurl Power Bar EX.
I was lucky enough to get a pre-order that I received almost a week before it became available on their website. Since then, I've been using this bar regularly for many months. It's now one of my two main "go-to" barbells.
In this Rep Deep Knurl Power Bar EX review, I'll tell you all about this power bar and the insights I've gained from testing it. Read on to discover if this is the best barbell for you.
Specs
Weight: 20 kg (44 lbs)
Bar Type: Power bar
Use: Powerlifting
Shaft Diameter: 29mm
Tensile Strength: 200k PSI
Shaft Finish: Stainless steel
Sleeve Finish: Stainless steel, smooth (no grooves)
Outer Knurl: Very Agressive
Center Knurl: 4.75 in wide, same aggressiveness as outer knurl
Rotation System: 2 bronze bushings (graphite plugged) & 1 stainless steel bushing per sleeve
End Cap / Sleeve Assembly: Double snap ring
Ring Marks: IPF (International Powerlifting Federation) markings; spaced 31.89″ apart
Whip: None/Stiff
Bar Length: 86.52 in
Loadable Sleeve Length: 16 ¼ in (I measured them at just a hair over 16 ⅛ in)
Distance Between Sleeves (Shaft Length): 51.57 in
Manufactured: Import
Warranty: Limited lifetime warranty
Price: $379 + S&H
Knurl

I consider the knurl on this bar to be "very aggressive." It's a step above just "aggressive." For example, I consider my Vulcan Black Oxide Absolute Power Bar to be aggressive. The Rep Deep Knurl Power Bar EX clearly has deeper knurl and a sharper feel.
That said, it does not have cheese grater knurling. There are sharper bars out there, which I would also put in the "very aggressive" category, that are too aggressive for my comfort. The Texas Power Bar is one such bar.
I no doubt feel the Rep Deep Knurl bar dig into my palms. It's a strong bite and it leaves temporary marks on my hands after heavy sets. But it's not overwhelmingly sharp and painful for me. To me, "overwhelming" would be the Texas Power Bar.
It's not for everyone, though. You may want a milder power bar if you know you're sensitive to strong knurling. The same applies if you're an aspiring hand model who needs to maintain the callous-free look. 😀
If this is your first barbell and you're accustomed to dull barbells, this bar will take a little getting used to. In my opinion, most lifters can handle it even if it takes a few workouts to get comfortable with.
The feel of the knurl is what most serious powerlifters want for the big 3:
Deep enough to provide aggressive traction
Sharp enough to really "lock in" your grip but without feeling like it will tear your skin off
Another cool knurl feature with this bar is that it extends ALL the way to each sleeve collar.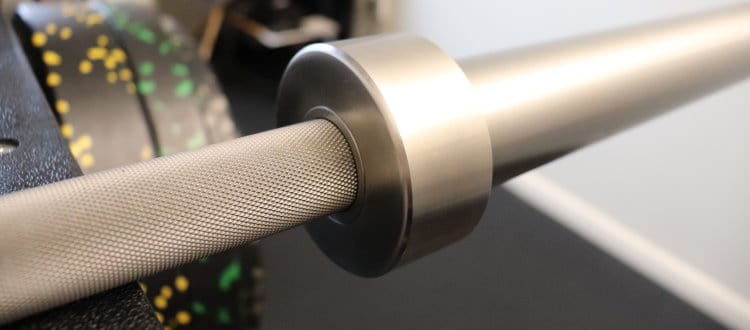 The knurling often stops short of the collar on many barbells. Sometimes this is a cost-cutting measure done on low quality barbells. However, there are plenty of great bars — like the Kabuki New Generation Power Bar — that stop short of the collars.
I see it as a bonus if any bar's knurl goes the full length. Not only is it a sign of high quality manufacturing, but it can also be a performance benefit in some circumstances. For example, the extra bit of knurling can help your grip if you squat with a collar to collar grip width because of limited shoulder mobility.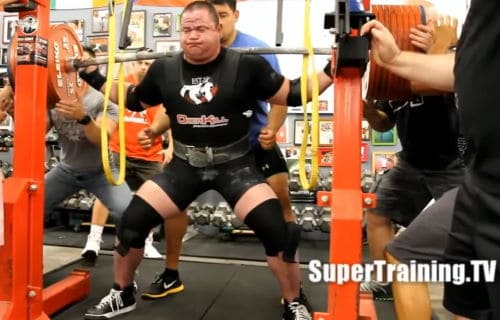 The full length knurling also comes in handy if you use a collar to collar snatch grip width for any exercises. To be fair, most lifters won't be using a power bar for exercises with such a wide grip (maybe snatch grip block pulls or overhead squats). If you're doing a lot of snatch grip work, chances are you're into Olympic weightlifting and have any Oly bar for that.
Performance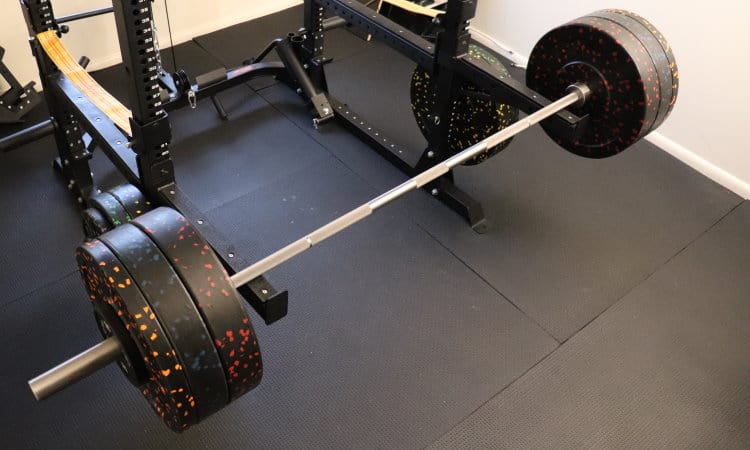 This barbell works great on the big three lifts and most other barbell movements as well. It really shines on deadlifts. Especially, heavy deadlifts. The grip is crazy good.
On bench, I was worried it might cause pain by pressing the knurl too hard into my hands. But there's actually no discomfort at all.
You'll definitely want to wear a shirt on squats to protect your upper back skin from the intense center knurl. Even a thin tank top will do as long as it covers your traps.
I usually squat shirtless using the high bar position with my Vulcan Absolute Power Bar, since it has the recessed center knurl. So, I've had to whip out the ol' wife beater for squats with the Rep Deep Knurl Bar.
Low bar squatters will love the intense center knurl the most. You need more traction on low bar squats to keep the bar in position since it's lower on your back and your torso is more angled.
The very aggressive center knurl makes this bar less than ideal for front squats and especially power cleans. You can get away with it on front squats, but you'll definitely need a (crew neck) shirt. You'll still feel some sharpness on your collar bone/neck. But it shouldn't be unbearable unless you're putting up huge front squat numbers.
Feel
Stainless steel is a raw, or bare, steel. It gives you a natural, almost tacky, feel that no finish can beat.
The Rep Deep Knurl Power Bar's bare stainless steel surface combined with its deep knurl makes it feel like it's locking into my hands with zero chance of slipping out.
Sleeves

The sleeves have a smooth texture. I really like how it looks. It's makes it easy to clean off any smudges or dirt.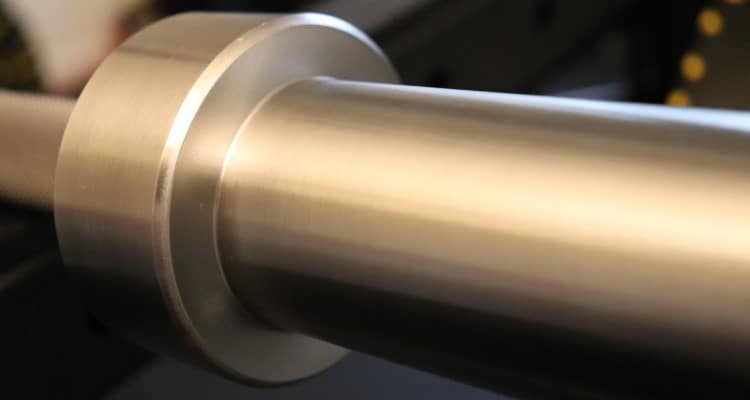 That said, I'm more partial to deep grooves like the ones on my Vulcan Black Oxide Absolute Bar. They make a difference in keeping the plates in place when not using clips.
The sleeve assembly on the Rep Stainless Steel Deep Knurl Power Bar EX is very tight. There's absolutely no lateral sleeve movement and barely any vertical movement:
Each sleeve has two snap rings keeping the end cap in place. Most snap ring barbells only use a single snap ring. One is really all that's needed…
…However, snap rings can (rarely) break if the bar is dropped with a lot of force (and probably after years of wear and tear). If this were to ever happen on the Rep Deep Knurl Power Bar EX, your sleeve wouldn't fall apart since you'd have the second snap ring holding it together.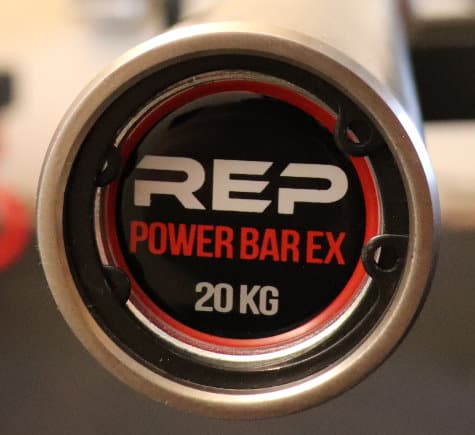 The spin is smooth and it doesn't go for very long before stopping. That's exactly what you want in a power bar. Too much spin can throw off your groove during heavy powerlifting movements.
Aesthetics
This is a beautiful looking barbell.

The stainless steel gives the knurled portions a deep grey color from afar. This is nicely contrasted with the smooth stainless steel sleeves and the non-knurled portions of the shaft, which have more of a dark silver color that catches the light without being overly shiny.
Imperfections
There is very little to complain about with this bar. But it's my job to nitpick in these reviews.
The are only two minor negatives I've come across:
First, the loadable sleeve length appears to be closer to 16 ⅛ in than the stated 16 ¼ in. Such a small discrepancy won't make a practical difference, but it's always better when the specs are spot-on. Plus, I'll always be a fan of having more loadable sleeve space, all else being equal.
The second imperfection is with some of the knurling borders. That is, where the knurl meets the non-knurled shaft surface. As you can see in the photo below, there are very small portions (a couple millimeters) of lighter knurling at the edge.

Again, will this make any measurable impact on performance? No. It's more cosmetic than anything and you have to be looking close to even notice it. But it's there, so I'm pointing it out.
Condition on Arrival
Despite the cardboard tube starting to come apart when I received it, the barbell was in pristine condition. No damage from shipping. And no dings, scratches or staining from the manufacturing process.
Alternatives to the Rep Stainless Steel Deep Knurl Power Bar EX
Stainless Steel Rogue Ohio Power Bar vs Rep Stainless Steel Deep Knurl Power Bar EX
There are two versions of the Stainless Steel Rogue Ohio Power Bar (OPB): the 45 lb version and the more expensive 20 kg version.
They're very similar to each other, but have a few key differnces. I'll compare each to the Rep Deep Knurl Power Bar EX, below:
45 lb Stainless Steel Rogue OPB vs Rep Deep Knurl Power Bar EX
The main differences these two bars are as follows:
The Rep bar is 20kg (44 lbs) compared to 45 lbs for the Rogue bar.
The Rep bar has both a stainless steel shaft AND stainless steel sleeves. The Rogue bar has just the stainless steel shaft. Its sleeves are chrome.
The Rep bar has smooth sleeves. The Rogue bar's sleeves are finely grooved.
The Rep bar uses "mountain" knurl, meaning the knurl points come to a peak. The Rogue bar uses "volcano" knurl, meaning the knurl points are pitted. The knurling on both bars is very aggressive.
The Rep bar has a double snap ring sleeve assembly. The Rogue bar has a single snap ring.
The knurling extends ALL the way to the collars of the Rep bar. The knurling on the Rogue bar stops about a quarter inch before the collars.
The Rep Deep Knurl Power Bar EX retails for less ($379) than the 45 lb Stainless Steel Rogue OPB ($395). However, shipping is usually cheaper for Rogue. After calculating total cost (retail + shipping + tax) for both bars, the Rep bar will likely cost you $10+ less than the Rogue. The exact price difference depends on your shipping location and if tax is charged or not.
Just about all other specs are the same between these two bars.
20kg Stainless Steel Rogue OPB vs Rep Deep Knurl Power Bar EX
Most of the differences between the 45 lb Stainless Steel Rogue OPB and the Rep Deep Knurl bar (listed above) also apply when comparing the 20kg Stainless Steel Rogue OPB against the Rep Deep Knurl bar — EXCEPT that:
The 20kg Stainless Steel Rogue OPB bar is (obviously) 20kg, or 44 lbs. This is different than 45 lb Rogue OPB version, but the same as the Rep Deep Knurl bar. If you compete seriously, you'll probably want a 20kg bar since that's the weight of the bar you'll be competing with.
The 20kg Stainless Steel Rogue OPB bar is even more expensive at $440 retail vs $395 for the 45 lb version vs $379 for the Rep Deep Knurl bar.
The 20kg Stainless Steel Rogue OPB bar has significantly thinner sleeve collars than both the 45 lb version and the Rep Deep Knurl bar. As such, it has more loadable sleeve length: 16.875 in vs 16.25 in for both the the 45 lb OPB and the Rep Deep Knurl bar.
The 20kg Stainless Steel Rogue OPB bar is IPF approved for use in competition. IF you run an IPF-sanctioned meet, this the bar to get. But if you're just using it for training, it doesn't matter.
Price / Value
At $379 + S&H, you get A LOT of value out of this bar. There's no other fully stainless steel (shaft and sleeves), aggressively knurled, and well-constructed barbell for that price.
This should be on your short list if you're serious about powerlifting style training and want a capable bar that requires little to no maintenance, at a reasonable price.