Use this page to find all Black Friday and extended Holiday gym equipment deals for 2021 from the top brands!
UPDATE – 12/28/21: There are still a few deals going on until Dec. 31 2021(see below). However, I will no longer be actively updating this page until the next Holiday season (2022), since no new deals are coming in at this point.
ALL Black Friday / Holiday Deals (Summarized)
NOTE: I've summarized each sale in the list below. This is to get a quick idea of what everyone is offering. However, it does not give you all the details (e.g. dates, all discounts, recommended products, etc.). For that, you should continue down the page where I cover each company's sale in greater detail.
Ongoing Sales:
Expired Sales:
PowerBlock (Expired): 10% off sitewide; use my exclusive code

KINGPB15

for 15% off Elite USA dumbbells/expansions
Rep Fitness (Expired): The main Black Friday/Cyber Monday deals are over, but they still have some last minute deals available
Titan Fitness (Expired): "25 Days of Fitmas" — A deal a day leading up to Christmas
Rogue Fitness (Expired): Hot deals, Hundo pricing, $75 max shipping on RM/RML racks
Vitruve Velocity Based Training Device (Expired): 15-30% off sitewide; you can still use my code

KING

for 5% off year-round
Railtrainer (Expired): $20 off by default + an extra 10% off ($20) when you use code

KING

American Barbell (Expired): Use code THANKFUL2021 for up to 15% off
Get RX'd (Expired): Individual product discounts: up to 30%; Tiered volume discounts: 5%, 7% & 10%
Griffin Fitness (Expired): 10-30% off many different products; Cyber Monday featured deal: $125 OFF GR3 Lite Power Racks
Bells of Steel (Expired): Gift-based promotion (spend more, get better and more free gifts)
PRx Performance (Expired): 10-34% off a variety of products
Fringe Sport (Expired): Up to 50% off sitewide
Bare Steel Equipment (Expired): Deals on the Stacked Weight Pins (TBD), $50 off the Marrs Bar, Free shipping on most products (Code

KING10

or

KING20

may save you more)
Gym Pin (Expired): 20% off sitewide using code BLACK — NOTE: You can still use code

KING10

year-round to save 10% off your order.
MaxBarbell (SABO Shoes & More) (Expired): Green Monday Sale: Tiered volume discounts: 10%, 15%, 20% & 25%
Ironmaster (Expired): 15-25% off (varies by item); all product categories included; in-stock items only
Kabuki Strength (Expired): Kabuki Education lectures for only $79 [regular $149] or other bundles (also, my year-round code

KOTG5

can save you 5% on many products)
Gym and Fitness (Australia) (Expired): Double loyalty points + Spin and Win giveaway
Vesta Fitness (Expired): 20% off sitewide with code BLK20
Ice Shaker (Expired): Until Christmas, use code ICE15 for 15% off sitewide
AbMat (Expired): Free shipping site wide when you use code SHIPSHIPHOORAY
Oak Club Mfg (Expired): 10% off orders over $1000 with code 1KCLUB
A7 (Expired): 10% off sitewide, 25% off the U-Bag, Buy 1 get 1 50% off select items, 50% off "Last Call" items
EliteFTS (Expired): Big discounts on strength equipment
Fray Fitness (Expired): 20% off sitewide with code BLK20
Torque Fitness (Expired): $100 off M1, $50 off M4, up to $400 off F9 foldaway functional trainer and more
Wright Equipment (Expired): Up to $100 off "lean" power racks
Uesaka (Expired): 20% off sitewide
Bridge Built (Expired): New equipment releases; possible (unconfirmed) BOGO incentives
Spud Inc (Expired): 30% off sitewide with code YELLOW30
Life Fitness (Expired): Free shipping, 20% off all cardio equipment, 20% off select strength equipment
*THIS DEAL HAS EXPIRED*
PowerBlock has officially announced their "BLOCK Friday" sale. It starts Friday, November 26th at 12am (midnight) Central Time and ends Monday, November 29th 11:59pm Central Time.
Here are the details:
I've negotiated an exclusive Black Friday discount code for King of the Gym readers: Use discount code

KINGPB15

for 15% OFF the Elite USA Dumbbells and Elite USA Expansion Kits. Note: This coupon cannot be combined with the 10% off sitewide coupon discussed below.
You'll get 10% OFF everything sitewide when you use code PBFRIDAY2021. Again, you can't stack this coupon with the KINGPB15 coupon discussed above.
In addition to the 10% discount, PowerBlock is also offering FREE shipping on the Sport 24 and Sport 50 dumbbells. No additional coupon code needed; the free shipping will be applied automatically.
Shop All PowerBlock Black Friday Deals
As you probably know, PowerBlock makes some of the best adjustable dumbbells on the market. They make a few different models, and they're all great — But I personally own and recommend the PowerBlock Pro EXP dumbbells, which I've reviewed here.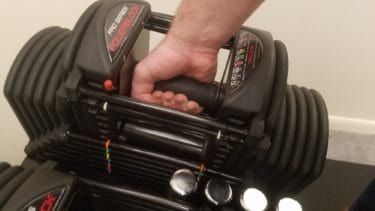 If you want to learn more about these dumbbells, be sure to read my PowerBlock review as well as my comparison of the PowerBlock Elite vs Sport vs Pro dumbbell models.
*THIS DEAL HAS EXPIRED*
The main Rep Fitness Black Friday Sale is over, but they still have some Last Minute Deals available here.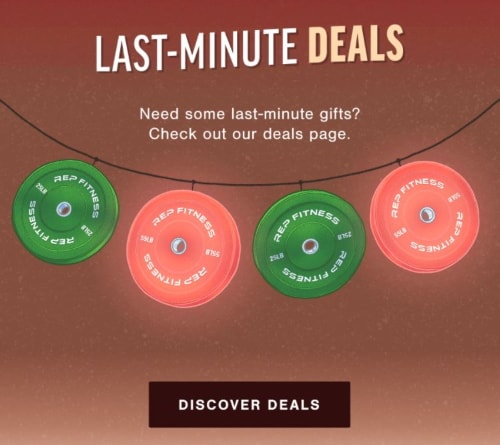 Shop All Rep Fitness Black Friday Deals
Rep Fitness carries just about everything you'd need to outfit a home gym or even a large commercial gym. They're known for their innovation and delivering A LOT of value for the price — especially when it comes to racks and benches.
These are some of their best products, in my opinion:
Rep also carries some awesome stocking stuffers that are great if you're buying a small gift for a friend or family member who lifts. I got these bumper plate coasters: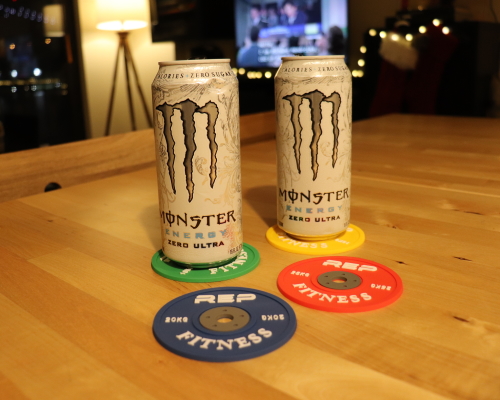 *THIS DEAL HAS EXPIRED*
Titan's Black Friday and Cyber Monday sales are done, but now they have their "25 Days of Fitmas" sale featuring 1 new deal every day until Christmas.

Shop All Titan Fitness Black Friday Deals
Titan is one of the biggest players in the home gym equipment industry. They're known for providing very low cost alternatives to the higher end brands.
In focusing on price so much, Titan has gained a reputation of having lower quality, spotty quality control and unreliable shipping. However, they've made major strides in the last few years in turning things around. Quality and designs have improved significantly as has quality control.
They're still not perfect, but this is still the place to shop if you're looking to get the most for your dollar. Plus — in addition to their huge variety of traditional strength and conditioning equipment, they actually have a pretty good selection of specialty machines, which is something many competitors lack in.
*THIS DEAL HAS EXPIRED*
Typically, Rogue does a massive month-long (November 1 to December 1) Black Friday sale known as "Matte Black Friday." However, this year it's not happening due to supply chain issues and existing high demand…
…Technically, there is still a Matte Black Friday sale, but it's nothing like in past years in terms of number of items for sale and the discount amounts.
Here's what this year's limited Matte Black Friday sale includes:
"Hundo Pricing" (the heavier your order, the more you save — applies to certain items only; typically weight plates)
Discounts on select equipment ("Hot Deals")
$75 max shipping cost on orders with with a Rogue Monster / Monster Lite racks

Shop All Rogue Fitness Black Friday Deals
For anyone who's been living under a rock, Rogue is the industry leader in home gym equipment. They sell A to Z in strength and conditioning equipment, and the quality is generally very high with a higher but not crazy price point.
Force USA has a few Black Friday deals this year:
On top of that, you have exclusive access to my Force USA discount code KING5 for 5% OFF your any order over $1200 (valid year-round).
Lastly, you'll have access to 0% financing for your purchase if you need it…
…This is perfect if you're looking to buy one of their more expensive items, like G-Series all-in-one home gyms.

Shop All Force USA Black Friday Deals
The G-Series all-in-one gyms (pictured above) are one of Force USA's most popular product lines. They're perfect for lifters who want A LOT of exercise variety in a small footprint due to space constraints. I've tested and written reviews on all of them, which you can read here:
Force USA is also well known for their MyRack, which is a very budget-friendly modular power rack. You can read my MyRack review here.
*THIS DEAL HAS EXPIRED*
Vitruve will be having a Black Friday sale from Friday, November 26 thru Tuesday, November 30 Saturday, December 4. If you're in the market for a highly accurate Velocity Based Training (VBT) device, then you're going to love these savings.
You can get up to 30% off depending on what you buy.
Here are the specifics:
If you're just an individual athlete, then you only need the VBT device and the free app. In this case, the discount is going to be a 15%.
If you're a coach who will be using the device (or multiple devices) for your athletes, you'll also need the subscription "Teams" app. In this case, your discount will be higher — up to 30%.
EXCLUSIVE CODE – ADDITIONAL SAVINGS: Use my exclusive discount code KING to squeeze an extra bit of savings out of your Black Friday order. This will give you an extra 1% off your order — Every little bit counts! NOTE: Code KING will get you 5% off any other time of the year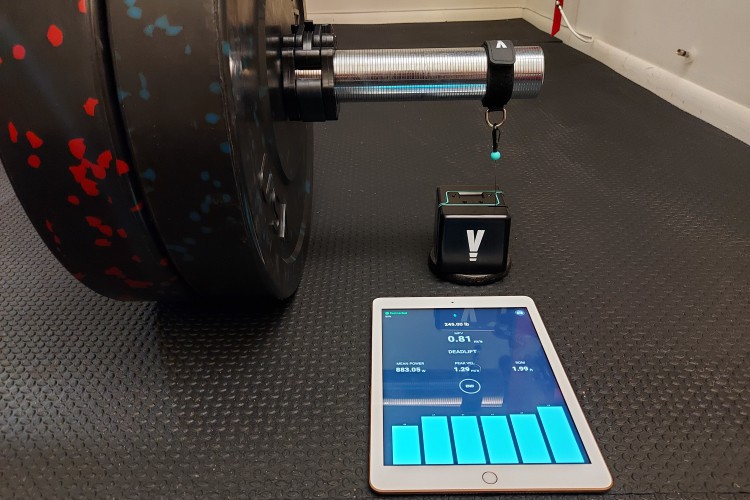 Shop All Vitruve Black Friday Deals (Use code KING for an extra discount)
Vitruve makes one of the most accurate VBT device on the market. You need a device like this to do Velocity Based Training, which research shows is the most effective form of strength training.
With the Vitruve VBT device, any lifter can take their training to the next level in terms of performance and fatigue management. This means faster progress, more efficient workouts and fewer injuries.
Note that this is an optical linear encoder, which is the gold standard for VBT devices. It blows the accelerometer-based VBT devices completely out of the water in terms of precision.
The Vitruve VBT device will tell you the following:
Rep count
Peak velocity and mean concentric velocity
Mean Power
Range of motion
Estimated 1RM
Fatigue/velocity loss and velocity zones
Peak Force, peak power and peak and mean acceleration (these measurements are only available for the VITRUVE Teams app, which is a subscription app for teams)
Note that the free Vitruve app for individual lifters is compatible with both:
iOS
Android (launching November 26th)
TRX is having a big Holiday/End-of-Year Sale from 12/20-12/31. Many deals are to be had!
Here are the headlining offers — NOTE: Save an extra 15% OFF all items with code KING15TRX:
40% Off TRX 10-40 lb Dumbbells, less than $1.20/lb!
TRX Wrist Wraps 75% off- Just $5!
20% off TRX Rubber Coated Kettlebells (16-36 kg)
TRX Mat only $15!
10% off TRX 2.5 – 5 lb Dumbbells
40% off TRX Kevlar Balls
40% of TRX Kevlar Rubber Medicine Balls – 6-30 lbs!
$120 off TRX Pro4 Suspension Trainer Digi Camo
$50 off TRX BURN System Suspension Trainer
60% Off TRX Rocker – 13″ Myofascial Tool
60% Off TRX Rocker – 26″ Myofascial Tool

TRX is known around the world for their iconic suspension training systems. They were first to market with this unique training systems that lets you utilize do hundreds of exercises using your bodyweight in positions to perform resistance training movements.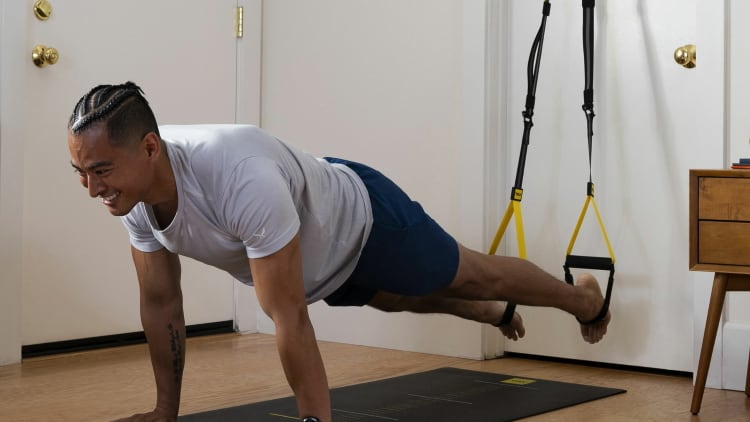 Not only do TRX suspension trainers provide a ton of exercise variety, they're also incredibly compact and portable. You can toss it into your backup and bring it with you to use in the park (can be attached to sturdy trees, or to jungle gym bars, for example). Many people toss these in their suitcase so they can exercise when they travel (there's a door attachment so you can set it up in your hotel room).
*THIS DEAL HAS EXPIRED*
The Railtrainer Black Friday sale will start on Thanksgiving — Thursday, November 25th. It's a solid deal that can save you a good chunk on their innovative retractable pulley system.
Here's the details:
The Railtrainer Quick Pin (V2.0) is $20 off the regular price by default (from $219 → $199).
You can save another 10% (i.e. $20 off) the $199 price by using my exclusive discount code: KING (this link will automatically apply the discount code)
That's a total of $40 off ($219 → $179)! I recommend buying 2 so you can have the true functional trainer experience when using these on your power rack.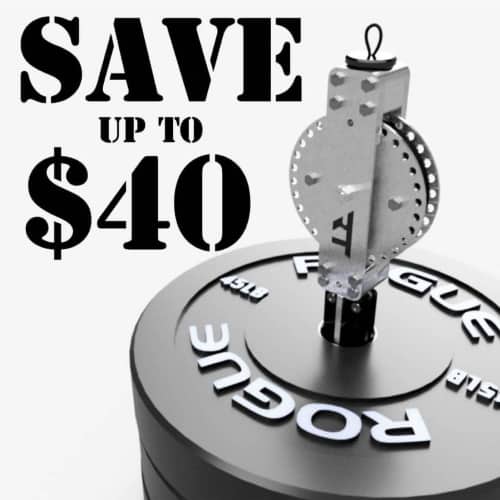 Shop All Railtrainer Black Friday Deals
Railtrainer makes the most innovative, compact and versatile pulley system on the market. It's different than all other DIY style pulley systems out there because it has a retractor system. The retractor allows you to easily adjust the length of the cable. Being able to adjust the cable length in an instant allows you to convert your power rack into a functional trainer!
I have the 1.0 version of the Railtrainer Quick Pin system and I use it regularly in my workouts. You can read my Railtrainer Quick Pin review to learn more.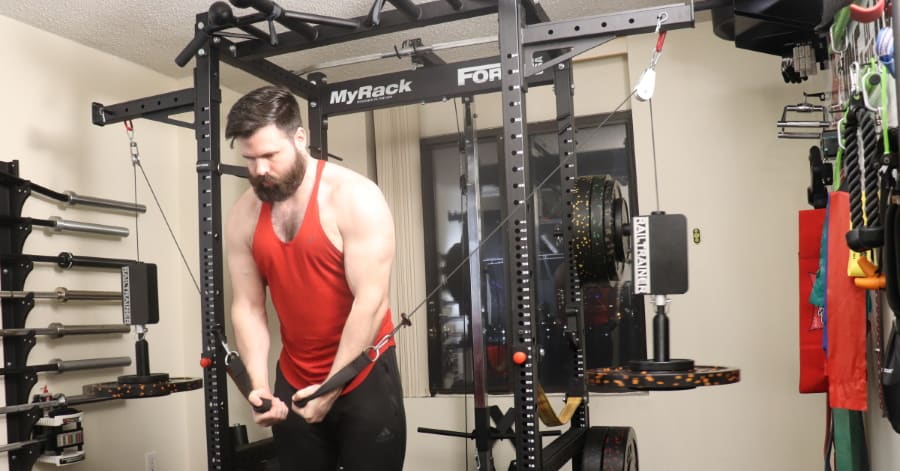 However, they have made some big improvements in their 2.0 version (which I will have soon!). Here's the upgrades to the 2.0 system:
All metal design
No more bulky aluminum casing over the retractor component
Reduced swinging
Better loading pin
No more stretch in the cable when using heavy weights
Higher weight capacity (from 200 lbs to 500 lbs!)
*THIS DEAL HAS EXPIRED*
The American Barbell Black Friday sale has gone live and will go thru the November 30.
It's a great sale!
Use code THANKFUL2021 to save up to 15% off sitewide (all items I've tested have been the full 15% discount)
Shop All American Barbell Black Friday Deals
American Barbell is known for their, you guessed it, barbells! They're all American-made and both the build quality and quality control is top-notch. While they have a variety of barbells, they all share a similar style of knurl that separates them from most competitors. It's a very fine yet grippy pattern. If you want a lot of bite to your bar, look elsewhere, but if you want comfort with good grip, these are the way.
Of course, they sell more than barbells. They also have some great high end dumbbell sets and weight plates. As well as plenty of other strength equipment.
The Vulcan Black Friday sale for 2021 standards. As of November 12th, it has begun! It will continue on thru at least Cyber Week. Here are the details:
Some products have locked-in discounts.
Other products are qualified for a tiered discount. The percentage discount applied to the "tiered discount" items is determined by the total dollar amount in your shopping cart. The greater the dollar amount in the shopping cart, the larger the discount applied to those specified items. (Buy more, save more!)

NOTE:

Items with locked-in discounts DO contribute to the total price that determines which discount bracket you're in. BUT the tiered discount percentage does not apply to these locked-in items.
Here's the tiered discount structure:
5% ⟶ ($0 to $1000)
7% ⟶ ($1001 to $5000)
10% ⟶ ($5001 to $10,000)
15% ⟶ ($10,001 and up)
Here are the "locked-in" discount products:
10% Discount:
12% Discount:
15% Discount:
Here are the tiered discount products:
Colored Bumper Plates (lbs) [pairs]
Absolute Training-Competition Bumper Plates [pairs]
Prime Competition Bumper Plates (lbs) [pairs]
Black Bumper Plates (lbs) [pairs]
Colored Training Kilogram Bumper Plates [pairs]
Kilogram V-Lock Rubber Training Discs [pairs]
V-lock Rubber Change Plates (lbs) [pairs]
Specialty Bars
Weight Benches
Olympic Bars (not included in other locked-in discounts)
Power Racks, Pull-Up Rigs, and Squat Stands (not included in other locked-in discounts)
GHD's
Kraaken-Hyper
Vulcan Equipment Storage (all options)
Wrist Wraps – Black/White, Red/White, and Blue/White Pairs
Core Wedge
Rubber Strength Bands
Digital Timers
Slam Balls
Ballistic Medicine Balls
Medicine Balls
Wood Peg Boards for Climbing
Plyometric Boxes
Speed ropes
Gym Chalk
Gymnastics Grips
Apparel
Push/Pull Sled
A few important notes:
The bulk discount can not be applied to items currently on sale, any other promotions, and or coupons/gift cards. The bulk discount does not apply to items such as Equipment packages, dumbbell sets, Bumper Plate and Barbell Packages, Weight Plate/Calibrated Plate pairs/sets, or bumper plate sets.
The purchase amount does not include shipping or taxes.
Vulcan has said that stock is limited stock on many items.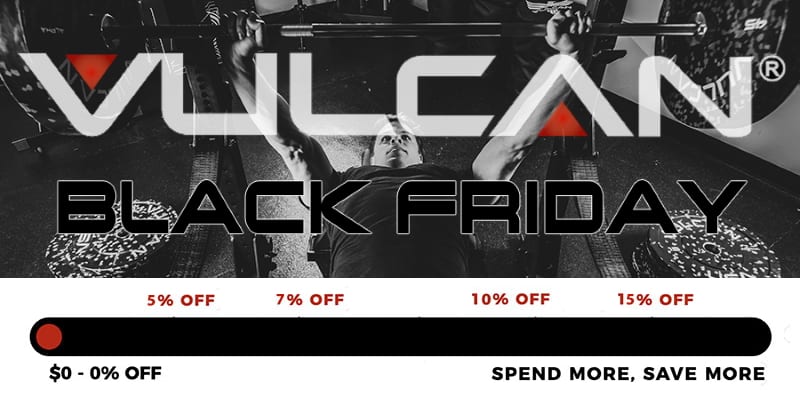 Shop All Vulcan Strength Black Friday Deals
Vulcan is an awesome gym equipment company that often goes under the radar. Generally, Vulcan is an expert on barbells. That's where they excel. However, their plates are excellent as well. And they've been making strides on their benches lately.
I'm particularly fond of Vulcan because I bought my first high quality power bar from them (the Absolute Power Bar v2.0) as well as my first set of bumper plates (the Alpha bumpers).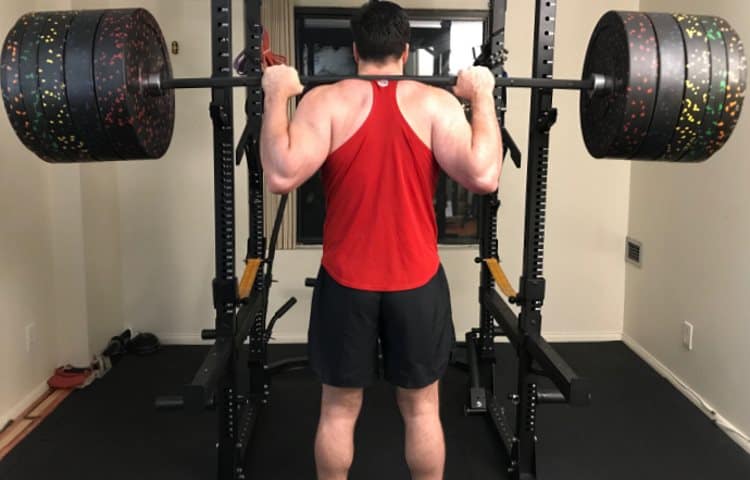 I also own and regularly use the Vulcan Elite V4.0 Olympic Bar, which is currently marked down 10%! It's an excellent, highly whippy bar that's perfect for Oly lifts, as well as multipurpose training. I'm a big fan of the matte chrome finish, deep grooved sleeves and medium knurl and inclusion of a center knurl.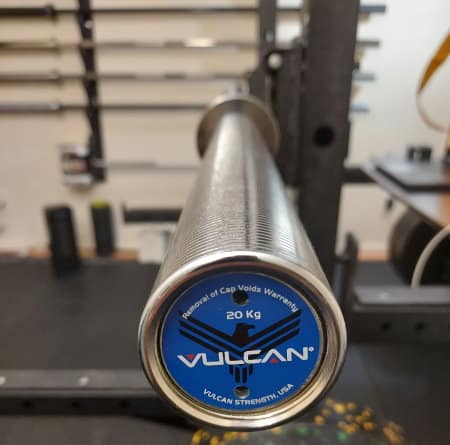 I recently added their Prime 3×3 Flat Bench to my home gym — I'm currently in the process of reviewing it, but overall I'm impressed.
*THIS DEAL HAS EXPIRED*
The Get RX'd Black November Sale is one of the most impressive Black Friday sales in the industry this year. It started in early November and is going through December 2nd.
There are 2 aspects to this sale: Individual product/product category discounts AND volume discounts on top of that. Here are the specifics:
Product Discounts

Up to 30% off barbells including their Shorty Bars, WOD Bars, Stealth Bars, Specialty Bars, and Oly Weightlifting Bars

Up to 20% off Xebex Fitness products including the Air Rower, Air Cycle, Runner, and AirPlus Runner

Xebex/Rig Promo: 10% discount on any added items with purchase of Xebex Cardio or Pull-Up Rig

Volume Discounts

5% off orders of $1000+
7% off orders of $3000+
10% off orders of $5000+
That's a lot of potential for savings, especially if you plan on spending a lot.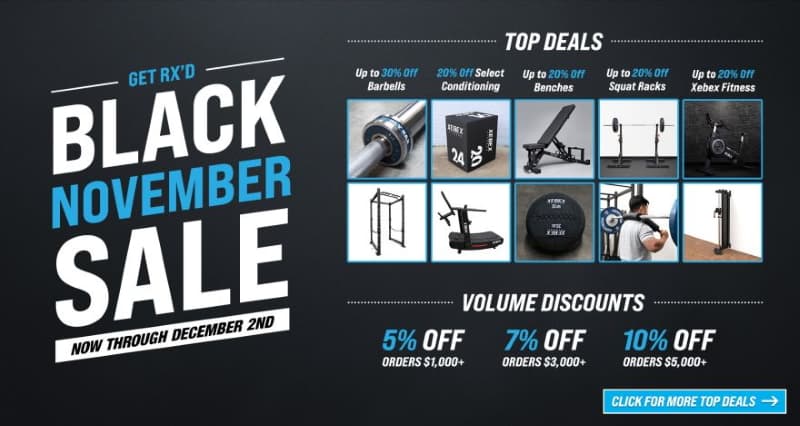 Shop All GetRx'd Black Friday Deals
My #1 pick is the GetRX'd FIDAB-2 Adjustable Bench, which is the most feature-rich flat/incline/decline bench on the market. It's 10% off at $440.10 (normally $489).
Another standout deal is the Xebex Runner Smart Connect, which is a non-motorized, self-generated, curved treadmill. It's a full 20% off, costing $3049 (normally $3799). So even if you only buy this piece, it puts you over the $3000 mark to qualify you for an extra 7% off!
Get RX'd is another one-stop-shop for gym equipment. Get RX'd has a big focus on Crossfit-style equipment (hence the RX). They have tons of racks, rigs, bars and bumpers. Though they also carry other items like benches, dumbbells, conditioning equipment, accessories and more. You're bound to find plenty to love!
*THIS DEAL HAS EXPIRED*
The Griffin Fitness Black Friday sale went live on November 15th and will run until November 30th at 11:59pm PST.
This is an excellent Black Friday sale by any standards, and especially by 2021 standards. You'll find steep discounts on all their most popular items including the following:
My Top Pick: The G3 Lite Power Rack. This 3×3, 11-gauge power rack with 5/8″ holes and Westside spacing comes with a multi-grip pull up bar, strap safeties, flat sandwich j-cups ALL included standard. This is an excellent value even without the discount, but with the sale you get an $125 off!
Shop All Griffin Fitness Black Friday Deals
Griffin Fitness is another new kid on the block. But they're growing fast and are building a reputation for themselves as a company with a wide selection that delivers a great bang for your buck. They provide quality, heavy duty home gym equipment at a very good price. Think of them as a like a smaller Rep Fitness.
*THIS DEAL HAS EXPIRED*
The Bells of Steel Black Friday sale lasts nearly all month long. It's called "Black November" and it started November 1st and will end on the 28th at 11:59 pm EST.
Their Black Friday sale is a 4-tier gift-based promotion. Here's how it breaks down:
Tier 1 – Spend $200+: Choose a gift of either the Mighty Grip Workout Chalk, the Arm Blaster, or a White Mini Band
Tier 2 – Spend $400+: Choose a gift of either a Loadable Dumbbell, a Glute Ham Slider, or a pair of Pulley attachments.
Tier 3 – Spend $1000+: Choose a gift of either the Deadlift Pads, a 3 in 1 Plyo Box, or a pair of Loadable Dumbbells.
Tier 4 – Spend $4000+: Get all 9 items for FREE!
Note that this Black Friday sale does not include any sitewide discounts or discounts on specific products (unless that product was already discounted to begin with). The promotion is entirely based around the gifts.

Shop All Bells of Steel Black Friday Deals
Bells of Steel hasn't been around that long but they've made a name for themselves as a value-based equipment brand. They offer good quality at a great price, with a broad selection of strength and conditioning equipment. And the free shipping is nice, too!
Some of their standout products include the Barenaked Powerlifting Bar 2.0 and Arch Nemesis Swiss Bar (both costing just $199.99), as well as the BoS Belt Squat Machine 2.0 and the SS3 Safety Squat Bar (good padding; 3 removable handle types).
*THIS DEAL HAS EXPIRED*
PRx Performance's Black Friday sale has already begun. It's a month-long affair that ends on ends on November 30 @ 11:59pm CST.
They're able to offer some pretty nice discounts compared to many other companies. This is likely because they're more protected from the supply chain issues, since their products are made in the USA. I'm sure planning ahead of time was also involved, since Rogue also has a lot of USA-made products, yet they're suffering from the supply chain crunch.
In any case, here are their deals:

Shop All PRx Performance Black Friday Deals
PRx Performance, made popular through their appearance on Shark Tank, is known for their space-saving wall-mounted folding racks.
In fact, their entire product line is based around space efficiency. So if you have a small space, or if you workout in a garage where you need to park your cars after finishing, PRx should be at the top of your list. Oh, and all their major products are made in the USA!
*THIS DEAL HAS EXPIRED*
Fringe Sport will be having a Black Friday sale this year. It starts Thursday, 11/25 and will run thru Monday, 11/29.
Here's the details:
It should be noted that Fringe has recently raised prices due to the supply chain issues and rising input costs, which means the discounts will applied to already-higher prices. That said, there are some pretty big price cuts on certain products so you can still find some decent savings.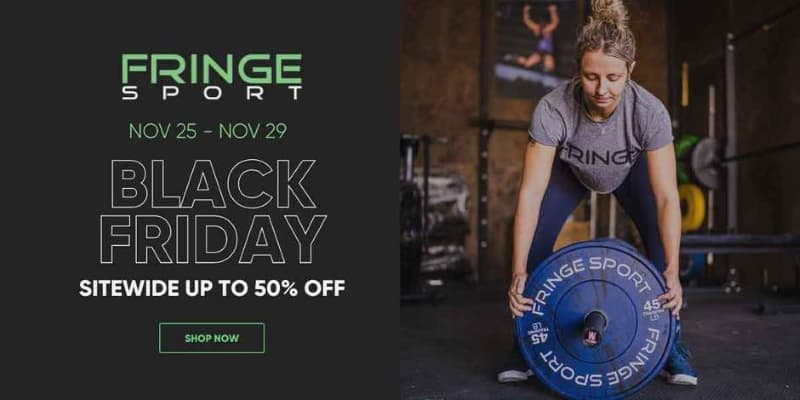 Shop All Fringe Sport Black Friday Deals
Fringe Sport is probably best known for their quality and reasonably priced bumper plates and barbells. Though they also carry a wide variety of other gym equipment, from racks and rigs to weight benches, kettlebells, conditioning & cardio equipment, and so much more.
*THIS DEAL HAS EXPIRED*
I've spoken to the owner of Bare Steel Equipment and he confirmed they will indeed be having a Black Friday sale this year. It will take place from Black Friday through Cyber Monday (November 26 – 29).
The offers are as follows:
Free shipping for most products, including barbells (excluding the Marrs Bar)
The Marrs Bar will be $50 off
You can use my exclusive coupon code KING10 for $10 off or KING20 for $20 off your Bare Steel Equipment order (exclusions apply to these 2 different coupon codes).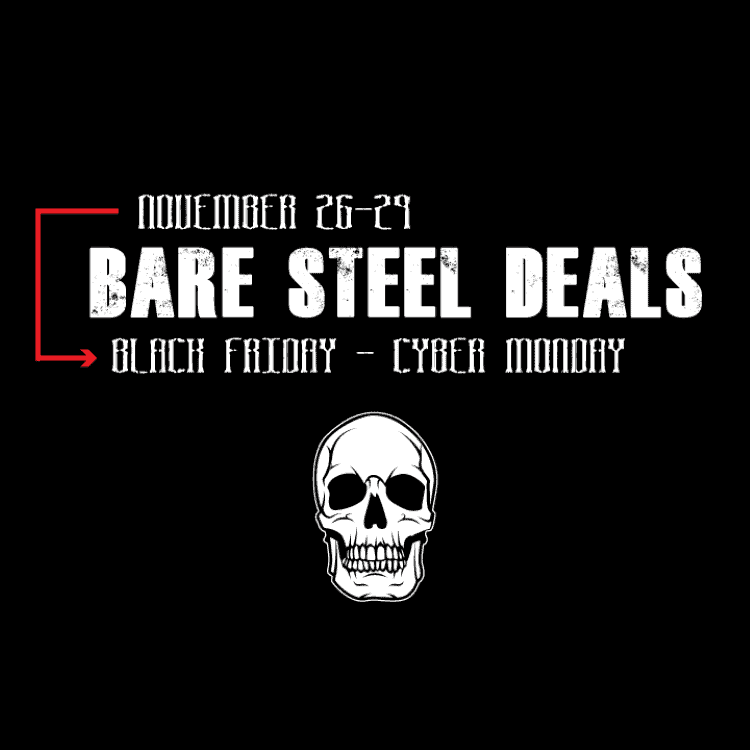 Shop All Bare Steel Equipment Black Friday Deals
Bare Steel Equipment (BSE) is relatively new to the space most popular for their Stacked Weight Pins (see my review), which allow you to add weight plates to your weight stack.

The BSE Stacked Weight Pin separates itself from competing options by offering premium features like magnets for a better fit against the stack as well as the option to upgrade its aesthetics with custom coatings. Plus, it's made in America.
BSE also has other cool accessories like their plate-loaded extensions for adding weight to plate-loaded machine sleeves, as well as knurled safety squat bar handles, a variety of chains and more.
*THIS DEAL HAS EXPIRED*
The Gym Pin Black Friday sale is live now! It will end on Monday at 12pm GMT (6pm CST).
Here's the details:
Save 20% OFF sitewide with discount code BLACK
That's a very healthy discount!
Unfortunately, you can't also stack my KING10 coupon code (which is otherwise valid all year round for 10% off).
Shop All Gym Pin Black Friday Deals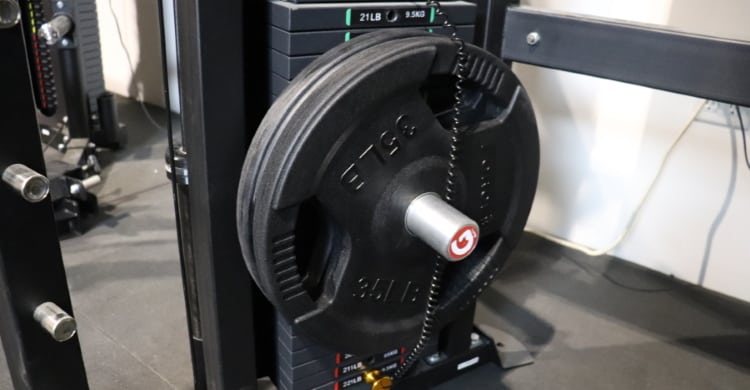 Gym Pin, based out of the UK where they manufacture their products, is most popular for their Gym Pin weight stack extender. It is an ingenious gym accessory that lets you add Olympic weight plates to a selectorized weight stack to increase the max capacity. They were the first to come up with this idea. You can read about it more in my Gym Pin review.
They also have other products including extender sleeves for adding more weights to plate-loaded machines, as well as their super versatile D-Handle Bar which I own and regularly use (see my D-Handle Bar review).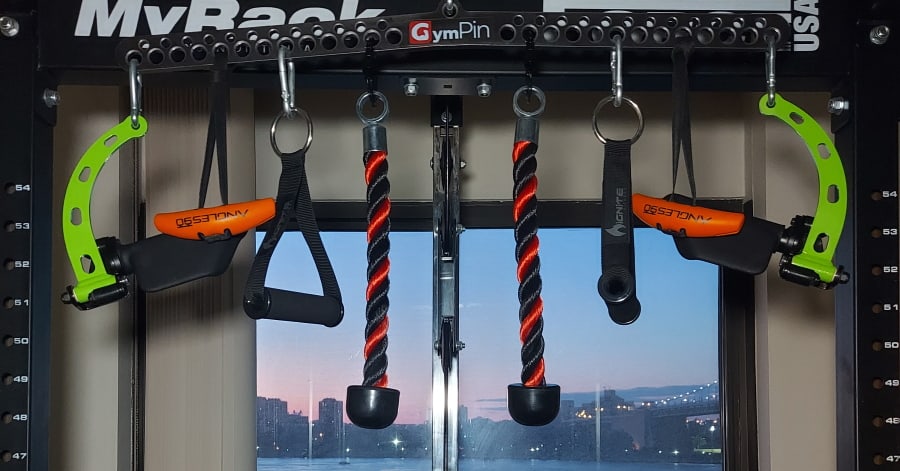 *THIS DEAL HAS EXPIRED*
The MaxBarbell Green Monday Sale is live as of 12/13 — guaranteed Christmas delivery if you order by 12/14.
There's lots of potential for savings. This sale, like their Black Friday Sale, has a tiered discount structure that applies sitewide (i.e. spend more, save more). All savings are automatically applied to your cart.
Here's the tiered discount breakdown:
Spend $60+ ⟶ Save 10%
Spend $90 ⟶ Save 15%
Spend $120 ⟶ Save 20%
Spend $150 ⟶ Save 25%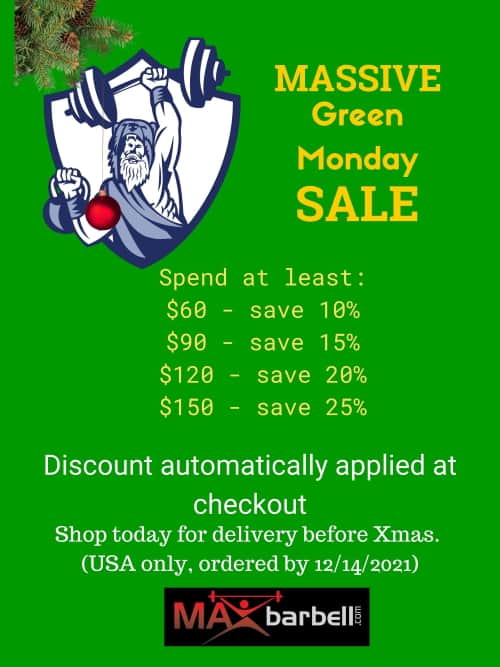 Shop All MaxBarbell Black Friday Deals
MaxBarbell is the main US distributor of SABO shoes, which are a Russian brand known for making high-performance weightlifting and powerlifting shoes.
The most popular SABO shoes are the SABO Deadlift Shoes, which are designed specifically for deadlifting; though they also make a great general lifting shoe. You can read my review of the SABO Deadlift shoes to learn all about them.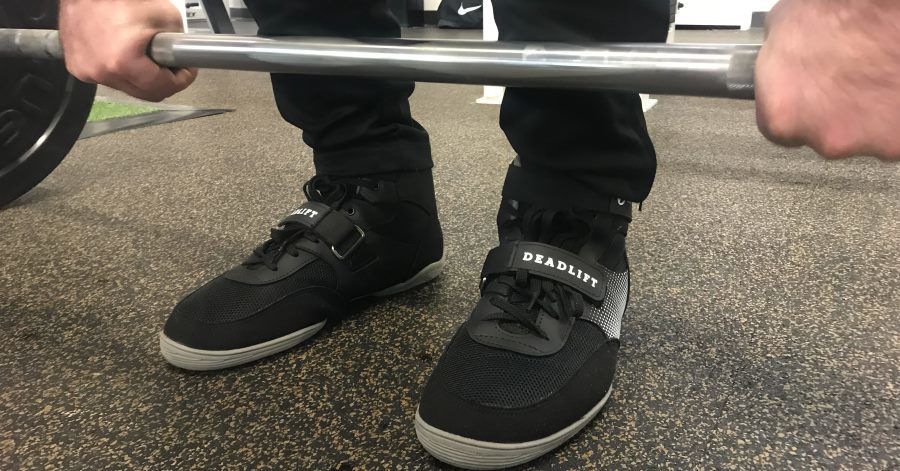 They also make a solid squat/weightlifting shoe — the SABO PowerLift — which have a surprisingly low price for their quality even when they're not on sale. I've owned and used a pair for 3 years now and while they do have some cosmetic wear, they're still perfectly functional. While these are certainly not the best overall Oly/squat shoe on the market, they are one of the best values.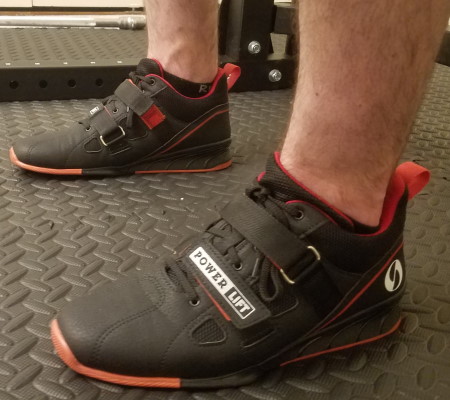 They also have other great offerings, including:
Kettlebell Kings currently has a Holiday sale running that offers good discounts if you plan on putting in a big order! The sale ends December 31 at 11:59pm.
It's a tiered discount sale, meaning the more you buy, the more you save. Here's the breakdown:
Spend $125+ ⟶ Save $6.25
Spend $250+ ⟶ Save $12.50
Spend $500+ ⟶ Save $25
Spend $750+ ⟶ Save $75
Spend $1000+ ⟶ Save $100
Spend $1250+ ⟶ Save $125
Spend $1500+ ⟶ Save $150
Spend $1750+ ⟶ Save $175
Spend $2000+ ⟶ Save $200
Spend $2500+ ⟶ Save $250
Spend $3000+ ⟶ Save $300
On top of these discounts, you can use my coupon code KOTG5 for an extra 5% off your order. And as always, they offer free shipping.
Shop All Kettlebell Kings Black Friday Deals
If you want some of the highest quality kettlebells in your home gym, look no further than Kettlebell Kings. These made-in-the-USA premium kettlebells are widely regarded as some of the best on the market.
They're not cheap, but if there's any good deals this Black Friday, you can get a much better value! So keep an eye out.
It's unclear whether Wall Control will have a Black Friday sale this year. However, you can get 10% off when you use my discount code KING at checkout.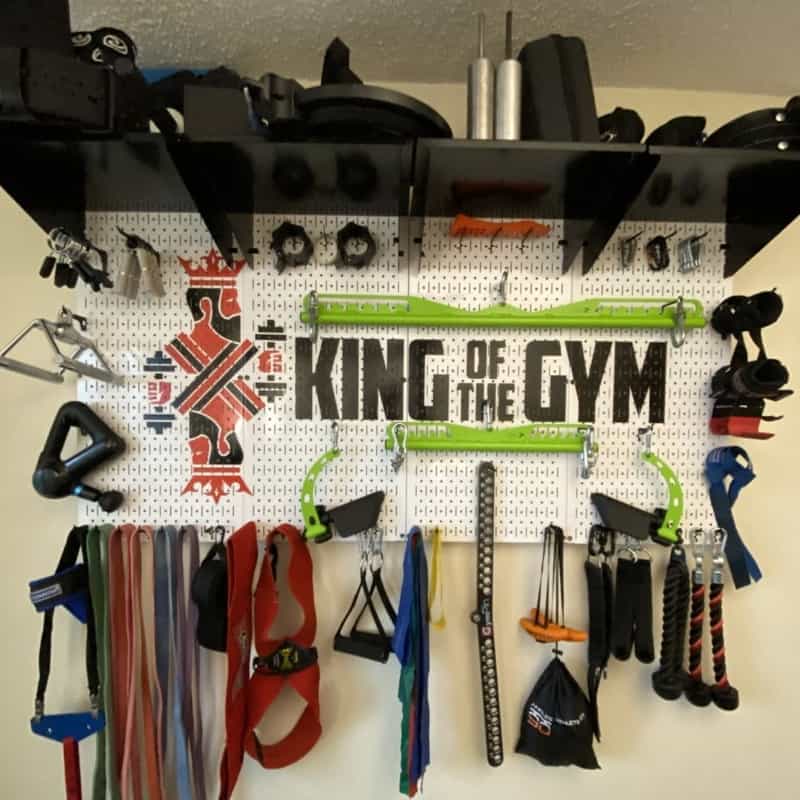 Shop All Wall Control Black Friday Sales
Wall Control is the go-to metal pegboard of the home gym community. It's the ultimate storage tool for organizing your gym accessories. You'll save tons of space by hanging your items on the wall instead of tossing them on the floors or cramming them on your shelves, where they're harder to access.
Wall Control has a ton of hooks and accessories available, all of which insert into the pegboard slots. There are different hook shapes and lengths for hanging different types of accessories. It's good to get a variety hooks/accessories.
Here are the hooks accessories I bought, that I think will work well for most people (note that this is for my 4-panel setup; adjust quantities depending on how many panels you buy):
The HangTime Store Holiday sale is live and running thru December 31st! Use code HOLIDAY15 for 15% off your custom-printed pegboard order.

Shop All Hangtime Store Black Friday Deals
HangTime Store is an exclusive decorator of Wall Control metal pegboard panels.
HangTime Store allows you to print your own custom logo or designs on the pegboard, or choose from a variety of cool pre-made custom designs. This is a great way to add some personality to your home gym.
In the previous section ("Wall Control"), you can see the custom pegboard design I ordered a few months ago from HangTime Store. Not only did it make my gym storage so much more efficient, but it just looks cool!
*THIS DEAL HAS EXPIRED*
The Ironmaster Black Friday sale begins on Black Friday (11/26) and runs until Sunday (11/28) at midnight.
The details are as follows:
15-25% off (varies by item) — The Micro Plate Kit will be 25% off. ALL product categories are included.
Discounts may be combined with other promotions such as package deals and professional discounts. Package deals can save you an additional 12%!
The sale will consist of discounts to in-stock items only.
Act fast since certain items will sell out fast!
Please note that this sale won't include their popular Quick-Lock adjustable dumbbells, which they've had a lottery system for all year because they sell out so fast.
Here's a couple Ironmaster shopping tips to get you started:
Top Pick: If you have any type of cable system in your home gym or a landmine setup, I highly recommend checking out their (relatively) new attachment: The Ultimate Row Handle. It's a super versatile cable/landmine handle. It features a neutral grip and standard grip handle on each side. You can adjust the grip width of these dual handles closer or further apart with the pop-pin system. The combination of all these features makes this handle a replacement for all your cable handles for rows/pulldowns. Plus, there is a hole in the center to insert over the barbell sleeve for landmine exercises. As if that weren't enough, there is also a Chain Fly Kit that you can attach to this to do cable chest flyes, chest press, curls, front raises, additional row variations and more! This Swiss Army Knife-style attachment has only been around since 2020, but I've only heard good things. Which is why it's near the top of my wish list!
New Product Alert: To any tall lifters who already own a Super Bench or Super Bench Pro (or if you plan to buy one during this sale), be sure to consider their freshly released Head Extension bench accessory. This increases the bench length by 8 inches, which ensures users over 6'3″ have all the head support they need.
Shop All Ironmaster Black Friday Deals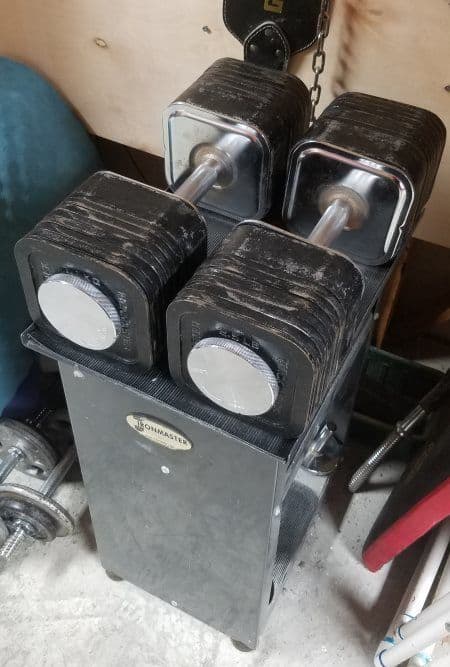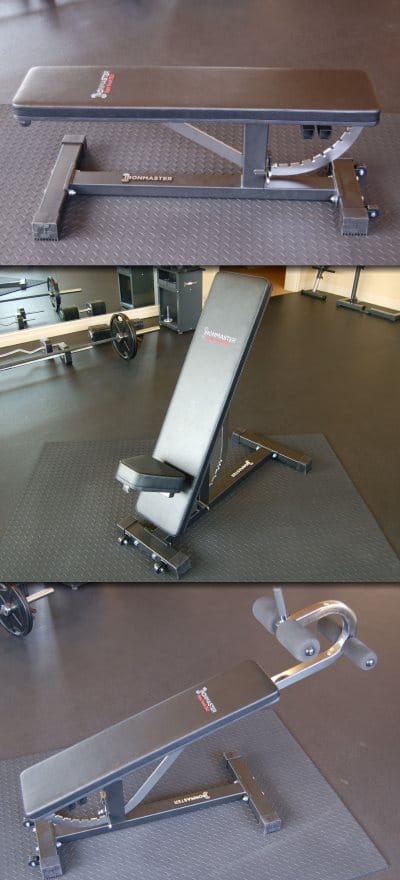 Ironmaster is best known for their iconic Quick-Lock Adjustable Dumbbells (read my review).
They have a couple of popular adjustable benches: the Super Bench and the Super Bench Pro (read my review). There are many Super Bench attachments that allow you to add more exercise stations and increase exercise variety within a compact footprint.
*THIS DEAL HAS EXPIRED*
Kabuki Education is having a special thru Cyber Monday Week on their live lectures that will take place January 9-15, 2022. See details below:
One-hour live virtual workshops with Q/A by industry professionals on topics ranging from training, sports psychology, nutrition, programming, recovery, mobility, rehab, business, and more. Connect directly with the brightest and best minds in an engaging interactive forum all from the comfort of your home.
Access to all live sessions for only $79 (regular $149) OR Access to all live sessions + recordings for only $299 (regular $499) + free 2021 recordings ($900 total value)
Shop All Kabuki Strength Black Friday Deals
Kabuki makes some truly innovative products right here in the USA. They're probably best known for their Kabuki Strength Power Bars, which I bought a couple years back (nickel finish) and I love it (you can read my Kabuki power bar review here). It's a premium price, but you get a premium product:

While these power bars aren't discounted (at least not as of when I'm writing this), they ARE in stock — Until recently, they were either completely out of stock or had super long lead times. They have plenty of other great equipment, too.
*THIS DEAL HAS EXPIRED*
To all my Australian readers, this is for you. GymAndFitness.com.au is running it's Black Friday promotion from November 26th – 29th (Black Friday thru Cyber Monday).
Here's what they're offering:
Spin and Win Giveaway
Double Loyalty Points (even if you don't win)
This is what you could win:
Once the promo is live, go to the Gym and Fitness website, pop in your email address and SPIN TO WIN! Enter your unique discount code at checkout by 11:59pm on Monday (Australian Central Daylight Time) to claim your prize. You only get one spin. Use it wisely!

Shop All Gym and Fitness Black Friday Deals
Gym and Fitness is one of the largest gym equipment retailers in Australia. They carry any and everything you'd need to outfit a home or commercial gym and then some, including racks, weights, dumbbells, barbells and machines, to cardio and conditioning equipment, to accessories and so much more — even saunas!
*THIS DEAL HAS EXPIRED*
The Vesta Fitness Black Friday sale is running from November 12 – 27. It's an impressive sale, with everything 20% off storewide when you use code BLK20. Plus, there's free shipping.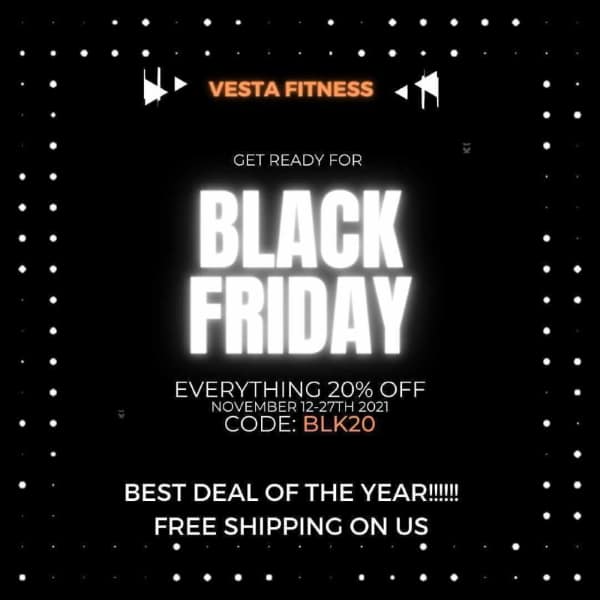 Shop All Vesta Fitness Black Friday Deals
Based out of California, Vesta Fitness is a newer gym equipment company that sells some nice looking power racks, half racks and multigyms at a decent price. They also sell other strength equipment like barbells, dumbbells and various accessories.
*THIS DEAL HAS EXPIRED*
Until Christmas, use code ICE15 for 15% off sitewide.
Shop All Ice Shaker Black Friday Deals
Ice Shaker is a shaker bottle company initially made famous by their appearance on ABC's Shark Tank. They set out to create new and improved shaker bottle that solves the common problems associated with traditional shaker bottles…
..Namely, they designed a bottle that is vacuum sealed, has a pop-top lid, doesn't absorb odors (in case you leave an old protein shake sitting in it for days) AND it keeps your drink ice cold with the use insulating technology.
The company is owned by Chris Gronkowski, former NFL player, and one of the 5 Gronkowski brothers (including NFL star tight end Rob Gronkowski). While Chris runs the company, his brothers also provide help and support.
*THIS DEAL HAS EXPIRED*
As of 11/22, AbMat's Black Friday sale has begun and will go thru 11/30.
When you use discount code LASTCHANCE2021 you'll get 15% OFF some of their most popular items, including:
Shop All AbMat Black Friday Deals
*THIS DEAL HAS EXPIRED*
Oak Club Mfg has announced that they will be having a Black Friday sale this year from November 26 – 28.
Here's the main deal:
10% off orders of $1000+ (CAD) when you use code 1KCLUB
Shop All Oak Club Mfg Black Friday Deals
Oak Club Mfg is a smaller but growing equipment manufacturer based in Canada (Vancouver). They specialize in super premium, hand-built equipment, particularly racks and rack attachments. They're beautifully designed with a unique aesthetic. The quality and attention to detail is off the charts.
One of their most popular pieces is the Oak Club James Hook J-Cup, which is a super tall j-cup that looks great and will allow you to rack the bar as high up as you want; built to fit any 3×3 rack.
*THIS DEAL HAS EXPIRED*
A7 has just announced their Black Friday sale, and it's a good one! It's live as of 12pm Noon EST on Wednesday, November 24th. It ends at 11:59pm EST on Monday, November 29th.
They're offering the following deals:
Shop All A7 Black Friday Deals
If you didn't know, A7 is renown for their innovative "Bar Grip" shirts.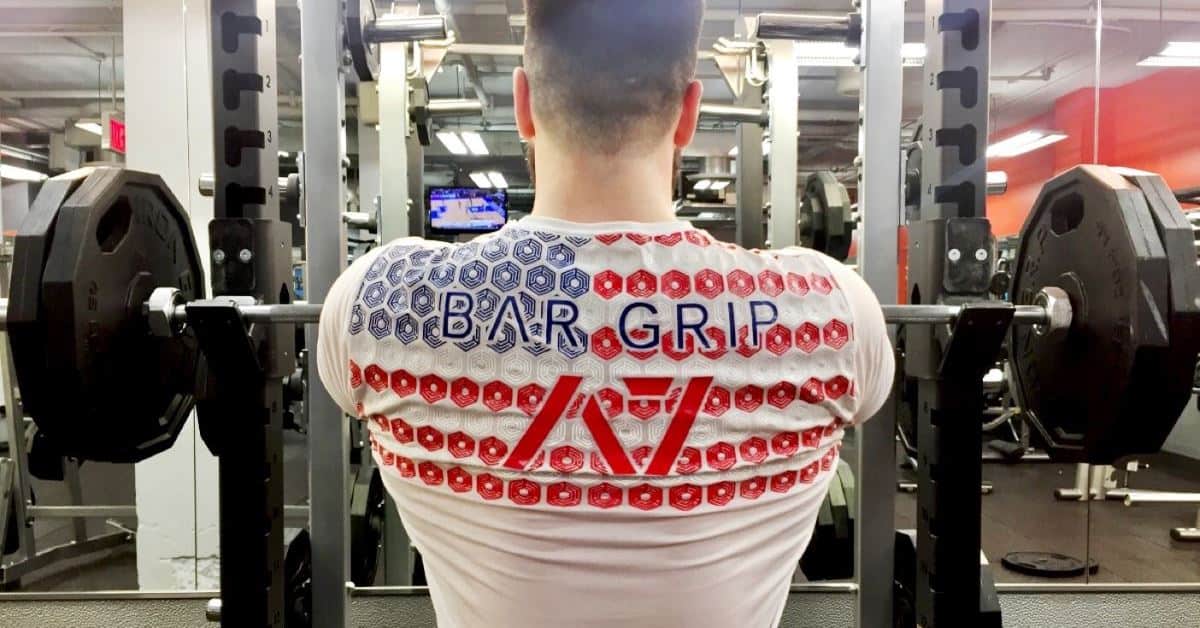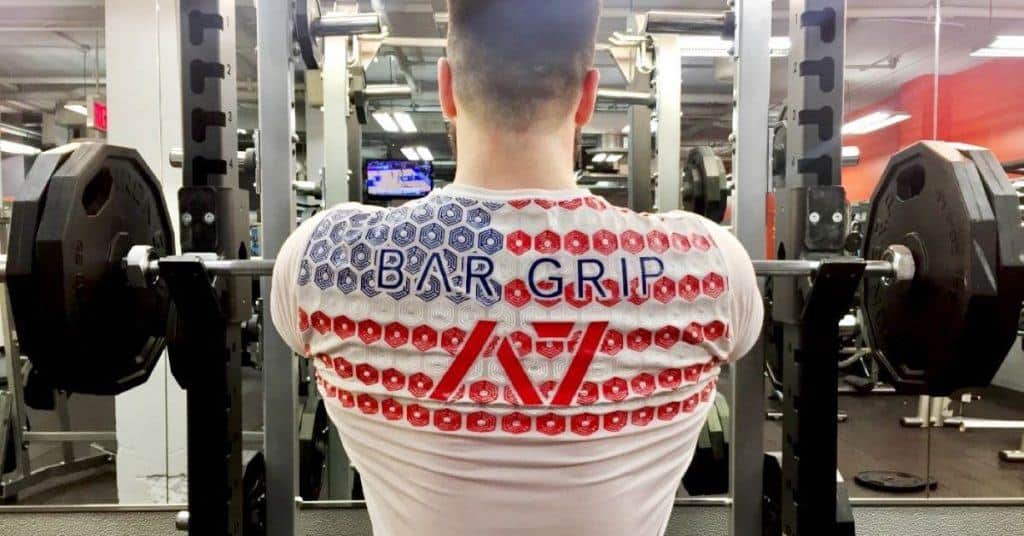 They have grips that keep the bar from sliding down your back on squats, and prevent you from slipping during bench press.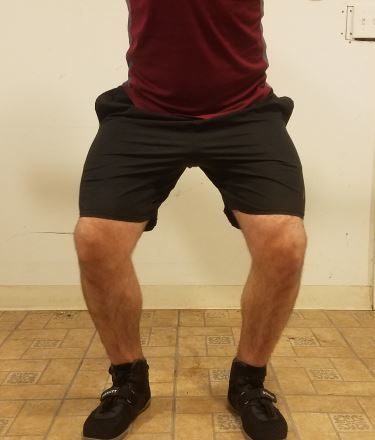 They also make excellent squat shorts (the A7 Center Stretch Squat Shorts, shown above). Plus, they have a super cool gym bag called the U Bag, as well as many other accessories and apparel items.
*THIS DEAL HAS EXPIRED*
EliteFTS is currently running their Better Than Black Friday Sale, with some pretty good sales (up to $860 off in the best case). One of the hottest deals is a full $100 off their super popular SS Yoke Bar.

Shop All EliteFTS Black Friday Deals
EliteFTS is an O.G. in the gym equipment space. They've been around since 1998, making some of the heaviest duty strength equipment on the market. They specialize more in the powerlifting side of things. Their equipment tends to be "overbuilt" to handle the heavy loads that will be lifted on them.
LUXIAOJUN has been started their Black Friday earlier in November and it's stilling going. You'll find some impressive discounts on their already competitive prices. This includes: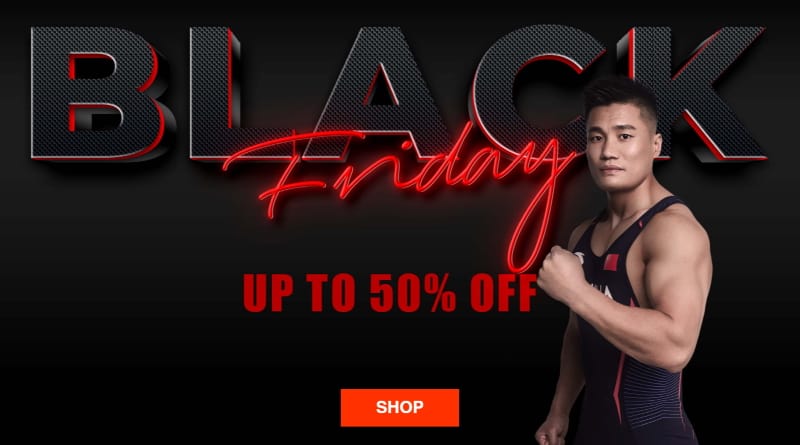 Shop All LUXIAOJUN Black Friday Deals
*THIS DEAL HAS EXPIRED*
Fray Fitness is bringing the big discounts this year with 20% off sitewide (no exceptions!) on their Black Friday sale, which has been going on since November 10th. Use code BLK20 at checkout.
If you're looking for a quality functional trainer that's already a great bang for your buck, now's the time to act, since you'll get another ~$200 with the discount. It's their most popular product.


Shop All Fray Fitness Black Friday Deals
Fray Fitness is another relatively new company to the industry that's quickly growing and gaining a positive reputation for themselves. They sell the usual items like power racks, half racks, bars, plates, dumbbells and conditioning equipment. They differ from most other competing companies in that they offer a ton of plate-loaded and selectorized machines. And the prices are quite competitive.
The Sorinex Black Friday sale is live as of 11/19 and will last until supplies run out. This isn't a major sale, though they usually don't have big Black Friday sales, at least since I've been paying attention. In any case, there are a few deals that you can check out, including:
Cameron Hanes Nobody Cares Work Harder Cerakote Bar – Regular price: $390.00, Sale price: $312.00
Cameron Hanes Keep Hammering Cerakote Bar – Regular price: $390.00, Sale price: $312.00
Sorinex Ductile Iron Kettlebells – Regular price: $15.00+, Sale price: from $13.50+
Cast Iron Kettlebell – Regular price: $20.00+, Sale price: from $19.00+
Slam Balls – Regular price: $15.00+, Sale price: from $14.25+
Sorinex Outdoors Large Strength Bands – Regular price: $11.00+, Sale price: from $10.45+
Infinity Tubes™ – Regular price: $11.00+ Sale price: from $8.80+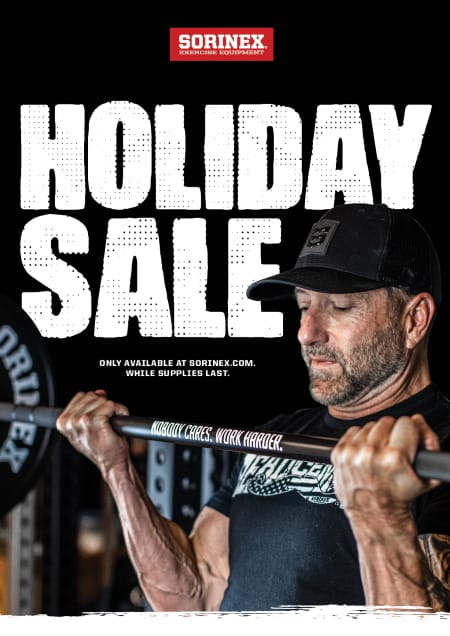 Shop All Sorinex Black Friday Deals
*THIS DEAL HAS EXPIRED*
Torque Fitness has begun and will run thru Cyber Monday (11/29). They have some pretty attractive offers on their most popular items, as well as many other deals across their other categories.
Here are all their deals:
$100 off Tank M1
$125 off Tank M1 Complete Kit
$50 off Tank M4
$75 off Tank M4 Complete Kit
Free Group Accessory Kit with purchase of Tank MX ($420 value)
Save up to $400 on F9 Fold-Away Functional Trainer
$99 off F9 Fold-Away Functional Trainer 150 lb weight stack
$124 off F9 Fold-Away Functional Trainer 200 lb weight stack
$149 off F9 Fold-Away Functional Trainer 225 lb weight stack
$190 off Flat Incline Bench
Free shipping on all F9 versions
Save up to $1200 on Home Gyms Packages
Free shipping on all Home Gym Packages
Free shipping on all Lifting Racks
Save up to $400 off Dumbbells
Free shipping on all Dumbbell Sets
Free shipping on all Bar & Plate Packages
Free shipping on all orders $2000 and over
Shop All Torque Fitness Black Friday Deals
Torque Fitness is renowned for their TANK™ push sleds, which allow you to do sled training with variable resistance…and NO weights required. This is made possible by their adjustable and frictionless magnetic brake system. They've put a similar technology inside one of their newest breakthrough products — the Endless Rope Trainer, which does just what the name implies. Beyond these products, Torque also offers some nice functional trainers as well as an array of traditional products including racks, bars, weights and conditioning accessories.
*THIS DEAL HAS EXPIRED*
Wright Equipment's Black Friday sale called "Rack Friday" started on November 22 and is Running through November 30.
The sale is centered mainly around the following:
Big discounts on several of their "Lean" squat racks. Discounts range from around $30 off to over $100 off depending on the rack.
All their Next Gen Bars are marked down to $225 with free shipping.
There a few other deals on different weight plates, kettlebells and a flat bench
Shop All Wright Equipment Black Friday Deals
Wright Equipment is best known for their high-end premium power racks and strength equipment, most often seen in collegiate weight rooms and athletic strength facilities. However, they also have some lighter duty equipment that's perfectly suitable for the home gym lifter.
*THIS DEAL HAS EXPIRED*
Uesaka has announced a Black Friday sale. It will be 20% off storewide! It will start on Black Friday ( That's a pretty hefty discount.
The only downside is that many items are "pre-sale" and won't ship until late January or early February due to supply chain issues. Still, the discount may be worth the wait for you.
Shop All Uesaka Black Friday Deals
Uesaka is world renowned brand based out of Japan that specializes in manufacturing barbells and bumper plates for the sport of Olympic weightlifting. They're truly top of the line, and are used at the highest levels of competition (i.e. the Olympics). Uesaka equipment is anything but cheap, so now is the time to buy at a lower price.
*THIS DEAL HAS EXPIRED*
Spud Inc is having their Black Friday sale from 11/25 – 11/30, with plenty of savings to be had!
Get 30% off sitewide with code YELLOW30
Shop All Spud Inc Black Friday Deals
Spud Inc has been around a long time. They started off being known for their high quality and super durably lifting straps made from nylon webbing. However, they've expanded way past lifting straps into just about any type of strong but flexible gym accessory (usually made of Nylon) that you can think of. This includes dip belts, neck harnesses, back harnesses, hanging ab straps, cable accessories, belt squat belts and much more.
*THIS DEAL HAS EXPIRED*
I've reached out to Bridge Built and they aren't having any sales, per se. Rather, they're releasing new equipment and might have BOGO incentives. To see the new equipment when it drops, and to find out about any BOGO incentives they may offer, check the link below:
Shop All Bridge Built Black Friday Deals
Bridge Built is a growing and highly innovative company in the equipment space. They are possibly best known for their revolutionary space-saving Phoenix collection of squat stands and power racks, which hold in half and can easily be wheeled away for storage.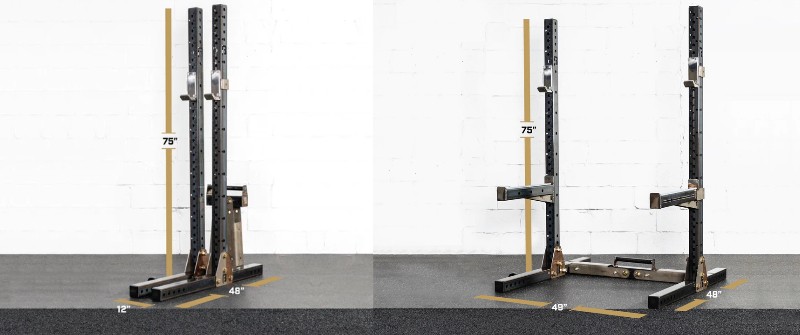 They also have another foldable/collapsible but beefy adjustable bench they've been teasing. Chances are this product will drop on Black Friday (my guess). They have more equipment, including some fancy gold "Clydesdale" barbells, and even some commercial equipment. All of their products are made proudly in the USA.
*THIS DEAL HAS EXPIRED*
The Life Fitness Black Friday sale is running from 11/22 – 11/29.
There's some pretty big deals to be had if you're in the market for high-end commercial quality cardio equipment or strength equipment (mostly functional trainers or plate-loaded/selectorized machines).
Many of these items cost several thousand dollars, so you can easily save hundreds (if not thousands) depending on what you buy.
Here are the specifics:
Free Shipping on EVERYTHING (note: there will be a $249 charge for install)
20% off all cardio equipment
20% off select strength equipment (excludes accessories)
Daily Deals: Check for daily deals — They'll be available for 24 hours only!
Top Pick: I think one of the hottest items on sale is the Life Fitness G4 Home Gym. This is a multi-gym, which will appeal to many in the home gym crowd since it effectively gives you several selectorized fixed-plane resistance machines in a single unit with a minimal footprint. It features dual pivot pec/reverse arms and a mid pulley, lat pulldown, low row bar, with an adjustable angle seat. You can do machine chest press, shoulder press, incline press, rows, pulldowns, flies, reverse flies, leg curls, leg extensions and more! If you want a lower cost version of this, go for the G2 Home Gym; you lose the dual pivot pec/reverse arms (for flyes, reverse flyes, etc.) plus some other design details, but save about 40% on the price.
Shop All Life Fitness Black Friday Deals
If you've ever trained in any well-equipped commercial gym, chances are you've used a Life Fitness machine. Life Fitness is an equipment brand in and of itself. But it's also a company with other popular brands under it, including Hammer Strength, Cybex, SciFit and ICG.
Life Fitness is known for producing high end commercial equipment. They do dabble in the home gym space a bit (examples: G4 and G2), but the vast majority of their equipment is for commercial use. But who said you can't have commercial equipment in your home gym! ;-D