See all the best Black Friday and Cyber Monday fitness equipment deals for 2019 from the top brands online! Use the table of contents below to navigate:
PowerBlock
From Thanksgiving to Tuesday, December 3, PowerBlock has FREE Shipping for Black Friday / Cyber Monday on all orders. Depending on the model, you'll save $99+ on shipping costs!
As you probably know, PowerBlock makes some of the best adjustable dumbbells on the market. They make a few different models, and they're all great — But I personally own and recommend the PowerBlock Pro EXP dumbbells, which I've reviewed here.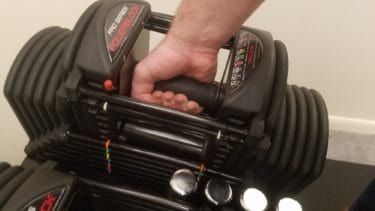 If you want to learn more about these dumbbells, be sure to read my PowerBlock review as well as my comparison of the PowerBlock Elite vs Sport vs Pro EXP vs EXP dumbbell models.
Rep Fitness
The Rep Fitness Black Friday Sale runs from November 25 to December 2. This is their biggest sale of the year.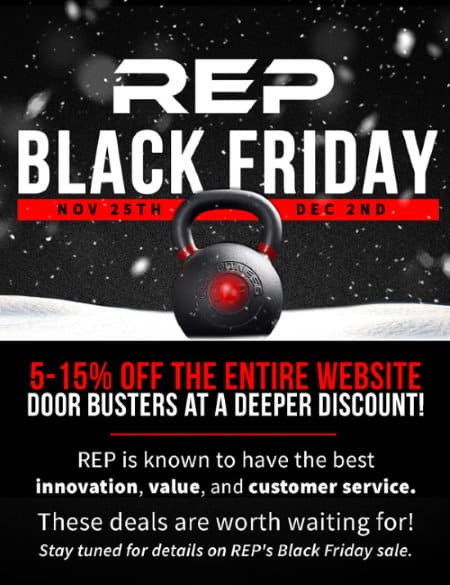 You'll get 5-15% off across the entire website, with even deeper discounts on their doorbuster deals.
Rep Fitness carries just about everything you'd need to outfit a home gym or even a large commercial gym. They're known for their innovation and delivering A LOT of value for the price. Here's some of my recommended items to consider buying:
Rep also carries some awesome stocking stuffers that are great if you're buying a small gift for a friend or family member who lifts. I got these bumper plate coasters: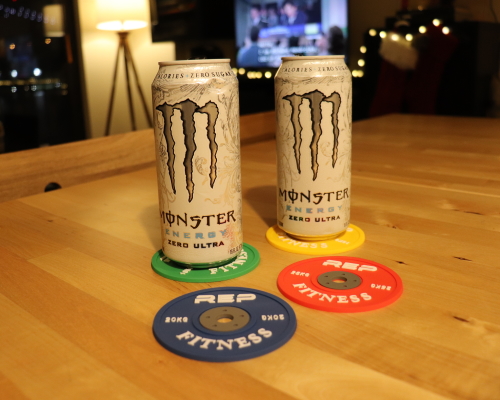 They also have this cool kettlebell paperweight that makes a great small gift: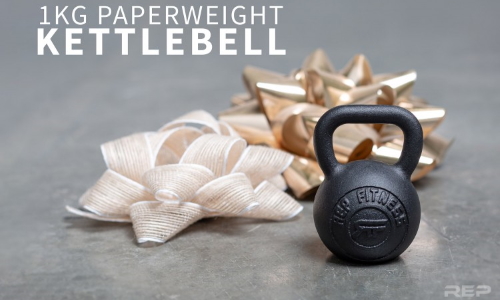 Force USA
You have exclusive access to my Force USA discount code KING5 for 5% off your order, which is valid year-round.
Force USA isn't having any product-specific discounts for Black Friday. However, they are offering 0% financing…

…This is perfect if you're looking to buy one of their more expensive items, like their Monster all-in-one home gyms — you can see the photo below and read my Monster G3/G6/G9/G12 review here for more details.

Or you may be interested in the Force USA MyRack power rack (pictured below) which I own and have reviewed here.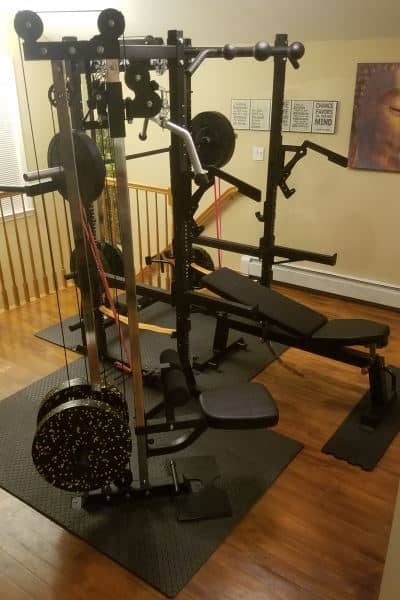 Kabuki Strength
You can use my exclusive Kabuki Strength discount code KOTG5 for 5% off your order! (NOTE: It is not valid on blemish items, bumper plates, or new items such as the Kadillac bar or Trap Bar.)
Kabuki makes some truly innovative products right here in the USA. They're probably best known for their New Generation Power Bars, which I recently bought (nickel finish). I'm loving it so far! It's a premium price, but you get a premium product:

They have plenty of other great equipment, too.
As far as specific 2019 Black Friday deals for Kabuki, they're doing something a little different this. They're doing a contest type of promotion. Basically, the more you buy, the more entries you get into a contest to win different equipment. At the same time, a portion of the proceeds go to charity. Here's the details:
It will go from Thursday, November 28 to Tuesday, December 3.
First and most importantly, Kabuki wants to give by donating 5% of proceeds from this holiday weekend to help house homeless veterans in their community (Portland, Oregon). We are partnering with the Homebuilders Foundation of Metro PDX to provide sleeping pods in Veteran's Village, a transitional housing community in Clackamas County where Kabuki Strength is based.
Secondly, Kabuki is giving away $10,000 of American-made Kabuki Strength equipment. Every $50 spent in their store this holiday weekend gets you 1x entry in the drawing. ($100 spent = 2 entries, $500 = 10 entries).
Grand Prize:
The NEW Trap Bar HD
The Transformer Bar
The Duffalo Bar (Black Oxide)
The Kadillac Bar
The Power Bar (Black Oxide)
The Squat Bar (Black Oxide)
2nd – 20th Prizes:
2nd: The Kadillac Bar
3rd: The Trap Bar HD
4th: The Squat Bar (Black Oxide)
5th: The Duffalo Bar (Black Oxide)
6th: The Power Bar (Black Oxide)
7th: The Transformer Bar
8th: Tactical Shoulderok
9th: Shoulderok (Black Oxide)
10th: PainPill
11th: Boomstick
12th – 20th: Baby Boomer
A7
A7's "Blackout" launch went live on Wed, November 27 at 12:01 AM EST. The doorbuster deals are over now, BUT all orders still receive 15% off at check-out (no discount code required). The sale goes until December 3rd.
The standout product in my opinion is the newly-released A7 U Bag, which is easily the coolest gym bag I've ever seen!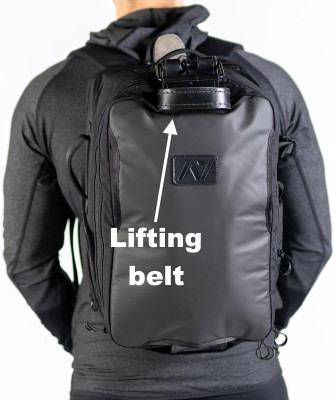 Here are it's key features:
Loop-through top and side openings for easy travel with your belt
Stowable internal shoe compartment
Innovative four-zipper design for access to all sides of main compartment
Clamshell opening for easy packing
Zippered expansion system for extra room when you need it
Thick, padded shoulder straps
Vertical and horizontal carrying handles
Internal mesh organization pocket
TSA-ready laptop sleeve
Document / tablet pocket
Quick-access top stash pocket
Lay-flat water bottle holder
If you didn't know, A7 is renown for their innovative "Bar Grip" shirts.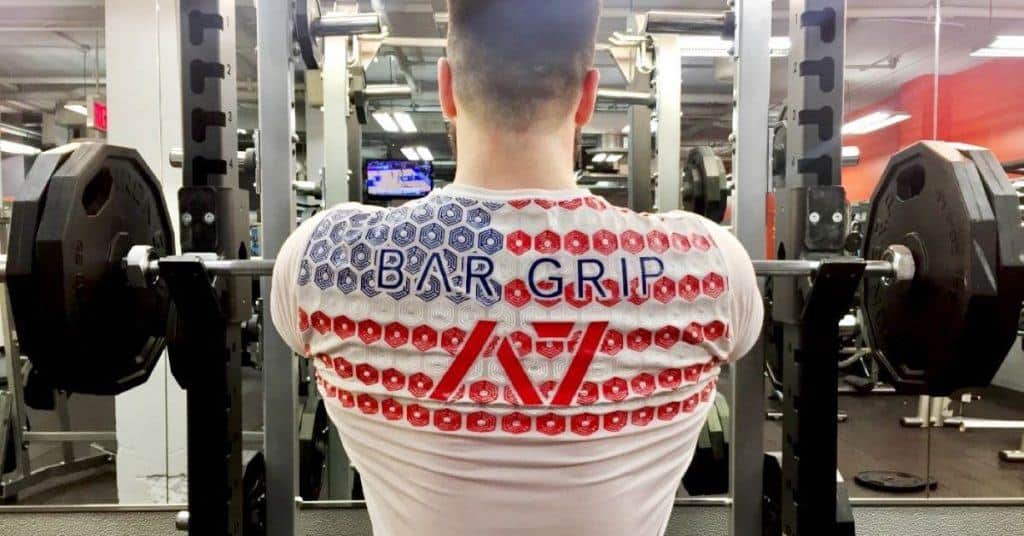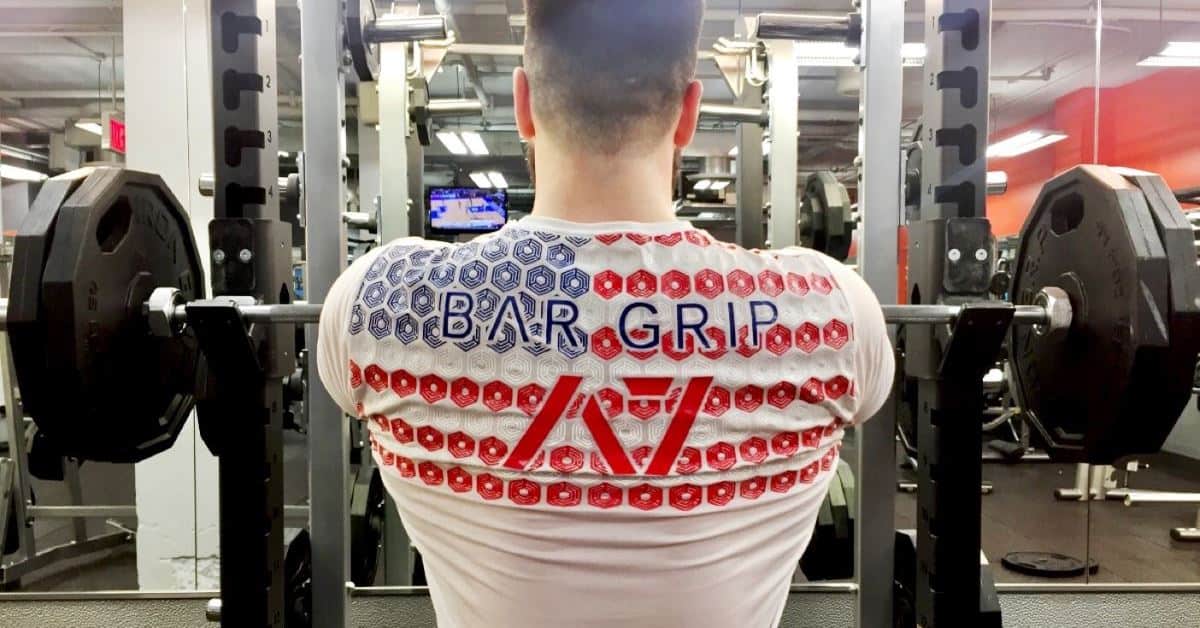 They have grips that keep the bar from sliding down your back on squats, and prevent you from slipping during bench press. They also make excellent squat shorts, and many other cool accessories and apparel items:
All of these items are 15% off, so now's the time to stock up!
Vulcan Strength
The Vulcan Cyber Week Sale 2019 is live from Monday, December 2 – Monday, December 9. Vulcan is an awesome gym equipment company that often goes under the radar.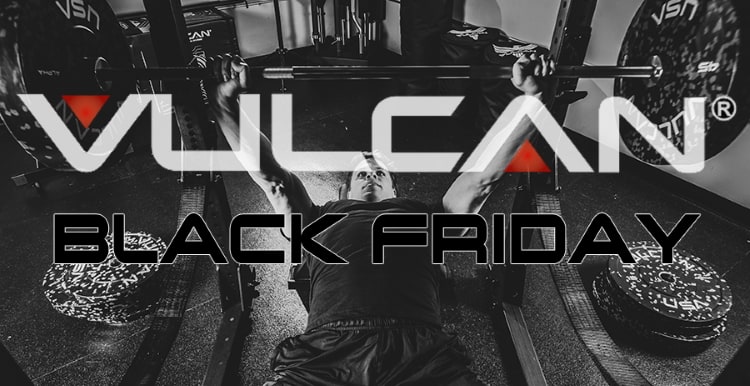 I'm particularly fond of Vulcan because I bought my first high quality power bar from them (the Absolute Power Bar v2.0) as well as my first set of bumper plates (the Alpha bumpers) — both of which are on sale now!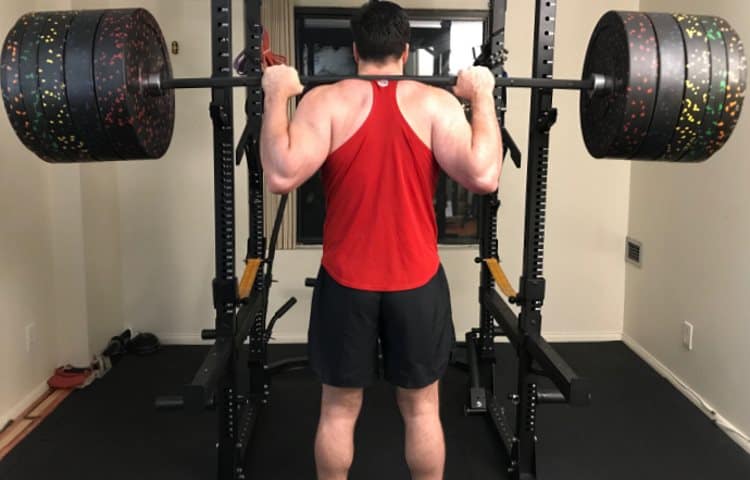 You can save big this year with Vulcan. Here's an overview of their Cyber Monday Sale:
Discounts will calculate at check out for some items and other items will have their sales price listed in red. All items and discounts are listed below.
Non-Vulcan brand products, Closeouts, Equipment Packages, and products on sale will not receive any further discount.
Alpha Bumper Plate discount applies to 55 lb, 35 lb, and 15 lb plates purchased as pairs only. This sale may not last the duration of Cyber week. It is subject to end if/when quantities are depleted.
Please allow 5-7 business days to process orders. Actual transit times may be delayed due to inclement weather and/or Black Friday sales volume nationally.
Free shipping is available on items that are listed as Free Shipping. Check for this Icon on the product or FREE SHIPPING listed in the product description. Free Shipping applies to the Cont USA only. Please contact us for international orders, Hawaii, and Alaska purchases
7% Discount
10% Off
12% Off
15% Off
20% Off
25% Off
30% Off
40% Off
Current Closeout Items
(First-Come, First-Served with Limited Stock. Check Website for Availability.)
No Further Discounts on the Following:
Closeout Items
Equipment Packages
Bumper Plate and Barbell Combination Packages
Alpha Bumper Sets
Dumbbell and Rack Combination Sets
Non-Vulcan Brand Products (Unless Specified Otherwise) Vulcan Cyber Week Sale 2019 Prices, Specials, and Discounts do not apply to previous Vulcan Strength orders.
Click here to shop Vulcan Strength Cyber Monday Deals!
Ironmaster
Ironmaster is having a 1-day only Black Friday sale this year, on Friday November, 29th. You don't want to miss this, since Ironmaster has very few limited sales a year.

Here's the details:
Valid Friday only, 11/29/19, for 24 hours only
You'll save 15% off any size order with code SFLBLACK19 (code won't work before Friday, and expires at the end of the night, PST).
Discount is valid only for new orders and is not retroactive – discount will not apply to any previous transactions.
Sale valid only in the USA and Canada for online orders.
Two of Ironmaster's top selling products to look for are the: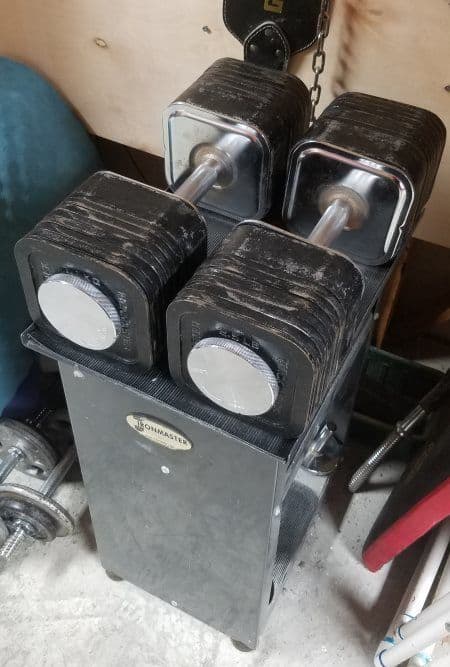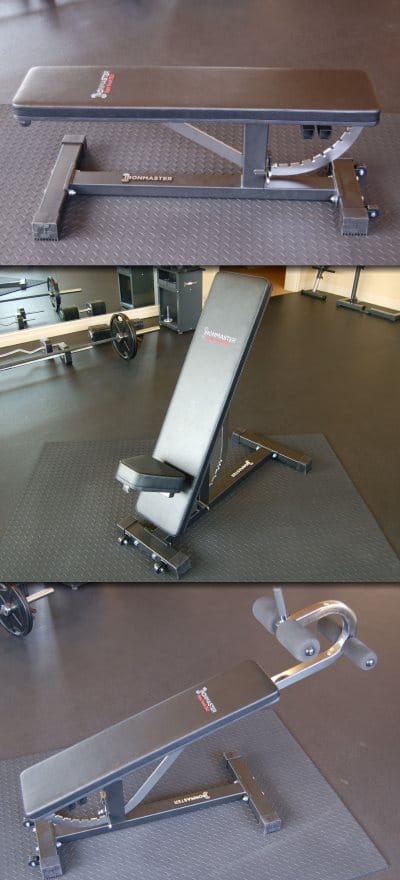 Be sure to consider their custom gym packages if you're buying multiple items. You'll save 15% on top of the package discounts!
Fringe Sport
UPDATE: The new end date for Fringe Sport's Black Friday sale is Wednesday, December 4, 2019.
Fringe Sport is probably best known for their quality and reasonably priced bumper plates and barbells. Though they also carry a wide variety of other gym equipment, from racks and rigs to weight benches, kettlebells, conditioning & cardio equipment, and so much more.
Fringe Sport is having a MASSIVE Storewide Black Friday Sale this year, from Friday, November 29 – Monday, December 2nd. You'll be able to save up to 50% OFF + FREE Shipping!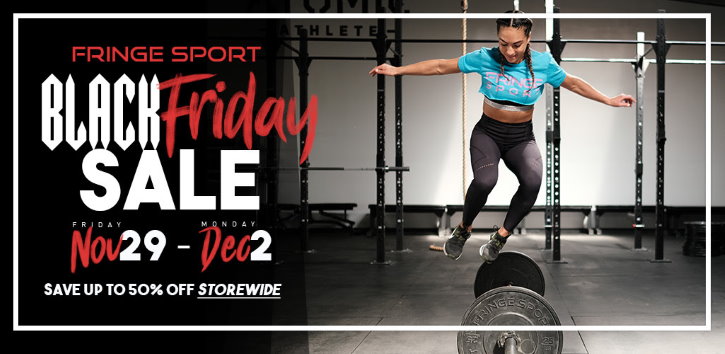 You can see Fringe Sport's Black Friday deals here. Below are some of the main discount categories:
Barbell Packages: Up to 54% off
Gym Packages: Up to 42% off
Barbells: Up to 54% off
Clips/Collars: Up to 23% off
Bumpers/Plates: Up to 28.9% off
Pull-up Bar: 7.75% off
Squat Racks: Up to 30% off
Dumbbells: Up to 36% off
Kettlebells: Up to 43.5% off
Medicine Balls/Slam Ball: Up to 40.5% off
Storage: Up to 23.4% off
Sandbag Trainers: Up to 41% off
Jump Ropes: Up to 34.5% off
Plyo Boxes: Up to 31% off
Sleds: Up to 30% off
Weight Vests: Up to 25.6% off
Gym/Cage Accessories: Up to 35% off
Gymnastics Rings/Grips: Up to 35% off
Mobility Items: Up to 54.2% off
Weightlifting Shoes & Belts: Up to 24%
Apparel: Up to 25% off
Steeper discounts available if you can pick up locally (Austin, TX).
Shop all Fringe Sport Black Friday Deals here!
Titan Fitness
Titan has pre-Black Friday deals every Friday leading up to Black Friday.

And since Titan is known for having sales nearly all the time, there will surely be more great discounts after Black Friday, as Christmas approaches.
MaxBarbell (SABO Shoes & More)
MaxBarbell's Black Friday Sale has begun! You can save up to 30% OFF sitewide! It's running from November 25 through Monday December 2 midnight EST.
Here's the details — spend at least:
$50 – Save 10%
$75 – Save $15
$100 – Save $20
$150 – Save 30%
The discount automatically applied during checkout. No coupon coded needed.
NOTHING is excluded.
MaxBarbell is the main US distributor of SABO shoes. The most popular SABO shoes are the SABO Deadlift-1 Shoes ones main specifically for deadlifting. You can read my review of the SABO Deadlift shoes here to learn all about them.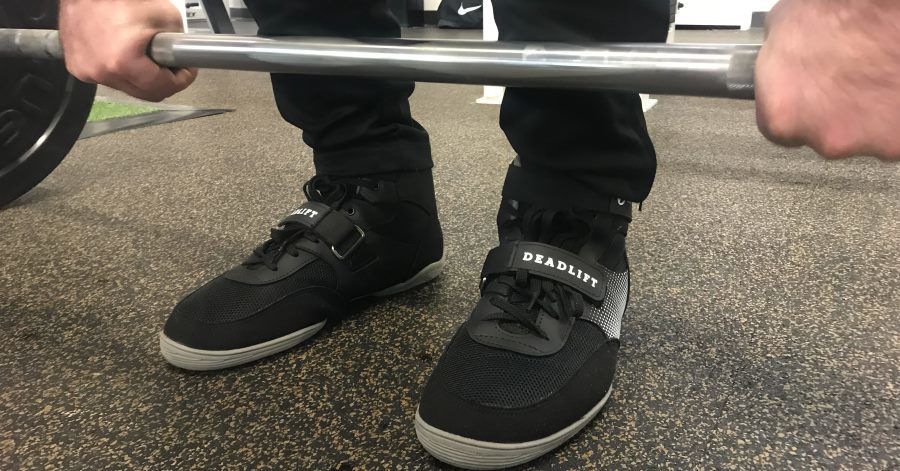 They also make a solid squat/weightlifting shoe — the SABO Powerlifts — which have a surprisingly low cost for their quality even when they're not on sale. I've owned and used a pair for the past year and they're still going strong. These are arguably the best value Oly weightlifting shoes on the market: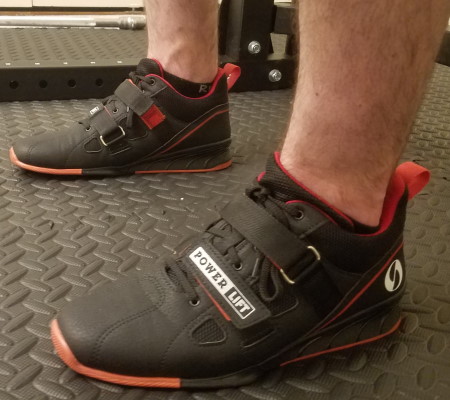 They also have other great offerings, including:
Get RX'd
The Get RX'd Black Friday Sale is going on through Monday, December 2nd. Get RX'd is offering up to 50% off for their top deals — with new top deals being added periodically! The rest of their site is 12% off (excluding non-Get RX'd brand products).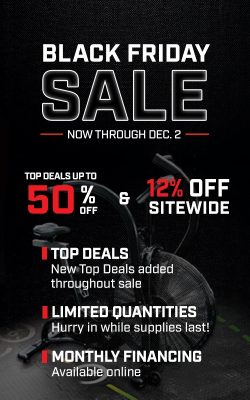 Get RX'd is another one-stop-shop for gym equipment. Get RX'd has a big focus on Crossfit-style equipment (hence the RX). They have tons of racks, rigs, bars and bumpers. Though they also carry other items like benches, dumbbells, conditioning equipment, accessories and more. You're bound to find plenty to love!
See some of my top finds are below:
Rogue Fitness
You probably already know all about Rogue Fitness. They're the industry leader in gym equipment. They're also known for their "Matte Black Friday" sales, which has now turned into a month-long "Matte Black November" sale that extends from November 1 to December 1.
It includes "Hundo Pricing" (buy more, save more), 5 for 5$ shipping (if you buy 5 of certain items, they'll ship for $5 total), and "Hot Deals" (limited time/quantity flash sales with big discounts). Check the top deals here.
Compex USA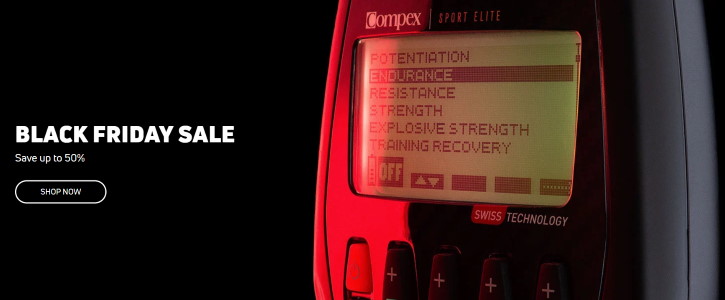 Compex USA makes the best TENS units and massage devices on the market for recovery and warm up. If you're a serious athlete who's looking for any possible edge, then a Compex unit should be on your shortlist.
Here are Compex's 2019 Black Friday Deals:
Sorinex
Sorinex is having a Black Friday "Recovery" Sale, which includes a steep discount on the G3 and G3PRO models of the popular Theragun massage guns, as well as a sizable discount on the Normatec Pulse Recovery System:
Use code G3PRO for $200 off the Theragun G3PRO. Sale runs from 11/28-12/2.
Use code G3 for $100 off the Theragun G3. Sale runs from 11/28-12/2.
Use code RECOVERY for an additional discount on any Normatec Pulse Recovery System (which are already $100 off). Sale runs from 11/28-12/3.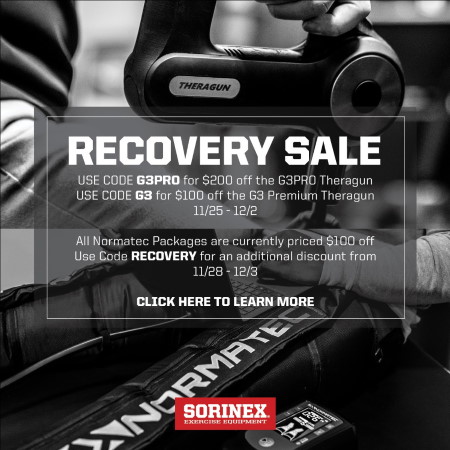 American Barbell
American Barbell has not announced Black Friday sale as of yet (11/26). You can check their homepage to see if this has changed. I will add any updates if/when I get additional information.