Did you know that you can instantly increase your deadlift by wearing the right shoes?
No, you won't add 100 lbs. to your max or anything, but an extra 10-15 lbs. is possible. Plus, you'll be safer and better equipped to execute proper technique.
In this article, I'll review 12+ of the best shoes for deadlifting.
After the reviews, I'll tell you about the benefits of deadlift shoes and the features to look for when choosing the best deadlifting shoes for your needs.
As a brief overview, here's what makes a good deadlift shoe, at a minimum:
Thin sole that puts you low to the floor
Flat sole (i.e. non-elevated heel; low or no "heel-to-toe drop")
Dense sole material with minimal to no compression under load
Grippy sole that will keep your feet planted and prevent slipping
I know some people reading this just want a quick answer to what the best deadlifting shoe is. So before I get into the nitty-gritty, I've summarized my top picks in the table below:
Model
Best for
Rating
Best overall deadlift-specific shoe for performance, features & quality

Rated 4.8 out of 5 in Deadlift Shoes

Read my SABO deadlift shoe review

Best low-cost deadlift-specific shoe; minimalist solution

Rated 4.5 out of 5 in Deadlift Shoes


Best low-cost all-purpose training shoe

Rated 4.5 out of 5 in Deadlift Shoes

You can use the table of contents below to quickly navigate to specific sections in this deadlift shoe guide:
Best Shoes for Deadlifting
Shoes Designed Specifically for Deadlifting
UPDATE #1 – September 2018: I ended up buying these shoes just over 6 months ago. I've trained in them for well over 100 hours so far. My thoughts? I love them! They live up to, and beyond, the hype. They've been more than worth the price for me.
UPDATE #2 – April 2022: I still own and use these shoes multiple times per week. They're great. The grip pattern has worn down noticeably on the bottom, but that's to be expected considering how much I've worn them over the years. They still do the trick for me, even though there are newer versions available. See all SABO shoes here, including the ones I have as well as the new "Pro" versions and others.
Read my detailed SABO Deadlift Shoes review here.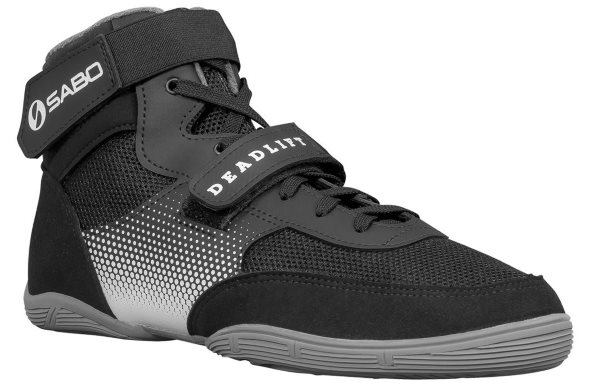 The SABO Deadlift Shoes are the best deadlift shoes on the market, in my opinion. They go above and beyond what other brands offer. Remember what I said in the intro about how a thin sole that puts you close to the floor is ideal? These shoes are exactly what I was referring to. And that's just the start. They tick all the boxes for all the other key deadlifting shoe features.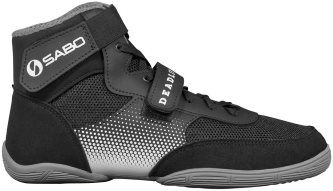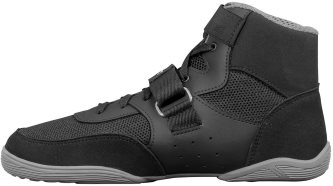 Pros:
Completely flat 0mm heel to toe drop
2mm-5mm thick sole, allowing you to get as close as possible to the floor. NOTE: The range of 2mm-5mm is due to the traction pattern on the bottom of the sole, meaning you will be 5mm off the floor. The traction patterns will cut into the sole by as much as 3mm at certain points, causing the sole to be 2mm thick at those points.
Features a metatarsal strap AND an ankle support strap for maximum stability support. Having both of these straps is a rarity among deadlifting shoes. In fact, it's the only shoe I've seen with a strap in each location and I've looked at literally hundreds of training shoes when researching this article. Now, there are several double-strapped Olympic weightlifting shoes, but they always use both straps for metatarsal support. In my opinion, SABO's unique double strap design is a big selling point for serious deadlifters. This includes conventional pullers like myself, but even more so for sumo pullers.
Sole is not only thin but also dense so it will not compress during deadlifts even under the heaviest of loads
Provides some arch support from the contoured and slightly raised middle portion of the sole. The metatarsal strap, when firmly secured, enhances the arch support because it pulls the side of the shoe body up and into the foot's arch.
Uniquely designed soles have unique flanges. These flanges do 2 things:

Like any flange, they Increase the width of the footprint (no pun intended), which gives you a larger and therefore more stable base to pull off of.
These particular flanges also curl up onto the shoe's upper. This provides additional side support, preventing the foot from rolling over the shoe's upper when pushing outward — something that often occurs for sumo deadlifters wearing deadlift slippers or other shoes with sub-optimal lateral foot and ankle support.

Traction pods on the bottom of the sole for extra grip on the floor
The sole material is firm and dense while also offering foot flexibility.
Multiple colorways are available, including: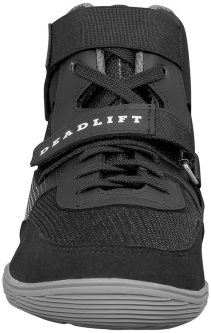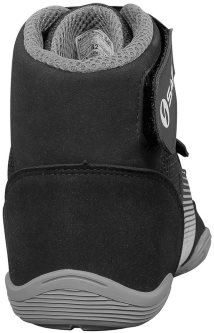 Cons:
The metatarsal strap fabric frayed somewhat on the edges. This happened pretty much right away for me, as I remember. However, the fraying didn't continue to get worse; it pretty much just stayed the same for months. Eventually, I snipped the loose threads away. No additional fraying has occurred since.
The shoes come laced up in an odd, sort of staggered, pattern. You can't loosen the laces like you normally would by just pulling up each row with your index finger. It takes like 15 seconds instead of 3 seconds per shoe. Do yourself a favor and re-lace the shoes the normal way as soon as you get them. I was lazy and waited several months before re-lacing. It makes things just that much smoother.
I've heard from maybe one or two others that the heel fabric may compress/wear down over time and cause some slight pinching when you're in ankle plantarflexion (i.e. toes pointing down like at the top of a calf raise). This may well be feedback based on the old version of the shoes — I'm not sure. All I can say is that it hasn't happened to me as of September 2018, having worn the shoes consistently for over 6 months (100+ training hours).
Check Current Price – SABO Deadlift Shoes »
If you follow the powerlifting industry, you'll know Mark "Smelly" Bell, former bench press world record holder, inventor of the SlingShot and owner of SuperTraining Gym.
Reebok consulted with Mark to help them create the Reebok CrossFit Lite TR, which some consider to be among the best shoes for deadlifting.
His goal was to help them create the ultimate powerlifting shoe. Despite that, Reebok put "CrossFit" in the name and slapped the logo on it. That was a (likely ineffective) marketing decision to try to sell more shoes by associating it with the CrossFit brand…
…So don't let the association with CrossFit confuse you. This shoe is not made for CrossFit training. It is very much designed specifically for powerlifting. Hence its unofficial name: The Reebok Power Shoe.
While not perfect, they did a pretty good job. The 1.0 version was well-received almost right away by many in the powerlifting community. And although the original version of this shoe has been discontinued, there is a lot of hype forming over the newest version with some industry insiders claiming it's going to be a big upgrade over the original.
If you want a pair, you'll have to settle for whichever of the remaining inventory you can find online. Or you can wait until the new ones drop, assuming that actually happens.
Pros:
Excellent grip – This allows you to grip the floor better than almost every other shoe on the list
0mm heel to toe drop – Completely flat sole.
Flanges – One of the few deadlift shoes with noticeable flanges, that give you a wider base to pull from. This translates to a feeling of greater stability.
Resembles a Converse All Star High Top in many ways, but excels most notably by having a stronger and thicker upper portion that provides better stability on the foot as a whole, but especially around the ankle.
Doesn't pinch during the deadlift
Plenty of toe room – Ideal for deadlifters who need to "spread the floor" on sumo deadlifts
Cons:
As highlighted earlier, these shoes have been discontinued at the time of writing this article. You can still find new pairs online, but they're usually the less attractive styles. Plus, there are fewer and fewer pairs each day. Keep your fingers crossed that they release the rumored new version sometime soon!
Some users report that the toe area is too big, which may be ideal for wide-footed lifters.
Aesthetics – Many of the remaining designs of the original discontinued Power Shoes aren't the prettiest to look at.
Check Current Price – Reebok Crossfit Lite TR »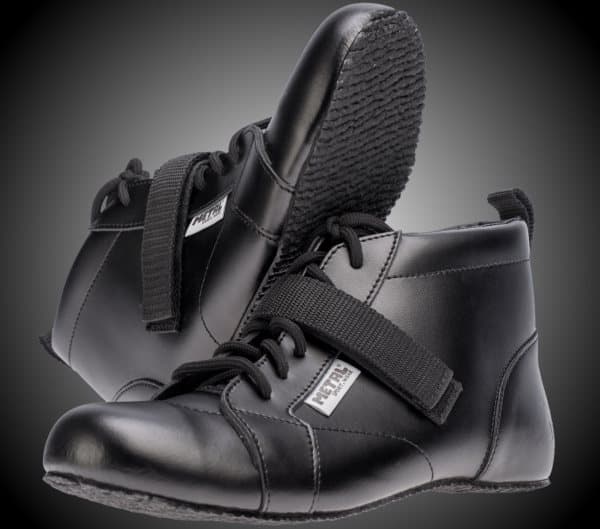 The METAL Powerlifting Shoes rank high among the best shoes for deadlifts. In the small world of deadlift shoe connoisseurs, these are right at the top of the heap along with the SABOs. They're an excellent choice if you have the budget for them.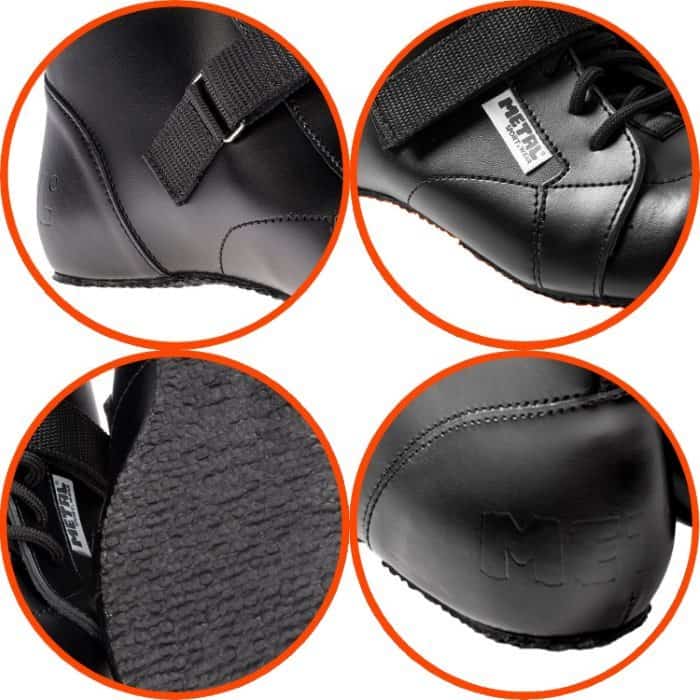 Pros:
Super thin 3mm sole with 0mm heel to toe drop, gets you close to the floor
Made specifically for powerlifters who are serious about deadlifting
High collar for ankle support
Has a metatarsal strap for excellent stability support
The rubber sole is very flexible due to its very thin profile, allowing for unrestricted foot mobility, which is helpful for exercises like calf raises, lunges and bench press (if you bench off the balls of your feet).
The rubber sole with unique "bumpy" textured pattern that provides superior grip.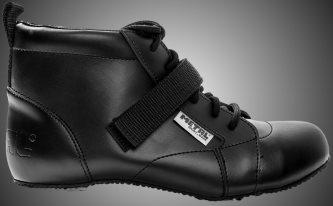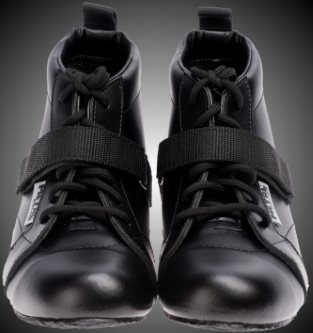 Cons:
The toe box is big but could be too big for some
The price of $150 + S&H may be more than you're willing to pay, especially if you also need a pair of Olympic lifting shoes for squats
For the price point, an ankle strap would have been nice
Check Current Price – METAL Powerlifting Shoes »
Risto Sports Deadlift Shoes
UPDATE: These deadlift shoes are no longer available. It appears that Risto Sports went out of business around mid-2018, for unknown reasons.​​​​​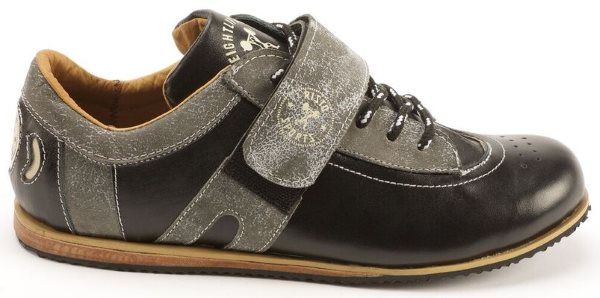 If having a wooden heel is a must, these are the best deadlifting shoes for you. In fact, these are the only wood-heeled deadlifting shoes on the market.
These are incredibly well-crafted shoes that will last years thanks to the quality materials and construction that you'd expect from Risto. However, as I'll discuss, they have some specs that may make them less than ideal for deadlifts, despite being designed and marketed for that purpose.
Pros:
The thick metatarsal strap provides exceptional support and balance
Very high quality materials and construction
Very durable and should last you many years
Stylish, rustic old-school look
Can work well as a 2-in-1 shoe for both squats and deadlifts, but only if you don't mind a moderately raised heel for deadlifts and prefer only a moderately raised heel for squats (heel is .75″ with a very gradual 0.5″ heel to toe drop)

NOTE: This will be a negative for many lifters who prefer flat soles for deadlifts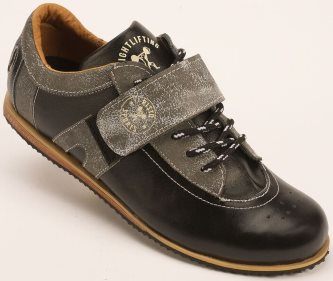 Cons:
As mentioned in the "pros" section, they are not completely flat. That is, the heel is raised 0.75″ with a heel-to-drop of 0.5″. Although this is pretty moderate compared to dedicated Olympic weightlifting shoes, it is not ideal compared to other deadlifting-specific, which have a 0mm drop and noticeably thinner sole that puts you just ~5-6mm (or less) above the floor.
Has a high price tag of $130 plus shipping and handling, though that's to be expected from a shoe with such high construction quality.
Low collar so you're not getting any ankle support
The wood also makes most of the sole very rigid, so you'll experience a lack of flexibility in the foot. This doesn't matter for deadlifts. However, you may have to bring a second pair of shoes with you if you're doing lunges, calf raises or any other lift that involves bending the foot, on the same day.
Deadlift Slippers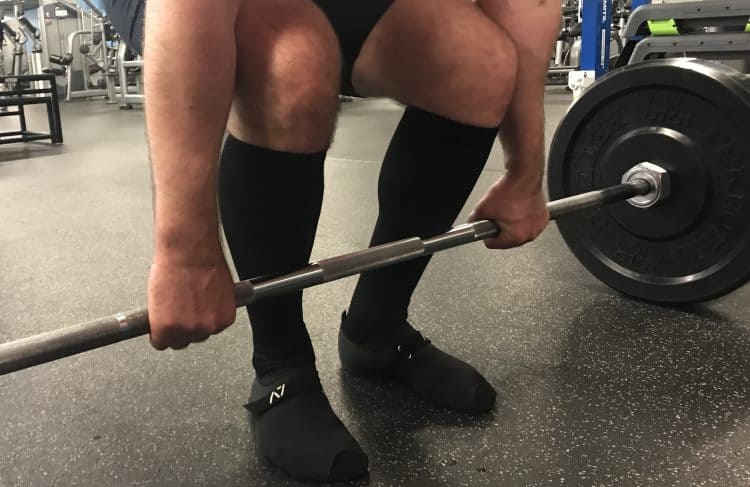 I own and regularly wear the A7 Soul Go Slippers. I'm a big fan and think they're the best shoes for deadlifting if you're on a low budget. They cost just under $30.
Of course, they're not perfect for everyone. And as you could probably guess, they aren't the best deadlift shoes overall. The best of the best will cost you more than $30.
I'll go over the pros and cons below, but first I'll show you a few photos I took of my A7 slippers from a bunch of different angles.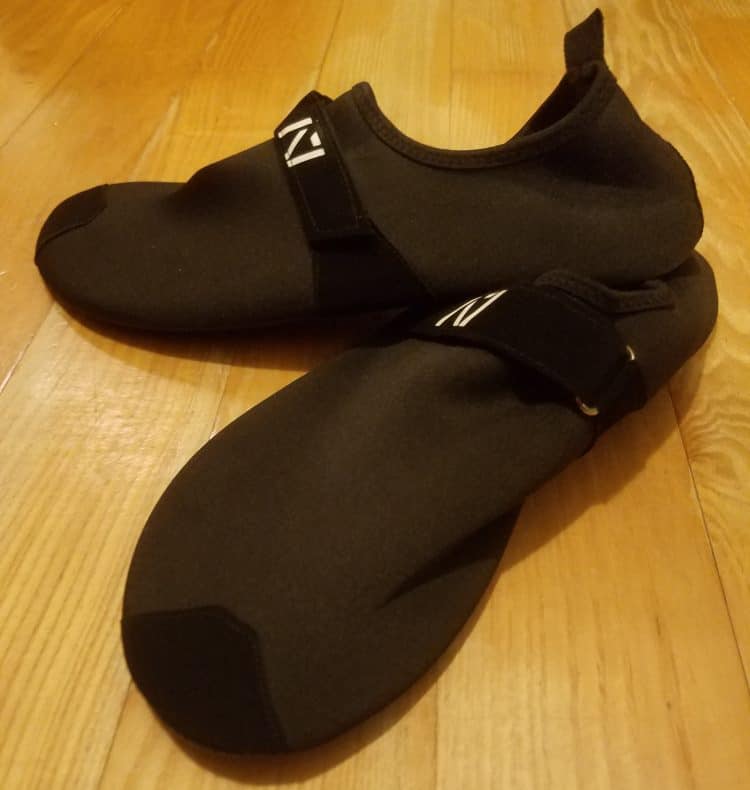 These quick-fit slippers are ideal for the less-is-more deadlifter but if you're looking for strong metatarsal support, you may be disappointed. This may be the best bang for your buck if you want an effective yet minimalist solution.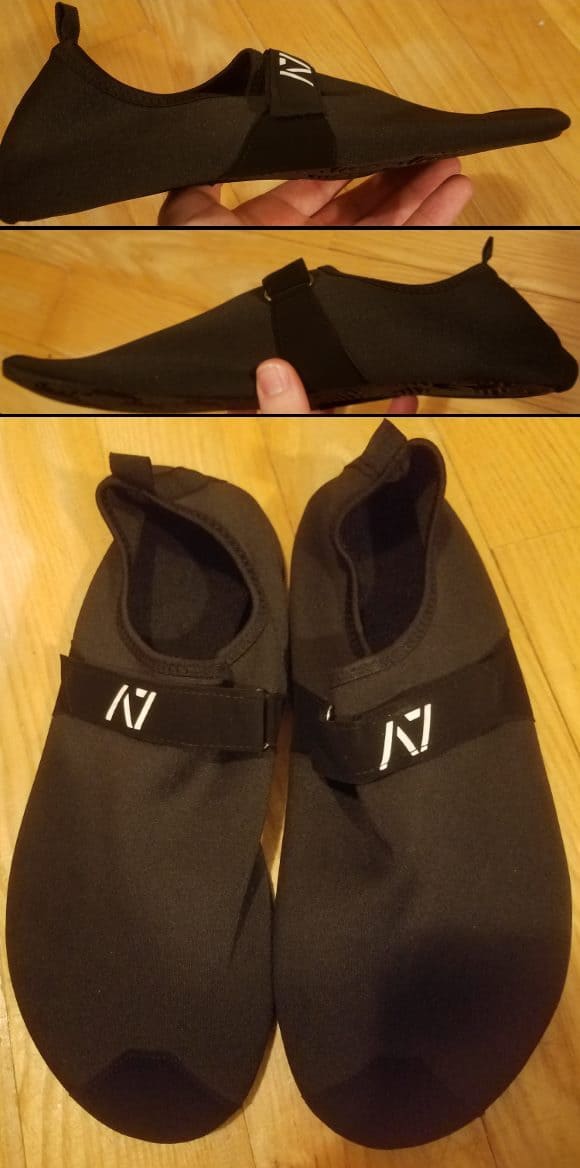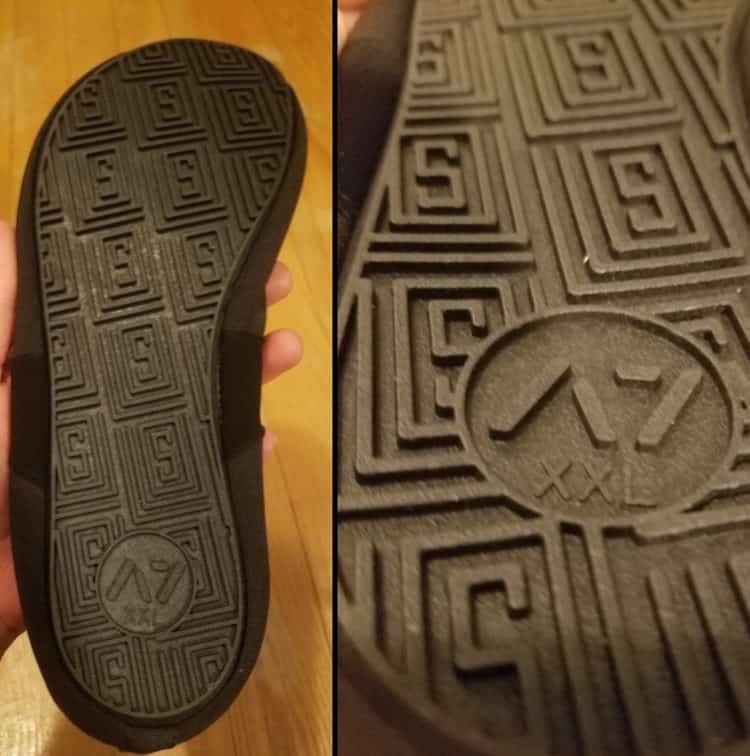 Pros:
Sole material is ideal – Tough rubber that allows your foot to move freely
Super grippy – Offers maximum flexibility
Gets you as close to the ground as possible for ideal pull and lock-out
The metatarsal strap provides some amount of midfoot support. It's not a lot, but it is noticeable when you consider that the shoe's body is made from a soft, flexible material. This is something you wouldn't expect from a deadlift slipper, since I don't think there's any other deadlift slipper out there with a strap.
Takes up minimal space in your gym bag, so you can bring them specifically for deadlifting and change into your other shoes to complete the rest of your workout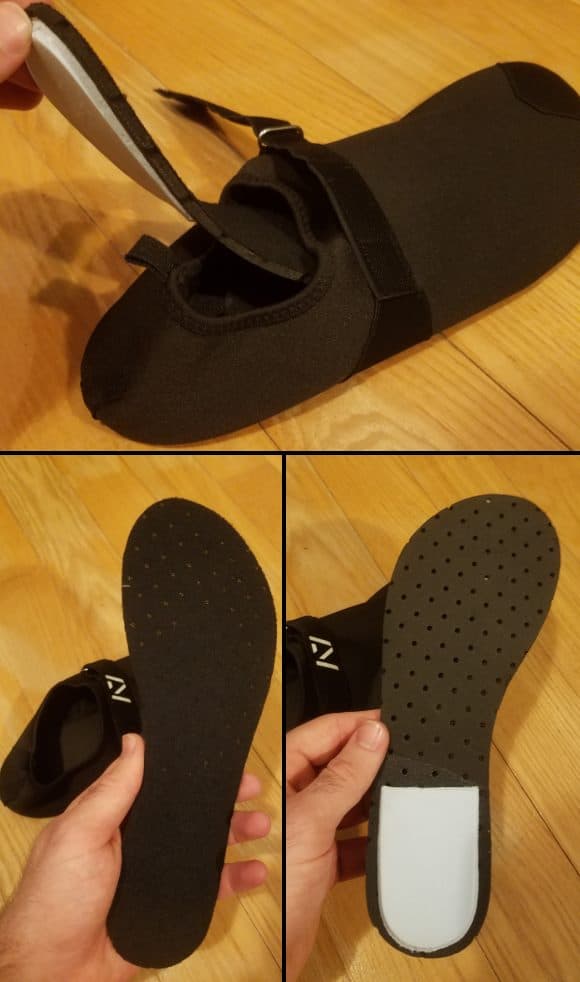 Cons:
The metal loop that the metatarsal strap inserts through rotate sideways if you're not careful when tightening it. This makes the strap bunch up and may cause it to wear out faster over time. This is annoying, but you can fix it by simply rotating the loop back into place, as shown in the GIF below: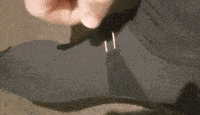 I've found that the removable insoles shift around slightly within the slipper. Keep in mind that I only do conventional deadlifts. It'd be much more noticeable if I pulled sumo. The solution? They're removable, so I just take them out. No more shifting, plus I'm that much closer to the floor. Sometimes I put them back in for the added comfort after deadlifts, depending on my lifts.
Check Current Price – A7 Soul Go Deadlift Slippers »
Wrestling Shoes
The Matflex shoes are made for wrestling, but many seriously strong lifters consider them to be some of the best deadlift shoes you can. They've got some very impressive features for deadlifting. However, if you're committed to straps, you may want to skip this one.
You may have noticed that these are very similar to the SABO Deadlift shoes in terms of the upper's shape as well as the sole's shape and traction patterns. Of course, there are some big differences. Namely, the Matflex shoes don't have any straps. But they're also about $40 cheaper, so there's a trade-off…
…They're not the best, but are worth considering. Now, take a closer look:
Pros:
Minimal sole thickness of approximately 5mm. Note: This measurement is estimated based on comparisons to the SABO shoes, which have a very similar sole. I have reached out to ASICS support to confirm this, but haven't received an answer. Whatever the precise measurement is, you'll be very low to the floor.
Heel-to-toe drop of 0mm or at least very close to it (I messaged their support but haven't gotten confirmation). However, just looking at the shoe you can tell it's very flat.
Lightweight feel plus breathable upper makes for a very comfortable training experience
The rubber sole is durable and still allows for great foot flexibility
The circular traction pads and textural groove pattern pressed into the rubber sole provides great grip against the floor.
Fully laced up past the ankle, providing you with serious support
Cons:
No straps may be a deal breaker – Laces provide support but you can't tighten the shoes as much in the midfoot region as you could with a metatarsal strap
Appropriate size selection has been an issue for users
Check Current Price – ASICS Matflex Wrestling Shoes »
The ASICS JB Elite shoes are an upgrade in overall quality, long-term durability and (in my opinion) style options.
However, they're a bit more expensive and still don't have any straps.
Boxing/Combat Shoes
Hosting a famously tall high-top collar for superior ankle support, the Reebok Boxing Boots may be the unique footwear alternative for your deadlifting needs.
Pros:
Excellent ankle support with high collars and an ankle strap
Extremely durable – It's made for serious boxers, who move around much more than your average weight trainee. They even reinforced the upper with a synthetic overlay, specifically to increase durability.
Despite having a tall and thick, padded upper portion, the boots are
Tough rubber sole with little to no noticeable compression
A basic zig-zag pattern on the bottom of the sole provides plenty of grip for most people.
Cons:
Heel height is 10mm, according to the Reebok support rep I spoke to. This is "okay" as far as deadlifting shoes go, but it's not the best either. It's about the same as most Chuck Taylor All Stars. The support rep didn't know the heel-to-drop measurement, but you can tell just by looking at the side profile (see image below) that there is a downward slope in the sole, albeit a very slight one. I would estimate the drop is ~3-4mm, which isn't the ideal of 0mm, but it's not the end of the world either.
Lack of flexibility due to thick rubber sole, which may impede foot flexibility on any other (i.e. non-deadlift) exercises
No metatarsal strap for lateral/midfoot support
Check Current Price – Reebok Boxing Boots »
To get all of the benefits of the Reebok Boxing Shoes without its key flaws, check out the Nike HyperKO. They're not perfect and will cost you a full $70+ more than the Reeboks…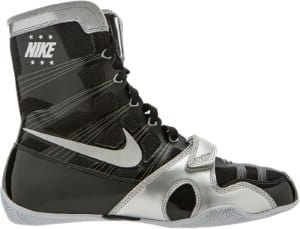 But they are pretty cool and they're worn by the Massthetics guys, who are known for their insanely strong deadlifts.
Compared to the Reebok boots, it does have a metatarsal strap, is noticeably lower to the floor (I'd estimate 4-5mm heel vs. 10mm), is flatter (appears to be a completely flat 0mm heel to drop or at least very close to it) and is better quality overall. But again, you'll be paying a lot more for all of that. Again, you'll end up paying a good chunk extra for all of this.
Also, I should mention the one stand-out negative point of the HyperKO's concerning deadlifts. That is, at least one person mentioned there was a slight amount of "squishiness" to the sole that he didn't expect. That said, I'd guess it's not that big of a deal, considering there are some very strong deadlifters who wear these.
Offering fantastic foot flexibility and a very low-to-the-floor sole, the Otomix Stingray Boxing/MMA Shoes offer support in a variety of training environments.
Pros:
Completely flat rubber soles with a 0mm heel to toe drop
Super thin soles keep you as low to the floor as possible. I'd estimate they're around 3-5mm in height. I contacted Otomix support for precise measurement but wasn't able to get an answer.
The pattern on bottom of rubber sole provides excellent grip
The high collar adds significant ankle support, particularly if the laces are bound tight enough and laced through the top eyelets.
Very lightweight and comfortable shoe with a snug fit and no pinch points
Cons:
No metatarsal strap for lateral support
Arch support is non-existent. This is to be expected from most shoes with such a minimal sole, though.
They're great while they last, but don't always last as long as you'd like. One of the common issues I've heard of is the sole peeling over time. Keep in mind that feedback like that may very well be more common among those who use these shoes for wrestling/MMA. Still, I would make sure to use these for weight training only to maximize their life. Avoid doing cardio in them or wearing them around outside of the gym.
Check Current Price – Otomix Stingray Shoes »
Flat Sole Sneakers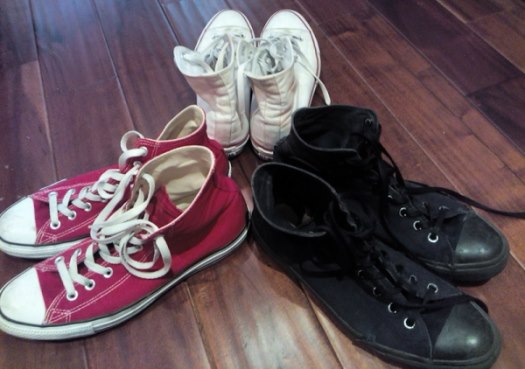 A classic deadlifting staple, the Converse Chuck Taylor High Tops are a very budget-friendly deadlifting shoe option. Not only that, but it's versatile because it can potentially satisfy your needs for all other lifts and even you can even wear them outside the gym if you want.
Pros:
A flat sole (0 mm drop) that ensures an even distribution of weight during exercise
Budget-friendly – You can usually snag a pair for about $40-50
High collar provides a decent amount of ankle support when laced up correctly
Rubber sole compresses, but only very slightly. Most people wouldn't notice unless you pointed it out, assuming they were even lifting enough to experience any compression. See more in the "cons" section for the flip side of this point.
Although I prefer different shoes for deadlifts and squats, Converse High Tops are a decent all-purpose gym shoe for doing all your lifts in, and even some cardio. I used mine for years without issue as my only gym shoe before getting more specialized footwear.
Cons:
The sole is approximately 10mm thick. This isn't terrible, and many will be completely satisfied. However, if we're talking about deadlift-specific shoes, they leave you wanting more (or less, really). That said, there are All Stars with removable insoles that go down to an impressive 5-6mm when taken out, but those are unfortunately hard to find these days in my experience.
No arch support
Although the rubber soles are relatively dense, you will still experience some slight but noticeable compression under heavier loads
Traction can be hit or miss due to the tread pattern and the floor you're deadlifting on
Check Current Price – Converse High Tops »
Minimalist Cross Training Sneakers
Cross training sneakers are becoming more popular among recreational weight trainees over the past few years. I think this is largely due to the market changing: a lot more people are doing workouts with at least some heavy lifting, thanks to things like CrossFit and Instagram making weight training more mainstream.
Many of these minimalist shoes are usually "good enough" for effective deadlifting. I personally wouldn't buy them for a deadlifting shoe. However, if you regularly run or do plyometrics in your workouts, they may be an ideal choice for an all-purpose gym shoe.
Pros:
4mm heel-to-toe drop, which is good for cross trainers. Ideal deadlift shoes will have zero heel-to-toe drop (i.e. totally flat sole), but you won't find that in this type of shoe.
"Burrito-tongue" allows you to get a much tighter fit around the foot, essentially acting like a metatarsal strap.
High durability
Rubber Vibram sole with a deeply textured pattern provides great traction
Great multi-purpose training shoes – Perfect if you're into Crossfit or want to do weights and lots of cardio
Cons:
No ankle support
Some people complain that the "burrito-tongue" can dig into and irritate the top of the foot if not positioned exactly right (Note: others say the discomfort is minimal, non-existent or that it goes away after breaking the shoes in)
Not the best-looking design in my opinion
Check Current Price – New Balance Minimus Mx20v6 »
Pros:
The Reebok Nano 8.0 has a 4mm heel-to-toe drop, just like with the Minimus shoes (discussed above). Although this is not the ideal of 0mm for deadlifting, it is pretty good for a cross-training shoe.
High durability
A plastic heel cup reinforces the heel to provide better foot stability. You feel more locked-in on heavier lifts.
Decent arch support
A highly textured rubber outsole provides great traction
Nice-looking design
Great shoe for Crossfit, or if you simply if you want one pair of shoes for weights and cardio, and anything in-between
Cons:
I've estimated the heel height to be 0.6″ (15mm). I used photoshop to overlaying a side profile shot of the Nanos with a similar sized one of the Adidas Powerlifts, and the heels of each were at the exact same height. We already know the Powerlifts are 0.6″, so the Nanos should be the same, or very close. This 0.6″ heel height is fine for general weight training shoes, but it's not ideal for deadlifts. Don't get me wrong, you can still deadlift heavy and do so safely in these shoes, but it doesn't give you "optimal" performance for deadlifts.
Insoles may add unnecessary compression and minor instability at heavier weights. The good news is the insoles are removable. So you can replace them with harder insoles, or simply remove them during deadlifts if it's a noticeable issue.
No ankle support
Not a good option for lifters with wider feet
Check Current Price – Reebok Crossfit Nano 8.0 »
Pros:
The Vibram FiveFingers KSO has a flat 0mm heel to drop
Ultra-thin 3.5mm soles, which are closer to the floor than all other pairs in this article except for the METAL Powerlifting Shoes
Metatarsal strap for lateral/midfoot support
Good traction thanks to grippy Vibram sole material, which is further bolstered by the "razor-siped" pattern etched into the bottom.
Perfect if you want to do barefoot running for cardio while you're at the gym (Note: do your research before getting into that to avoid stress injuries)
Cons:
No ankle support
They look atrocious, in my humble opinion. But don't let that stop you if you want them for their performance uses.
Check Current Price – Vibram FiveFingers KSO »
Olympic Lifting Shoes for Deadlifts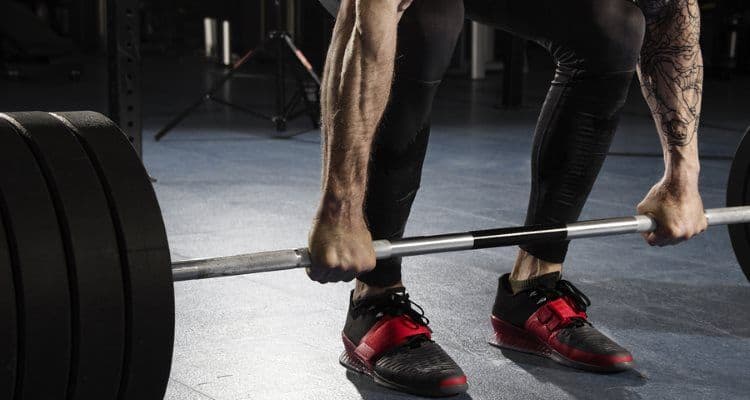 Very distinct in appearance, Olympic lifting shoes are being seen more and more on the gym floor.
Are they ideal for deadlifting?
They are fantastic for squatting, especially high bar squats, and Olympic-based lifting such as clean and presses. For most people, though, Olympic lifting (Oly) shoes are not going to deliver what you need.
They have an elevated heel, which goes against what I talked about low-to-the-floor and flat soles generally being superior for deadlifts. Plus, they lack ankle support.
However, there are some people who prefer to deadlift in Oly shoes because it gives them better leverage and improves their leg drive. Whether or not you could benefit from deadlifting in Olympic lifting shoes depends on several factors, including anthropometry (e.g. limb length, torso length), deadlifting style and mobility.
Since there are at least some folks out there who can benefit from deadlifting in Oly shoes, I've decided to include this category of shoe in my review. Here are some specific examples: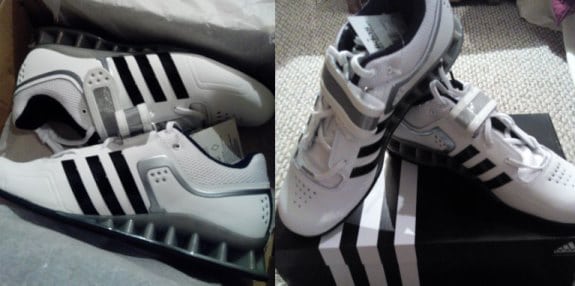 These are the Olympic lifting shoes I own and have been wearing for the past 3+ years. They're my first only pair so far. They were a game-changer in terms of making my squat stronger and more efficient in terms of technique. They have an effective heel height of .75″, which is the go-to standard for most Oly shoes.
The upper is leather made of leather, which has held up well. However, there is one spot in the toe that's starting to wear through. But that's to be expected after years of heavy use. The heel is made of completely solid TPU plastic, which curls up around the leather in the heel region to form a heel cup for added foot stability. There is a solid thin layer of rubber on the bottom of the TPU plastic that forms the outsole and provides all the grip you'll need for squats.
One thing to note if you're considering these is that they have a relatively narrower fit, so you may want to avoid them if you have wide feet.
Check Current Price – Adidas AdiPower »
The Legacy Lifter is Reebok's answer to Adidas' AdiPower and Nike's Romaleos. The latter two have dominated the market, but the Legacy Lifter is gaining on them. This is especially the case after the Romaleos 3 came out, which Nike made to cater more towards Crossfit style training rather than purely Olympic weightlifting training. As such, I'd probably recommend the Legacy Lifters before considering the new Romaleos, unless you are into Crossfit. Furthermore, the Legacy Lifter is generally seen as a durable, well-made and comfortable shoe that performs well. Plus, it looks badass!
A final feature to note is that the heel is 0.86″ (22mm), which is slightly higher than the typical .75″. It's not quite as high as the 1″ high heels on the Leistung 16.II shoes, but it's a big enough difference that you'll probably notice a slight difference if you're used to wearing 0.75″ heels. In case you didn't know, higher heels facilitate greater ankle range of motion, allowing you to more easily squat deeper.
Thus, if you have bad ankle range of motion, you'll want a higher heel. That said, even if you have good/average ankle mobility and do well with the typical 0.75″ heel height, I think 0.86″ is close enough that you could still excel in them. It might just take a few workouts to get used to it. Whereas, if they went with the 1″ heel shoe like the Leistung 16.II, the difference might be so dramatic that it would be detrimental to performance even in the long term.
Check Current Price – Reebok Legacy Lifter »
If you want decent quality at a low price, the VS Athletics Oly shoes should be your first choice. They're not the best overall Oly shoe by any means, but they are arguably the best bang-for-your-buck Oly shoe on the market.
Check Current Price – VS Athletics Weightlifting Shoe II »
A hybrid between Oly shoes and cross-trainers, the Powerlift shoes offer a 0.6" tall heel, which is a bit shorter than most Oly lifting shoes. The sole is rubber, as opposed to plastic or wood, so there will be some compression, though you likely won't notice it unless you're putting up some big numbers. The plus side to the rubber sole is it offers more flexibility in terms of foot movement.
Check Current Price – Adidas Powerlift »
Very similar to its companion shoe listed above, this is another hybrid between Oly shoes and cross-trainers that offers a bit more flexibility. One of the major differences is that it has a taller heel of 0.75" (vs the Powerlift's 0.6″ heel), which is commensurate with most true Olympic lifting shoes.
Check Current Price – Adidas Power Perfect »
Olympic Lifting Shoes Honorable Mentions
Benefits of Deadlifting Shoes
Shoes are shoes, right?
Well, no.
Not when it comes to maximizing your form and execution with the deadlift. Even the casual deadlifter may notice a world of difference with the right pair of deadlifting shoes.
Here are the key benefits of deadlifting shoes that just may make the difference between setting new personal bests and staying average:
Stability
Your average sneaker or work shoe contains a soft, cushioned sole for comfort. What's more, there is usually half an inch or more elevating you off the ground. Typically the rear of the sole is higher, creating an elevated heel. While this may be ideal for runners – and even that is up for debate – an elevated and cushioned shoe is a deadlifter's worst enemy.
Stability is the name of the game when you're pulling two or three times your bodyweight off of the floor. That elevated heel and cushioning are going to create an environment of instability. Exercising the full range of motion for the foot, ankle, and leg is important in a total body fitness program but it has no business in the execution of a deadlift.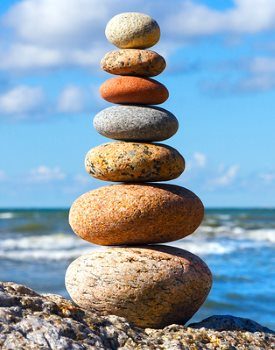 You see it all the time in the gym when someone tries to pull from the floor. Just like a stack of dominoes, the foot starts to wobble then the ankle begins to move back and forth.
The entire kinetic chain is negatively impacted. Not only is this potentially dangerous but it's also killing your results.
The idea here is to get as close to the floor as you possibly can. Flat and hard soles are ideal for safe and effective stability.
What's more, some of the best deadlifting shoes will provide a higher collar with a strap that goes above your ankle, which increases stability so you can safely execute a perfect form deadlift.
Minimal ROM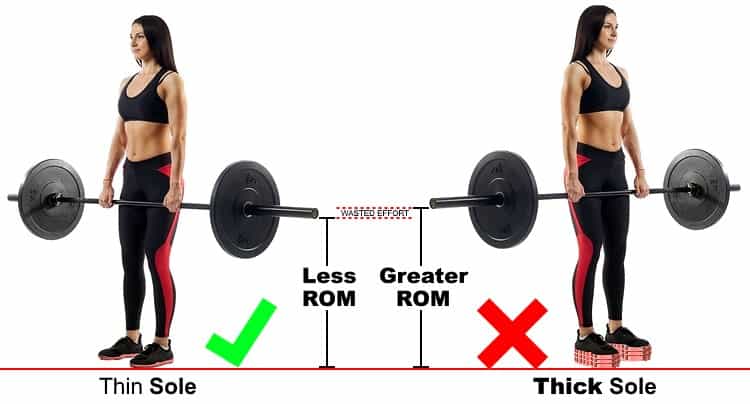 The closer you are to the floor, the less vertical distance the bar has to travel from the floor to lockout. The trick is to minimize the range of motion by using a flat sole shoe, which keeps your feet as close to the floor as possible.
Support
The best shoes for deadlifting are going to provide support in three key areas: the midfoot, the arch, and the ankle.
Metatarsal Support

Look at the middle of your foot. There are five thick yet flexible bones here. Metatarsal support can play an important role in being able to effectively execute a deadlift and the best shoes for deadlifting are designed with a feature called the metatarsal strap that runs across this area of the foot.
The metatarsal strap can provide a tight but not blood constricting feeling over the largest area of the foot. Stability is key during a deadlift and the metatarsal strap eliminates any unnecessary movements in the foot such as the back and forth wobble or wiggle.
What's more, when you utilize the metatarsal strap correctly, it may also benefit your arch support.
Arch Support
It's important to differentiate between metatarsal and arch support. Look at your foot again. Track the foot down towards the ball of your foot. See that literal arch favoring the back of the foot? This is what we are talking about when we say arch support.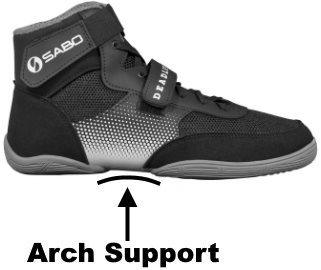 Those with high arches may feel off-balance in overly padded shoes. Again, flat soles are ideal but it doesn't hurt to have a bit of support in the sole of the shoe for your aches.
The best deadlifting shoes will have a combination of a slightly raised arch – not padding – and a metatarsal strap as the two will work together to eliminate instability. The slightly raised arch support inside the shoe will eliminate the open space between the elevated arch and the inside of the shoe. To further secure the arch and eliminate instability, the metatarsal strap mentioned above will tighten the shoe and pull the foot as close to the floor as possible with no open space in between.
Ankle Support
The best deadlifting shoes are going to:
Keep the ankle joint secure to prevent or minimize any movement to the inside or outside. Instability detracts from your speed and power production when pulling
Allow for enough ankle dorsiflexion (moving toe closer to shin) to get into the deadlift setup position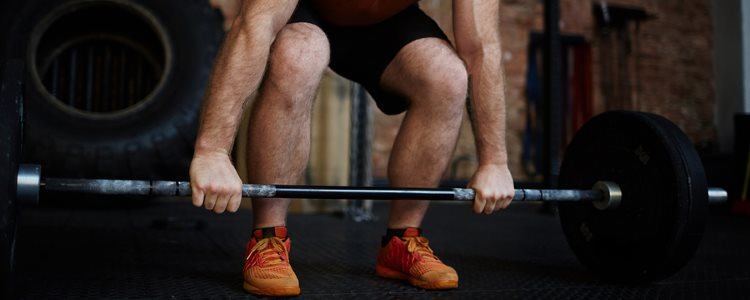 The high collared shoes with the strap across the front, like on the SABO deadlift shoes, are going to be an ideal way to provide as much support for the ankles that you could need for the deadlift. The addition of the strap makes also makes it fast and easy to increase or reduce the amount of support, on the fly, depending on the weight and how you're feeling.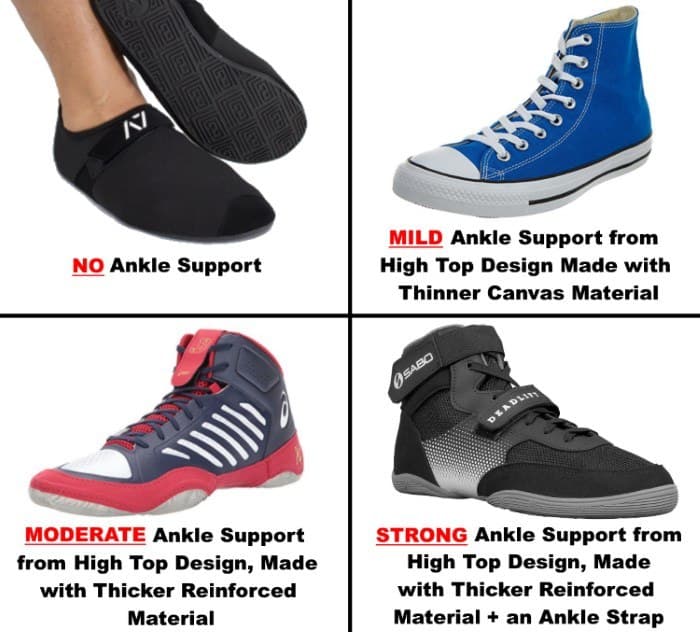 It's important to know that not every deadlifting shoe out there is going to provide support the same amount of support at the ankle. Some shoes don't provide any at all, and that can be fine depending on your needs. However, if you want the best of the best when it comes to deadlifting shoes, you should seek out this feature.
Decreased Risk of Injury
Let's go back to our example of the guy in the gym who is wearing those thickly padded shoes with elevated heels. As the kinetic chain fumbles to stay stabilized as he pulls from the ground, he may no idea of the risk of injury that's hovering over him. The more weight you're trying to pull with a wobbly base, the higher the risk.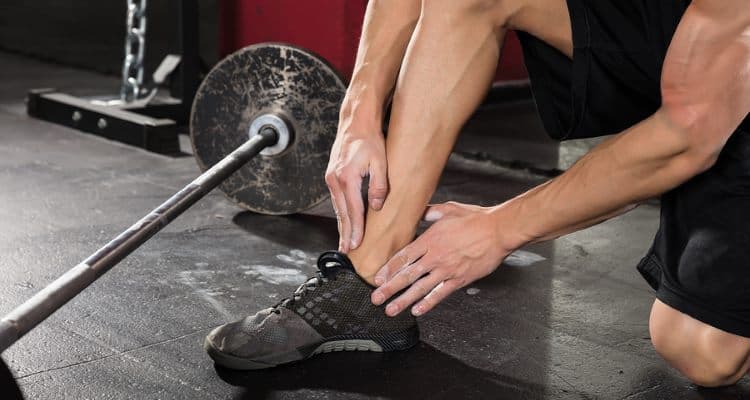 When you are using everyday shoes or running sneakers to deadlift, you're not doing yourself any favors. The free range of motion of the ankle, the instability, and the lack of support throughout the foot is putting you at risk for injury including a torn ligament in the ankle or knee. You may even injure your lower back.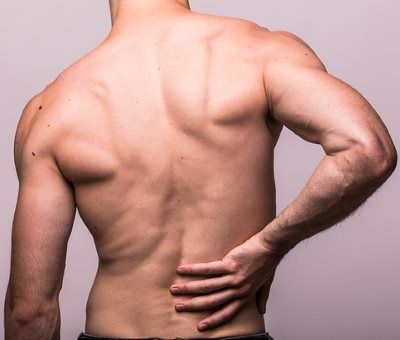 Remember, everything is connected in the kinetic chain so when you find an error in one area, it's going to impact the entire chain of command.
Deadlifting shoes may help to dramatically reduce or eliminate the risk of injury because they cancel out the unnecessary weight shifting, foot and ankle rolling, and instability that ordinary sneakers seem to promote.
Better Results
Last but not least, the best deadlifting shoes may help you improve your technique and increase your deadlift strength, faster.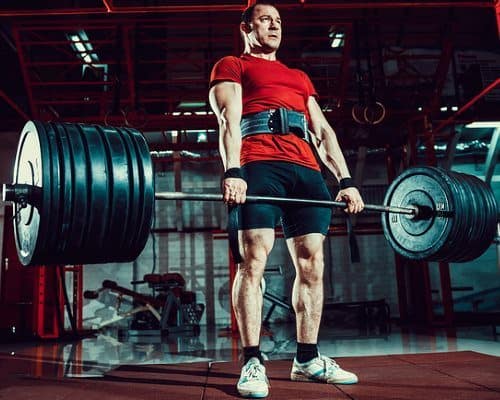 A flat-soled, minimally cushioned and well-supported shoe brings you closer to the floor and improves stability. So you'll be able to move through each set with perfect form. Good form means better muscle activation and when the right muscles are firing under the right resistance, you're looking at more strength, power, and muscle mass.
Deadlifting shoes don't guarantee you're going to achieve amazing results. That's your job. The shoes are just there to ensure you are set for success so long as you're putting in the hard work and eating like a powerlifter.
Deadlift Shoes vs. Going Barefoot
Right now, you may be wondering, "If getting as close to the floor as possible is the best way to deadlift, why bother wearing shoes at all?"

Going barefoot has become popular over the last decade or so and it's completely understandable as the barefoot doesn't have to worry about thick soles or cushioning. With that said, going barefoot provides no real support for your foot where it may need it.
Going barefoot means no ankle, metatarsal, or arch support. For some, this may not matter a great deal but for most of us, we need that support to ensure proper execution of the movement.
One of the most obvious downsides to going barefoot is there's no protection for your feet. If a weight plate falls, there's nothing there to absorb the impact except your barefoot. Finally, due to health and safety reasons, going barefoot in most local gyms is banned.
Deadlift Shoes vs. Regular Shoes

Everyday shoes provide too much elevation and cushioning without giving you support where it matters most. The result is instability, uncontrolled range of motion, and no support. All of these elements working against you may dramatically increase your risk for strain or injury (or both).
Deadlifting shoes are created with every aspect of deadlifting in mind. From the moment you pull from the floor to the lockout, deadlifting shoes are supporting you every step of the way.
What to Look for in Deadlifting Shoes
Sole Thickness
What Is Sole Thickness?
That layer on the outside of your shoe that touches the ground is known as the shoe sole and it is divided into three parts:
Insole: Found inside the shoe, it's what provides that thin layer of cushioning and it separates your foot from the midsole of the shoe. Some shoes have no insole. Some shoes have a removable insole. And other shoes have insoles that are glued or sewn down and therefore non-removable.
Midsole: The midsole of the shoe is what absorbs shock. It's the layer between the insole and the outsole. Some shoes don't have this; typically those with the thinnest and most minimal soles. For our purposes, it's not important to care about a midsole. If it's there, it's often hidden and/or indistinguishable from the outsole. So unless you're a cobbler, just lump this one in with the outsole.
Outsole: The bottom of the shoe is where you'll find different forms of traction. Think about how a soccer cleat looks vs shoes meant for a waiter vs boots meant for a lumberjack. They all have very different outsoles, which differ greatly in terms of the types and densities of materials used, the pattern on the bottom as well as the overall shape and size.
NOTE: Going forward in this article, if I simply use the word "sole", I'm usually referring to all of the above components together. If I want to refer to a certain part of the sole, I'll use the specific term (i.e. insole, outsole).
As for the category of sole thickness, this refers to the amount of space taken up from the top of the insole (if your shoe has one) to the bottom of the outsole. Put differently, it's the amount of space between the bottom of your foot (within the shoe) and the surface of the floor.
Now, it's important to realize that sole thickness can vary throughout the length of the shoe. This is not the case for shoes with completely flat soles. But it is the case for many other shoes where the heel region is at least somewhat higher than the toe/ball-of-the-foot region. I'll discuss this important concept further in the section on heel-to-toe drop.
Different Amounts of Sole Thickness
The best deadlifting shoes will have a sole thickness of around 5mm, sometimes less.
For example, the SABO deadlifting shoes have a very thin 5mm sole and they are one of the best pairs you can buy.
Chuck Taylors tend to have a thicker sole around 10mm (5-6mm without the insole if you can remove the insole, though most have the insole glued in). This isn't ideal, but most lifters are okay with it. After all, it's probably the most common shoe among strength-focused lifters.
Benefits of the Right Amount of Sole Thickness
A flat and thin sole is going to get you as close to the ground as possible, which will dramatically improve stability and limit the distance the bar has to travel from the ground to lockout.
How Important Is Sole Thickness?
High quality flat and thin soles are absolutely worth it. If you can find a deadlifting shoe with a 3-5mm sole, that would be ideal.
Sole Material
What Is Sole Material?
Sole material simply refers to what the sole, particularly the outsole, is made out of. Different materials give the sole different properties.
The most important properties include:
"Grippiness:" How much it allows you to grip the floor with your feet. Other factors can further improve the grip of the sole, like slitting or other patterns molded into the bottom of the sole. However, the material used is the primary factor determining grippiness.
Density: You also want your sole to be dense enough so that there is no noticeable sole compression while you're deadlifting heavy-ass weight. Also, denser materials tend to be more durable. However, you generally don't want a material that is super dense, but also rigid. You want a super dense material that also gives your feet enough flexibility to comfortably walk around the gym.
Different Types of Sole Material
There are a variety of materials used to make the sole of the shoe. Here are some common ones used in regular sneakers and/or deadlift-specific and lifting-specific shoes:
Rubber: Found in your standard running shoe. Can vary in density from low (cushion-like) to high (minimal compression).
Thermoplastic Rubbers (TR): To most people, this would look just like rubber. However, it's actually a mix of plastic and rubber. It is often used in thick and/or dense soles, though different formulations can be made to have less density and more cushioning depending on the application.
Polyurethane: Polyurethane is its own thing. But it can take on the properties of both rubber and plastics. And it can look like either depending on the application. Different polyurethane formulations can be used to create different combinations of the following properties: hardness or softness, high-density or low-density, and probably other things too (sorry, I'm not a materials engineer!). However, the common thing to note here is that whatever the other properties are, the polyurethane material retains will
Ethylene-vinyl acetate (EVA): This is a foam. It's often used in the midsole portion of sneakers. It's generally used to add cushioning to the sole. It's what Crocs are made of. However, it can also be made in a higher-density form, which is seen in the Adidas Powerlift shoes.
Wood: Popular woods used inside of shoes include maple, cherry, and walnut. The most obvious property of wooden-soled shoes is that they are super dense. There is only one wooden deadlift-specific shoe I know of: the Risto Sports deadlift shoe (UPDATE: Risto Sports appears to have gone out of business as of mid-late 2018). However, there are several wooden-soled Olympic lifting shoes on the market.
Do you have to know the specific scientific name or formulation of sole materials? Definitely not. But you should know if the sole is sufficiently dense and durable…
…When it comes to judging shoes on these factors, you'll want to look for a sole that looks like it's made of rubber (though it may be some combo of rubber, thermoplastic rubber, polyurethane and/or related materials). This is because rubber or materials with rubber-like properties can be dense and very grippy.
You'll want to avoid lower-density EVA or anything that looks like a squishy foam-like material. However, higher-density EVA is okay, such as the kind used in the Adidas Powerlift. The exception to this is any higher-density EVA, such as the kind used in the Adidas Powerlift shoes.
As far as wood goes, I would avoid it since it seems like it wouldn't give enough flexibility to wear comfortably or use in other lifts that require bending the foot (e.g. lunges, calf raises). Plus, it's so rare in deadlift-specific shoes, that it's hardly worth considering. I would certainly consider getting Olympic lifting shoes with wooden soles, but I wouldn't use them for deadlifts.
Benefits of the Right Kind of Sole Material
As concluded above, the ideal pair of deadlifting shoes should have soles made of rubber or a rubber-like compound. This is because rubber is the best material for providing the right amounts of density and grip:
Having a dense material increases stability and eliminates wobbly execution. Thus, you can produce more power and move more efficiently.
And having a grippy sole material lets the rotational torque generated in your hips go into the floor without having your feet turn outward. Also, it prevents your feet from sliding outward as you "spread the floor" on sumo deadlifts in particular.
Density and grippiness both contribute to better form, stronger pulls and reduced likelihood of injury.
How Important Is it to Have the Right Sole Material?
Arguably, sole thickness is more important than sole material.
However, having a sole made from the right materials is still a pretty big priority. The specific chemical compound that makes up the sole material isn't as important as the performance properties that it provides.
Basically, you need shoes with a sole material that lets you grip the floor without any slipping, and pull a heavy load without experiencing any noticeable compression under your feet. As mentioned previously, this will very likely be rubber or a rubber-like material.
Sole Rigidity vs. Flexibility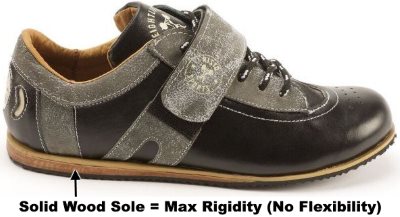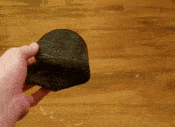 What Is Sole Rigidity vs. Flexibility?
Should the sole be completely hard, or rigid? Should it be so flexible that it completely flops over in half when held up? Or maybe it should be somewhere in between? This is what I'm considering when talking about sole rigidity vs. flexibility for deadlifting shoes.
Degrees of Sole Rigidity/Flexibility Available in Different Shoes
The soles of deadlifting shoes can vary in how rigid or flexible they are based on the materials.
Shoes with more plastic-like soles will generally be more rigid. For example, Olympic lifting shoes, which some people use for deadlifting, are usually made from some type of hard plastic compound. Personally, these are too rigid for my tastes, as they make it hard to perform other exercises that require foot mobility, which you may have in the same workout as your deadlifts (e.g. lunges, calf raises). Of course, I mainly avoid Oly shoes for deadlifts because of the raised heel, but hopefully, you get my point about the drawback of excessive rigidity.
Shoes with more rubber-like soles will be more likely to have some flexibility. At the same time, they'll most likely have enough rigidity to prevent compression and provide some support (even if minimal). Some flexibility is good since it lets move your foot comfortably when walking around the gym or doing any other lift that involves foot mobility.
Having super flexible soles, like the ones shown in the GIF above of the deadlift slippers, means that the sole is necessarily very minimal. This is what you want of course when it comes to deadlifting. However, the only downside is that you'll have less protection against your feet and they'll therefore be more sensitive to anything underneath them. This is not an issue for deadlifts.​
However, I've had discomfort on exercises like calf raises where the platform is pressing into your foot. Similarly, I've found they're not pleasant for doing cardio on a treadmill either since the bottom of your foot feels exposed. That said, if you have a dedicated pair of deadlift shoes, it's a stupid idea to use them for cardio, since you'll wear out the grip pattern on the soles much faster.
Benefits of Having the Right Amount of Flexibility/Rigidity
Finding a thin flat-soled shoe that is rubber or plastic ensures you will be as close to the ground as possible to maximize your lift. The rubber or plastic-based sole will provide plenty of grip and flexibility, which can eliminate instability and slippage. Either of these materials will also be hard enough that any sole compression is minimal, possibly to the point of being undetectable.
How Important Is it to Consider Sole Rigidity vs. Flexibility?
This isn't too big of a factor to consider. Mainly because most eligible shoes you'll consider will fall somewhere in or around the acceptable zone for a balance between rigidity and flexibility.
Most if not all of the specific shoes I'll be talking about in this article will have a sole that is rigid enough to prevent compression, while still being flexible enough to allow comfortable movement of the feet.
Ankle Support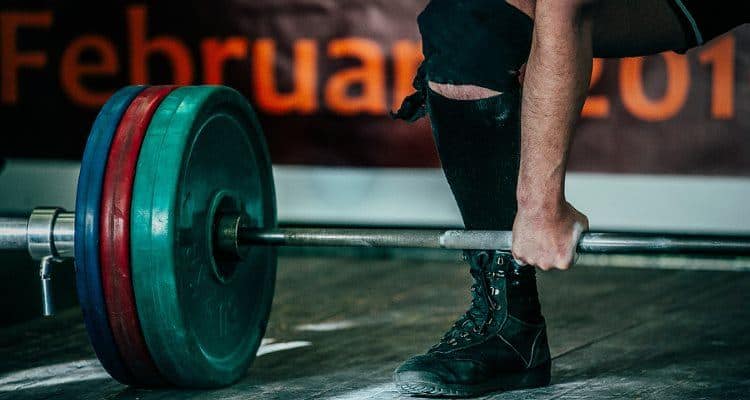 What Is Ankle Support?
I've talked a lot about stability and one of the best ways to ensure stability during your deadlift is to support the ankle so you can avoid unnecessary movements such as the wobbly ankle or over-extension of the ankle.
Degrees of Ankle Support Provided by Different Types of Shoes
High-collared (i.e. high-top) deadlifting shoes are the most common type of shoe that offers sufficient ankle support. Some examples are the Converse High Tops,
Some deadlifting shoes also have a strap that goes across your ankle to provide extra support, in addition to the support of just the high collar
Benefits of Ankle Support When Deadlifting
I talked about this in the Stability section above, but it's worth a second mention as instability will wreck your lift and possibly increase your risk for injury. The ankle support provided by the best shoes for deadlifting will minimize unnecessary movement in the ankle and focus that energy on the exercise. The more stable you are during deadlifting, the more you'll be able to pull and the better your technique will be.
How Important Is Ankle Support When Deadlifting?
Arguably not as important as metatarsal support, ankle support should still be a high priority consideration especially if you've had ankle-based injuries or surgeries in the past.
The stronger your deadlift gets, the more necessary some amount of ankle support becomes if you want to maximize your power output while minimizing instability and risk of injury.
Heel to Toe Drop (Flat or Raised Heel)

What Is Heel to Toe Drop?
Heel to Toe Drop is just another way to show how much higher your heel is compared to the front of your foot. This is a measurement, typically expressed in millimeters (mm). You'll also hear the terms drop or offset to refer to this.
How Heel to Toe Drop Measurements Vary in Different Shoes
To calculate your heel-to-toe drop, take the heel measurement and subtract it from the front foot measurement. For example, if your shoe has a heel of 15mm and the front of your foot is at 5mm, then you have a 10mm drop.
For deadlifting shoes, you want a zero drop, where the heel is, let's say, 5mm and the front of the foot is at 5mm (totaling a 0mm drop).
Benefits of a Low Heel to Toe Drop Measurement
A shoe with a minimal or no heel-to-toe drop is ideal because it makes your foot parallel to the floor, or at least very close to it. For most people, having your foot parallel to the floor puts your ankle, and by extension, the rest of your body in the most mechanically advantageous position for deadlifting in terms of leverages…
…Now, there are also the special cases of lifters who can achieve better leverages wearing shoes with a high heel-to-drop measurement. However, this is relatively rare and the vast majority of lifters do better in flat shoes rather than ones with elevated heels. I'll talk about this topic more later, in the section on Olympic Lifting Shoes for Deadlifts.
Another benefit of shoes with a minimal heel to drop is that they're more likely to be low to the ground. It's not guaranteed; you could technically find a pair of 5-inch platform shoes that are the same height in the heel as they are in the toe.
However, the vast majority of shoes I've seen with a low or no heel-to-toe drop are also relatively low to the ground. And as we've gone over earlier, the closer you are to the ground, the better your chances for stability and performance.
Is a Low Heel to Toe Drop Necessary?
I'd argue that a zero-drop shoe in deadlifting is ideal. However, a 1-3mm drop is fine, too, and you may not even be able to notice the difference versus a flat shoe.
There are many "minimal" training shoes on the market, which typically have a 4mm drop. This is still very low compared to your average sneaker. And yes it can still make an excellent deadlift shoe. However, if you're looking for the best of the best when it comes to deadlifting, 4mm is just over my threshold for being "ideal," and is more of what I'd call "good."
The higher the drop, the further from ideal the shoe gets. 5-6mm drop may still be okay. Anything above that I would just avoid, as there are just so many great shoes to choose from with lower drops.
You can ignore the above three paragraphs if you're the rare lifter who prefers deadlifting in raised heel shoes. As I mentioned in the previous section, some lifters perform better in Olympic-style lifting shoes, which typically have a drop of 15-25mm. These shoes are traditionally used just on squats, to allow for greater range of motion and trigger better quadriceps activation. But some lifters have a certain body type and deadlift style that lets them use the raised heel to their advantage so they can pull more from the ground with better form. I will talk more about Olympic-style lifting shoes as an option for deadlifting later.
Flanges

What Are Flanges?
Flanges are areas in the sole that extend beyond where the foot naturally goes. The idea here is to create a wider base of support to enhance stability.
Be aware that this is not a common feature for deadlifting shoes. But if you can find a pair with flanges that also check all the other key boxes, then it can be a useful bonus feature.
Flanges are a very common feature in Olympic lifting shoes, though. But as stated a few times before, most lifters will perform worse deadlifting in Oly shoes.
Types/Locations of Flanges
Flanges can be found in the front of the shoe favoring the inside of your foot. You may also find flanges in the back of the shoe favoring the outside of the foot.
Benefits of Flanges
With flanges, the wider your base, the more stability you may have. The more stable you are, the better likelihood that you'll be able to perform better.
Are Flanges Necessary Deadlifting Shoes?
You can get all the stability you need from a dense sole with good support through the midfoot and around the ankle.
As such, flanges are a luxury option if you can even find them on shoes that would work for deadlifting it. The thing is, most good deadlifting shoes have such minimal soles that it's hard to build flanges onto them that would have any real effect.
The SABO deadlift shoes have what you could argue are flanges, as parts of the sole come about just a tad further than the rest of the shoe, on both sides of the front of the sole. The Reebok Lite TR (currently discontinued) has more prominent extensions on the front outside and rear inside that can clearly be categorized as flanges.
Grip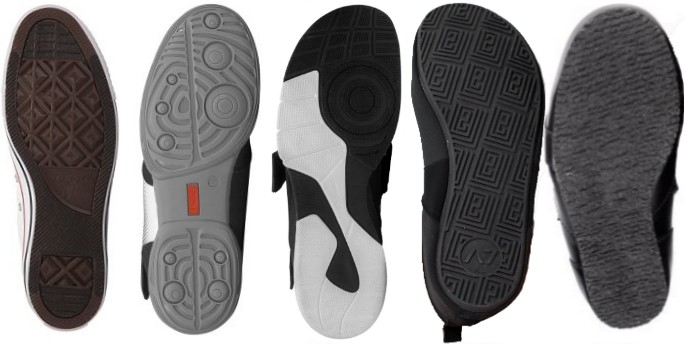 What Is Grip with Regard to Deadlifting Shoes?
Grip is the ability to grab the floor with your feet so that you do not move or slide during the deadlift movement.
Quality of Grip Available
The quality of your grip is directly related to the material of the shoe's sole. Rubber has the best grip while plastic is a close runner-up.
Benefits of Shoes with Grip
By eliminating slippage during a deadlift, you can secure proper form and decrease your risk of injury.
How Important Is Grip for Deadlifting Shoes?
I wouldn't say that this will make or break your deadlift but I would still recommend investing in a pair of deadlifting shoes with decent grip.
Metatarsal Strap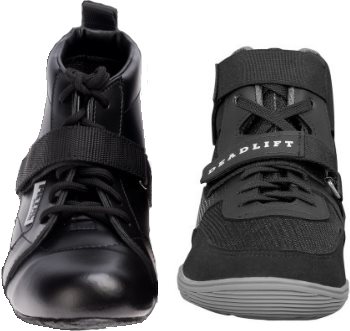 What Is a Metatarsal Strap?
A metatarsal strap runs right across the middle of the foot to provide a lateral form of support.
It will help your deadlifting form by eliminating instability or uncontrolled movements such as when the foot is moving from side to side. It also provides a tighter feeling around the foot that closes the gap from the shoe to the floor.
Types of Metatarsal Straps
All metatarsal straps are attached on one side of the shoes, looped through a (usually metal) loop on the opposite side, and are then secured via velcro.
They vary in:
Thickness: A thin strap is generally an indication that the strap is probably just a strip of fabric with velcro attached to the other side. They can get the job done, but it won't be as strong as a thicker strap and will wear out over time.
Width: Wider straps are better than narrow ones, all else being equal. By "wide," I mean about 1 inch, give or take. This is sufficient to distribute the strap tension over a wide enough area of the foot when tightened. It's also thick enough to handle being
Material: You want a strap made from a strong material, such as nylon, leather or some other strong and durable synthetic material. This means you can make the strap as tight as you need and it will easily outlast the life of the shoe itself.
Usually, there are just one of these types of straps, but some shoes such as VS Athletics (an Oly shoe, btw) have two.
Benefits of a Metatarsal Strap
A metatarsal strap can help with stability, reducing foot wiggle, and providing a tighter feel of the shoe to the floor.
How Important Is a Metatarsal Strap for Deadlifting?
You won't find metatarsal straps on every shoe but I would say they are a necessary element if you're truly in the market for deadlift-specific shoes.
The improved stability may dramatically help your pull from the floor.
Ankle Strap

What Is an Ankle Strap?
An ankle strap provides additional support to the ankle joint. It greatly bolsters the ankle support provided by the shoe's collar, to which it's attached. All shoes with ankle straps have high collars (i.e. high-tops), though not all shoes with high collars have ankle straps.
The amount of support provided by an ankle strap is variable: it can be increased by tightening the strap or reduced by loosening it. For heavier lifts, you may want to strap in tight to keep your ankles as stable as possible. For lighter sets, you can keep it at a looser, more comfortable setting.
This type of strap is not common compared to the metatarsal strap; however, high quality brands such as SABO shoes have both an ankle and a metatarsal strap. It's also somewhat common to see boxing/wrestling shoes with ankle straps, but without metatarsal straps.
Types of Ankle Straps
An ankle strap is just a single strap that goes from the inside, over the tongue and laces, to the outside of the ankle.
One style of ankle strap is the cinch strap, which you see with all metatarsal straps. This lets you crank them extra tight. I've only seen those on shoes like the Reebok Boxing Shoe.
The more common type of strap I've seen is the type without the loop. The strap is simply sewn into one side and then it's pulled across and velcroed to the opposite side. There is no loop it goes through. This is a simpler mechanism. It doesn't give you as much potential tightness as a loop strap would. But you don't need that much. First off, you can still pull it pretty tight. Second, when combined with snugly tied laces, you'll be able to achieve the right tightness for optimal ankle support without even pulling it to its max. After all, you're not trying to cut off circulation in your foot!
Ankle straps vary in other ways between different shoes. That is, in terms of strap thickness, width and material. See my earlier discussion on this for metatarsal straps. It applies just the same to ankle straps.
Benefits of an Ankle Strap
Ankle straps are useful for eliminating any inefficient or even dangerous ankle joint motion to the inside or outside, during the deadlift. They should, however, allow for some ankle dorsiflexion (moving toe closer to shin) that's needed to get in the proper deadlift setup position.
How Important Is an Ankle Strap for Deadlifting?
Ankle straps are useful for both conventional and sumo pulling styles. However, it is much more valuable for sumo deadlifters since their legs are far apart and they're literally trying to "spread the floor" with their feet. That puts a lot more stress on the outsides of the ankles.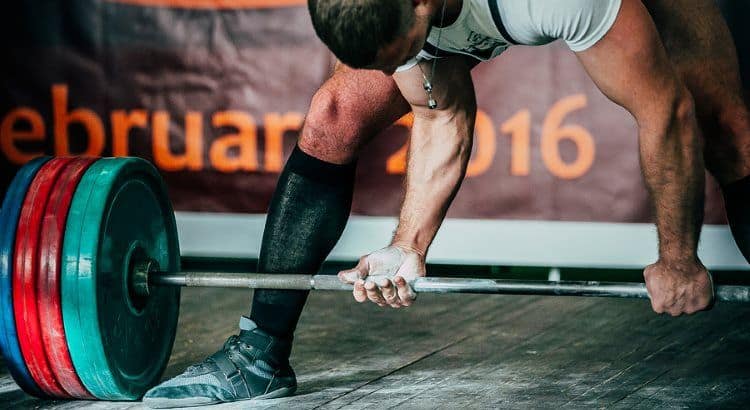 Still, if I had to choose between shoes with an ankle strap and a metatarsal strap, I'd pick the metatarsal strap any day. Even for sumo pullers; they'd just have to make sure it also is a high top shoe.
Now, if a pair of shoes has both types of straps (like the SABOs), that's even better, regardless of your pulling style.
Overall Construction Quality
What Determines Construction Quality?
The construction quality of the shoe is determined by the following:
How well do they perform?
How well-crafted are they?
How long will you be able to use them before they wear down to the point that their performance drops off too much — In other words, how durable are they?
Of course, these things can vary from person to person for the same shoe, depending on things like foot width, how heavy you deadlift, your deadlift volume and how frequently you deadlift, as well as your pulling style (sumo pullers will wear shoes out much faster than conventional pullers).
But the idea is to judge different options against each other on these factors and pick the pair that best meets your needs.
A shortcut Not always but in general the price of the shoe will be correlated to the quality of the shoe.
$0-50:
Cheap/affordable
Ideal to begin deadlifting with
Chances are they don't have any metatarsal straps or ankle straps
$50-$100:
Mid-range
Most people will fall into this category
Will last longer and these shoes tend to have more features such as straps or flanges
Some shoes within this range may be just as good as those in the more expensive range
If you choose right, you can find a pair of shoes in this price range that is well-constructed and has all the key features you'd want for deadlifting
$100+:
Expensive
For the serious deadlifter who is competing or trying to beat personal bests
These shoes may only last as long as the mid-range shoes if you are using them several days per week
You'll probably get better quality materials and construction
Some shoes in this range are no better than some shoes in the less expensive ranges as far as deadlifting goes — you just pay more
Benefits of Deadlifting Shoes with Good Construction Quality
Well constructed, quality deadlifting shoes will help you avoid injury, deadlift more and better, and they'll last you a decent amount of time.
How Important Is Construction Quality?
I would argue that a high-quality pair of deadlifting shoes is necessary if you are serious about deadlifting.
If you're new to deadlifting and you're not doing it but once every week or every other week then an affordable pair with fewer features may be your best bet. It may not last as long, but again, it's less expensive so it won't be the end of the world if you need to get another pair several months down the road, as opposed to 1-2+ years if you had gotten a better but more expensive pair.
If you plan on deadlifting two or more times per week, especially if you want to compete, I'd recommend top-tier deadlifting shoes if your budget allows. It's important to remember that these shoes are an investment in your performance goals. What's more, if they last for a few years, you can look at the cost of the shoes as a yearly breakdown…
…For example, if you spend $90 on a pair of deadlifting shoes and you can make them last for three years, that averages out to just $30 per year. When you look at it that way, it makes it look a lot more affordable.
Conclusion
Now that you feel like you've just graduated from the Deadlifting Shoes 101 course, you're probably wondering which shoe I recommend for deadlifting?…
…The answer is the SABO Deadlifting Shoes.

Why the SABOs?
Let's talk stability: SABO Deadlift Shoes have you covered from all angles.
They are armed with a metatarsal strap and an ankle strap for maximum support everywhere you could want it.
The closer you are to the floor, the more you can pull, and the better your stability is going to be; SABO has a heel-to-toe drop of 0mm, with a sole that puts you a mere 5mm above the floor.
One of the most unique designs of the SABO Deadlifting Shoes is the outsole that provides extra side support by wrapping up onto the upper. This is clutch for sumo deadlifters who need to spread the floor.
The SABO shoes are designed exclusively for deadlifters and the design and craftsman that have gone into these shoes says it all.
Understandably, cost may be a factor for you. When cash is tight, you shouldn't be searching your couch for loose change just so you can get a slight performance and technique boost on deadlifts.
When budget is a concern, I have two runners-up for best deadlifting shoes:
First, the A7 Soul Go Deadlift Slippers offer you a minimalist approach to deadlifting at a reasonable price. The sole is built tough but it still allows your foot to grip the floor. It even has a decent metatarsal strap to give you that extra support. That said, if you're a sumo deadlifter, you may not do well with this or any other deadlift slipper due to the lack of ankle support — in which case, definitely consider my other economical recommendation below:
Second, you can always go with a classic: Converse Chuck Taylor All Star High Tops. These things have been popular for a very long time and with good reason: Solid construction and a flat sole will ensure you have what you need to pull the weight you want. What's more, Chucks get the job done for all other lifts, too. And while not ideal for running in, you can still hop on the treadmill and still get some cardio done in these if needed.
What do you think about my choices for the best deadlifting shoes? Do you agree with the selection above? What is your favorite pair of deadlifting shoes? Tell me about it in the comments section below.