I'll tell you what the best safety squat bars are so you can elevate your home gym arsenal.
I'll dissect the top safety squat bars (SSBs) available today. Moreover, I'll arm you with the essential know-how to make an informed decision when picking out a safety squat bar.
Starting from a pool of 20+ safety squat bars, which I narrowed down to seven contenders, I found the REP Safety Squat Bar to be the best overall.
The REP SSB delivers top-notch balance, performance, and comfort while boasting premium details like knurled handles and a resilient hard chrome finish. All at a mid-range price point.
Why you should believe me? I've been training hard since 2005 and have been reviewing gym equipment since 2014. My insights stem from diligent research and hands-on experience. I've also interviewed multiple home gym community members who own these SSBs.
My Top Picks for the Best Safety Squat Bars
I'll review each of these safety squat bars in the sections below.
Best Safety Safety Squat Bar Overall: REP Fitness Safety Squat Bar
The REP Safety Squat Bar provides a premium level of build quality, functionality/performance, and details relative to its cost, offering users a cost-effective solution without compromising on features.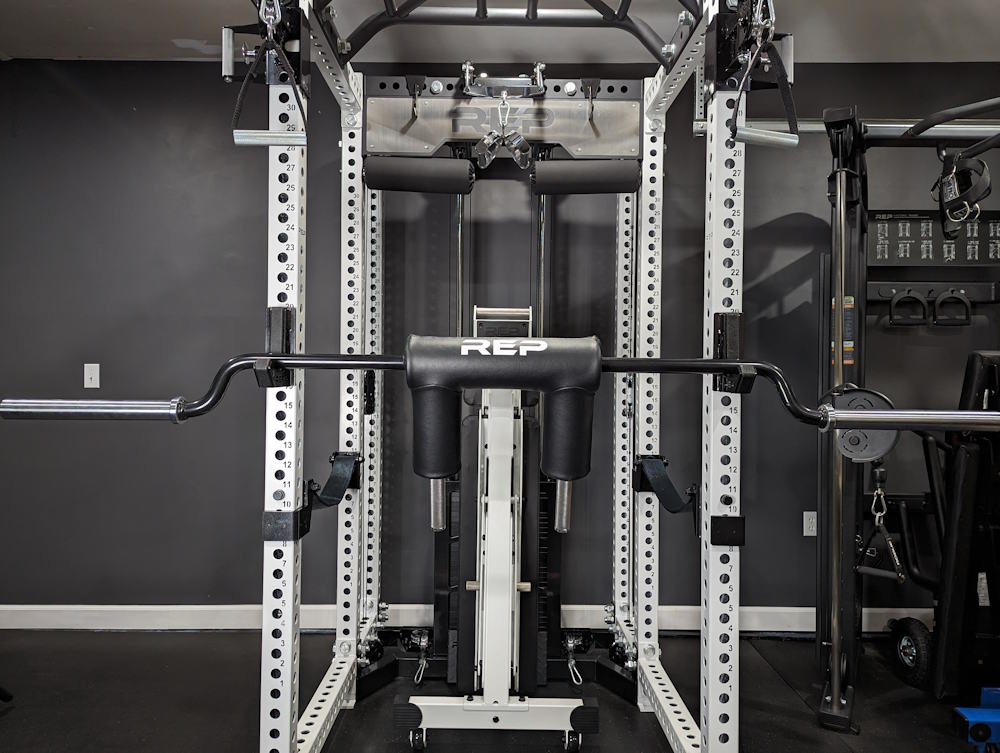 Specifications
Bar Type: Traditional Safety Squat Bar
Weight Capacity: 1,500 lbs
Handle Type: Short, Straight, Removable
Loadable Sleeve Length: 15.6"
Sleeve Diameter: 50mm
Sleeve Finish: Hard Chrome
Shaft Diameter: 38mm
Shaft Finish: Metallic Black Powder Coat
Distance Between Cambers: 49.1"
Bar Length: 92.5"
Bar Weight: 68 lbs
Warranty: Lifetime (Bar), 1-Year (Pad)
Manufactured: China
Price: $329.99
Review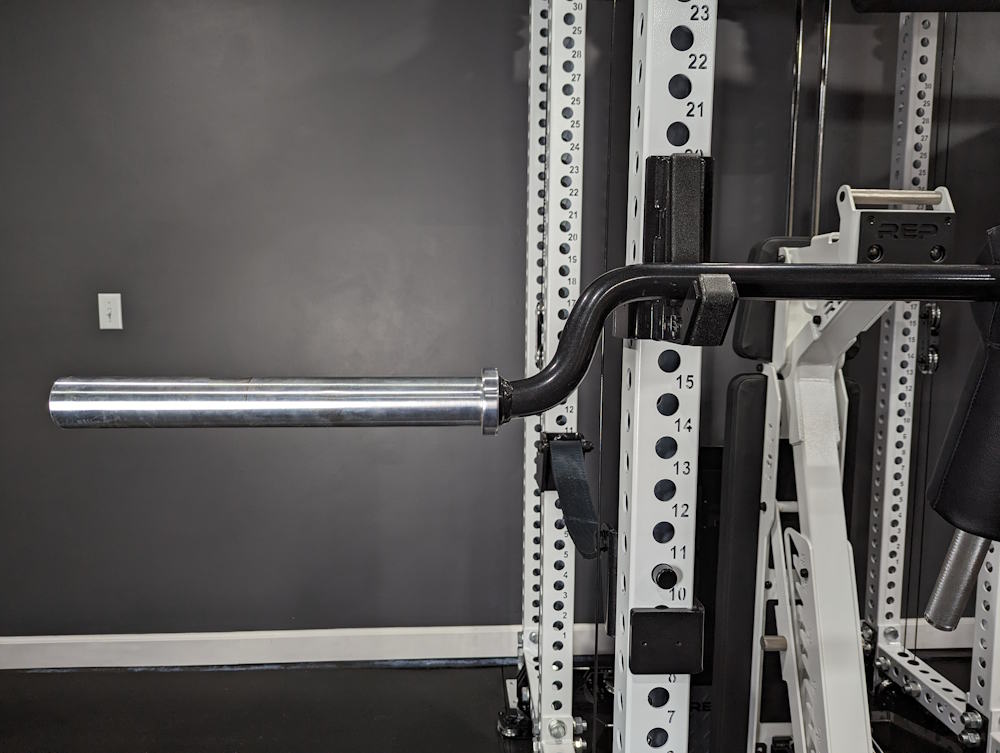 At $330 with free shipping, users get a high-end product without the premium price tag. It's not the cheapest SSB out there, but it really doesn't cost that much more than some low to mid-range alternatives.
It has 50mm Olympic sleeves instead of thinner axle sleeves. This means your plates won't rattle. Plus, it will work with your existing Olympic barbell collars, saving you the additional expense of specialized axle collars.
The sleeves have a hard chrome finish. This not only looks great, but it enhances the durability compared to powder coating, which is common on specialty bars. Hard chrome resists scratching very well and provides good corrosion resistance.
The shaft is constructed from 38mm solid steel, contributing to the 1500 lb weight capacity and adding to its heavy 68 lb weight.
The shaft features a sleek metallic black powder coat that looks great. It is superior to a standard powder coat in terms of durability and corrosion resistance, but I think a hard chrome finish to match the sleeves would have superior longevity.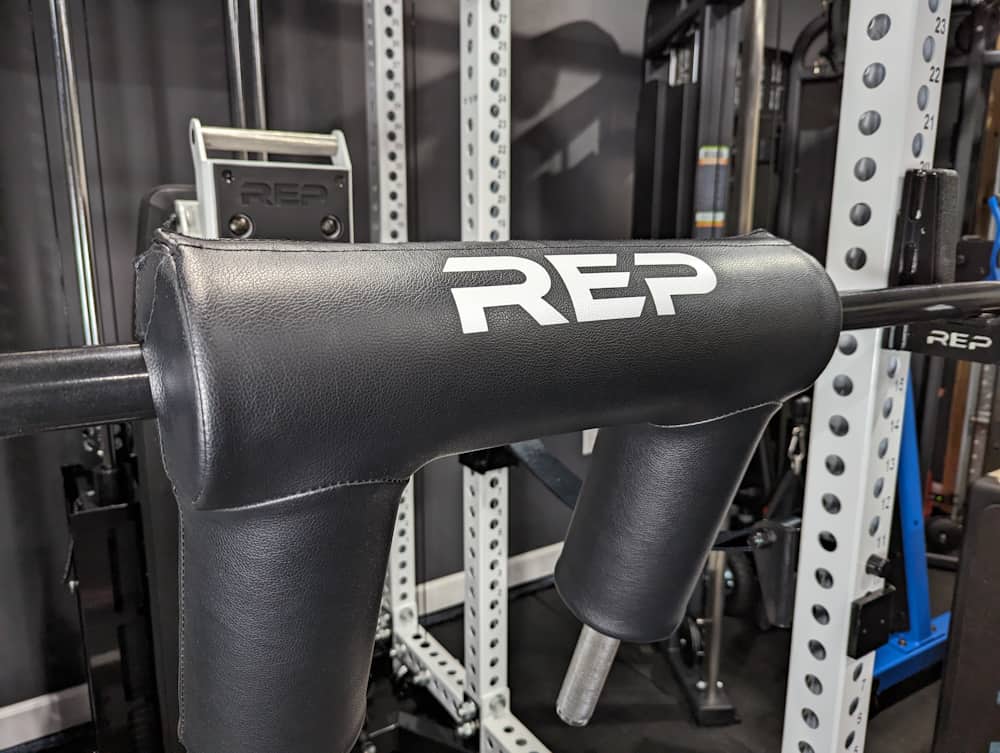 The REP Safety Squat Bar has firm padding, though it's not quite as dense as some other SSBs. It's still very durable and supportive, yet more comfortable than many "harder" pads on other bars.
Great padding only matters if it's protected by a high-quality vinyl cover. And the REP SSB checks that box. The vinyl is more resistant to tearing than most other SSBs, especially compared to, say, Titan.
One of the best details on the bar is its fully knurled hard chrome plated steel handles. These ensure the user always has a firm hold, enhancing safety and performance. This is one of the few SSBs with knurled steel handles, making it a top choice for those who prefer the grip and feel of knurled steel.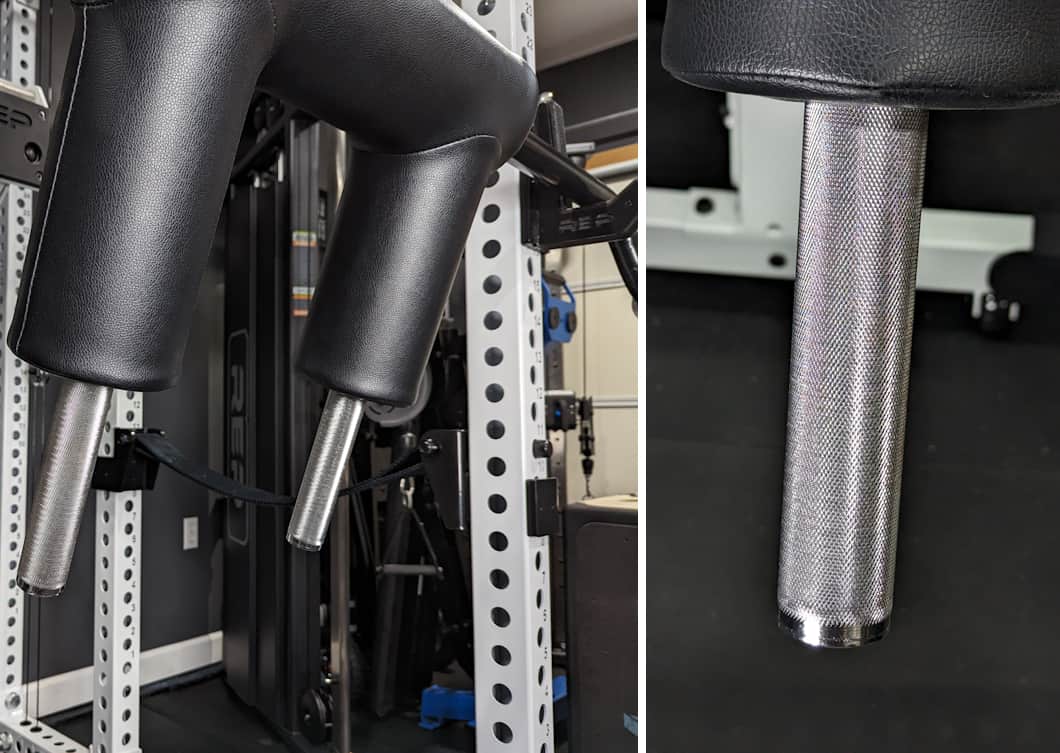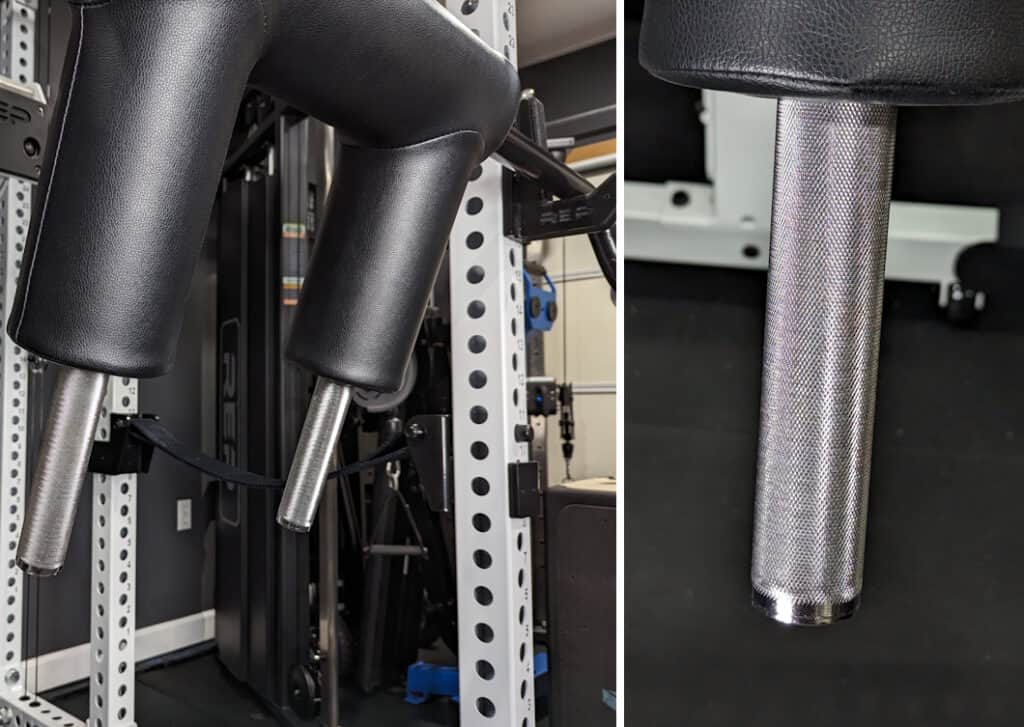 The handles are removable, allowing you to do the JM press. Additionally, REP has hinted at different styles of swappable handle options in the future.
The most important part of any safety squat bar is how well-balanced it is. That directly ties to its functionality and performance. The REP SSB excels here as well.
It has a 22-degree camber angle and a 5.5-inch camber drop, making it nearly identical to that of the EliteFTS, which is and has been the gold standard of balance for SSBs.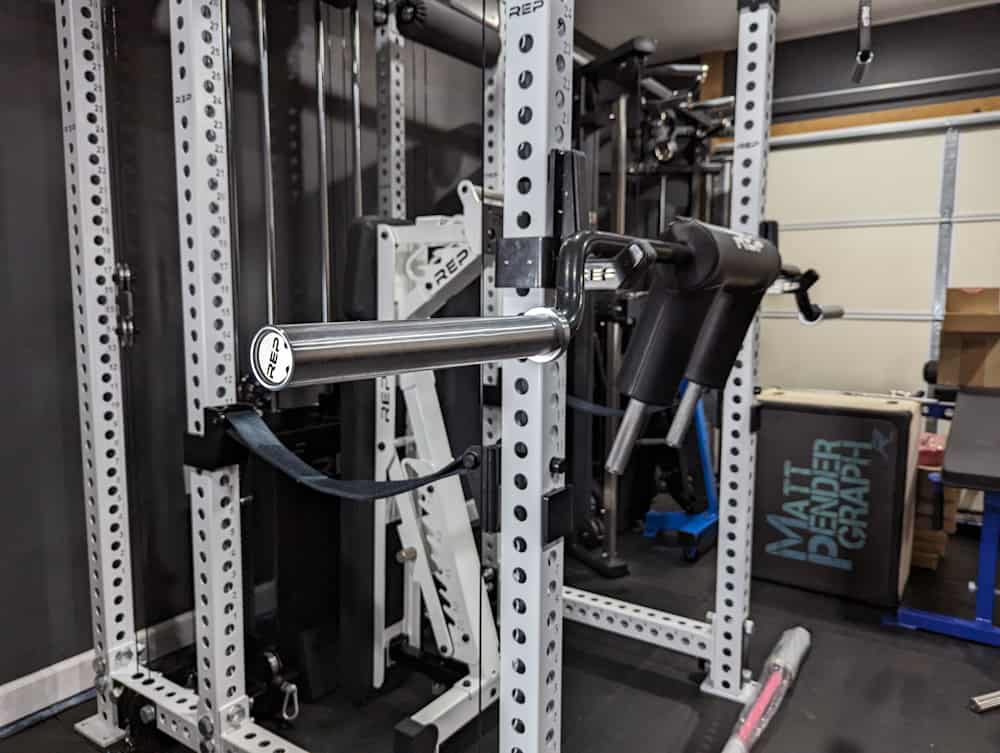 The camber design ensures the load is positioned correctly and remains stable during workouts, even when unloaded. This not only reduces the risk of accidental slips or rolls, but it improves squat technique and improves muscle engagement.
You can even let go of the handles and the bar will stay in place, which is perfect if you want to do Hatfield squats.
The REP SSB Is most similar to the Elitefts SS Yoke Bar and Titan Safety Squat Bar V2 but improves upon both designs in different ways. The balance matches that of the Elite and exceeds that of the Titan. The Rep bar's finish and handles, and arguably the pad are better than both Elite and Titan.
The Rep Fitness SSB emerges from a field of quality safety squat bars as a top choice for users seeking a balance of price, comfort, and functionality.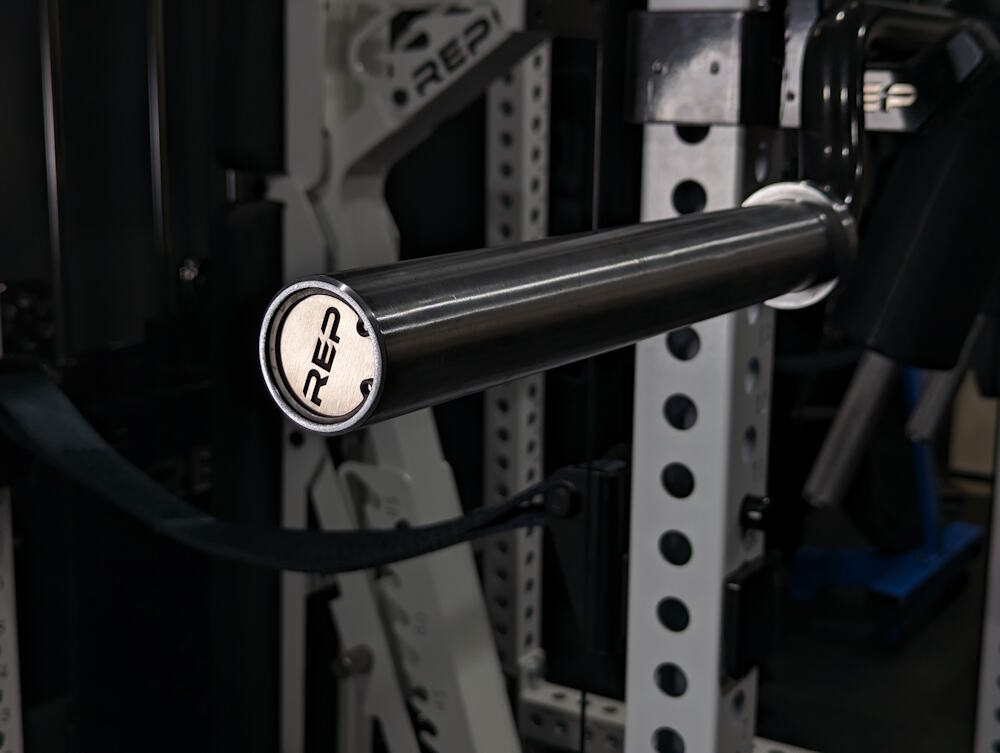 ---
Thanks to my good friend @mattpendergraph for supplying these photos of his REP Fitness SSB for my guide to the best safety squat bars. This is Matt's go-to bar any time he squats. He's a fan of the knurled steel handles, which he says are not only functional but look great. He finds the pad to be very comfortable and it hasn't degraded at all in the time he's had it. He said the best part is how well-balanced it is. He said he doesn't need to even touch the handles to keep it on his back, regardless of the weight loaded. It never feels like it will roll back.
Pros
Premium quality and performance at a mid-range price
Excellent balance
Knurled steel removable handles
Hard chrome shaft and sleeves
Comfortable, supportive padding
Superior durability on the vinyl pad cover
Olympic sleeves
Cons
One of the heaviest and longest SSBs, making it harder to move around
Buy Now – REP Safety Squat Bar »
Best Value Safety Squat Bar: Titan Fitness Safety Squat Bar V2
The Titan Safety Squat Bar V2 is ideal for budget-conscious consumers, especially those seeking an affordable SSB without compromising too much on quality.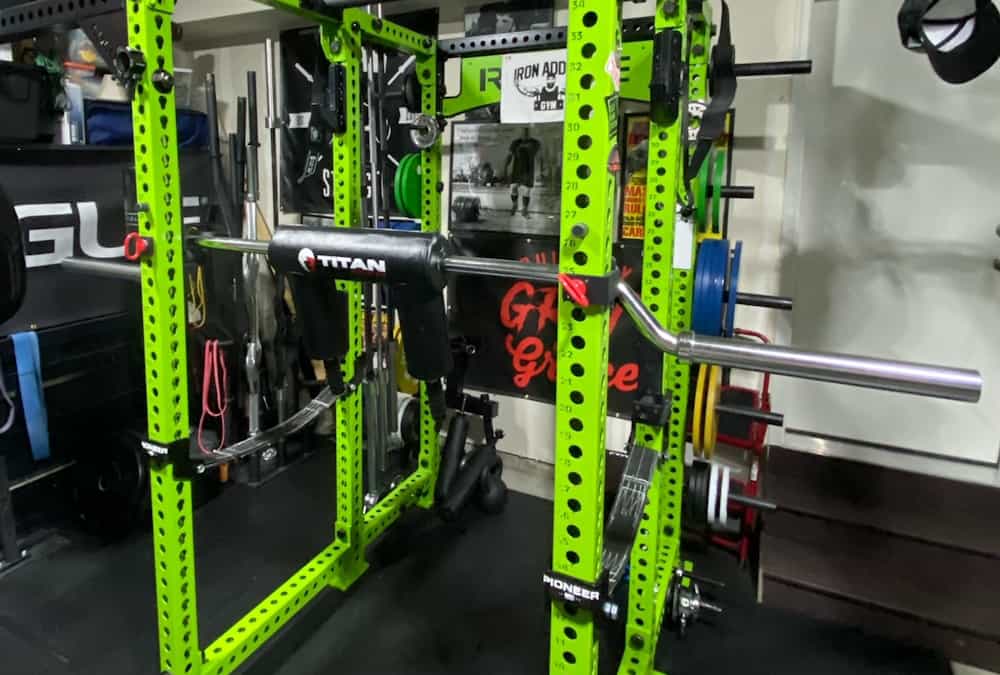 Specifications
Bar Type: Traditional Safety Squat Bar
Weight Capacity: 1,500 lbs
Handle Type: Short, Straight, Removable
Loadable Sleeve Length: 16"
Sleeve Diameter: 50mm
Sleeve Finish: Chrome
Shaft Diameter: 38mm
Shaft Finish: Chrome
Distance Between Cambers: 48"
Bar Length: 90.5"
Bar Weight: 61 lbs
Warranty: 1-Year
Manufactured: China
Price: $299.99
Review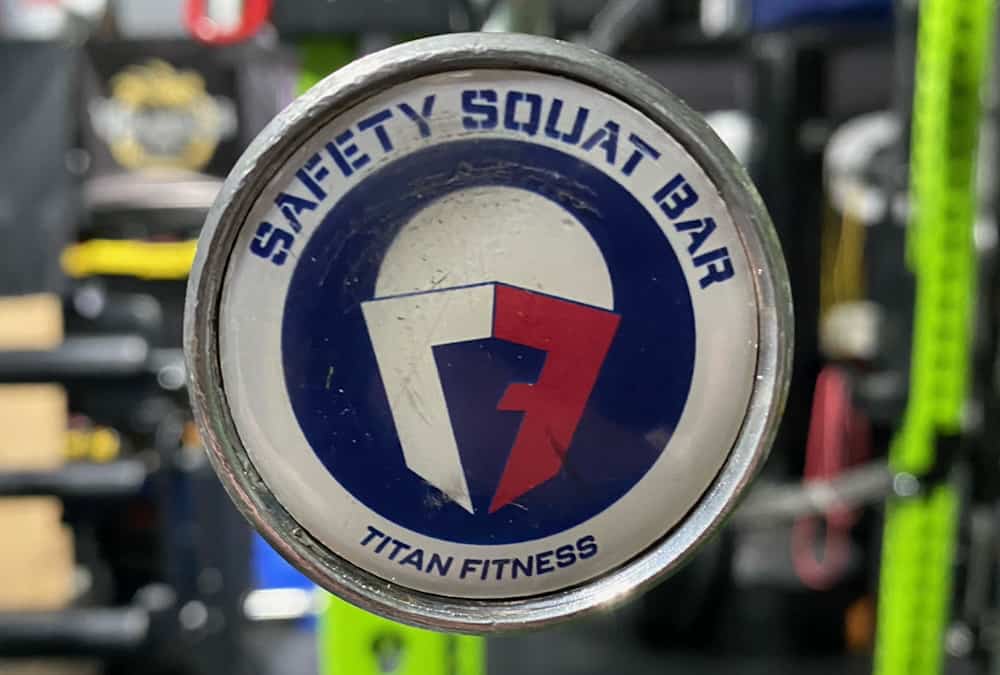 The Titan Safety Squat Bar V2 closely resembles the highly-regarded Elite FTS SS Yolk Bar, almost being a "carbon copy," but there are distinguishing features between the two, which potential buyers should be aware of.
The Titan SSB is a cost-effective choice priced at $300 with free shipping, offering an excellent value when compared to the Elite bar priced at $458 plus extra for shipping, creating a substantial price gap that is hard to ignore.
The EliteFTS bar is considered a benchmark for balance in safety squat bars. The Titan SSB does a commendable job mimicking this, especially the angle (22 degrees).
However, there's a difference in camber drop: Titan's is 5 inches, and Elite's is 6 inches, with the advantage leaning towards Elite FTS in terms of overall balance.
The Titan SSB's pad is very firm, more so than the Elite SSB. So it has plenty of support, and the extra stiffness makes it a bit less comfy. But it's nothing you can't handle.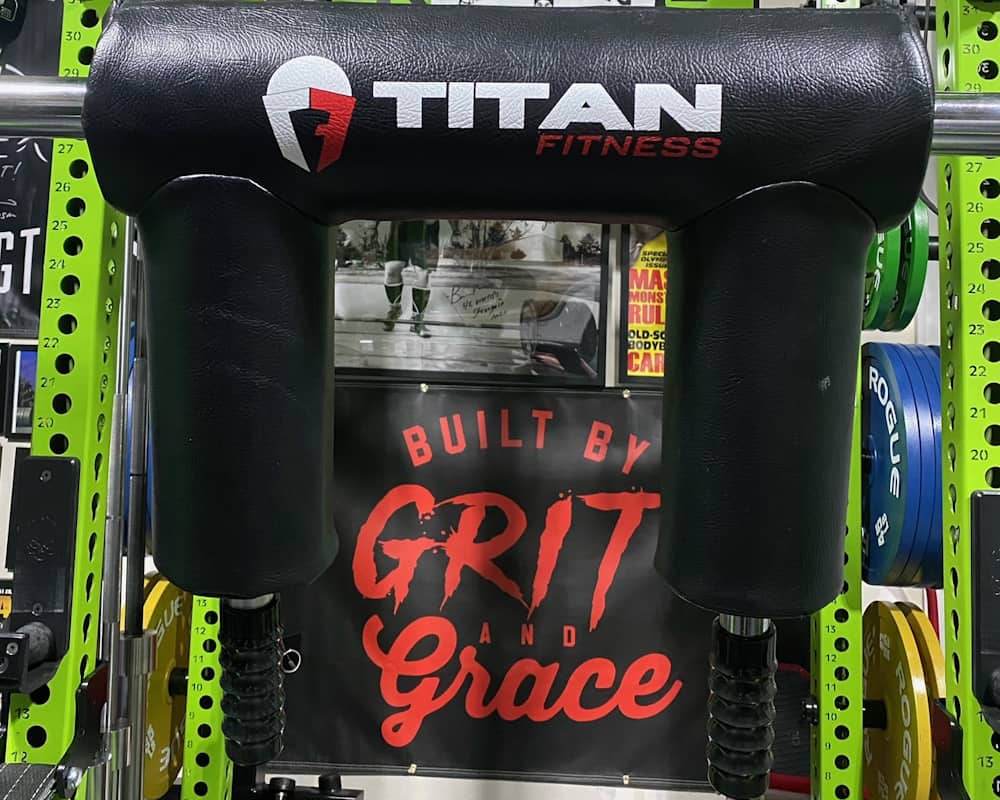 Notably, the pad is also about a half-inch thicker, which some users feel has a slight negative impact on the balance. The idea is that it shifts the bar back, making it more likely to roll back in some positions if you're not holding onto the handles.
The vinyl quality is okay, but not impressive. It doesn't match the quality of the EliteFTS SSB.
The handles on the Titan Safety Squat Bar V2 also mimic those on the EliteFTS bar, with contoured grips with individual finger slots. And they're removable, making JM presses a possibility.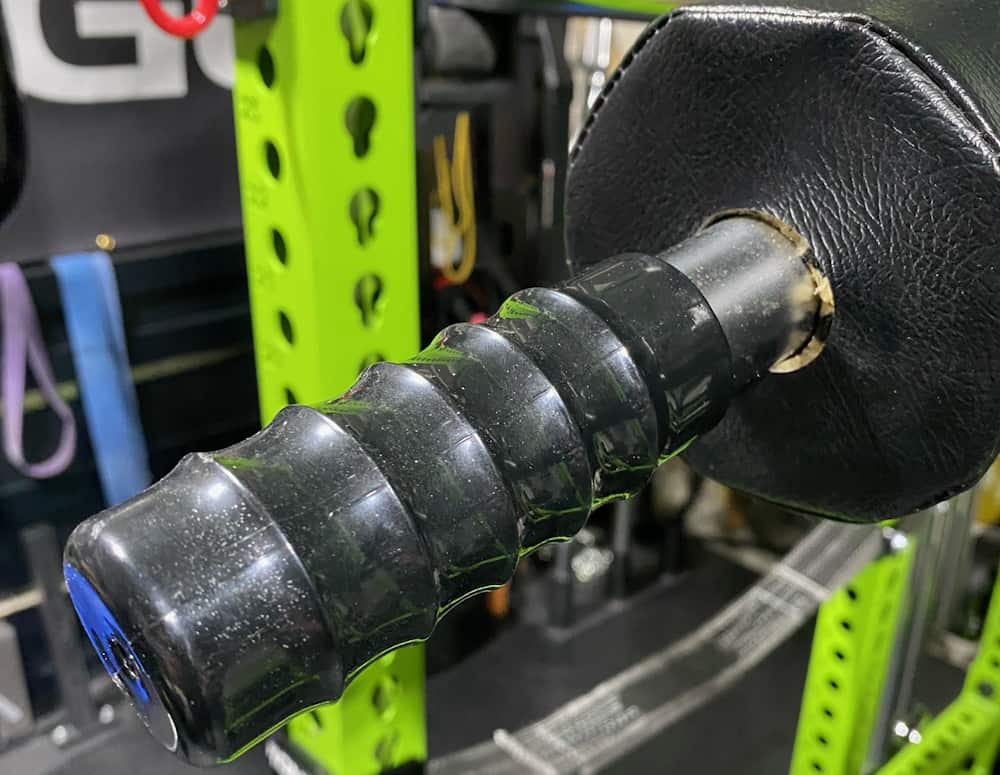 The Titan Safety Squat Bar V2 features a chrome shaft with matching chrome sleeves. This is a nice aesthetic difference from many safety squat bars that use a powder coat or clear coat on the sleeves and/or the shaft. The sleeves in particular will hold up better to scratching from the plates compared to powder/clear coats.
The distance between cambers is just 48", meaning you may have issues fitting it properly in the j-cups on a 49" rack (e.g. a Rogue Monster/Monster Lite rack). However, if you have sandwich j-cups on a 49" rack, you should be able to eke out just enough clearance, but it will be tight. Compare this to the EliteFTS bar, which is 49.5" between cambers.
Titan's previous iteration of this bar was criticized for its poor balance and overall quality. In typical Titan fashion, they released a hastily designed model that they later fixed based on customer feedback.
While Titan's SSB v2 has made strides in quality and design, certain aspects like pad comfort and balance when compared to bars like EliteFTS's indicate there are areas of improvement. Yet, its affordability and overall good design make it a top contender in the SSB market.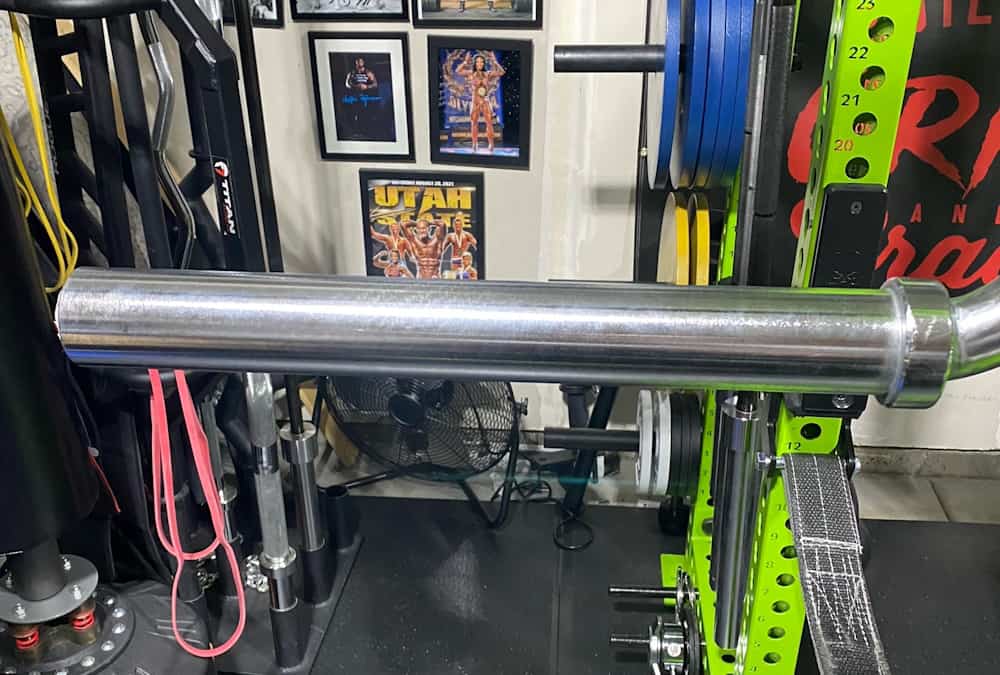 ---
Thanks to Scott from @oldmanbarbell for sharing these photos of his Titan Safety Squat Bar V2 for this article on the best SSBs. Scott loves this bar for several reasons. For one, he has limited space (like most home gym owners) and compared to other types of leg equipment, this bar has a relatively small footprint, yet it has added a lot of variety to his leg training sessions. This bar lets him continue to squat pain-free when his existing shoulder and elbow issues flair up. Lastly, Scott said that this bar is a great value, a testament to the bar's high quality at a low price point. His only (minor) complaint is that end cap stickers have started to peel off.
Pros
Great performance at a great price
Mimics the design of the EliteFTS bar (a proven SSB)
Good balance overall
Removable short handles
Chrome shaft and sleeves
Cons
The pad could be a bit comfier and slightly thinner
May not fit perfectly in wide racks
Buy Now – Titan Safety Squat Bar V2 »
Best Adjustable Safety Squat Bar: Kabuki Transformer Bar V4
The Kabuki Transformer Bar V4 is ideal for anyone looking for one bar that allows for extreme versatility in their leg training, specifically when it comes to squat variations.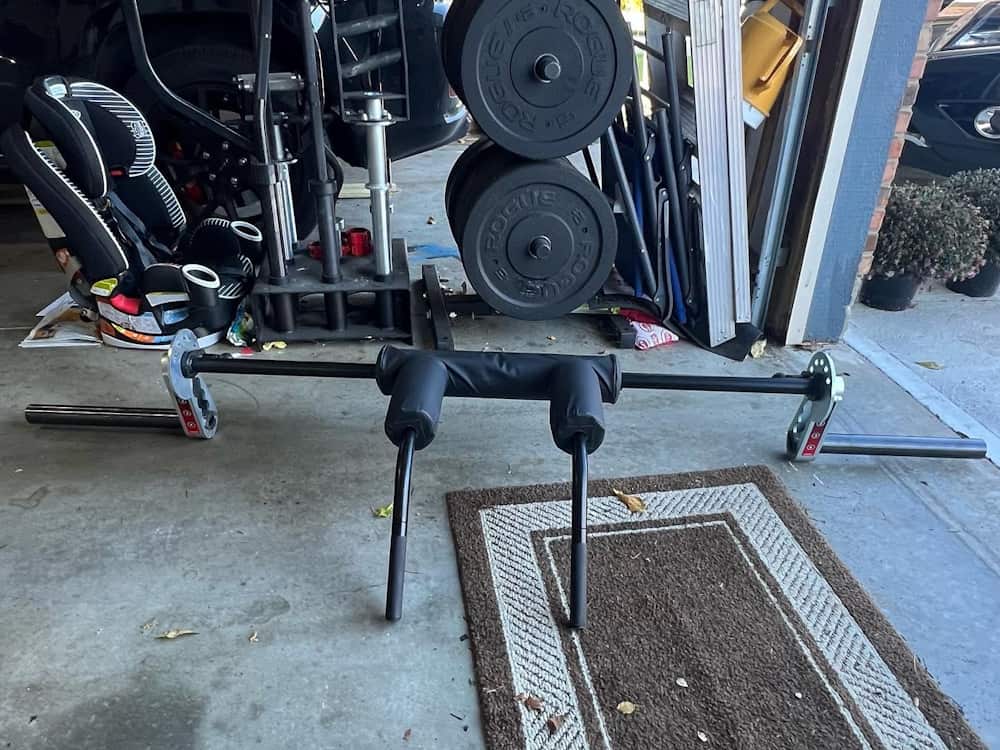 Specifications
Bar Type: Adjustable Safety Squat Bar
Weight Capacity: 1,500 lbs
Handle Type: Long, Angled and Short, Angled (Rogue version); or Long, Angled (Kabuki version)
Loadable Sleeve Length: 15.75"
Sleeve Diameter: 50mm
Sleeve Finish: Proprietary Matte Black (Rogue version) or Black Oxide (Kabuki version)
Shaft Diameter: 38mm
Shaft Finish: Proprietary Matte Black (Rogue version) or Black Powder Coat (Kabuki version)
Distance Between Cambers: 54" (50.5" between pop-pins)
Bar Length: 91.25" (Rogue version) or 90.75" (Kabuki version)
Bar Weight: ~55 lbs (25kg)
Warranty: Lifetime
Manufactured: USA (Columbus, OH for the Rogue version or Portland, OR for the Kabuki version)
Price: $795
Review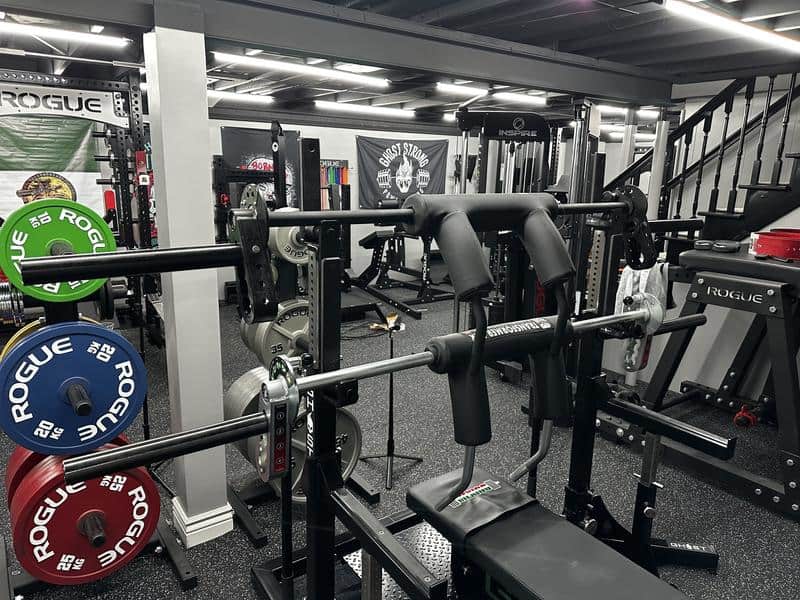 It has a unique adjustable design where you can change the camber angle and increase or decrease the camber drop.
By manipulating these variables, you can change the biomechanics to mimic a variety of squat variations such as:
Traditional safety bar squats
Goblet squats
Front squats
High bar squats
Low bar squats
Hinge squat
The further down you lower the sleeves, the more difficult the movement becomes. The angle changes have a greater effect on the balance, pitching your torso more forward or more upright.
There are labels on the adjustable angles that indicate what exercise the angle mimics (e.g. goblet squat for the most upright torso position; hinge squat for the most bent forward position).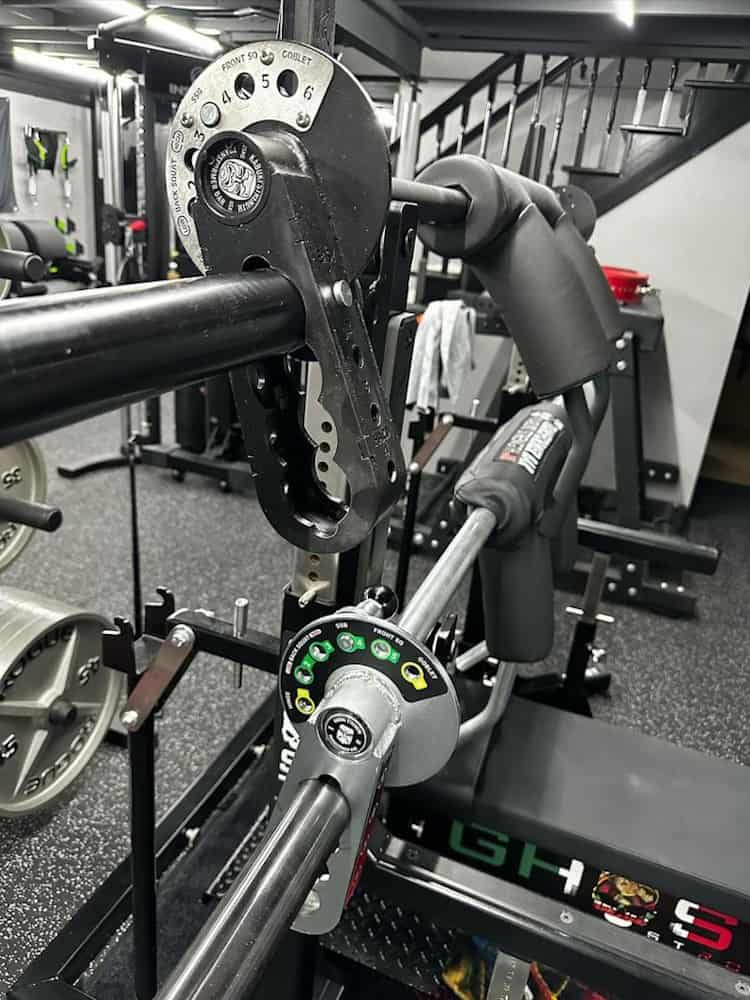 There are four camber drop heights and six camber angle settings, making for a grand total of 24 possible sleeve positions!
The Transformer Bar V4 incorporates high-density foam padding that's firm but not uncomfortable like it was on earlier versions of the bar. The pad cover is made of synthetic leather and does a good job of protecting the foam.
There are actually two different Kabuki Transformer Bar V4 versions available:
Made-in-Oregon Kabuki-manufactured bar: This version has a black oxide finish on the sleeves and a black powder coat on the shaft. Both will scratch. Black oxide on the shaft would be better and a bright zinc or chrome on the sleeves would've been better, too. The bracket is bright zinc. The spring-pin adjustment mechanism on the bracket has decals for the settings indicators. Most notably, this version only comes with long handles, which you can remove, leaving handles that are short enough to grasp but aren't knurled. The handles use black powder coating, which blunts the knurl feeling slightly. Black oxide for these would've been better.
Made-in-Ohio Rogue-manufactured bar: This version features a proprietary matte black finish on the sleeves, shaft, bracket, and handles. Though, I've been told this is just a variation of a powder coat, which can scuff easily. Rogue enhances its version with advanced machining, an extra detent pin for sleeve security, and clear position markings using laser-cutting rather than stick-on decals. Most notably, the Rogue-made version has both a long and a short pair of handles. They're removable, but JM presses still aren't possible since there's a permanent handle segment. The handle knurling is softer due to the "proprietary" black coating used.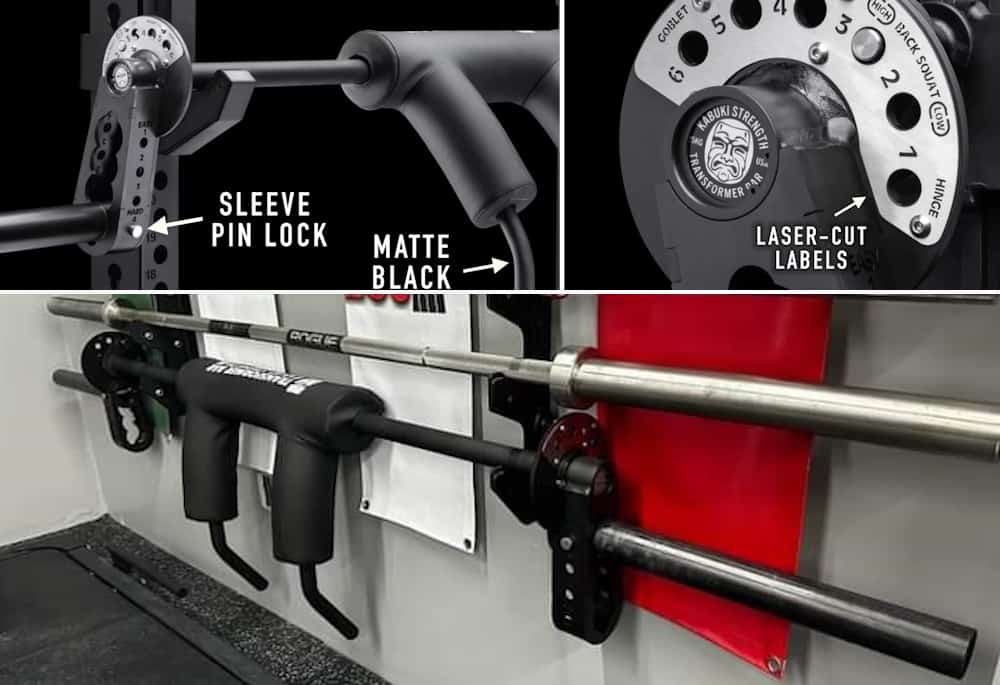 One reason to choose the Rogue-made bar is to have the option to use short knurled handles as well as long knurled handles — even if some users feel the knurling is weak, partly due to the use of thick powder coating.
While the Kabuki-made version does de facto have short handles by virtue of removing the long handle segments, they are a bit shorter and they're not knurled. Some people may be disappointed with that. However, it's still very much functional for use with both the (de facto) short handles and the long handles.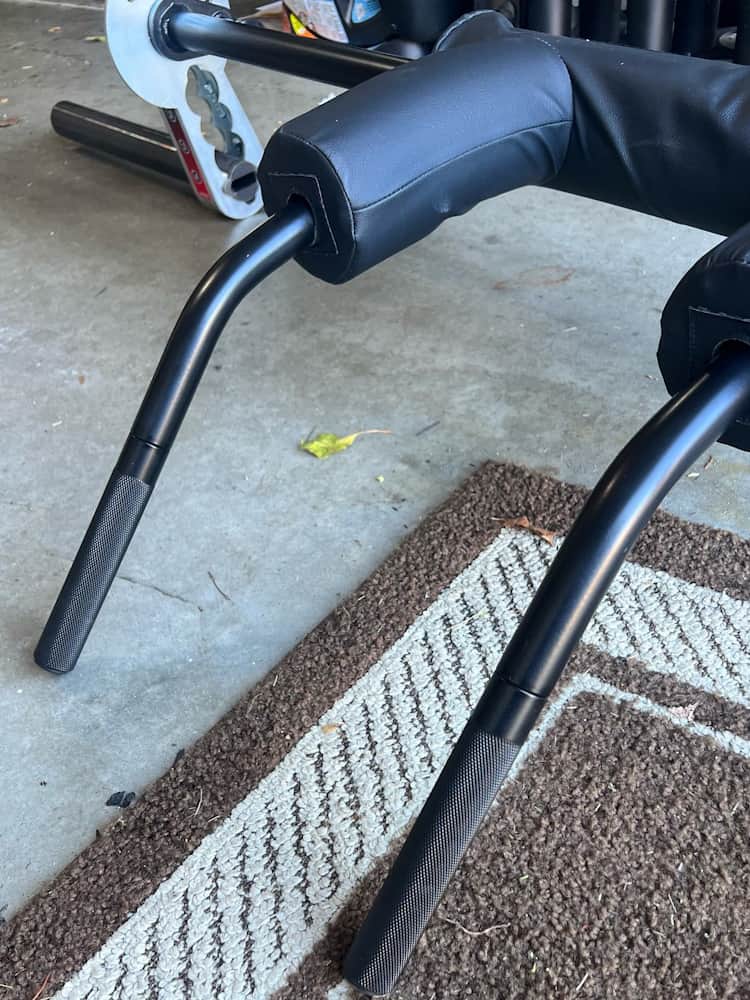 The other big difference between the Rogue-made and Kabuki-made bars is how you remove the sleeves to raise or lower the camber drop:
On the Rogue-made bar, it has a detent pin for enhanced security. However, this more secure design means you have to remove/insert the sleeve from the inside. This isn't great because the sleeve can hit into your j-cups, so you'll need to one side of the bar off the j-cups to adjust the sleeve height.
On the Kabuki-made bar, there is no detent pin. This allows you to remove and reinsert the sleeves from the outside of the bar. This is more convenient because it means no interference with your j-cups. The drawback is that it's not as secure as the Rogue detent pin design.
The Transformer Bar has Olympic-sized, machined sleeves that accept regular barbell collars. No specialty collars are required.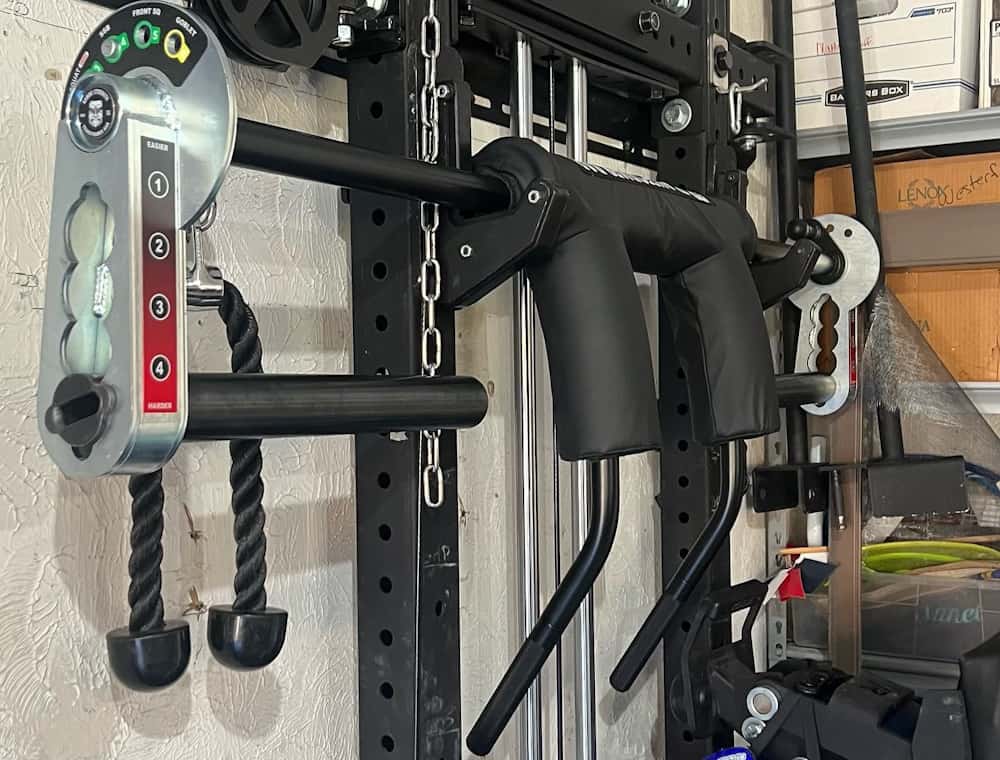 Although the Transformer bar is feature-rich, it comes with a significant price of $795 shipped. That's simply too expensive for many home gym owners.
Even if you can afford one, it's only worth the value if you'll be using multiple settings regularly. If you're not sure that you will, go with a traditional safety squat bar instead.
Both the Rogue-made and Kabuki-made versions of the Transformer Bar are available at the same price on Kabuki's site, while Rogue exclusively sells its version.
Regardless of which version or where you buy it, the price is the same. However, you can get 5% off with code KOTG5 by ordering through Kabuki's site.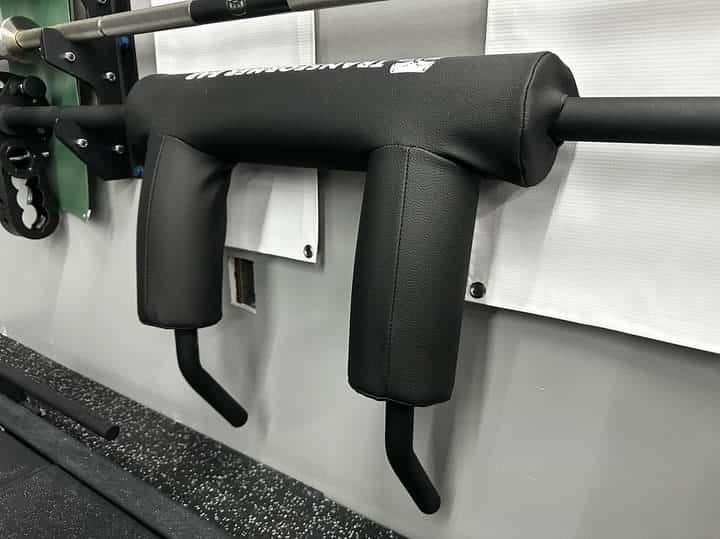 ---
Thanks to both José from @nowayjoselifts and Matt Dotterman from @mdotterman for sharing photos of their Kabuki Transformer Bars for this guide on the best safety squat bars:
José's photos are of the Ohio-made Rogue bar and the older (V2) Oregon-made Kabuki bar with NON-removable zinc handles. He has since sold the old Kabuki/Oregon-made bar. He kept the Rogue version because it allowed for short handles, though he wishes the knurling was more aggressive. He also doesn't like that the sleeves on the Rogue version have to be removed from the inside. José told me he'd prefer to have the new Kabuki-made version (but with black oxide instead of powder coat) because its long handles can be removed. He still likes what the Transformer bar does for his training. You can watch his video comparison here of the Rogue version vs his older Kabuki version.
Matt's photos are of the Oregon-made Kabuki Transformer Bar V4. Matt said he thinks this bar is incredible. He told me he wouldn't want to squat with any other bar ever after having it, especially as he's getting older. He finds that this bar makes it easier to engage his lats, keeping him more stable.
Pros
Extremely versatile; 24 total camber configurations
Can mimic the feel of many different types of squats
Rogue version has swappable both long and short handle extensions
Kabuki version has removable long handles, making for de facto short handles when removed
Comfortable, supportive pad
Olympic-sized sleeves
Made in the USA
Cons
Sleeve finish will mar
Very high price point
Kabuki version has no knurling when using de facto short handles
Two competing variations make choosing one difficult
Buy Now – Kabuki Transformer Bar V4 – KabukiStrength.com (Use Code KOTG5) »
Buy Now – Kabuki Transformer Bar V4 – RogueFitness.com »
Best Versatile Safety Squat: Bells of Steel SS4 Safety Squat Bar
The Bells of Steel SS4 is a well-priced safety squat bar with decent overall quality and performance that brings some novel sleeve and handle features not seen in other SSBs. But it's not without some minor flaws.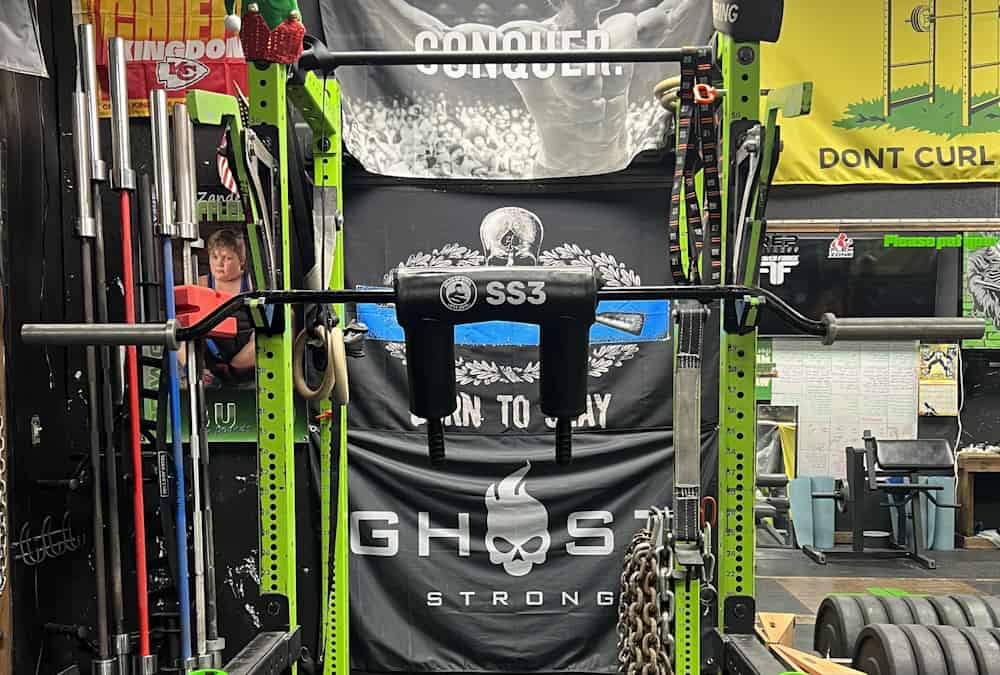 Specifications
Bar Type: Traditional Safety Squat Bar
Weight Capacity: 1,500 lbs
Handle Type: Multiple, Removable (Short and Straight, Long and Angled, Chain, Seal Row)
Loadable Sleeve Length: 11.75"
Sleeve Diameter: 50mm
Sleeve Finish: Bright Zinc
Shaft Diameter: 32mm
Shaft Finish: Black Titanate
Distance Between Cambers: ~50"
Bar Length: 86.6"
Bar Weight: 45.6 lbs (bar only; various handles add 4.2 – 11.7 lbs per pair)
Warranty: Lifetime
Manufactured: China
Price: $339.99
Review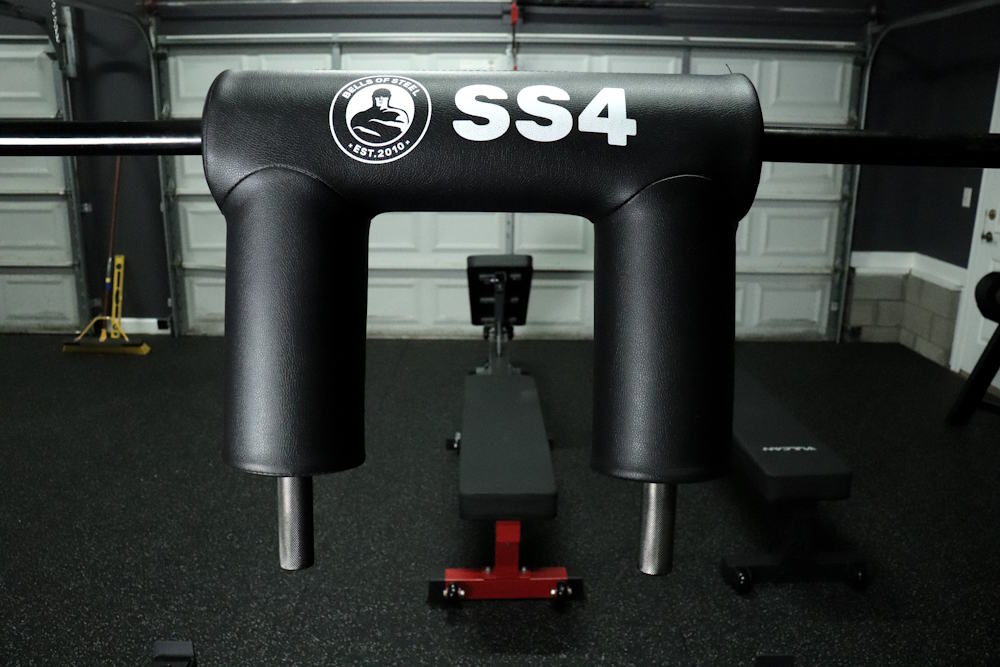 The SS3 also has some new features compared to previous iterations, namely the inclusion of 3 different swappable handles, including:
Short handles: Some people prefer short handles to keep things tighter and avoid the handles getting in the way of your legs at the bottom of the squat.
Long handles: Some people prefer the long handles for more leverage and a more extended arm position.
Chain handles: These handles work the grip slightly more, but mostly, they keep you honest by preventing you from using leverage to tilt the bar in a way that helps you lift it more easily.
No other SSB offers swappable handles, though REP has teased them. In any case, these BoS SS3 handles all come included standard.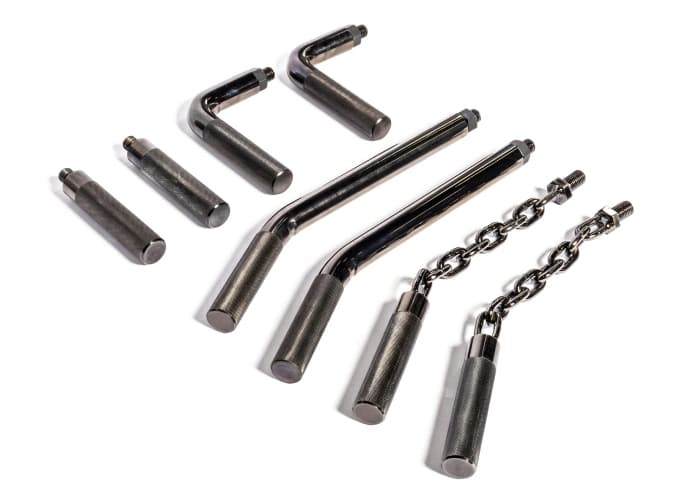 This is the lightest safety squat bar featured in this guide. It weighs 45.6 lbs without handles. If you use the standard short straight handles, it weighs 49.8 lbs, making it slightly heavier than a regular Olympic bar (20kg/44 lbs or 45 lbs).
The different handles have different weights, which will change the total bar weight. Here are the weights of each handle:
Straight Handles: 4.2 lbs (Total bar weight = 49.8 lbs)
Chain Handles: 6.6 lbs (Total bar weight = 52.2 lbs)
Spider (long, angled) Handles: 11.7 lbs (Total bar weight = 57.3 lbs)
Seal Row Handles: 7.0 lbs (Total bar weight = 52.6 lbs)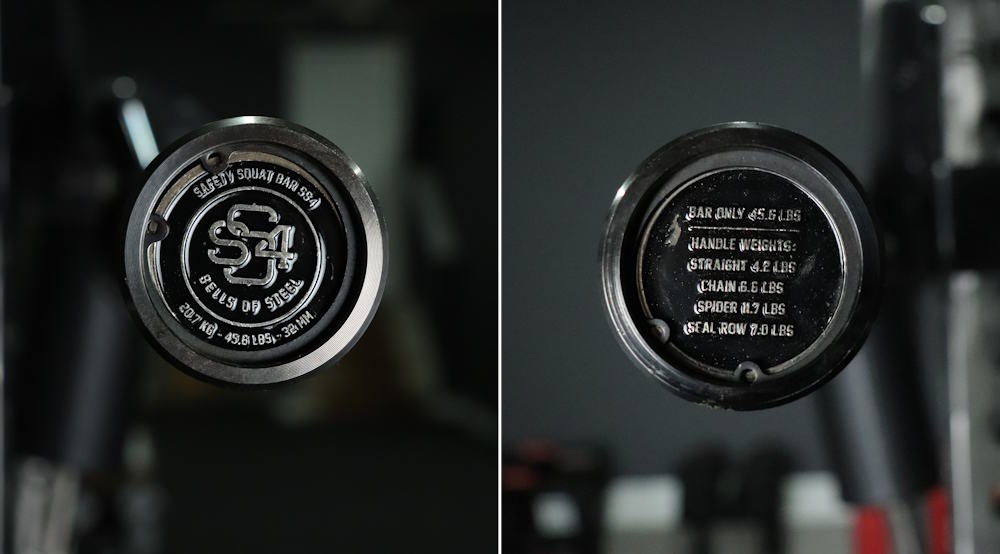 While the bar is not as beefy as most of its competitors, the light weight does offer benefits:
Novice and youth lifters will have no issue with the empty bar weight.
It's easier to move around your gym.
Assuming you're using the standard short handles, it's close enough to 20kg or 45 lbs to make the "plate math" easier. Just do the math like it's a 45 lb bar, then add 5 lbs to the total. Easy enough.
It achieves this lighter weight by being smaller overall:
It's just 86.6" long, which is the same length as an Olympic bar, again lending itself to easier maneuverability. This relatively shorter length is a major benefit to any home gym owners with limited clearance on either side of their barbell.
The shaft is 32mm thick vs 38mm on most SSBs. Despite this, it still manages a 1,500 lb capacity rating, though I'm sure the thicker SSBs are stronger in absolute terms.
The loadable sleeve length is just 11.75" compared to 15-16" for most SSBs. This limits how much weight you can add if you're very strong or if you have thick bumper plates.
The distance between cambers only allows for proper racking on squat racks 47" or narrower. If you have 48" or 49" racks (e.g. Titan Series or Rogue Monster/Monster Lite racks), the bar will sit unevenly or the j-cups will have to tilt inward.
The Olympic-sized sleeves ensure your existing collars will work. The bright zinc sleeves provide decent scratch and corrosion resistance.
The sleeves rotate, which isn't seen on any other SSB. This is more of a novelty feature, in my opinion. Sleeve rotation isn't really helpful on vertical movements like squats. Though, it may have a minor benefit if you do JM presses, and maybe good mornings.
The black zinc finish is good for an SSB. It provides pretty good corrosion and scratch resistance. And though it may be slick, you won't be grasping it except for maybe JM presses.
The padding is good. Not stellar, but definitely not bad. It's dense, and maybe a bit hard, but gives you good support and isn't painful.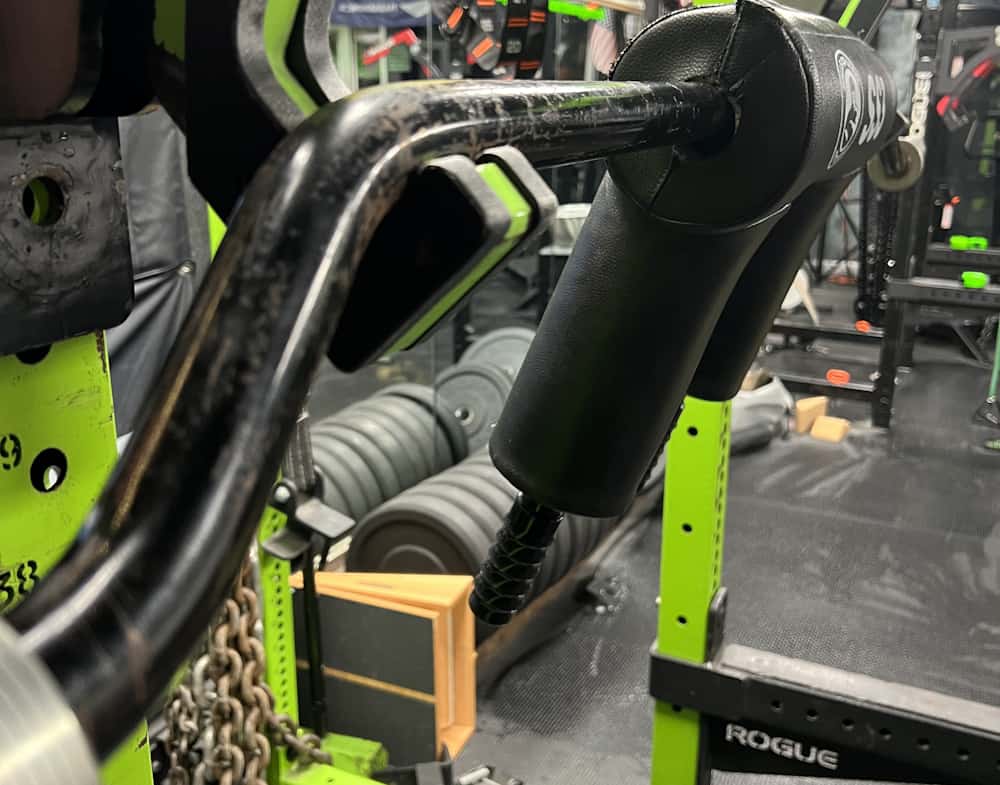 In terms of bar balance, it's good but there's room for improvement. While its 22-degree camber angle aligns with industry standards, the shorter camber drop makes squatting a bit less challenging while also minorly impacting the balance compared to SSBs with larger drops.
Users should be prepared for the possibility of the bar tilting backward somewhat if they opt not to use the handles. That's not to say that it will necessarily roll off your shoulders if you're not grasping the handles. But you may feel like it's tipping somewhat and you'll need to adjust your body position.
That said, I've seen and heard of users doing Hatfield squats (no hands on the handles) successfully on the SS3.
The Bells of Steel SS3 stands out in the market with its unique features, offering users a balance between novelty/variety, quality, and price. You just have to make sure that the short sleeve length and narrower length between the cambers aren't dealbreakers before buying.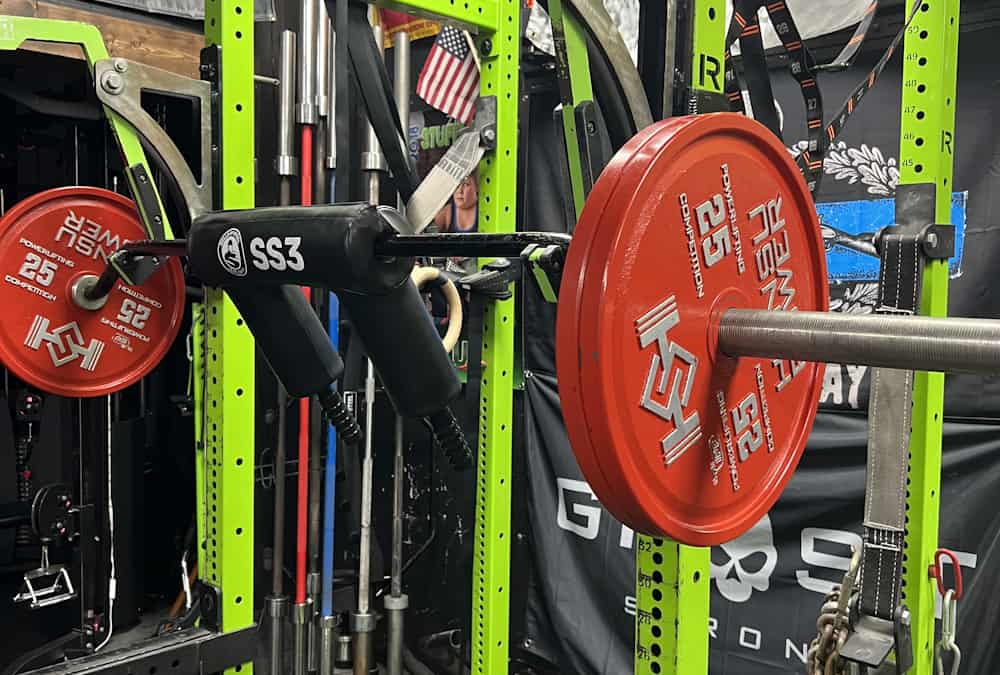 ---
Thanks to Nathan from @beangainin for sharing his photos on Bells of Steel SS3 for this guide to the best safety squat bars. When Nathan started building a gym during the pandemic, he prioritized an affordable and versatile safety squat bar. The BoS bar met those criteria. He was surprised at its overall quality. He found the padding to be very comfortable and it's proven very durable to this day. He told me it's been especially useful for his knee recovery. Not only does he use it, but so do the youth athletes and elderly trainees who frequent his gym. It's become a staple in everyone's routine, enduring weights over 600lbs. Nathan wholeheartedly recommends it for any lifter.
Pros
Three removable handles included standard for grip versatility
Good overall pad support and quality
Olympic-sized machined sleeves
Bright zinc sleeves and black zinc shaft provide good protection
Rotating sleeves can be useful on JM presses
Cons
May not fit properly on 48"+ wide racks
A longer camber would help make squatting more challenging
Buy Now – Bells of Steel SS3 Safety Squat Bar »
Best Safety Squat Bar for Comfort: Prime Fitness Super Squat Bar
The Prime Fitness Super Squat Bar is not a traditional safety squat bar. The differentiation primarily lies in its unique back plate and the less aggressive camber, catering more towards hypertrophy (muscle growth) rather than addressing common back squat weaknesses.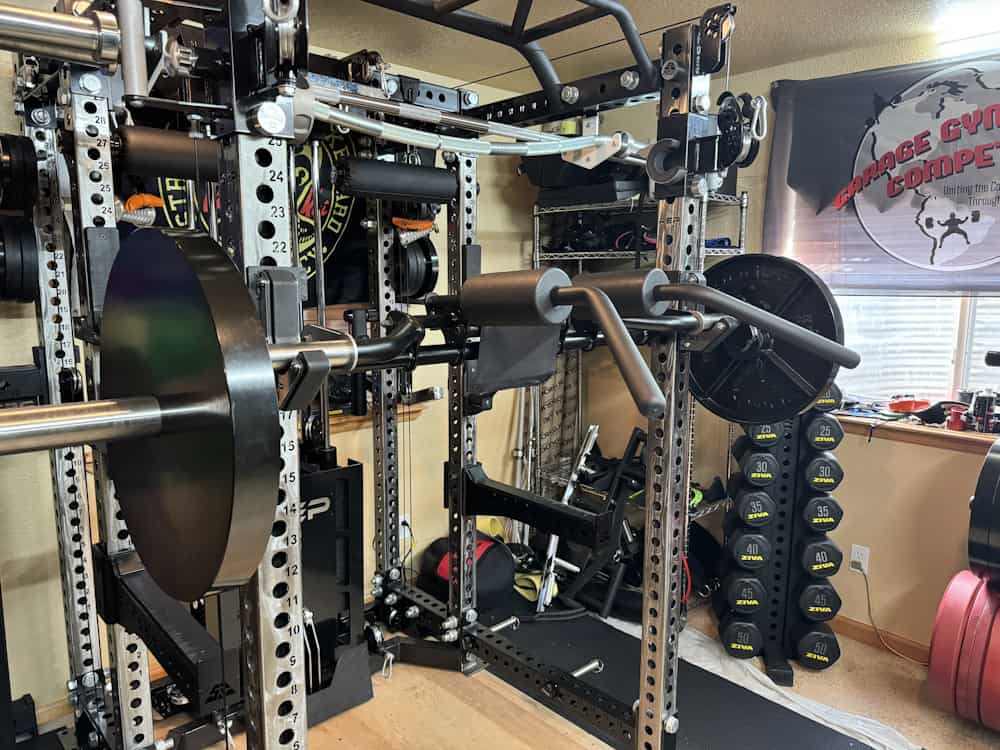 Specifications
Bar Type: Specialty Squat Bar
Weight Capacity: 1,000 lbs
Handle Type: Long, Angled Out
Loadable Sleeve Length: 15.6"
Sleeve Diameter: 49.5mm
Sleeve Finish: Stainless Steel
Shaft Diameter: 38mm
Shaft Finish: Black Low-Gloss Powder Coat
Distance Between Cambers: 52.75"
Bar Length: 87"
Bar Weight: 51 lbs
Warranty: 10-Year (Bar), 90-Day (Pads)
Manufactured: USA
Price: $625
Review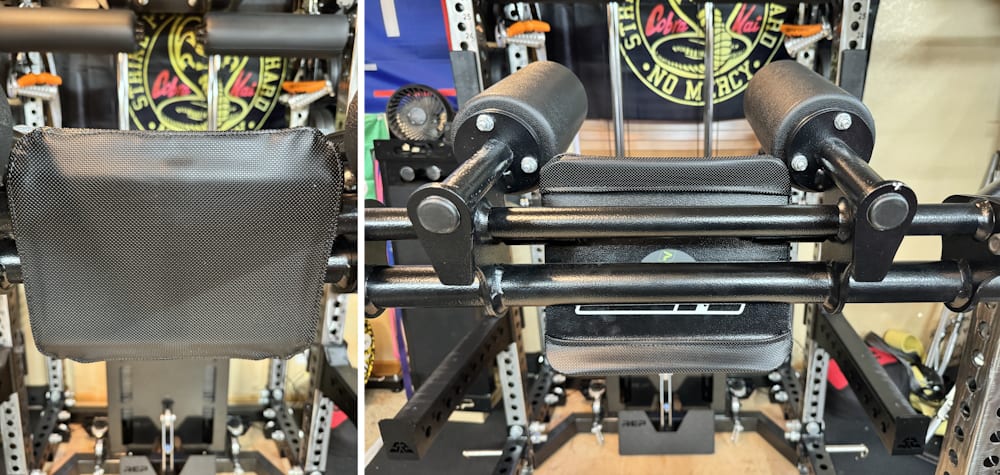 The backplate is self-adjusting, settling to your particular placement and upper back shape. It's designed to spread the load evenly on the upper back, minimizing fatigue and allowing focus on your squat technique and lower body muscle activation.
It features a less aggressive camber than standard safety squat bars. So while it does put you in a relatively more upright torso position compared to straight bar squats, the bar's weight distribution is more in your midline compared to a more forward distribution like it would be with a traditional SSB.
You don't have to force your torso back as hard as you do with a traditional SSB because the camber doesn't try to pitch you as far forward. It's more balanced. Ultimately, this means you feel more stable and "easier."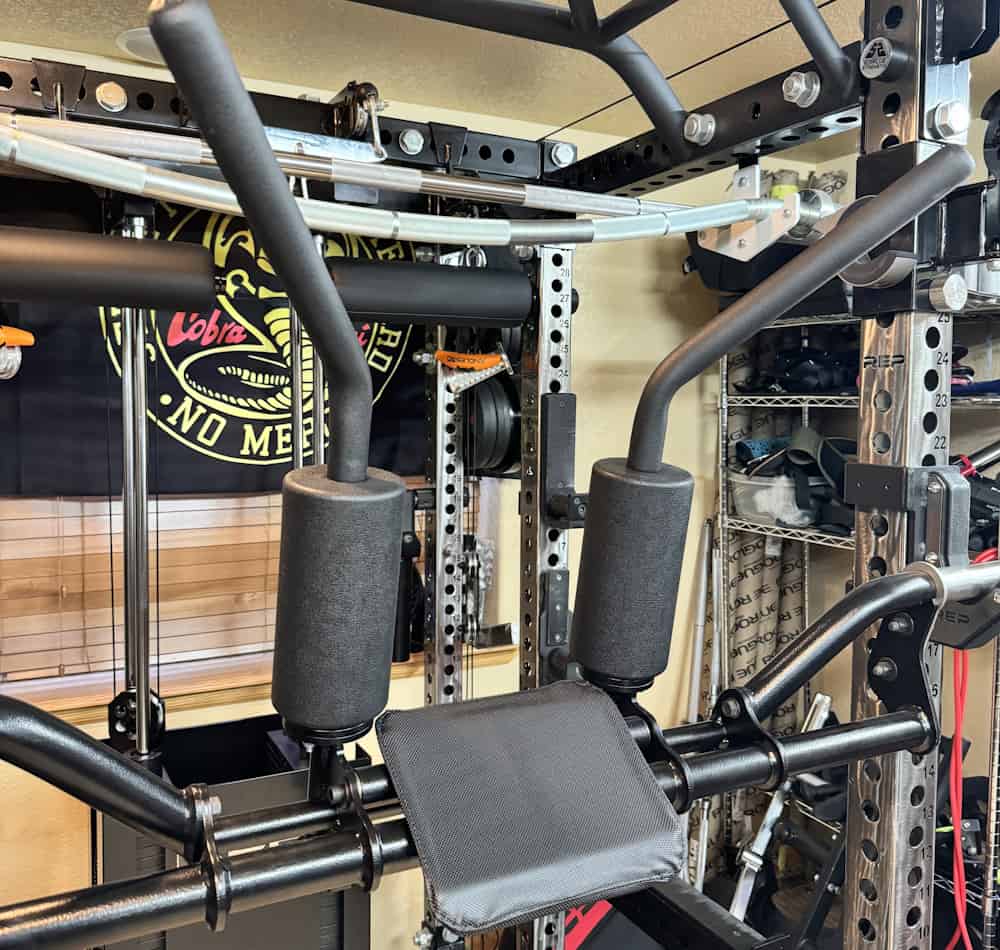 This bar uses dense, high-quality foam for the shoulder pads. Together with the backplate, these pads help provide comfort and stability, particularly with heavier weights. There is no need for pad covers for the shoulder pads due to the type of foam used.
The bar has long handles. But unlike other SSBs with long handles, these are angled outward, which prevents them from getting in the way of your legs at the bottom of squats.
This bar has a complex design with a lot of bolt-together components. As such, it ships disassembled, which helps reduce shipping costs. However, it also means it requires some assembly, which should take roughly 15-20 minutes.
This bar uses stainless steel on the part of the shaft where it sits in the j-cups to avoid chipping, enhancing durability and aesthetics. The bar will fit perfectly in the j-cups of any standard power rack regardless of width since the rackable area is between 39.25" – 52.75".

The sleeves are also stainless steel, which is a premium touch. You won't have to worry about corrosion at all. In terms of sleeve size, they are machined Olympic-sized sleeves, meaning you can use regular Olympic collars to secure the plates. No axle collars required.
Due to the complex design and long handles that can't be removed, this bar can be difficult to get into and out of. Additionally, it can be unwieldy to move around and difficult to store.
This is a great bar if you're looking for a bar that makes squatting more comfortable with a balanced weight distribution that really lets you focus on the leg muscles. Just make sure you have the money to afford it since it's pricey.
Don't get it if you're looking for a traditional SSB, which is more useful for squat strength progression and improving core stability.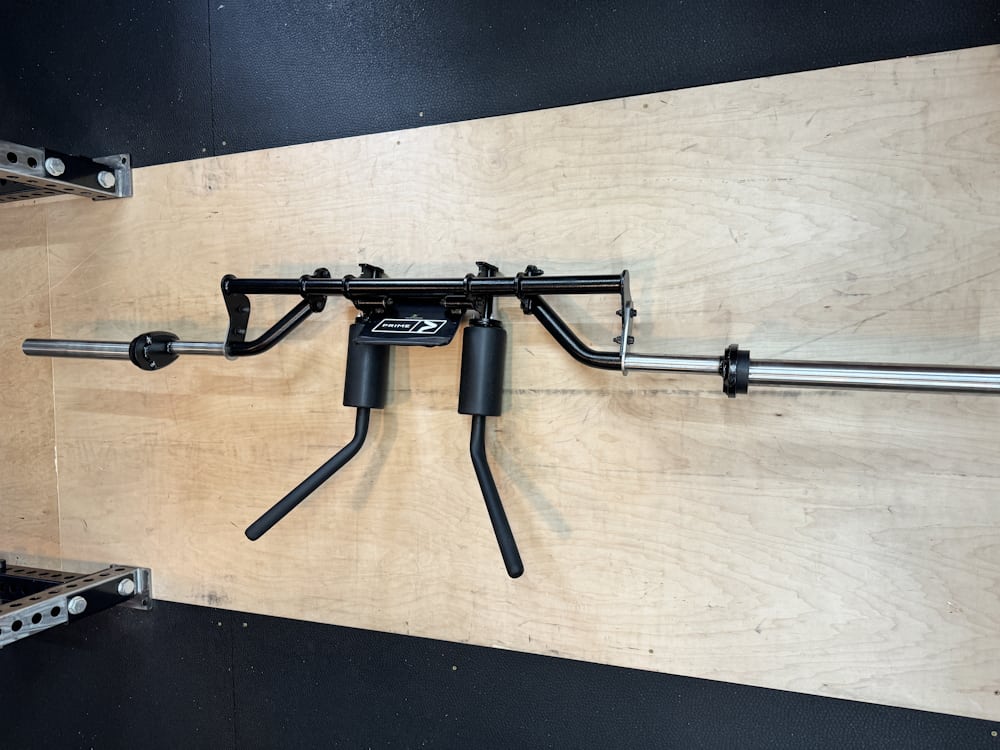 ---
Thanks to @flex.marks.the.spot for sharing these photos with me of his Prime Fitness Super Squat Bar to use in this article on the best safety squat bars. Overall, he really likes the bar. Specifically, he agrees that it's best for someone focusing on leg hypertrophy. He claimed that it's the best balanced SSB out there and almost feels "machine-esque" with the way it targets the quads. He's impressed with how well the backplate works for distributing the weight dynamically based on the lifter's positioning. The thing he doesn't like is how annoying it is to store. Without any weight on it, it wants to flip up, which makes it annoying to store on horizontal bar storage. Lastly, he wishes the price was a bit lower.
Pros
Makes squatting feel easier/more stable
Designed for leg hypertrophy
Backplate auto adjusts and is very comfy
Long handles angle outward to avoid leg interference
Stainless steel machined Olympic sleeves
Stainless steel where the shaft contacts j-cups
Made in the USA
Cons
Steep price point
Awkward to move, store, and get into/out of
Buy Now – Prime Fitness Super Squat Bar »
Best American-Made Safety Squat Bar: EliteFTS SS Yoke Bar
The EliteFTS SS Yoke Bar is widely acknowledged as a top-tier choice among safety squat bars. It was undoubtedly the best choice in terms of design and performance for years until competitors finally caught on and mimicked its best qualities.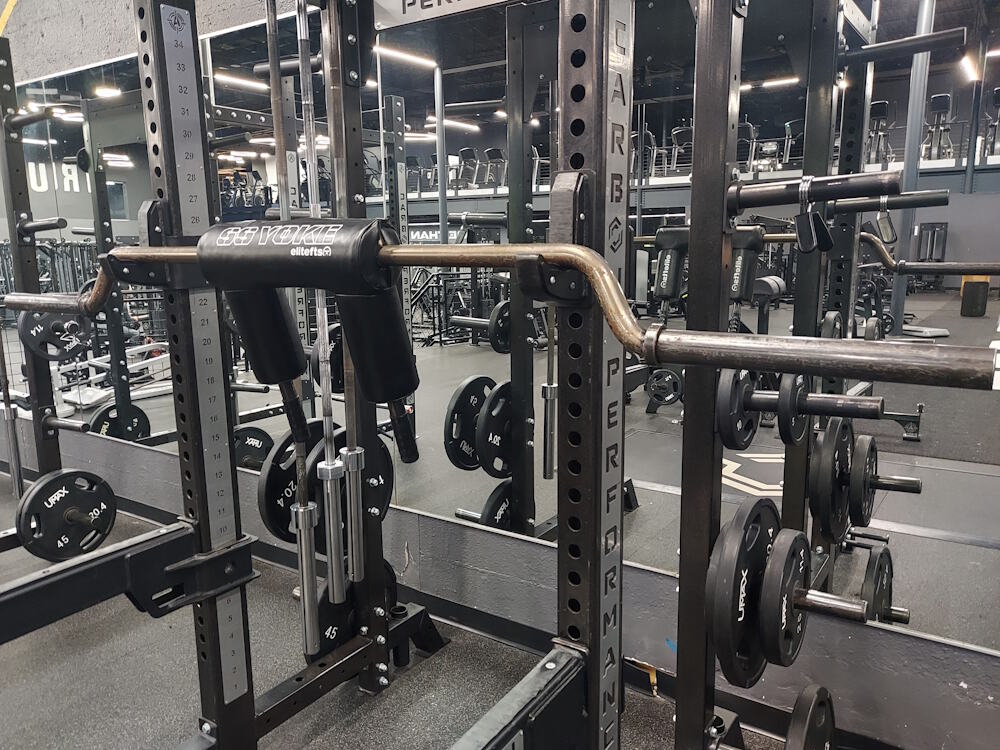 Specifications
Bar Type: Traditional Safety Squat Bar
Weight Capacity: 800 lbs (Drop test; not static capacity rating)
Handle Type: Straight, Short, Removable
Loadable Sleeve Length: 15.5"
Sleeve Diameter: 48.5mm
Sleeve Finish: Clear Coat or Black Powder Coat
Shaft Diameter: 41mm
Shaft Finish: Clear Coat or Black Powder Coat
Distance Between Cambers: 49.5"
Bar Length: 92"
Bar Weight: 65 lbs
Warranty: Lifetime (Bar), 90-Day (Pad)
Manufactured: USA
Price: $458
Review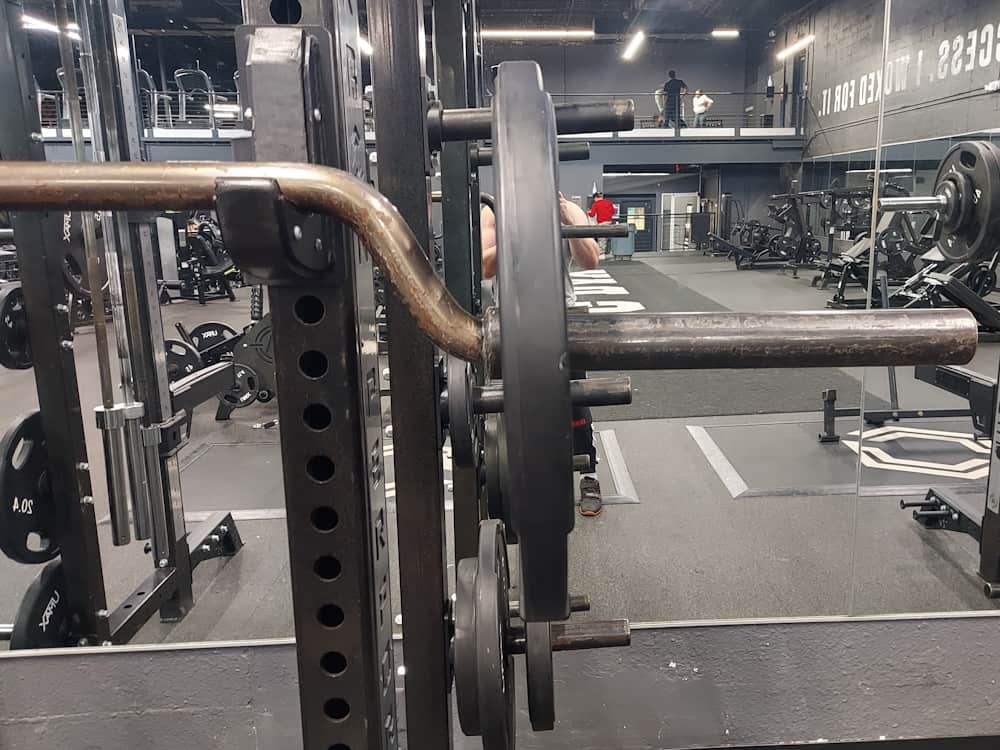 The best thing about this bar is its excellent balance. This is a direct result of its camber measurements; with an angle of 22 degrees and a drop of six inches. Many consider this the gold standard for an ideal balance in an SSB.
The bar will feel secure on your upper back and shoulders regardless of your position or whether you're holding the handles. You'll never have to worry about it rolling back or stabilizing. All your focus can go toward the exercise.
The pads are dense yet comfortable with enough thickness to provide great support without being too bulky. The pad cover is solid overall but a little extra durability wouldn't hurt, especially when you compare it to the more premium cover on the REP bar.
The handles are about 7 inches long, providing users with enough length to grasp easily while still being short and not getting in the way of legs. They also have finger grooves for improved grip. And, importantly, they're removable, making JM presses possible.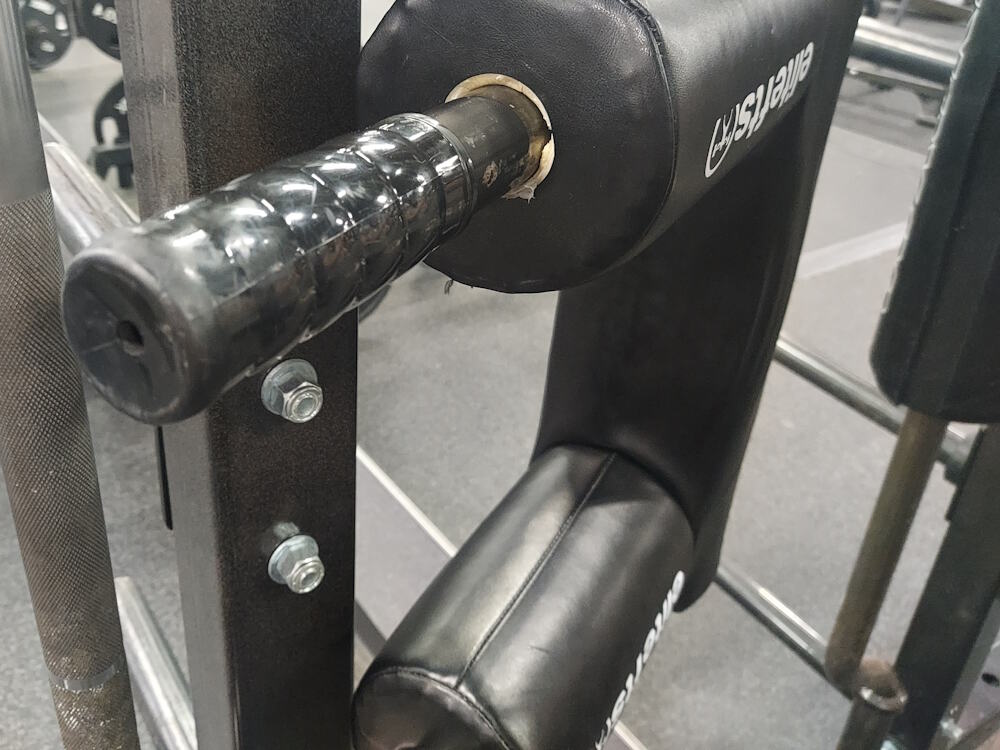 The EliteFTS safety squat bar measures 90 inches in length and weighs 65 lbs, making it 20 lbs heavier and 3.5 inches longer than an Olympic bar. However, it's about average in length as far as SSBs go, and above average in terms of weight.
The SS Yoke Bar has a sturdy construction showcased by clean welds and a robust weight capacity, ensuring longevity and reliability during intense sessions.
I should note that EliteFTS lists the weight capacity rating as just 800 lbs, which might seem low compared to other bars in this guide. However, that's because EliteFTS got this rating from a drop test, rather than a static capacity rating that most other manufacturers use. Essentially, it's among the strongest bars in this guide.
While this is an excellent bar, one of the biggest complaints about it is the clear coat finish, which is prone to chipping. This is an aesthetic concern and makes the bar more prone to corrosion over the long term.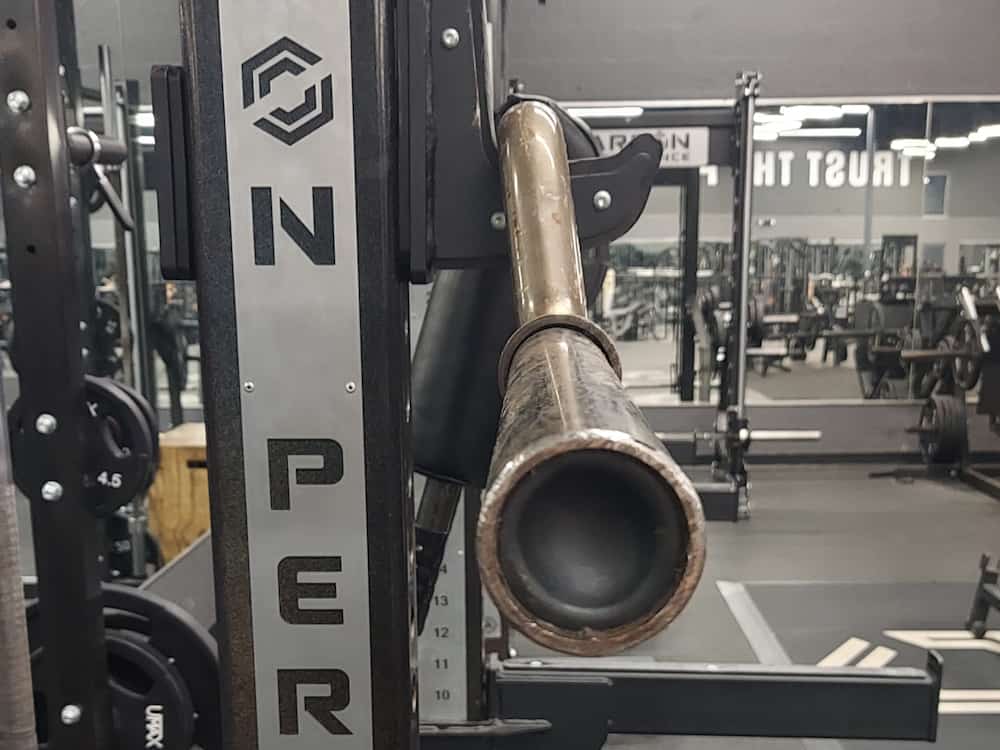 There is a black powder coat version, but it will mar easily as well.
Another negative is that it has axle sleeves, which are slightly thinner than Olympic-sized sleeves. You'll need specialized axle collars to secure the weights. That's another expense to consider if you don't already have a pair. See the video below to see what I mean:
While the lack of Olympic-sized sleeves is disappointing, I wouldn't have qualms recommending this bar simply because so many home gym owners and commercial gyms have used them long-term with no issues.
The price is higher than many traditional alternatives SSB, particularly when you consider that shipping isn't included. Of course, you should expect to pay a bit higher for an American-made bar.
That said, EliteFTS periodically puts it on sale so you can snag it at a discount if you wait for a promo.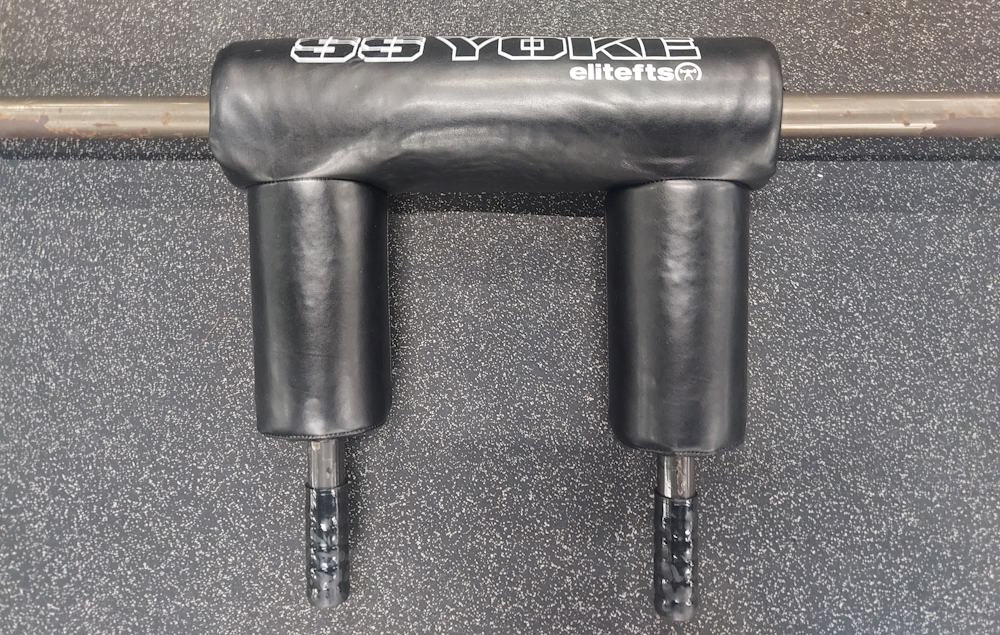 ---
I took these photos at my local commercial gym where I was able to test out this classic safety squat bar. After using it for just a couple of sessions, I see why it's been so popular.
Pros
Set the gold standard for SSB balance with its camber angle/drop
Tried and true design; an industry staple for years
Comfortable and supportive pad
High-quality, durable vinyl pad cover
Removable short handles
Made in the USA
Cons
Higher price for a traditional SSB especially since shipping isn't included
Sleeve and shaft finish chip and scratch easily
Buy Now – EliteFTS SS Yoke Bar »
Best Safety Squat Bar Alternative: Marrs Bar
The Marrs Bar is not a safety squat bar. Although it resembles one, it boasts a special camber and harness system that sets it apart from true SSBs, offering users a different squatting experience.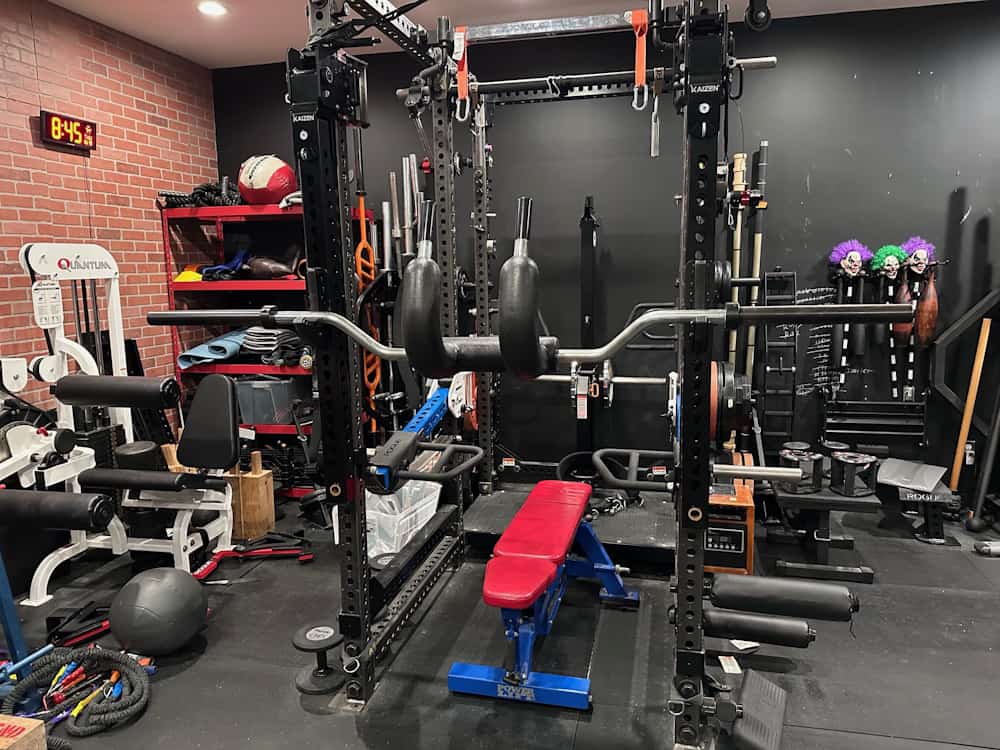 Specifications
Bar Type: Specialty Squat Bar
Weight Capacity: 1,200 lbs
Handle Type: Short, Straight
Loadable Sleeve Length: 16.25"
Sleeve Diameter: 50mm
Sleeve Finish: Black Zinc
Shaft Diameter: 38mm
Shaft Finish: Bright Zinc
Distance Between Cambers: 39" (between the outer cambers; not the inner cambers)
Bar Length: 89"
Bar Weight: 64 lbs
Warranty: 1-Year
Manufactured: USA
Price: $799.99
Review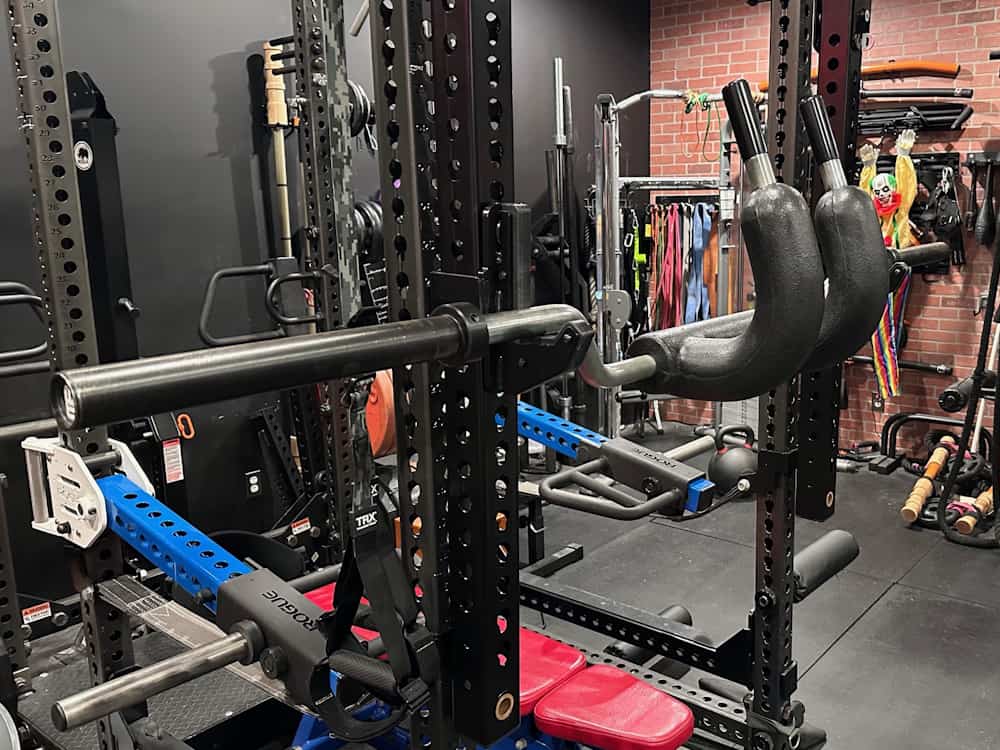 It's specifically designed to be most similar to low bar squatting since the Marrs Bar places the weight pressure below the scapula. This positioning allows for a more hip-dominant squat, which is a benefit for those looking to target specific muscle groups.
It also is conducive to good mornings since it lets you focus on the hip hinge while being a bit more gentle on the lower back itself – though you'll still hit lower spinal erectors hard.
Notably, you can also flip the Marrs Bar around and use it to mimic front squats. It's not the same as regular front squats, but it's close. Your torso will be a bit more forward since the weight is around chest level rather than above the collar bones. So it'll hit your lower back more, but you'll still hammer the quads.
Of course, other movements like lunges and step ups are possible as well.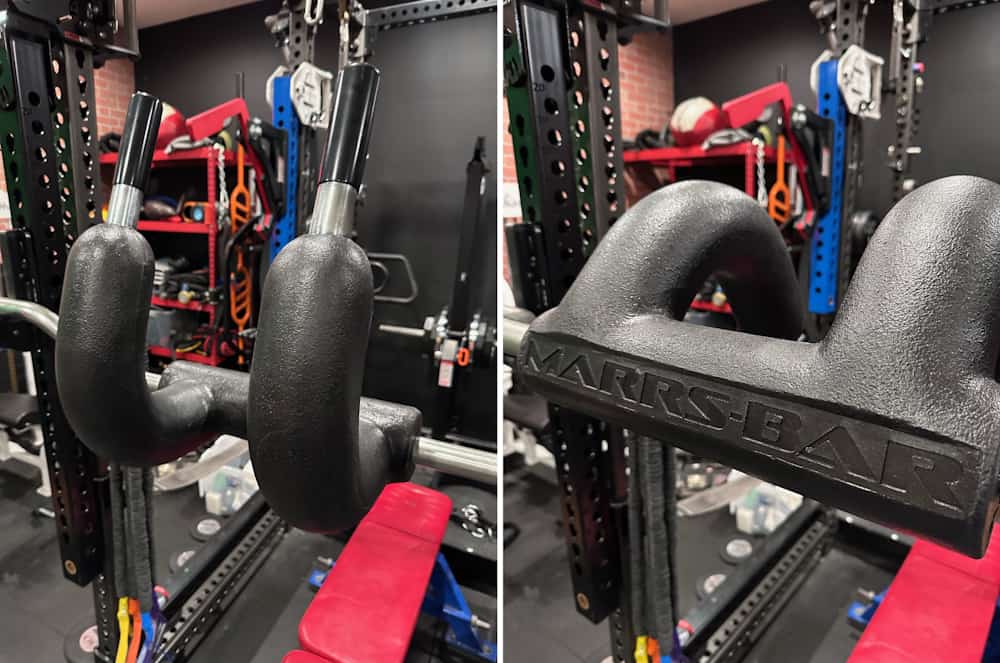 Its unique yoke wraps around the shoulders and hooks onto you like a back harness. That's the coolest part about this thing. It really sticks to you. When it's on, it's on.
There's no risk of it rolling back like on a traditional SSB. You don't even have to use the handles.
The yoke padding consists of a dense foam molding. There's no vinyl cover since this type of foam technically doesn't need it. But still, the lack of a cover puts it more at risk for damage, which a few customers have experienced, though it's not a widespread issue.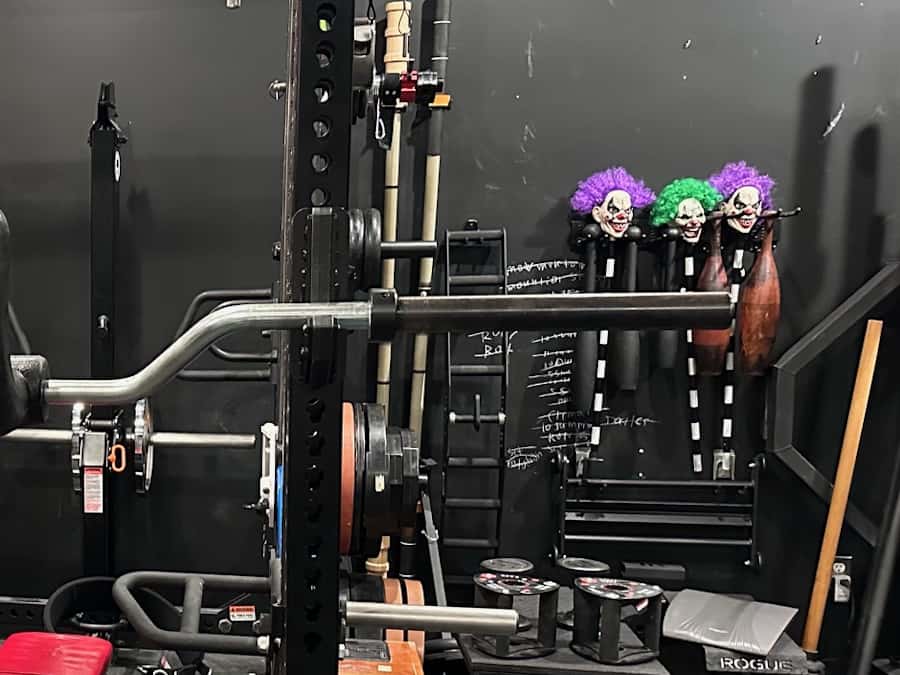 The bar has a good overall construction. It's made in the USA from solid steel with a 38mm shaft that's rated for up to 1,500 pounds. The only thing I don't like about the construction is that the sleeves aren't welded on. Instead, they're connected to the shaft by Allen screws.
Additionally, the sleeves have a black zinc finish, which isn't a great choice because it will scratch and fade from the plates. But on a positive note, the sleeves are Olympic-sized so your existing collars will fit perfectly.
The unique harness yoke design of the Marrs Bar can make storage a bit cumbersome, which might be a drawback for those with space constraints in their workout areas.
This is not a cheap bar by any means. It retails at a whopping $799.99. Luckily, Marrs Bar teamed up with Titan for distribution which allowed for free shipping. So the overall out-the-door price is lower than previously.
Bearing the high price in mind, you should only buy this over a traditional SSB if you want a shoulder-friendly squat bar for targeting the posterior chain with a low bar technique.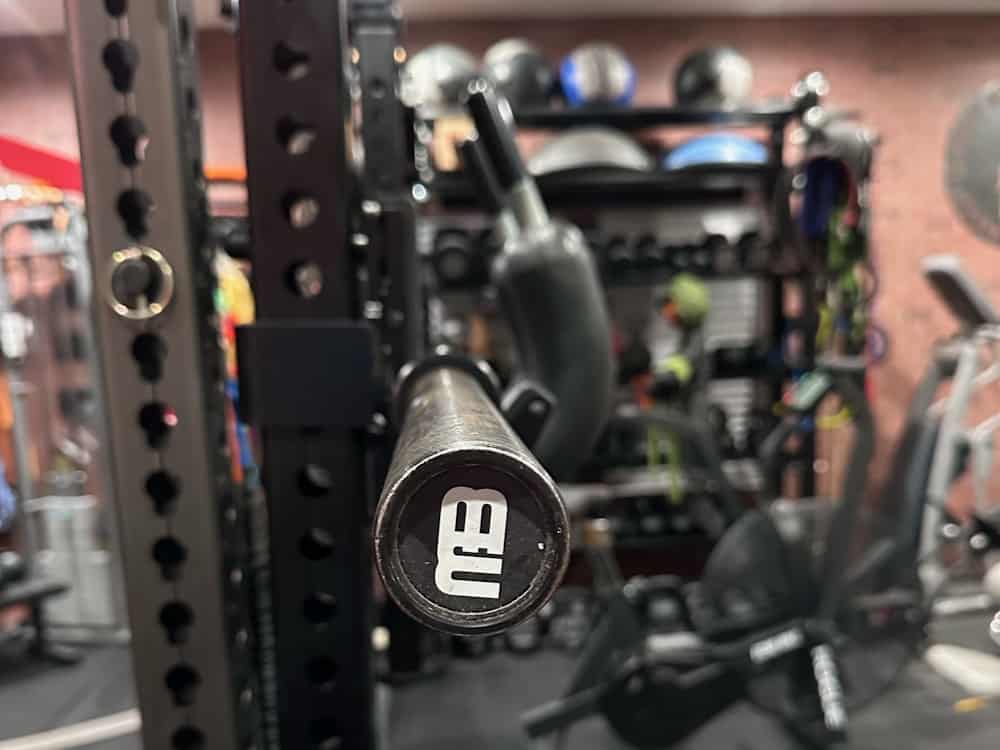 ---
Thanks to Jim from @jimnettlesofficial for sharing these photos of his Marrs Bar with me to use in this safety squat bar guide. Jim told me he originally bought his Marrs Bar because he injured his shoulder and still wanted to squat while rehabbing. Since using it, he also hasn't tweaked his back, which he'd occasionally do on traditional barbell squats. He finds that the low bar position reduces the axial load on his neck and back, which minimizes wear and tear on the spine, hips, and knees. Plus, he likes how the harness with the handles makes for a shoulder joint-friendly arm position. Overall, Jim considers this a great tool for staying injury-free.
Pros
Best tool for mimicking low bar squats
Targets the posterior chain
Easier on the lower back
Harness is extremely secure
Olympic sleeve size
Made in the USA
Cons
High price for a very specific tool
Sleeves are attached by Allen screws
Buying Guide
Different Types of Safety Squat Bars
Safety squat bars (SSBs) have gained popularity among both professional athletes and fitness enthusiasts for their ergonomic design and versatility. Understanding the different types of SSBs is crucial for making an informed buying decision tailored to individual preferences and needs.

Traditional Safety Squat Bars (i.e. the typical yoke-style SSBs)
Traditional SSBs are characterized by their "yoke" design: a padded barbell with handles that curve in front of the lifter. This design is intended to reduce strain on the shoulders, neck, and wrists, making squats more comfortable and reducing the risk of injury.
For those looking for a more comfortable and safer squatting experience, the yoke-style SSB might be a go-to choice. It's especially suitable for lifters with shoulder mobility issues or those recovering from an injury. The ergonomic design ensures the barbell remains stable, reducing the need for corrective actions during the lift.
User Profiles:
Rehabilitation patients or individuals with shoulder injuries.
Lifters looking for added stability and safety.
Beginners who are just starting their squatting journey.
Non-Traditional Safety Squat Bars (e.g. Kabuki Transformer Bar, Prime Fitness Super Squat Bar, Marrs Bar)
Non-traditional SSBs are innovative designs that often offer adjustability and unique features. Examples include the Kabuki Transformer Bar, which has adjustable camber angles, and the Marrs Bar, distinguished by its fully circular design.
These bars provide versatility, allowing the lifter to target specific muscle groups or adjust the bar to their biomechanics. For instance, the Kabuki Transformer Bar can mimic the mechanics of a front squat, high bar squat, and more, all in one piece of equipment.
User Profiles:
Advanced lifters or professional athletes seeking a versatile training tool.
Coaches or trainers working with a range of clients and needing equipment adaptability.
Enthusiasts looking for a unique squatting experience or to diversify their training.
Both traditional and non-traditional safety squat bars have their merits. The key is to assess personal requirements, fitness goals, and any specific physical considerations before making a purchase. Remember, the best SSB is the one that aligns with your needs and enhances your squatting experience.
Benefits of Safety Squat Bars
The safety squat bar stands out in the world of strength training because it has so many benefits. This is rare for specialty bars since their applications are usually much more limited.
Below, I'll discuss the benefits of safety squat bars to see if it makes sense for you to get one for your home gym.
Reduced Shoulder Stress
Squatting on a straight barbell requires a lot of shoulder external rotation. You really have to crank your arms back to hold onto the bar.
However, the design of SSBs eliminates the need for any external rotation. You only need to reach directly in front of you to grasp the handles.
By removing the need to externally rotate, lifters can reduce the risk of shoulder strain, making the SSB an ideal choice for those with shoulder mobility issues or previous injuries.
Improved Comfort
SSBs come with padded support, ensuring a more comfortable fit on the neck and shoulders.
This added comfort encourages proper form and ensures longer, more efficient workout sessions without undue strain.
User Profiles:
Beginners easing into weightlifting.
Seasoned lifters aiming for prolonged training.
Quad-Dominant Squats
SSBs promote a more upright posture, shifting emphasis towards the quadriceps more than the hamstrings.
This makes it an excellent tool if you have underdeveloped quadriceps. Even if you don't, it can help keep your quads in balance with your posterior chain if you also do a lot of back squatting, particularly low bar back squats.
Upper Back Strengthening
The unique bar positioning of SSBs engages the upper back muscles more intensively.
Regular use can enhance upper back strength, which is pivotal for posture and overall back health.
User Profiles:
Individuals focusing on postural improvement.
Athletes seeking comprehensive back development.
Enhanced Core Engagement
Due to its design, SSBs necessitate heightened core stabilization during squats.
Enhanced core engagement means a stronger, more resilient midsection, which is foundational for most physical activities.
User Profiles:
Those focusing on core strength and stability.
Athletes across various disciplines.
Accessibility and Rehabilitation
SSBs are accommodating, allowing a wide range of individuals, including those with physical limitations, to squat safely.
For those in rehabilitation or with specific physical challenges, SSBs can be a game-changer, enabling safe and effective workouts.
User Profiles:
Individuals undergoing physical rehabilitation.
Seniors or those with mobility issues.
Versatility
Beyond standard squats, SSBs are versatile tools, suitable for lunges, good mornings, JM presses, Hatfield squats, and more.
Such versatility ensures varied workouts, making the most of a single piece of equipment.
User Profiles:
Home gym enthusiasts with limited space.
Trainers seeking multipurpose tools for clients.
Preventing Training Plateaus
Switching to SSBs can introduce a new challenge for muscles, preventing adaptation.
Breaking routines and introducing novel exercises can help break through training plateaus, ensuring continuous progress.
User Profiles:
Seasoned lifters seeking variety.
Those experiencing stagnation in their strength training.
How to Pick the Best Safety Squat Bar for You
Bar Type
When it comes to safety squat bars, you can categorize them as either traditional or non-traditional.
Traditional SSBs have a padded yoke with handles and a cambered shaft that pitches the load forward and forces you into a more upright torso position. This changes your biomechanics such that you're emphasizing your quadriceps and activating your upper back.
Examples of traditional SSBs are the REP Safety Squat Bar and the Titan Safety Squat Bar V2.
Non-traditional SSBs – which in some cases aren't technically SSBs at all – will also have a padded yoke (or some equivalent), handles, and a cambered shaft. However, the difference comes down to how the camber or the height of the bar on your back affects your biomechanics.
For example, I consider an SSB to be non-traditional if it does NOT force you into the upright, quad-dominant back squat position.
The Kabuki Transformer Bar falls into the non-traditional category because, even though it has a setting that mimics SSB mechanics, it also has many other settings for different squat mechanics.
The Transformer Bar's adjustability makes it non-traditional.
The Marrs Bar could also be considered a non-traditional SSB, though I personally don't think it's technically an SSB at all. But if you were to classify it as such, it would be non-traditional because it puts the bar so low on your back. This makes any movement much more hip-dominant rather than quad-dominant.
Most people should get a traditional safety squat bar unless they have specific training reasons for a non-traditional one.
Price
While it's tempting to go for budget-friendly options, remember that with gym equipment, you often get what you pay for. Higher-end bars may come with better materials, finishes, and ergonomics that can enhance your lifting experience.
Consider it an investment: a slightly pricier, high-quality bar can be more durable, saving you replacement costs in the long run.
You should expect to pay at least $300 to get a "good" safety squat bar unless you happen to find one on sale, in which case you may be able to pay a bit less.
Pad Density & Comfort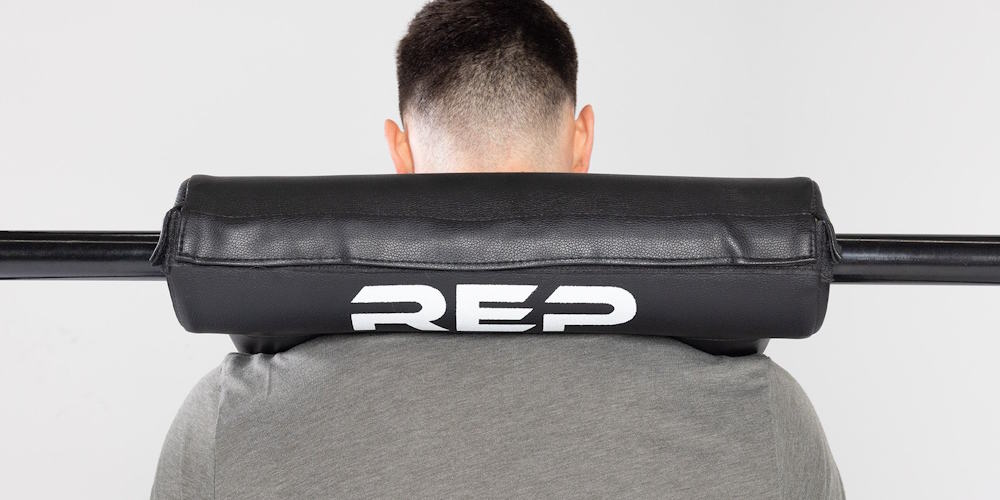 You want to sweet spot when it comes to pad density and comfort.
Too soft will be comfy, but it will lack support. This will lead to reduced performance as it can affect the balance of the bar because the bar position changes as the load gets heavier.
If it's a cheap-o bar, it can even be painful if the pad is so soft that you feel the bar on your neck through the padding.
Conversely, you don't want a pad that's so dense that it's just hard and painful.
The goal is to achieve good support without pain.
All of the bars on this page have good pads. Some are a little better than others. And some of that will come down to preference; whether you want a little more cushion or a little more density.
Pad Construction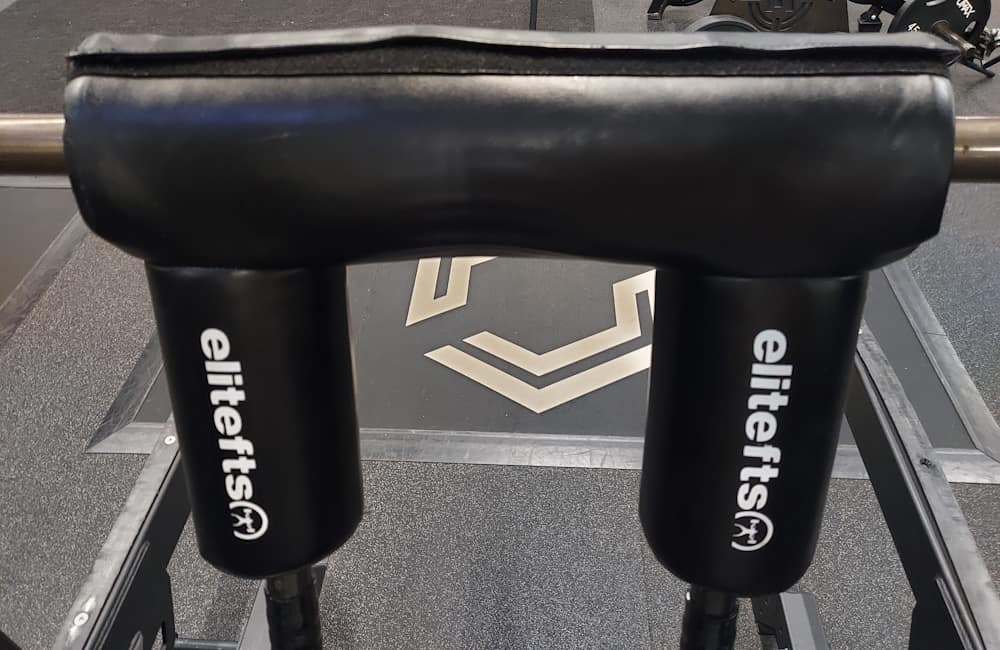 Look for a pad that has a one-piece construction, as opposed to three separate pieces (one for the top plus one on each side).
First and foremost, a one-piece pad construction is more durable. Beyond that, it's more comfortable because there are no gaps between the segments, ensuring support and protection throughout all points of contact between the yoke and your body.
You typically only see segmented pads on cheap, low-quality safety squat bars. Though, there are some otherwise high-quality bars like the Rogue SB-1 that use that design – though, that bar would be better with a single pad construction.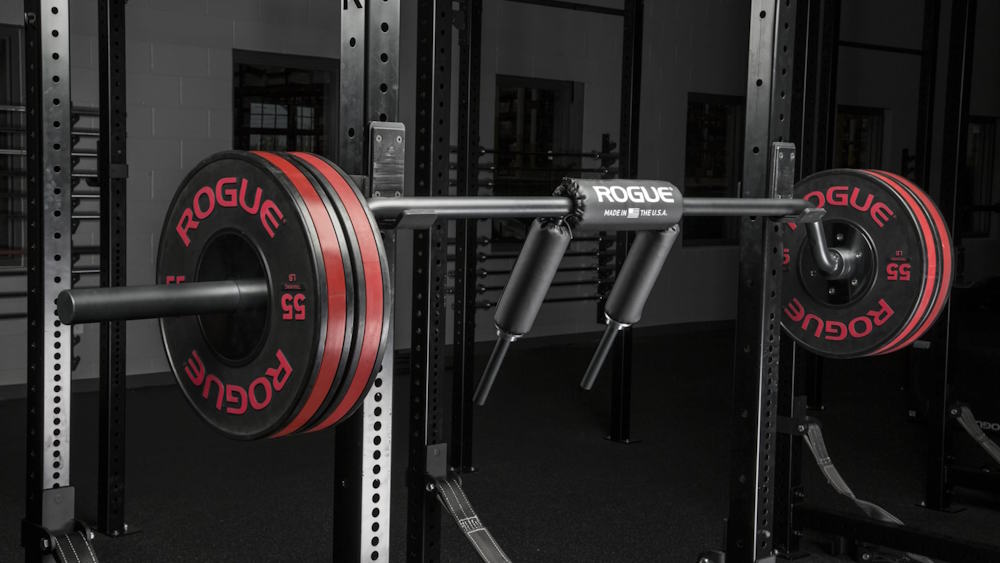 As a side note, many users have had other complaints about the Rogue SB-1's padding, most notably that it's excessively dense to the point of discomfort.
Vinyl Quality
An SSB's vinyl pad covering isn't just for aesthetics; it shields the pads from sweat, moisture, and general wear and tear.
High-quality vinyl covers will be tear-resistant and easier to clean, ensuring the padding remains protected and the bar looks new for longer.
A good cover will also have a little grip to it to keep it in place on your neck and shoulders.
Camber Angle and Camber Drop
When diving into the specifics of safety squat bars, the terms "camber angle" and "camber drop" often pop up. These two factors play a pivotal role in the balance and biomechanics of the bar.
Camber angle refers to the angle at which the sleeves (where you load the weights) are tilted compared to the main shaft that rests on your shoulders. It impacts how the weight is distributed during a squat.
A greater camber angle means the weights sit more forward relative to your body. If the angle is too much, it can pull you forward, compromising your form and potentially straining your lower back.
If the angle is too little, the bar may not sit securely. It could start to feel like it's rolling back. This will force you to have to crank down on the handles to keep it in place.
Camber drop pertains to the vertical distance between the main shaft of the bar (where it rests on your shoulders) and the sleeves. Essentially, it's how much "lower" the weights sit relative to your shoulders.
A shorter camber drop makes the movement less challenging because less stability is required. Conversely, a longer camber drop requires more stability, making the movement more challenging.
An appropriate camber angle and camber drop ensure the weight is distributed in a way that complements your natural squatting motion.
Many esteemed SSBs, such as those by EliteFTS, REP, and Titan, have settled on a camber angle of around 22 degrees and a camber drop of 5″ – 6" – a little less can work, too, such as with the BoS SS3's 4" drop.
These measurements offer a balance that feels intuitive to many lifters. While there's some room for variance, these numbers are a reliable benchmark for a well-balanced traditional SSB.
For those looking for versatility, an adjustable safety squat bar like the Kabuki Transformer Bar offers a unique advantage. It allows users to modify the camber angle and drop, effectively changing the bar's balance. By adjusting these variables, you can alter your squatting posture and emphasize different muscle groups, adding variety and specificity to your training.
Distance Between Cambers
The "distance between cambers" refers to the distance between the bends (i.e. cambers) on either end of the bar. It is pivotal to know this to ensure that the bar you buy will fit in the j-hooks on your rack's width.
In most cases, the "distance between cambers" measurement is the length of the shaft before the first bend. The one exception to this is the Marrs Bar, where this is measured after the second bend since you rack the Marrs between the second bend and the sleeve.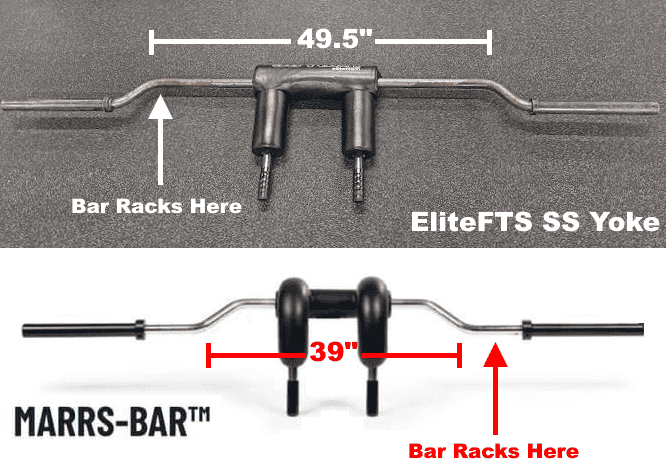 Here's a little more detail on why the "distance between cambers" matters:
Rack Compatibility: The width of racks varies among manufacturers. Common widths include 47″ (e.g. REP racks), 48″ (e.g. Titan Series racks), and 49″ (e.g. Rogue Monster/Monster Lite racks). If the distance between the cambers of your SSB is 48″, and you have a 49″ wide rack, the bar might not sit evenly. This mismatch can lead to uneven weight distribution when the bar is racked. Or the j-cups will be forced to tilt in so the bar can sit straight. This not only affects the safety of your setup but can also wear out the j-cups and the bar prematurely.
Universal Fit: Bars that have a distance of 49″ or more between cambers are generally more versatile, fitting comfortably on virtually all racks without issues. These are often a safer bet, especially if you foresee changing racks in the future or if you're unsure of your current rack's precise width.
Buying Tip: Before purchasing an SSB, measure the width of your rack – or more accurately the distance between the outside of the j-cups. When in doubt, it might be wise to opt for an SSB with a longer distance between cambers to ensure broad compatibility.
Handles

The handles are your primary interaction point with a safety squat bar, so they're an important feature. Here's what you should consider about them:
Removable Handles: Removing handles allows you to perform JM presses. This is an excellent triceps exercise that's useful as a bench press accessory movement. Additionally, removing the handles can make storage easy if you're tight on space.
Handle Length: Short handles are generally preferred by more lifters as they stay out of your way during the exercise and make the bar easier to store and move around. Longer handles give you more leverage making it easier to pull down on the bar to adjust or maintain the desired SSB position. Also, some people just find this position more comfortable for their arms. However, long handles can potentially get in the way of your knees at the bottom of the squat depending on your body type, squat depth, and leg position. That's one complaint some people had about the original iterations of the Kabuki Transformer Bar. Luckily, you can remove the long handle segments on the latest version of the Kabuki/Oregon-made bar. Also, the Rogue/Ohio-made version comes with swappable knurled short and long short handle extensions.
Handle Grip: All safety squat bars have some type of covering or texture to improve your grip when grasping the handles. Some are better than others. Knurled steel grip handles are the best, in my opinion. The next best are the slotted coverings with grooves for your fingers.
Loadable Sleeve Length
The loadable sleeve length of a Safety Squat Bar dictates how much weight you can place on the bar, and it's crucial to match this with your lifting ambitions and weight plate types.
Most top-tier Safety Squat Bars offer a loadable sleeve length of 15"-16″. This provides ample space for varied plate thicknesses and is suitable for a broad range of lifters.
Some bars, like the Bells of Steel SS3, come with a more compact 11.4″ sleeve. While ideal for space-saving, there are considerations:
Advanced lifters or those aiming to improve their max squat significantly over time will find shorter sleeves to be restrictive.
Bumper plates, being thicker than standard plates, occupy more sleeve space. If you use these, ensure your bar's sleeve is long enough to handle the max number of bumper plates you'll need.
Assess your lifting goals and the types of plates you use. If you're progressing towards heavier weights or use thicker plates, a longer sleeve may be more suitable.
Sleeve Diameter (i.e. Axle sleeves vs Olympic sleeves)
When choosing an SSB, sleeve diameter affects plate fit, noise, and collar compatibility. These are the two types of sleeves you'll find when shopping for safety squat bars:
Axle Sleeves (1.91″): These slightly thinner sleeves have historically been the standard for specialty bars, with notable bars like the EliteFTS Safety Squat Bar still sporting them. Axle sleeves produce a looser fit for Olympic plates, leading to more play and noise. Critically, Olympic collars often don't fit properly on axle sleeves, necessitating specialty axle collars – an added expense if you don't already own a pair.
Olympic Sleeves (50 mm / 1.96″): Over the last few years, this has become the modern standard for SSBs and many other specialty bars. They ensure a proper fit for Olympic plates, minimizing noise and movement. Additionally, regular barbell collars fit perfectly, eliminating the need for separate purchases.
Olympic sleeves are ideal if you have the choice, but don't discount a bar just because it has axle sleeves. It's a relatively minor factor, but one that you should consider nonetheless.
Sleeve & Shaft Finish
The finish on a safety squat bar, including both the shaft and sleeves, affects aesthetics, longevity, and maintenance. Here's what you should know when evaluating bar finishes:
Many specialty bars, including safety squat bars, feature a powder or clear coat finish. The EliteFTS bar, for instance, comes with a clear coat.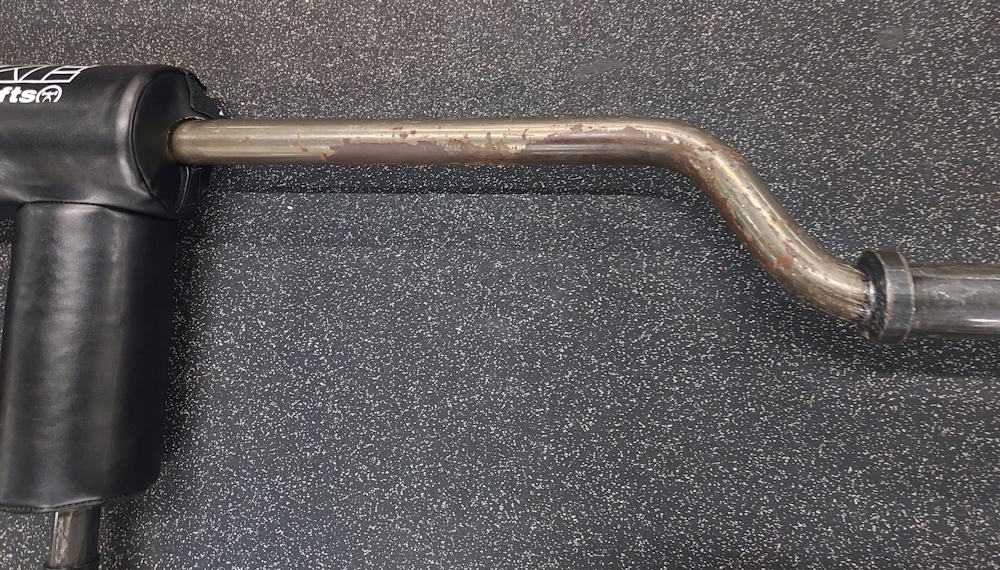 While this offers a very basic level of protection against wear and corrosion, these finishes are more prone to scratching, especially on the sleeves due to frequent plate changes. Over time, visible wear will accumulate, affecting the bar's appearance.
Some modern bars, recognizing the drawbacks of traditional coatings, have adopted sturdier finishes. The REP Safety Squat Bar, for example, boasts hard chrome sleeves, combining aesthetics with enhanced resistance to scratches, impacts, and corrosion. Its shaft employs a metallic powder coat, offering better durability than standard powder coats.
Similarly, even cost-effective options like the Titan Safety Squat Bar V2 come with chrome finishes for both the shaft and sleeves, indicating a shift in industry standards towards more resilient coatings.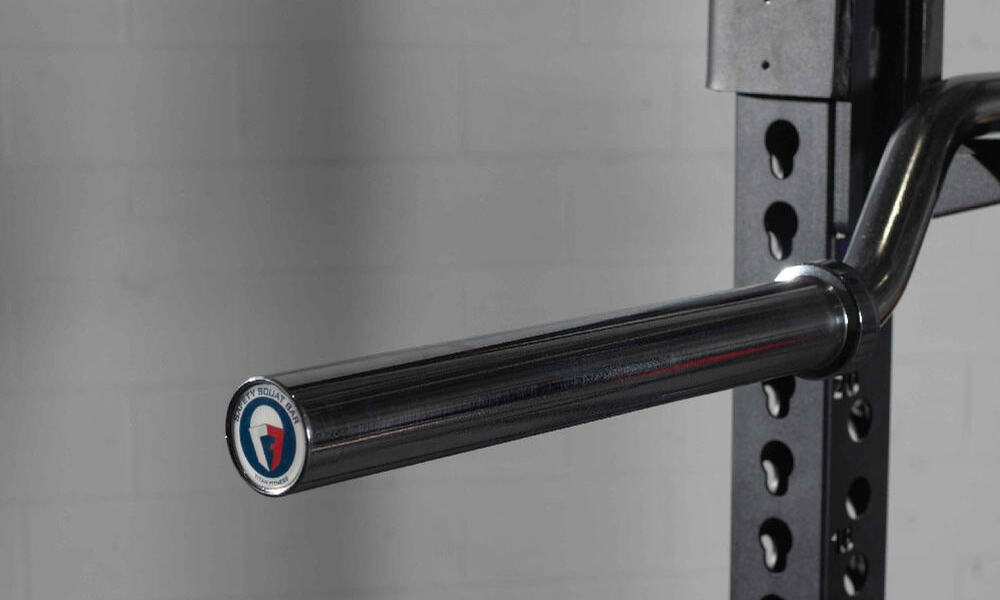 While the finish can influence your bar's look and longevity, it's essential to consider the bar's overall performance. The EliteFTS SS Yoke Bar, despite its notorious finish susceptibility to marring, remains a top-tier choice for its functionality and ergonomics.
When choosing a Safety Squat Bar, consider the finish in conjunction with other factors. While an upgraded finish offers aesthetic and durability benefits, it shouldn't overshadow the bar's core functionality.
Evaluate finishes based on your preference for maintenance, appearance, and long-term use, but always weigh it against the bar's overall performance and fit for your needs.
Bar Length
While regular Olympic barbells usually measure around 86.6″, Safety Squat Bars are generally longer, hovering around 90″ on average. The REP Safety Squat Bar, which is my top pick, is one of the longest on the market at 92.5″.
The unique design of an SSB, particularly the camber in the shaft, necessitates extra length. The camber must begin far enough from the center to ensure the bar can comfortably sit on rack j-hooks. Beyond the cambers, additional shaft length is needed to transition to the sleeves.
The length of the safety squat bars has some practical implications:
Storage: The longer nature of SSBs means they'll occupy more space in storage. If you're tight on space or have a specific storage solution in mind, account for the added length.
Workout Area Clearance: It's also vital to ensure there's enough clearance on either side of your squat rack. This prevents the bar from knocking into walls or other equipment during workouts, ensuring safety and preserving the integrity of both the bar and surrounding equipment.
Bar Weight
While the industry standard for an Olympic barbell rests at either 45 lbs or 20kg (44 lbs), nearly all Safety Squat Bars tip the scale a bit heavier, typically ranging between 50-70 lbs.
This additional weight is a result of a thicker shaft, longer total bar length, and the inclusion of handles and padding.
There are a few minor practical implications to consider regarding the heavier weight of safety squat bars:
Maneuverability: With the increased weight, moving an SSB around, especially when taking it in and out of storage, may require a tad more effort than a standard Olympic barbell. However, for most individuals considering an SSB, this difference is manageable and hardly a deterrent.
Accurate Tracking: Knowing your SSB's exact weight is essential for accurate workout tracking. If you're putting 180 lbs of weight plates on an SSB that weighs 55 lbs, it's a different total load than if you're using a standard 45 lb barbell (i.e. it's 235 lbs; not 225 lbs).
Consideration for Novices: The heavier nature of SSBs might pose a challenge for complete beginners, youth lifters, or elderly lifters. The higher weight, even without plates, can feel challenging for those with low strength levels. However, for most individuals, the bar's inherent weight is well within the manageable range.
Warranty
Generally, a longer warranty hints at a more durable and high-quality safety squat bar. At the least, it shows the company is confident in the product.
So if you want an SSB that can last you a lifetime, you should consider the warranty.
Most safety squat bars in this guide have a limited lifetime warranty on the bar. This typically protects against manufacturer defects and bending under normal use.
All else being equal, go for the SSB with the stronger and longer warranty. Of course, all else is not always equal. I wouldn't necessarily write off bars with shorter warranties.
For example, the Titan Safety Squat Bar V2 is a solid bar overall, but it only has a one-year warranty. But many people have owned this bar for years with no issues.
With the Titan example, in particular, you're making the tradeoff between a stronger warranty and a lower price point. For many people, that will be worth it – especially when you know so many people have had a good experience with the bar.
The bar warranty often does not include the padding.
Padding, if warrantied at all, is typically warrantied for a shorter period. For example, the REP Safety Squat Bar has a lifetime warranty on the bar with a one-year warranty on the padding.
That's to be expected with parts that will wear or degrade over time. However, assuming no defects, the pad should last you much, much longer than a year. The one-year period, which seems short, is there because pre-existing defects will reveal themselves within that period.
Weight Capacity Rating
While traditional Olympic barbells typically use tensile strength to measure the strength of the bar, that's not usually the case with specialty barbells like SSBs.
Instead, most manufacturers list a weight capacity rating. Usually, this is the static weight capacity rating. That is how much you can load before the bar in a static position (e.g. on j-cups) before the bar starts to permanently bend.
This is not to be confused with a drop test rating, which as you can imagine, will have a lower weight rating.
In terms of static weight rating, I recommend looking for a safety squat bar with a minimum static weight capacity of 1,000 lbs, with 1,500 being the "ideal."
This is more than any normal lifter will ever need. Plus, it's an indicator that there's a base level of material and construction quality.
I'll note that EliteFTS lists an 800 lb capacity on their site, which seems low compared to the standards I've laid out.
However, they're referring to 800 lbs from a drop test where they had a lifter flip it off his back from a standing position onto the safeties below. I'm sure there was some warping, but importantly it didn't snap.
An 800 lb drop test capacity translates to a significantly higher static weight capacity – likely right around the ideal range.
FAQ
Is a safety squat bar worth it?
Definitely. A safety squat bar offers ergonomic benefits by reducing shoulder strain and providing cushioning on the neck and shoulders. It also keeps you more upright, emphasizing the quads, and upper back, more than Olympic bar squats. It's a valuable addition for both new and seasoned lifters looking for an alternative or complement to traditional squatting.
What is a safety squat bar used for?
While designed primarily for squats, the safety squat bar's unique design lends itself well to other exercises like lunges, good mornings, JM presses, and Hatfield squats.
Is it harder to squat with a safety squat bar?
It feels different due to the cambered design, which shifts the bar's center of gravity, making squats more quad-dominant and engaging the upper back. These different biomechanics mean you won't be able to put up as much weight as on traditional straight bar squats.
Is a safety squat bar better for athletes?
In many cases, yes. The SSB reduces shoulder strain, which is particularly beneficial for throwing/overhead athletes (e.g. baseball players, quarterbacks, swimmers). Its focus on the upper back and core while reducing excess lower back strain is generally more in line with improving athletic performance while reducing injury risk.
Supercharge Your Squat Sessions with a Safety Squat Bar
A safety squat bar is arguably the most useful specialty bar for any home gym owner. It offers a more comfortable way to squat by eliminating shoulder strain and cushioning the load.
At the same time, it gives you a different stimulus than straight bar squats. It hammers the quads and strengthens the upper spinal erectors.
Hopefully my guide has made finding the best safety squat bar less daunting.
After meticulously examining the available choices, I've concluded that the REP Safety Squat Bar is the top overall choice, despite some fierce competition.
This REP SSB is the epitome of precision engineering, providing stellar balance and performance. Its knurled handles and robust hard chrome finish underscore its premium construction. It offers all of this at a mid-range price point, making it an excellent value.
Armed with the insights from this guide, you're now poised to supercharge your squat sessions. Ready, set, squat!