King of the Gym Is Your Guide to Building Muscle, Gaining Strength & Getting Shredded
​I'm Alex, the owner and author of this website.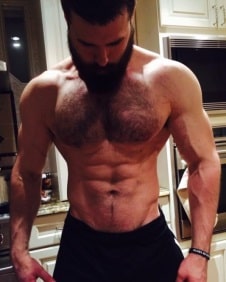 The purpose of this page is to:
Get you better acquainted with King of the Gym.
List out the most important guides, articles and other resources on this site. This way, you'll have a good starting point for acquiring the knowledge and skills needed to reach your physique and strength goals.
But let me first start off by asking a question?…
…What exactly is your weight training goal?
Take a second and think about what you truly want to achieve by lifting weights.
Do you want to:
Build so much muscle mass that random objects start to orbit around you?
Be so strong that you can't open a door without ripping it off the hinges?
Sculpt a set of washboard abs that you could actually do laundry on?
Increase your energy to levels that could power a small nation?
Improve your health to the point of complete immortality?
Okay, maybe that was just a bit exaggerated. But if your ultimate weight lifting goal sounds anything like the above, then you've come to the right place. Welcome!
King of the Gym Is…Your FREE Guide to a Bigger, Stronger and Better Body
Get ready to…
Build Muscle. Look Your Best.
Gain Strength. Be Powerful.
Burn Fat Fast. Gain Energy.
Live Healthy. Feel Great.
Get Started Now
Each of the following main sections guide you through the all-important weight training fundamentals…
Exercises & Training for Each Muscle Group
Follow the links below if you're looking for exercises, anatomy, training and workout tips for a given muscle group.
Ask & Contribute
Got a Question? Feel free to ask me (Alex) a question if you're stuck, confused, or just curious about anything related to weight lifting. I will gladly respond as soon as I can.
Share Your Knowledge. This site includes more than enough weight training information and guides written by me. However, it would be arrogant to claim that I know everything. Besides, this is a site for you. So take ownership by adding your own weight lifting tips…
…Not only does your contribution symbolize that you have "marked your spot," but it also helps future visitors in need of the wisdom that you have to offer.
About King of the Gym
To learn more about this website and me, see about King of the Gym.
Get Motivated!
You can't expect to reach your goals if you're not ready to give 100% effort. Let this be the first day of the rest of your life – Lift heavy and train smart!
For any comments or questions, you can reach me through this contact page.​